This recipe is going to change the course of our relationship. Right here. Right now.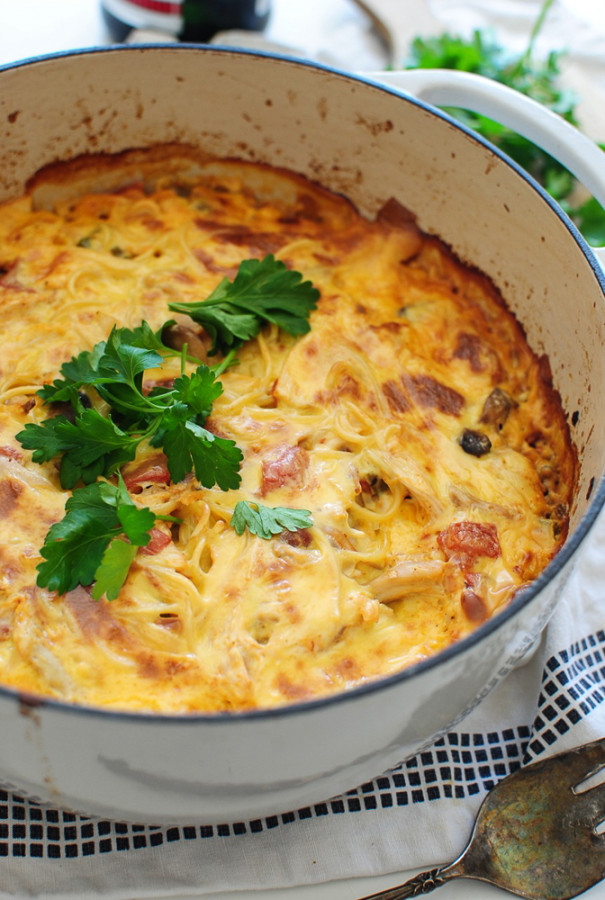 AND, it's another Rewind Recipe! Remember when I started this series back in the 1800s? I find vintage recipes from old thrifted cookbooks or my grandmother's dusty stash, and bring good old cooking methods back to life, honey! (<–that's what my gran would say. don't be mad at me.)
SO, the other day as I was sifting through a large stack of paper work in preparation for tax season (I can't even talk about it or I'll sob for hours) I noticed this wrinkled, torn and stained sheet of paper hiding under a stack of receipts. In faded, all caps letters at the top it read GRANDMOTHER BLANN'S CHICKEN SPAGHETTI. In other words, the taste of my entire childhood.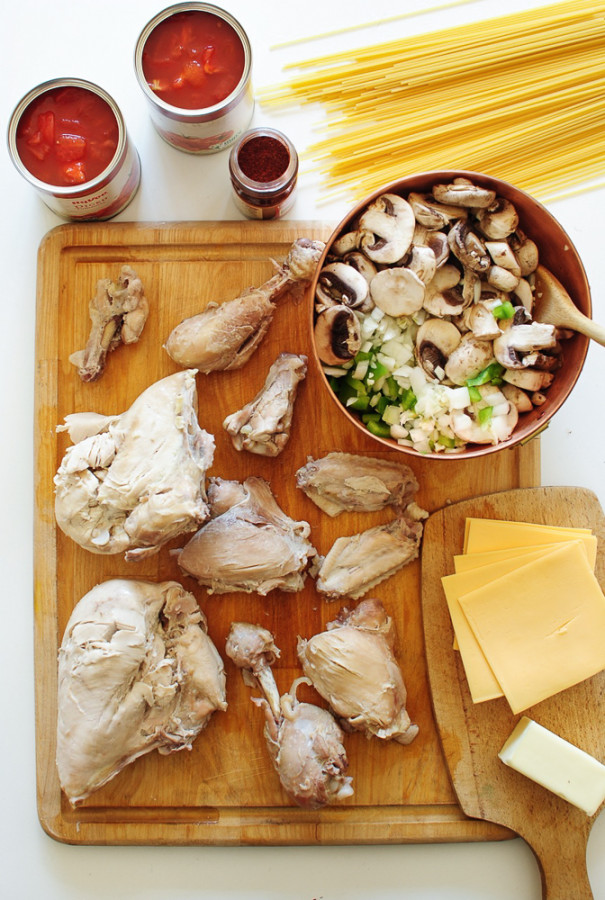 Before we go any further, YES THAT IS AMERICAN CHEESE. But it's deluxe, you guys! Is there such a thing as deluxe American cheese? I feel like it's an oxymoron. At least, I did until I realized something extremely crucial to the rotation of this planet and the precious lives that dwell on it.
It's that stupid American cheese that makes the recipe. I swear. (I'm not swearing, Grandmother!) But listen, I almost swapped it out for something more uppity and refined, until I reminded myself that this is a Rewind Recipe, BEVERLY SUE. You don't mess with history. So at that very moment, I surrendered myself to all the American cheeses of the world. (but it's deluxe)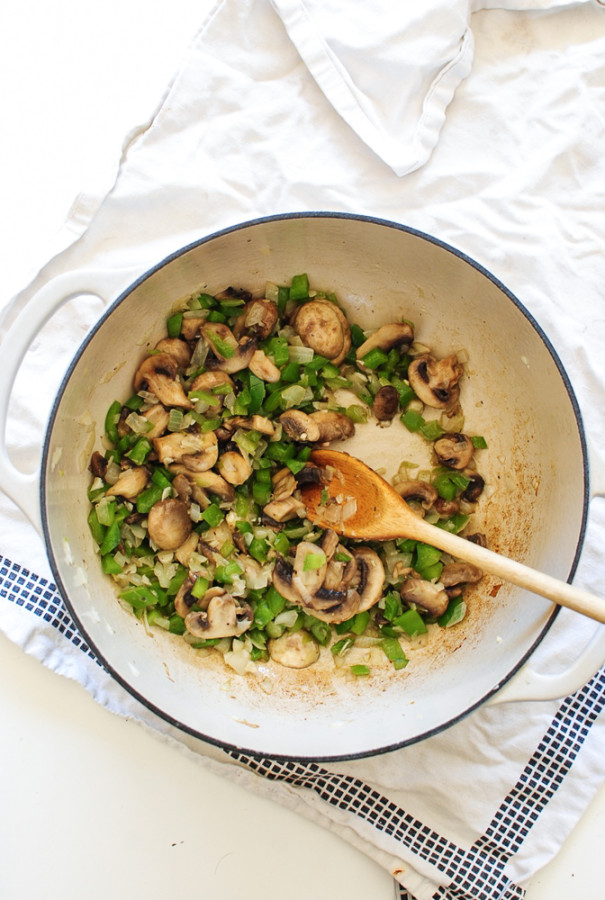 The one teeeeensy tweak I made was to use fresh mushrooms instead of canned. I can't cook with canned mushrooms. Can't. But if canned mushrooms make you sing with the baby Robins on a warm spring morning, dew eet!
Oh – as far as boiling the whole chicken – I'd definitely recommend it, because you'll use the chicken water to cook the pasta, and that means extra little flavor parties on your tongue. But if you're in a weeknight time crunch, a shredded rotisserie works great!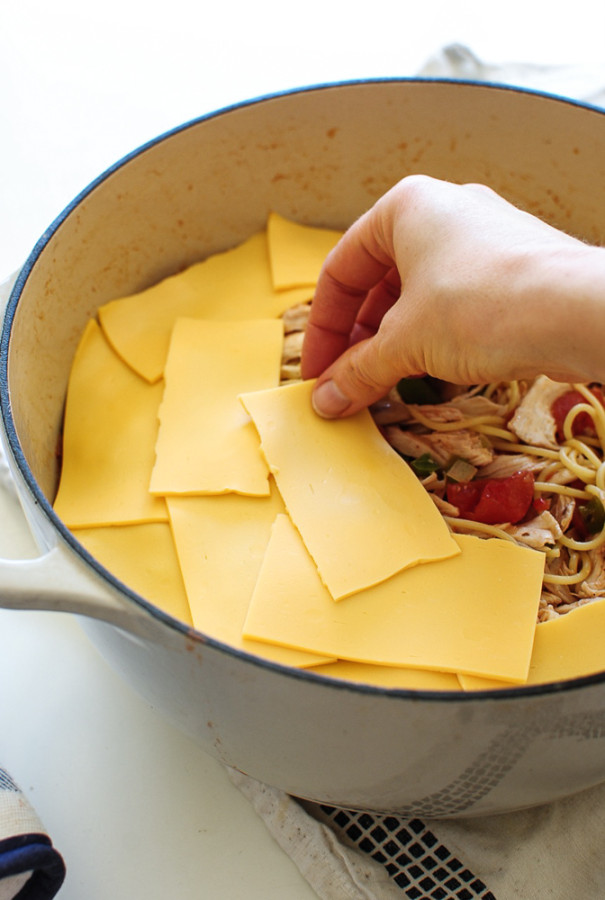 Look at all that American cheese. Just layers and layers and layers on top. You scoff now, but I'm TELLING YOU, there's something about that old school flavor all melted down in the casserole that will have you howling at the moon in your underpants. Don't tell my Grandmother I just said that.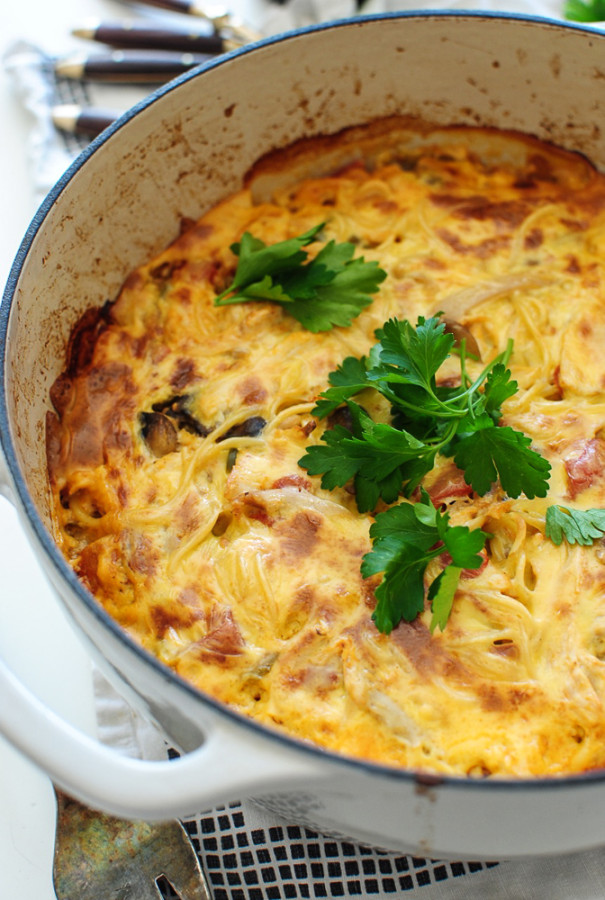 Obviously this is family friendly and small hungry human approved.
It's comfort to the max, back again and beyond.
It makes fantastic leftovers. (I love leftovers)
It's chicken, pasta and cheese for crying out loud.
And it needs to be your new best friend.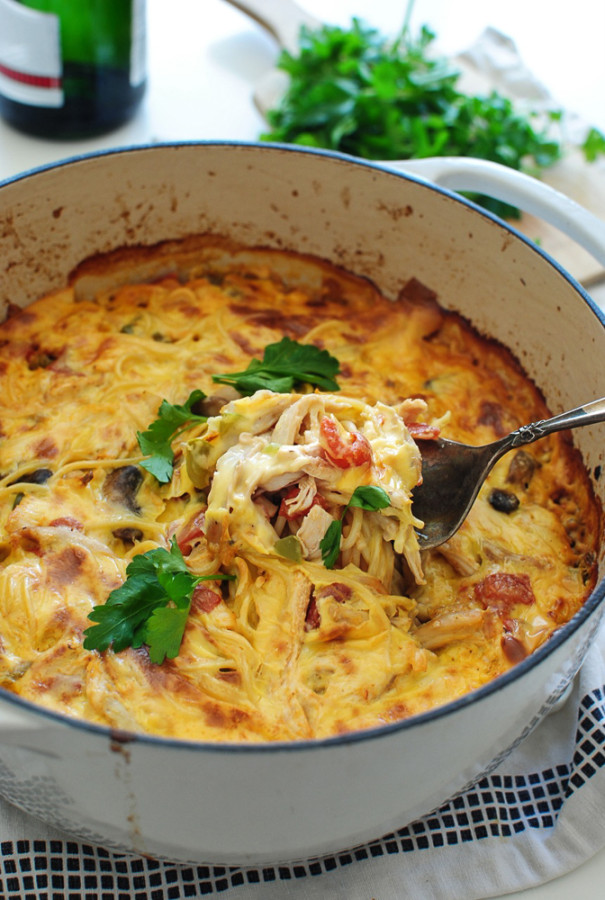 Fist bump, Grandmother!
No, just make a fist, and then you'll bump mi- never mind.
Grandmother Blann's Chicken Spaghetti (Rewind Recipes)
Ingredients
1 (3 to 4 pound) whole chicken, cut up (skin removed)
2 Tbs. butter
1 Tbs. extra virgin olive oil
1 green bell pepper, diced
1/2 yellow onion, diced
4 garlic cloves, minced
8 oz sliced mushrooms
2 (14.5 oz) can diced tomatoes
1 tsp chili powder
1/2 pound spaghetti
10 to 12 slices American cheese (seriously)
pinch of salt
Instructions
Boil the chicken in a large pot of salted water until cooked through, 30 to 40 minutes. Let cool a few minutes, then shred the chicken off the bones and set aside.
Preheat the oven to 350.
Bring the chicken water back to a boil and add the spaghetti; cook until just shy of al dente. You may need to add a cup or two of fresh water to the pot, if a lot of it evaporated during the chicken boiling. That was a weird sentence. Reserve about half a cup of the chicken/pasta water and drain the rest.
In a large dutch oven or deep casserole dish, melt the butter with the oil. Once the butter is lightly foaming, add the green bell pepper, onions, garlic and mushrooms. Lightly season with salt and pepper.
Add the tomatoes and chili powder, and let simmer for about a minute. Then add the spaghetti and shredded chicken; toss to incorporate everything. At this point you could add a little of the reserved cooking liquid, just to moisten everything up. (gah, sorry)
Layer strips of American cheese (this is what makes it! promise!.) on top of the casserole, cover and bake for 30 to 45 minutes. Remove the lid at 30 minutes and let the cheese brown and bubble for a few more.
YOU WILL MOST CERTAINLY FREAK.
*Serves 4-6 (with leftovers. Boom.)
7.8.1.2
5
https://bevcooks.com/2016/02/grandmother-blanns-chicken-spaghetti-rewind-recipes/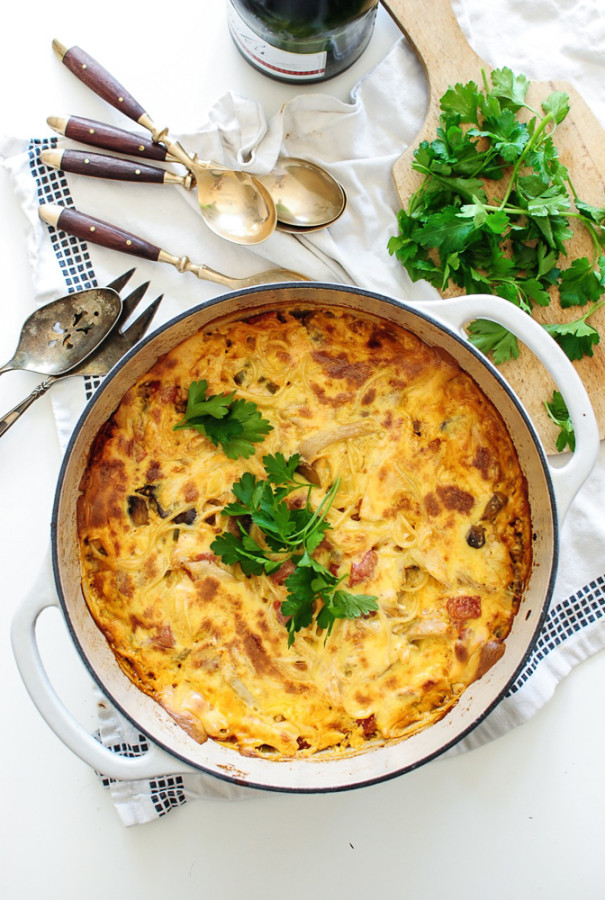 I'm may or may not be eating this for breakfast right now.