I don't think we've slurped enough this season.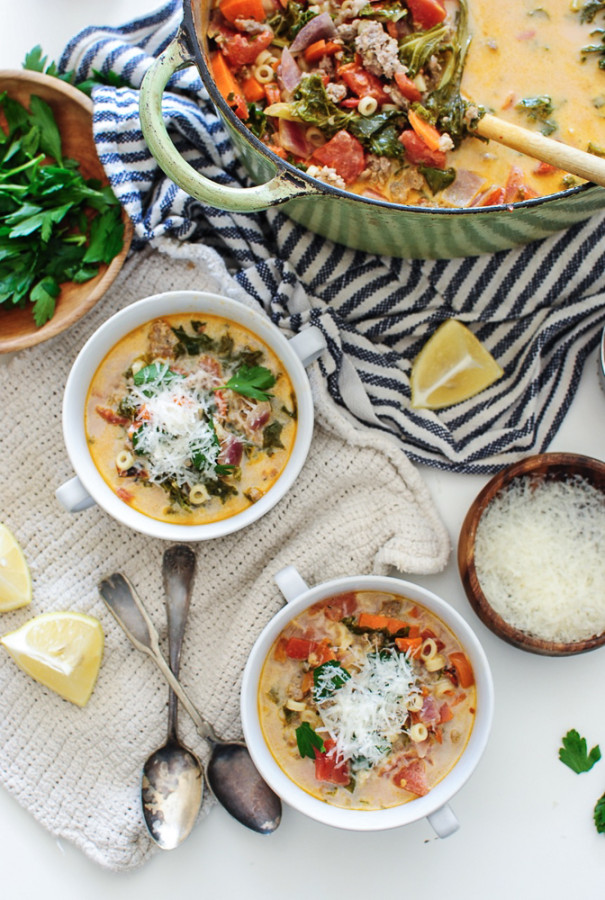 Usually I say this next sentence towards the end, but I just can't rightly deal with suffering in silence that long. I cannot WAIT for you to make this soup! It has everything. Yesyesyesyesyesyes. (<–name that character)
Sausage (yes), mini pasta (hurts), rustic fire-roasted tomatoes (heavens), cream (can't), kale (won't), veggies (will), cheese (just did), and lemon (doing it again).
Did I mention it's creamy?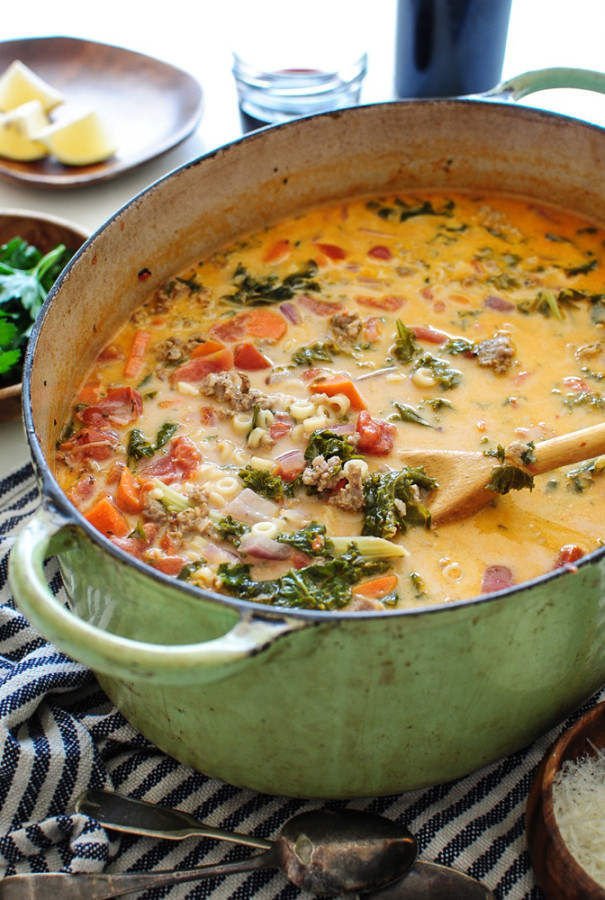 If there's one thing I've learned behind bars. . .  Wait, I mean in the kitchen! Ignore that first part. If there's one thing I've learned in the kitchen, it's that cream and acid go together like boom. So don't evah forget the lemon juice! Especially right at the end. One good squeeze of lemon juice over the final product takes it from here (hand is way down low) to HERE (hand is like, on the roof in a tree floating away with balloons). If you do forget it, your master bathroom will be haunted with ghost slugs for the next 15 months. You don't want that to happen, do you? No. Get the lemon.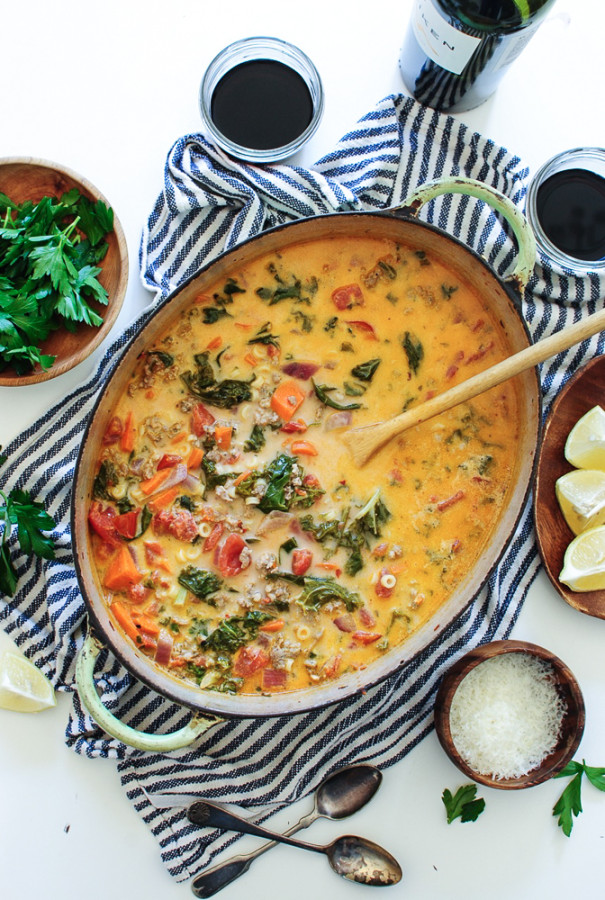 This soup is sort of a riff on my basic Sausage and Kale Soup, only on speed. It's got more OOMPH in it. Instead of beans, we're going with pasta (winter is coming so it's okay). Instead of straight broth, it's lined with silky cream (winter is coming so it's okay). Instead of green bells, we're swapping in red onion and carrots (winter is coming so it's okay). And we're adding rustic fire-roasted tomatoes because my soul fairies had a conference and it was unanimous (and winter is coming so it's okay). And crusty bread! Serve with crusty bread.
(winter is coming so it's okay. actually mandatory.)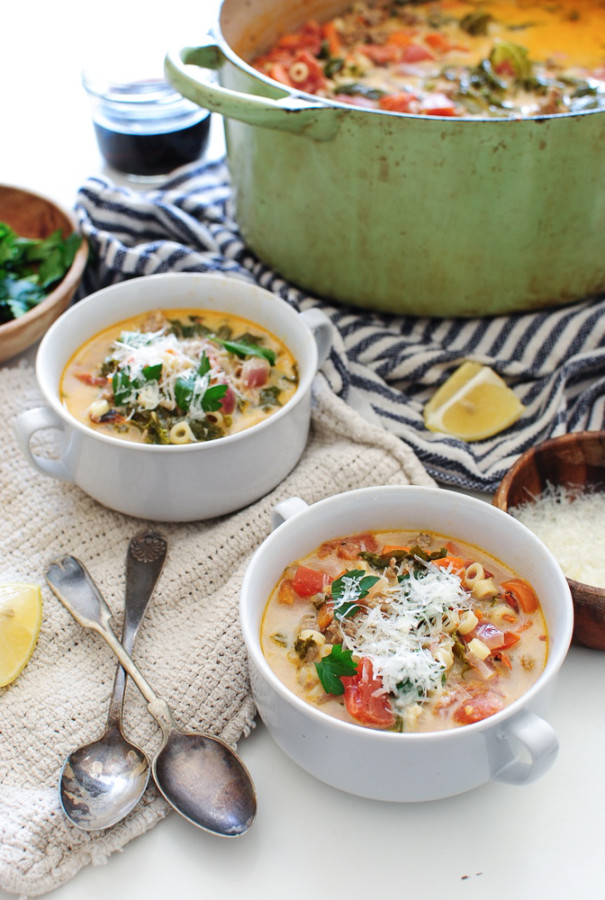 Get slurpy.
Creamy Sausage and Kale Soup:
what it took for like seriously 8 people:
* 2 Tbs. extra-virgin olive oil, divided
* 1 1/2 pound Italian sausage (already out of casings)
* 2 carrots, chopped
* 1/2 red onion, diced
* 3-4 garlic cloves, minced
* 1(1pound 12 oz) can fire roasted diced tomatoes
* 6 cups chicken stock + two cups water
* 4-5 cups kale
* 1 cup heavy cream
* 1 cup tiny pasta rings (or whatever your favorite tiny pasta is)
* 2 lemons
* freshly grated parmesan
* parsley, for garnish
* salt and pepper
Heat a Tbs. of oil in a large dutch oven over medium-high. Add the sausage and cook until browned all over. Remove from the pan and set aside.
To the pan, add the remaining oil along with the carrots and onions. Sauté about 6 minutes, until they begin to soften. Season with a pinch of salt and pepper. Add the garlic and sauté another 30 seconds.
Add the tomatoes, stock, water, kale, pasta and the reserved sausage. Bring to a boil, then reduce the heat to a simmer for about ten minutes, wilting the kale.
Add the cream and simmer for just a few more minutes. At this point check for seasoning. Add more salt and pepper, and a couple Tbs. of fresh lemon juice. Okay now taste it. Good grief.
Ladle and serve with more lemon wedges, fresh parsley and parmesan!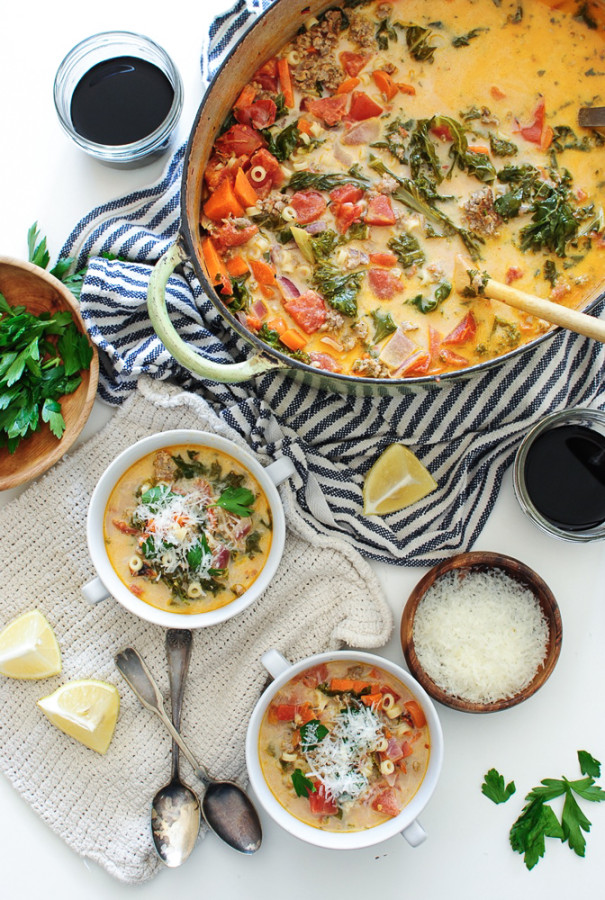 You do know it's creamy, right?