Is it too early in the week for a salad?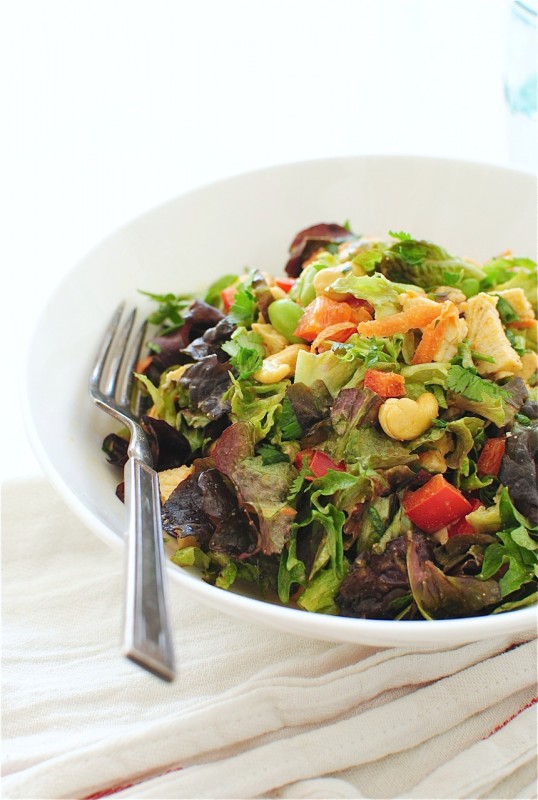 What if it has cashews in it? And the dressing has cashew butter in it? Still too early?
I'd been on the phone with my sister the other day after a birthday lunch date she had with my mom. "What did you eat?" I demand. Her, "A cashew chicken salad. Crispy cashew. Something like that." Me, "What was in it?" I order. Her, "I dunno, Bev, chicken, cashews, lettuce, it was good." Me, "Was it creamy coated or more oil-based?" I command. Her, "Ugh, I can't remember. Creamy, I think." Me, "Did it have vegetables in it, or was it just the chicken and cashews?" I inquire. Her, "YOU'RE RUINING MY BIRTHDAY."
Just kidding she didn't say that!
She said I was ruining her life.
We'll never really know what was in her salad that fateful day, but by golly I will tell you what's in mine. A crisp mix of lettuce greens, seared and chopped chicken, grated carrots, cooked and cooled edamame, freshly diced red bell pepper, CASHEWS, and a Thai cashew dressing that will sock your face straight into the next millennium. Not because it's hot! Don't get nervous. Because it's downright delicious, pigeons.
*there are no pigeons in the dressing, just fyi.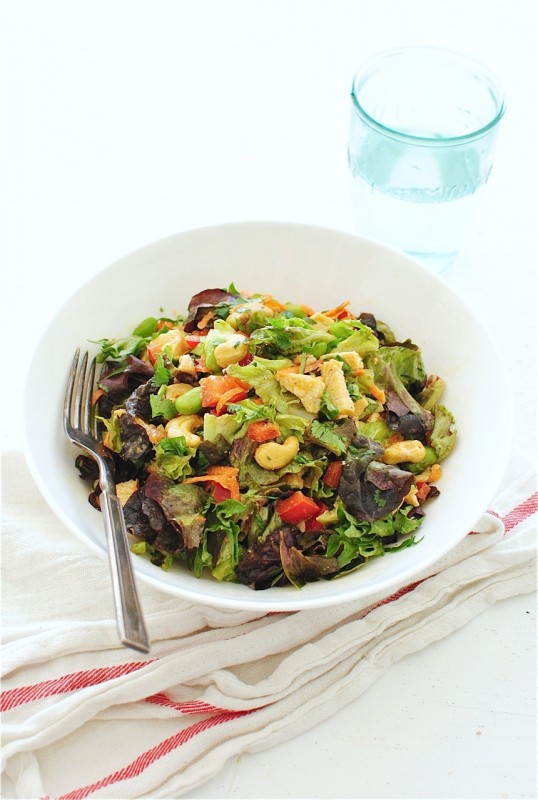 Since it's Thai-flavored, you could absolutely pair this with a tiny mound of coconut rice on the side. Or not! The world is your oyster. I mean cashew.
I love this salad because while it's light, it's hearty. It gots a lots a veggies in it, and the cashews add that semi-soft crunch that only cashews have. You know what I mean, don't you? It's not like, a hard crunch, but it's kind of soft. Buttery. A buttery crunch! And that goes well with the cashew butter. Although the dressing isn't crunchy.
I'm getting confused.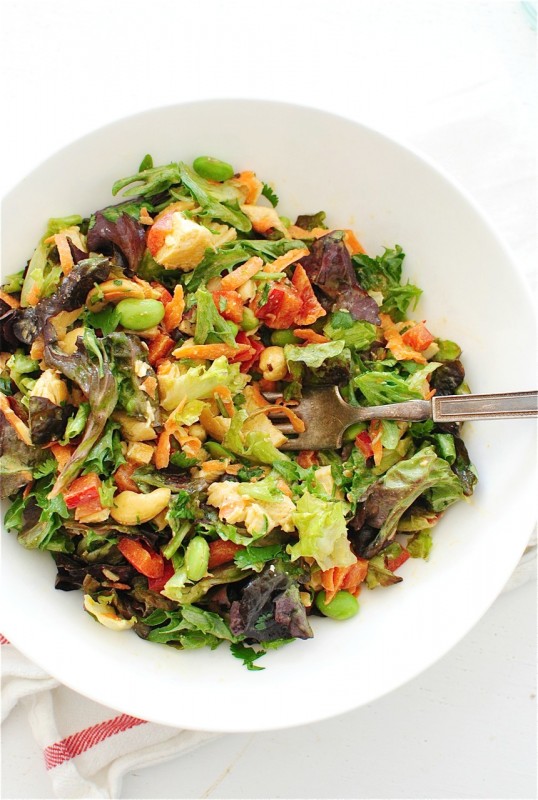 Eat some dang salad.
Thai Cashew Chicken Salad:
What it took for two large dinner salads:
* 2 chicken breast halves
* 1 cup edamame
* 1 red bell pepper, diced
* 2 medium carrots, grated
* 5 Tbs extra-virgin olive oil, divided
* 1 Tbs. cashew butter
* 1 Tbs. lime juice
* 1 tsp red Thai curry paste
* 1/2 cup cilantro, minced
* 4-6 cups mixed salad greens
* coarse salt and freshly ground pepper
* 1/2 cup raw cashews
Heat 3 Tbs. oil in a medium sauté pan over medium-high heat. Season the chicken on both sides with salt and pepper; cover and sear on one side for 5 minutes. Flip and sear another five. Let chicken rest for a few minutes. Give it a good dice.
Heat a small pot of water to a boil. Add the edamame and cook for five minutes. Drain and set aside.
In a small bowl, whisk together the remaining oil, cashew butter, lime juice, curry paste, cilantro, and a small pinch of salt and pepper. Taste that. Do you want more cashew taste? Add a little more butter. More zing? Add more lime. Yessss, yes.
So now, in a large mixing bowl, combine the salad greens, edamame, red bell pepper, carrots, chopped chicken and cashews. Pour the dressing over the salad and toss, toss, toss.
It REALLY is good. You'll see.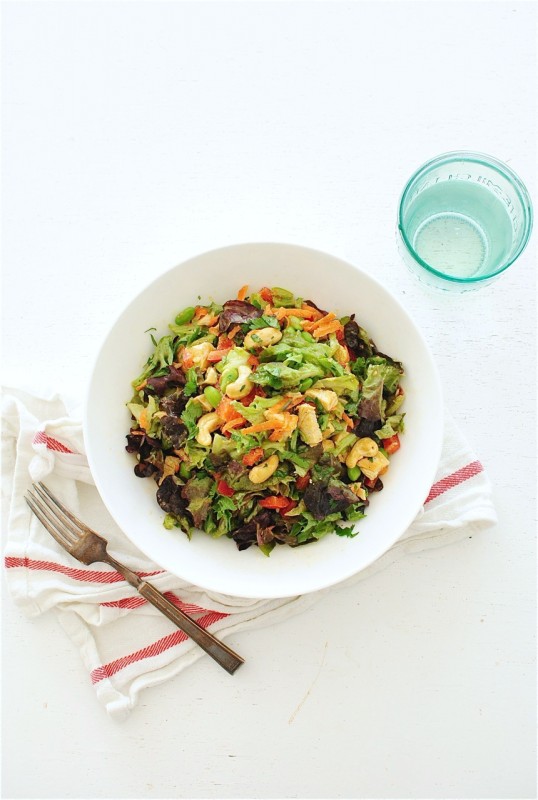 CASHEWS.