*WARNING: What you are about to see is not the most photogenic dish in the world. Stars did not align. Colors did not agree. I still have this mole I need looked at. But you must know the flavors in this meal are atmospheric. Transcendent. Orbital. You may now proceed.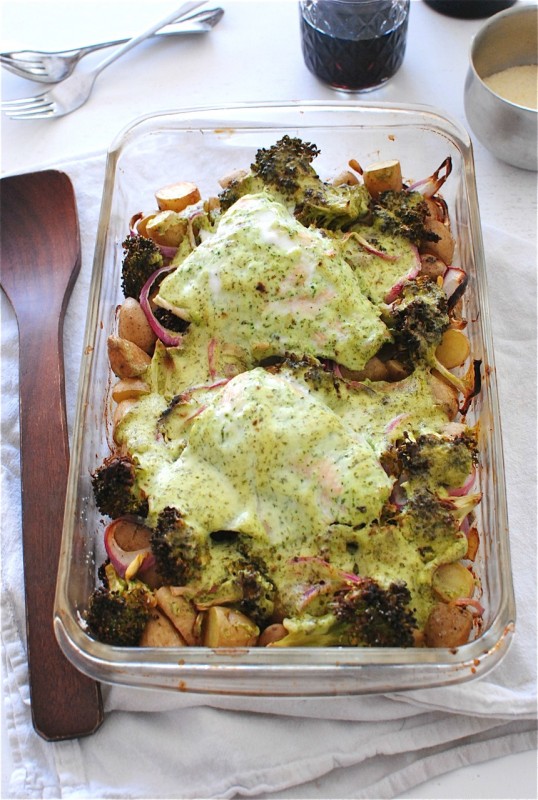 Have you ever thought about a baked salmon with a parsley cream sauce on top of potatoes, onions and broccoli? Because this is like, shut-it-up-major-maj.
This is actually a two-parter, because we all know salmon bakes in a kiss, and it can take some serious teeth pulling to get potatoes to soften. So, the trick IS, to bake the whole dish, sans salmon (should we start a band called Sans Salmon?) for about 45 minutes. Since the potatoes are on the bottom of the dish, in a kiddie pool of butter (should we start a band called Kiddie Pool of Butter?), it takes a hair longer than roasting.
I'd bought a tub of créme fraiche (said like Randy in South Park) at Trader Joe's the other day. Which, two things: I have no idea how to get that little accent thingy above the i in fraiche. I spent 45 hours last night trying to find it. And two, holy fraiche face is it ever delicious. It's like sour cream, but high.
The sauce is beautifully basic: créme fraiche, a handful of parsley, and a hint of lime. Done.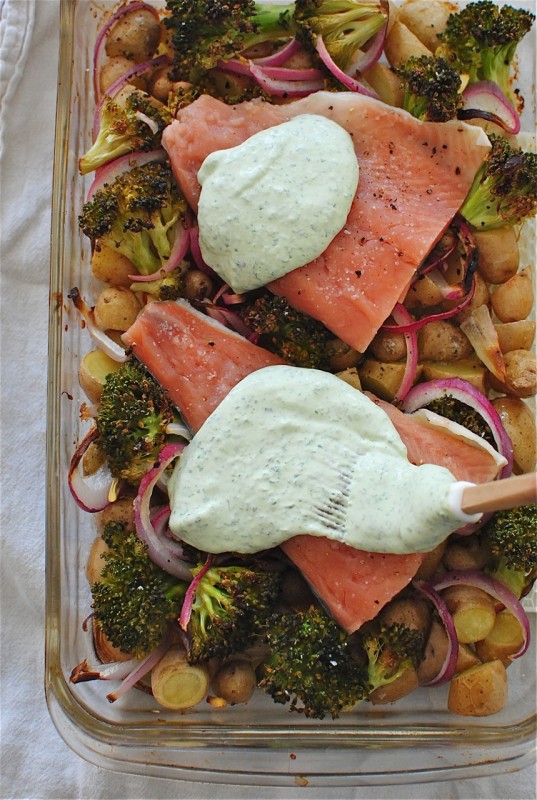 So after the first jaunt in the oven, you'll top the dish with the fillets, and brush that creamy bliss biz all over that ish. You could even buy those skinny salmon fillets, ya know, and throw a bunch on there, if you're feeding more people. See how smart you are?
This'll go back into the oven just until the salmon is flaky, the sauce starts slightly bubbling, and the potatoes are gorgeously tender. The broccoli might look a little dark, but listen. Once you taste it, you will crumble to your knees in disbelief at its tender, buttery glory.
You may feel like I'm mentioning butter a lot. And you know what, I am.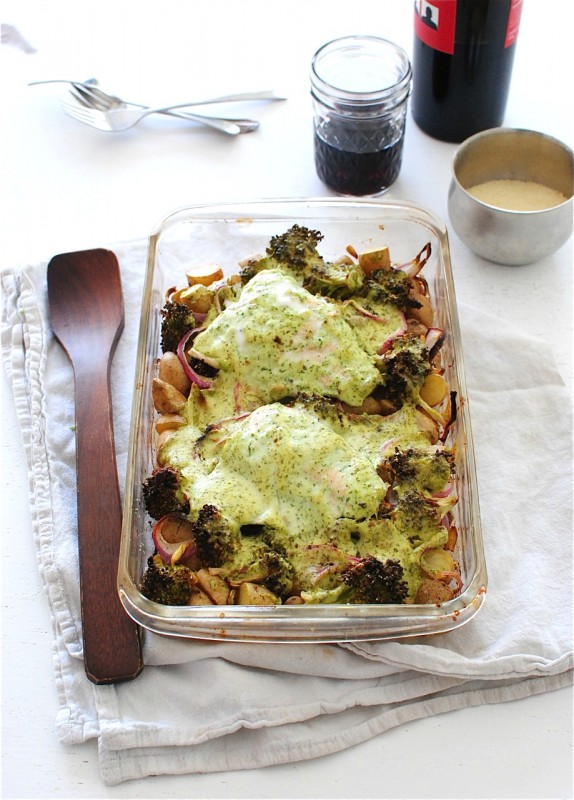 And because you like to live on the edge, you'll finish her off with a humble sprinkling of fresh parmesan.
Make that not so humble.
It's pretty generous.
Okay it's like, a lot of cheese.
We're doing something right in this world.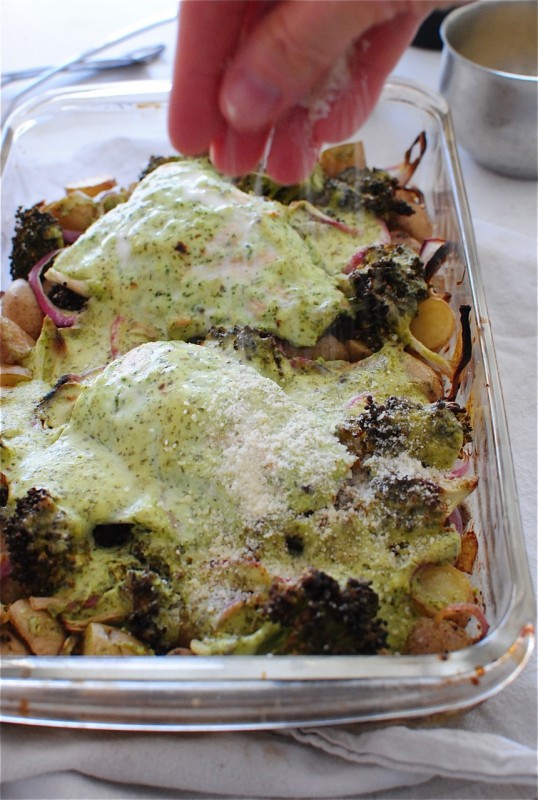 Mama.
Creamy Salmon, Broccoli and Potato Bake:
What it took for 2 (plus a little bit of leftovers, yeah.):
* 1 pound small fingerling potatoes, cut into a small dice
* 1/3 cup thinly sliced red onion (a mandolin makes this a cinch)
* 1 head broccoli, rinsed and broken into small florets
* 3 Tbs. butter, cut into quarters
* 2 salmon fillets
* 4 Tbs. créme fraiche
* 1 cup loose parsley leaves
* juice from half a lime
* salt and pepper
* parmesan cheese, for garnish
Preheat oven to 400.
Place the potatoes, onion slices and broccoli florets in a baking dish. Sprinkle with salt and pepper and dollop with butter. Bake, uncovered, for 40-45 minutes, or until the potatoes are starting to get tender.
In a food processor, combine the créme fraiche, parsley and lime juice. Pulse until smooth.
Remove the baked dish from the oven, top with salmon fillets, and brush with parsley cream. Slide back into the oven for another 15-20, or until the salmon is cooked and the potatoes are perfectly fork tender.
Garnish with parmesan cheese and serrrrrve it to ya face.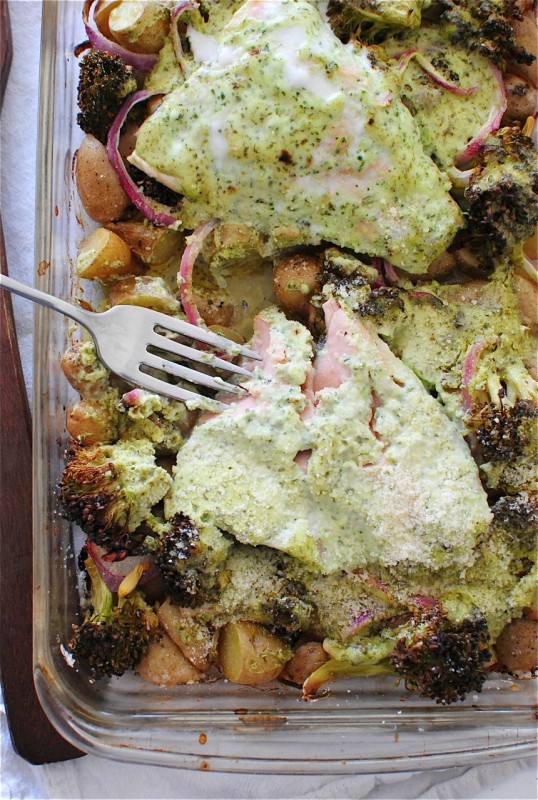 Sorry I brought up my mole.