I swear to you I eat more than just Italian sausage.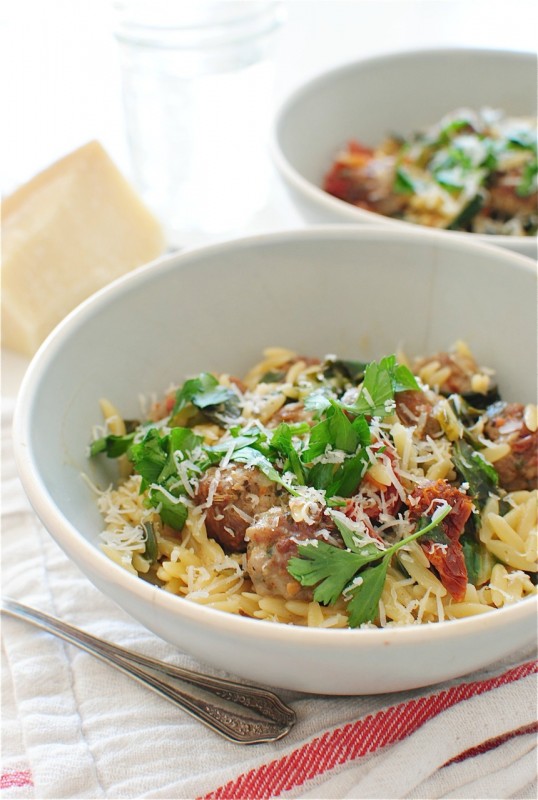 But this time they're in meatball form (!), so it's . . . different?
The funny thing is, remember when I was telling you about that meal that totally failed, so we looked at chunks of severed hair instead? Right. Well, I made this dish the next day, not planning to photograph it. When something in the lining of my soul cavity buzzed with a message. A message of hope. A message of reassurance. A message of a new tomorrow. I should get more dental floss.
Wait, no. Hold on. Crap, what was the message.
Oh! I should photograph this recipe.
On paper it's a very stripped down combination. Deliciously bitter collard greens, spicy sausage meatballs, sundried tomato slivers, and a buttery, lemony orzo with a heavy hand of fresh parmesan to finish it off.
In your mouth? GAH, it's like, the perfect marriage of comfort, complexity, brightness, heat and health. And cheeseandbutter. It has that in it.
Would you just look at that for a hot second? Girl, please.
Perrrrrfect for this time of year. Eaaaaasy to pull together any night of the week. Taaaaaasty to the max and beyond.
There's absolutely no reason you shouldn't be all up in this like, yesterday.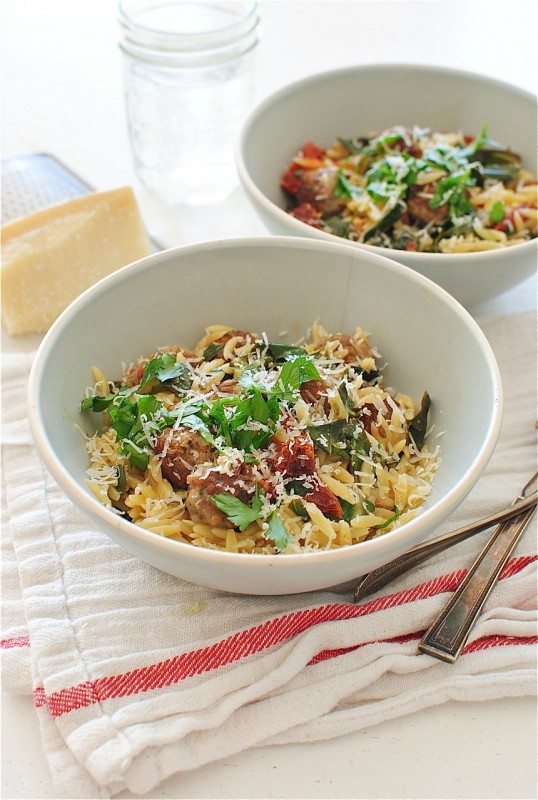 Orzo with Collard Greens, Sausage Meatballs and Sundried Tomatoes:
What it took for 4:
* 3 hot (or mild, sissy) Italian sausage links, casings removed
* 2 Tbs. extra-virgin olive oil
* 4 cloves garlic, minced
* 1 bunch collard greens, thinly sliced into ribbons
* 6-7 sundried tomatoes, thinly sliced
* 1/3 cup chicken stock
* juice from half a lemon
* 2 Tbs. butter
* 1/2 cup freshly grated parmesan
* 1 cup orzo
* pinch of salt
Pinch little pieces of the sausage and roll them into 1-inch balls. Brown them in a medium skillet over medium-high heat until cooked through. Set aside.
Back in the skillet, add the oil, garlic, collard ribbons and sundried tomato slivers. Sprinkle with a pinch of salt and sauté for a couple of minutes. Add the stock and let it bubble for just a sec. Add the sausage and lemon juice. Toss toss.
In the meantime, boil the orzo in a pot of salted water until al dente. Reserve 1/4 cup pasta water, and transfer the rest of the pasta into the skillet. Off the heat, add the butter and cheese. Toss it all together until melted and coated and ridiculous. Taste for any adjustments. Salt? Yeah? Do it.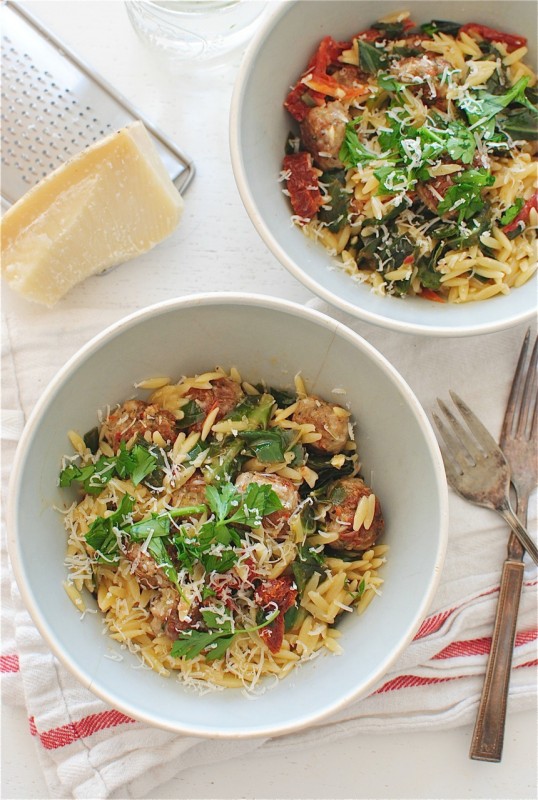 Yeah I definitely have to make this again today.