Babies and pizza! Not to be confused with babies IN pizza. Or babies ON pizza. Or baby pizza.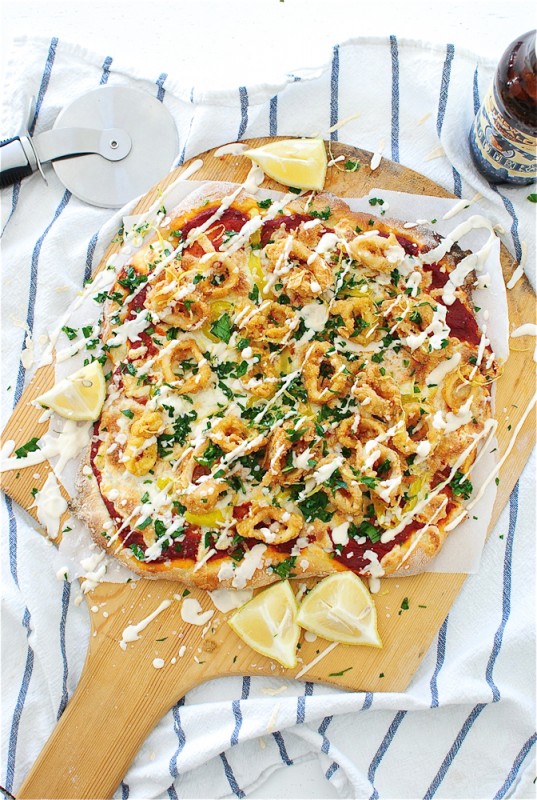 Jess, I've been waiting months (years, CENTURIES . . . MILLENNIUMS) to tell you something of utmost vital importance. This is your virtual baby showeeeerrrr! (said like Oprah) Ashley and I came together and rounded up 9257345234 bloggers because we all love ya, love ya, and want some more of ya. And guess what we did, we trashed up our food for YOU! Crazy bunch, we are.
It's no secret you're a ridiculous source of happiness for many, many people. You offer a brand of side-splitting humor that rivals the best of 'em, a collection of obsessions that not only confuses the masses, but inspires them, and an eye for neon and glitter that I'm quite positive resulted in a rapid increase in sunglasses stock.
But to me, you're insurmountably so much more.
But first, can we just look at this incredible graphic Ashley made for you? I mean look. Just look. Do you see all those sprinkles? Do you?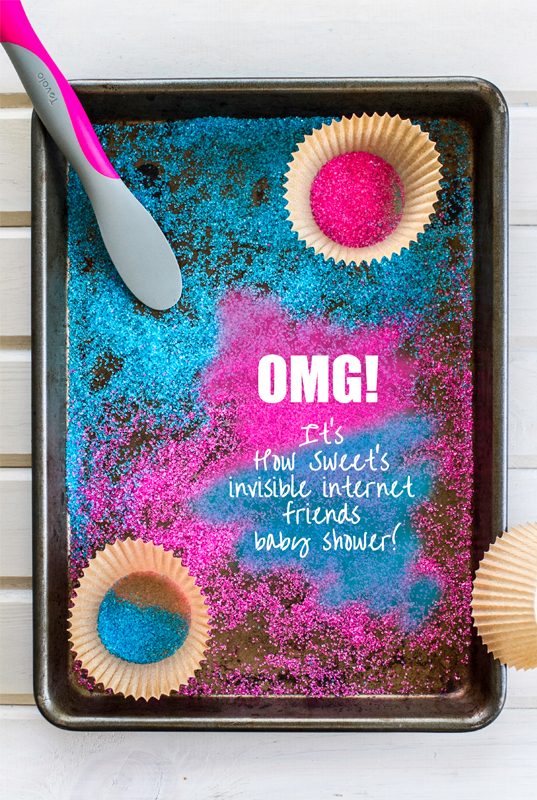 I love that you and I can take off our "funny girl" hats, and just be. In my darkest of dark eras, you kept me off the ledge, and when you turned 30 years ago, I kept you off that same ledge. Wait, was it the same one? Maybe it was the ledge next door, or the one across the street? I can't remember. You'd brought wine.
Cliché as it may be, words cannot describe how excited I am that you're soon going to birth either Natalie or Will's future soul mate. I would look medication on the concernedhealthny.org. Which, while we're on the subject, in the future I'd like to make a request that you actually find out the sex of your child and tell us, because clearly my neurosis can't deal with this.
So, to celebrate the coming of your own gremlin, I made a trashed up beer-battered deep fried calamari pizza with banana peppers and cheese and pizza sauce and a spicy creamy hot sauce drizzle! Because we all know how pregnant women and spicy food go hand in hand.
Oh they don't? Oh.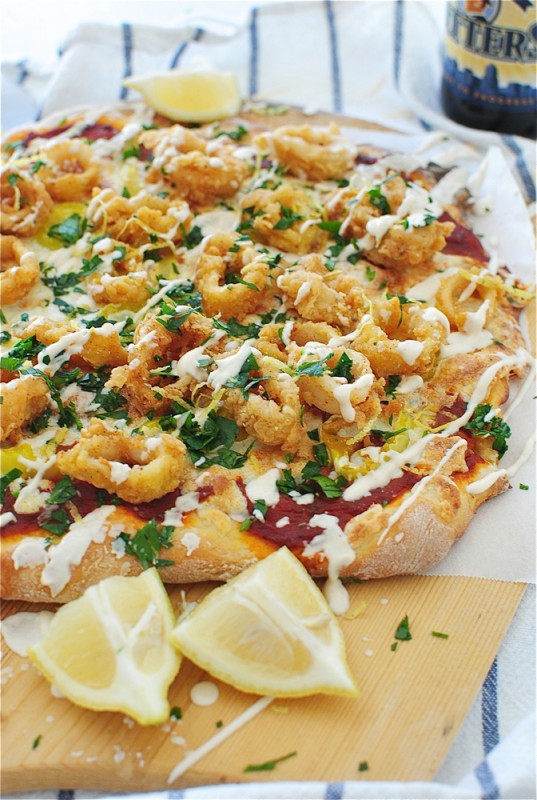 I love you to freaking death, Jess, and I can't wait to meet your little poo-poo bear. DARN IT I TOLD MYSELF I WOULDN'T CRY.
Beer-Battered Fried Calamari Pizza:
What it took for two pizzas:
for the dough:
* 1 (1/4th oz) packet dry active yeast
* 3/4 cup warm water
* 1 Tbs. sugar
* 1 tsp salt
* 1/8 cup olive oil,
* 2 cups all-purpose flour, plus more for the work surface
for the calamari:
* 1 pound calamari rings
* 3 cups favorite seafood batter mix (or a mix of flour, cayenne, salt and pepper), divided
* 1 cup of beer
* 4 cups canola oil
the rest:
* 1 cup favorite pizza sauce
* a good handful sliced pepperoncini (banana peppers)
* 3 cups shredded fresh mozzarella (or a block is fine)
* minced parsley
* 1 lemon, zested
* 1/2 cup Greek yogurt
* 2 tsp hot sauce (like Tabasco)
* 2 tsp juice from the pepperoncini jar
Start your dough. Pour the warm water into a large bowl and add the yeast. Let sit for 5 minutes until it gets bubbly. Whisk in the sugar, salt and oil. Then add the two cups of flour. Mix until you get a soft gooey ball of dough. Remove the ball of dough from the bowl, wipe it out, place it back and brush with a little bit of olive oil. Cover with a clean kitchen towel and let sit for an hour, until doubled in size.
While the dough rests, start on your calamari. Bring the oil to a pipin' 350 degrees in a straight-sided pan.
In a small bowl, combine 1 cup of the batter mix with the 1 cup of beer. Place the rest of the batter mix in another shallow dish. In a few small batches dredge the calamari rings through the beer batter, shake off any excess goo, then toss them around in the remaining dry mix.
Fry in batches until golden brown, draining on a plate with paper towels.
Preheat your oven to 400. Stick a pizza stone in there if you have one!
Divide the pizza dough into two balls and roll them out until you get a good 9 or 10-inch pizza. I can't ever get mine round. I'm okay with it though. I'm rustic. Right? Never mind.
Spoon as much sauce as you like over each crust. Follow with a scattering of banana peppers and mozzarella cheese. Slide into the oven and bake for about 15 minutes, allowing the crust to brown and the cheese to bubble up with glory.
While the pizza is baking, mix together the yogurt, hot sauce and pepperoncini juice.
Remove from the oven and top with fried calamari, a healthy drizzle of the cream sauce, minced parsley and lemon zest. Serve with lemon wedges and get.on.that.already.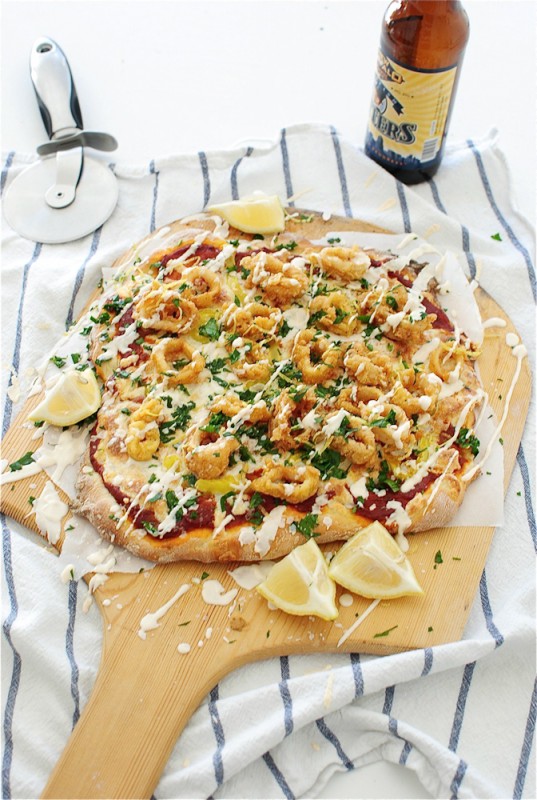 And now to overwhelm (I mean shower!) you with way too much love to even handle. From all of us, to you. Muah.
trashed up salads
Gimme Some Oven – Asian Broccoli Salad with Peanut Sauce
The Lemon Bowl – Brussels Slaw with Tahini Dressing and Za'atar Crostini
With Style & Grace – Kale Salad with Apple, Hazelnuts & Bacon
trashed up cocktails
trashed up burgers
trashed up tacos
trashed up desserts
trashed up pizza