Bonjouuuuur mon amiiii, merci pour toi, fermer la porrrrrrte.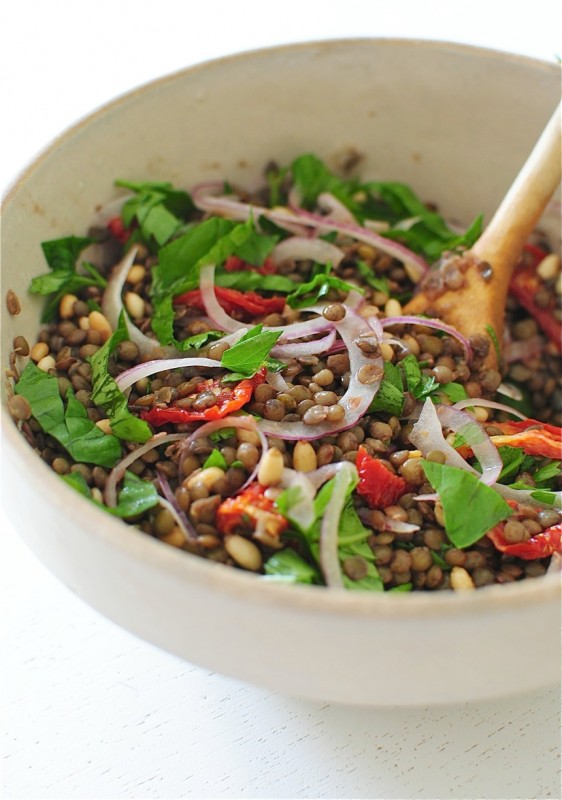 I'm obviously awesome at French. I took four years in school. I was even the teacher's aid one year. FERMER LA JEALOUSYYY.
So it's a big holiday week and guess what!! We're eating clean. Is this sacrilegious? Je ne sais pas.
I also realize I'm calling this a Mediterranean salad and speaking Francais to you. It's because the lentils are French! Le Puy, to be accurate. They're the good kind. The kind that don't break up during cooking. They're little dark gray/green pebbles that retain the perfect amount of toothy goodness while you eat. Splurge on these lentils. Vous le valez bien.
The rest of the salad ingredients are staples, I can almost guarantee it. Thiiiiiinly sliced red onion, parsley and basil, sun-dried tomatoes (are you tired of me using them in e.v.e.r.y.t.h.i.n.g.l.a.t.e.l.y?), capers, pine nuts, olive oil and lemon. La fin.
What I'm thinking is, you bring this superbe aliments sains to your party this Friday, and watch everyone go, "What's that? Is that healthy? I dunno, man. I guess I'll try it. Are those lentils? Oh sh*t that's good. Give me some more. Just give that whole bowl. DONNEZ-MOI, BIA."
These things happen.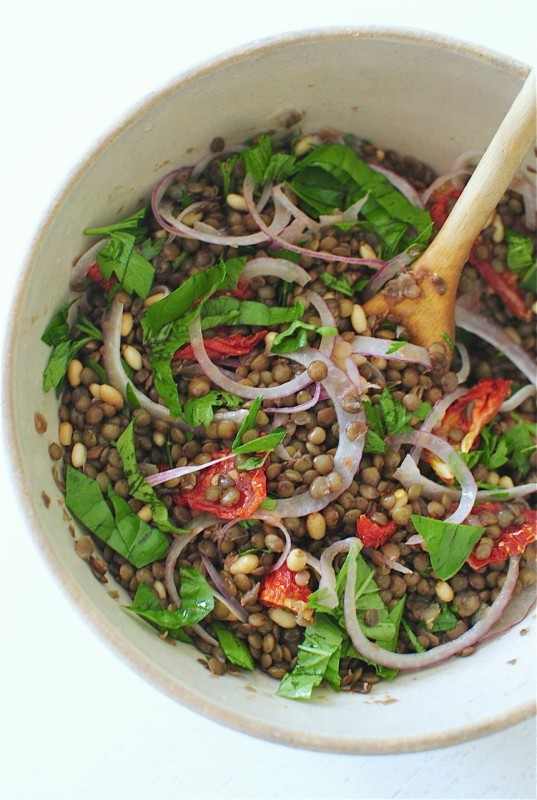 Jouir!
Mediterranean Lentil Salad:
What it took for 4:
* 1 cup French green lentils (Le Puy)
* 1/2 cup very thinly sliced red onion (use a mandolin if you have one)
* 1 cup loose parsley leaves
* 1/2 cup loose torn basil
* 8 – 10 sun-dried tomatoes, halved or sliced
* 2 Tbs. capers
* 1/4 cup toasted pine nuts
* 1/3 cup grapeseed (or extra-virgin olive) oil
* 3 Tbs. fresh lemon juice
* fresh parmesan shavings (optional)
* pinch of salt and pepper
Cook the lentils in a good amount of water at a rolling boil, until tender but still toothy, around 30 minutes. Drain, if needed. Transfer to a large serving bowl.
To the bowl, add the red onion, parsley, basil, tomatoes, capers and toasted pine nuts.
In a smaller bowl, whisk together the oil, lemon juice, and the pinch of salt and pepper. Drizzle dressing over lentils.
Give everything a good toss. Taste it. Lordy be. Add more salt or lemon juice if needed. Serve with parmesan shavings if desired. I didn't because I'm a complete idiot.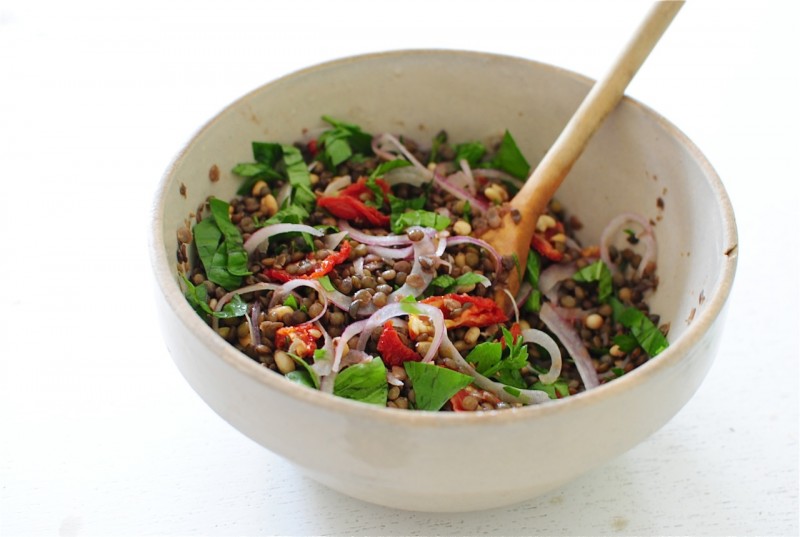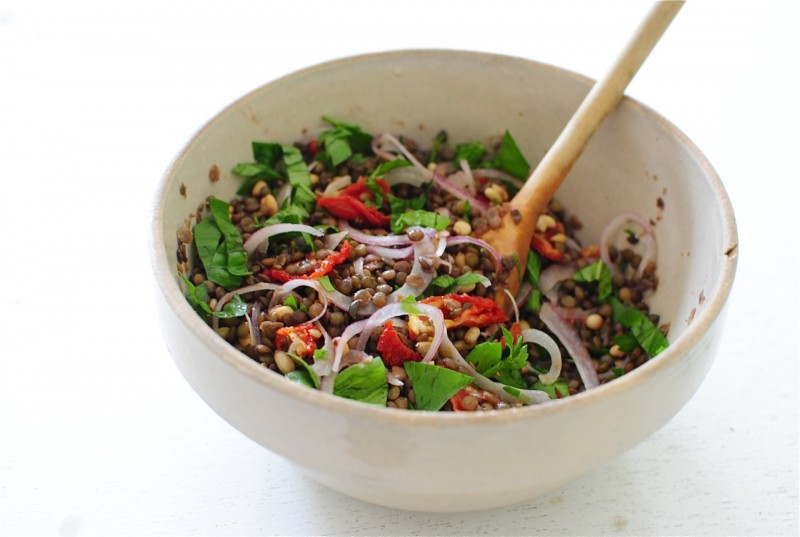 Soyez le bienvenu.