Little fish, little fish, swimming in the water.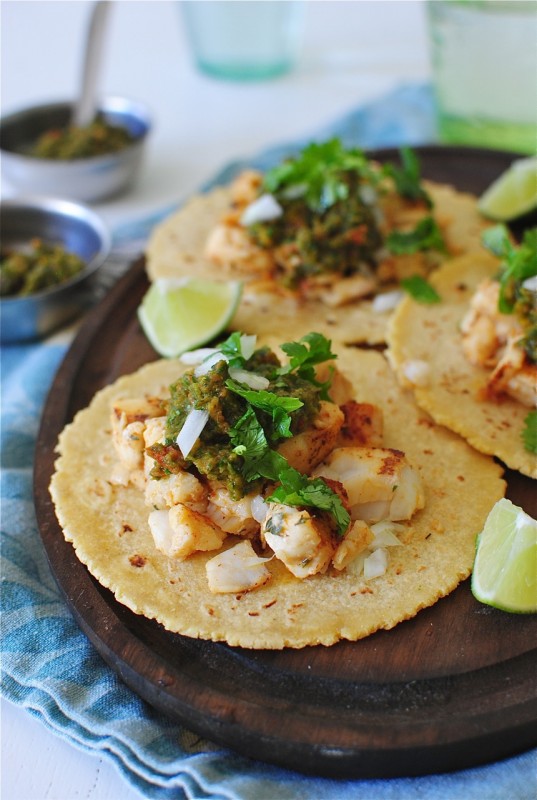 Duuuuncha worry. I'm not going to drown your ears out with another song.
But I will say, the day I made these tacos I introduced the babelets to The Little Mermaid. Not the movie (just yet), but the soundtrack!
THE FISH ON THE LAND AIN'T HAPPY. THEY SAD 'CUZ THEY IN THEIR BOWL.
Or in your mouth!
Such a wonderful movie.
I used cod this time because I was sick of tilapia. And my sis-in-law scared me saying it was the dirtiest fish in the whole world. I mean under the sea.
Do you like tilapia? Because I do! Now I'm ruined. Am I gross? I'm gross. Ugh. Whatever. I like tilapia. And Sebastian.
I guess the seaweed is always greener in somebody else's lake.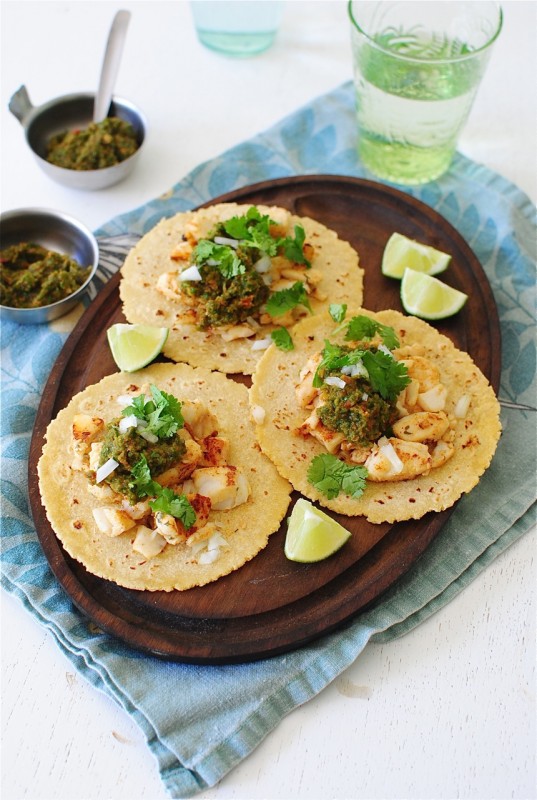 The cod is awesome, yeah yeah. But it's the yogurt/lemon/dill marinade and the roasted poblano salsa (er, sauce?) that's off the hook. (not sorry) A little prep work early in the day and dinner comes together in a splash.
(now I'm sorry.)
UP ON THE SHORE DEY WORK ALL DAY. OUT IN THE SUN DEY SLAVE AWAY.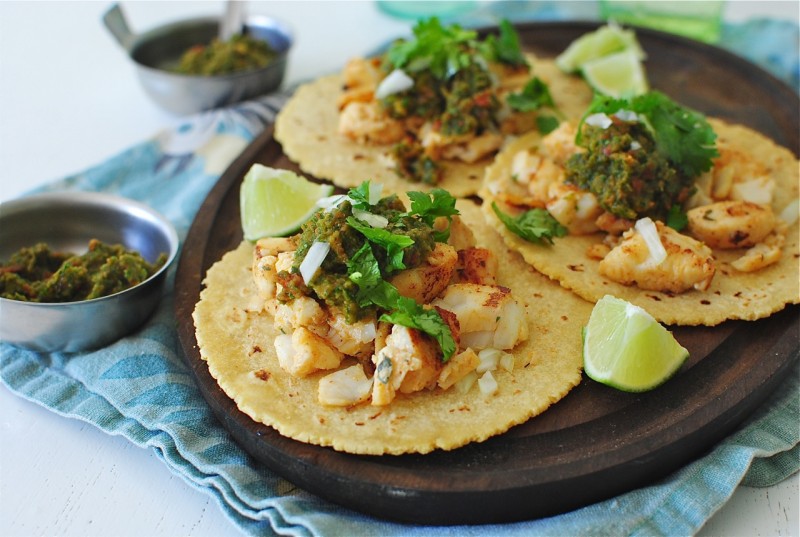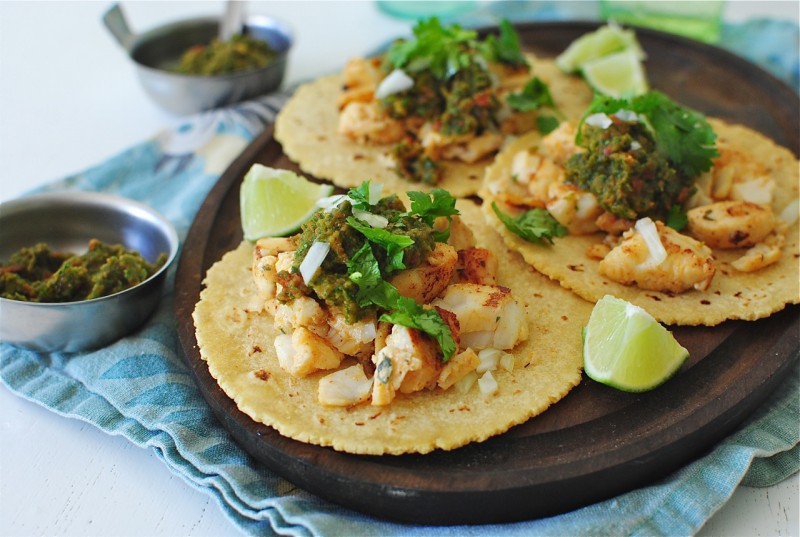 This weekend! Make it happen.
Fish Tacos with a Roasted Poblano Salsa:
What it took for 6 tacos:
for the marinade:
* 1/4 cup greek yogurt
* 1 small pinch each: cumin, chili powder, smoked paprika
* 1 Tbs. extra-virgin olive oil
* 2 Tbs. fresh lemon juice
* 1 tsp fresh oregano
* 1/2 tsp fresh dill
* 3 cloves garlic, minced
* 1 grind black pepper
* 1 pinch coarse salt
for the salsa:
* 2 poblano peppers
* 3 sun-dried tomatoes
* 1 cup loosely packed cilantro
* juice from one lime
* 2 Tbs. extra-virgin olive oil
* coarse salt and freshly ground pepper
* 1 pound cod
* 6 corn (or flour) tortillas
* extra cilantro, finely diced white onion and lime wedges for serving
Pat the cod dry and cut it into 1-inch cubes. Place in a shallow bowl or dish.
Whisk all the marinade ingredients together and pour over the fish. Cover and chill for about an hour (up to three).
Turn your oven to broil. Place the peppers on a baking sheet and broil until the peppers are charred and black all over. Remove and place in bowl or plastic bag. Seal or cover and let steam for about 10 minutes. Then remove the skin and seeds.
Throw the pepper strips into a food processor, along with the cilantro, lime juice, olive oil and sun-dried tomatoes. Add a pinch of salt and pepper. Pulse until blended. Chill the salsa until ready to serve.
Heat a large sauté pan over medium high. Using tongs, remove each piece of fish from the dish, shake off any excess marinade and place in the pan. You don't need to add oil to the pan because there's so much liquid in the marinade, it would braise your fish otherwise. Once the fish is all in the pan and you discover there's still too much liquid, just spoon out as much as possible (or tilt your pan to drain it. carefully!) Sear the fish on both sides until you get a nice brown color and the fish is flakey, about 7 minutes total.
To serve, grill or warm your tortillas, and load 'em up with fish and the chilled poblano salsa. Garnish with fresh cilantro and diced onion. Serve with lots of lime wedges because good heavens.
*if you prefer to grill the fish, just cut the cod into strips and marinate the same. That way the fish won't fall through the grill. Ha-bam.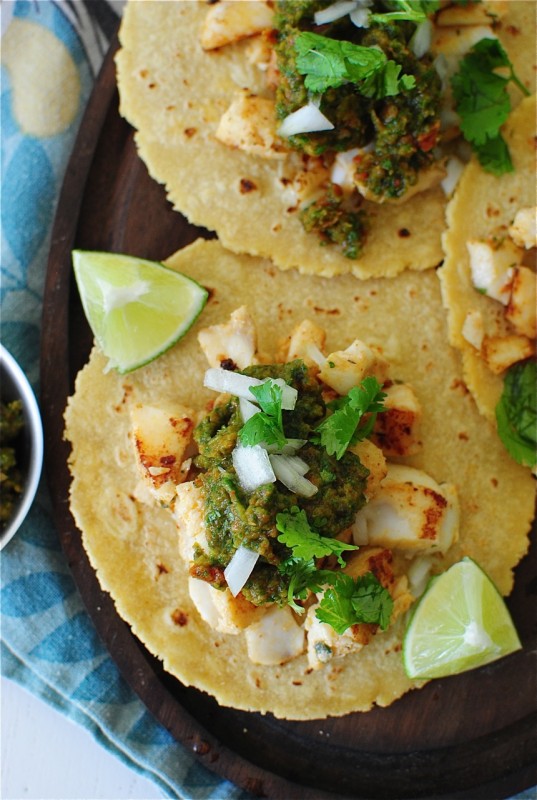 WE'VE GOT NO TROUBLES, LIFE IS DEE BUBBLES UNDA DA SEEEEAAAA.