Hi, my name is Bev and I'm a disclaimer queen.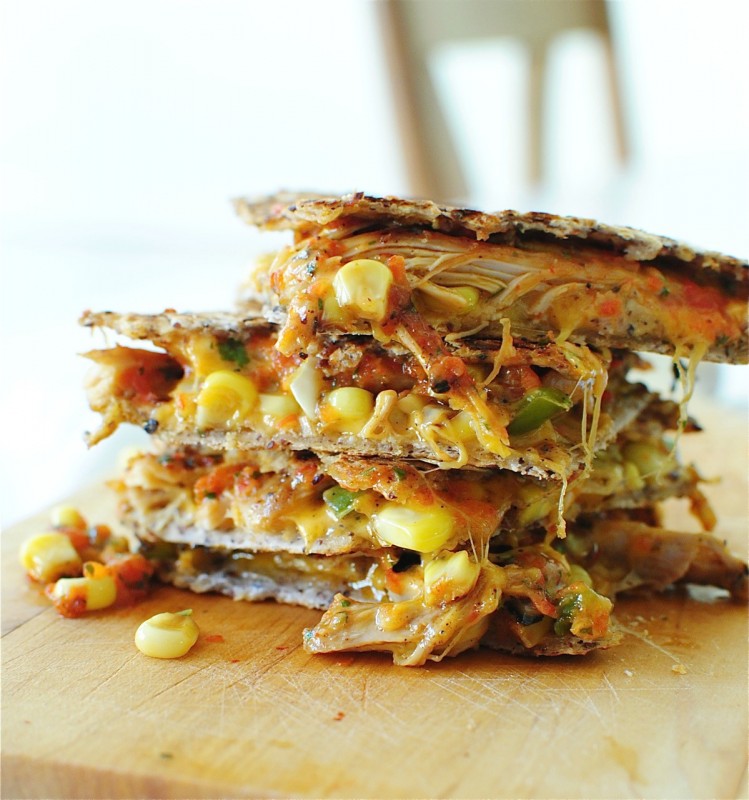 So before we go any further, I gotsta 'splain something.
Did you know that babies cry when they're hungry? They do. They cry when they're hungry. They cry very, very loud when they're hungry. Sounds like Hurricane Infant.
Ya know, a simple, "Mother Dear, fairest of them all, loveliest in the land, love of my life, wheeeeen you get a moment I could go for a steak. Or a bottle. Whatever you grab first. P.S. Those new shorts look darling on you. Can't even tell you had us. No, for real."
Seriously, how hard is that, BABIES?
So guess what happens when you start dinner a few minutes too late because you're re-watching Parenthood from the beginning and Crosby and GABY oooooo REMEMBER? So bad. So good. She's stunning, ya know. And her voice is like a tiny, delicate feather from a baby robin's wing gently floating in the moonlight breeze.
What was I saying?
Oh, so I started dinner too late. Didn't time it right. Won the Failtown USA pageant. Got all the prep work cooked and shot, started to arrange my quesadillas on my little cutting board, got the tripod positioned just right, R.E.M. at just the right volume, and theeeeeeeeeere they go.
Wail. Wail. Wail.
I look at the clock. How is it already 6?! How are they already hungry? How am I going to do this? How do these shorts really look on me because I gotta say, I'm diggin' the leng- okay.
So basically, pardon the craptastic photos.
If my ad revenue takes a dive I'M LOOKING AT YOU, WILL AND NATALIE.
That very first photo up there? Not even styled. It's like, falling over. White balance off. There's no cilantro on top. No creamy chunks of avocado piled here and there, no lime wedges scattered about. Nerthrin'. But I needed you to see the insides of the quesadillas that are going to rock your whole face off to the ground.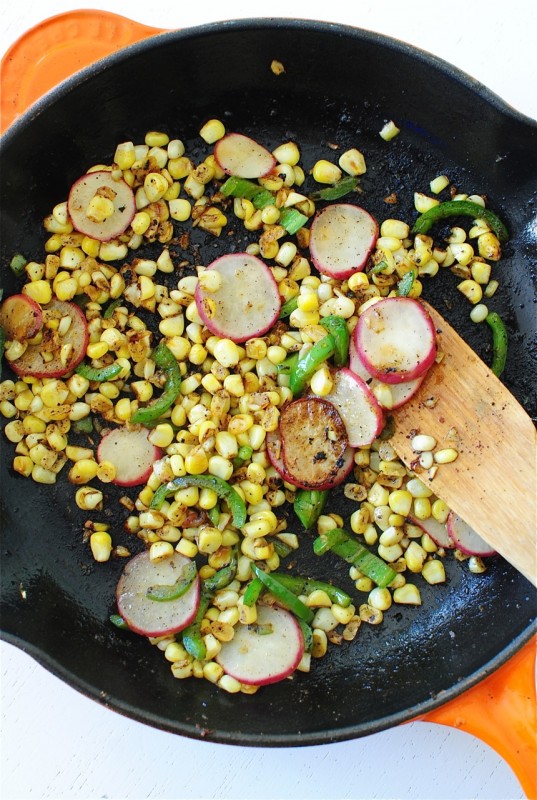 Roasted red peppers blended with fresh cilantro. Yeah.
Sautéed corn, jalapenos and radishes. Double yeah.
Seasoned and seared chicken THIGHS (like Gaby's? Too far, Bev.) all shredded like a freaking triple yeah.
All shoved into tortillas and pan-seared like a freaking boss. Gaby's boss? Just kidding.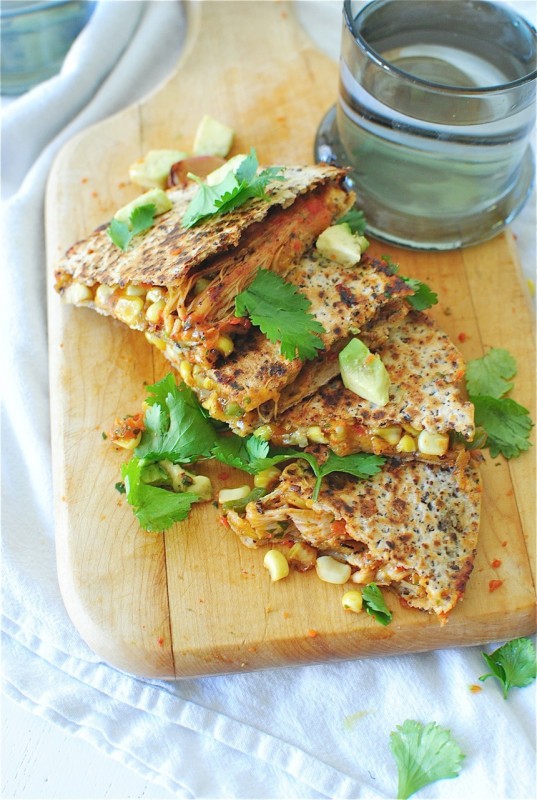 MAKEANDEATTHIS.
Chicken Quesadillas with a Roasted Red Pepper Sauce:
What it took for 4:
* 1 tsp each: cumin, chili powder, onion powder, garlic powder, dried oregano, smoked paprika, pinch of salt and pepper
* 1 pound chicken thighs, trimmed of any excess fat
* 2 Tbs. extra-virgin olive oil
* 2 red bell peppers
* 1 cup loosely-packed fresh cilantro
* 1 Tbs. extra-virgin olive oil
* 1 Tbs. butter
* 2 ears corn, kernels removed
* 1 large jalapeno, seeded and sliced (leave in the seeds for more heat)
* 2 radishes, thinly sliced
* pinch of salt and pepper
* 1 1/2 cup shredded cheddar cheese
* 8 small tortillas (whatever kind is up to you!)
Broil the red bell peppers on a baking sheet until black and charred all over, turning every few minutes. Place peppers in a large sealable plastic bag, seal and let steam for 10 minutes. Remove the peppers from the bag and remove the skins from the peppers. Pull off the stems and seeds as well. It may be hot so you can use a paper towel if needed.
Place the roasted peppers in a food processor along with the cilantro, a pinch of salt and pepper. Pulse to combine.
Combine all the spices in a small bowl and toss to mix. Coat both sides of the chicken thighs with the spice mixture.
Heat the oil in a medium pan and place the chicken in it. Sear on both sides until cooked through and browned all over. Remove chicken from pan, let rest 5 minutes, then shred with two forks.
Back in the pan add the remaining oil and butter. Over medium heat, sauté the corn, jalapeno peppers and radishes until slightly browned. Season with salt and pepper.
Spread the roasted red pepper sauce on 4 tortillas. Top with chicken, corn mixture and shredded cheese. Place another tortilla on top, then place the quesadilla in a small hot sauté pan. Sear on both sides until the cheese melts and the tortillas have browned and crisped a little. Continue with remaining quesadillas.
Slice and serve with cilantro, diced avocado and lime wedges.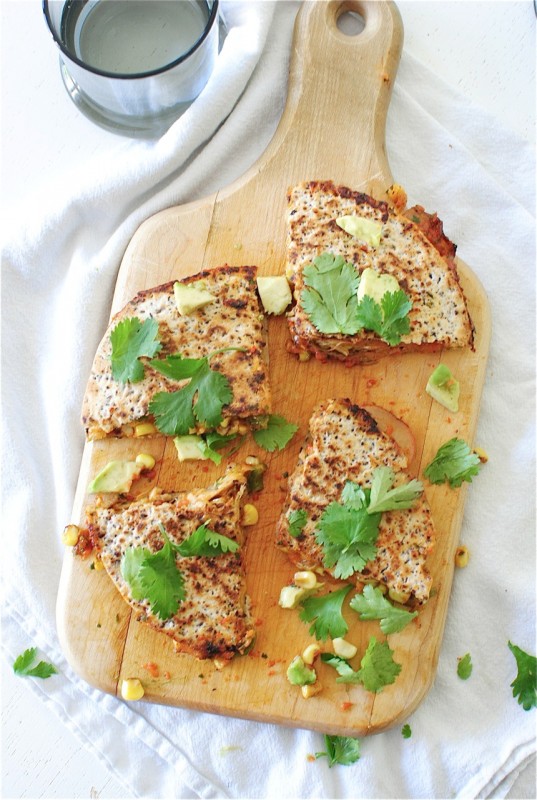 Baby screams sold separately.