You'll have to forgive this onslaught of warm, comforting soups IN THE SPRING.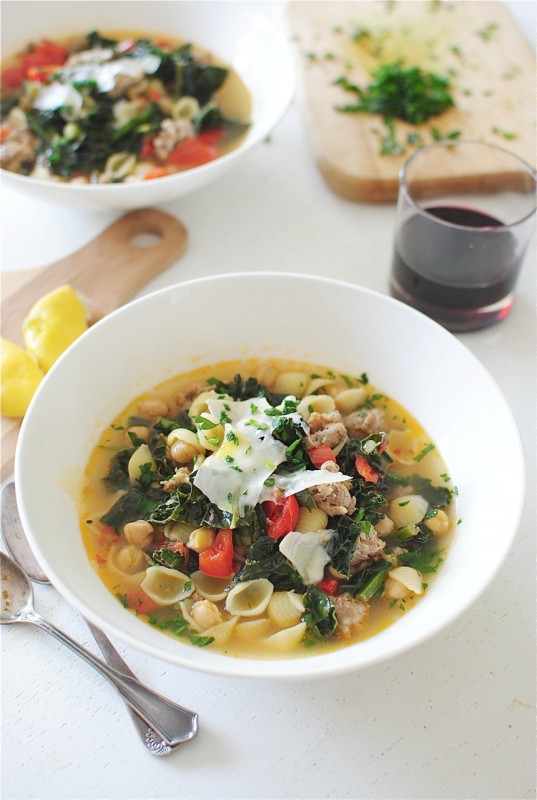 Doesn't get any better next week either. But you know what? I don't even care because to me soup is an always thing. I'm not really using springy vegetables in this dish either, but you know what? I ain't even gern stress it.
Besides, who said soup is a fall or a winter thing anyway?!
Plato?
Aristotle?
Socrates? Morons. (name that movie)
I'm kind of riffin' on a couple of my older 'pes (feel free to paper cut me) for this minestrone. I'm calling it minestrone since there's pasta in it. And clearly pasta is an always thing, too.
But the thing that makes this so rah rah sis boom bah is the parmesan rind. Hey! I didn't even scream that at you!
Am I growing up?
I hope not.
Stick a rind in your soup and it's like sticking Snow White with an eighth dwarf named Yummy.
But if you don't have a rind, oooooooh man. Hate to tell you, but your hair will be haunted with horny toads for the next 23 years.
It just adds so much depth! It's so rindy.
Maybe the dwarf's name is Rindy?
But you fish it out of the soup at the very end! If you don't fish it out, however, your bottom lip will be haunted with regular toads for the next 48 years.
. . . I need rest.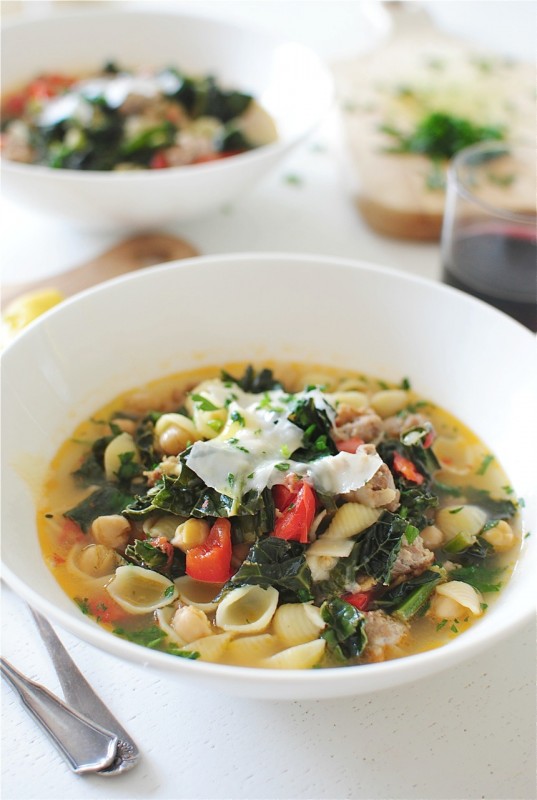 Make this already.
Kale and Sausage Minestrone:
What it took for 4:
* 1 pound Italian sausage, casings removed and broken into chunks
* 3 cloves garlic, minced
* 1 (15 oz) can chickpeas, drained and rinsed
* 6-8 cups kale, chopped
* 1 red bell pepper, diced
* 1 cup halved cherry tomatoes
* 1 pinch crushed red pepper flakes
* 1 quart chicken stock, plus two cups water
* 1 parmesan rind
* 1 cup small pasta shells
* 1 lemon
* chopped parsley, for garnish
* crusty bread, for dipping
In a large deep pot, brown the sausage. Add the garlic and bloom for 30 seconds. Then add the chickpeas, kale, red bell pepper, tomatoes, crushed red pepper and a pinch of salt and pepper. Give it a toss and sauté for a minute or so.
Add the stock, water and parmesan rind. Add the pasta and simmer on medium for about 20 minutes, or until the pasta is al dente and you want to punch a stuffed chipmunk. Remove the rind with tongs and discard.
Taste that, man. SOOOO ridic. Add some lemon juice and some parsley! But save some for garnish. So keep tasting it until the acid levels are perfect. You want bright, but deep.
Serve topped with more parsley and parmesan shavings!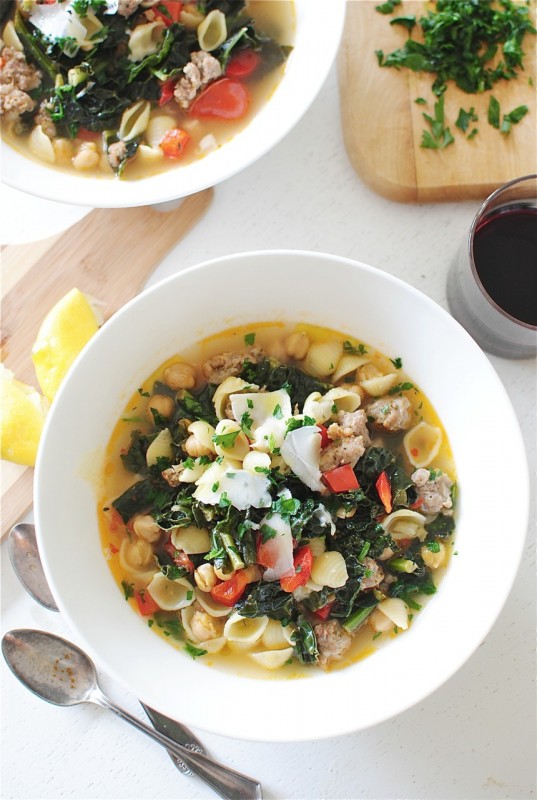 Let's make minestrone an always thing.