What has it been, 26 seconds since I've shown you pizza? Too long.
And okay, while this isn't really anything RECIPEISH or GROUND BREAKING or ONE MORE WORD THAT I COULD SCREAM AT YOU, it's still dinner and I didn't have to stand up too long to make it. I win!
Do you even want to know how devastated I was going to be if I failed the second glucose test? I don't eat a ton TON of sugar, but everyone was telling me, "It's the carbs. Cut down on the carbs." Right. What that translates to me is, "Cut off your head and flush it down the toilet."
Hail. No.
Carbs are my middle name, man! Well, if you rearranged the letters and added a c, an a, an r, a b, and an s. And took out the extra s, the u, and the e.
That sentence was obnoxious and I wish I was sorry.
There's not much to this pizza, which is the name of the 33 week pregnancy game.
It's basically fridge and pantry staples, which is the naaame of the two acrobat humans in my belly game.
Pre-made pizza dough, chicken sausage, pizza sauce, red onion, baby spinach and cheese. Which is the naaaaaame of the – yeah okay I can chill.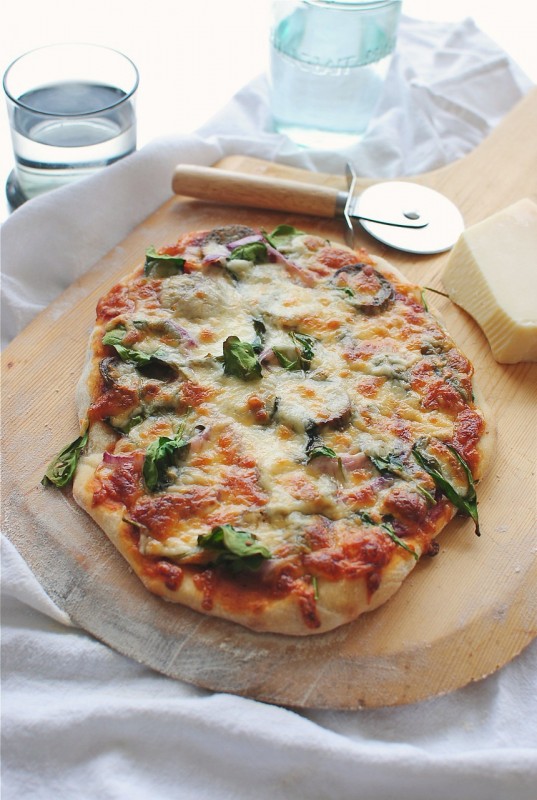 I looked like a crossbreed of Animal from the Muppets and some sort of space-age demon snarfinator while eating this.
I wish I was sorry.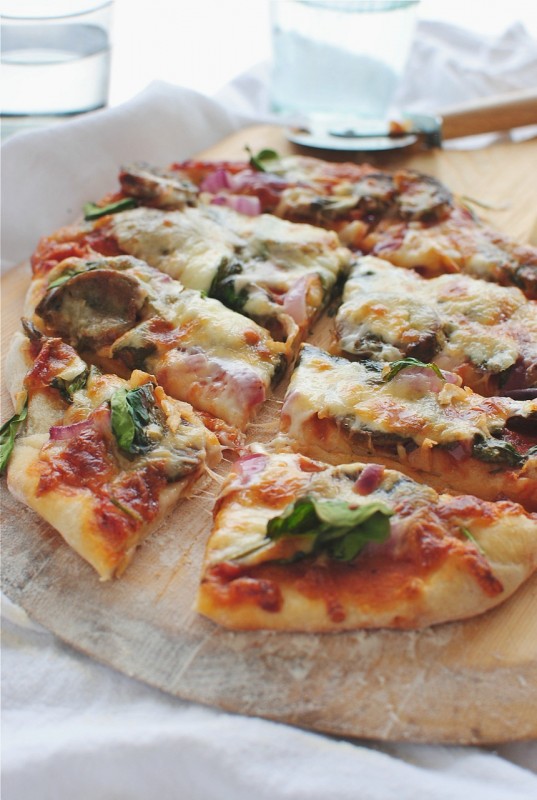 Giiiiit it.
Pizza with Pesto Sausage, Spinach and Onion:
What it took for two 8-inch pizzas:
* 1 pound pre-made pizza dough (I used Trader Joe's), divided in half
* 2 links pesto chicken sausage (or any other flavor you die over), cut into thin slices
* 1 cup (about) favorite pizza sauce
* 1/3 cup cup thinly sliced red onion
* 2 cups (or more!) baby spinach leaves
* 1 1/2 cups (or however much you want) shredded mozzarella cheese
Place a pizza stone in the oven and preheat to 400.
Sauté the sliced sausage in a small pan until browned on both sides, about 5 minutes.
On a floured work surface, roll out each pizza dough mound until you get roughly 8-inch circles. Spoon the sauce over the dough, followed by the sausage slices, red onion slices and baby spinach. Sprinkle the mozzarella on top and bake each pizza until the cheese browns and bubbles and the dough is cooked through, about 15 minutes.
i.n.h.a.l.e.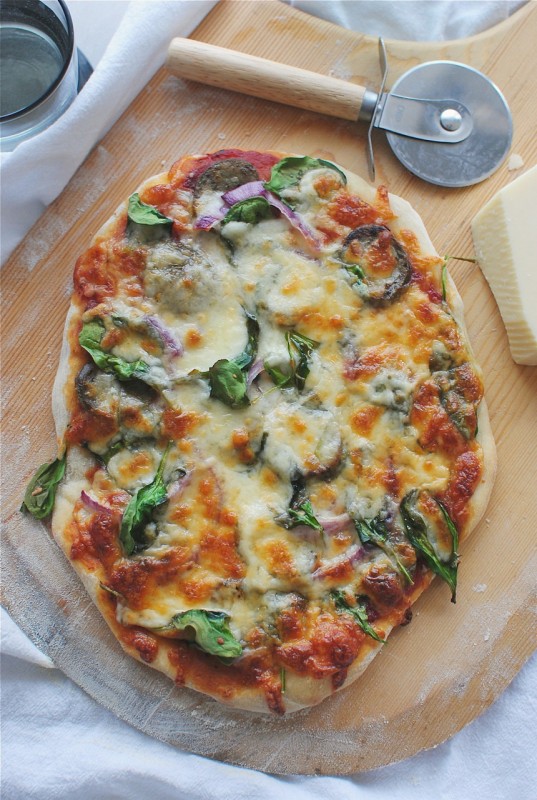 Now it's time for chocolate fudge ice cream.