Oh gosh.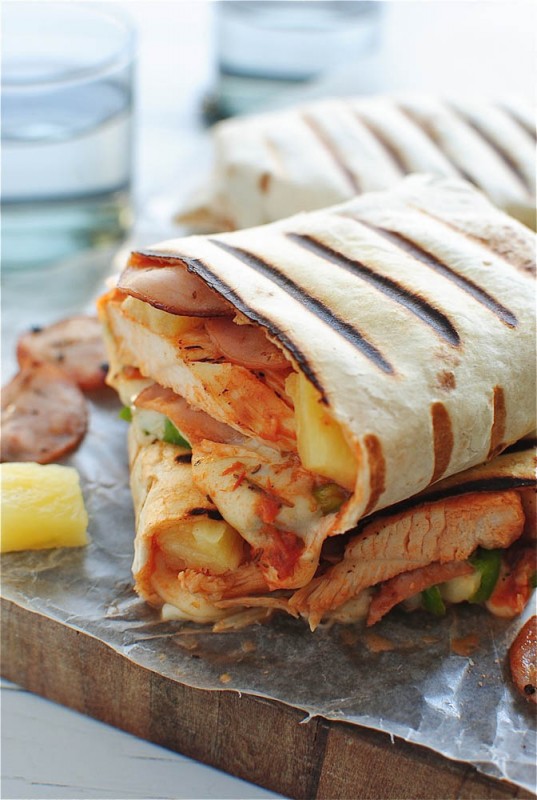 Looks like a Tasmanian devil just whizzed through that mother, but it's okay. I'm still a good person.
Okay, so I read somewhere that the babies can hear me now. They can like, actually hear my voice. Through all that fluid, sac city, bubbles and goo, they can hear me. Yeah, I'm pretty sure all they've heard is, "omg. OMG. OMGGGGGGGG" over and over and over. Well, that and some Wilson Phillips jams, amiright.
But knowing this now, I've decided to try to talk TO them. And sing TO them. And nag TO Aaron, but that's neither here nor there.
When I was making these here pizza burrito thingies, this is all they heard:
"Oooooo little bebes, we're gonna get this chicken all seared up niiiiiiicely, just like you guys! WAIT, not that I'm searing you. But I'm cooking you. Or baking you. Sh%t. I mean SHOOT! Sorry. Anyway, now we're slicing up the pretty chicken. Just like I want to slice your little faces with my tongue. WAIT, NO. I mean. Oh gawd."
"Okay this is the yummy part! Because you're inside me I had to crisp up my Canadian bacon because I don't think I can have it cold. Isn't that so interesting? I hope you guys aren't cold in there. Do I have the temperature right for you? Need a blankie? Tell you what, just cuddle up against those placentas, I'm sure they're cozy. Okay this is weird."
"Okay squirts, now comes the cheese! Just so you know, your dad hates cheese. You need to come to terms with this right now. Matter of fact, do NOT and I repeat NOT take after him in this department, 'mkay? You are totally welcome to inherit his crisp blue eyes, smooth olive skin and hair thick as a maple syrup meadow, but if you decide you hate cheese I WILL QUIT THIS FAMILY FOR LIFE. p.s. I love you?"
. . . They didn't kick the rest of the night.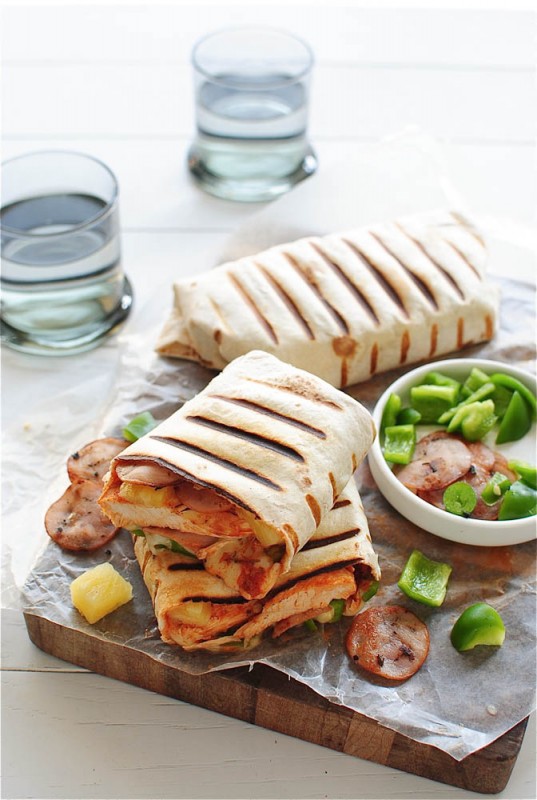 Pizza sauce, green bells, seared chicken, Canadian bacon, pineapple and gooey cheese. All wrapped up and grilled just like a swaddled little baby.
Err . . .  you know what I mean.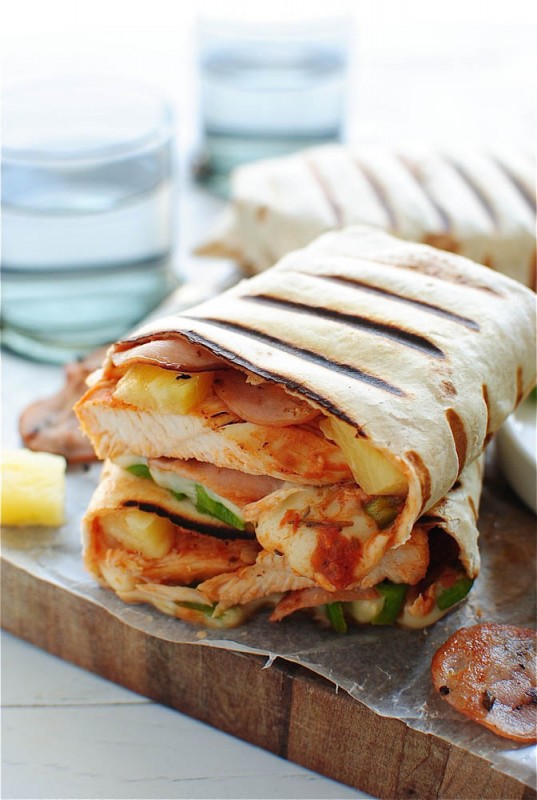 DO THIS.
Grilled Hawaiian Pizza Burritos:
What it took for 2 burritos:
* 2 tsp extra-virgin olive oil
* 2 chicken breasts (boneless, skinless)
* 2 tsp dried thyme
* 2 tsp dried oregano
* 2 large flour tortillas
* (about) 1/2 cup pizza sauce
* 1 (3.5 oz) package canadian bacon (crisped up in a skillet if you prefer)
* 1 (8 oz) can pineapple chunks, drained
* 1/2 green bell pepper, cut into a small dice
* 1 small jalapeno pepper, sliced (and seeded for less heat)
* 1 cup shredded mozzarella (or about 5 string cheeses, cut into small chunks)
* coarse salt and freshly ground pepper, to taste
Heat the oil in a medium skillet over medium-high. Add the chicken. Season with salt, pepper, half the thyme and oregano. Cover and sear 5 minutes. Flip and sear (and season) for another 5 minutes. Tent and rest for 5 minutes. Thinly slice.
Lay two tortillas flat on a work surface. Evenly spoon the pizza sauce over each tortilla. Top with chicken, Canadian bacon, peppers, pineapple and cheese. You can always drizzle a little pizza more sauce on top. Kinda wish I had. Then just roll the burritos up (ends in first to tuck them in) and place on a hot grill pan, seam side down. Place something heavy on top and grill for about 3 minutes. Flip and grill another 3 minutes, or until you see nice grill marks all over. I grilled the sides too, to be cute. Was it cute? Never mind.
Slice and serve!
*You can always make these into smaller burritos by using smaller tortillas and getting more mileage with your fillings. Leave out the hot peppers for the kiddies. Add more cheese. You know the drill.
*Serve with more warmed pizza sauce on the side? Oh dude yes.
*w e  w i l l  n e v e r  f o r g e t*