"Baby, baby. I'm taken with the notion, to loooove you with the sweetest of devooootiooo-haaan."
First of all, please don't give me a wedgie.
Second of all, I SWEAR this blog isn't going to become super preggo-centric. It's just, with the mad summer rush of friends and family visiting, weekend getaways, and still coming out of this early pregnancy barfotron fog, I ain't got no food to show ya, man.
So, let's look at pretty things today instead!
It will be fun, right?
Color? Imagination? Less Amy Grant lyrics? Got it.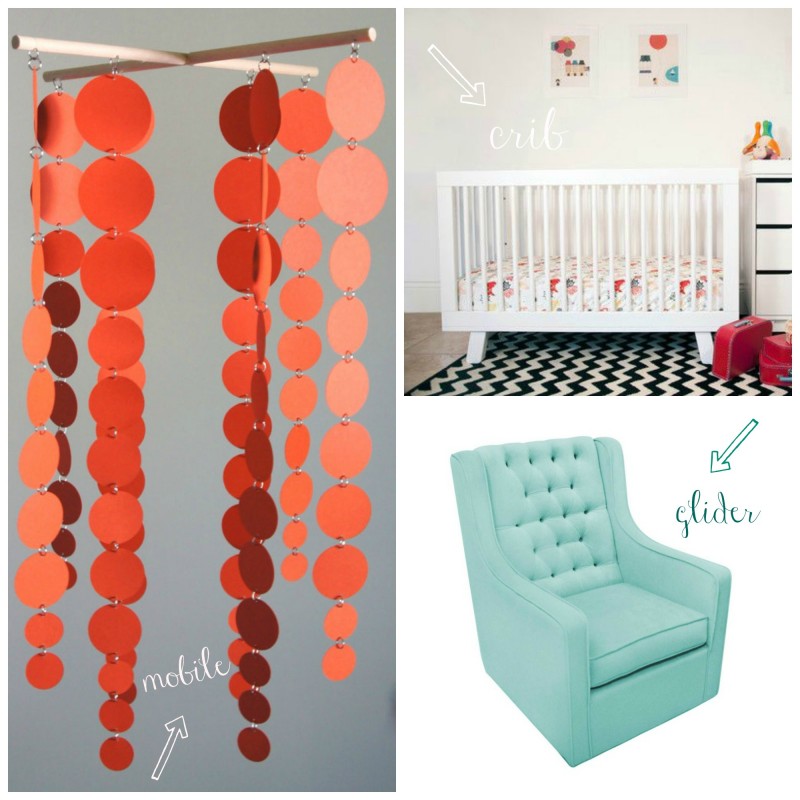 So, this past Sunday Aaron began a little nursery reno. Semi-basic stuff, but changes that will definitely wake up the space and give it that "just-stepped-out-of-a-salon" feeling. He ripped out part of a wall, making the closet much bigger and open. We'll add new shelves and hanging rods. We'll also add a recessed light to the closet, replace all the trim and baseboards, and give the whole room a fresh coat of bright white paint.
And by "we'll" I mean him. Like, 100% him. I'm carrying the cargo, yo! Oh that rhymed.
Here are some ideas floating around in my noggin' so far.
Isn't that mobile so pimp!? Aaron thinks he can recreate it, with different colors like the red-orange you see, aqua, mustard, mint, tangerine, white, etc. I sure hope he can because if you click on that link, it's no longer available. Off with their heads!
Okay so the crib? DONE. We're ordering it next week. In white of course. It converts to a toddler bed, too. So once they grow out of it one can stay in that bed, and the other can just share Charlie's dog bed with her.
I'm absolutely in love with that aqua glider. UGHHHH. But I'm skurred to buy something online without sitting in it first. Maybe I'll find one in a ditch or a dumpster somewhere. MOM, I'm joking. (I'm just going to let her hyperventilate on the dog bed thing a little longer.)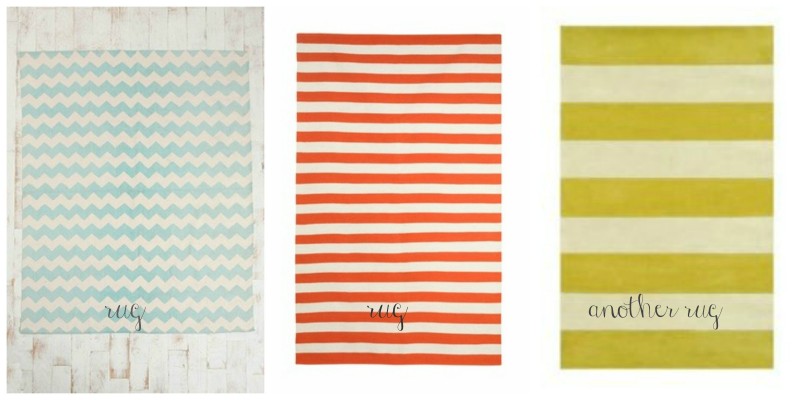 Rugs! I love rugs. I have a few more rug pins on my "bebes" pinterest board, but I didn't want to bore you with too much rug talk. Oh! Let's start a band called the Rug Talks. I'll play bass.
I really love the far left light blue one, but it's from Urban Outfitters, and the reviews basically show owners wanting to spend the night in a bee hive, they hate it so much.
The red and mustard ones are awesome too, but miiiiight be a little bright for the overall soft look of the room. I dunno. HULP MUH.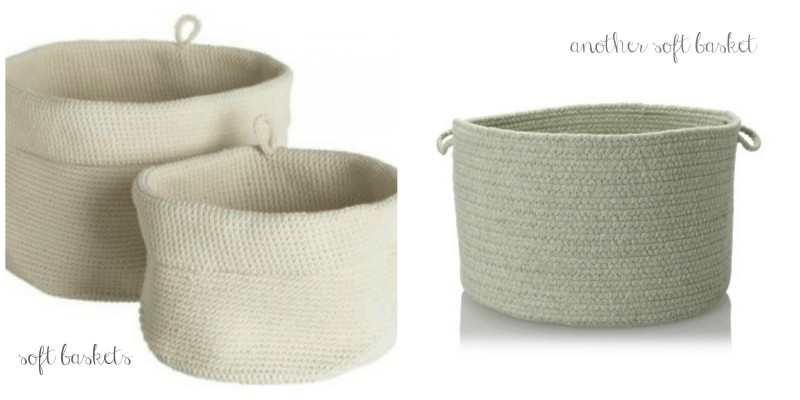 Baskets! I love baskets. Soft baskets. I have this vision of a basket on the floor next to the crib or changing table with a bunch of soft pale colored blankets rolled up in it. And a dirty diaper or two if we're getting real.
The softies on the left? Are you kidding? I want 10 trillion.
And the misted green one on the right? 13 trillion.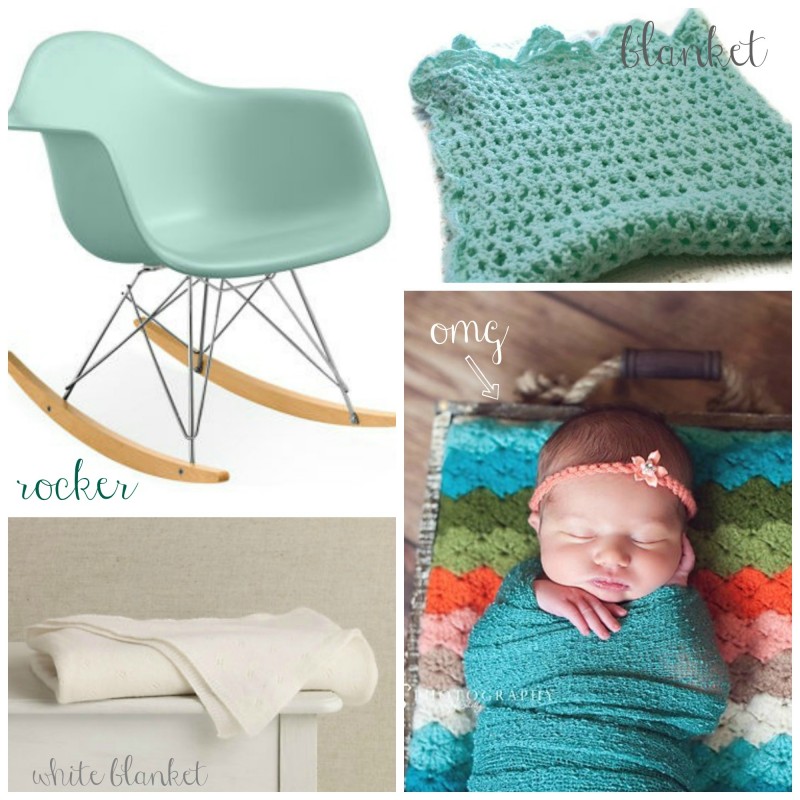 Just a few more things and you can loosen the noose!
That robin's egg plastic rocker gives me sexy sweats, but I know it's probably impractical for comfort and nursing 14 thousand babies at once. But we can still look at how bawdaw it is, right?
And blankets! I love blankets. Pile 'em on. Gorgeous vintage colors, soft whites, can't.even.deal.
That upper right hand mint green one kills me. But in that link it shows a weird pink trim. NERP.
The bottom white one? Yes, baby. But the link is weird, too. What's the deal, LINK UNIVERSE?
The bottom right picture? Just stop. Even though that baby looks pretty awkward, I am DYING for that blanket under and around her. I think my sister is going to try to make me some like these. You are, right Barbara? I mean, I just put it out there. It's etched in gold on the blog forever. You're hereby bonded to your promise. DO NOT PISS OFF A PREGNANT WOMAN.
Okay, that's all for today! We've got six months to pull this together. Nerrrr prerblerm. I'll probably do a few more of these nursery posts as things come together. We still have to think about lighting, a changing table, a book shelf for toys, aaand probably more dirty diapers if we're getting truthful. I'll definitely show you the whole reno once it's complete!
If you have any other suggestions on awesome stuff or places to look, hoooook it uuuup.
"STOP for a minute, baaaby they're so glad you're miiii-hiiiiine. Oh yeaaaaah."
Yeah I couldn't not.