Is it too early in the day for a solid round of fist bumps?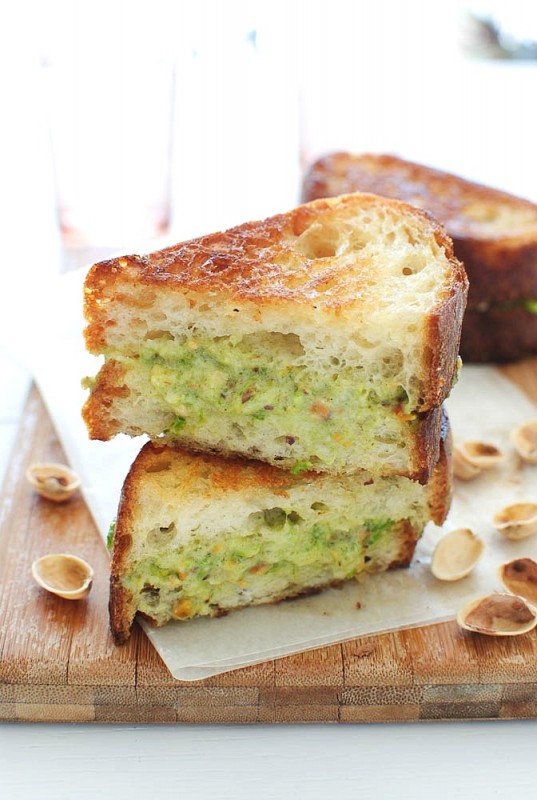 How 'bout an unadulterated squeal fest?
Ring around the rosy? Pockets all full and stuff?
Either way, I'm wearing some blue.chip. giddy pants today. And I haven't worn giddy pants in a while! They're a little tight. Hmm.
So this is the deal. I've been wanting to make something sort of tiramisu-y feeeerrrrreverrrrr now. So like any normal human sapien being would do, I bought a container of mascarpone cheese to eat my way through while I narrowed down some ideas. Quality control, britches. And I can tell you that this container has seen me through some tender times.
But you will never, and I mean NEVER guess what else it lead me to. Oh wait, you probably already read the title of this internet blog post and figured out that it lead me to creating a most rich and savory grilled mascarpone and roasted jalapeno pistachio pesto cheese sandwich.
You saw that, right?
HOOOOLMG.
Still too early for fist bumps? No prob.
Let me just try to describe this sandwich to you without completely melting into a pile of human goo.
This is going to be tough, so bear with me.
That smooth mascarpoooooo o .sdkfsdf..fs. is so creamy and sweet oh my laaaaanddddsssssaaaa.
The roasted jalapenoasldfk233tgds dflsjkala PISTACHIO, oh seriously seriously my GOSH pesto is just ridiculously ridiculous.
Spicy, and pretty garlicky dear sweet ponies, but cut with the sweet cheeeeeee aslfa'a"dsfj jks 493fsdlfs. I can't do this.
That crusty breaaaaaaaaa  o2pu';asf fsad grilled in buttttteeeerrrrrrr I'm falling apart. This is too much.
Still too early?
Didn't think so…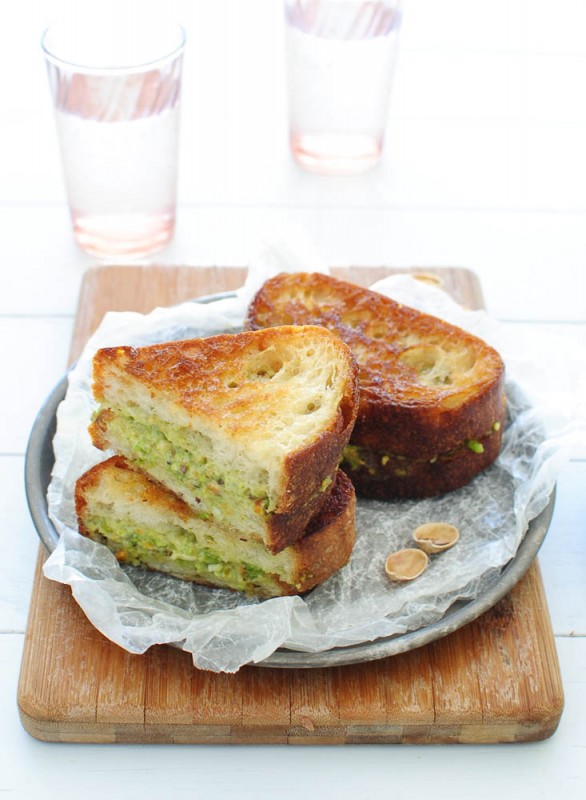 Fist bump!
Grilled Mascarpone and Roasted Jalapeno Pistachio Pesto Cheese Sandwich:
What it took for 2 sandwiches:
* 1 jalapeno pepper
* 1/4 cup pistachios
* 2 cloves garlic, chopped
* 2 tsp extra-virgin olive oil
* 1/2 cup mascarpone cheese
* 1/2 pinch of coarse salt
* 4 slices crusty ciabatta bread
* 2 Tbs. butter (or oil, or spray!)
Place the pepper right under the broiler, and broil until good and charred on all sides. Place it immediately in a small bowl and cover with plastic wrap for 10 minutes. Remove the pepper from the bowl, slice it in half, stem it, remove the seeds (it will still have some heat, promise!) and peel the skin away. Slice the pepper into small strips.
In a small food processor, add the pepper strips, pistachios, garlic and 2 tsp olive oil. Blitz until combined and pretty smooth.
In a medium bowl, combine the mascarpone with the pepper pesto. Taste that. Tiny tiny pinch of salt? The pistachios are pretty salty, so you won't need much at all.
Now spread the mascarpone mixture on 2 slices of the crusty bread.
Melt the butter over medium in a large skillet. Place the sandwiches in the skillet and brown on each side (about 3 minutes each) until golden brown and the cheese mixture has warmed and softened. I'm dying.
Slice and seerrrrrve oh I can't even move.
Welcome to your new life.