How about a brunch idea?! Or a Saturday idea. Or a now idea?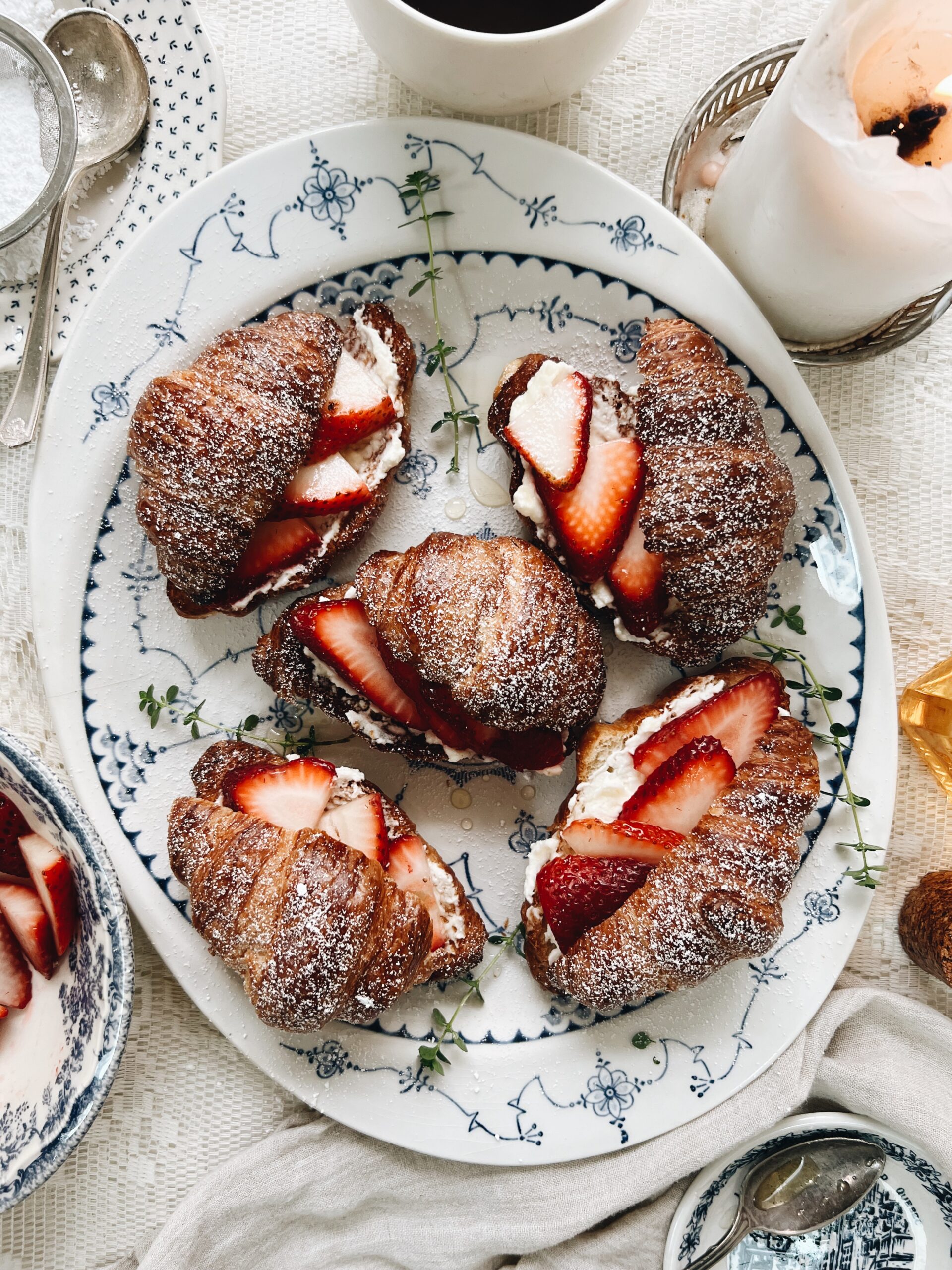 We're honestly slicing, toasting, whisking, spreading, drizzling, and garnishing. That's it. Isn't it wonderful?
And look, if you want to make the croissants yourself, that's completely fine, ya overachiever. But it's summer and I'm gonna breeze through these next three months the best I possibly can.
La-heeeeet us peepeth.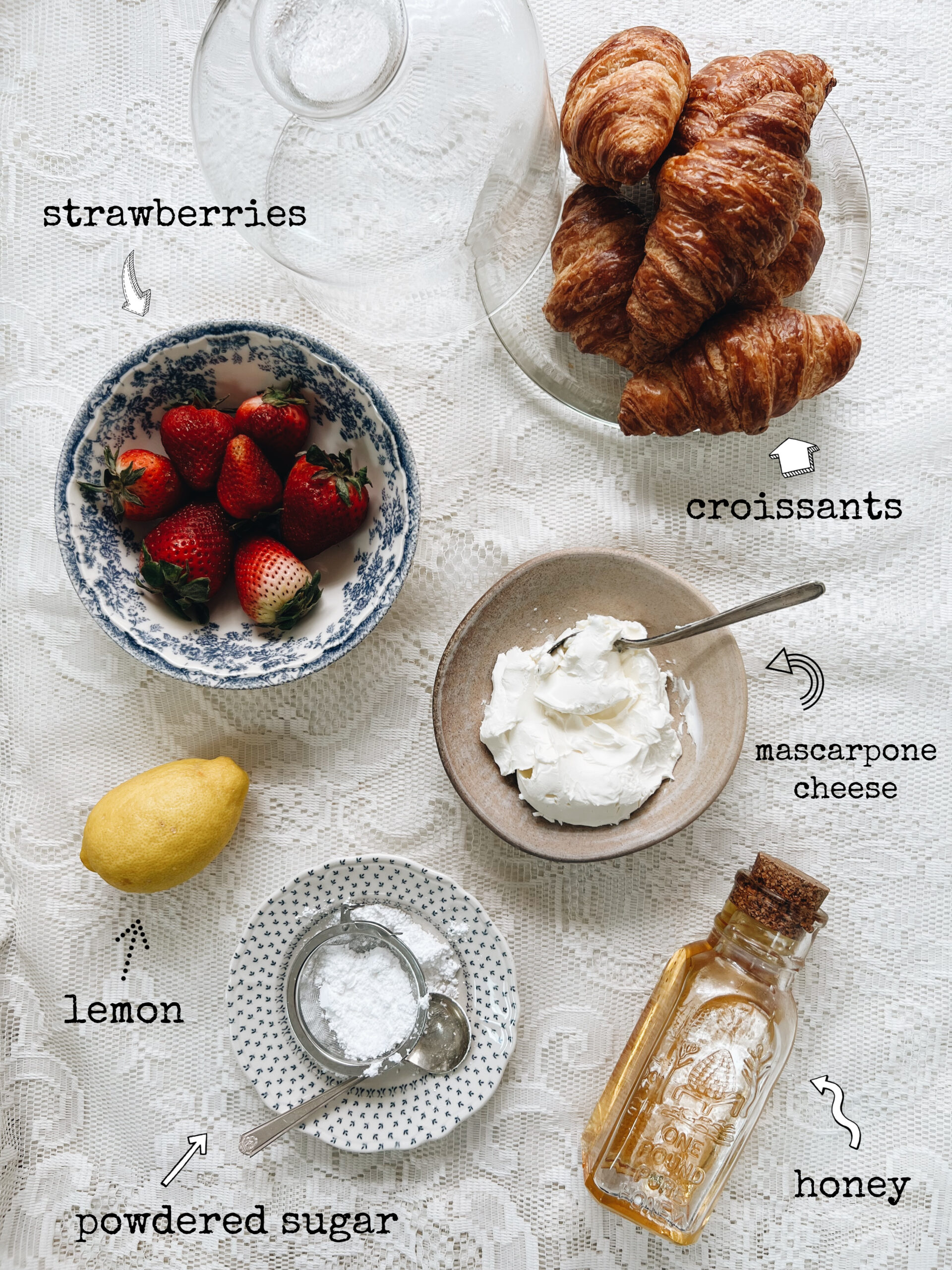 I didn't macerate the strawberries at all because I actually like them a little firm in this. They hold up better and don't sog up our delicate situation. We'll drizzle them with honey of course, but all we do up front is slice.
The size of these croissants – I'd say medium. You know how there are tiny ones and then ones the size of Nebraska? Go with the smaller ones. Even though I said medium in the sentence before. I like to make sense, you see.
Okay let's whip this thing up. We have people to feed.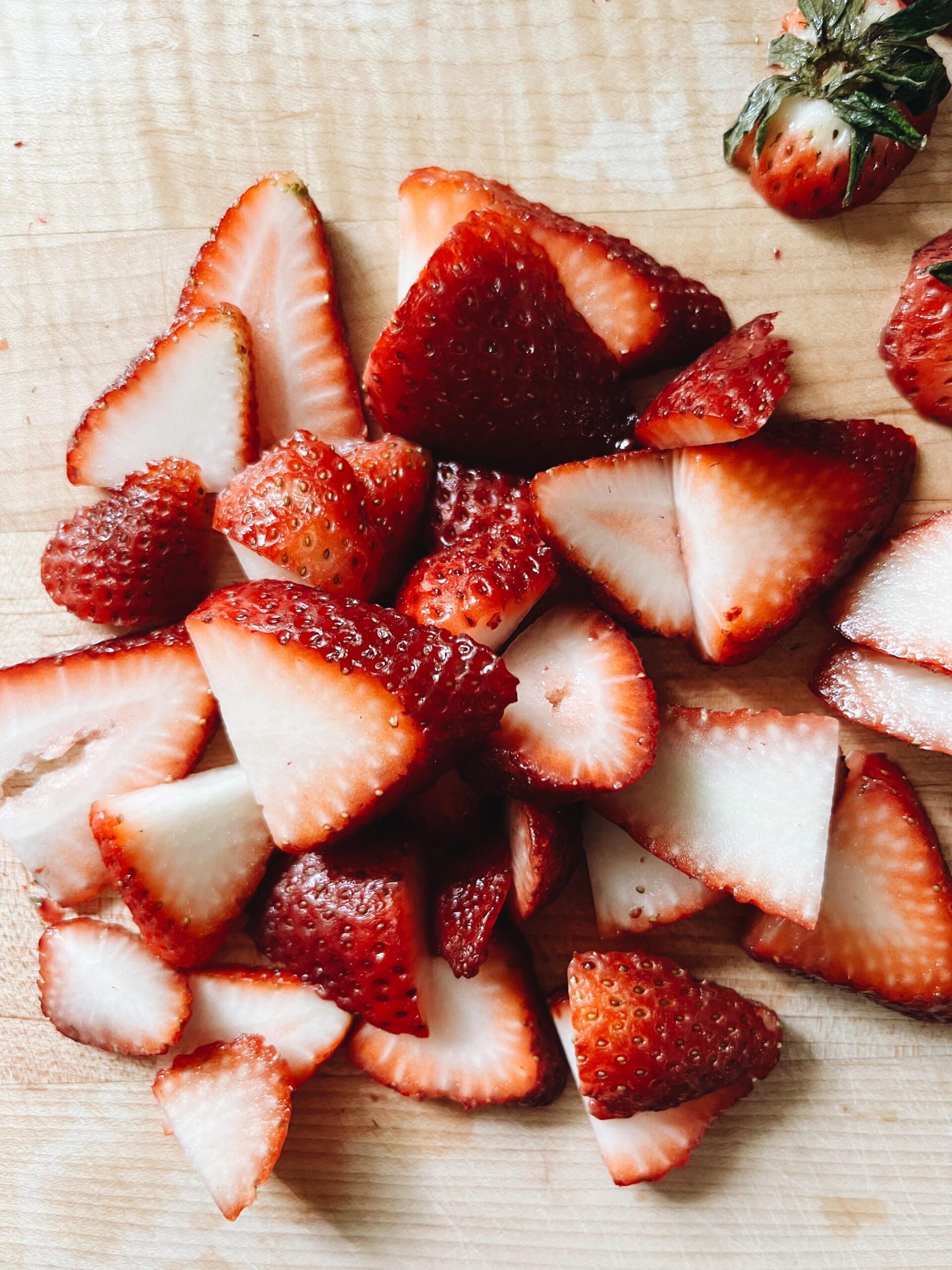 Get the greens off and get 'em sliced.
If you need to pop a few into your mouth right now, I will never tell.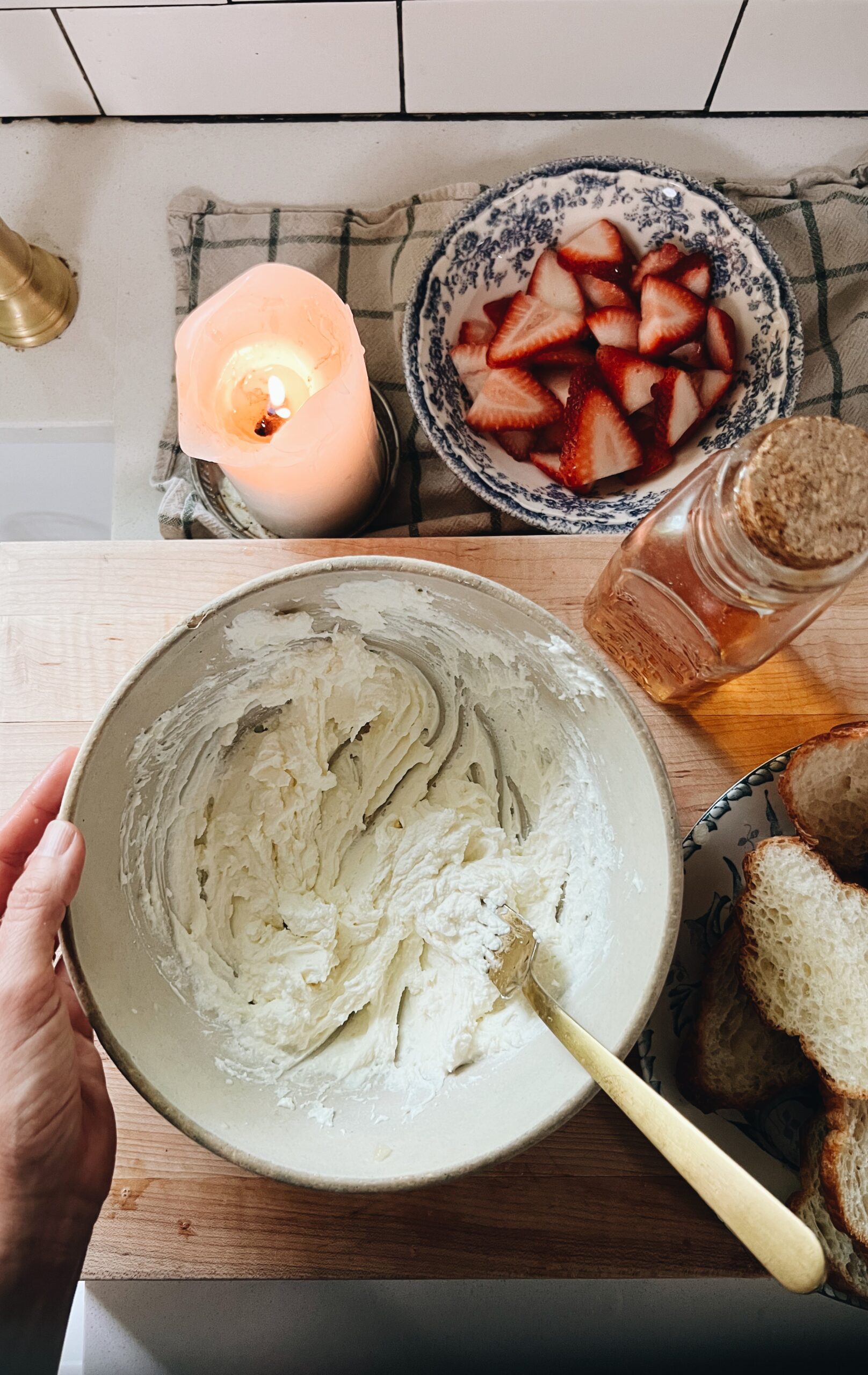 Also, make sure you get out your mascarpone early and let it sit. We want it room temp and soft. We'll add the lemon juice and whisk until it's smooth and tangy and you want to sob until September. Oh, the magic of mascarpone.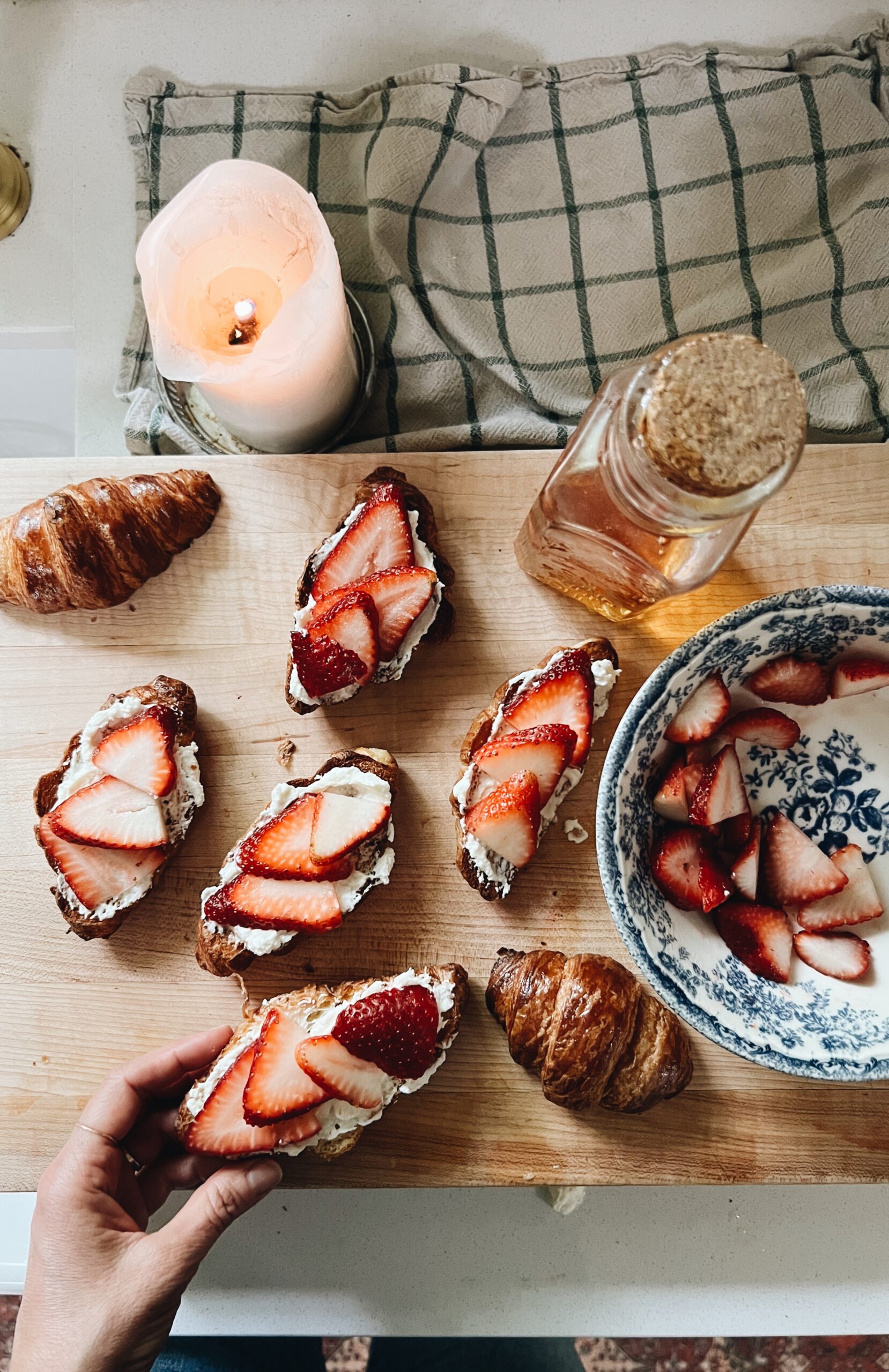 It's really an assembling situation. The mascarpone goes on the bottom toasted croissant half (We're starting a band called Bottom Toasted Croissant Half), the sliced strawberries get fanned out on top of the mascarpone, the honey gets drizzled, and croissants get snowed upon with powdered sugar, like a happy little shower.
Sorry I said it like that.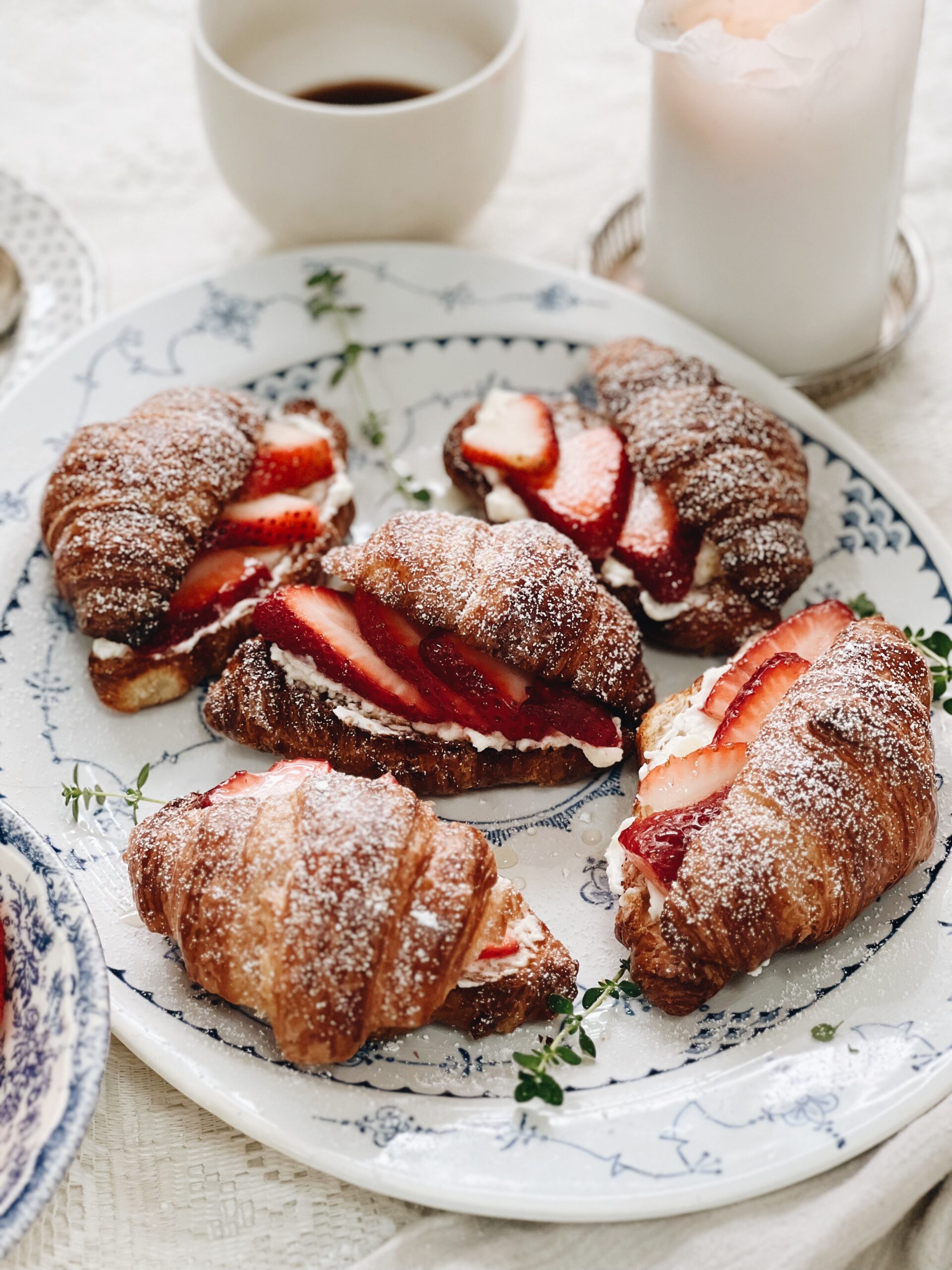 Yeah, that is fabulous. You bite in, there's so much excitement. The sweet tanginess from the lemony mascarpone, the buttery flaky goodness from the croissants, the burst of ripe from the strawberries, the earthy honey, and the subtle finishing sweetness from the powered sugar. This brunch item is in a power suit. She is.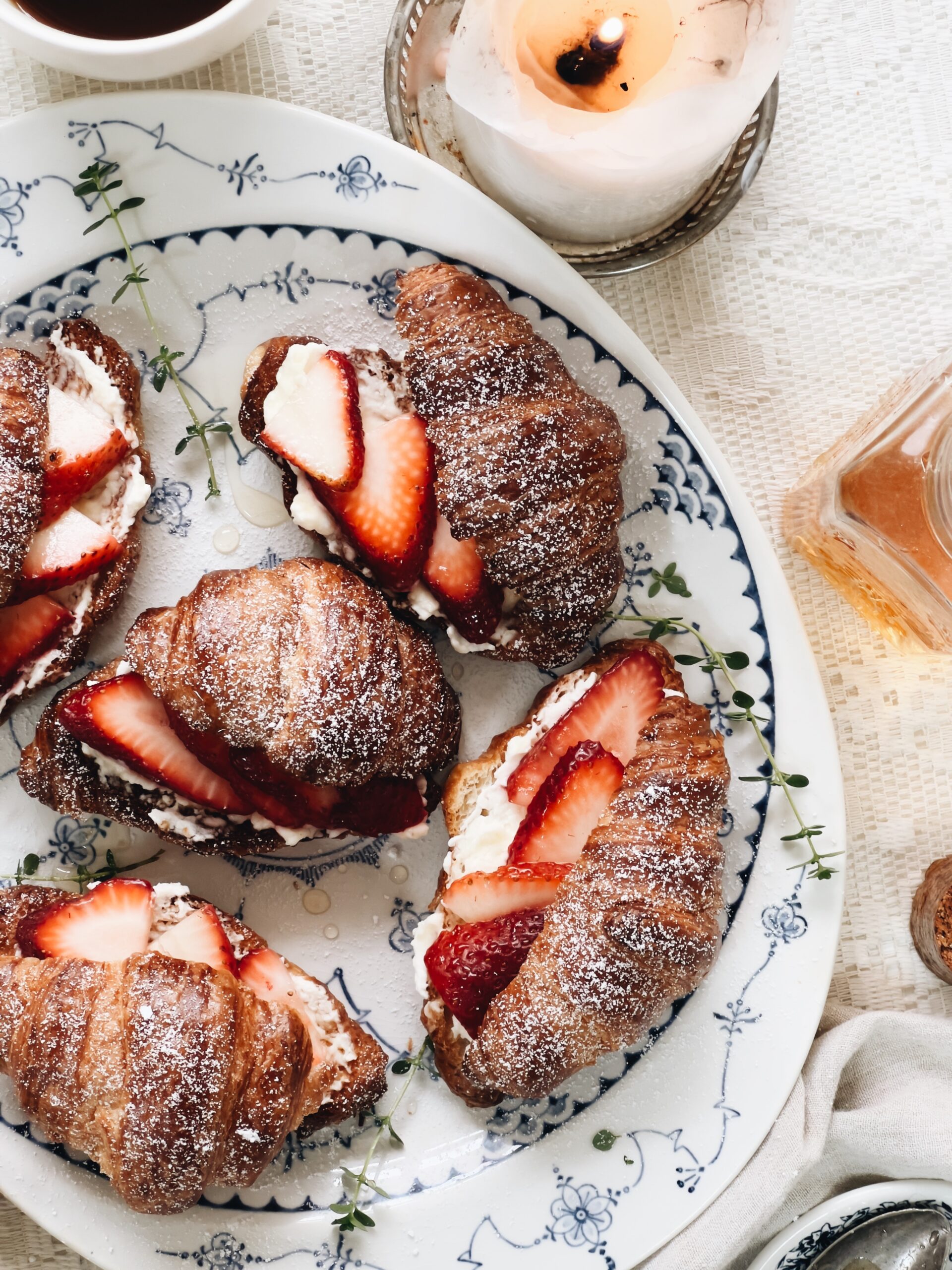 Add more honey if you like. You'll really just wing the amounts to get it right from your mouth hole.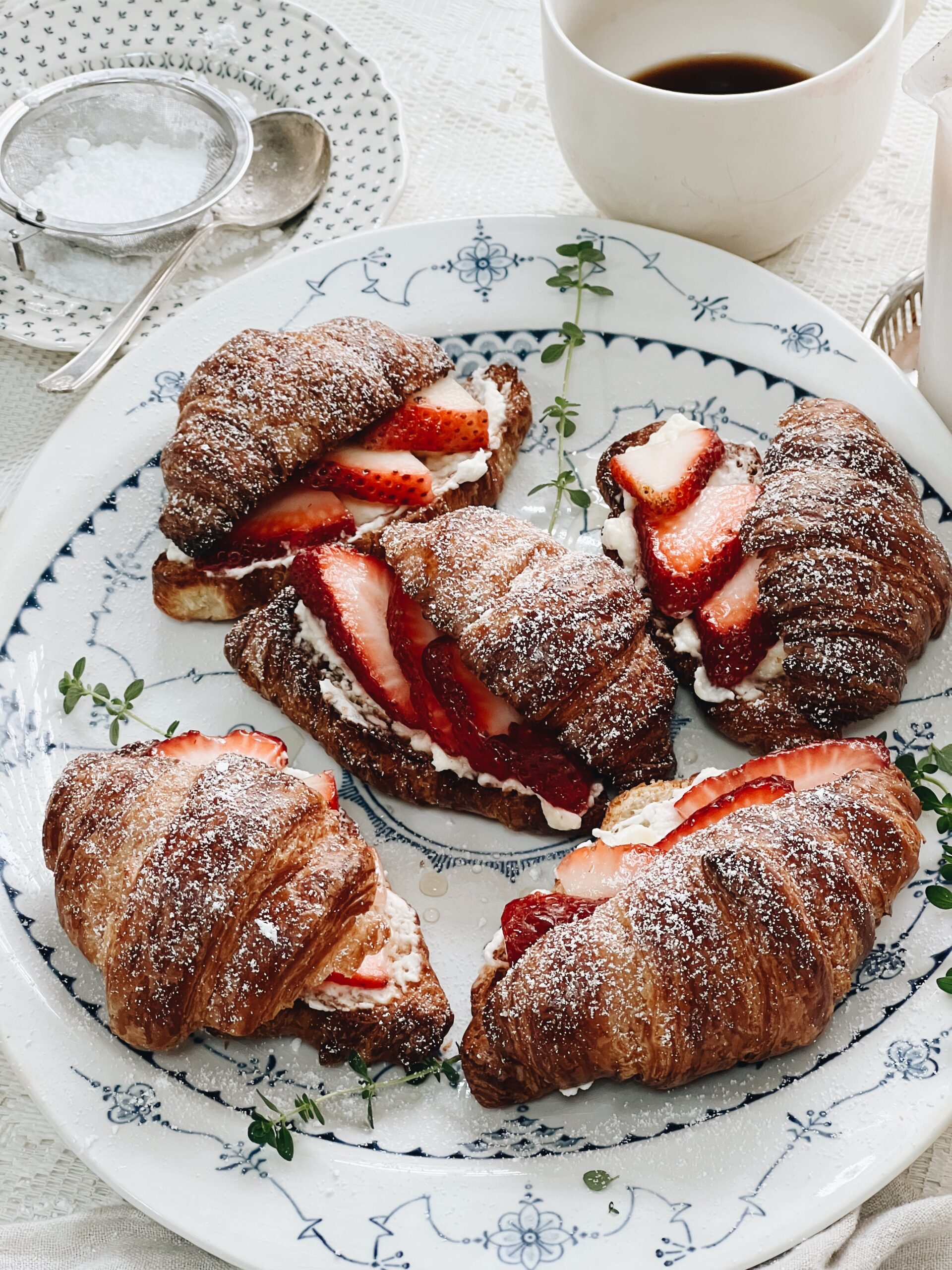 There will be one moment this summer when you're like, "I need strawberries on toasted croissants. Where did I see that?" IT WAS HERE. Here!
Get it pinned or saved or printed and folded in your wallet, huuuun.
Coffee or mimosas on the side. You get to choose. I'm just the happy bystander.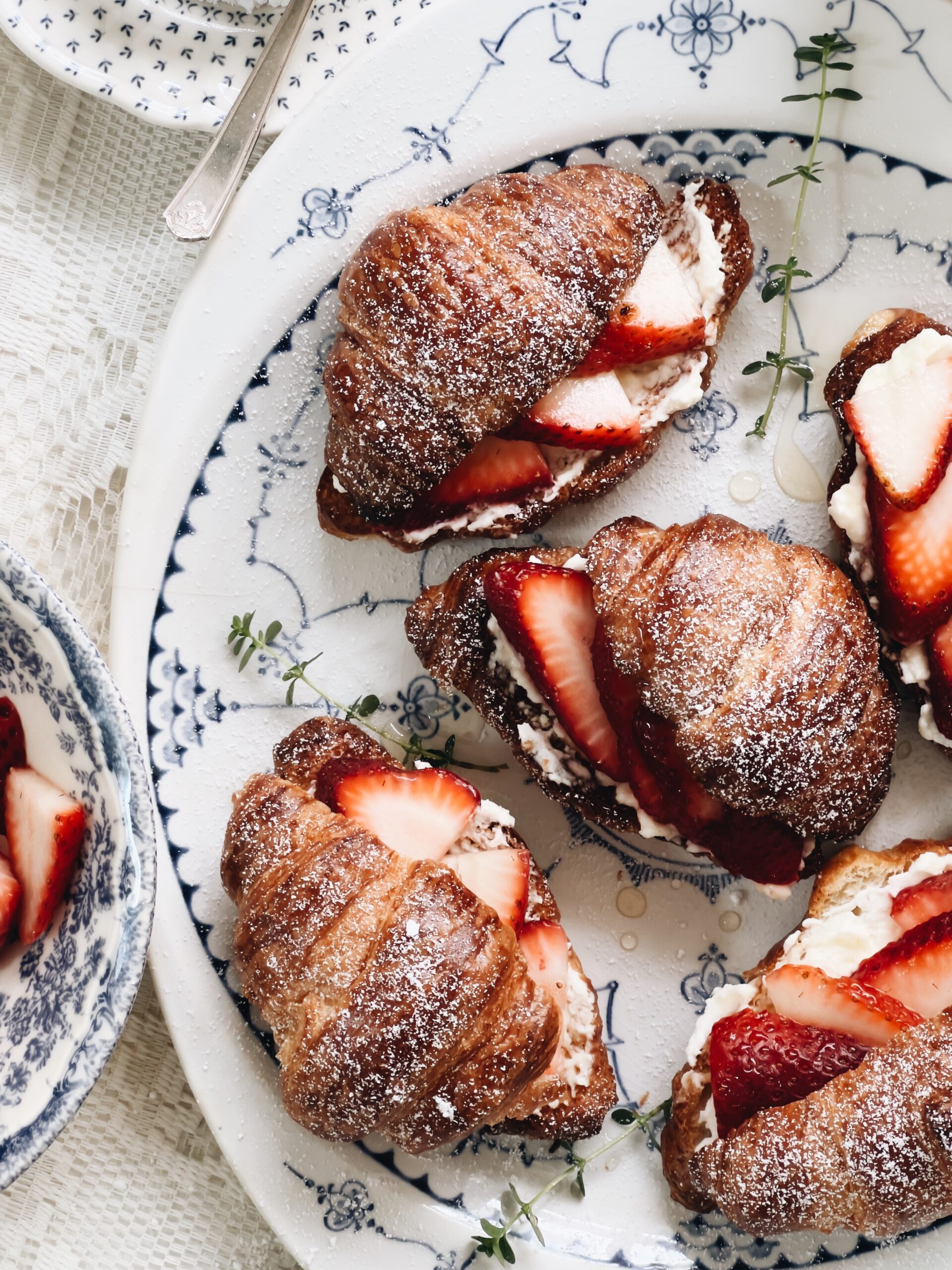 This weekend even!
Toasted Croissants with Strawberries and Mascarpone
Ingredients
Five medium croissants, split and lightly toasted
6-7 strawberries, sliced
5 oz mascarpone cheese, room temp
1 lemon
Honey to drizzle
Powdered sugar to garnish
Instructions
In a medium bowl, whisk together the mascarpone and lemon juice until smooth.
Arrange the split croissants on a large cutting board. Spread the lemony mascarpone on the bottom halves of the croissants, topped with a few sliced strawberries. Drizzle the honey over the strawberries and place the upper croissant half on top. Garnish with powdered sugar and serve.
Makes five croissants, but make as much as you like!
7.8.1.2
643
https://bevcooks.com/2023/05/toasted-croissants-with-strawberries-and-mascarpone/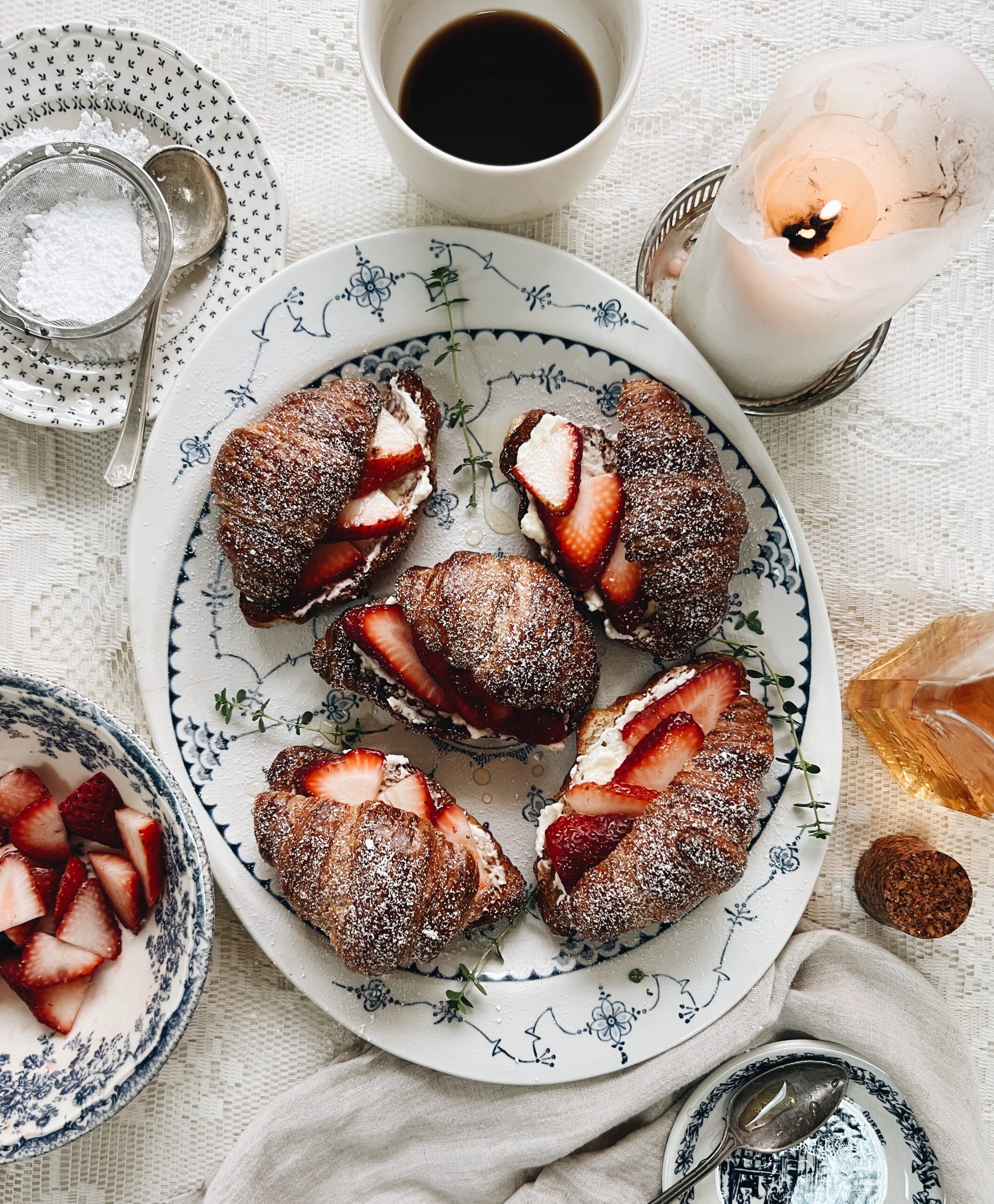 You could event tuck some mint in there if you feel like a real party.