I think we need to get smothered on this here Good Frideeeee.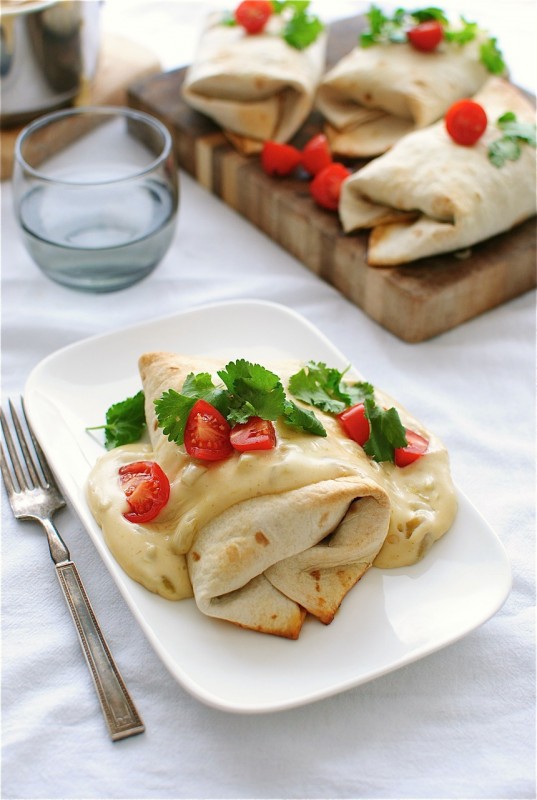 It's hard to see with the naked eye, but this is actually super duper crazy freaky healthy!
Okay, minus the 45 pounds of cheese dip on top, and the enormous tortilla the size of a rhinoceros torso. But underneath that crispy, golden-brown carbo-mama exterior, lie oceans of wilted kale, mountains of seasoned, chopped chicken, and delicate speckles of chipotle pepper greatness. Okay fine and more cheese.
I'M GOING THROUGH SOME THINGS, I NEED THE CHEESE.
So the other day when I was drumming up dinner ideas for our mouths, I was taking a casual stroll through my Tex-Mex brain drawers, and guess what I didn't find. Jerst gerse.
CHIMICHANGAS. I've never made dang chimichangas before. Never! And I keep getting a squiggly line underneath that word. One moment please as I check on this.
Huh, seems right according to lord Goog.
Anyway, I know technically they're deep fried, but I had to make a vital decision once I came to this crossroad. Fry them? Or smother them with cheese dip?
I'm sorry but cheese dip always wins. Always, always always. Always.
Always.
Oh look! How convenient for these cheese dip photos to have magically appeared right here before our very eyes.
That's white American cheese in that, bee tee dubs. I've never made a cheese dip with white American cheese before. Never! Look at me, broadening my horizons. My super melted, super velvety cheese dippa lippa ding dong wonderfully delicious horizons.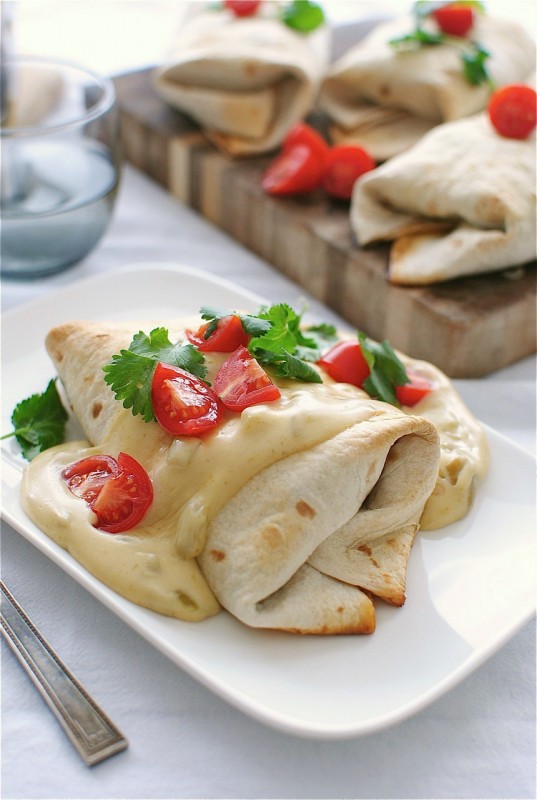 Ya wanna know what the word chimichanga makes me think of? Okay, you know the scene in Dirty Dancing when Neil tries to convince Johnny to end the season with the Pachanga? And Johnny goes, "We'll end the season with the Pachanga. Great idea." That's what it reminds me of.
That's all I had to say.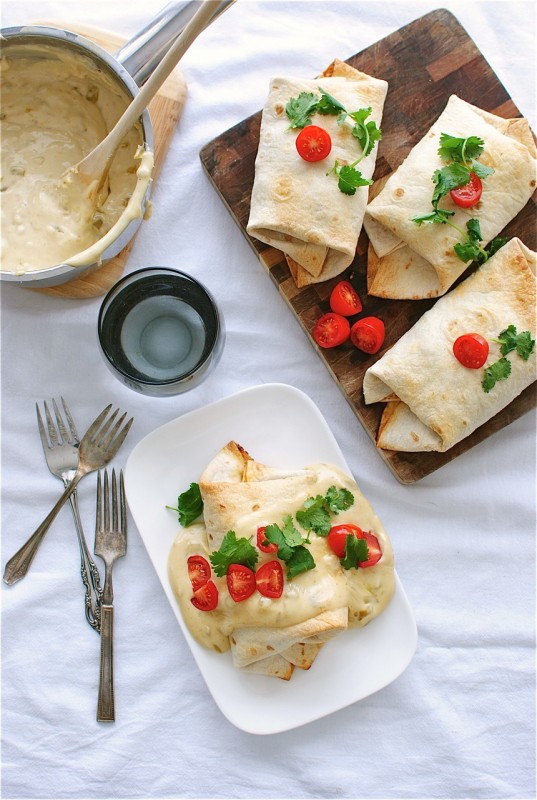 Get smothered!
Baked and Smothered Chipotle Chicken and Kale Chimichangas:
What it took for 4 chimichangas:
* 2 Tbs. extra-virgin olive oil
* 1 Tbs. ground cumin
* 1 Tbs. chili powder
* 1 tsp ground coriander
* 1/2 tsp garlic salt
* 1 pinch coarse salt
* 1 pound chicken breasts
* 1 bunch kale, stemmed and chopped
* 2 chipotle peppers, minced
* 2 tsp adobo sauce
* 2 cups shredded monterey jack cheese
* 4 large burrito flour tortillas
* 1 Tbs. melted butter (to brush on the chimis)
for the cheese dip:
* 1/2 pound white American cheese, chopped (if in slices) or cubed (if in a block)
* 1/2 cup milk
* 1/2 Tbs. butter
* 1 (4 oz) can chopped green chilies
* 1 tsp cumin
* 1 tsp garlic powder
* 2 tsp adobo sauce
* 1 small pinch salt
Preheat oven to 400.
Bring the oil to a medium-high heat in a large sauté pan.
In a small bowl, mix together the cumin, chili powder, coriander, garlic salt and salt.
Arrange the chicken in the pan and sprinkle half the mixture on top. Cover the pan and let the chicken sear for 5 minutes. Flip it, sprinkle with the rest of the mixture, cover and sear 5 more minutes. Remove the chicken from the pan let rest 5 minutes while you take a photo. I MEAN prepare the kale.
Back in the skillet (if you need to wipe it out due to blackened spices, that's fine) add a little more more oil (if needed), the chopped kale, the minced chipotle peppers and the adobo sauce. Toss in a little pinch of salt. Throw the lid on and steam it for a couple of minutes while you chop the chicken. Then add the chicken back to the pan and toss everything to get it all nice and in lerve.
Grab a baking sheet and lightly coat it with a little cooking spray. Arrange the tortillas on the sheet and evenly pile the chicken mixture in the center of each one. Evenly sprinkle with the cheese. Then tuck in the corners and tightly roll up the chimis into a little roll. Like a burrito! I guess that was obvious.
Place them seam-side down on the baking sheet, brush each one with the melted butter and bake for about 20 minutes, or until golden brown and crispy!
Now, in the meaaaantime, make your cheese dip.
Basically, throw all the ingredients into a small saucepan and melt over medium-low until smooth and cheesy and melty and glorious.
Smother each chimichanga with the cheese dip and garnish with tomatoes, cilantro, guacamole, sour cream, whatever the Mexican Lords of Greatness guide you to do.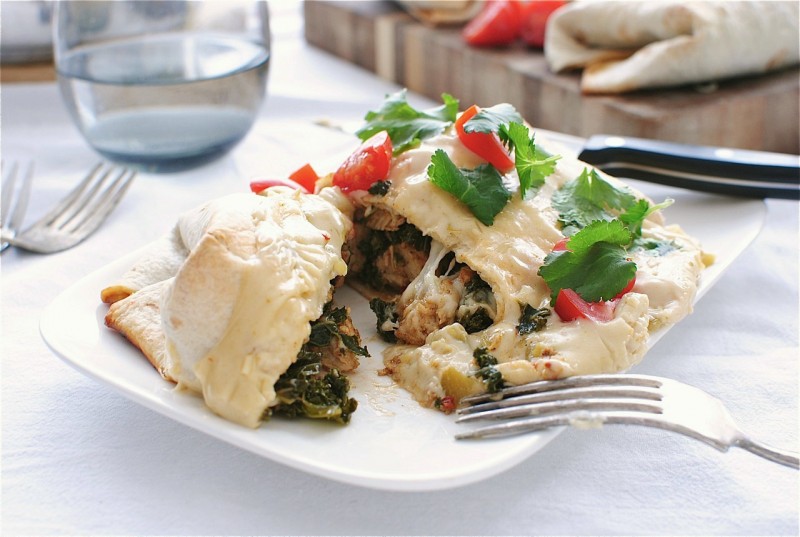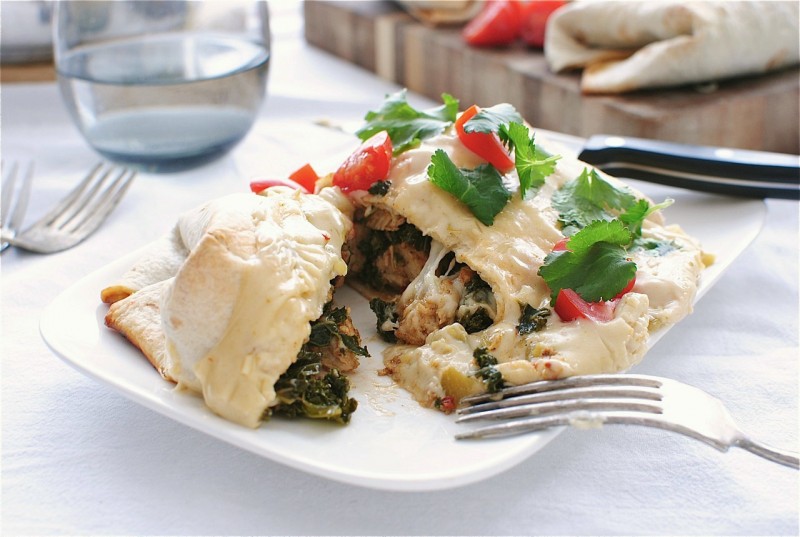 I think I'll add more cheese next time.