Come and knock on my dooooor. I've been waiting for youuuuu.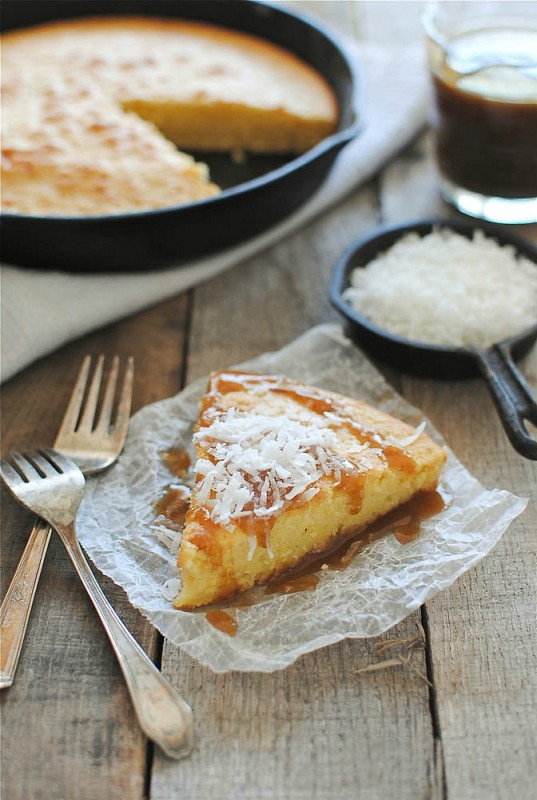 Where there's coconut milk skillet ca-akes, and kahlúa sauce toooooo.
Hi. Happy Fridee! We made it. And this boo boo bear's got dessert to prove it.
I'd also like to make a very important announcement!
I'm deeply sorry for referring to myself just now as "boo boo bear." Thank you.
Doesn't this look just like cornbread? I have the most wonderful news in the entire world for you. It's not cornbread. It's sweet, moist (sorry), dense, yet pillowy, coconut milky, cakey cake. Cake that you bake in a cast iron skillet. Cake that you slice and drizzle with an intensely rich kahlúa sauce that will have you seeing THE VERY FACE OF GOD.
And then you go and garnish it with more coconut shavings. Hooolmg.
Let's cheer it together:
Coconut! Coconut! Coconut milk skillet cake, for the win! If you can't beat them, we will with this skillet cake that I just mentioned!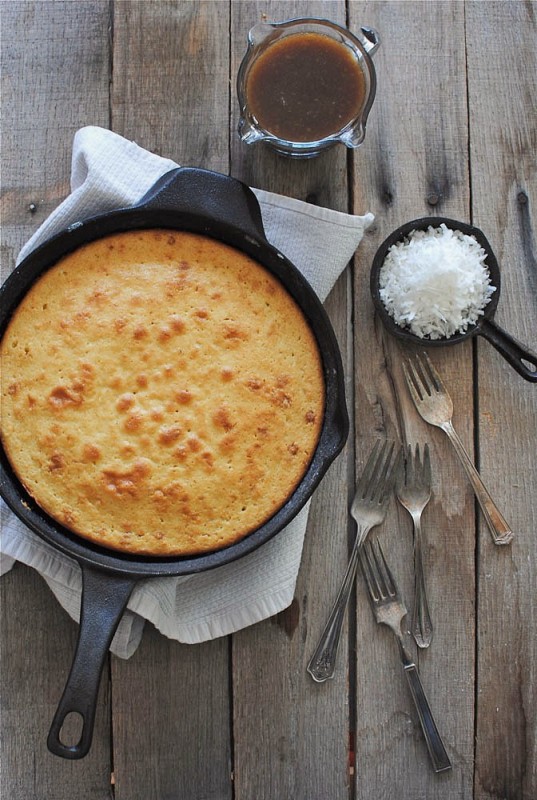 Yeah we don't have to cheer that.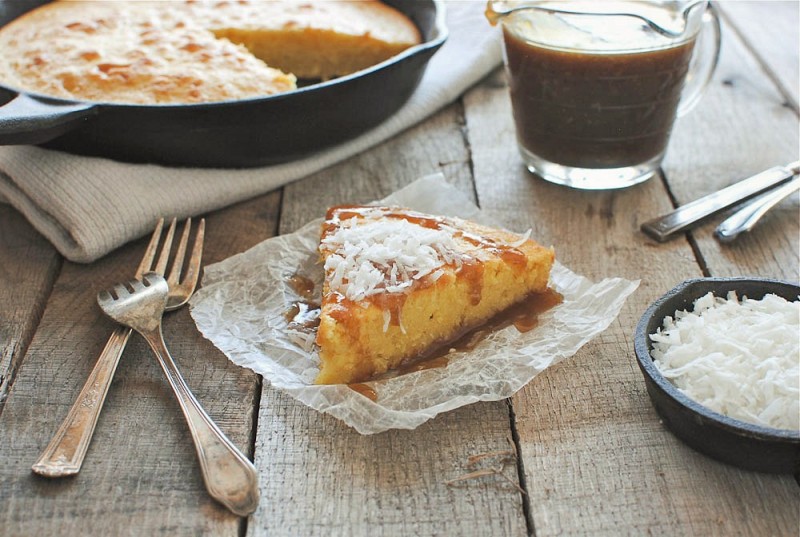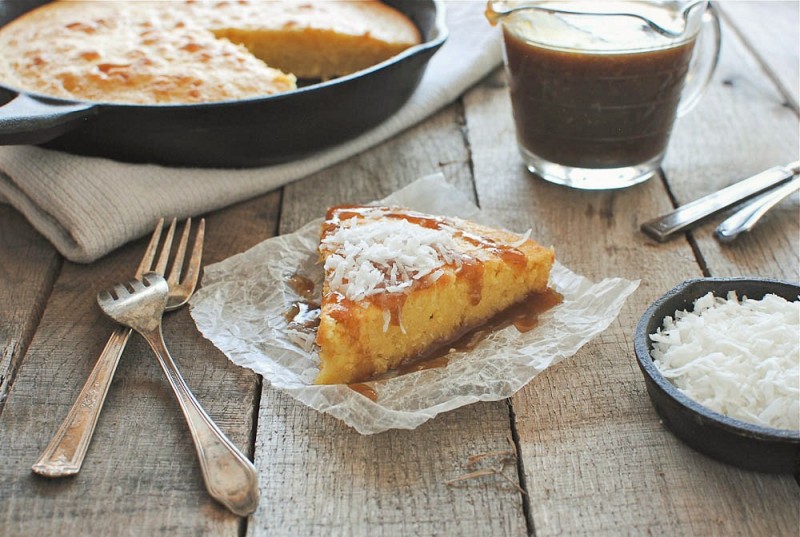 But clearly, eating is a must.
Coconut Milk Skillet Cake with a Kahlúa Drizzle:

(adapted from my Spicy Mocha Pound Cake)
What it took for 8 slices:
for the skillet cake:
* 1 stick butter, room temp
* 1 cup sugar
* 1 egg
* 1 tsp vanilla extract
* 1 cup coconut milk
* 1 cup all-purpose flour
* 1 (3.4 oz) box coconut cream pudding mix
* 1 tsp baking powder
* 1 small pinch of salt
for the kahlúa drizzle:
* 1/2 stick butter
* 1/2 cup sugar
* 1 egg
* 1/2 cup kahlua
* coconut shavings, for garnish
Preheat oven to 375.
In a standing mixer, cream the butter and sugar. Once creamed, add the egg and give it one more whirl, until the mix is creamy and silky.
Add the vanilla extract and the coconut milk. Stir to combine.
In another bowl, sift the flour, pudding mix, baking powder and the pinch of salt.
Pour the coconut milk mixture into the dried ingredients bowl and stir and fold and sing until it's all nice and creamy and dreamy.
Pour the mixture into a 10-inch greased and lightly floured cast iron skillet. Depending on your oven, this will bake anywhere from 45 minutes to an hour, or when a toothpick comes out clean.
If you can, and you won't, let it sit for about 10 minutes. While you let it sit, make your drizzle! I don't know why I keep calling it a drizzle.
In a small saucepan, melt the butter, sugar and egg over low heat. Once the sugar is pretty much dissolved, add the kahlúa and stir to combine. Keep it warm until you're ready to drizzle something.
Slice and serve with a nice kahlúa drizzle, with coconut shavings as a garnish. Die from bliss.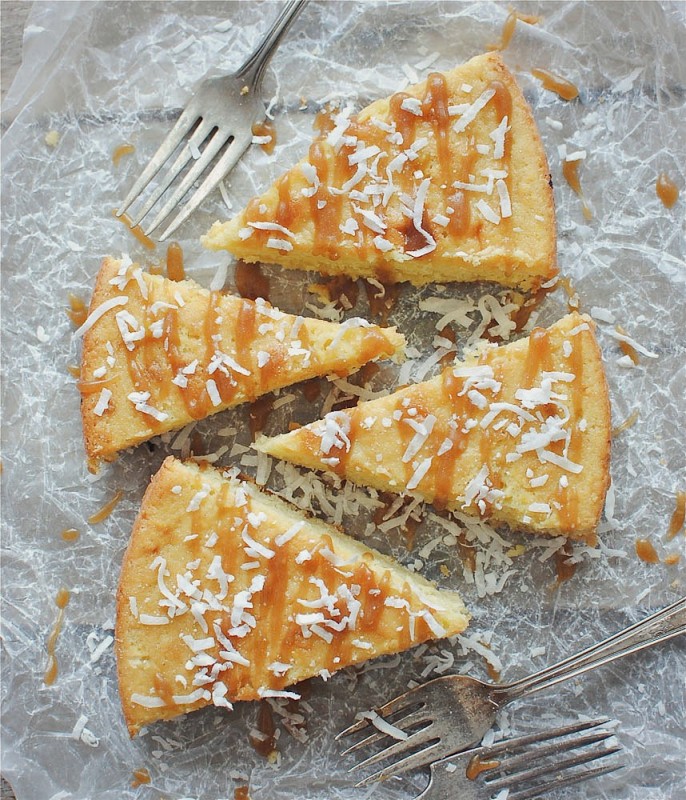 I really want to do that cheer again.
(p.s. don't fugget to enter to win all that Anthropologie, Le Creuset and butter stuff, right here!)