Welcome back to the Bev Turns Something Into Mini Pizzas Show.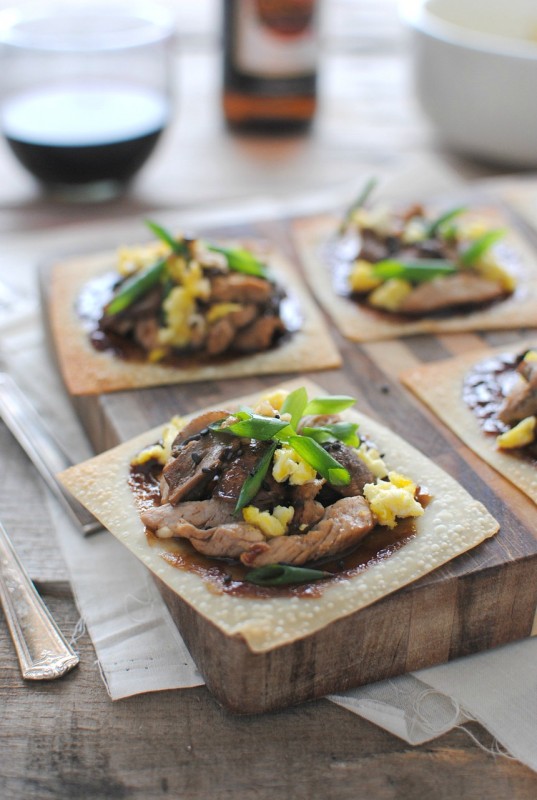 You may recall the episode earlier this week featuring these ridiculous deep dish polenta pies. And now these. What am I even doing. Somebodyyyy stop meeeeeh! (name that movie)
You know, if I'm going to have my own show, I should really do it right. Balloons, a podium, red benches, a scary clown. This sounds like the worst show ever. Oh my Lord it's the BOZO SHOW. You know, I was on the Bozo Show when I was a kid. I totally was! In the early '80s. And it was absolutely terrifying. Those bright lights, the audience, his hair I mean WHAT. is. that. I remember getting a loaf of bread or something. And my picture with him. I'll try to find it so I can show you!
You're like, "this explains so much . . . "
Back to my show. I'm thinking more along the lines of a cozy crisp white set with vintage tones here and there. I ask you a question, and if you get it right, I give you a mini moo shu pork pizza. And a glass of wine. Ya dig?
And the questions are like, "You still use Aqua Net, don't you?" And then you say, "Oooooh ya got me! I do still use Aqua Net!" And then we look at the camera and laugh so jovially with our hands on our clavicles, and I look at the audience and say through tearful giggles, "Would you believe that! She still uses Aqua Net, and SO DO IIIIII hahah ah ah ah ahah!" And the audience goes berserk in laughter. And then we cut to a commercial and I throw my mic down and demand a raise.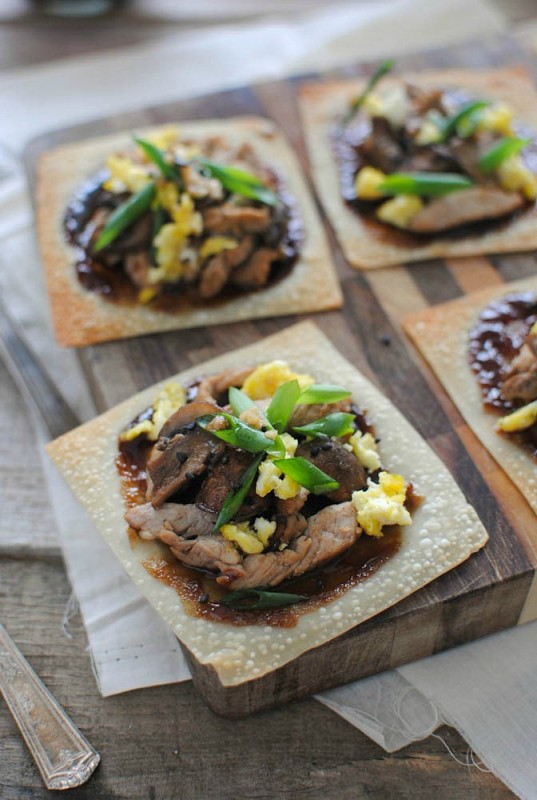 What a horrible, horrible show I have.
How 'bout we just sit around and eat mini moo shu pork pizzas and you slap me upside the head because I keep saying mmmeeeeeewwwww shhhheeeeewwwww in your ear.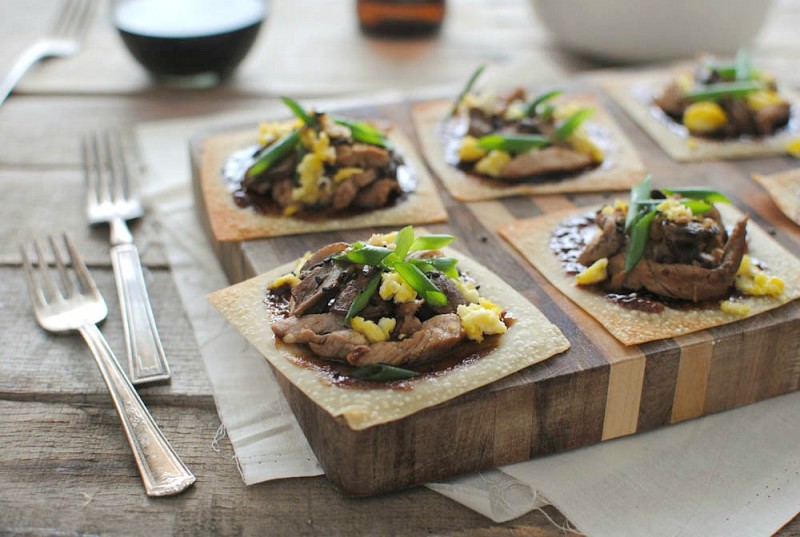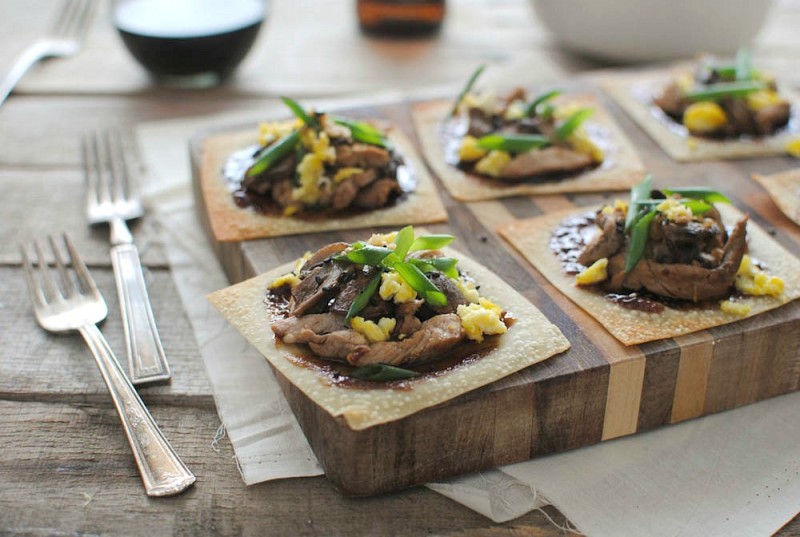 Or how 'bout I just let you make these far, far away from me.
Mini Moo Shu Pork Pizzas:
What it took for roughly 20:
* 3 Tbs. sesame oil, divided
* 3 eggs
* 1 pork tenderloin (about a pound), cut into thin strips
* 1 cup sliced mushrooms
* 4 cloves garlic, minced
* about 1/2 cup hoisin sauce
* 3 scallions, finely sliced
* 20 wonton wrappers
* black sesame seeds for garnish (optional)
* cooking spray
* coarse salt and freshly ground pepper
Heat 1 Tbs. sesame oil in a wok over medium heat. Add the eggs and slowly scramble for the next 3 minutes or so. Season with a pinch of salt and pepper, and transfer them to a bowl. Cover to keep warm.
Wipe out the skillet, and add the remaining oil. Raise the heat to medium-high and add the pork. (You'll want to do this in batches, for good browning.) Season each batch with a pinch of salt and pepper. Transfer the pork to another bowl and cover to keep warm.
Add the mushrooms to the pan (and a little more oil if needed) and sauté until browned and softened, about 3 minutes. Add the garlic and sauté one more minute. And a pinch of salt! Add this mixture to the pork bowl. Then start a band called The Pork Bowls.
Flip your oven to broil. Lightly coat a large baking sheet with cooking spray. Arrange the wontons in a single layer, and lightly coat the tops with spray.
Stick the sheet on the BOTTOM RACK (sorry to scream) under the broiler for 2 minutes.
Then spoon (or squirt!) about a quarter size dollop of hoisin sauce in the center of each wonton wrapper. Spread it out evenly with a spoon. Top with pork/mushroom mixture and scrambled eggs. (You may have leftover topping, which is awesome! Stick it into a breakfast taco the next day.)
Stick back on the bottom rack for 1 to 2 minutes, or until the wontons are browned and crispy on the edges.
Garnish with scallions and black sesame seeds. Seeeeeeeeerve her up!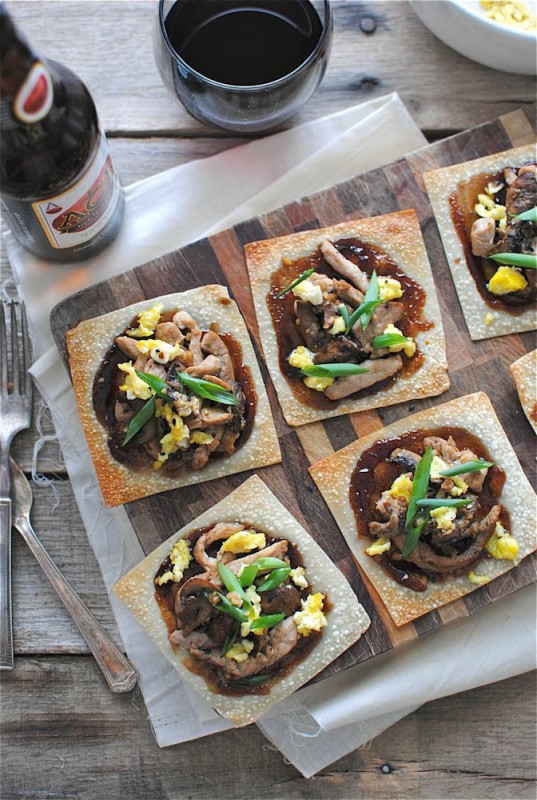 Who wants to be on my show?!