Who wants breakfast?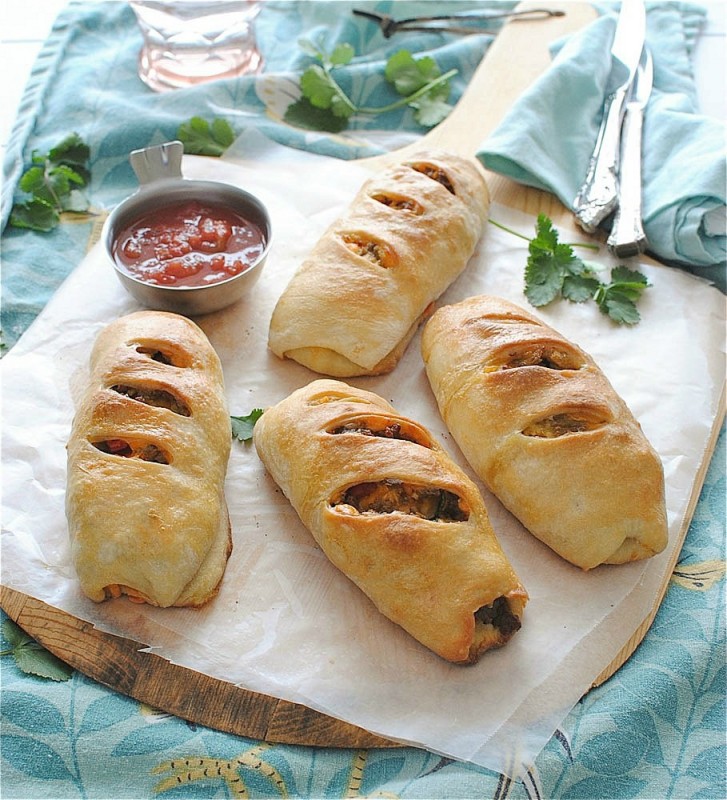 And I'm not talking about a speck of granola, a whisper of a raisin, and the memory of a half dollop of Greek yogurt. I'm talking BREAAAAAKAAAAAFAAAASTTTTTTAAAA.
(although i'd like to point out that there is nothing wrong with granola, fruit and yogurt. i love granola, fruit and yogurt! i eat it all the time. i ate some last night as a matter of fact. so please don't be mad at me. okay bye.)
But this kind of breakfast? Oh, baby baby bosom buddy amigos chum pums.
This is the kind of breakfast that makes me want to run for mayor of my mouth. And once I'm elected (because I WILL be elected), I hand out never ending breakfast strombolis to all who voted for me. And for those who didn't, wellllllll all I have to say is you better watch your BACK.
(p.s. I wish so bad that I made sense sometimes.)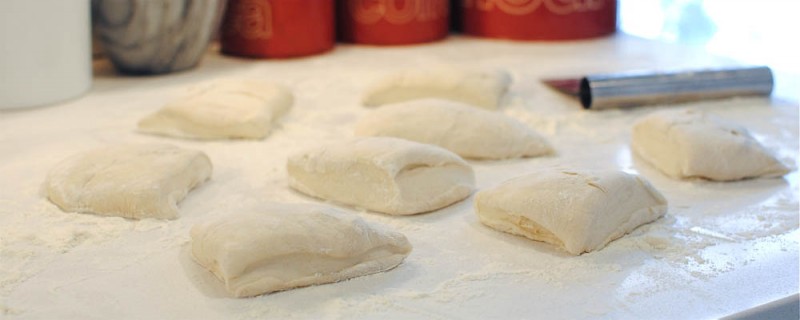 Basically what's happening here is a conglomeration of transglobal flavor attacks. We've got the Southwest flair with the seasoned scrambled eggs, freshly diced red pepper and punchy cilantro. We've got the Italian spirit with the fluffy, stretchy fresh pizza dough. We've got the down home comfort charm with spicy country sausage and extra-sharp cheddar cheese. All rolled up into a million little pockets of frickin' glory.
I want to die right now.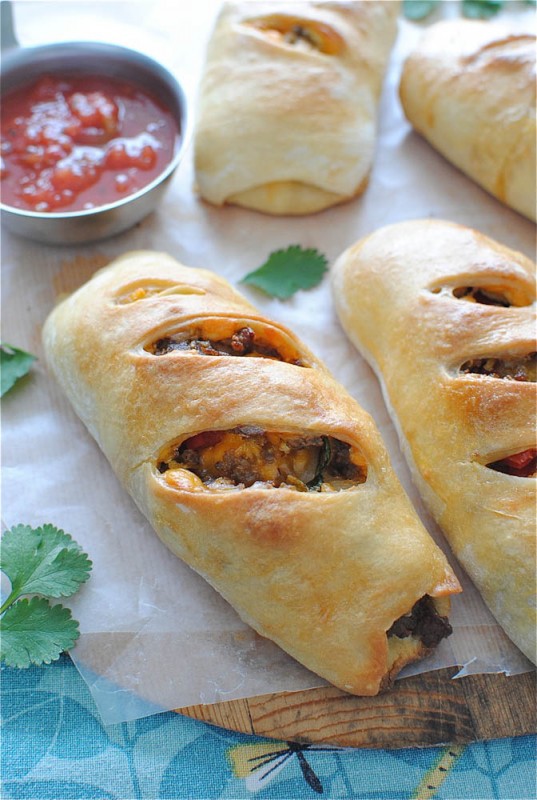 I'm going to ask you again  . . .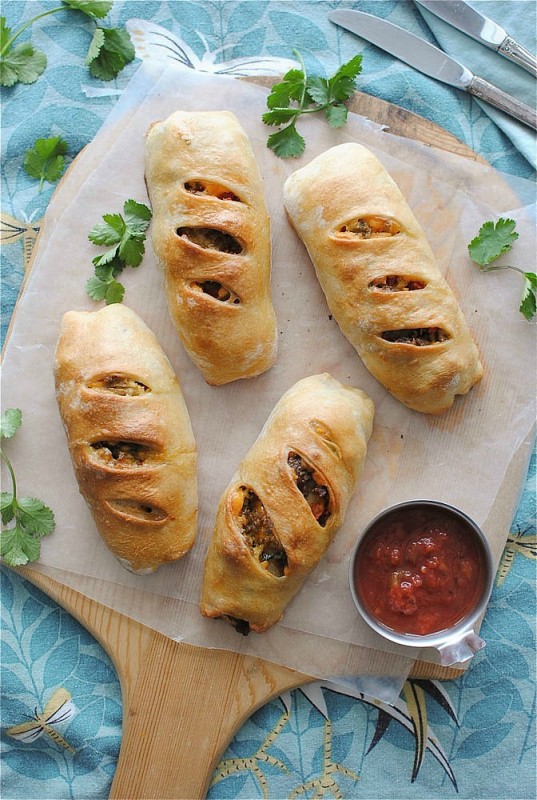 Who wants breakfast?
Southwest Breakfast Stromboli:
What it took for 8 stromboli: Or is it strombolis: Or strombolii:
* 1/2 pound breakfast sausage
* 1 tsp extra-virgin olive oil
* 4 eggs, plus one more for an egg wash
* 1/4 cup milk
* 1 tsp cumin
* 1 tsp chili powder
* 1 small pinch salt and pepper
* 1 red bell pepper, seeded and diced
* 1 1/2 cup cilantro leaves
* 2 cups shredded cheddar cheese
* 2 (1 pound) balls of pizza dough, divided into 8 small balls
Preheat oven to 450.
In a large skillet, brown your sausage. Once cooked all the way through, transfer to a bowl and cover to keep warm.
In a large bowl, whisk together the eggs, milk, cumin, chili powder, a pinch of salt and pepper.
Back in the skillet, add the oil. You won't need to if your sausage rendered enough fat. Reduce the heat to medium-low and pour the eggs in. Lightly scramble until cooked through, about 8 minutes.
On a large floured work surface, roll out each pizza ball until you get an 8-inch circle. Sprinkle with a little bit of cheese, followed by about 1/4 cup each of the sausage, eggs, red bell pepper, a few cilantro leaves and a little more cheese on top. Roll up the dough around the filling until you get a little roll stromboli thingy! Place on a lightly greased baking sheet, and continue until all 8 are complete.
Brush the tops of the strombolis with the egg wash, then take a paring knife and lightly score the tops, to create little vent slits. Then start a band called The Vent Slits.
Slide into the oven for about 30 minutes, or until the dough is cooked through and golden brown.
Serve with salsa, guacamole, anything!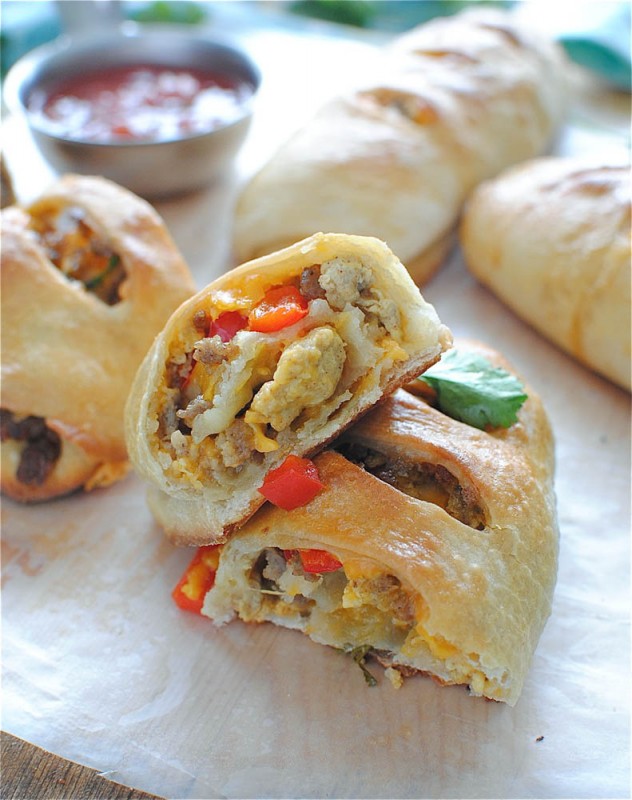 Seriously.
* Aaaand the winner of all the cool Anthro, Le Creuset and butter stuff goes toooo: Commenter #377 Emily, who said:
Holy comments! First a question: did you do the signature Celine chest thwack during your serenade? That's always my fave. Nothing else quite illustrates the Heart actually Going On. Now, a response: when we lived in the Midwest, nothing kept me warm when the hubs was chore-ing like Better Off Dead. Classic Cusack, unrequited love, a heavy-on-the-80′s-instrumental-riffs soundtrack, and skiing. And it always resets my need to say obnoxious things using the word Frawnch. As in, "Now that the driveway is shoveled, can we get some Frawnch fries?"
Oh, and I also follow you on all the sosh media stuff.
Congrats, Emily! Check yo' email, yo. Better Off Dead might be the best movie ever ever ever. And yes, I chest thwacked so much it left a bruise.
* one last thing! you might notice a few site changes. we're workin' on a mini face lift, so please ignore any paint streaks or construction dust. thankya!