It's Galette Day! (<–not a thing.)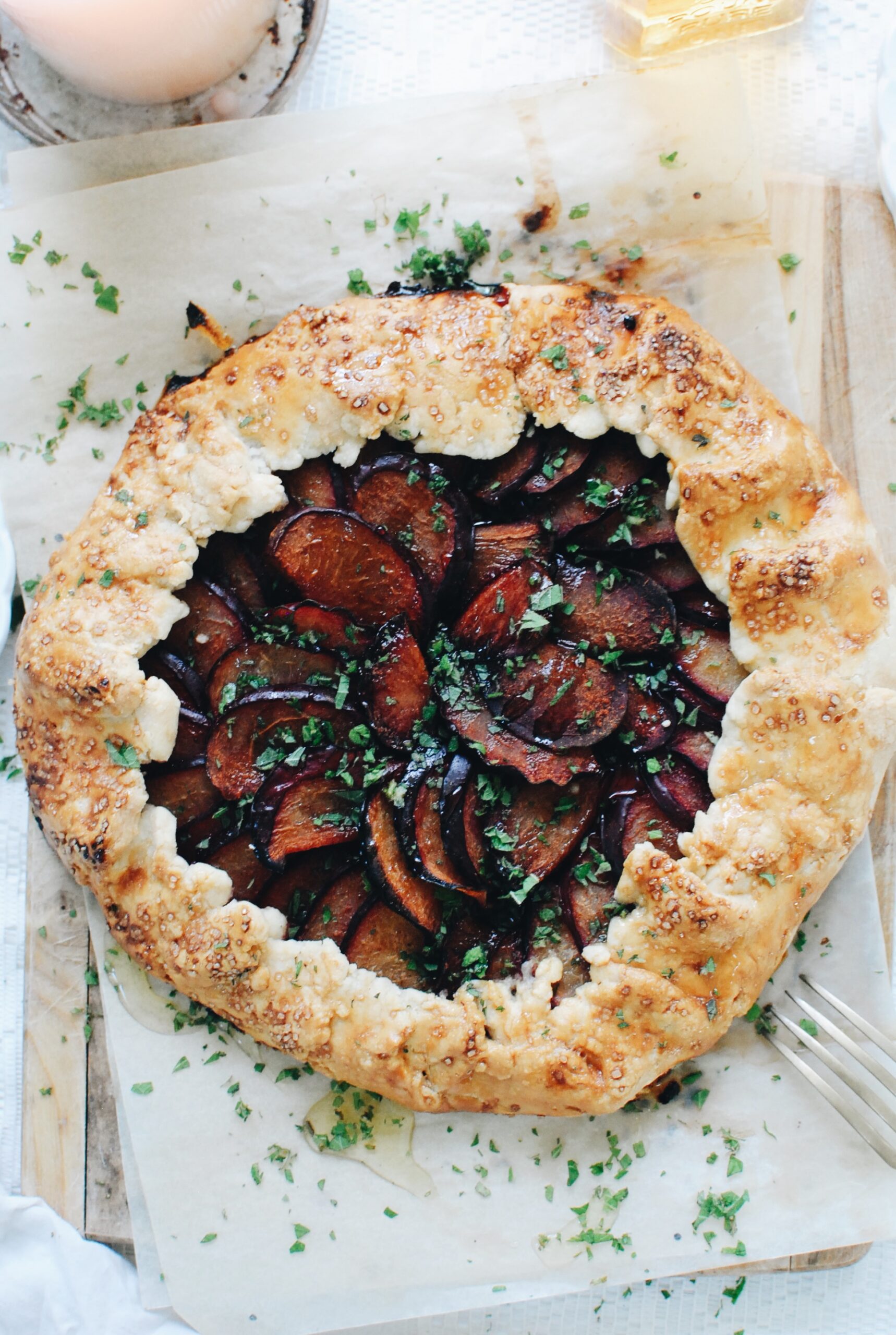 You know how I've been on a pie journey for a while now? I've been on a pie journey for a while now. (don't tell my waistline.)
I absolutely love making pies. Am I good at it? Jury's still out. But making the crust from scratch is this weird deep-down buried itch that needs scratching pretty much all of the time, ever.
BUT.
I recently saw an America's Test Kitchen video where they made their pie crust in the food processor and it seriously took twelve entire seconds to whip up. Is it sacrilegious, not pushing the chilled butter through your fingers creating thin wisps as your forearms scream at you for relief?
Maybe.
But was it fast as hayell and effective?
YUP.
Let us peepeth.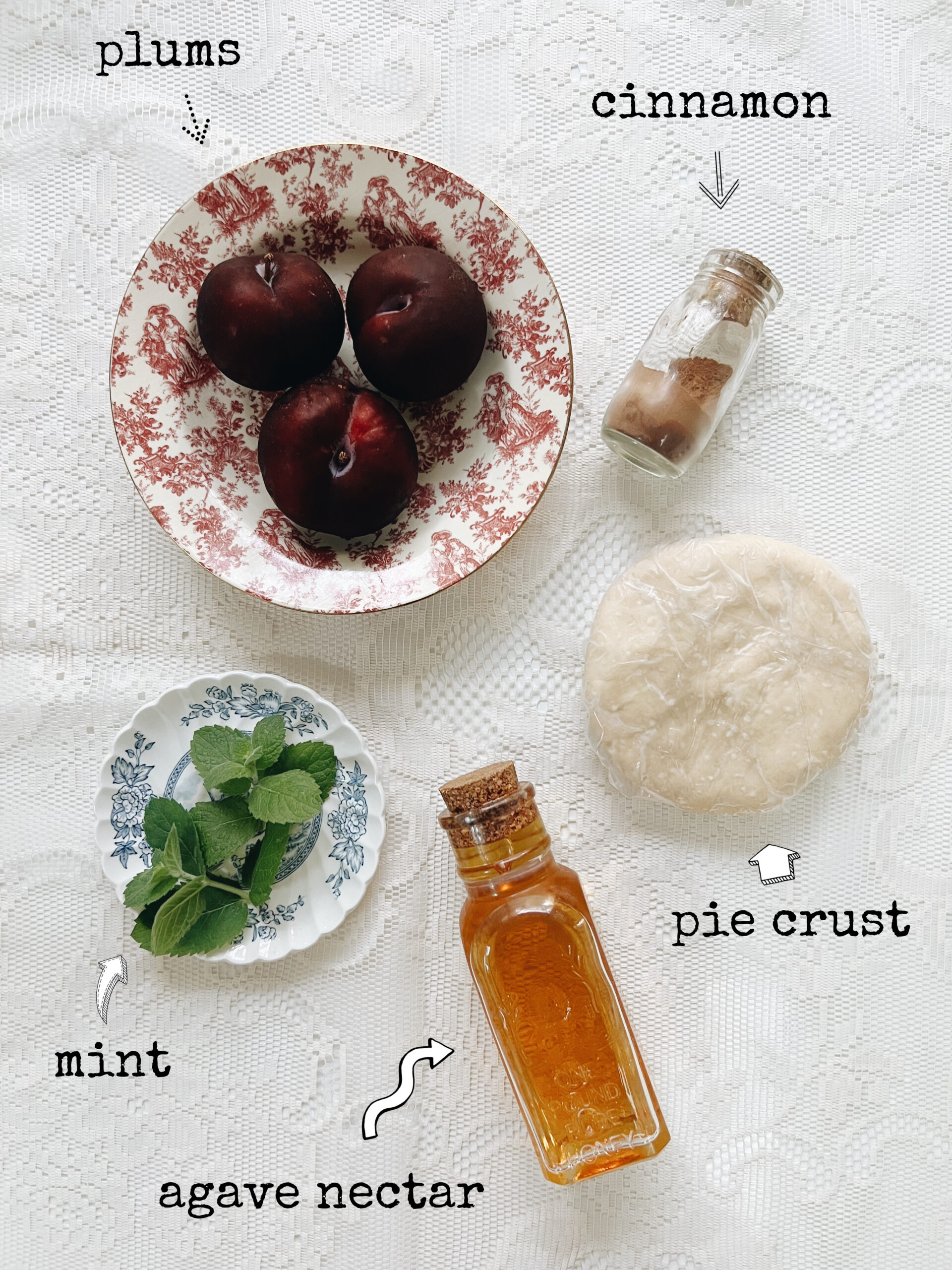 The pie crust is made, but I'll walk through it.
The plums, get some that have a tiny give to them, but not soft. We need a firmness to the slices so they react well to the heat.
The agave, use honey if you're not into nectar, ya weirdo!
The mint, it's perfection. Don't question it.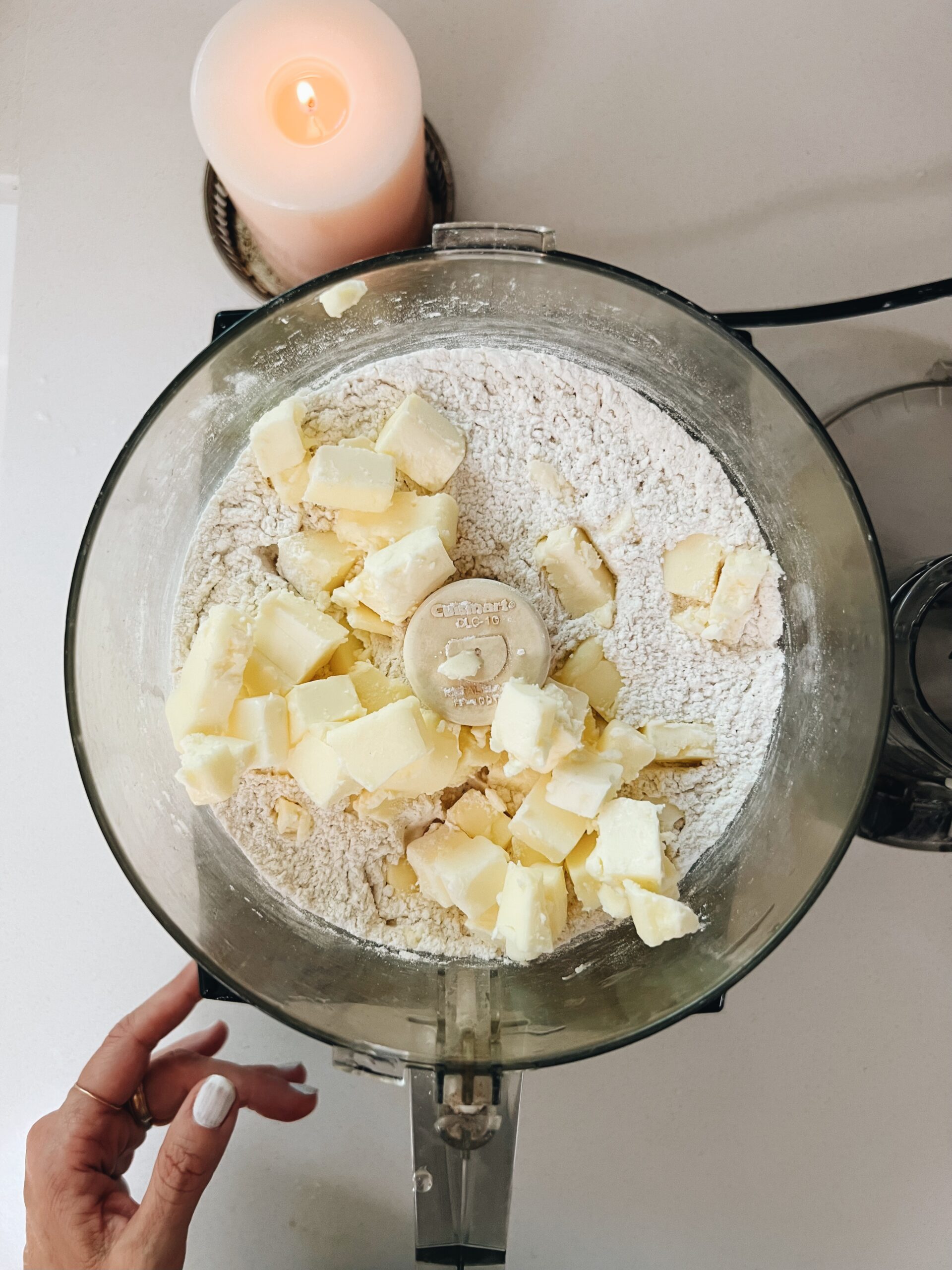 Let's get some flour and a pinch of salt blended in a food processor.
(side note, let's ignore my polish. i'm on a nail journey and we're trying to figure out the right shade. this is not it.)
We've taken 10 Tbs. of butter and cut them up into small cubes. Throw that back in the fridge for like 10 minutes to chill again.
Then back into the processor. Pulse pulse. Get it good and almost gravel-like. You don't want any big chunks of butter.
Then you'll tip this into a bowl and drizzle the ice water over the mix. Use a rubber spatula to press the dough together, then tip it out onto a work surface to form a dough ball with your hands and janky nail polish.
Like that. Then press it into a four-inch disk and wrap with plastic wrap. Into the fridge it goes for at least an hour, or overnight! Whatever you have time for.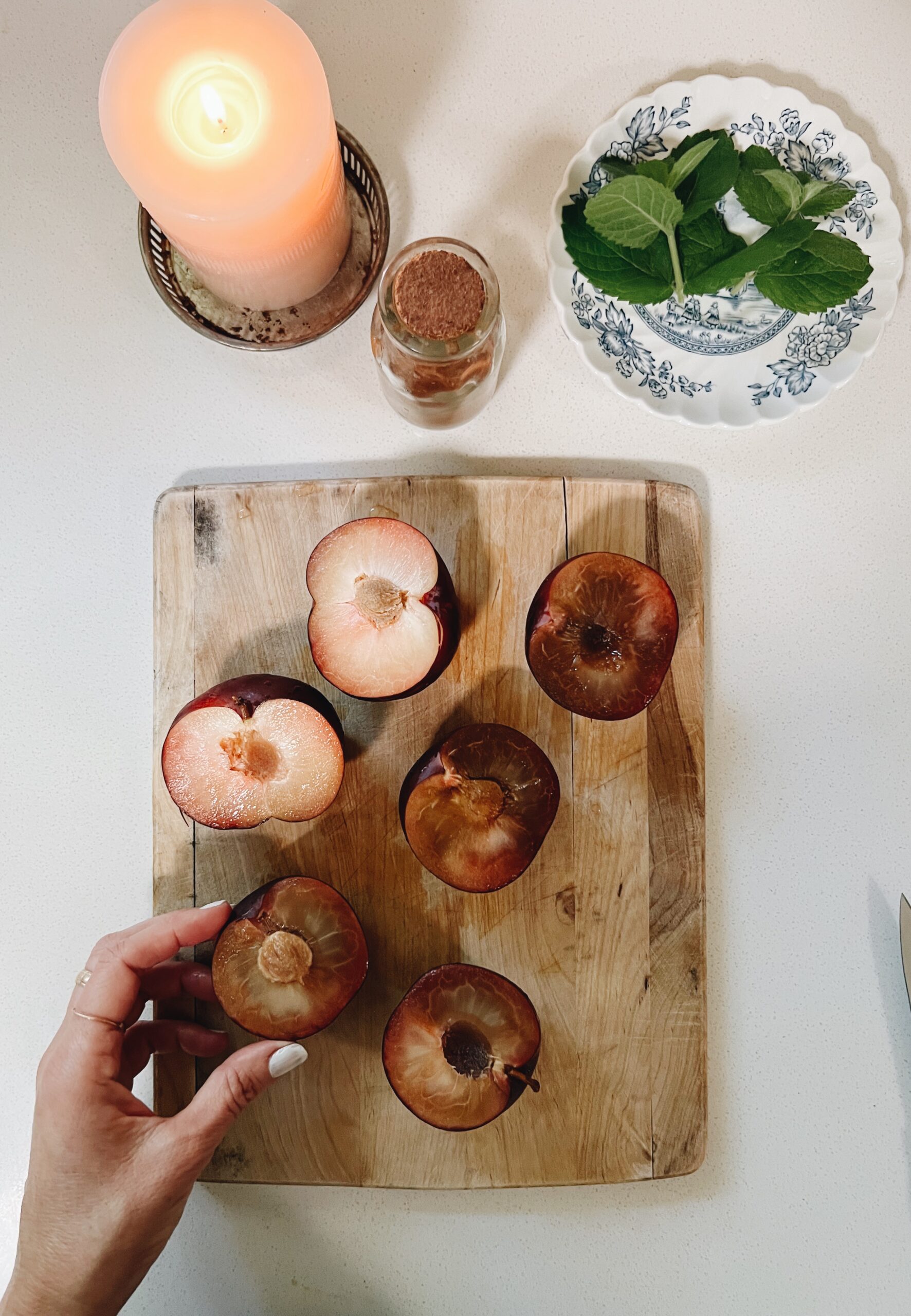 Let's core and slice up three to four plums. Or two to three. Grab a few and see how much can fit in your pie crust.
Also I forgot to photograph this next part, but we'll put them in a medium bowl and toss with a half teaspoon of cinnamon and turbinado sugar. Which is just sugar in the raw. Then stir it up and let that sit while you roll out the pie crust. Ha-boom.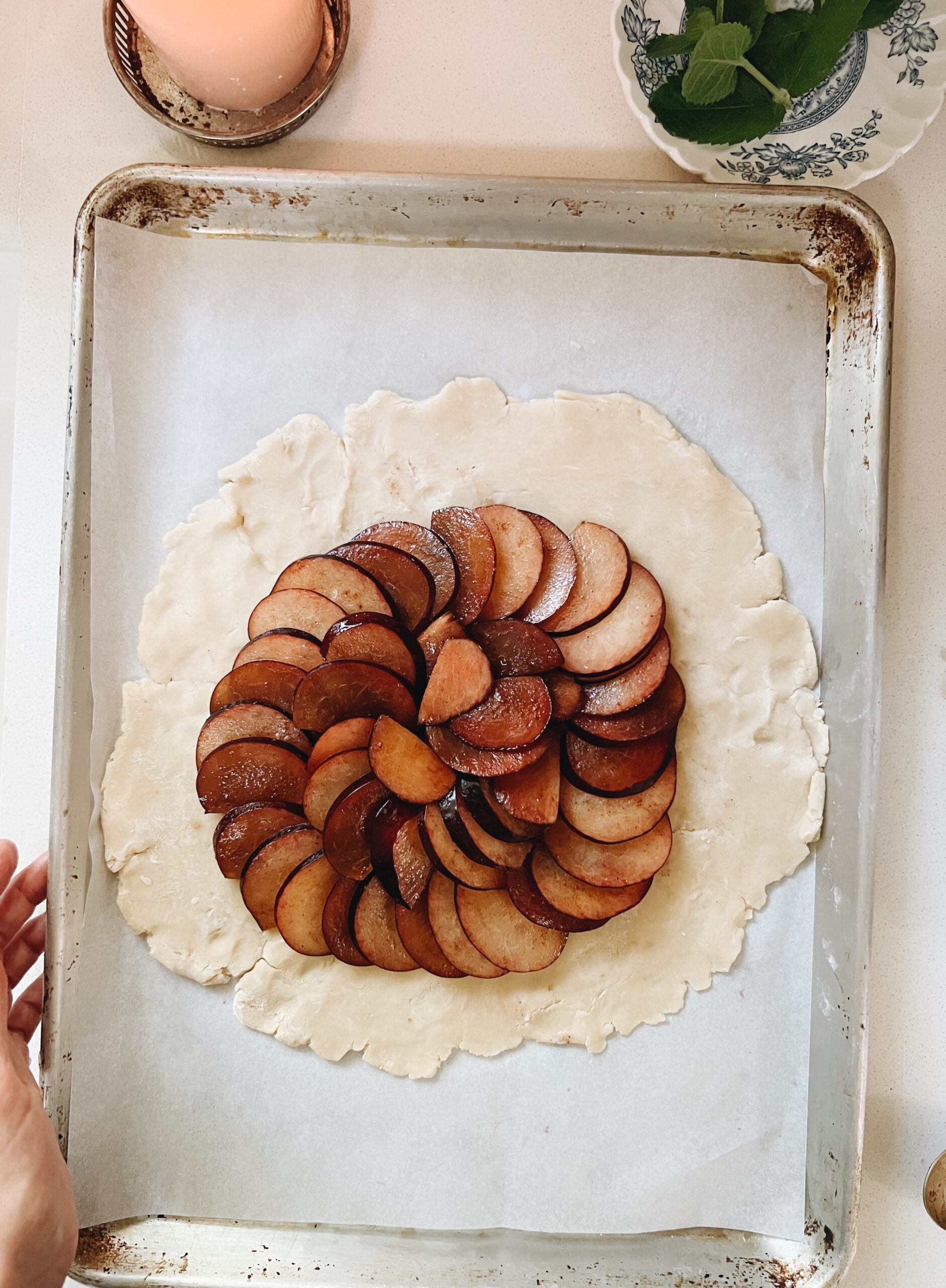 Look how gorgeous! I did an overlapping design because I thought it was pretty, but do whatever your inner soul fairies demand of you.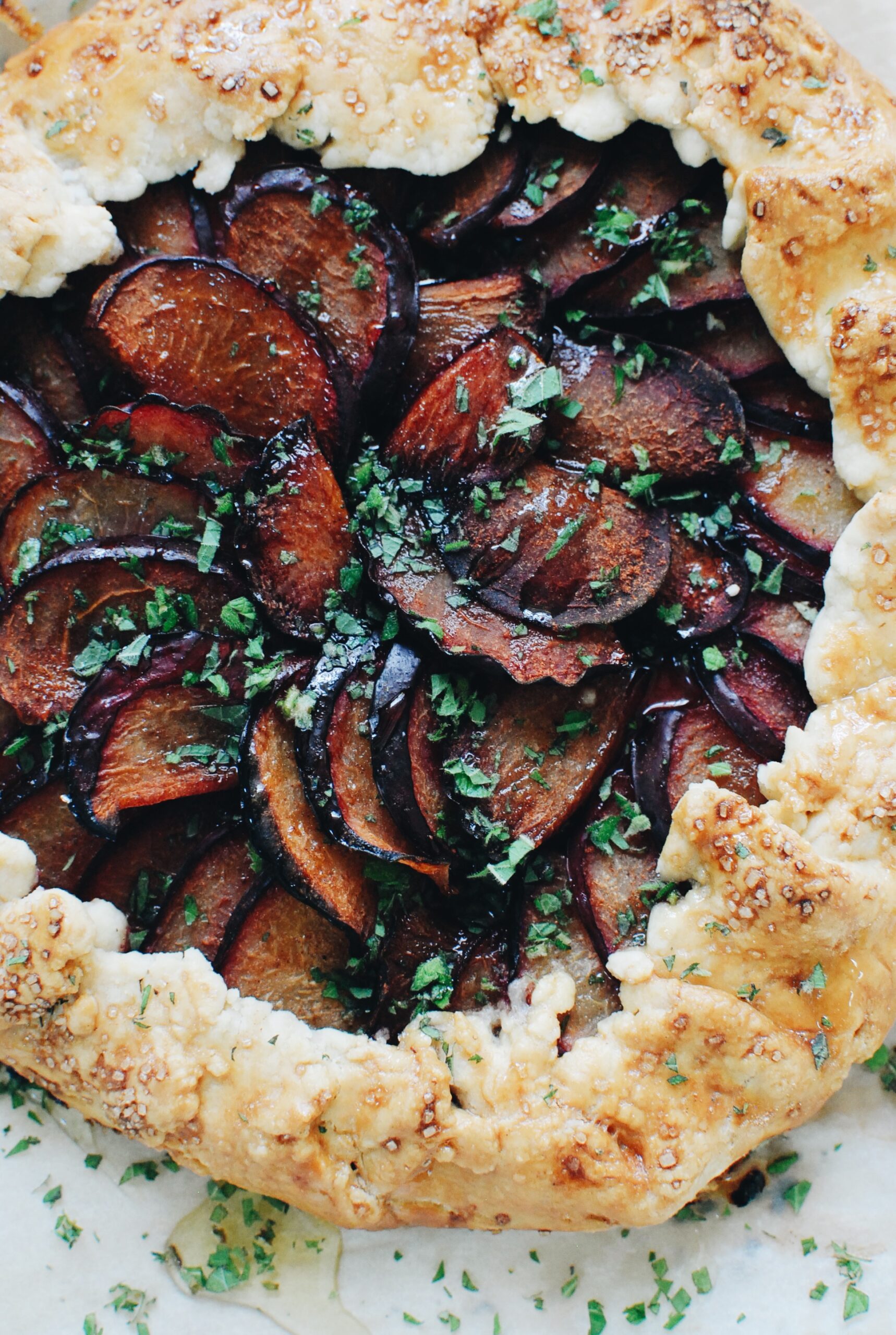 Hello, lovah. She was in the oven about 55 minutes. You'll brush an egg wash over the pleated pie crust and sprinkle with extra sugar. Garnish with agave nectar (or honey!) and a good sprinkle of mint and see what unfolds in your life.
This is such a simple, rustic, festive ordeal. The plums are tart next to the buttery pie crust. The mint adds a freshness while the nectar sweetens the whole thing. It is unhinged.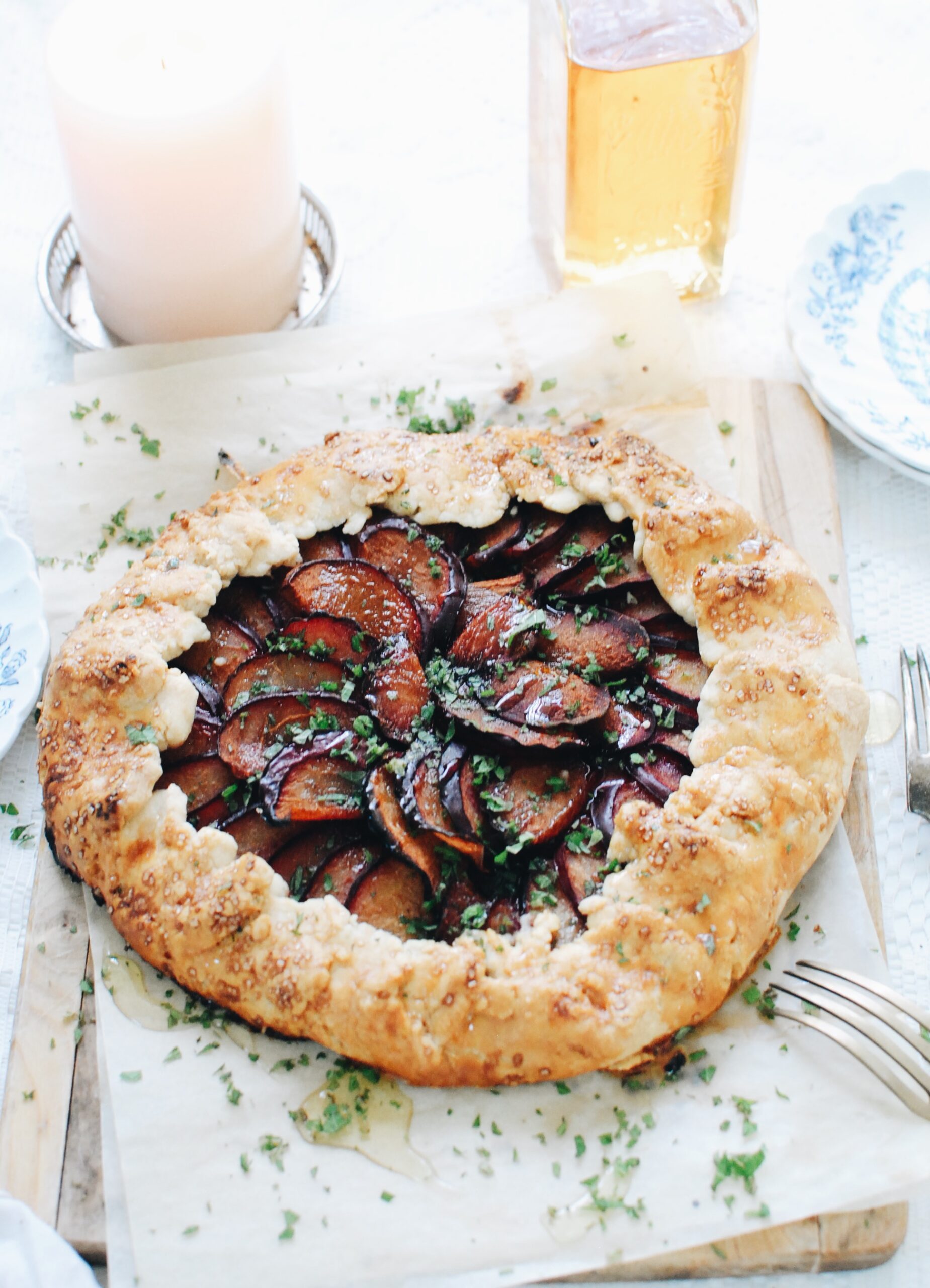 And really, you could put in peaches if you want. Even very thin apple slices. I dig the deep flavor of plums, but throw in whatever stone fruit you dig! Just make it happen.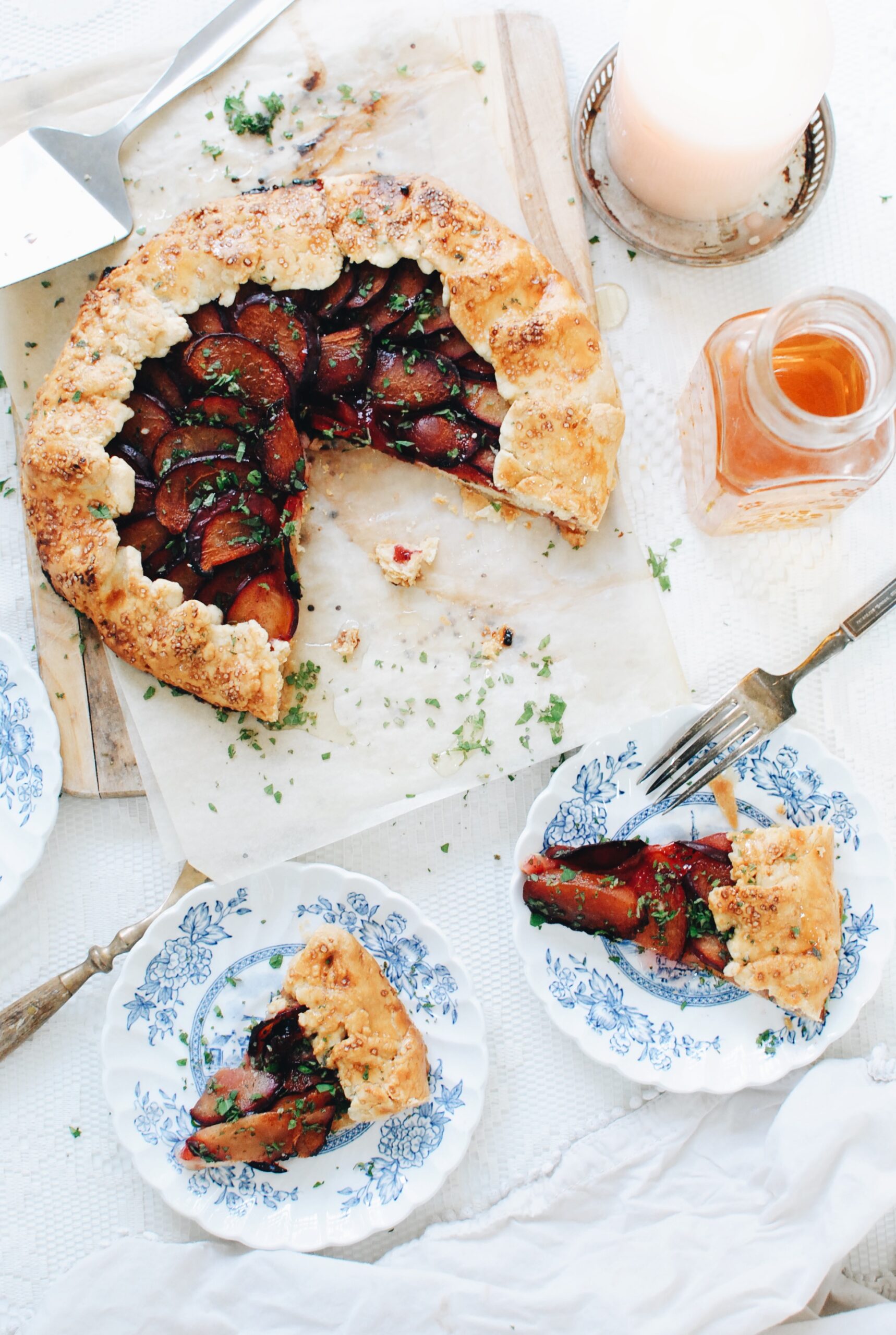 The late summeriest dessert of all late summer desserts.
Ingredients
1 1/2 cups all-purpose flour
1/2 tsp salt
10 Tablespoon butter, cut into small cubes and chilled
6-7 Tbs. Ice water
1 egg, lightly beaten
Turbinado sugar (just a light sprinkle)
2-3 medium plums, cored and thinly sliced
1/2 tsp cinnamon
A drizzle of agave nectar (honey is fine)
1 tsp freshly minced mint
Instructions
In a food processor, pulse together the flour and salt until combined. Add the chilled butter and pulse until the mixture is very crumb-like. You don't want big chunks of butter. We want pie gravel. Ha! Oh.
Transfer the mix to a bowl and drizzle the ice water over it. Use a rubber spatula to start pressing the dough together, then tip it out onto a clean surface. Keep forming the ball with your hands, then press it into a four-inch disk and wrap with plastic wrap. Refrigerate this for at least an hour. Overnight is fine.
Later one, remove the pie crust and let it slightly soften on the counter about 20 minutes before you start to roll it out.
Preheat the oven to 375 while you slice the plums. Place the plums in a medium bowl and add the cinnamon plus a tsp of sugar in the raw. Toss to coat.
Roll the pie crust out on a floured work surface until it's 12 inches in diameter. Then transfer to a baking sheet with parchment paper on it. Layer the plum slices in a circle on the pie crust, overlapping to create a pretty look, leaving one to two inches of crust around the edges. Fold the outer edge in over the plums, overlapping the dough to give it a nice pleated look. I've had better-looking galette crusts than this one, trust me. Once finished, brush the crust with the egg wash, and sprinkle the entire galette with a little bit of turbinado sugar.
Bake for 55 minutes or so on the middle rack, until the crust is golden brown and the plums have become tender. Let it cool about ten minutes before you serve.
Drizzle with agave nectar and sprinkle with mint as a garnish.
Slice and serve!
Serves 8.
7.8.1.2
656
https://bevcooks.com/2023/09/plum-galette/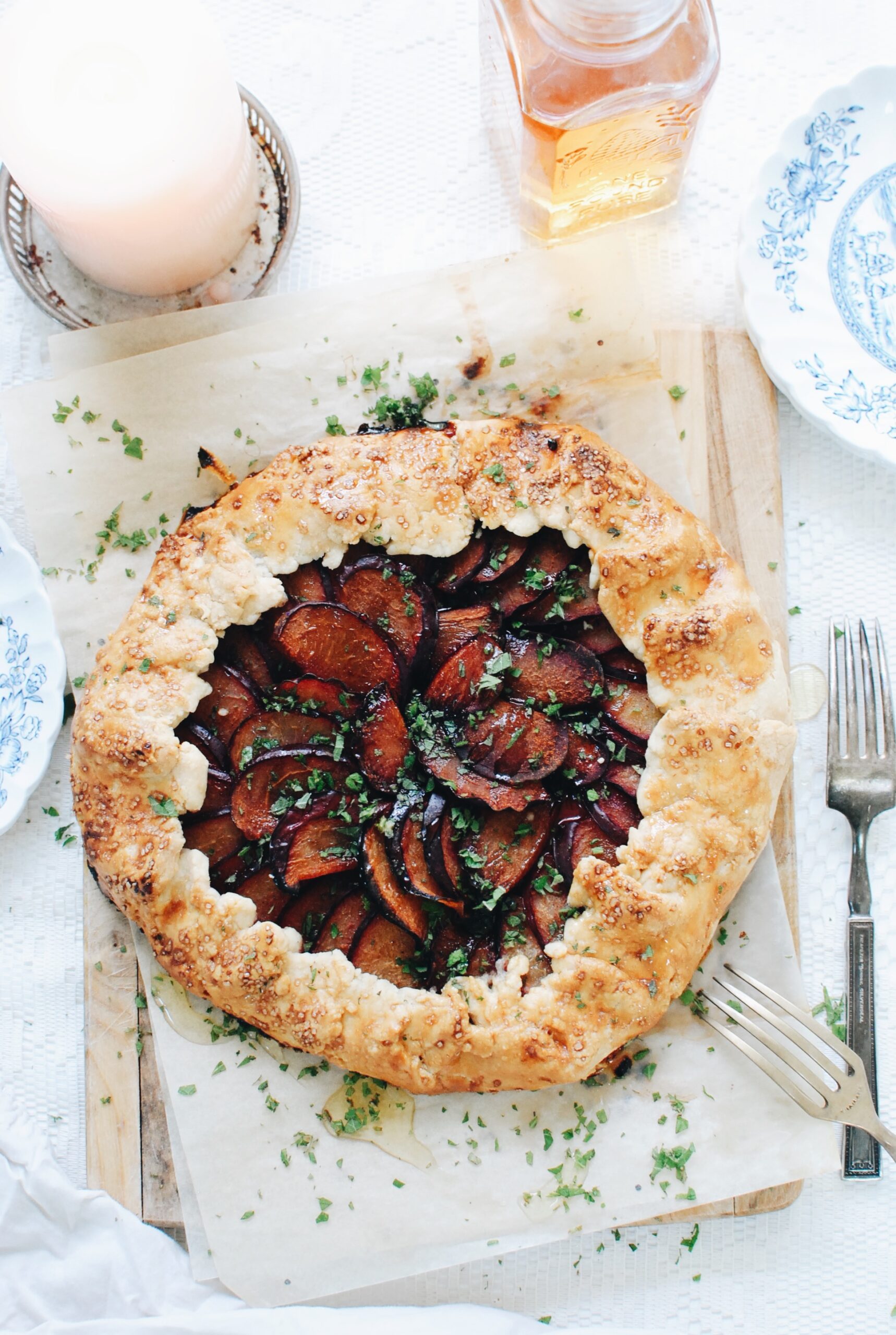 Can we make Galette Day a thing?