Nooooot my most attractive meal to date.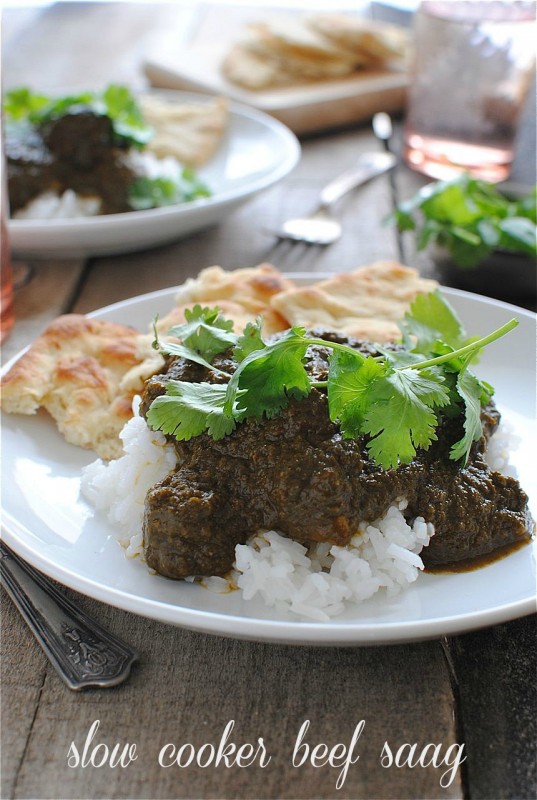 Ohhhhhhh ho ho ho, man. I can only seriously hope and pray and wish that you've either seen or eat or witnessed someone else eat saag in an Indian restaurant before and that you know what it looks like, and that you've not already gotten sick to your stomach and thrown your computer out into a pile of leaves.
And you're probably used to seeing adorable tiny chunks of white cubes floating around in the saag. But see, that would be paneer. Which would be cheese. Which would be suicide for my husband. So the adorable tiny chunks floating around in this saag are steak.
OH THE SACRIFICES IN MARRIAGE.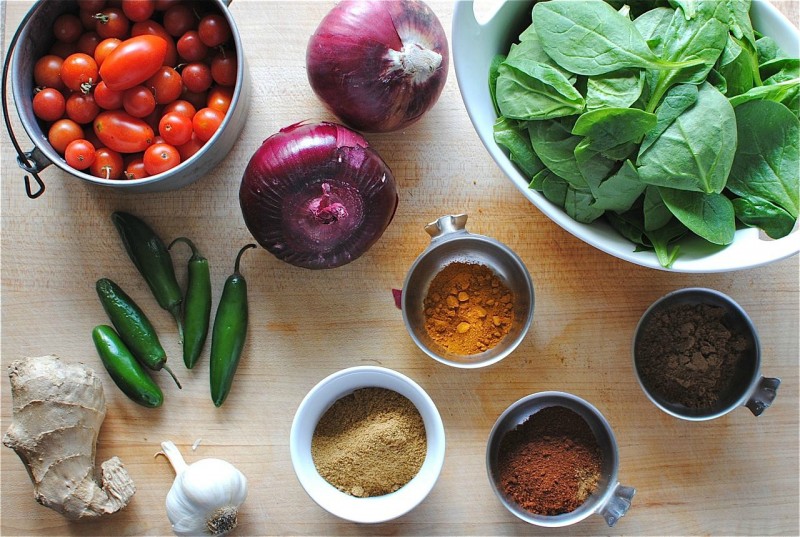 Aaron and I have this long standing tradition when we eat at Indian restaurants. Oh! A tradindiaon.
That didn't even work for a second.
So he'll get the chicken tikka masala and I'll get the saag paneer, and we'll share them over basmati rice dotted with bright green peas and fresh garlic naan. And you're bored.
But it's like my favorite thing IN LIFE. The contrast of spicy sauces, the tender chunks of chicken and paneer, the fluffy naan canoeing the food into my face, my obsessive need for Aaron to try JUST ONE PANEER. Just one single paneer, dude. Just try it! It doesn't even taste like cheese. Swear it. Here, try it. Open your mouth and say chee – oh oops I mean…
I'd better watch my back before I'm GONE GIRL. (Omg, nearly halfway through the book now and I'm absolutely freaking out. I have an eagle eye on Aaron's every move constantly and he's like WHAT is your deal.)
So, slow cooker beef saag. Can't get much easier than this. Throw a bunch and I mean a bunch of spinach and aromatics and spices into yer crocker potter and let the magical wand of time bless your soul and home with scents and tastes so unpredictable and brilliant that they are sure to mess.you.up.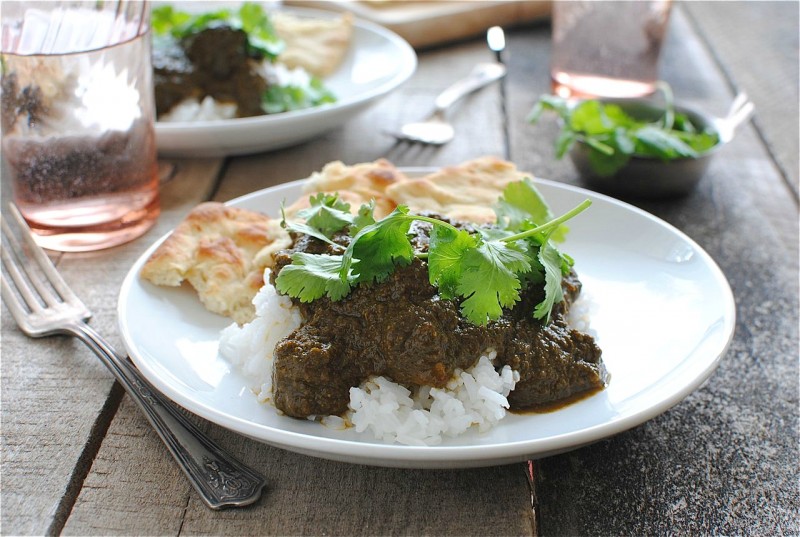 I mean, it wouldn't hurt him to try just one paneer, for crying out loud.
Slow Cooker Beef Saag:
(adapted from Suburban Bites)
What it took for 6:
* 2 pounds baby spinach
* 2 red onions, roughly chopped
* 5 serrano peppers, stems removed
* 1 head garlic, peeled
* 4-inch piece fresh ginger, roughly chopped
* 2 cups cherry tomatoes (or even a can of diced tomatoes is fine)
* 4 Tbs. cumin
* 2 Tbs. garam masala
* 1 Tbs. turmeric
* 1 Tbs. chili powder
* 2 pounds beef chuck, cut into small cubes
* coarse salt & freshly ground pepper
* cooked white basmati rice and garlic naan for serving
* fresh cilantro, for garnish
Layer half the spinach along the bottom of your slow cooker. Then add the onions through the chili powder. Add a big pinch of salt and pepper. Then press down the other half of the spinach on top of everything. It will practically be falling out everywhere. Press the lid down. Press it good, y'all.
Now turn the slow cooker on to low and let it simmer for 3 hours. Check on it a couple of times and give it a stir. After three hours, take an immersion blender and blend the saag until smooth. I miiiight have blended mine a little too much. I think it's because I forgot to take the trash out.
* quick note – if you don't have an immersion blender, just p0ur the saag into a blender, batch by batch and get her smooth. end note *
Then let it simmer another two hours.
THEN, sear your steak cubes in a large skillet until nice and browned on both sides. Season them with salt with pepper. Transfer the steak to the slow cooker for the last hour of slow cookering. (for a total of 6 hours)
Taste it. OMG. Need more salt? You know what to do.
Serve beef saag over a bed of cooked white (basmati or jasmine) rice and some torn toasted garlic naan! And oh! Some good cilantro! And oh! Maybe some fresh lime juice if you want to wake it up a little.
And oh! I'm just kidding.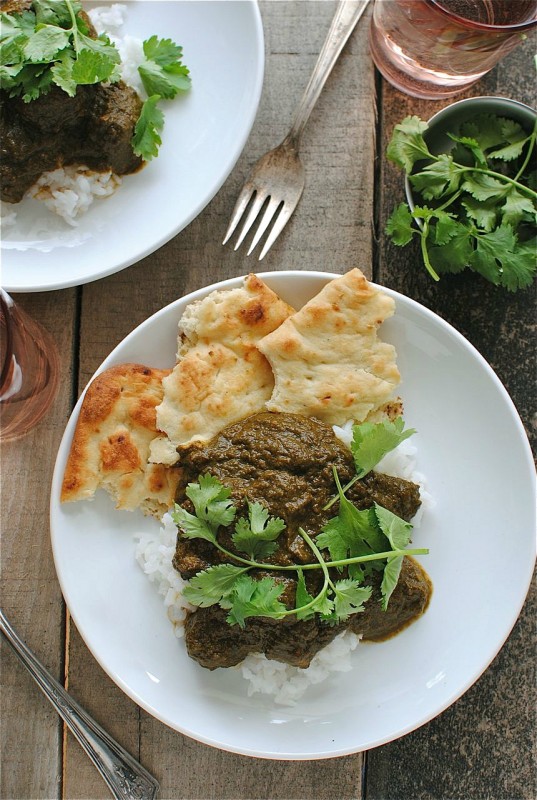 Raag out with your saag out.