It's so so so so sososososo fall right now.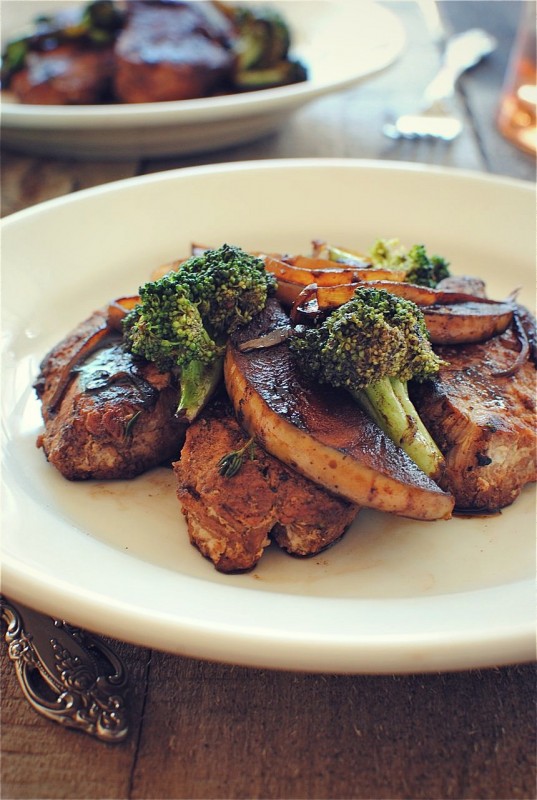 SO fall. And I seriously c.a.n.n.o.t. soak it up enough. I know I'm probably annoying the tar out of you guys with my constant Instagram fall nature pictures, but I can't heeeeeeelp it. Everywhere I look I'm like HOW IS THAT TREE EVEN DOING THAT.
HOW ARE THOSE LEAVES EVEN DOING THAT.
HOW CAN I MAKE A FULL BODY SUIT OUT OF THOSE TWIGS.
Okay so apples. I'm not normally an apple person. You know how people bite straight into a whole apple and chomp-a-romp (and let's be honest here, it's really kind of gross because a bite that big can only result in open chomping, and most likely spit in the corners of mouths, and frankly nothing good can come from this.) Not only can I not handle that sort of riff raff, I also can't bite into a whole apple for serious and intense medical reasons. It makes the roof of my mouth itch. And bumpy I think. And then I feel my front teeth start to itch. And then my nose cartilage burns. And I sneeze. A lot. And then my face starts to water and I complain about mascara runnage and the whole day is just over.
Stupid apples.
BUT! If you slice them delicately and present them to me on a tray of rare woven bamboo leaves imported from the Himalayas, I'm all good.
Or sautéed in a skillet with spiced pork, shallots, apple cider and broccoli. That's okay too.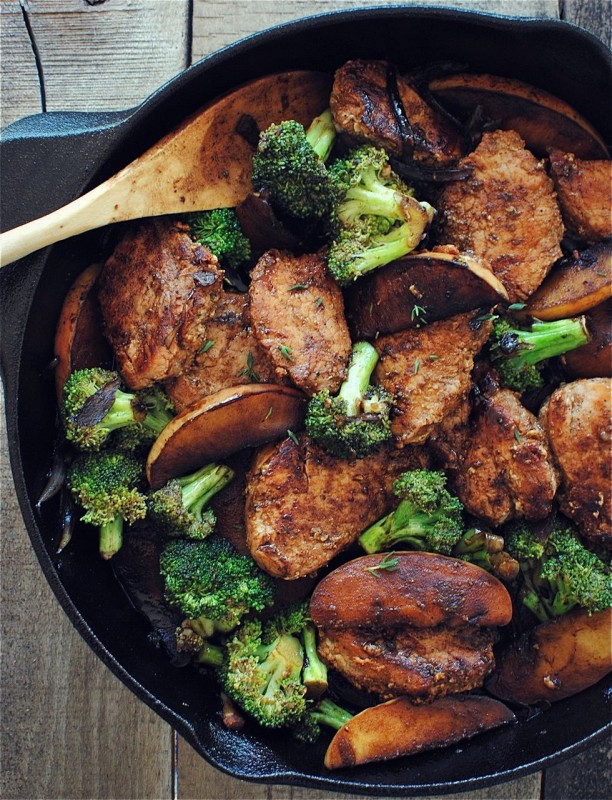 You know how some pork tenderloins come already marinated in something? Dudes, I picked up the mapley appley bourbony (or whatever?) one, and that decision seriously rivals the magnitude of my wedding day.
No really, ask Aaron.
Wait, don't.
Alright! So jump on the hay wagon and get your mouth fall'd this weekend.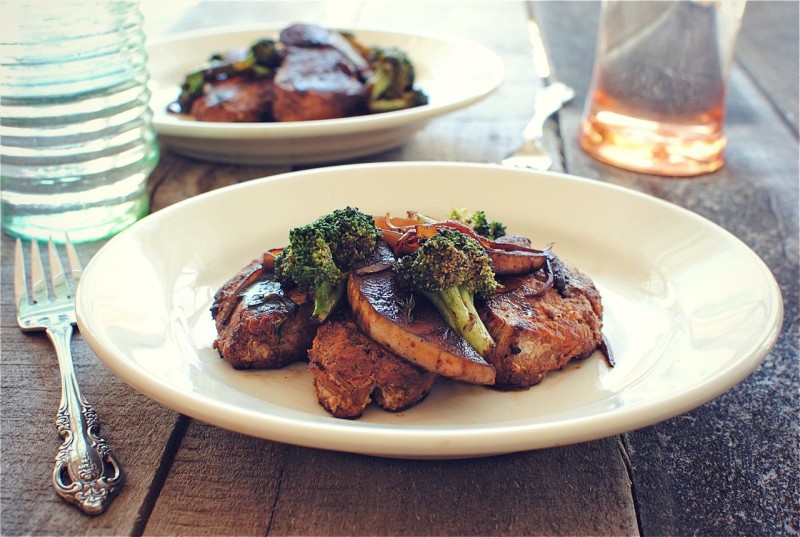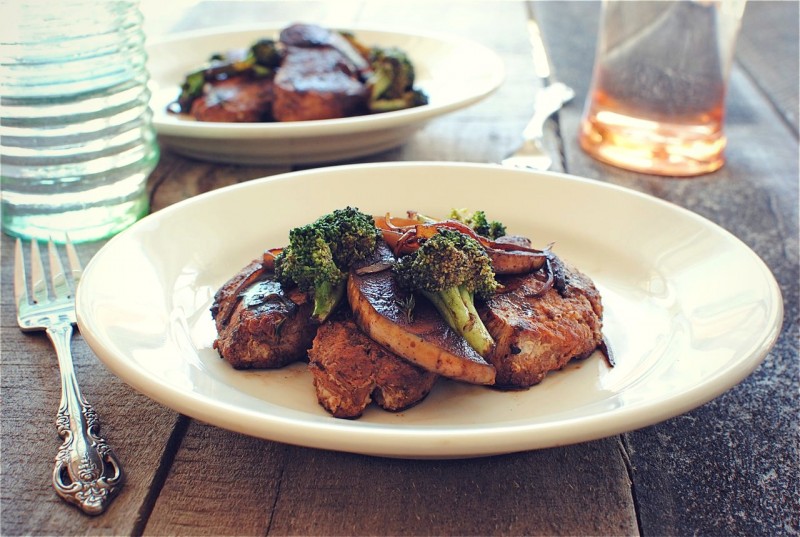 How 'bout them apples?! (ew, sorry)
Seared Pork Tenderloin with Apples and Broccoli:
(adapted from Cooking Light)
What it took for 4:
* 1 apple bourbon pork tenderloin, trimmed of fat and sliced into 1-inch pieces
* 2 tsp cinnamon
* 1 tsp nutmeg
* 2 tsp ground coriander
* 2 Tbs. butter
* 2 apples (I think mine were gala?), thinly sliced
* 1 large shallot, thinly sliced
* 1/4 cup apple cider
* 2 heads broccoli, florets separated
* coarse salt and freshly ground pepper
* 1 small sprig of fresh thyme
In a small bowl, combine the cinnamon, nutmeg, ground coriander and a pinch of salt and pepper. Sprinkle both sides of the sliced pork with the spice mixture.
Heat a cast iron (or large skillet) over medium high. Sear the pork for about 3 minutes on each side, until cooked through and browned all over. Remove from pan and cover to keep warm.
Back in the pan, add the butter and melt. Add the shallots and sauté until they start to soften, 2 minutes. Add the apples and broccoli to the pan, continuing to sauté until another 2 minutes. Add the apple cider and sauté two more minutes, or until everything is so glorious you need to rest. Sprinkle with salt and pepper.
Nestle the pork back in (with the accumulating juices) and cook about a minute longer, incorporating the flavors.
Serve dish garnished with fresh thyme leaves!
* You could even serve this over cooked egg noodles or some good crusty bread. I just forgot because my yard was on fire. *