When I was younger, like an hour ago, I used to want to own a charming little eatery. It would be a perfect mix of vintage tones and clean lines. Pale walls, rustic wooden little tables, candles in jars everywhere, fresh flowers, Stereolab on in the background, a little shaded patio. OMG will you come to my imaginary eatery!? And will you stop wanting to paper cut my jugular because I'm calling it eatery? Anyway, it would be called "It's a Wrap" because every single thing that I sold would be a wrap of some sort. Burritos, tacos, gyros, armadillos.
Not really on the armadillos. It rhymed, thus the current of my brain billow forced my fingers into submission.
So I'm thinking these Baked Chicken and Cheese Pinwheels would be on the menu. As an appetizer! You could order them with a crisp Sauv Blanc and read the paper or do a crossword. MY EATERY IS SO MUCH FUN!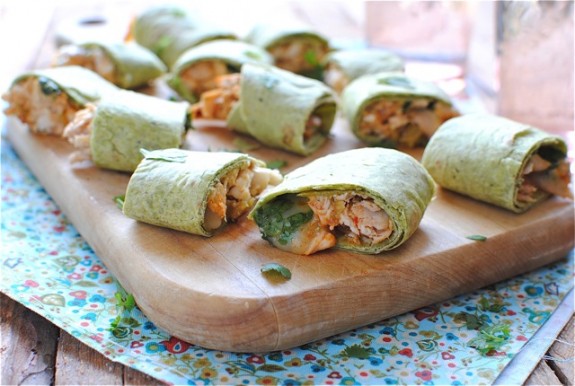 Okay but this Late Summer Paella might have to be on the menu at the my other imaginary eatery, "It's a Paprika Thing." This little place will be mostly stainless steel, with accents of rustic oranges and stark whites. And I MIGHT even hire a dude to play Spanish guitar in the corner. Like all flickity flick across the strings. He'd be cute too. Super straight teeth with no unibrow.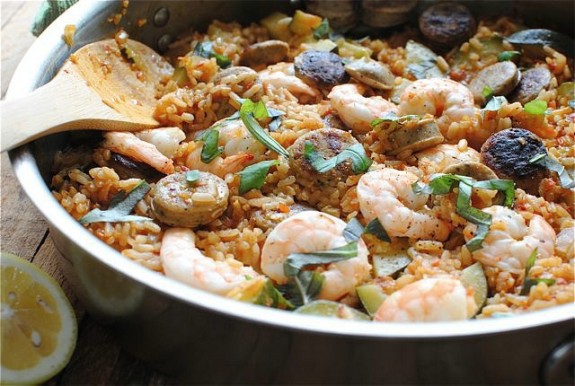 But since I don't have either eatery (wah waaaah), you'll just have to make these for yourself at your hizzy.
But we can still pretend that we're leaning against the counter at "It's a Wrap" in the late afternoon with that glass of Sauv Blanc discussing who would be the perfect guy cast for Christian Grey in the Fifty Shades of Grey movie!
Ashton? I don't think so.
Bradley Cooper? It's a rumor! But . . .  I'm not seeing it.
Suuuuuurely not McConaughey. He's way too southern.
Ummm….Gosling? He'd totally need to grow out his hair.