Boil, baby, boil!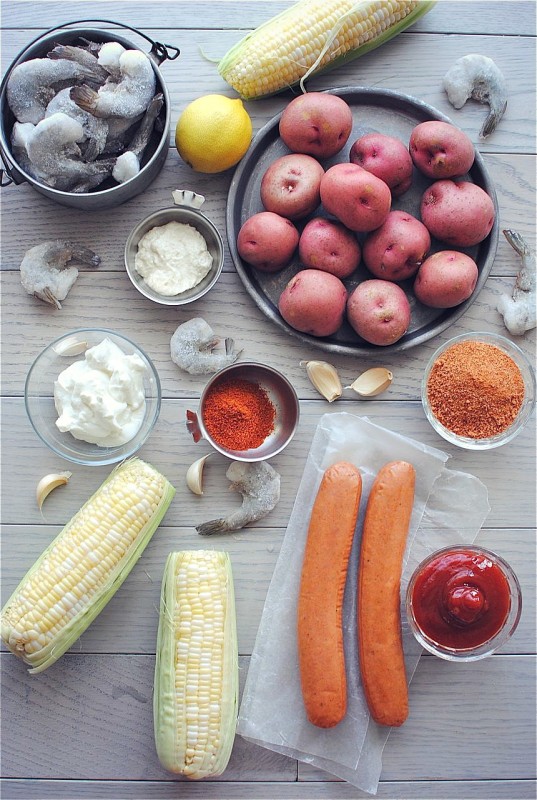 So this is funny. When I was a little kid I used to think people were saying shrimp bRoil. And I'd be like, "I can't wait for the shrimp broil!" And everyone would say, "It's BOIL. Like boiling it in hot water." Me, "Right! Broil. It's gonna be so yumm" – "BOOOOIL."
Now that I've typed the word boil 15,346 times I have no idea what it means. And it sounds weird in my head. Boil. Ew, I need an antidote. Phillip Phillips! Okay I feel better.
So a few weeks ago my F-I-L and B-I-L came up on a random Tuesday night so that we could practice a few songs for a family wedding we sang for in North Carolina. Which I'm going to tell you now; yes, I randomly made up goggledygook lyrics in the middle of one song, and no, I'm not going to show you the video. Hi, the back of my hair looked like a village of wild muskrats was nesting in it. And I'm being nice to myself.
So I pulled this shrimp boil together for dinner for my starving musicians and skip to my Lou, do you even know how seriously simple this is?
Chippidy chop, boilidy boil, drainidy drain, snarfidy snarf.
Oh! And dippidy dip. Into this pimp sauce with yogurt, horseradish, kay-chup and cayenne.
At first I was nervous and thought it was going to be this huge mess and that I was going to open up a can-tankerous (snaaaaap!) on them, but you guys, throw some parchment or newspaper down and get your crazy boil love affair on.
I'm pretty sure that was a run-on sentence.
I love shrimp broils! I MEAN BOILS.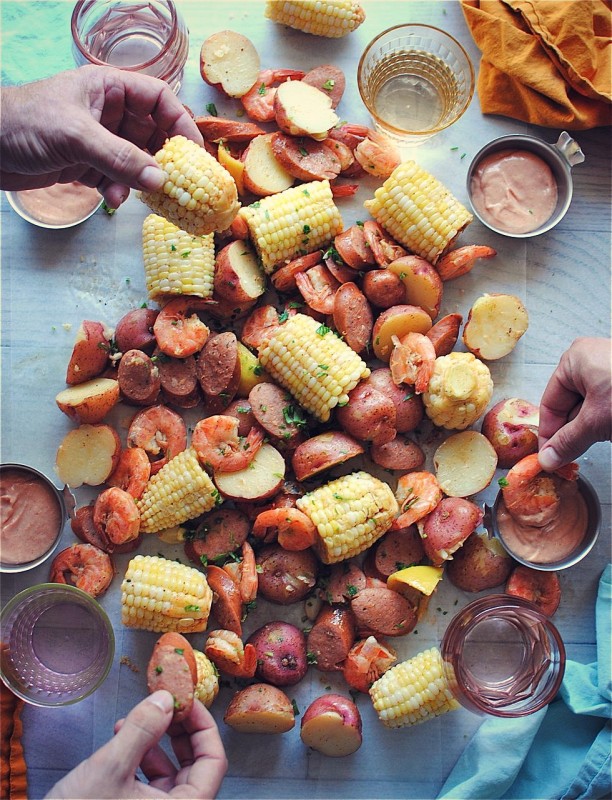 Next time I'm making it for 4 HUNDRED MILLION.
Shrimp Boil For Four:
(adapted from Yum Sugar)
What it took for, well, 4. Maybe 5:

* 5 Tbs. creole seasoning (I used Tony's)
* 2 lemons, quartered
* 4 cloves garlic
* 2 1/2 tsp cayenne, divided
* 8 – 10 small red potatoes, halved or quatered
* 2 andouille sausages, sliced
* 1 pound shrimp
* 3 ears corn, cut into 3-inch pieces
* 1/3 cup ketchup
* 1/3 cup Greek yogurt
* 2 Tbs. bottled cream horseradish
In a large pot of boiling water, squeeze the lemon juice, then stir in the lemon quarters, creole seasoning, 2 tsp cayenne, garlic, potatoes and a few good pinches of salt. Boil about 12 minutes, until the potatoes start to soften.
Add the sliced sausage and boil another 5 minutes.
Then stir in the shrimp and corn, boiling another 3 to 5 minutes. Put your head over that pot for a good creole face steam.
Carefully drain the liquid from the pot, leaving all the goods in it.
In the meantime, whisk together the ketchup, yogurt, 1/2 tsp remaining cayenne and horseradish in a small bowl. Taste it. ooooooooommmmmmmgggggg.
Then dump the boil out on a large table (you don't have to do this part if messes ick you out), sprinkle some parsley over the whole shebang and serve with little dipping sauces for everyone.
Dig in!
*extra lil' something to know. If you WANT, which you should want, you could toss the boil contents (why does that sound so serious?) with a little roasted garlic lemon butter after you drain the liquid. We did and there was world peace. Well, living room peace.