I'm pretty sure that food might be the last thing anyone in America wants to look at right now.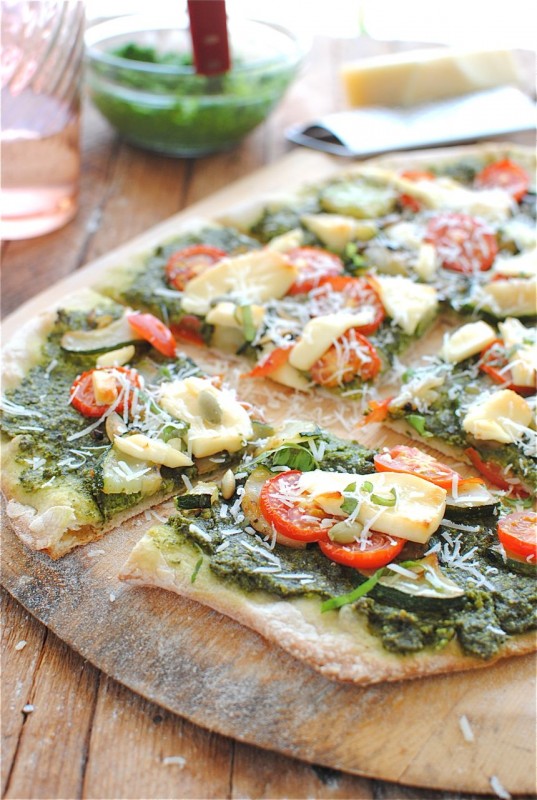 But see it's pizza, which one might deem a double blorbalicious whammy, but wait. It's not. It's tricky math really.
It goes like this. The sum of the firecracker pops plus the amount of brats you ate in less than five minutes, minus the past participle of the total drinks you consumed, divided by the amount of drinks you actually spilled, in the pool, multiplied by the addition of how many desserts you tasted, added to the amount of songs you tried to sing with a guitar to a group of people who interestingly enough left immediately afterwards = this pizza.
But that's not the tricky part.
If you were in an area with a ban on fireworks (um, what 80% of the country?), then the math goes like this:
The lack of firecracker pops MINUS the number of grilled flank steak slices you inhaled in less than three minutes, divided by the amount of drinks you consumed, take away the present participle of the amount of times you spilled them on innocent young children's heads, multiplied by the amount of Lisa Loeb songs you forced upon people who were this close to ripping off their own ears, PLUS all that corn on the cob that is still stuck in your teeth and chlorine still stuck in your skin pores, equals…
…this pizza. So basically everything cancels each other out and you have no choice really but to eat this entire dadgum thing.
THERE'S KALE PESTO ON IT, chachis.
Which is like, extra credit points.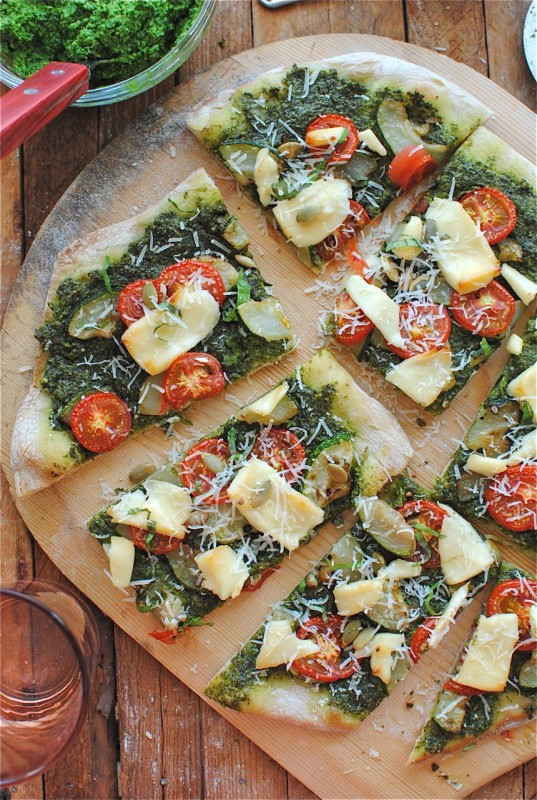 Thin crust. Light garden-fresh toppings. Slices of melty brie cheese. Colors of the Ireland flag. OH OOPS.
See how tricky math can be?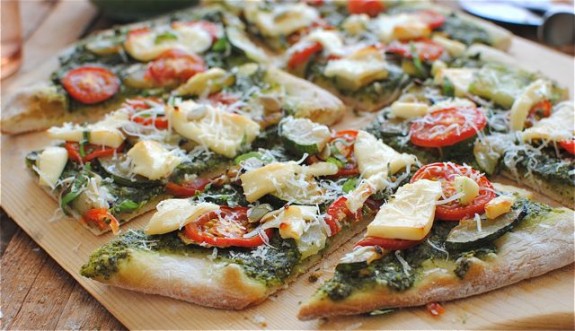 Your mouth plus this pizza equals liberty and justice for all. Truth.
Garden Veggie Pizza with Kale Pesto and Brie:
What it took for 2 (roughly 10-inch pizzas):
* 1 pound refrigerated pizza dough, divided in half
* 5 Tbs. extra-virgin olive oil, divided
* 2 cups sliced zucchini
* 1/2 bunch chopped kale
* 1/4 cup toasted pepitas
* 3 cloves garlic, chopped
* 1/4 cup freshly grated parmesan cheese
* 1 cup sliced tomatoes
* 1 wheel of brie, sliced
* coarse salt and freshly ground pepper
Preheat oven to 400.
In a food processor, pulse kale, garlic, pepitas, parmesan cheese, 3 Tbs. oil and a good pinch of salt and pepper and smooth and pesto-y. Set aside.
Heat the remaining oil in a medium skillet and add the zucchini; sauté for 3 minutes, until you see a little color on each side.
Roll out the pizza dough to your desired thinness. Spoon the pesto over each crust. Arrange some zucchini slices on top of the pesto, followed by the tomato slices and brie slices.
Bake for about 15 minutes, or until the dough is cooked and the cheese is browned and melty.
Garnish with extra toasted pepitas and fresh basil if desired!