How you doin'?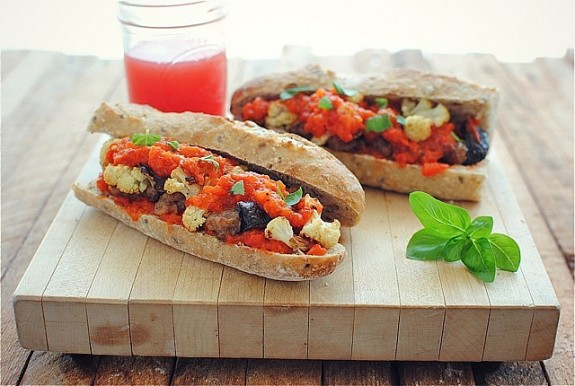 It would not be a spit's length away from a lie to say I've watched Friends every single day for the past 18 years since its original air date in the fall of 1994. I was fresh out of high school and starting my first semester in college, experiencing a confusing phase in fashion and hold on EIGHTEEN YEARS? I've been "in the real world" for 18 entire years? When did this happen? How? Where's my Cymbalta? And why am I still wearing this chain wallet?
FRIENDS. I remember instantly falling wholeheartedly in love with the show. Oh, Rachel and Ross with their complicated love and good hair. Oh, Monica and Chandler with their neurotic shenanigans and proving that age-old cliche that opposites do in fact attract. Oh, Phoebe and Joey with their lackadaisical approach to life, 15 thousand rings on each hand and countless HOW ARE THEY STILL ALIVE moments. (I still think they should have ended up together. But I love Paul Rudd to death so I change my mind. Again. But I'm not done thinking should be together. For now. I'll be sure to let you know though. Sorry.)
The show is nothing short of timeless. The jokes are still undeniably gut-busting to this day. I still cry when Rachel finds out Ross cheated on her when they were ON A BREAK.
I still, um, nod my head and scream, "SHE TOTALLY DID!" when Monica's paranoia leads her to believe her new housekeeper was stealing her jeans and bra. (she was, you guys.)
I still laugh hysterically when they're watching old videos of Rachel and Monica (when she was fat) and Monica says, "The camera adds 10 pounds!" and Chandler responds with, "So how many cameras were actually ON you?" Chandler makes my heart dance.
I still freaking lose it when Rachel finds out she's pregnant and Phoebe plays that "risky little game" in the bathroom at Monica and Chandler's wedding, telling her the test was negative. Oh fantastic, I'm crying again.
I still giggle at, oh, EVERY SINGLE THING Phoebe says ever. "Oh no." I've practiced it. Too much.
I love that Joey carries an actual FORK everywhere he goes. Why is he so genius? And let's not forget his unequivocal love for the sub sandwich.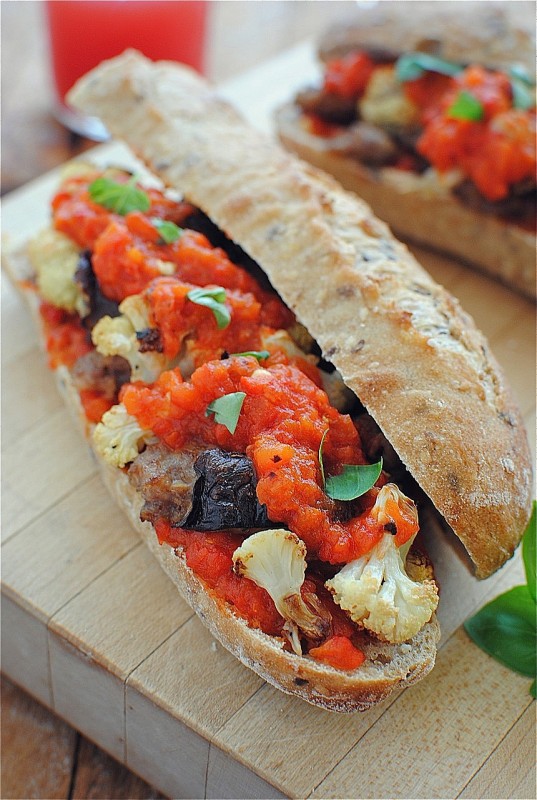 Now, he'd probably hurl at all the vegetables up in herr, but he's not eating it. I am. And I'm a delicate flower petal glistening in the morning dew who wants her sandwich and eat it tew. (I know it's "too." Shhhh.)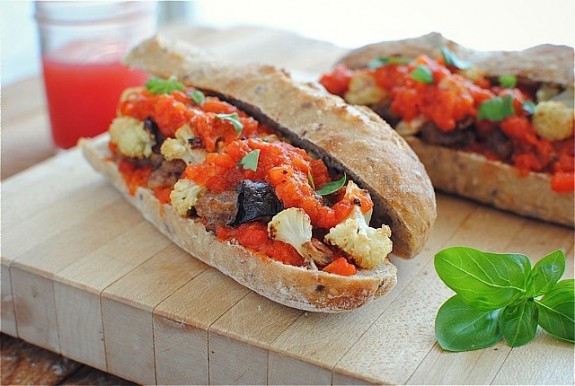 I wonder what Emma, Jack and Erica look like these days. WHAT, THEY ARE REAL.
Hoagies with Italian Sausage, Cauliflower and Mushrooms:
What it took for 4 (6-inch) subs:
* 2 red bell peppers
* 3 Italian sausage links, casings removed
* 2 Tbs. extra-virgin olive oil
* 1/2 head cauliflower, broken into small florets
* 4 oz shiitake mushrooms, sliced
* 2 (12-inch) whole grain baguettes (or hoagies), sliced in half and toasted
* coarse salt and freshly ground pepper
* fresh basil leaves, for garnish
Preheat oven to broiler.
On a small baking sheet, arrange the two peppers and broil them until black and charred all over, about 10 minutes total. Remove the peppers from the sheet and place them in a large sealable plastic bag or bowl. Cover or seal and let cool about 20 minutes. Remove peppers from bowl and peel as much skin away as you can,  discarding the stem and seeds.
Place the peppers in a food processor and pulse until smooth. Taste it. Need a little salt? Go ahead and toss in a small pinch. Cover to keep warm.
Adjust oven to 400 degrees.
In the meantime, toss the cauliflower and mushrooms onto a rimmed baking sheet. Drizzle with oil and sprinkle with a good pinch of salt and pepper. Roast for 30 minutes. Maybe 40, depending on your oven.
Heat a medium skillet over medium-high and add the sausage. Break up with a wooden spoon and brown all over, 6 minutes. Remove from heat and set aside.
Spoon some of the roasted red pepper sauce along the bottom half of the toasted hoagie. Arrange the sausage, mushrooms and cauliflower on top of the sauce. Spoon even more sauce over the meat and vegetables. Garnish with basil leaves and EAT.