Before we go any further here, I need to come clean about something.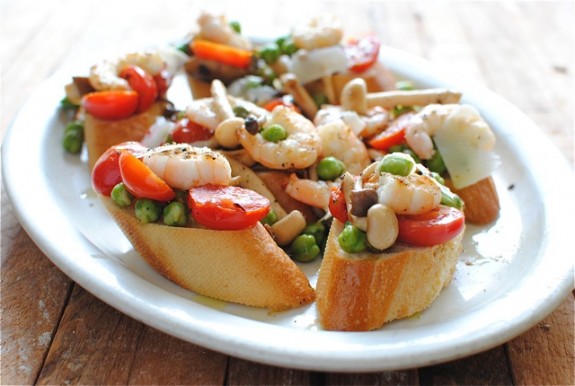 I don't know exactly how it happened, or what was going on inside the cerebral mass inside my head skull, but it did happen. And I can't go back and fix it. I'll never be able to go back and correct the perfidy of my ways. But I'm hoping that after I confess with well-practiced puppy dog eyes and broken kneecaps, you'll find some way to some day understand and maybe even take a baby step or a teensy kiss towards forgiveness. Here goes…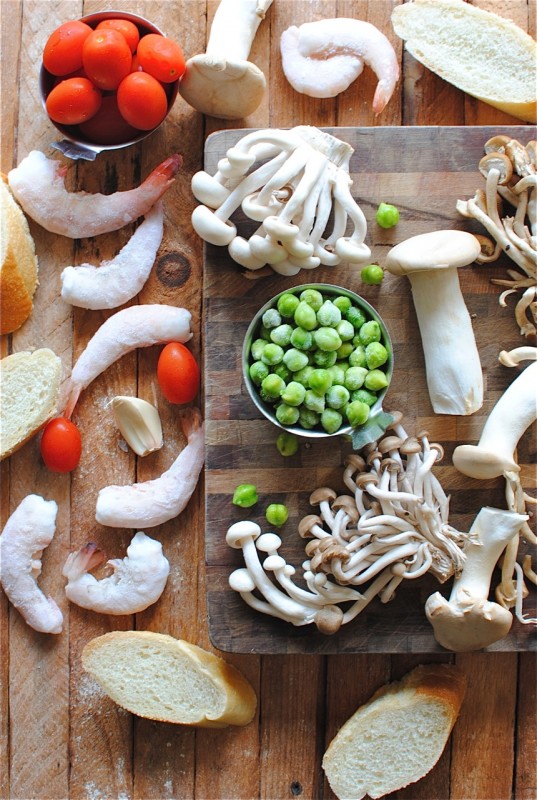 I forgot to garnish.
PLEASE. NO. I KNOW. SIT DOWN. STOP. OW THAT'S MY HAIR.
I didn't even realize it until I sat down to edit. I had ravenously and not at all graciously scarfed down all but a crumb of these things, only to start clicking through pictures and wondering, "What the h, dude. These look weird. They look naked. Am I losing my touch? Did I even have a touch? Was my touch actually more like a lizard in the most barren of deserts with its sticky webbed-paw sticker hand things that when they touch glass everyone in the room hurls because it looks nastier than skunk city? What is going ON with this brusche – OHHHHH BASILPARSCHIVECRAAAAAP."
This is what happens when you spend 75 hours trying to figure out why Jess and Nick won't just GET TOGETHER ALREADY. Can't they see it? Am I the only one who craves this? Should I just let the dream die? Get a life perhaps?
(I'm hoping that by bringing up a new subject, you'll forget all out the tragedy that unfolded before your eyes only a mere 15 seconds ago.)
And I have one more picture left, so I guess I should tell you a smidge about this here bruschetta dinner, n'est pas?
It's what you make when you have zero brain cells and .0000001 oz of energy left in your bawdy. It's quicker 'n a snipper and you can serve it all on a huge platter, sit down on the floor on a rug with your man or woman with a bottle of wine and a green salad and most definitely another bottle of wine.
It's got everything you need in life. Seared shrimp, sauteed garlic, mushrooms, cherry tomatoes, green garbanzo beans (for real), and crusty french bread. And lots of parmesan shavings. And loads of fresh herbs that you're pretending to see on top.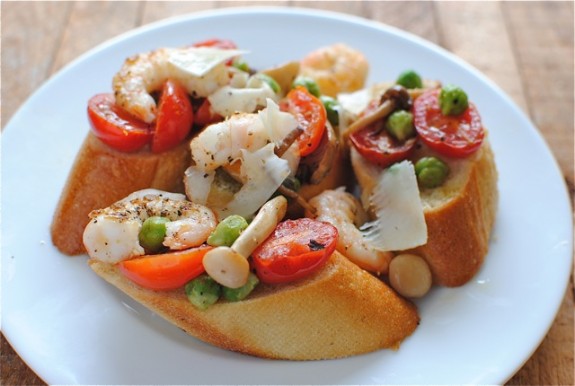 Would someone please garnish my brain?
Bruschetta with Shrimp, Mushrooms and Green Garbanzo Beans:
What it took for about 10 bruschetta. Or is it bruschettas? Or is it bruschetti?:
* 1 loaf french bread, cut into 1-inch slices (or thinner)
* 3 Tbs. extra-virgin olive oil, divided
* 2 cloves garlic, one cut in half and the other minced
* 1 pinch crushed red pepper flakes
* 8 oz mixed mushrooms, sliced if needed
* 1/2 pound shrimp, peeled and deveined
* 1 cup frozen green garbanzo beans, thawed
* 1/2 cup cherry tomatoes, sliced in half
* fresh parsley for garnish (which I totally spaced on, go figure)
* coarse salt and freshly ground pepper
Preheat oven to 350.
Drizzle the bread with 1 Tbs olive oil. Take the halved garlic clove and rub it against the slices. Slide her into the oven and bake until golden brown, about 6 minutes. Remove, or turn the oven off and let them hang out inside to keep warm.
Heat the remaining oil in a large skillet over medium high. Season the shrimp with salt and pepper and add them to the pan, searing for 2 minutes on one side. Flip and sear 1 more minute. Remove from heat and set aside.
Back in the pan reduce the heat just a tad and add the garlic and red pepper flakes. Bloom about 15 seconds. Then add the mushrooms. You can add a little more oil if needed. Saute them until they start to brown slightly, 5 minutes. Season with a pinch of salt and pepper. Add the tomatoes and green garbanzo beans to the pan. Continue to saute for another 3 minutes, until everything is freaking gorgeous and you want to climb into it.
Place the toasted bread on a serving platter and spoon the shrimp mixture goodness all over it. Give it one more pinch of salt, another grind of pepper and garnish with lots of chopped parsley. Let's pretend I did that, for the love.
Eat!