Well skip to my Lordy Lou, they totally did it.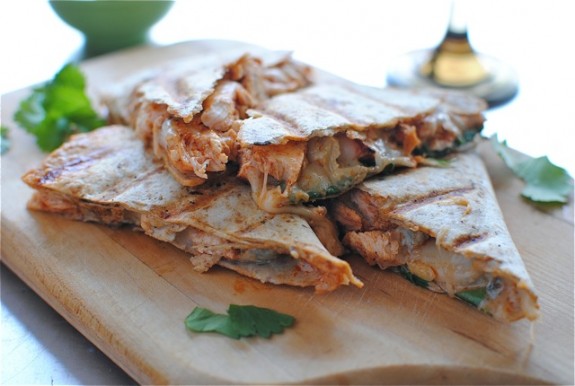 Who did it? The Jayhawks.
What did they do? They made it to the Final Four.
How many times did you do the pee pee dance in front of a TV screen this weekend? 4,268.
Why did you just say pee pee dance? I have no idea.
March Madness is up in HYAH, you guys, and I'm totes in the spirit. I have pom poms glued to both wrists, a basketball wig attached to my head and my face is painted. Although it's painted like Sigourney Weaver in Avatar because THAT SEEMED TO MAKE A LOT OF SENSE AT THE TIME.
And I buffafacalo'd. Which obviously means to buffalo your face with something during this basketball hoops shooting in the basket sports season. In yesterday's particular case, we showcased the quesadilla. Oh! We showQUESadilla'd!
Just fire me.
Before you do though, look at the mound of filling that I accidentally on purpose put in my ques. That's what I call it. Ques.
But before you do, look at that cast iron working its magic in the flattening arena. There should be a cheer!
"Flatten it good!
Flatten it tight!
Flatten it all the way to dynomite!"
….firing may commence.
But before you do, might I introduce to you to this tower o' power? This high rise of happy cries? This castle of dazzle? These layers of flavor slayers? These–faaahn, I'll shut up.
m.a.r.c.h.m.a.d.n.e.s.s.i.n.y.o.u.r.m.o.u.t.h.t.o.t.h.e.m.a.x.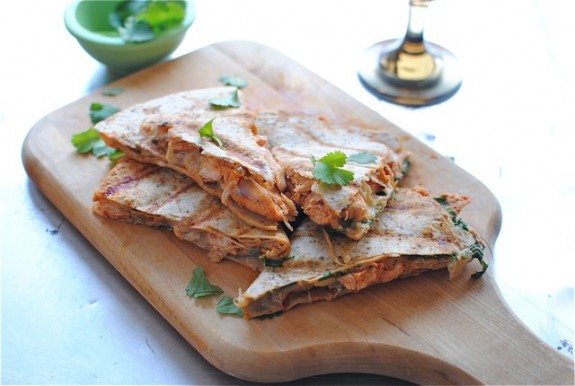 You're making me president, aren't you? I'll WEAR MY BASKETBALL WIG.
Buffalo Chicken Quesadillas:
What it took for 2:
* 1 pound chicken tenders
* 1 cup Frank's buffalo wing sauce, divided
* 2 cups shredded Monterey jack cheese
* 1/2 cup blue cheese crumbles
* 2 large tortillas
* 1/4 cup cilantro, for garnish
Fork the chicken tenders all over with a fork. Toss them with 1/2 cup Frank's buffalo sauce, cover and marinate in fridge for at least an hour.
Preheat grill over medium high. Arrange the tenders on the grates and grill until nicely charred and cooked through, about 10 minutes total. Remove from grill, cover and let rest 5 minutes.
Roughly slice the chicken and toss with the remaining Buffalo sauce.
Layer some cheese along half of your tortilla, followed by half the chicken, more cheese (blue and jack) and topped with cilantro.
Place back on the grill and using a heavy object (like a cast iron) flatten the quesadilla because there's a lot of filling inside. Flip and continue to cook until the cheese melts, you get good grill marks and everything is heated through.
Remove from grill, slice and inhale.