No, no. Barney the dinosaur did not in fact explode all over my quinoa. That's some real life purple cauliflower rawt thar.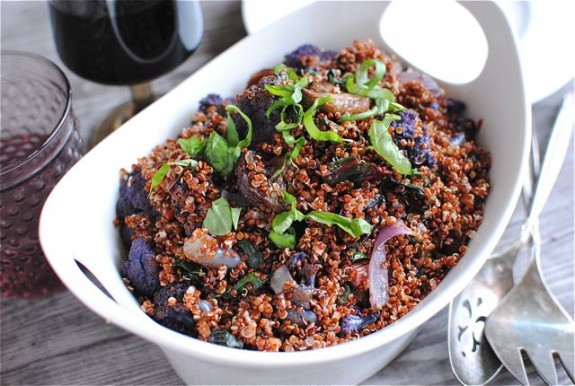 Have you ever seen such a thing? Well guess what, CLASS. I did a little research on these beauts, so get out your #2 and some notebook paper and let's get LEARNT. And if you're good I'll let you say a curse word on the playground.
A) Did you know there are actually 4 colors of ze caulis? Yep. White, orange, green and purple. Isn't this already so exciting?
B) Get this: the purple is caused by the presence of some antioxidant group called anthocyaasldnsndifys. It's the SAME antioxidants found in red wine! Well, and red cabbage but that's boring.
C) Word on the street is that you cannot grind and mill and press and blend the purple cauliflower in the hopes of achieving relaxation once consumed in drink form. What? NO I didn't try it. Like I said, someone told me. Hahahaha! Silly you….*ahem*
D) This is where the stars align, you guys and I didn't even plan it. Paired with the red quinoa and green swiss chard, it's almost like the colors of the MARDI GRAS FLAG. Squint your eyes. See it? Squint harder. The flag? See the colors and the flagness of the Mardi Grasness? Give up on life?
Whatever, IT SO IS and I'm embarrassed at how much this excites me.
And guess what else! This dish is deliciously vegan. So it's like the G-rated version of what Mardi Gras stands for. I guess you could eat it with your shirt off if need be.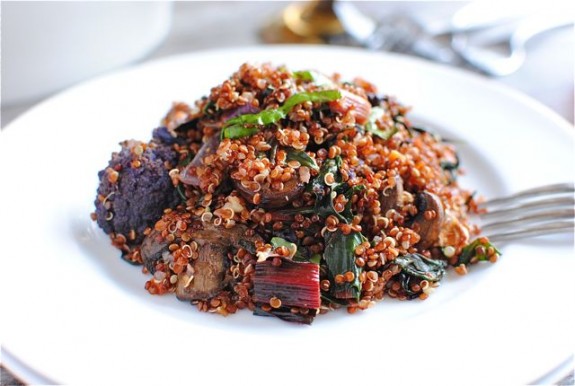 Roasted veggies with pops of quinoa and silky strands of chaaaardddddd. Laissez les bons my faaaaaaacccceee.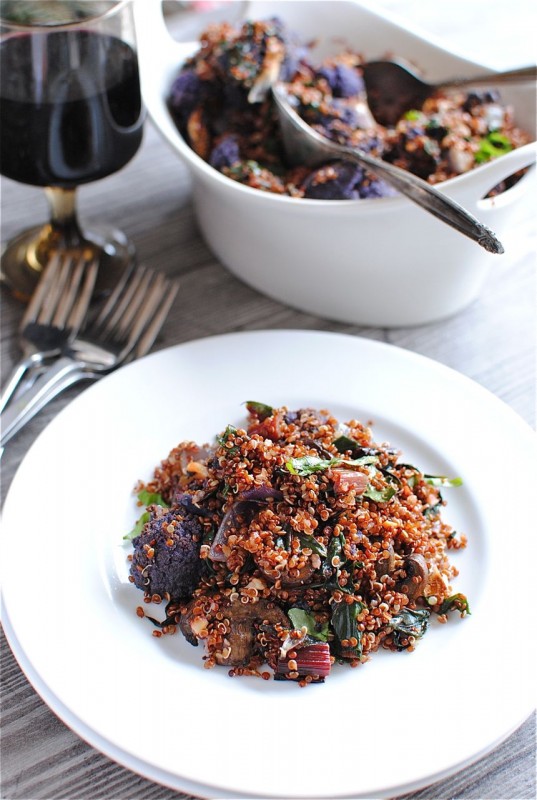 Class dismissed.
What it took for 2 (or 4 as a side dish):
* 3 Tbs. extra-virgin olive oil, divided
* 8 oz baby bell mushrooms, sliced
* 1 head purple (or regular) cauliflower, broken up into florets
* 1/2 yellow onion, sliced
* 1 cup red (or regular) quinoa
* 2 cloves garlic, minced
* 1 bunch swiss chard, sliced into thin ribbons (ends discarded or composted)
* coarse salt and freshly ground pepper
* fresh basil for garnish
Preheat the oven to 350.
On a rimmed baking sheet, toss the sliced mushrooms with the onions, cauliflower florets, 1 Tbs. oil and a good pinch of salt and pepper. Roast for about 40 minutes, checking at the 30-minute mark.
Bring the remaining 2 Tbs. oil to a medium-high heat in a skillet. Add the garlic and bloom for 30 seconds. Add the swiss chard and saute on medium until wilted, 7 minutes.
In the meantime, boil the quinoa in water until they pop open into little spirals, about 20 minutes. Drain and add the quinoa to the swiss chard. Toss to combine with another pinch of salt and pepper.
Add the roasted veggies to the skillet and give another toss. Drizzle in a little more oil if needed. Taste. More salt? Do it.
Serve garnished with basil leaves. So simple and hits.the.spot.