Poll Time:
How do you pronounce the freaking word "endive?"
Is it AWN-DEEVE? or N-DIVE?
I really want it to be AWN-DEEVE, because that's the way the lady says it in the car commercial when she's trying to unlock her tricked-out car but she's at the wrong car because she really drives a station wagon and is experiencing the "feeling richer" effect because she cut her phone bill in half and now believes she has as much money as a hip hop music mogul.
So she made me giggle and now I really want it to be awn-deeve. Plus I'd like to feel rich too.
It is awn-deeve, isn't it?
If it is, then this gorgeous fall salad features roasted AWN-DEEVE and it will put. you. in. your. place.
Sometimes we need to be put in our place. And call it AWN-DEEVE.
I really think it's awn-deeve.
Is it?
Fall Salad with Prosciutto, Pear and Roasted Endive. And Candied Walnuts:
(adapted from Cooking Light)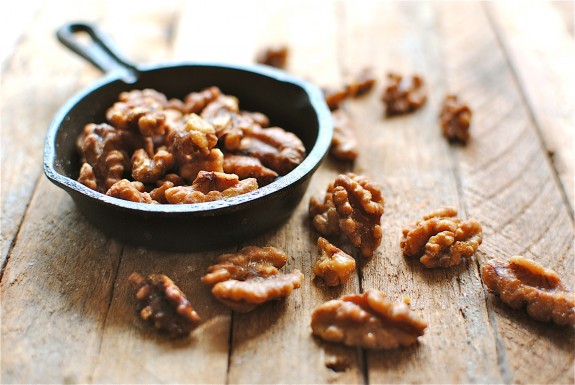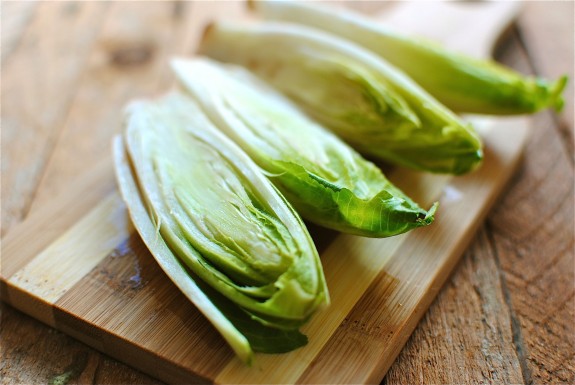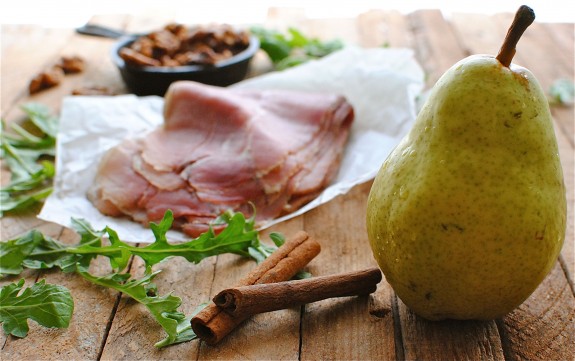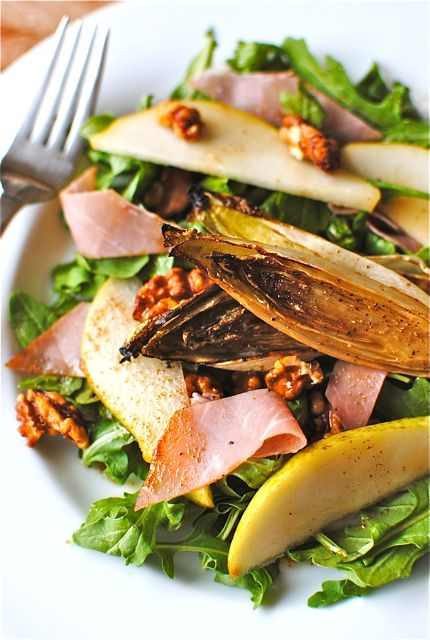 What it took for 2:
* 2 cups arugula
* 2 endives, sliced in half, lengthwise
* 2 strips prosciutto, torn into 1-inch ribbons
* 1 pear, sliced thinly
* 1/2 cup apple juice (or cider if you can find it)
* 1/2 tsp sugar
* 1 tsp ground cloves
* 1 (2-inch) cinnamon stick
* 1 bay leaf
* 2 Tbs. extra-virgin olive oil, divided
* pinch of salt
* pinch of freshly ground pepper
* 1 Tbs fresh lemon juice
* 1/4 cup candied walnuts
Preheat oven to 450.
In a small saucepan, combine the apple juice, sugar, ground cloves, cinnamon and bay leaf. Bring to a boil, reduce heat and simmer 20 minutes, until reduced a bit. Strain liquid into a bowl (not down the drain!) and discard the solids.
Brush a Tbs of the oil on a rimmed baking sheet. Place the endive halves cut-side down, brush with apple juice mixture, sprinkle with a little salt and pepper and bake 10 minutes. Bring them out, change the setting to broil, flip the endive halves, brush with more apple juice mixture, another sprinkle of salt and pepper, and broil 4 minutes. Whew!
In a bowl, combine a pinch of salt, pepper, remaining apple juice mixture, lemon juice and the last Tbs of oil. Give it a whisk. Nice.
Toss the arugula, candied walnuts, and pear into the "dressing."
Serve salad with roasted endive halves, sliced prosciutto and some crusty bread and you're SET.
Fall is all up in your mouth.