Imma bout to jump in the car and skiddly daddle south, but before I do, I have to share this dish with you.
This is another pantry purge meal, with frozen chicken breasts, wild rice, a few peppers from the garden and a hodgepodge of molding vegetables from the fridge.
Oh you guys, the vegetables weren't molding. I'm just yankin' your chain!
Actually, no one ever says that phrase anymore, and I find that quite sad.
……
This meal was TIGHT. It was sort of an experiment, putting sauteed veggies together with liquid and uncooked rice in a baking dish and crossing my toes and fingers in hopes that nothing turned out soggy or mushified. It totally worked! So, it should work for you. And if it doesn't, forget I exist.
No, don't do that.
All right, I'm out of here!
OH WOW – you didn't think you'd get of me rid of me that easily did you? Oooooh, no. I'll be checking in and harassing you with updates from the south, SUCKA!
Fiesta Chicken and Rice Bake:
Oh, and – I totally forgot to shoot prep shots of dinner, so these sliced mushrooms are all my brain could pull together. Whoopsie!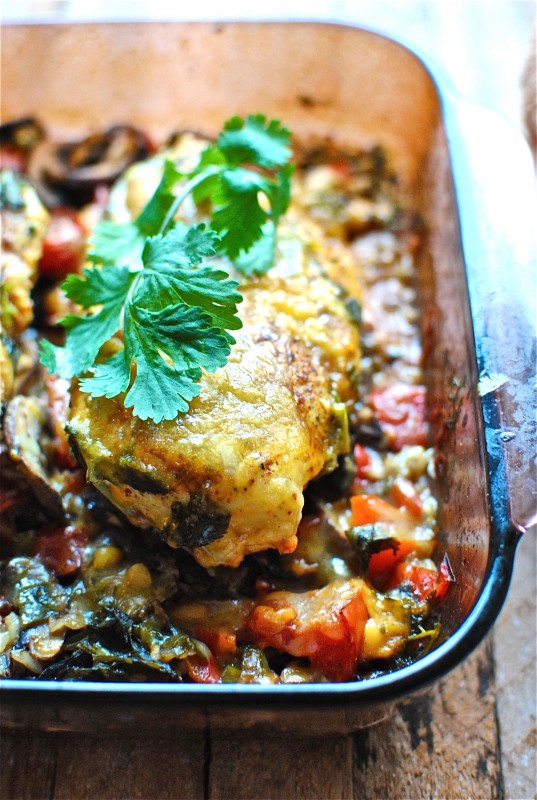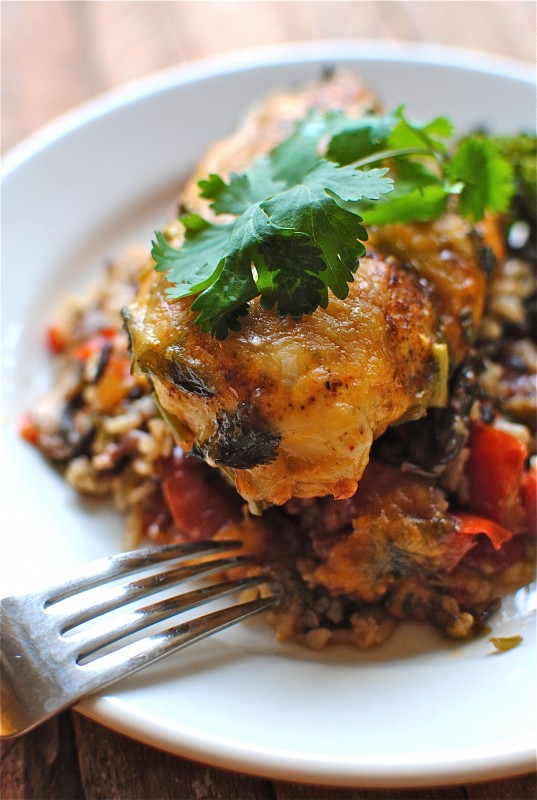 What it took for 2:
* 2 chicken breasts
* 1/2 cup wild rice
* 1 cup chicken broth
* 2 Tbs. extra-virgin olive oil
* 1/2 red bell pepper, diced
* 4 oz baby bella mushrooms, sliced
* 2 garlic cloves, minced
* 2 small jalapeno peppers, minced
* 2 scallions, finely diced
* 1 roma tomato, chopped
* 1 tsp chili powder
* 1 tsp ground cumin
* 1/2 tsp coarse salt
* 1/2 tsp freshly ground pepper
* 1/4 cup cilantro, roughly chopped, plus more for garnish
* 1 cup grated cheddar cheese
Preheat oven to 375.
Heat the oil in a medium skillet. Add the garlic and jalapeno peppers and bloom for 30 seconds. Add the red bell peppers, mushrooms and scallions. Season with a pinch of salt and pepper and saute 5 minutes.
In a small baking dish, combine the rice, stock, tomato, cilantro and sautéed veggies. Sprinkle mixture with 1/2 the cumin and chili powder.
On another plate, sprinkle the chicken breasts with salt, pepper, the remaining chili powder and cumin.
Cover rice mixture and bake 30 minutes.
Remove from oven and place chicken breasts on top of the rice. Sprinkle with cheese, cover and bake 30 more minutes.
Remove foil and broil until cheese is nice and bubbly!