You guys, it's so hot here that when I went outside to check on the garden this morning, at least 15 ripe tomatoes had their sad little viney hands reaching up to me, begging through tears to be picked and taken indoors to a cooler, safer world. One plant even had a little boombox busting out Simple Minds' "Don't You Forget About Me." And kind of loud actually.
It's THAT hot.
So, with my freshly picked bounty, I decided to make one of my most favorite summer dishes tonight.
(This is where you ask, "OH? Why, what makes it a favorite Bev!? DO TELL.")
A) I love pasta so much it's like I share blood with it.
B) I adore fresh tomatoes enough to rescue them from the MEAN SUMMER. (poor babies)
C) Master Chef is on tonight, so I need the extra time to do a few sets of jumping jacks and brain yoga, in order to prepare for the stress that I'll pathetically endure watching.
and D) This sauce. THIS SAUCE. It's deep, yet bright. Spicy, yet a subtle hint of sweet. DARING BUT CARING.
…..yeah, not sure what that even means.
Quick Spaghetti with a Fresh Tomato Sauce: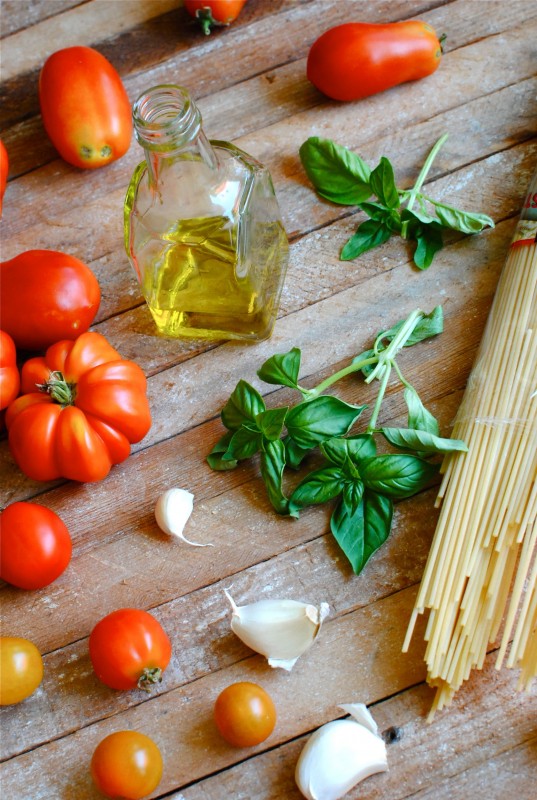 I need to mention that the above picture doesn't feature the bacon. I hadn't actually planned on it. Things changed when the hubs walked through the door. Go figure.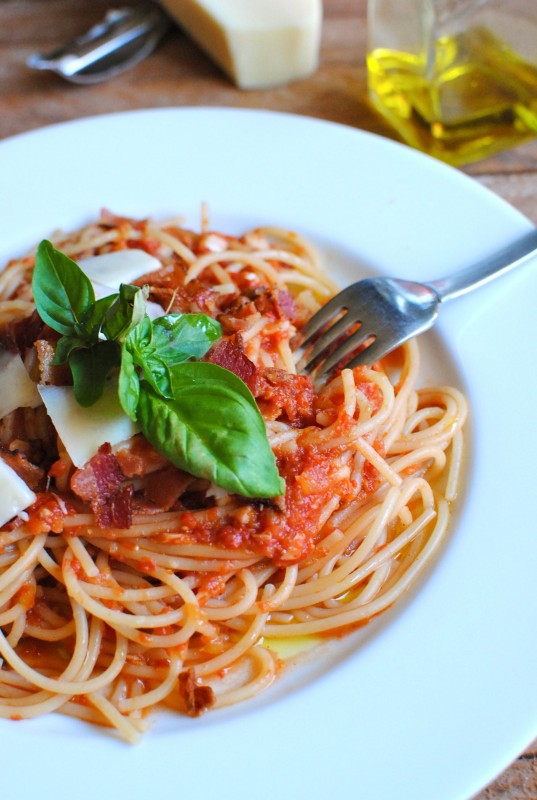 What it took for 2:
* 1/2 pound spaghetti
* roughly 2 pounds ripe tomatoes (mine were from the garden, so it was a mixture)
* 4 slices center-cut bacon
* 3 garlic cloves, minced
* pinch of crushed red pepper
* 1tsp smoked paprika
* 1/4 cup red wine
* 1 Tbs honey
* 3 Tbs. extra-virgin olive oil
* 1/2 cup fresh basil
* coarse salt and freshly ground pepper
* parmesan shavings for garnish
Go ahead and render your bacon. Once crisp, transfer to a plate to dry. Pour off 1/2 the bacon grease, but keep the REST FOR THE LOVE.
Give the tomatoes a quick rough chop and throw them into a food processor. Pulse until smooth and saucy.
Heat the oil in a medium skillet, over medium-high. Add the garlic and bloom for not even a minute. Add half the basil, the crushed red pepper and paprika and cook another 20 seconds. Add the tomatoes, wine and a good pinch of salt and pepper. Simmer for about 20 minutes. It should reduce a tad. Taste it. Too acidy? Add that honey and cook another minute. It should cut some of the acid and add a nice subtle sweet hint.
Cook the pasta until it reaches al dente. Using tongs, remove from the pasta water and add to the sauce. Toss to combine.
Serve pasta with remaining basil and fresh parmesan shavings! Top with bacon bits, good grief. Maybe one more drizzle of oil – do it.