Over the weekend I met a girlfriend at her pool in an attempt to bring my body temperature down to a more tolerable degree.
After a quick dip in the blue tub of serenity, we hopped out, set up camp on 2 lounge chairs and started to catch up.
The only problem was that I brought along my newest Cooking Light magazine, which, um, is quite the risky idea for any foodie that's needing to focus on what her friend is telling her.
Her, "so yea, when he said that I was like whaaaat? no way, man."
Me, "uh huh? omg look at this shrimp salad."
Her, "I mean, WHY would he think I was feeling that if I hadn't even SAID that?"
Me, "right, right…HOLY BABIES, this spicy corn chowder is about to give me vertigo."
Her, "Seriously, if I have to just TELL him what's up, I'm not afraid to do so."
Me, "..totally…you go girl…Okay I need make sandwiches more often for dinner, LOOK AT THESE BEAUTIES!"
…..Oops, sorry Jenny.
But hey, thanks to your gracious offering of delicious brats, I was able to make one of the recipes that I not-so-suavely ignored you for!
…we're still cool, right?
New Potatoes with Onions and Sausage: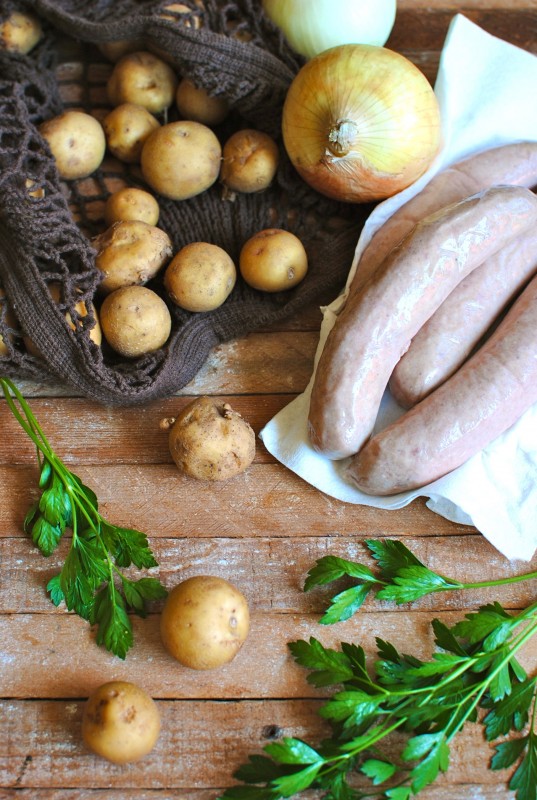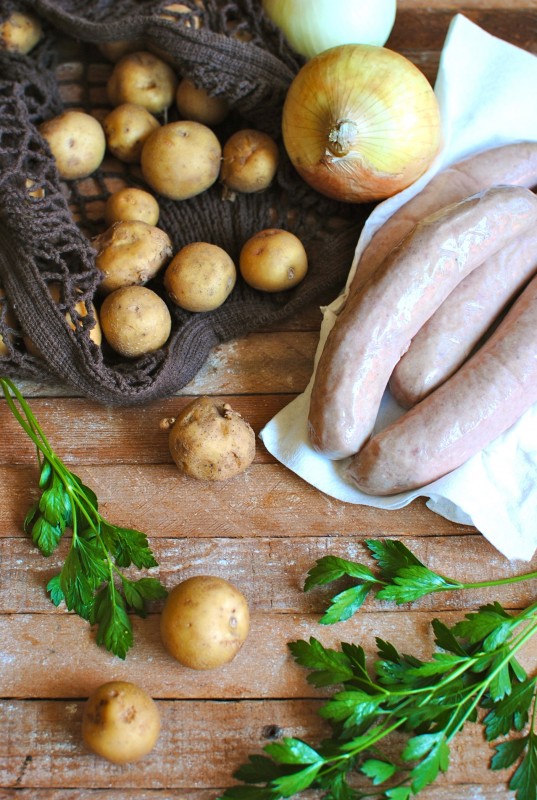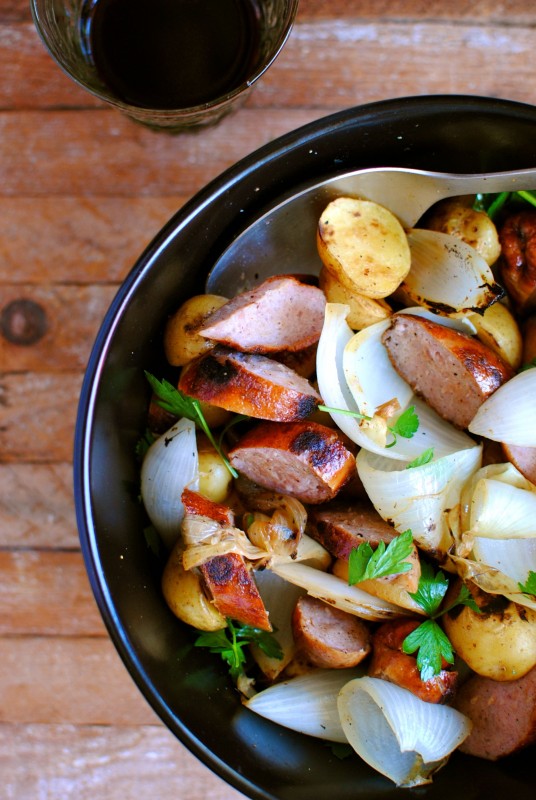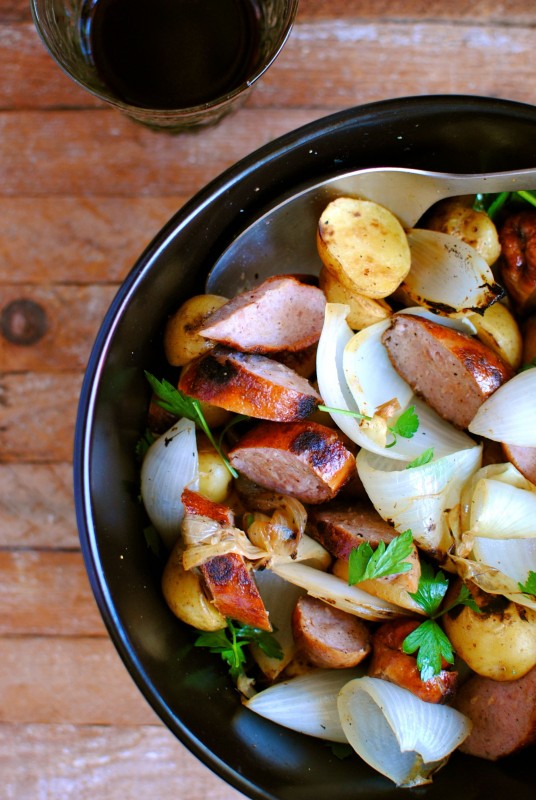 (adapted from Cooking Light)
What it took for 4 servings:
* 3 cups water
* 2 Tbs. Dijon mustard
* 1 Tbs. smoked paprika
* 2 tsp white vinegar
* healthy pinch of cayenne pepper
* 1 1/2 cup vegetable or chicken stock
* 2 dried bay leaves
* 16 small new potatoes (red, yellow, mixture, whatever!) halved
* 2 small white onions, root in half, root to tip
* cooking spray
* 4 brats
* 2 Tbs. fresh parsley
* pinch of salt
In a large pot, bring the water, mustard, paprika, cayenne, stock and bay leaves to a boil. Let boil for 2 minutes. Add the potatoes and onions, reduce to a simmer and let cook for about 15 minutes. Remove from heat and let stand in cooking liquid for another 15. Drain and set aside. Also, at this point, you can quarter the onions.
Heat outdoor or indoor grill to a medium. If using an outdoor grill, toss the onions and potatoes in a large grill pan and grill over indirect heat for about 25 minutes. If using an indoor grill, just coat the grill with cooking spray and grill potatoes and onions until you see nice grill marks, about 15 minutes. Remove and put in large bowl.
Add the sausages and cook until plump and browned on all sides, bout 10 or so minutes. Remove from heat and slice into 1/2-inch rounds.
Add to the bowl with the taters and onions. Toss in fresh parsley and she's ready to serve, baby.