You know how they say in the summertime our bodies crave less filling food because of the longer days? I'm sorry, but I think that's a bunch of willy nilly. It might be the case for you, but I always, ALWAYS craves starches. Whether it be seasoned skillet potatoes, silky pasta, asian-style rice, or freshly baked bread (my stomach just growled) I gotta have it.
Then I gotta hit the pavement so I don't annoy my husband with mini panic attacks like, "UM, these jeans are tight. WHY ARE THESE JEANS TIGHT?" And then I start ripping down clothes from hangers, and running through my house, crying, kicking over plants and tearing through the sofa.
That said, this meal is the best of the both worlds! It combines the fresh produce of Summer's early bounty with the creaminess and decadence of comfort food. Oh yes baby, I'm talking about risotto.
If you're intimidated by the process of risotto, don't be! Sip some wine, Skype with your sister, turn on some Led Zeppelin. Whatever gets her done.
Hey, the days are long. You might as well cook up something sexy!
Grilled Summer Vegetable Risotto: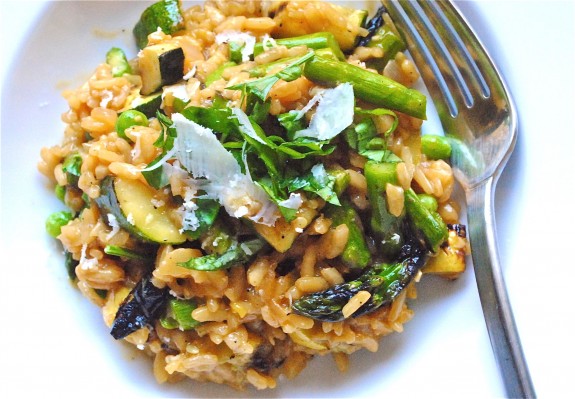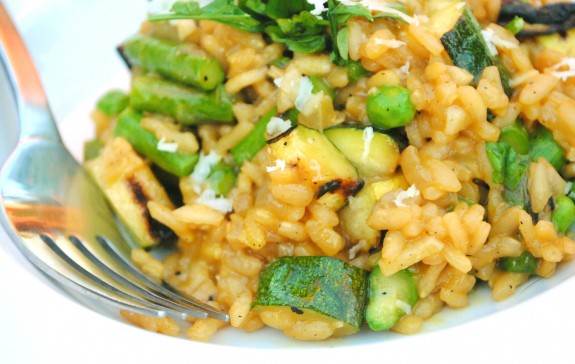 What it takes for 4:
* 1 zucchini, sliced in strips lengthwise
* 1 yellow squash, sliced in strips lengthwise
* 1 bunch asparagus, ends trimmed
* 1/2 medium onion, finely diced
* 3 garlic cloves, minced
* 2 Tbs. extra-virgin olive oil
* 1 cup arborio rice
* 1/4 cup vermouth, or dry white wine
* 4 cups vegetable stock
* 2 or 3 Tbs roasted garlic and lemon butter
* 1/2 cup freshly grated pecorino cheese
* fresh herbs for garnish
* coarse salt and freshly ground pepper
Bring the veggie stock to a light simmer in a small saucepan.
Grill the veggies to your liking, and once done, give them a rough chop. Keep warm until ready to add to the risotto.
Heat the oil in a large, shallow skillet over medium-high. Add the garlic and onion and cook until they soften and become fragrant, 3 minutes. Add the rice and stir to coat, about 1 minute. Add the vermouth. Let it burn off, 30 seconds. Ladle a cup of stock into the rice, cooking until most of the liquid is absorbed. Keep ladling the stock by the 1/2 cup, until the rice is creamy and thick. This will take close to 30 minutes.
Take the rice off the heat and stir in the cheese and butter. Season generously with salt and pepper.
Lastly, toss in the grilled veggies. Give on final taste. Serve with fresh herbs!