My parents are coming to visit us at the end of this week, and I know what you're thinking. HIDE THE DRUG PARAPHERNALIA! To that I say, "don't be silly!"
I hid it last week.
What this does mean for me is that the "Great Weidner Household Deep Clean" began today. And I'm not talking a little sweep sweep here, little dust dust there. I'm talking, "This better shiiiine like the top of the Chrysler building!" clean. (Name that movie.)
Things are going well so far. My attitude is in the right place. I'm didn't get injured. Hey, I even discovered a love for fly swatting! Yes, I took my medicine, why do you ask?
What kept me going today (other than non-stop Sarah Harmer albums and the steady stream of hypnotizing nag champa) was the fantasy of dinner. I saw this recipe in my newest Cooking Light and I went blind while gazing at the picture. I paired their main dish recipe with a delicious farmer's market find, bok choy, for the side. Simply sauteing the bok choy with garlic, ginger and chiles proved to be the perfect marriage with the chicken. They were the Cliff and Claire Huxtable of Asian cuisine!
* mom, there is no drug paraphernalia. go ahead and get some rest. *
Coconut Chicken with Sauted Bok Choy: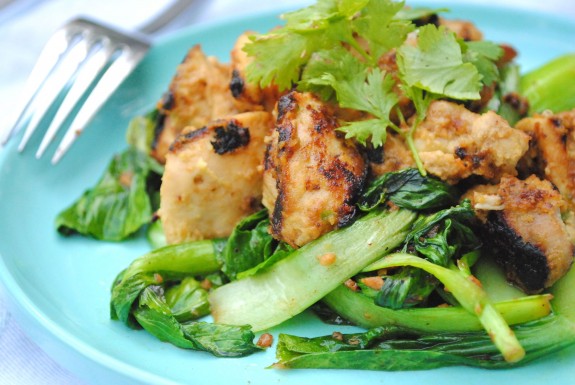 (adapted from Cooking Light)
What it took for 2:
For the chicken:
* 1/3 cup unsalted peanuts
* 1 Tbs. cumin seeds, toasted
* juice from half a lime
* 1 Tbs. dark sesame oil
* 1 tsp coriander seeds, toasted
* 3 garlic cloves
* 1 peeled shallot
* 1/3 cup light coconut milk
* 3 Tbs. brown sugar
* 1 Tbs. grated and peeled fresh ginger
* 1/4 tsp ground turmeric
* 1 serrano chile, stem removed
* 6 boneless, skinless chicken thighs, cut into bite-sized pieces
* pinch of salt
For the Bok Choy:
* 2 Tbs. extra-virgin olive oil
* 2 garlic cloves, minced
* 1 Tbs. fresh ginger, minced
* 1 red thai bird chile, thinly sliced
* 1 head pak choi, cut into sections
* pinch of salt and pepper
This is so good I can't wait for you to read this. Throw the first 7 ingredients into a food processor and process with a few pulses. Add the coconut milk, sugar, ginger, turmeric and serrano chile in and process until smooth. Pour mixture into a large sealable plastic bag. Add the chicken chunks and seal. Marinate the chicken in the fridge for an hour, flipping the bag at 30 minutes.
Preheat grill or skillet to a medium-high. Remove chicken from bag and discard the marinade. Thread the chicken onto skewers, and give a tiny sprinkle of salt to them.  Grill or saute until cooked through, roughly 6 minutes on each side. Remove from heat and set aside to keep warm.
Back in the skillet, add the oil, ginger, garlic and chile. Let bloom for 30 seconds. Add the pak choi and saute until slightly wilted, 3 minutes total.
Serve chicken with the bok choy. Garnish with cilantro if desired!