Even though the summer season doesn't official begin for another couple of days, I sure am feeling it now. And I mean that in a good way. People are ferociously filling their eco-totes with fresh vegetables and fruits from the farmers' markets. Couples in love and budding families are lounging over long lunches at restaurant patios. Flower bushes and manicured lawns scoff at the neighboring yards in the quest for seasonal perfection.
And most importantly, prime cuts of meat find their transitory home on the grill.
SUMMER.
Since blueberries are becoming more abundant, and their price isn't equivalent to a Bahamas cruise vacation, we loaded up with 2 large cartons yesterday. Aaron glanced at me, raised one eyebrow and mouthed, "blueberry steak sauce."
This not only twisted my arm, my torso become resemblant of a silly straw.
So, even if the season doesn't start until Tuesday, get a head-start with this here grillin' recipe. Then hit the pool!
But wait 45 minutes before you get in the water.
Grilled Filet Mignon with a Blueberry Sauce, Smashed Potatoes and Grilled Garden Broccoli: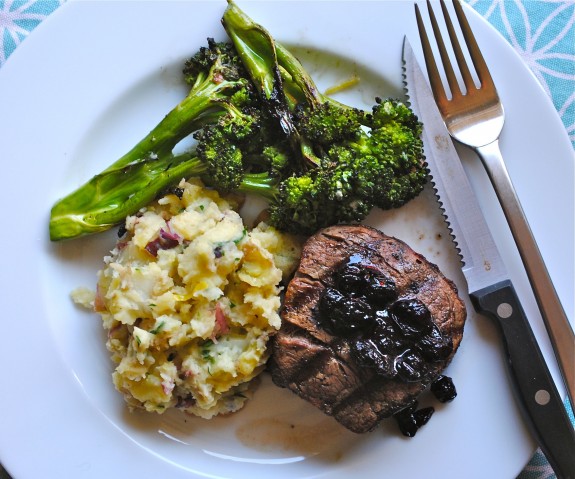 What it took for 2:
* 2 filet mignons
* 1 pound farmer's market new potatoes, multi-colored if you can find (halved)
* 1 head broccoli, cut into pieces
* 2 Tbs. extra-virgin olive oil
* 3 Tbs. roasted garlic and lemon butter
* 1/2 cup milk
* 1/2 cup blueberries
* 1/2 cup red wine
* coarse salt and freshly ground pepper
Preheat grill to medium-high.
An hour before grilling, bring your steaks out to warm to room temperature. Generously season with coarse salt and freshly ground pepper.
Grill steaks to your desired doneness. We like her medium rare. Cover with foil and let rest 10 minutes.
Drizzle broccoli with oil and season with salt and pepper. Grill about 5 minutes total, flipping once.
In a saucepan, cover the potatoes with water and bring to a boil. Cook 20 minutes, until fork tender. Drain and return to the pot. Add the butter and milk, smashing with a fork. Season with salt and pepper. Taste and add more butter and milk if need. Oh, you should definitely add some.
Lastly, bring the blueberries and wine to a boil in a small saucepan. Reduce heat and reduce until it becomes a thick sauce, about 10 minutes. Add a pinch of salt and pepper.
Top steak with blueberry sauce and serve with smashed potatoes and grilled broccoli. Don't be surprised if you lose your balance. It's that good.