I think every Monday needs to start with pasta.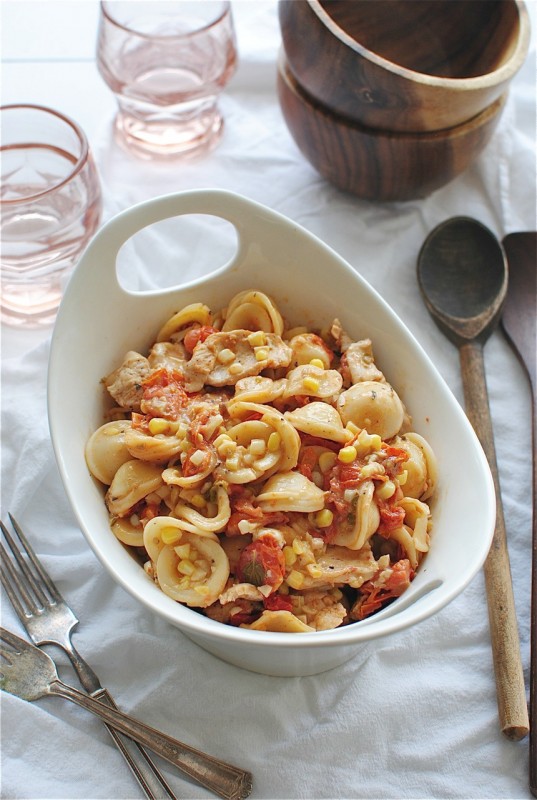 Actually, I think every day needs to start with pasta, but that's an issue I should address on my own. In a locked bathroom. With a bowl of pasta.
So this here lil' ditty is yet another Aaron creation. AH KNOOOOW, AH KNOOOOW. Get off my lazy bum, right? Whatever, dudes. I let him gleefully take over dinner this weekend while I researched breast pumps on Target and Babies "R" Us for my new registries. Actually I was totally looking at other things, I just wanted the excuse to use the words breast pump on this blog.
My male readers are dropping.like.flies.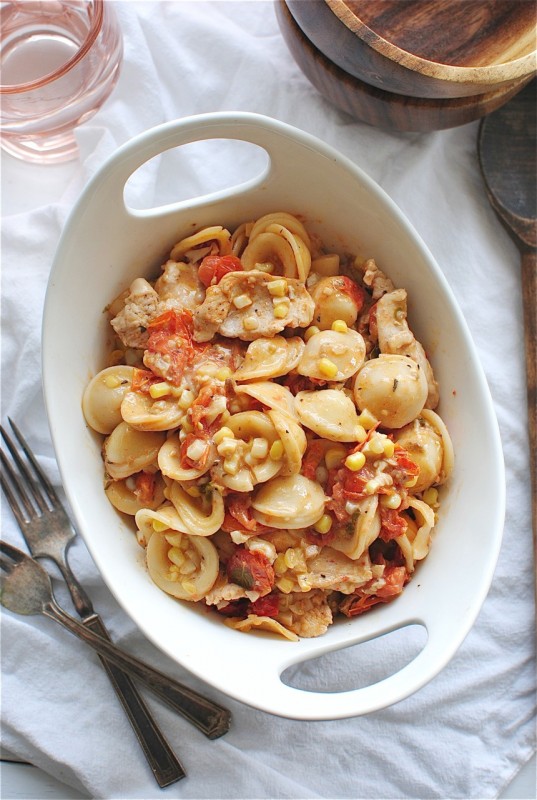 I always love when Aaron cooks because he has waaaay more patience than I do. I think it's because he's a piddler. He takes his time with everything EVER. He walks a lot slower than I do, tells stories in a slower pace, just meanders his way through life. Okay it drives me banana land bonkers. But with cooking it's a good thing! Except when I'm starving and have two little parasites clawing their way through my abdomen, up my throat and onto the back of my tongue. Pregnancy can be so charming!
What was I saying?
Anyway, this meal will tick you off it's so good. It's got some gorgeous slow simmering cherry tomatoes, some heavy cream, white wine, seared chicken, lots of garlic, some nice herbs, ooooooooooo gurl.
And fresh sweet summer corn, shoooooot now.
And little ears of cute orecchiette, y'aaaaaaaall mama face face lawdy lou!
I . . . dunno.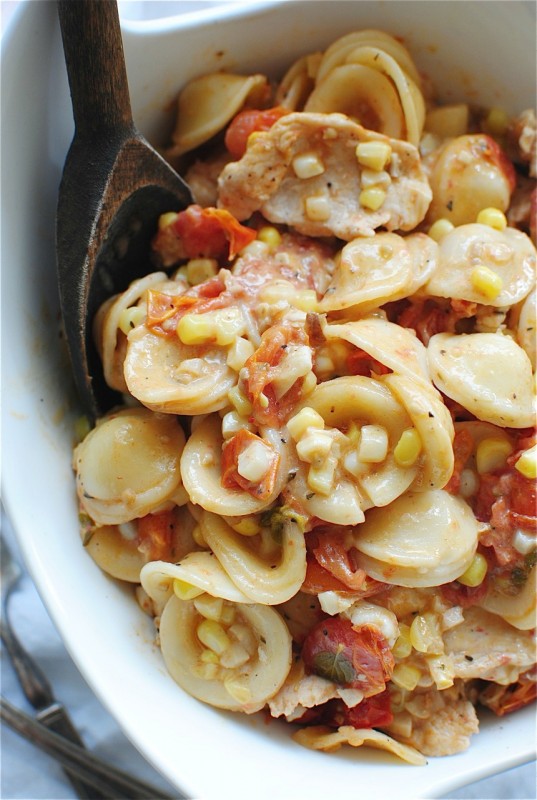 Eat this.
Creamy Tomato Orecchiette with Chicken and Corn:
What it took for 4:
for the sauce:
* 3 Tbs. extra-virgin olive oil
* 2 cloves garlic, minced
* 1 Tbs. dried thyme
* 1/2 tsp smoked paprika
* 1/2 tsp crushed red pepper flakes
* 1 tsp black pepper
* 2 cups cherry tomatoes, halved
* 4 short sprigs fresh oregano
* 1 Tbs. honey
* 1/2 cup heavy cream
* pinch of coarse salt to taste
for the chicken:
* 2 Tbs. extra-virgin olive oil
* 2 cloves garlic, minced
* 3 ears corn, kernels removed
* 2 chicken breasts, thinly sliced
* 1/4 cup dry white wine
* coarse salt and freshly ground pepper, to taste
for the rest:
* 3/4 pound orecchiette
* freshly grated parmesan cheese
* fresh basil, for garnish
In a medium saucepan, heat the oil over medium heat. Add the garlic, thyme, paprika, red pepper flakes and black pepper to the pan and bloom for a good 30 seconds, or until fragrant. Add the tomatoes, oregano and honey, cover, reduce the heat to low and cook for about 30 minutes, stirring every 10 minutes or so. Add the heavy cream and a pinch of salt and keep on low.
While the tomatoes cook, prepare the corn and chicken. Heat the olive oil in a large sauté pan. Add the corn to the pan. Season with a pinch of salt and cook about 5 minutes. Add the garlic and cook another 30 seconds, or until fragrant. Remove the corn and garlic with a slotted spoon and set aside.
Back in the pan, add the sliced chicken. Season with salt and pepper; sear on both sides until cooked through. Add the wine to deglaze any sugars that have started to brown in the pan.
Add the creamy tomato sauce to the pan and give everything a good toss.
In the meantime, cook the orecchiette in a pot of salted boiling water until al dente. Drain and add to the sauce. Toss once more.
Serve with a mountain of fresh parmesan and basil leaves, which I forgot to photograph because I was still thinking about that breast pump I found online.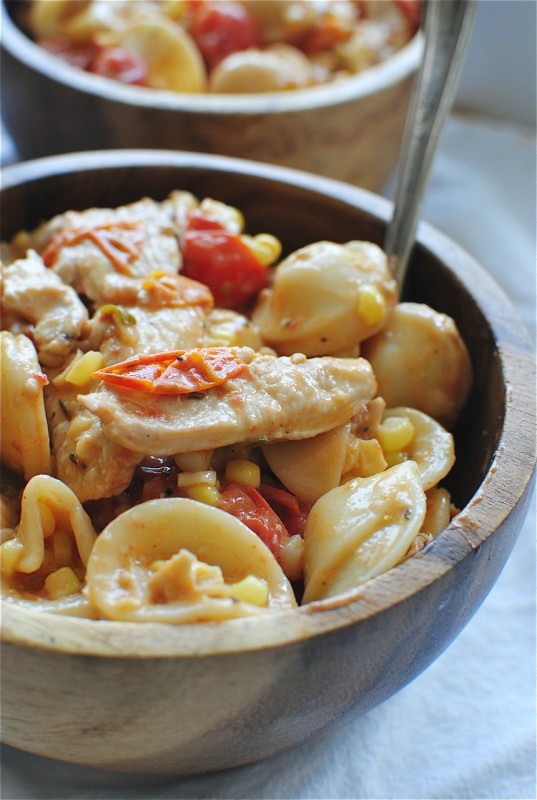 Would you rather me talk about the pee pee teepees we found? No? Okay.