OKAY, these are a complete blast so I'm going to need your full attention. Ready, Freddy? (jk)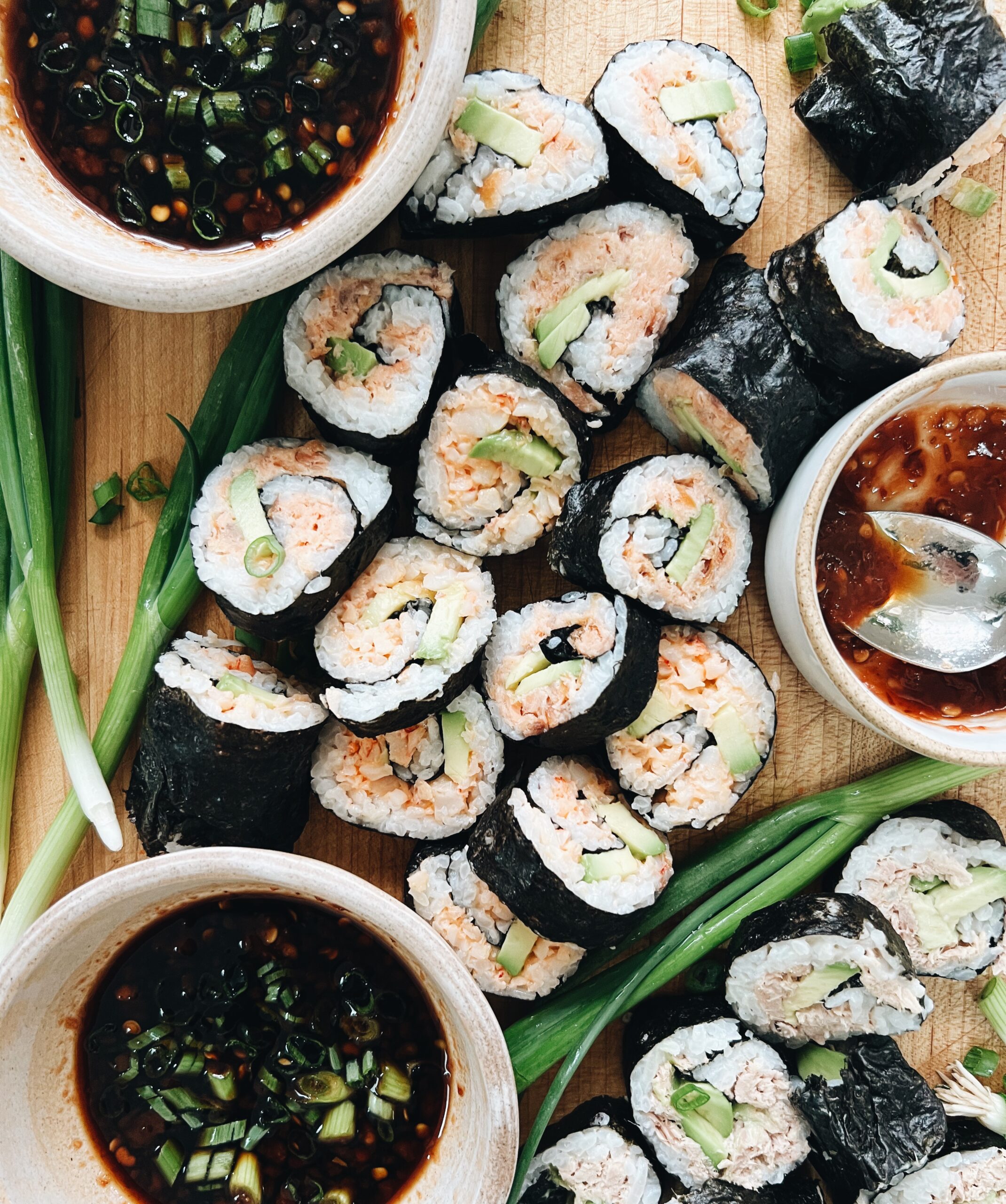 Snack sushi rolls! This is not actual sushi with raw fish. (Which I love and have posted before), but these are the ultimate kid-friendly sushi rolls. Snack time. Anytime. Now time.
I'll show you three versions in this post, but really, make whatever you want! All three, just one, you fly.
Let us peepeth.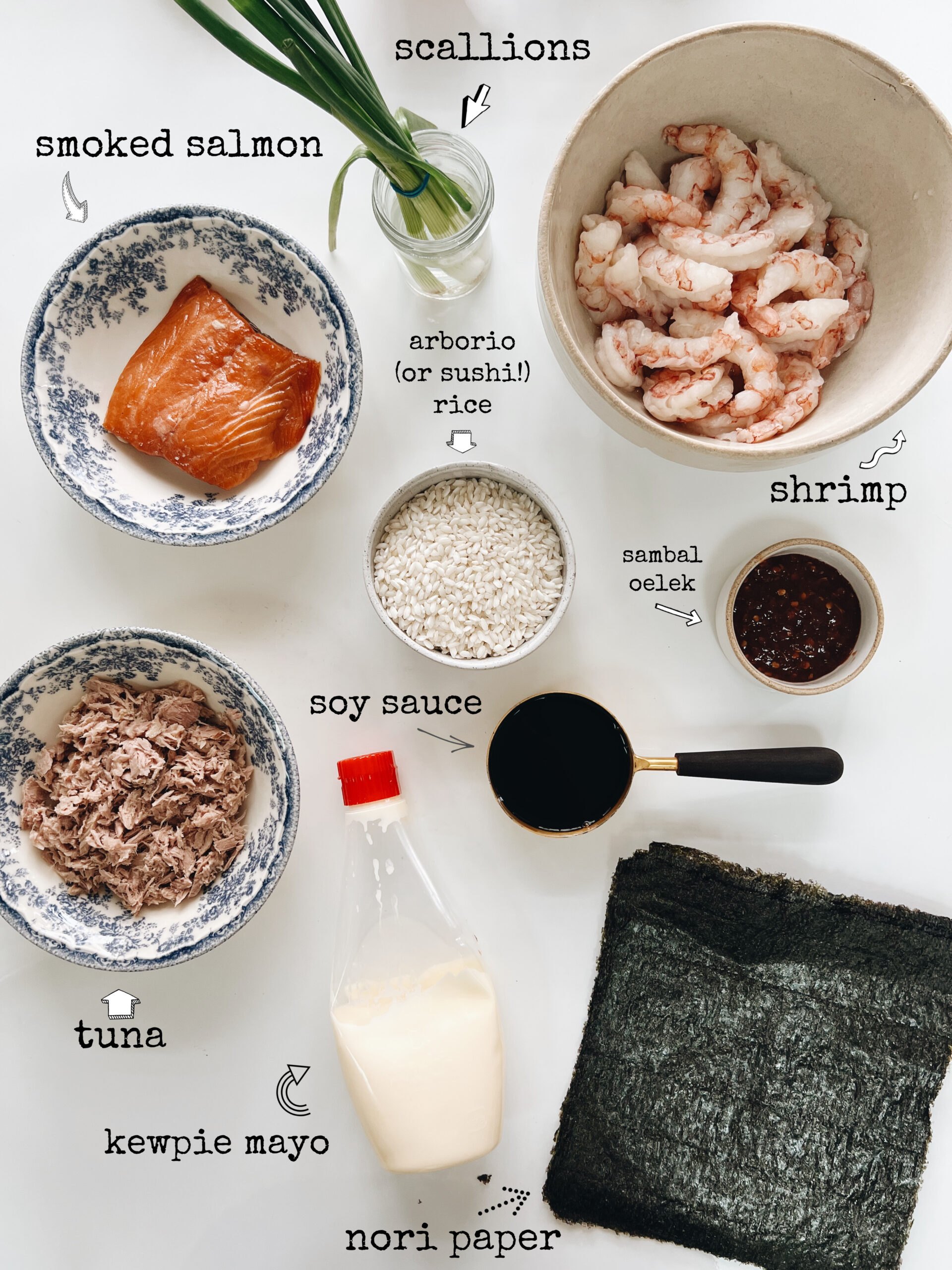 So listen, all I had was Arborio rice, which is an Italian rice you use for risotto. But it TOTALLY worked in place of sushi rice, so I went with it. It's called winging it, okay?
The Kewpie mayo is worth finding if you can. (try an Asian market!) It's a Japanese mayo that's only egg yolks, so it's deliciously creamy and a wonder in these. (and egg salad, omg)
Alright, let's jump in.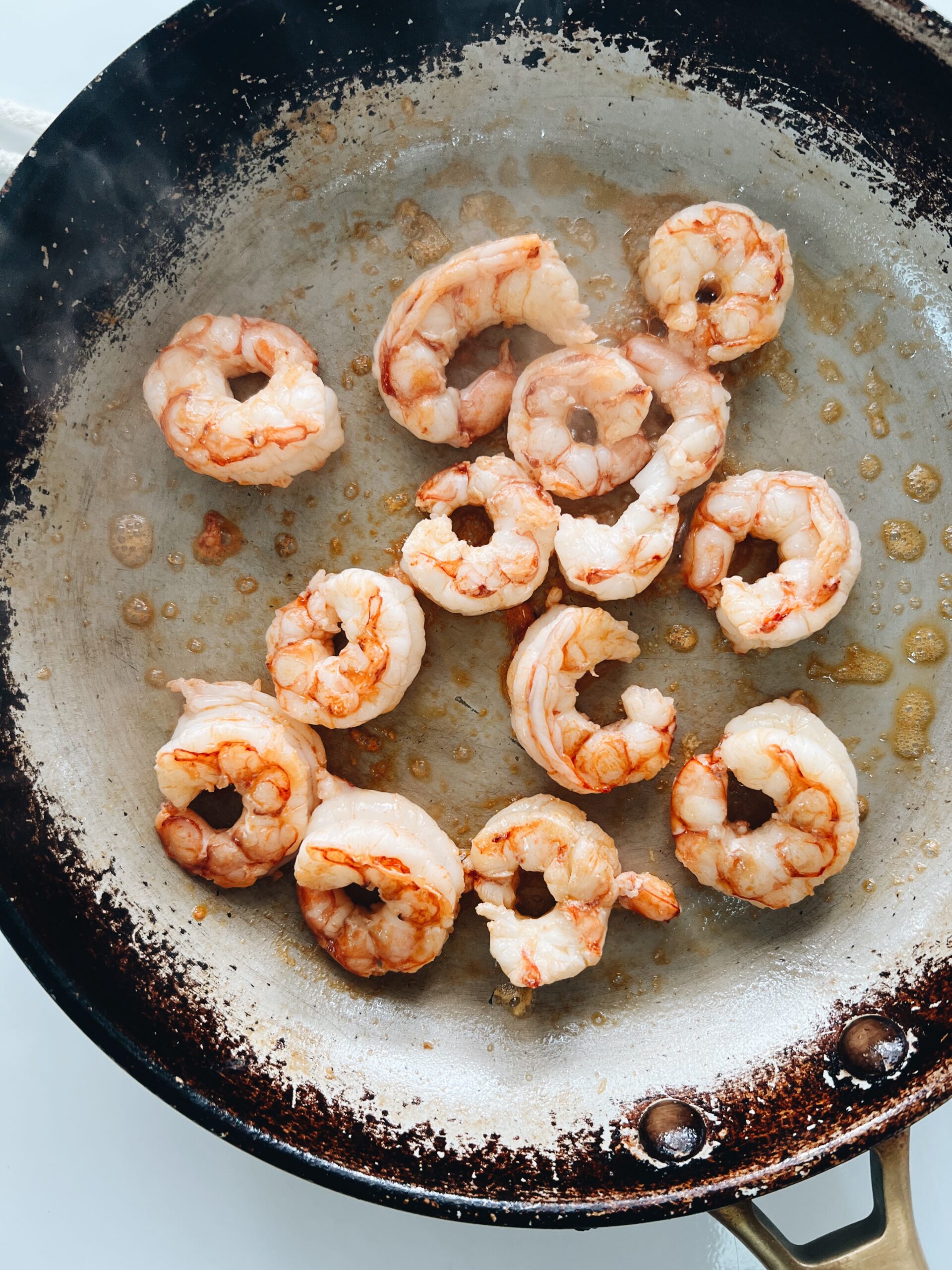 Sear your shrimp! I cooked a whole pound, and ended up LOVING the texture of the shrimp rolls the most, so go ahead with the full pound, or half it if you want. Whatever. I'm breezy!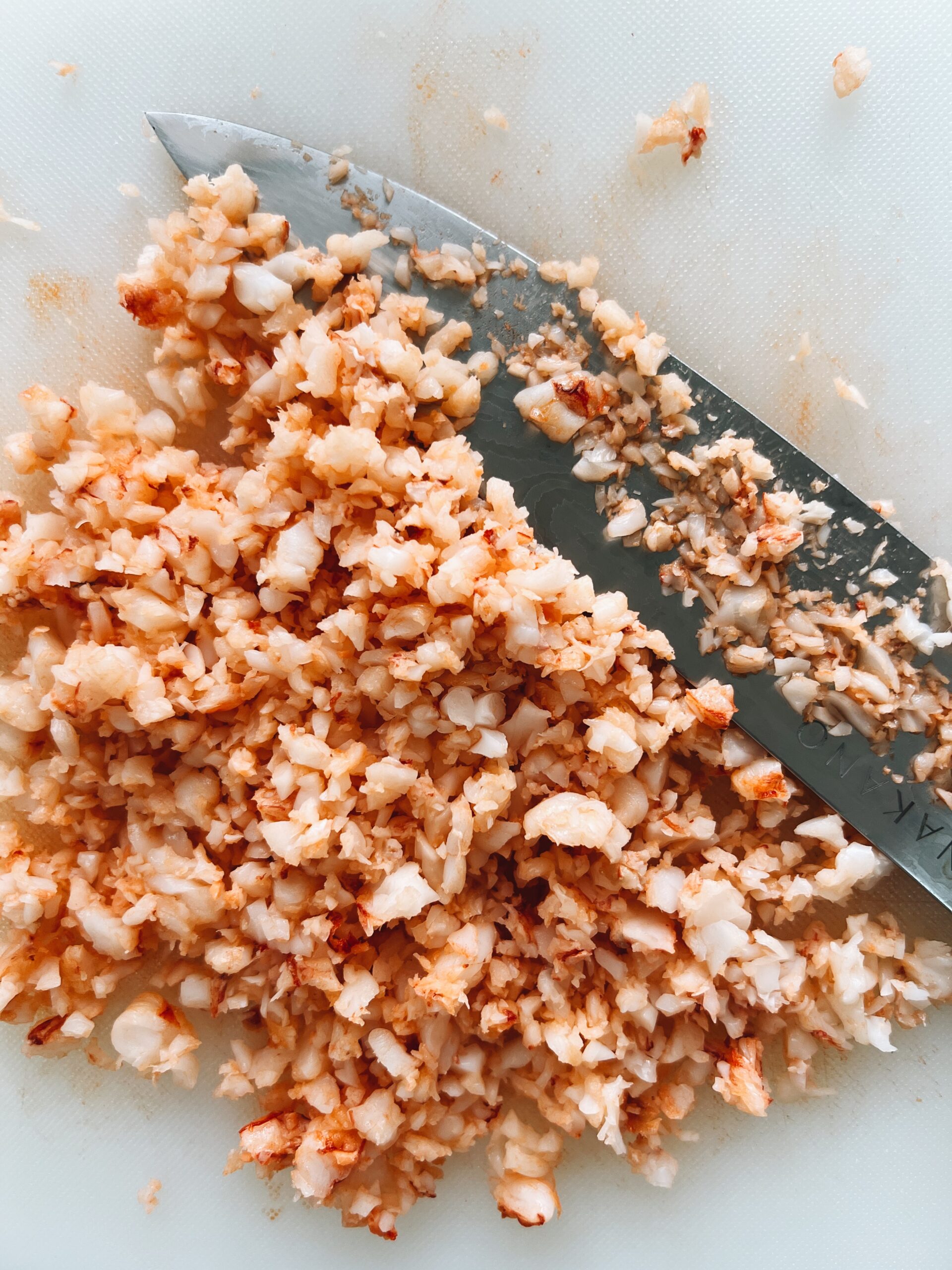 Just get in there with a sharp knife and mince it good.
So in one bowl we have regular tuna fish mixed with the kewpie mayo. In another we have smoked salmon with the mayo, and in another the minced shrimp with mayo. That's IT. The smoked salmon is plenty salty, so nothing to add there. The shrimp we seasoned a little bit. The tuna, if you want to add the tiniest pinch, that's fine. Just remember the soy sauce is gonna get you where you need to be. Yes ma'am.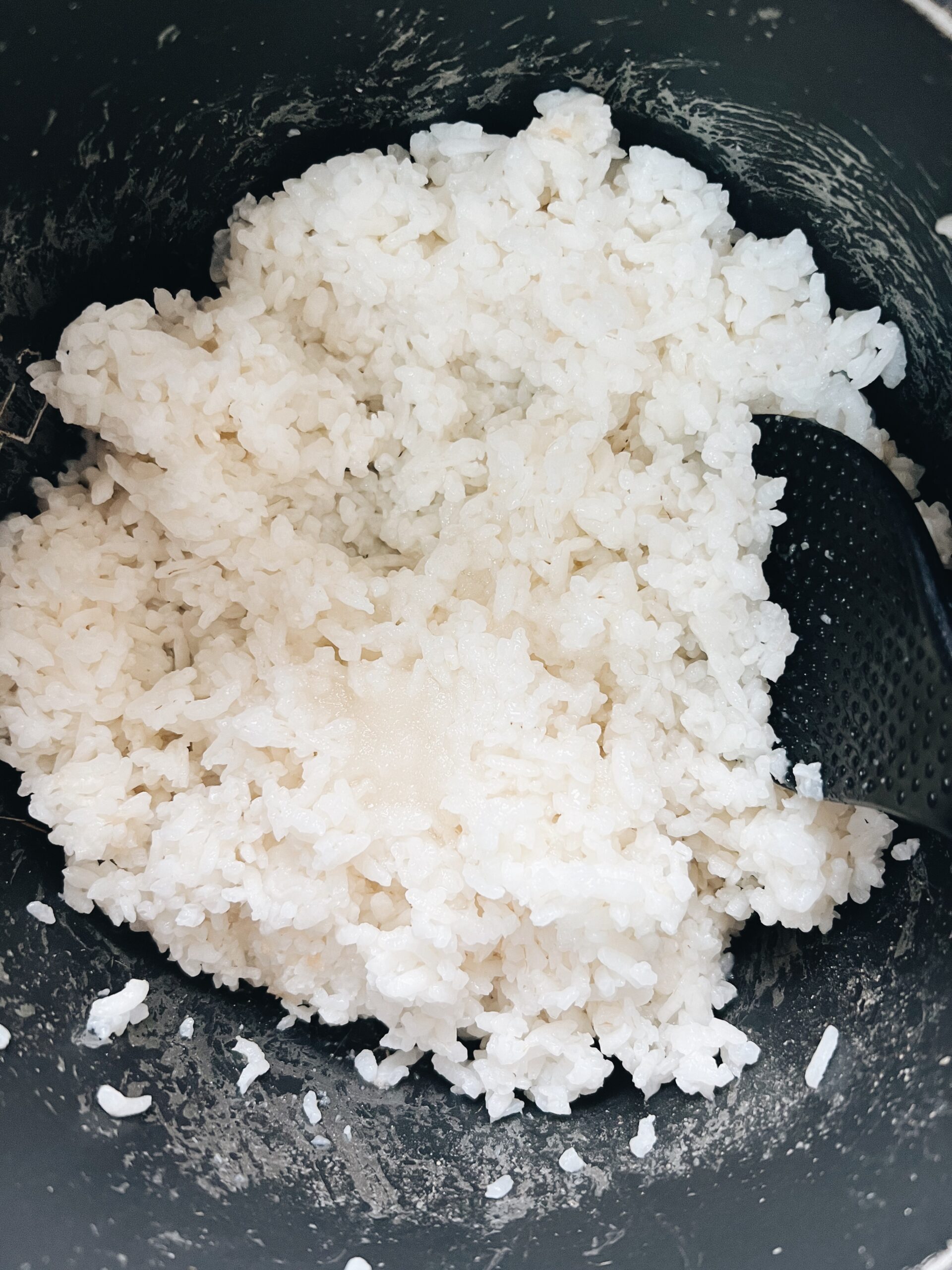 Once the rice is cooked (I used a rice cooker), add a little sugar and rice wine vinegar to it. Stir it up and let it cool so it's easier to press with your fingers. Your fangers. Your fayngies. Never mind.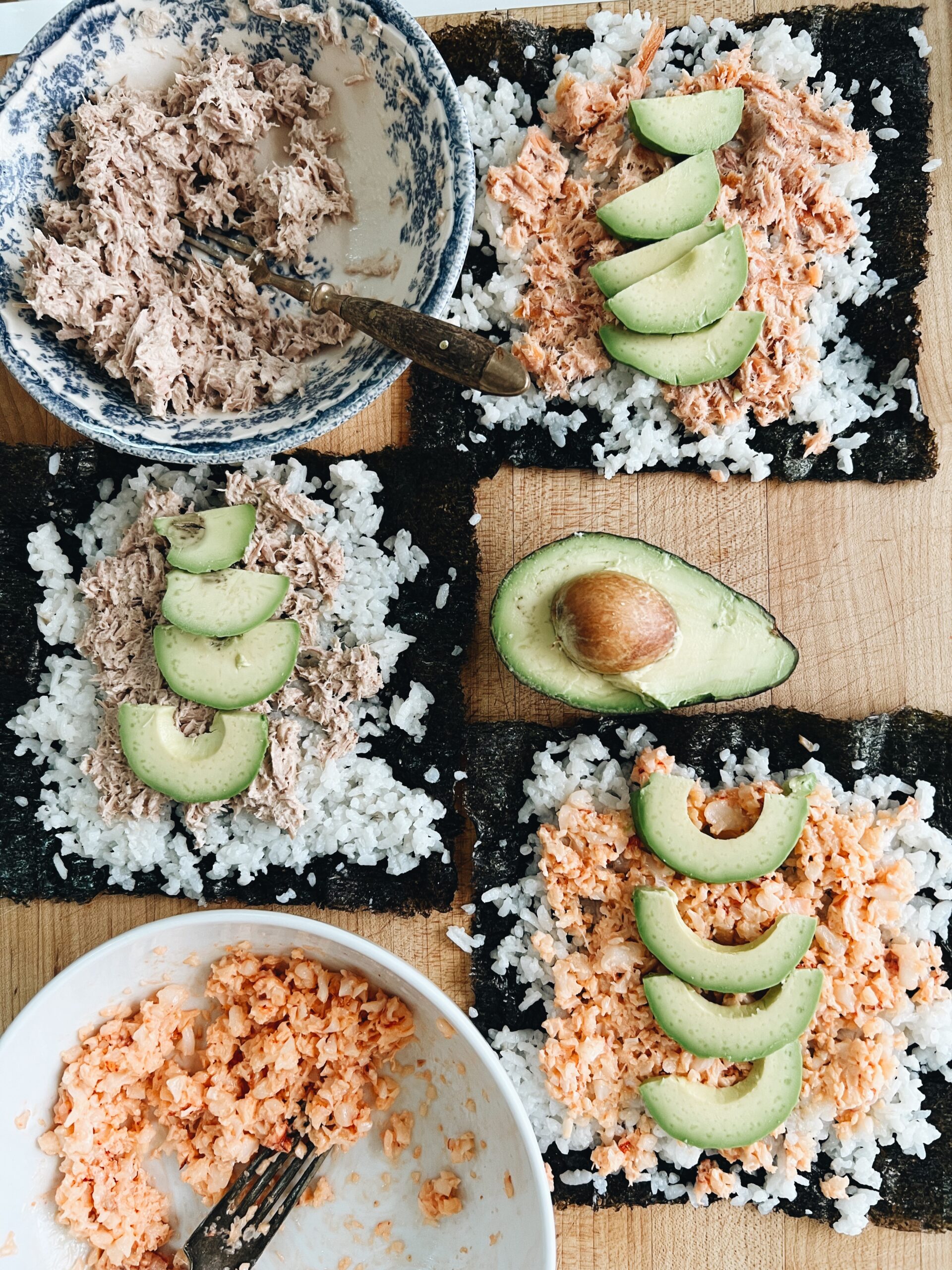 Then we assemble! Arrange the nori sheets on a clean work surface and spread the rice over them. A large spoon works great for spreading, and then your fingers. Nothing has to be perfect here. It's 2022.
Then you'll add the tuna mix to one, the shrimp mix another, and the smoked salmon to another! Little bit of avocado, roll it up and slice. So simple. The rice sticks to the paper perfectly, so it's a cinch to roll up. Nothing rips, nothing leaks, it's meant for this.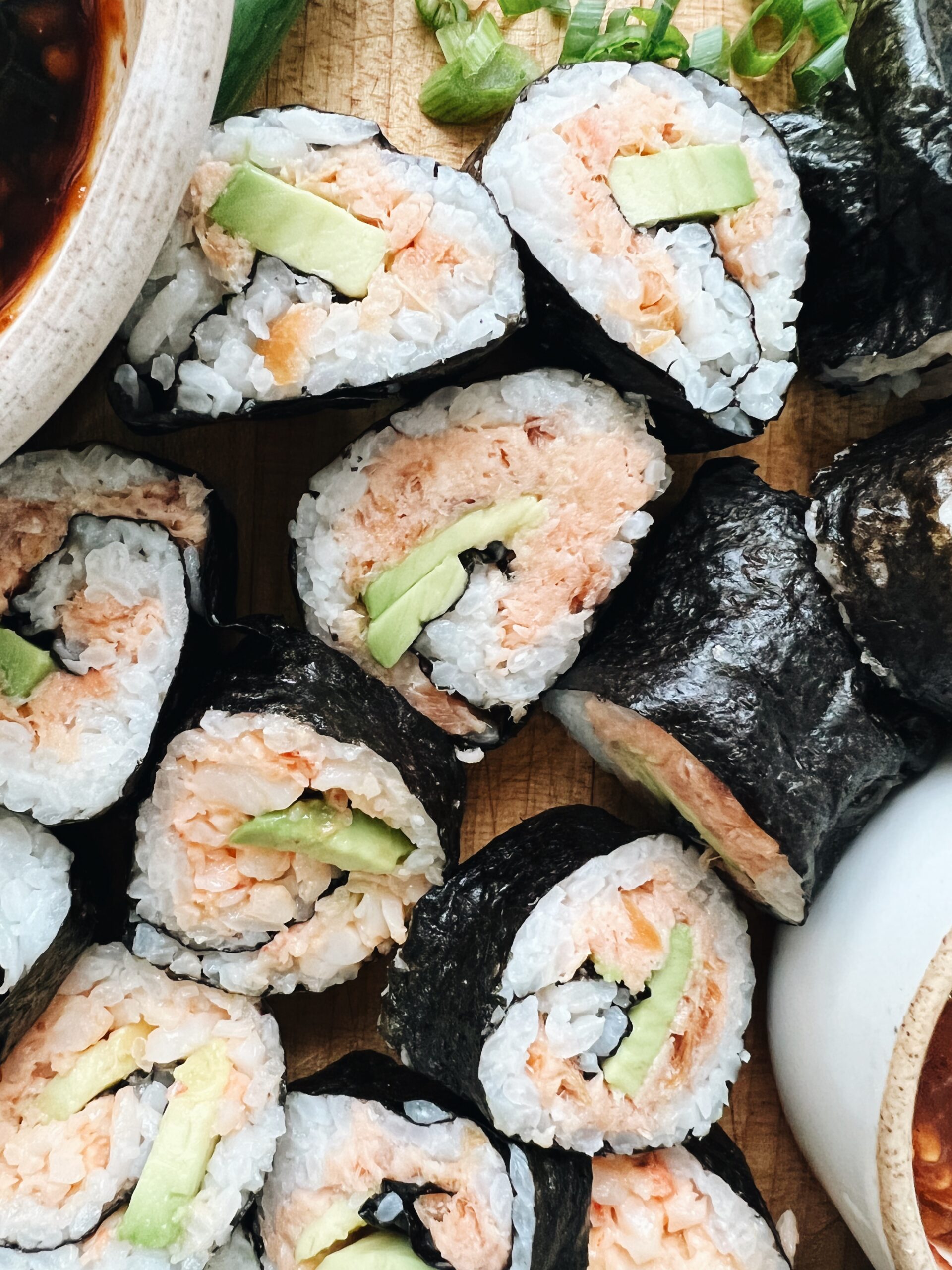 Use your sharpest knife to slice!
I mean, we just need to look at these rolls together. Look at that delicate pink. The pump, toothy rice. You'll obsess.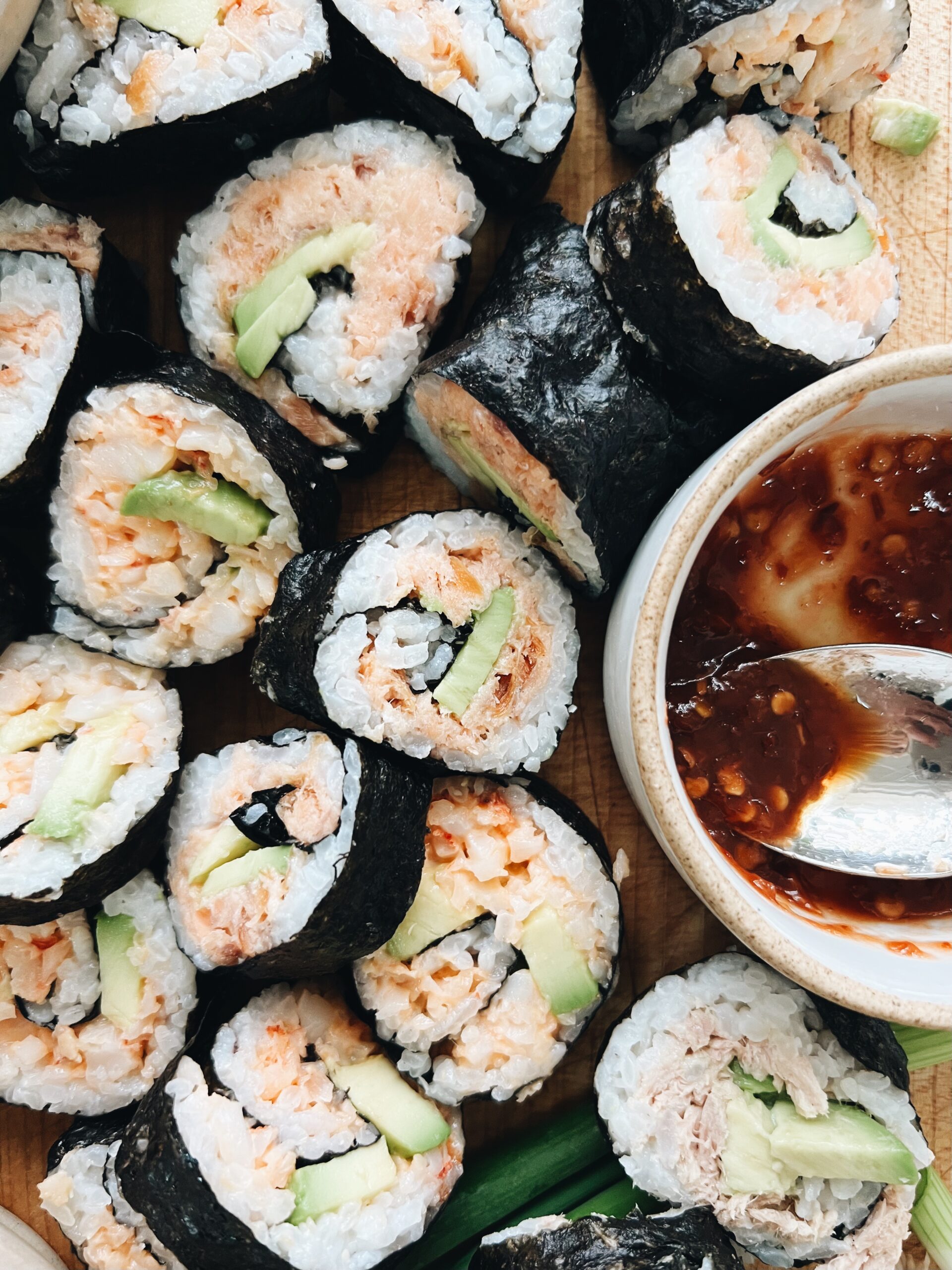 The dipping sauce! In a bowl, whisk together the soy sauce, sambal oelek and scallions. Then divide it among smaller bowls. Little bit of heat, plenty of salty, tiny bit of aromatic. It's all you need.
Mercy me.
Your kids will flip out. YOU will flip out. And you can definitely make these where the rice is on the outside (just flip it over and roll it) but I had zero patience to get that just right. You know how it is.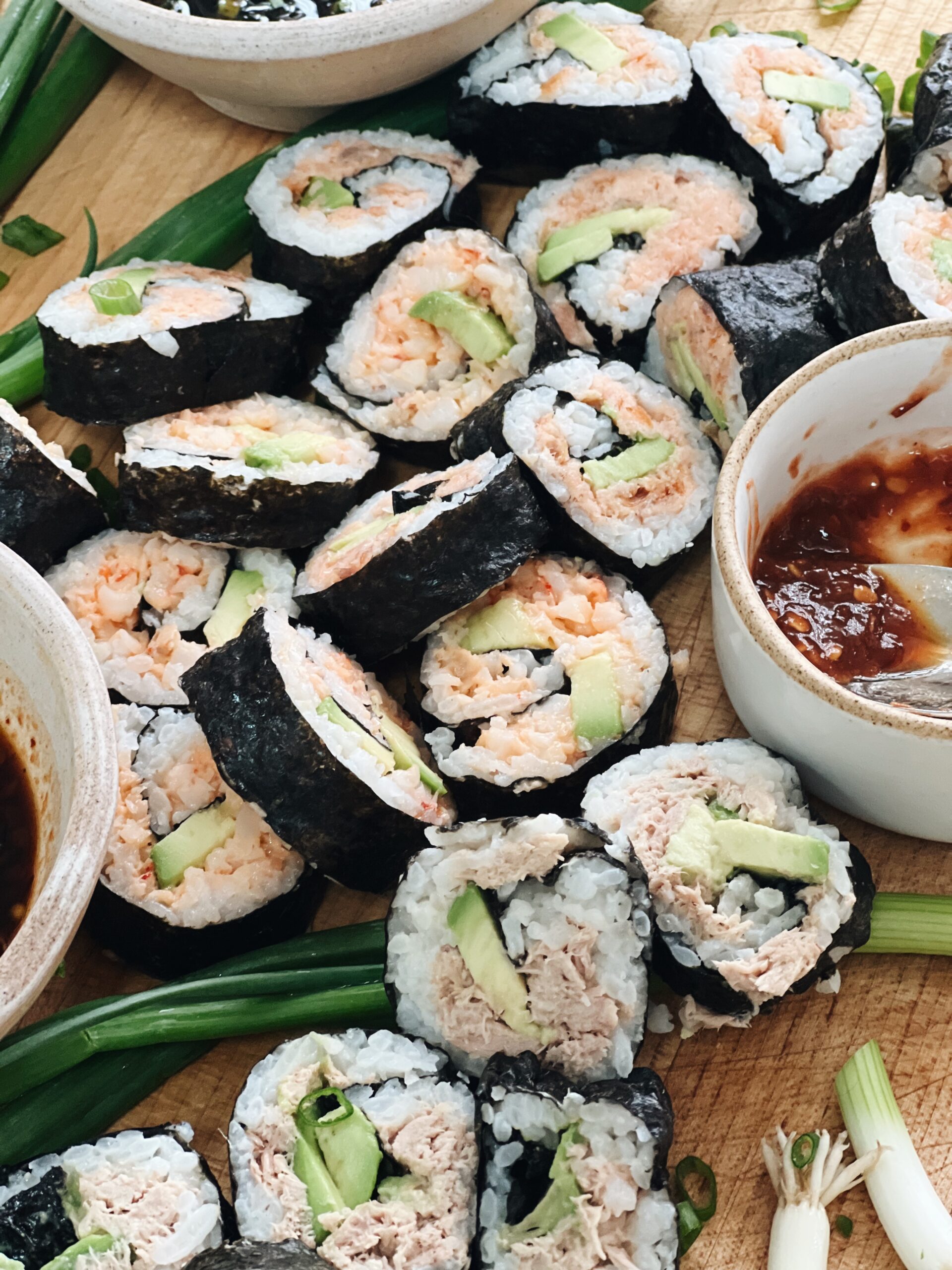 The shrimp ended up being my favorite, which shocked me. But honestly, the salmon is divine, and the tuna is also just perfect. My friend Kate introduced me to this method, and she'll make them with leftover steak chopped up with a teriyaki sauce. Any sort of protein that you can mince or mash with some mayo and you're SET, bruh.
Try these! Minimal cooking and honestly, the only legwork is putting them together. But you'll be surprised at how simple they are to roll, so stop stressing out and just get in that.
Got it?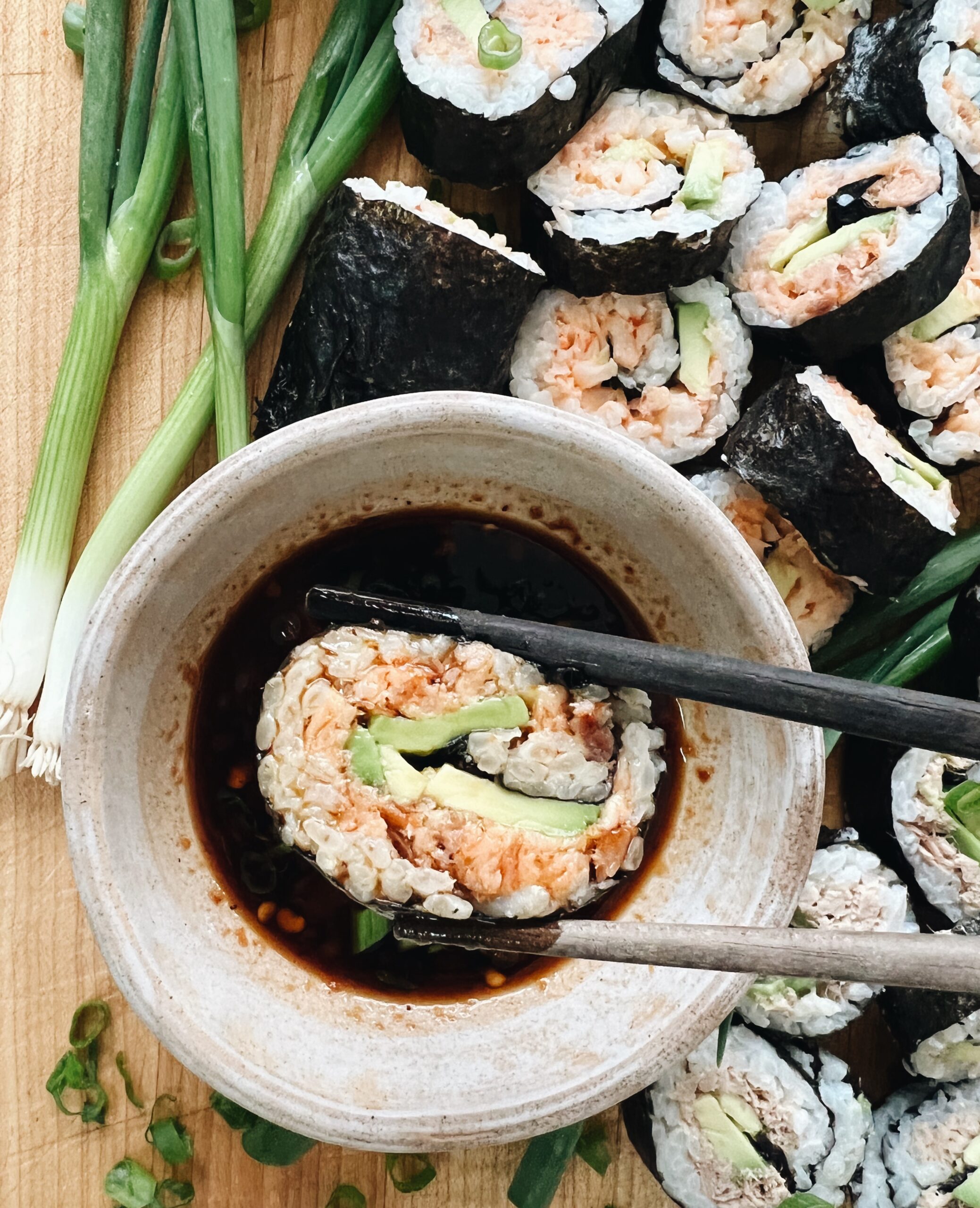 Got it.
Ingredients
1 pound thawed and shelled shrimp
2 (5 oz) cans of tuna, drained of the water
5 oz smoked salmon (not lox, but the vacuum-packed smoked salmon)
Nori paper sheets (at least three)
Roughly 1/2 cup of kewpie mayo, divided
1 cup arborio rice (or sushi rice if you have it!)
2 tsp rice wine vinegar
2 tsp sugar
1 avocado, sliced
1/2 cup soy sauce
1 Tbs. sambal oelek
3 scallions, finely sliced
Instructions
Cook the rice in a rice cooker, then add the rice wine vinegar and sugar to it. Stir and let it cool a few minutes.
Sear the shrimp in a skillet until pink all over, with a small pinch of salt. Give the cooked shrimp a good mince.
Place the tuna fish in a medium bowl, the salmon (flaked up) in another bowl and the minced shrimp in another bowl. Add 2 Tbs. kewpie mayo to each bowl and mix it up. So simple. If you need a little more kewpie mayo, add another little squirt, ya little squirt! (Sorry)
Lay the nori sheets on a clean surface, and press the rice on top. It's sticky, so it'll spread nicely and stay in place. Then spread the tuna mix over one bed of rice, the salmon over another, and the shrimp over another. Arrange the avocado slices down the center, then gently roll the nori paper into little logs. It all holds together perfectly, so don't stress out!
Use your sharpest knife to cut the rolls into little slices.
Whisk together the soy sauce, sambal and scallions in little dipping bowls. Delicious.
I made three rolls here, but make as many as you want!
7.8.1.2
559
https://bevcooks.com/2022/03/snack-time-sushi/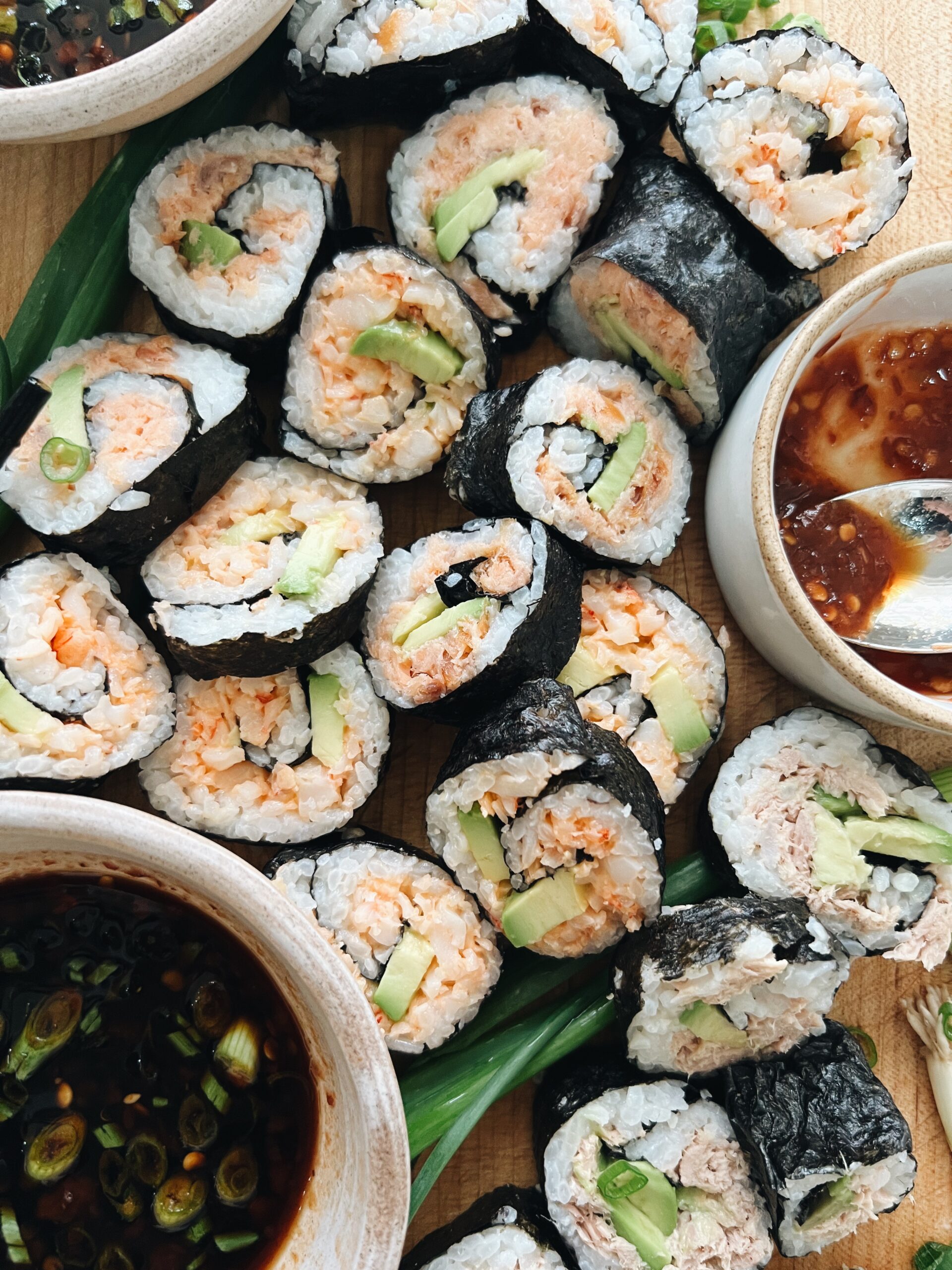 Like, give them all to me at once, please.