First recipe of the year! And it's creamy. You're so, so welcome.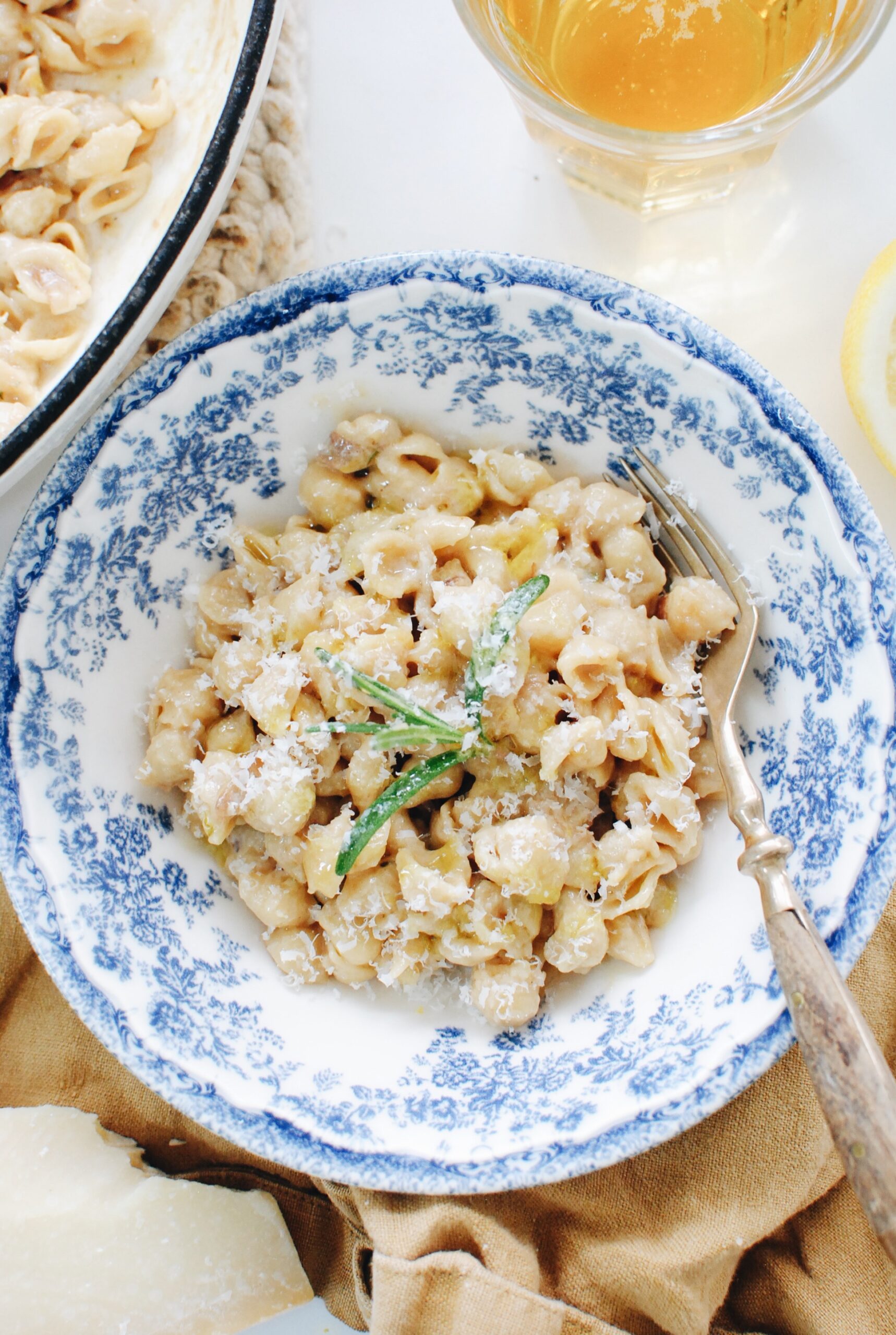 And vegetarian. But I hadn't planned it that way, truthfully. I was going to add chicken thighs, but when I cut into the package well within the sell-by date, the sme- you know what, I'm not going to talk about chicken smells on a food blog. Won't do that to you.
(but it was horrid.)
Not only is this dinner creamy, it's rustic and rebellious in a rosemary, shallot and lemon way.
Just you wait, 'Enry 'Iggins. Just you wait.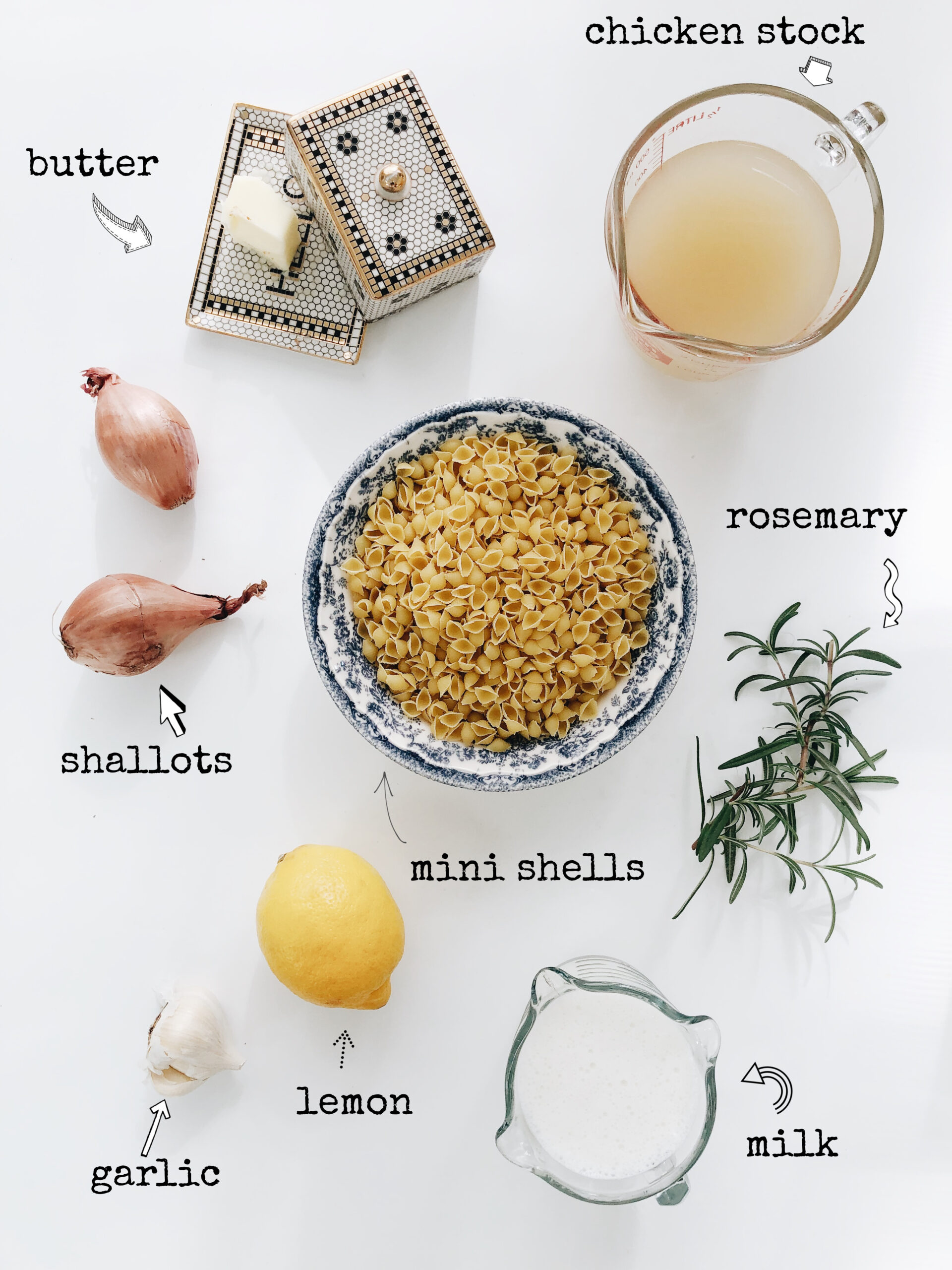 Simple! Mostly pantry staples and a few grabs from the fridge.
Also, if you can't find these cute lil' wee shells, any small pasta totally works. Orzo's great! Find whatever works for your life and groove, baby. (<–no idea what that meant.)
Admission: I cooked my shallots a little too long. I was distracted by something either on my phone or outside or in the hallway or my hair, who even knows. Yours will look better than mine. I'm just showing you this photo instead of a therapist because you're free. So thanks.
Garlic and shallots, bada-bing.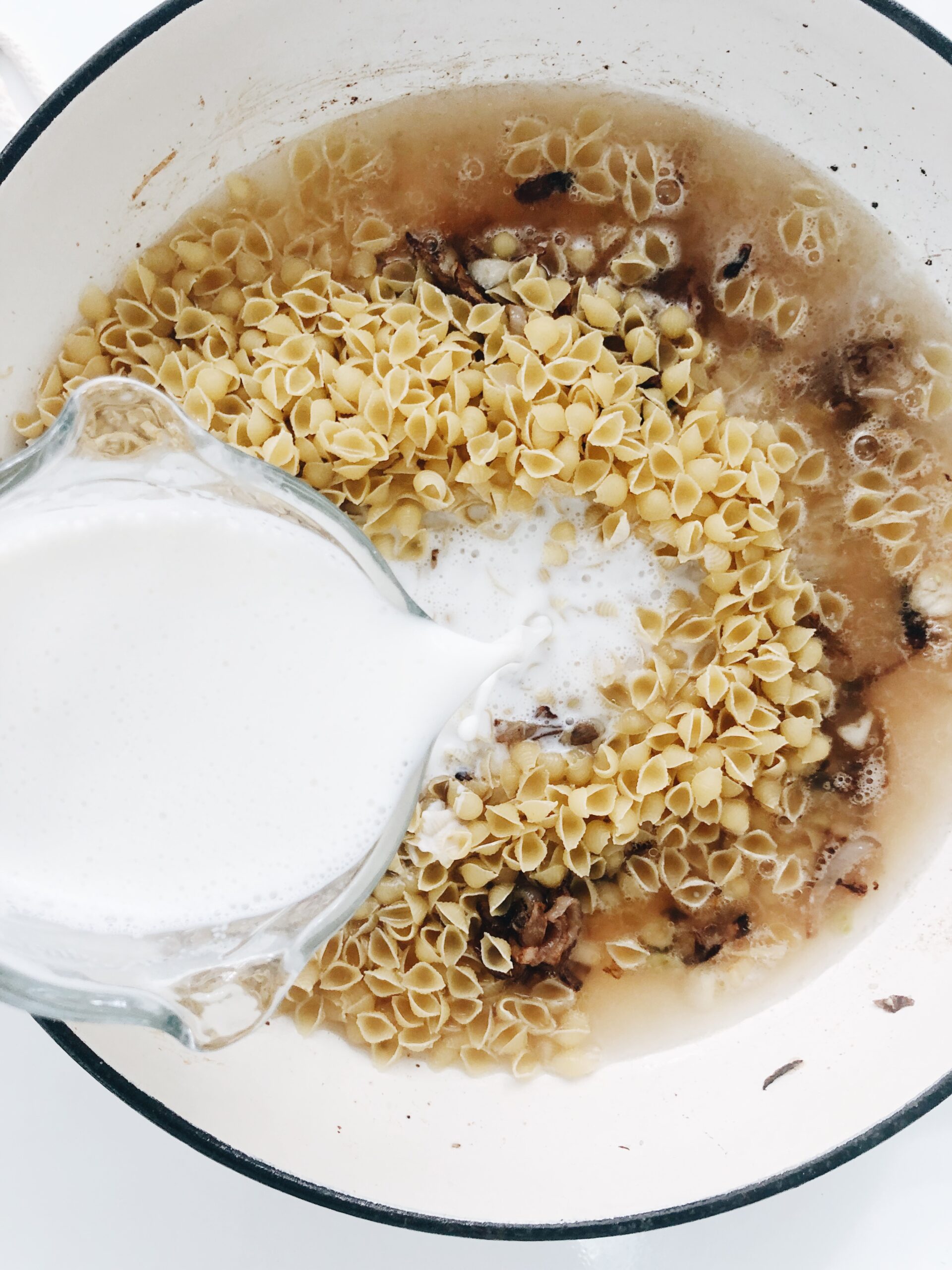 Then we'll stir in the pasta, the milk and the stock, and let this simmer on medium low just long enough for the pasta to absorb the liquids, maybe ten minutes? And this happens right on the stove, so slap a lid on that (gently, geez!), and let it bubble and simmer. But stir it every few minutes to make sure nothing sticks. I can't have you upset at me today, I'm having a colonoscopy on Friday so I'm focused and fragile, okay?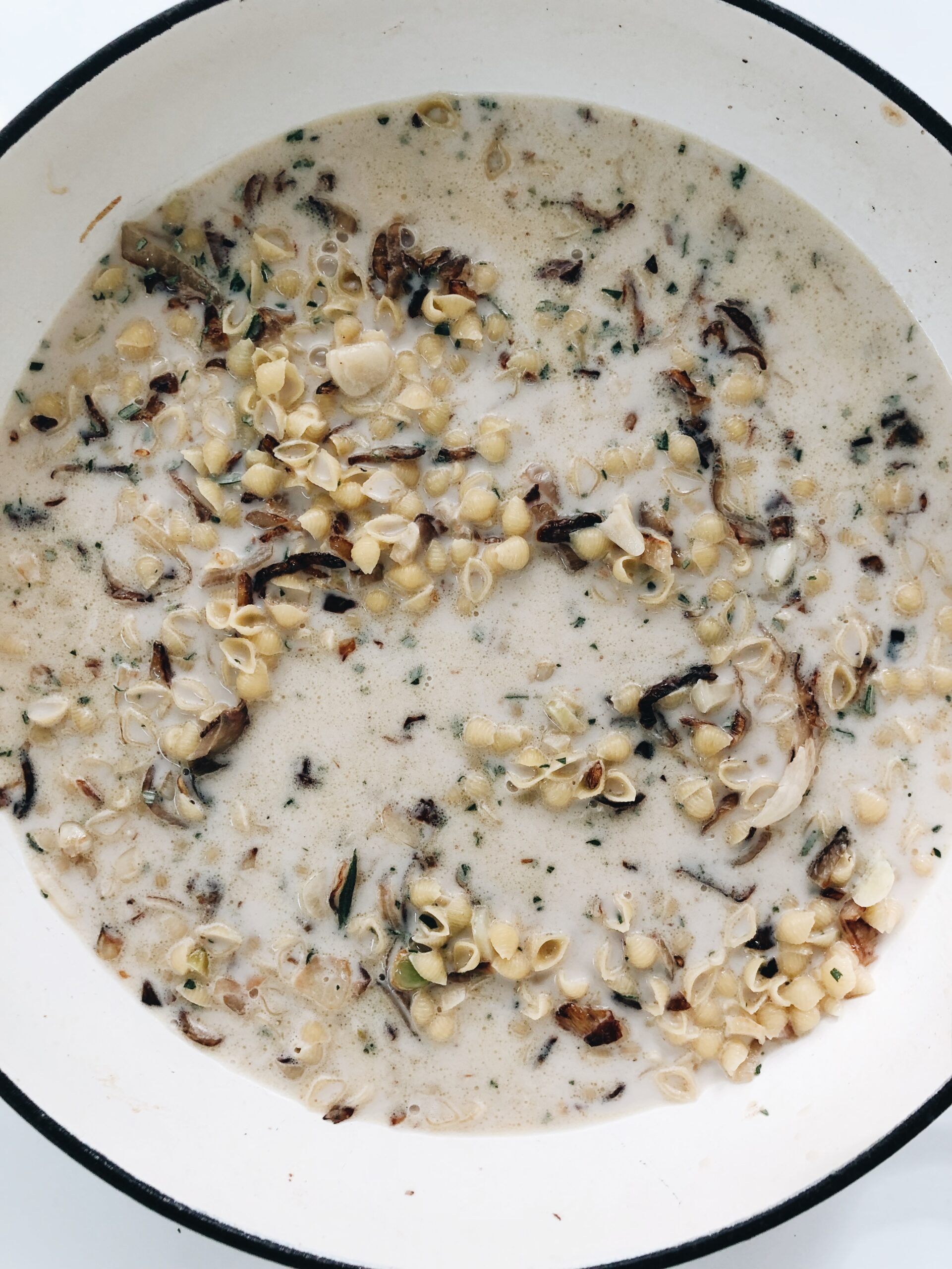 Gorgeous. We're not done.
Let's stir in finely chopped rosemary, along with the juice of half a lemon. And of course a pinch of salt. Let that soak up the liquids a little more and we're in business, bruh.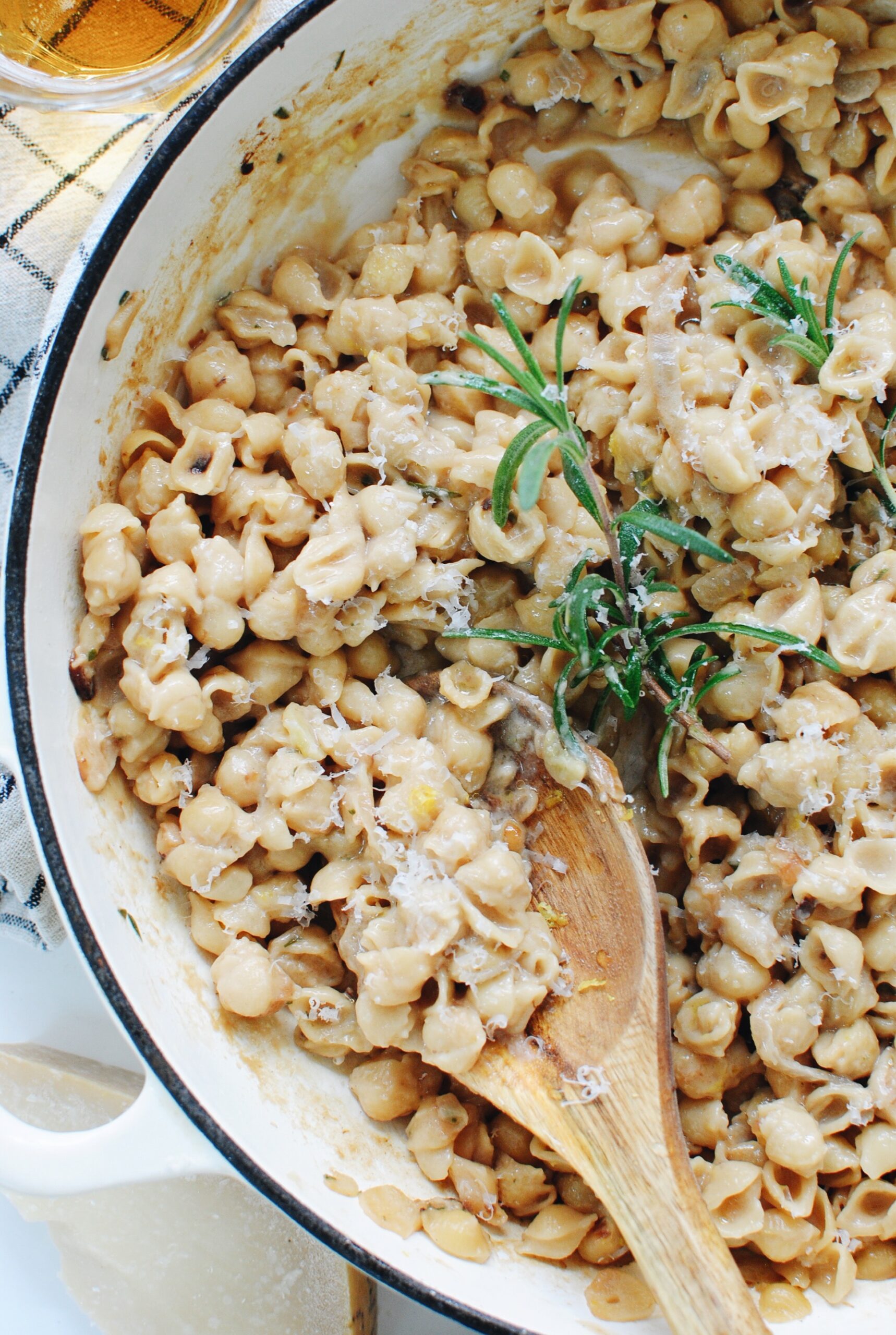 Helloooo, hello. Hi.
It's creamy, it's velvety, it's luscious, it's rustic winter perfection. Let's add some lemon zest to the top, as well as some freshly grated parmesan. Crack a little black pepper on that, too, for good measure.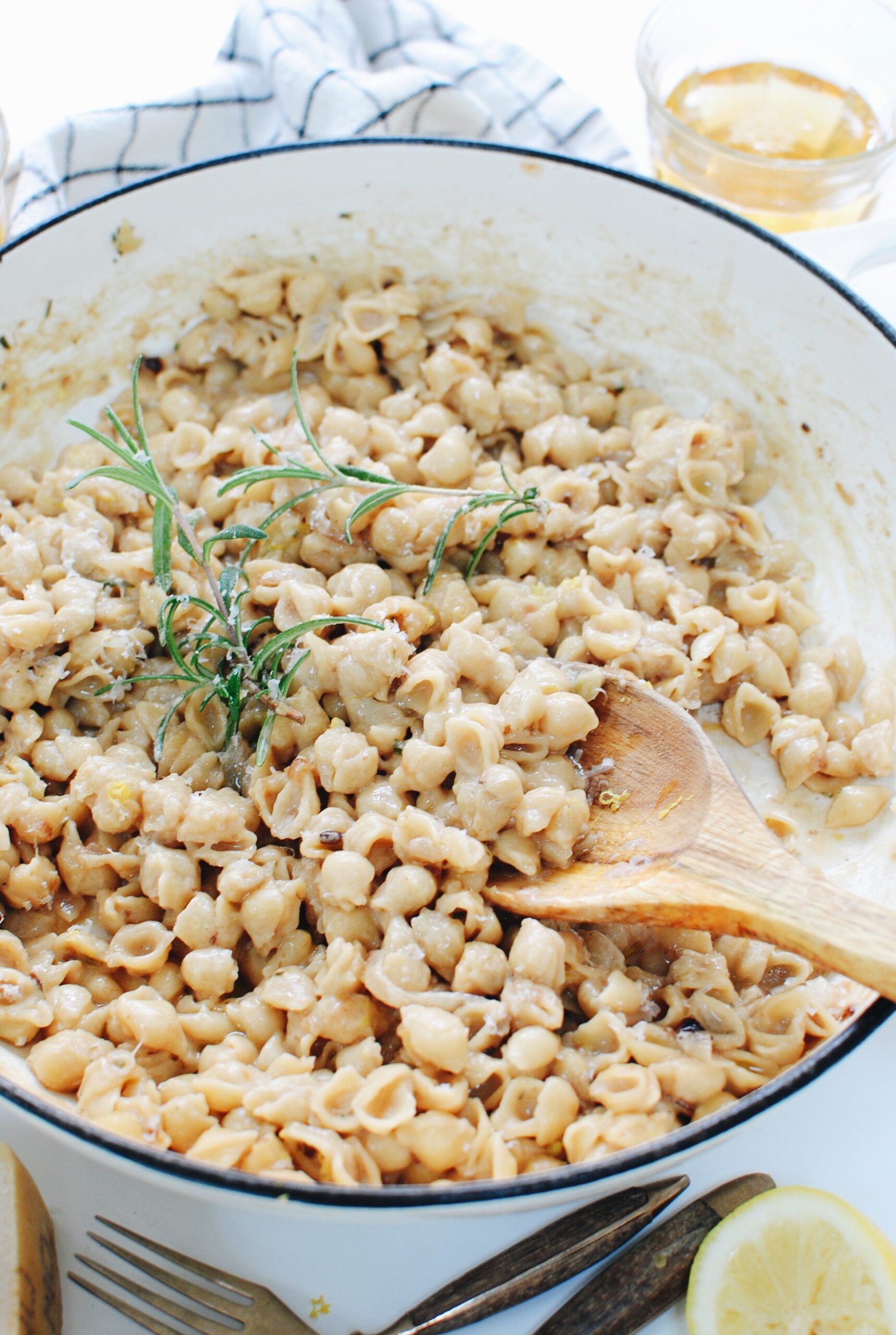 Should I remind you that we started with all those shallots and garlic, so naturally this dish is mega enhanced with aromatic depth.
You know me and aromatic depth. We're like this.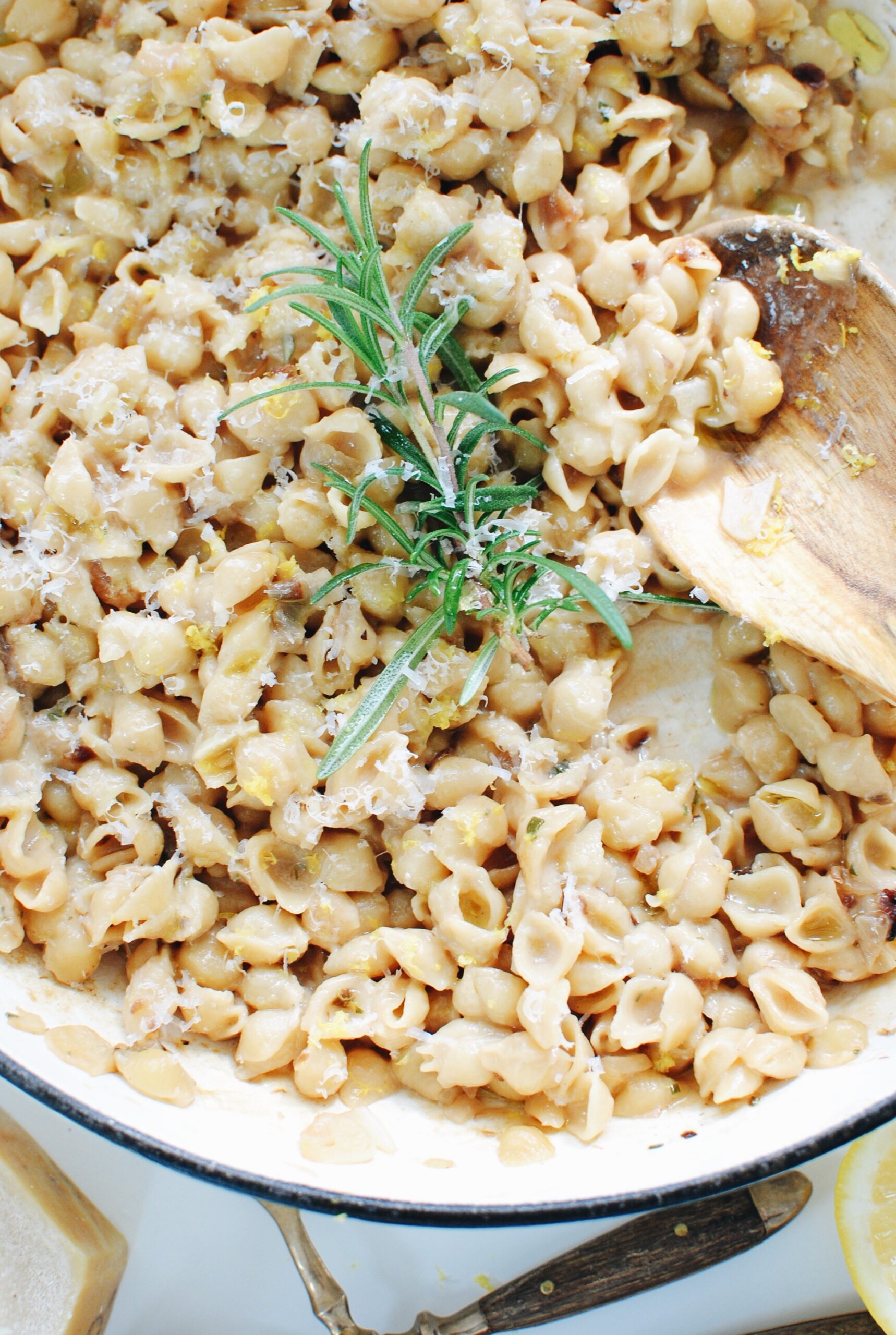 Yeah, your kids will love it. Teeny tiny baby shells? They'll freak. And the flavors are still sophisticated enough for you to enjoy January at its finest. See how we do? Simple and luxury. Here for it.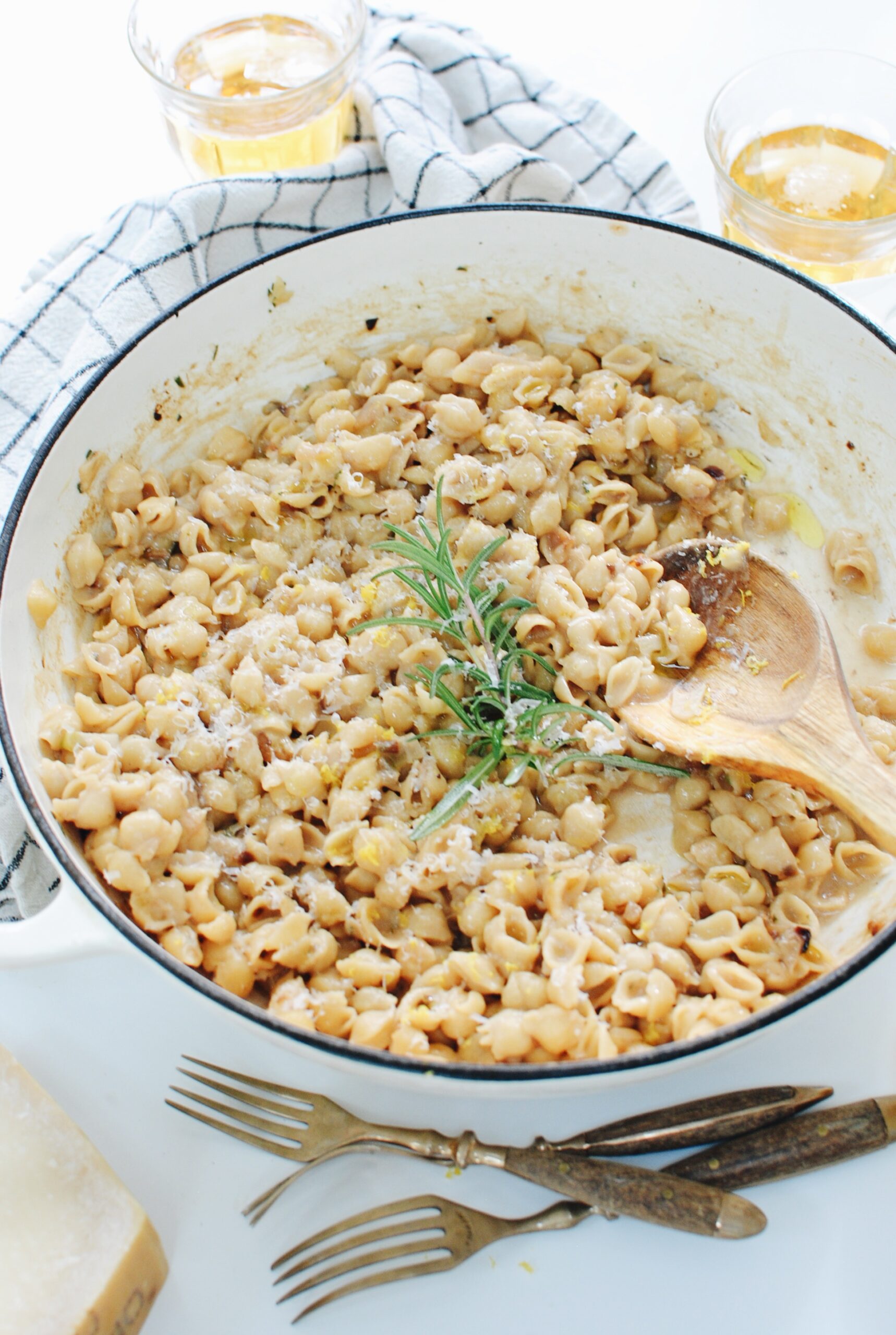 Oh, I still have another photo to go.
Uh, let's see. Tell me about your weekend! Did you clean out any closets?
No?
Me, either.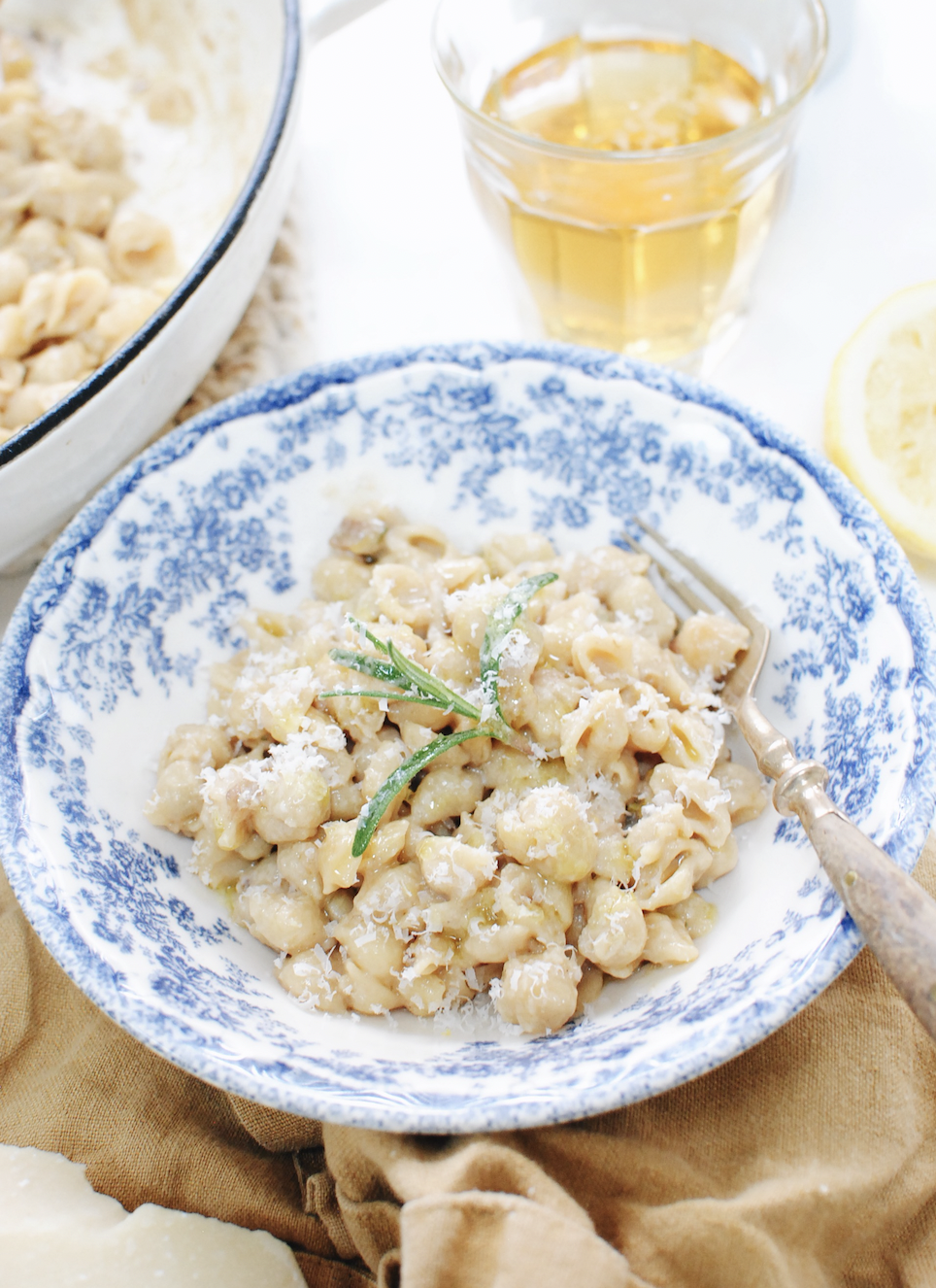 Also, make your life about this as soon as humanly possible.
Ingredients
2 medium shallots, thinly sliced
5 cloves garlic, chopped or minced
2 Tbs. extra virgin olive oil
2 cups mini pasta shells
1 1/2 cup chicken stock
1 cup milk
1 Tbs. freshly chopped rosemary, plus a few sprigs for garnish
1 lemon, zested and half juiced
2 Tbs. butter
Freshly grated parmesan cheese, for garnish
Coarse salt and freshly ground pepper
Instructions
In a large skillet, heat the olive oil over medium. Add the sliced shallots and sauté for three minutes, until they begin to soften and lightly brown. Add in the garlic and sauté another minute, until fragrant. Add in the pasta shells, milk and stock. Season with a pinch of salt and stir together. Partially place the lid on top and let this simmer and bubble on a low roughly ten minutes. Be sure and stir every few minutes to avoid any sticking on the bottom.
Once the pasta has nearly absorbed it all, take the lid off and stir in the chopped rosemary, half the lemon juice and 2 Tbs. butter. Let it finish cooking and thickening for just another couple of minutes, and you're set. Taste it. Need another pinch of salt?
Serve with fresh rosemary sprigs, lemon zest, extra lemon wedges and grated parmesan!
Serves four.
7.8.1.2
546
https://bevcooks.com/2022/01/creamy-rosemary-shells/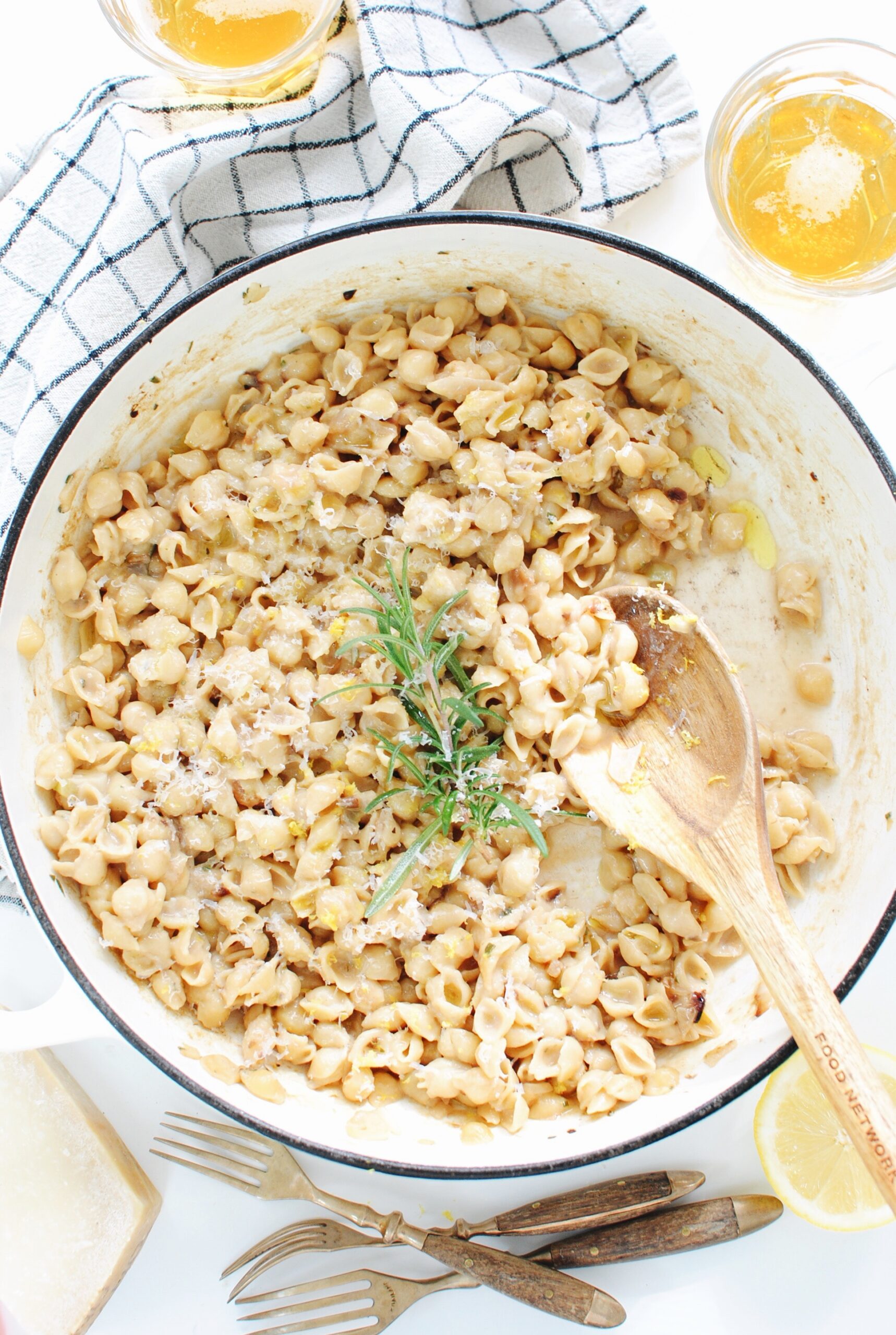 What else is winter good for, if not ALL THE PASTA? I rest my case.