With a shortcut! But also a bit from-scratch. Best of both worlds, bunnies.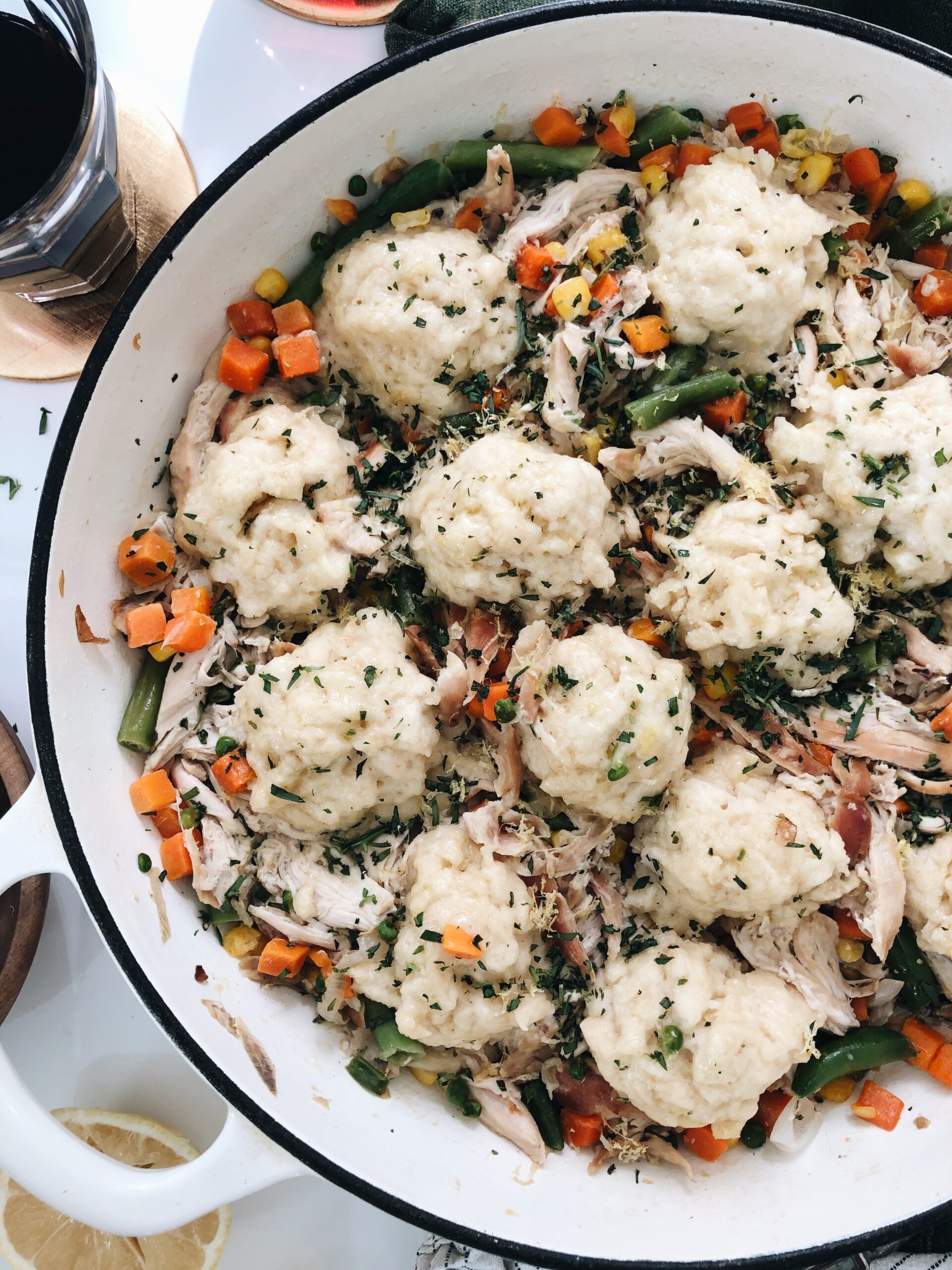 (no bunnies were harmed in the making of this chicken and dumplings.)
So the reason I'm using frozen veggies (don't turn up your nose yet!) is because I've had a bag in my freezer batting its eyes at me for weeks and it's also like WHY NOT. I need to use it. It will be amazing in this. Judge away. (silently please, I'm fragile)
But everything else is from scratch sooooo – let us peepeth.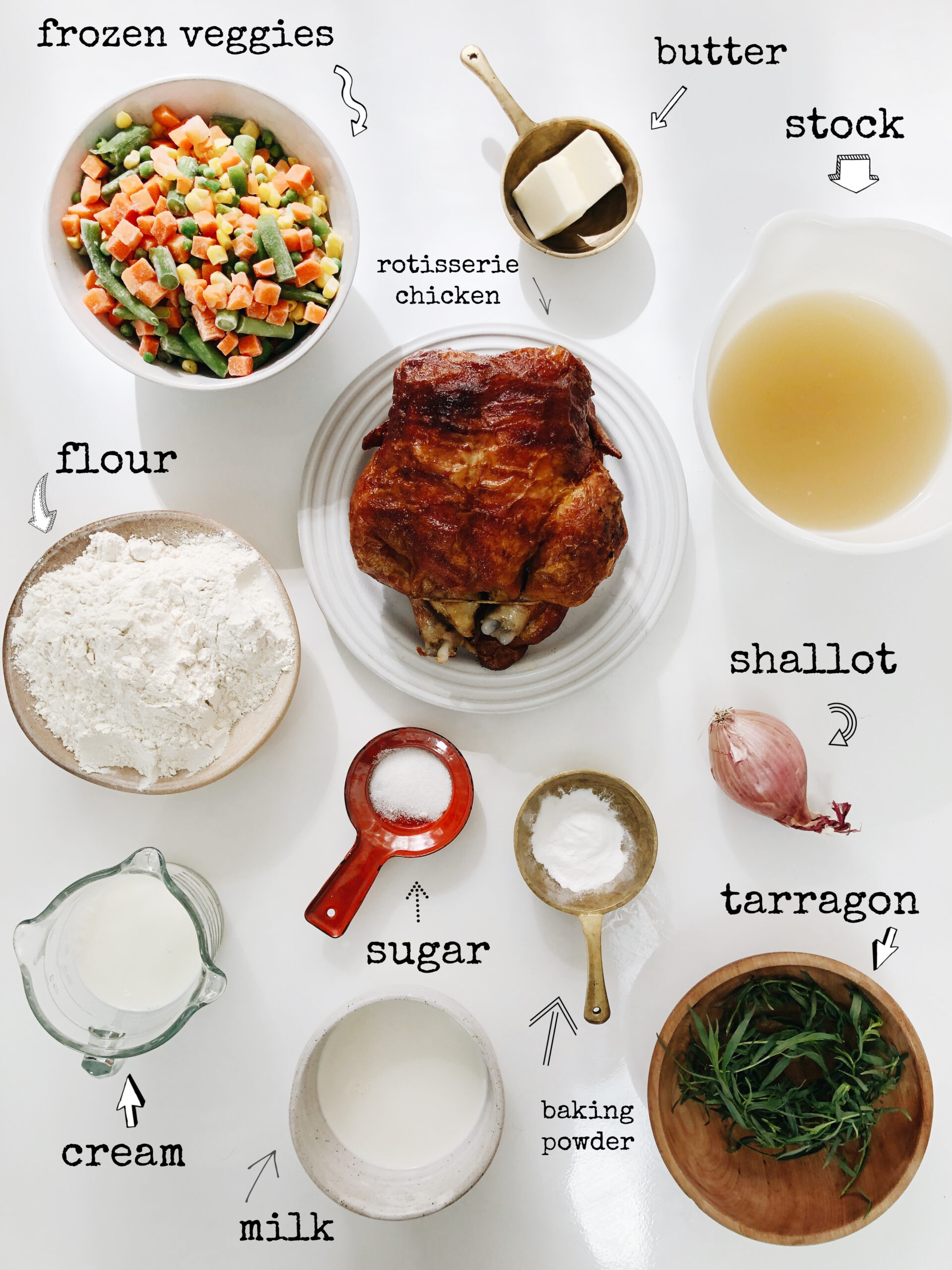 I suppose the rotis is another short cut. Heck yes. Shred her up. Nibble on the skin and share with your pup while the rest cooks. These are the good things in life.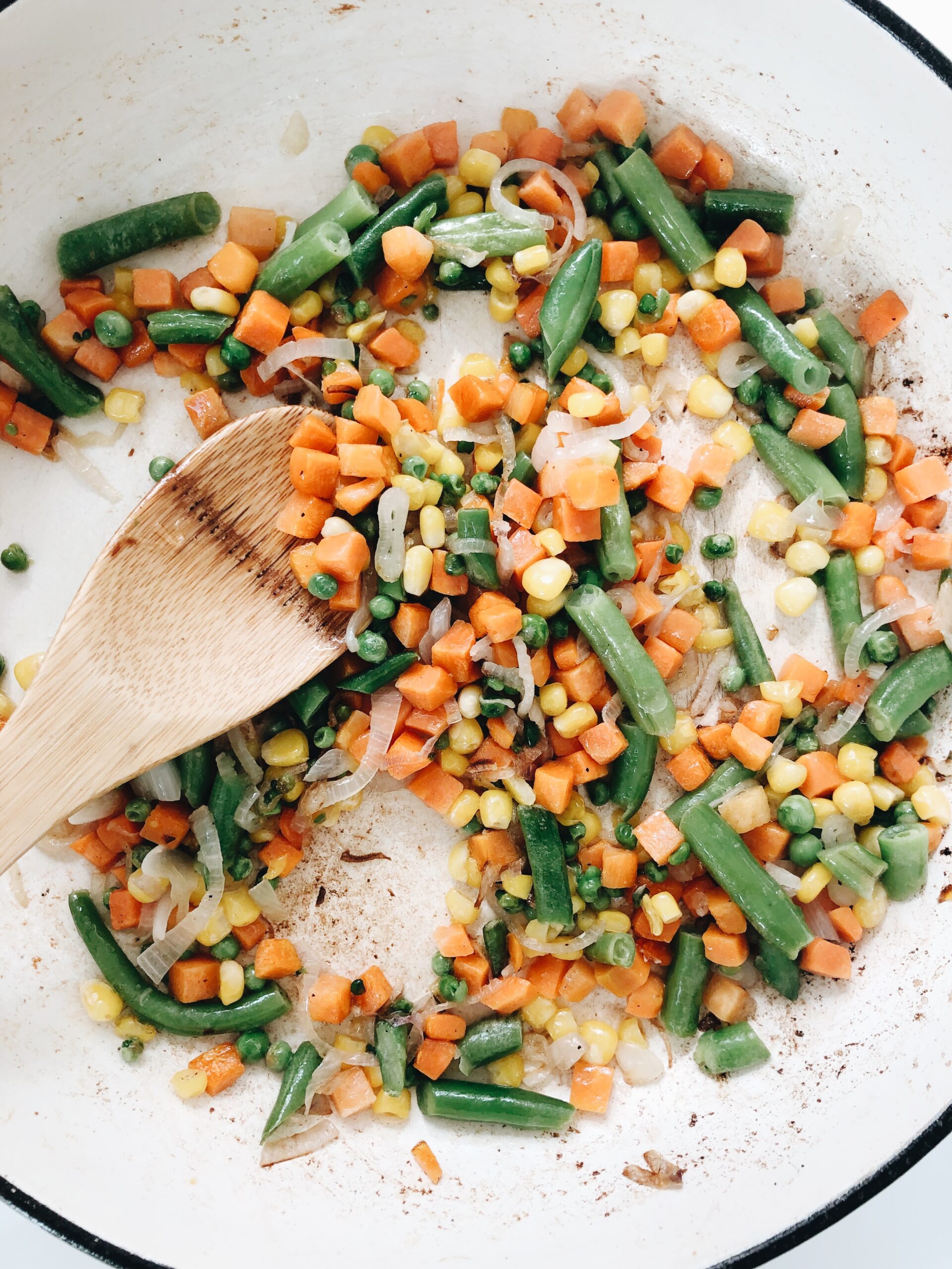 So we'll get the shallot thinly sliced and sautéed in a pan for just a few minutes. Add the bag of frozen veggies and let these thaw and cook in the pan until the colors pop and the veggies start to soften. Five to ten minutes, nothing too aggressive.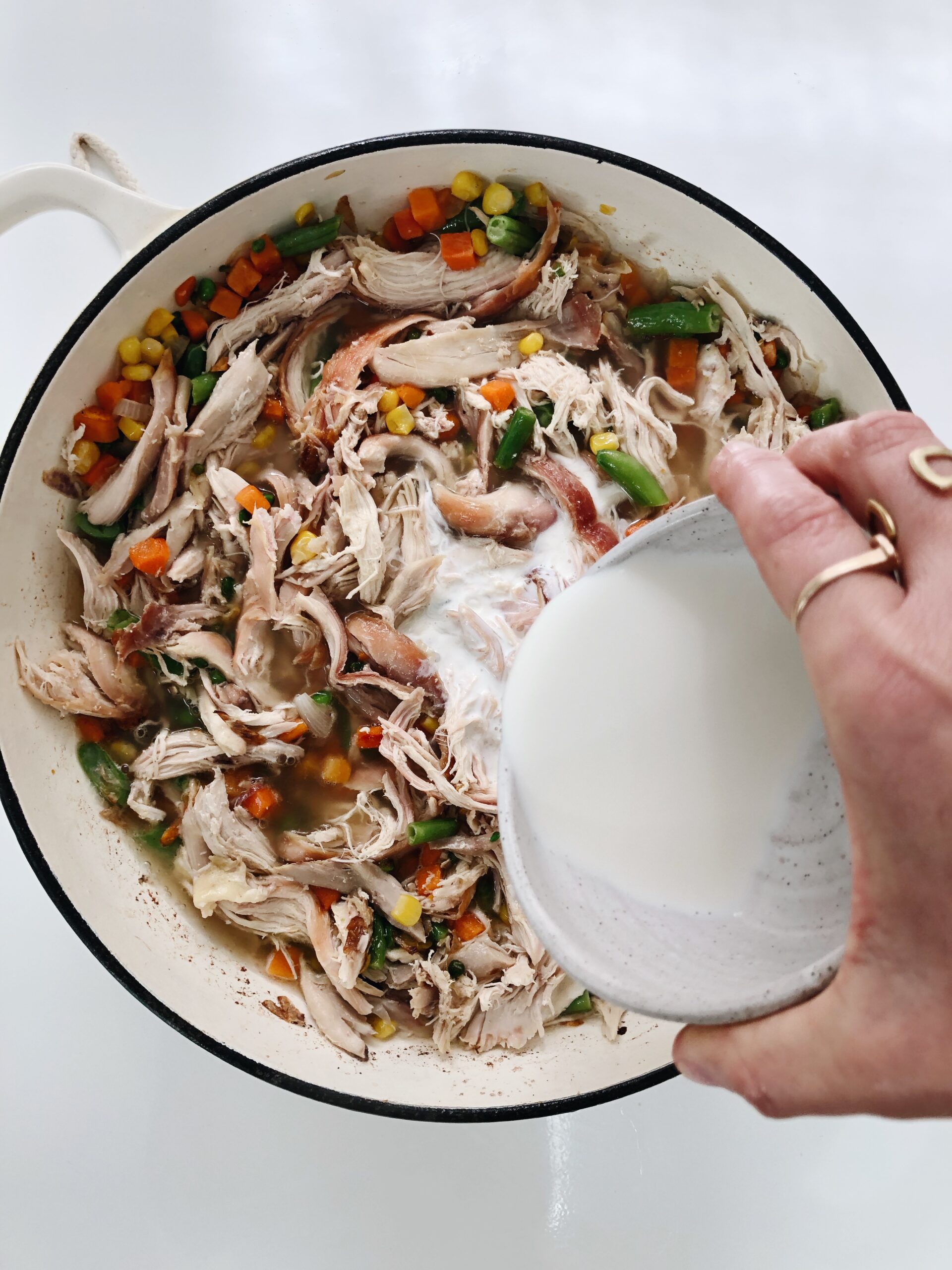 Then we stir in the stock and cream! Go heavy cream if you can. Half and half is fine, too. But we need it silky and luscious because it's mid-November and there are Christmas lights on my street (not my house) and we're starting to feel it. We're really starting to feel it.
Oh, you've added the chicken, too! Which you can tell from that photo because you have eyeballs. (add more stock than I did here. The correct amount is in the recipe. I had to add a little more later on. It's fine.)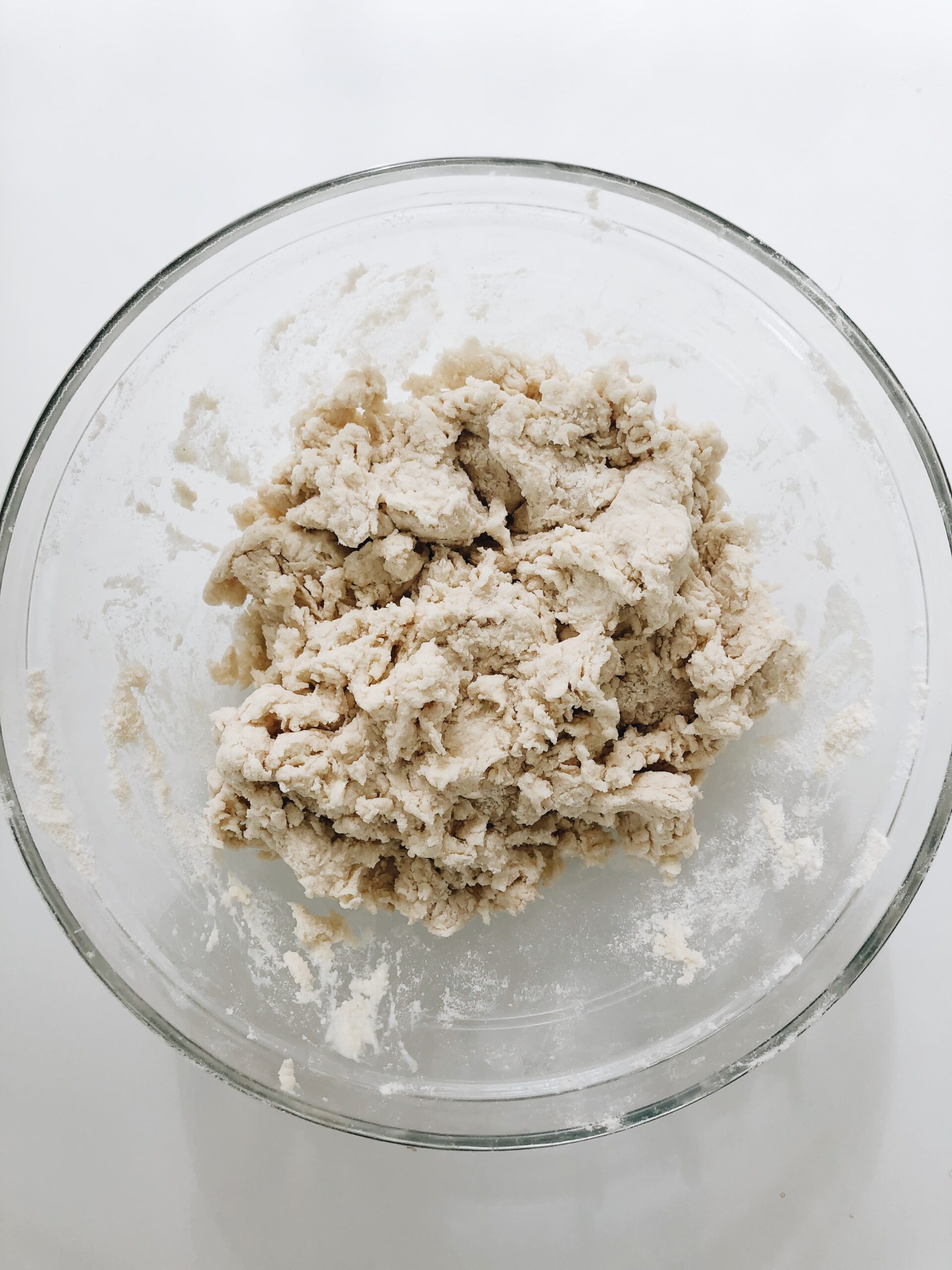 The dumplings! A simple mix of flour, butter, milk, baking powder and sugar. Mixy mixy.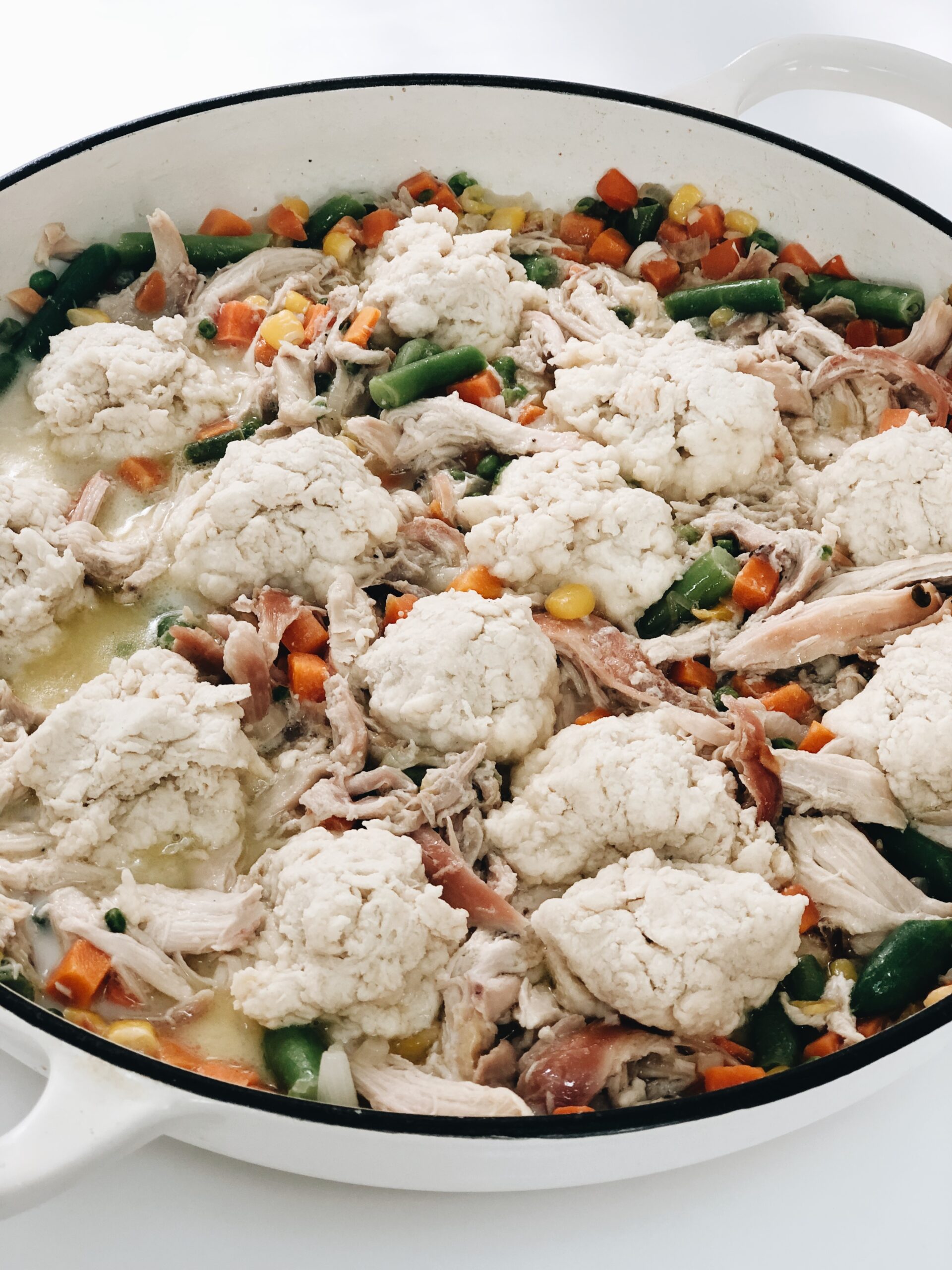 Then we'll use a spoon and sort of equally dollop the dumpling mounds right on top of the chicken and veggies. Nestle it in. (again you've added more stock than I have. Yours will look better.)
Slap a lid on and go for about ten minutes total.
HULLO. We've sprinkled with freshly minced tarragon and it's wonderful. Such a treat. Yet homey and crazy simple to whip up.
You want to put your face in that, don't you?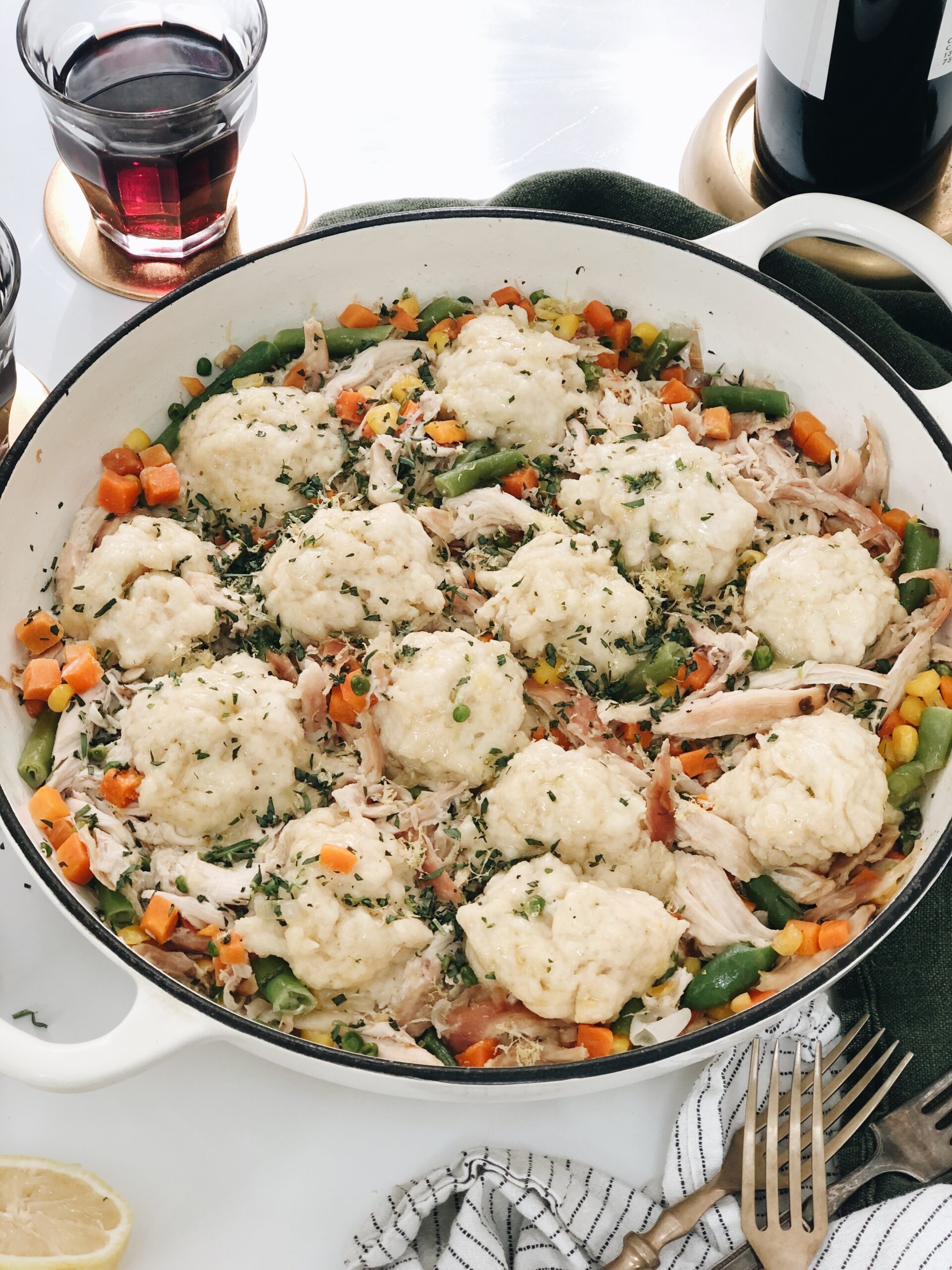 Underneath the dumplings is a savory creamy bed of chicken and veggies. Just like we like it. (again you've added a little more stock so it will be even creamier and more divine.)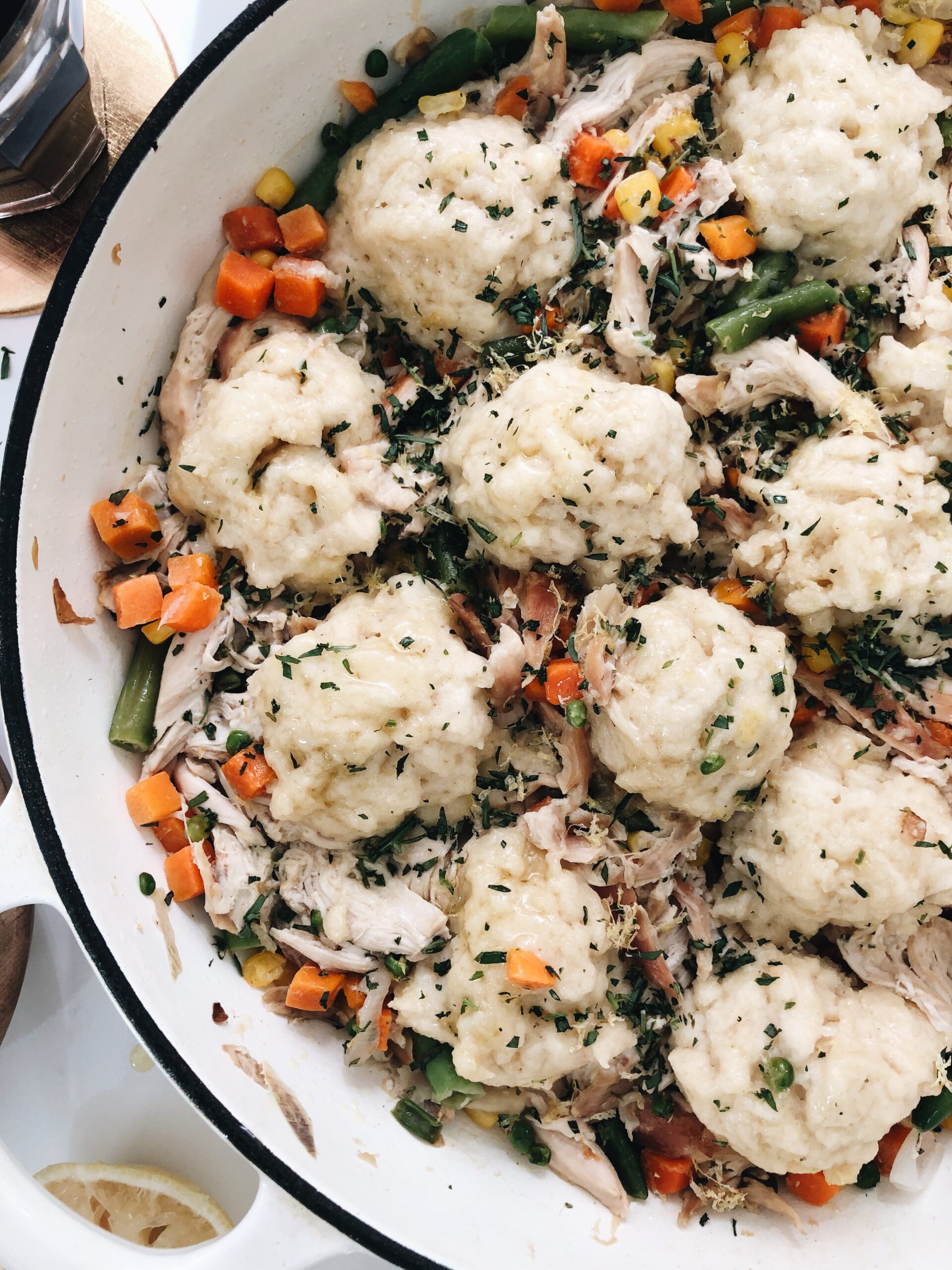 It seriously has an elevated flavor to it, but the kids inhaled their bowls within five minutes. Record time. I was astounded. Who's NOT going to love fluffy dumplings with creamy chicken? No one. Wait. No, that's right. No one's NOT going to. Which means everyone will. Never mind.
And the thing is, you can absolutely sub in leftover shredded turkey a day or two after Thanksgiving and dinner is DONE. Pantry and freezer staples, babe. Saved. More time for Christmas movies.
Oh, and see that lemon zest on top? No skimpy. Make that happen. And maybe a drizzle of your best extra virgin olive oil for good measure. 'Atta goil.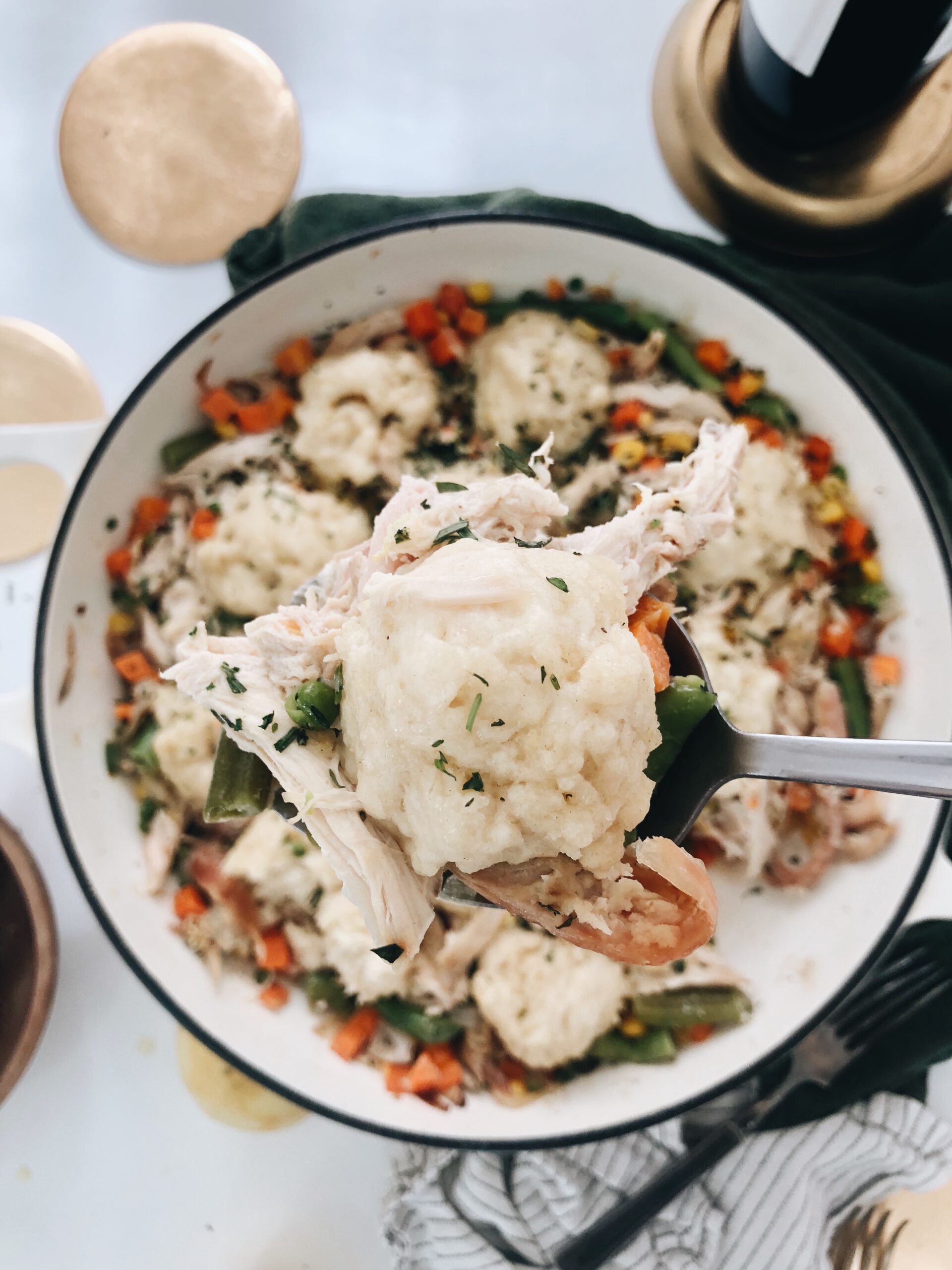 Mama. Mia.
French-Inspired Chicken and Dumplings
Ingredients
1 rotisserie chicken, shredded
12 oz frozen mixed veggies
1 shallot, thinly sliced
3 cups chicken stock
1/2 cup heavy cream or half and half
1 1/2 cup flour
2 tsp baking powder
1 tsp sugar
2 Tbs. butter, cut into small chunks
1/2 cup milk
Coarse salt
Fresh tarragon for garnish, minced or chopped
Lemon zest for garnish
Instructions
Heat 2-3 Tbs. extra virgin olive oil in a wide skillet over medium heat. Add the shallots and sauté until they start to soften, about five minutes. Add the frozen veggies along with a pinch of salt. Sauté another five (to ten) minutes, until the veggies pop in color and soften.
Add the chicken stock and cream to the skillet. Maybe another pinch of salt here, too. Let this simmer for a few minutes, while you prep the dumplings.
In a medium bowl, whisk together the flour, baking powder, sugar and a small pinch of salt. Add the tiny chunks of butter and crumble in with the flour mix, to where there are no chunks left. Stir in the milk and mix to combine.
Using a spoon, nestle small mounds of dumplings into the chicken and veggies mix. Place the lid on and cook for ten minutes on a medium to medium low heat. Done!
Garnish with freshly minced tarragon and lemon zest. Serve immediately.
Serves 4-6.
7.8.1.2
538
https://bevcooks.com/2021/11/french-inspired-chicken-and-dumplings/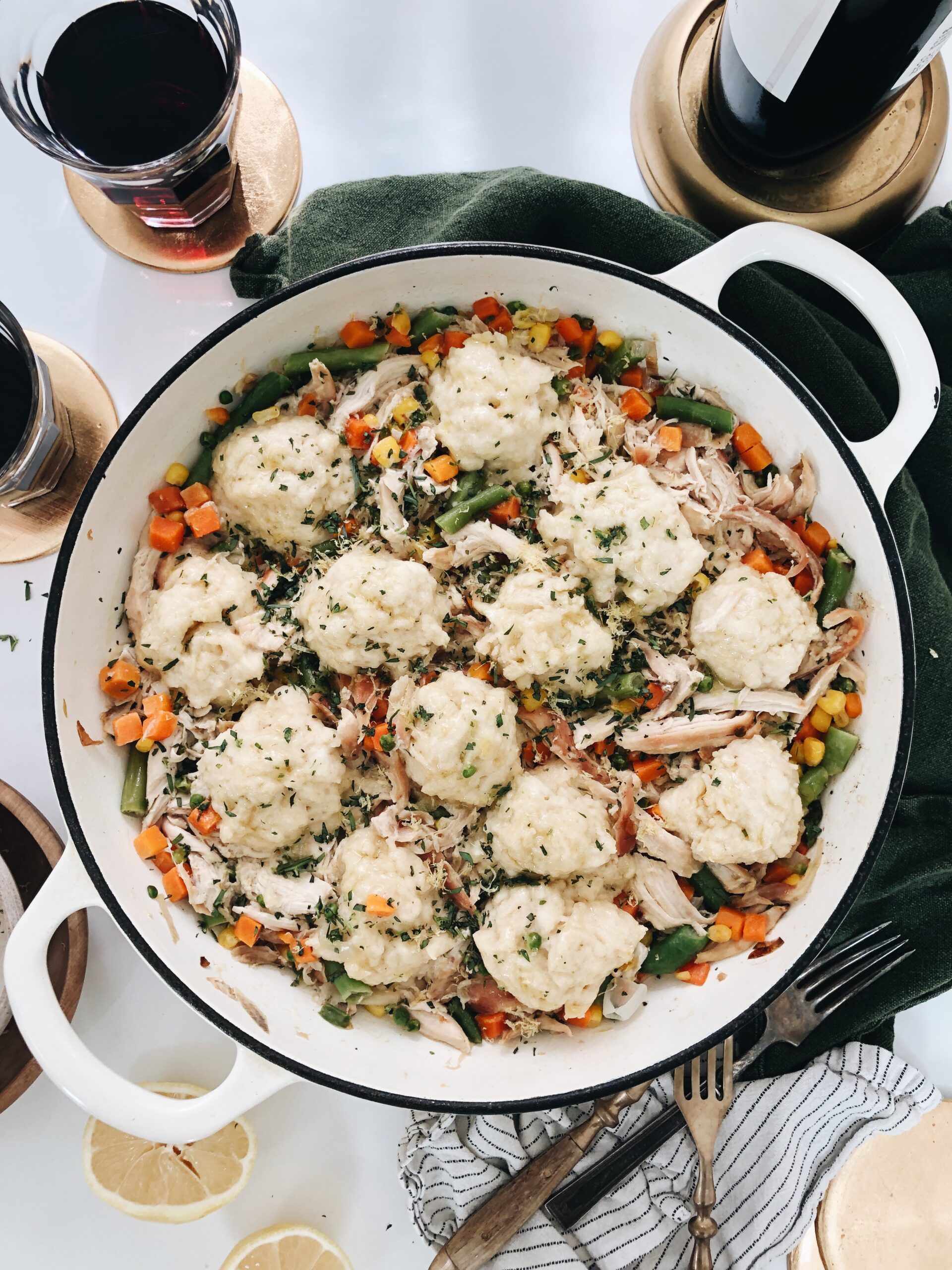 Simple, comforting, refined, just perfection. Get in that!
Oh, try this one too while you're at it!