Summer salad city right here! But with guts.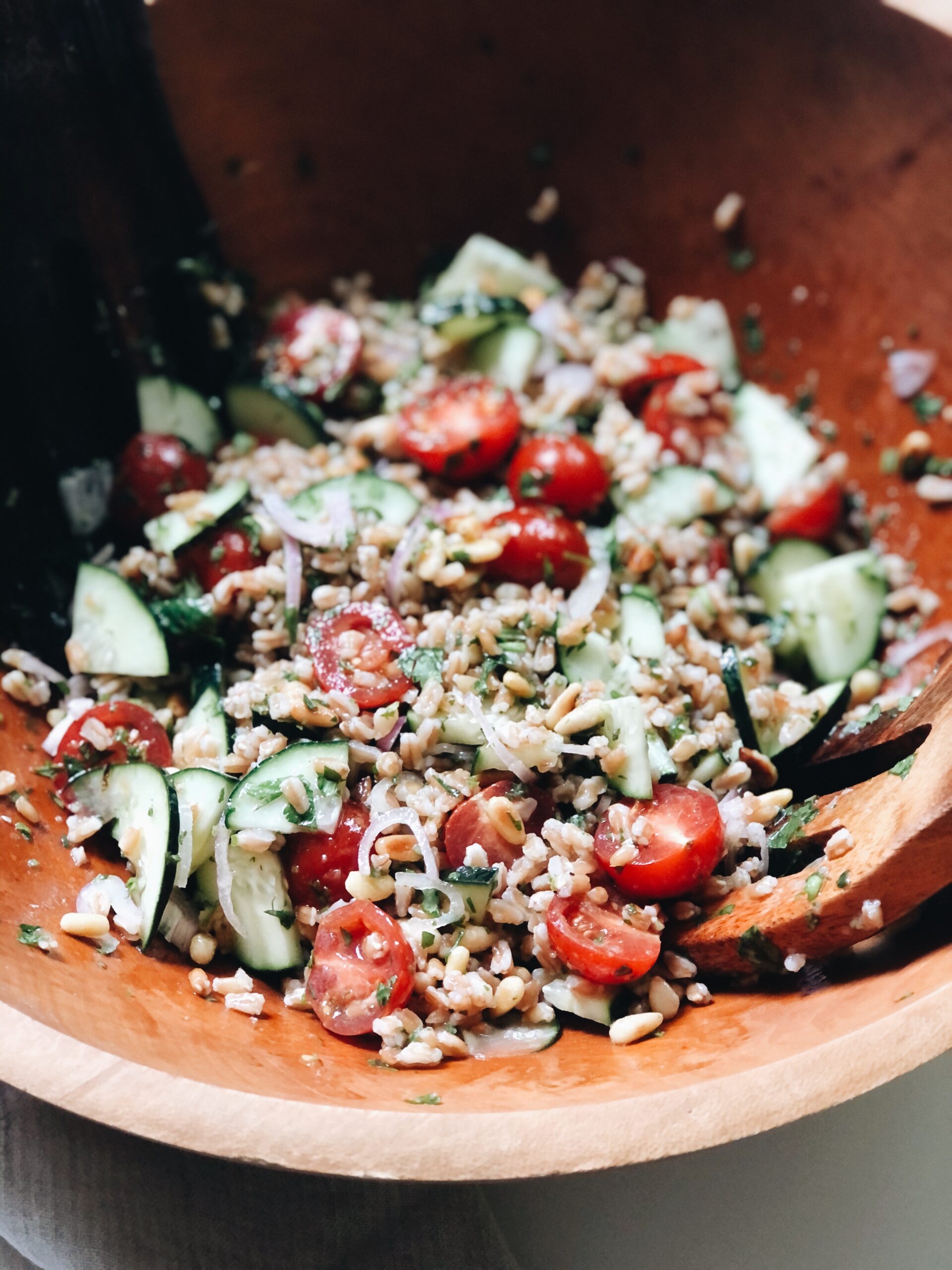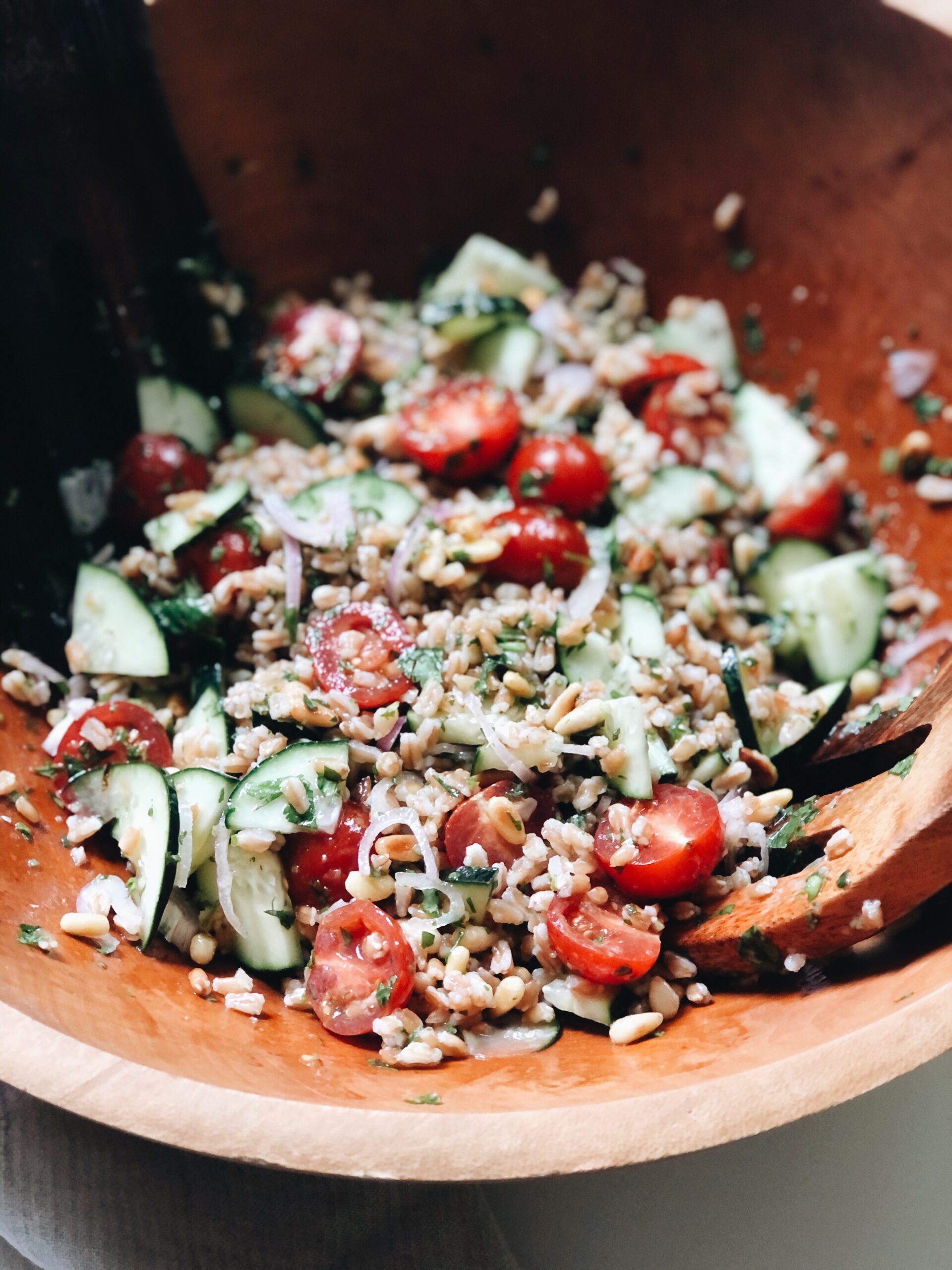 This originally started out in my head as a barley salad. Not a barely salad, but a barley salad. But the store barely had barley, so I found farro, and what followed was ferociously fabulous! I can chill.
This though. What I imagine for your life is this stunning, colorful, toothy, vibrant grain salad with so much happening in it, to find its place at all your summer events. The 4th. All your parties. Even Labor Day. A rando Sunday evening. And listen, I'm going to have you add some feta to it, for the good of all humanity. I would have, but I wanted my family to eat and not throw me into a river, so. (add feta!)
Let us peepeth.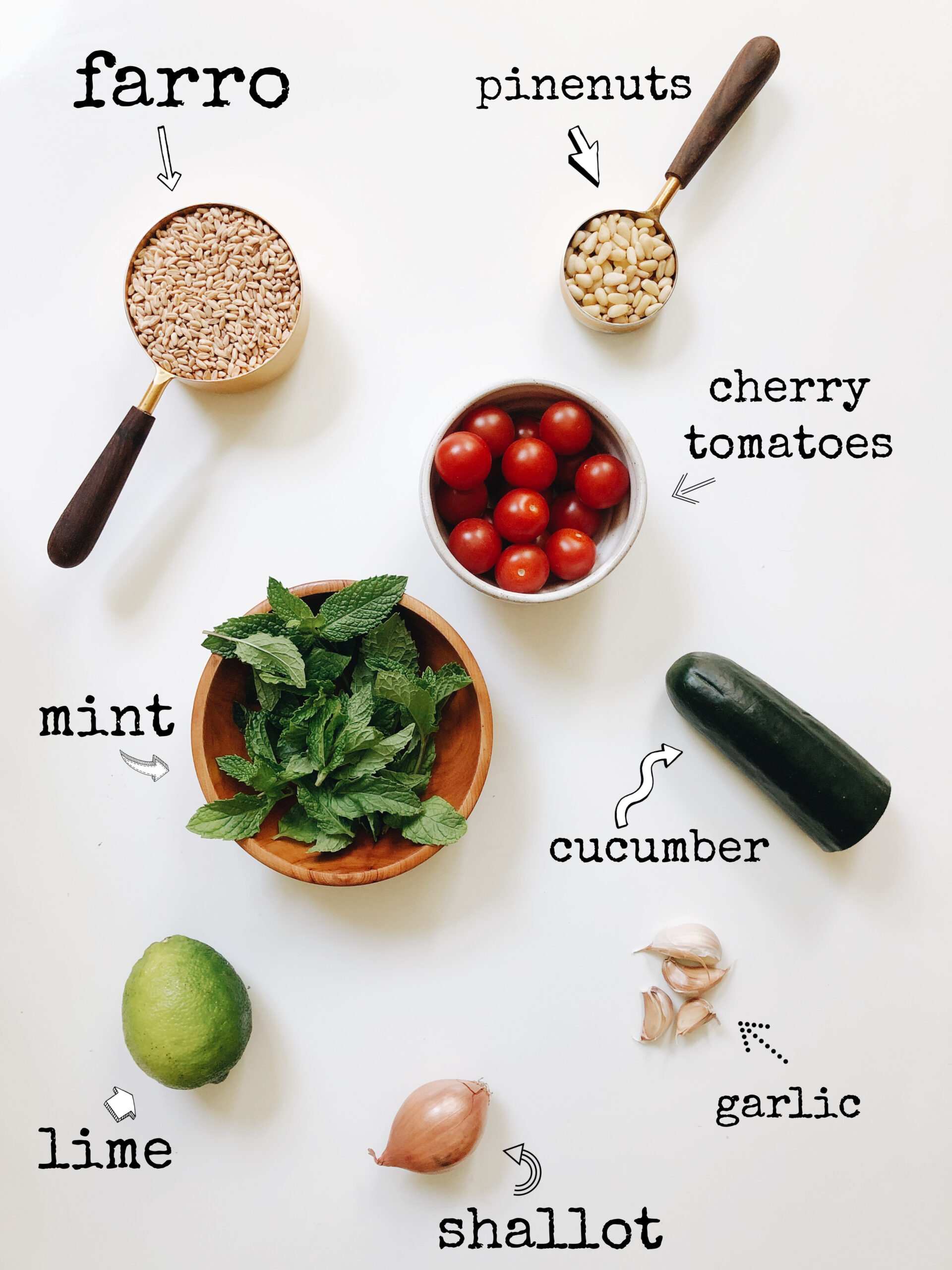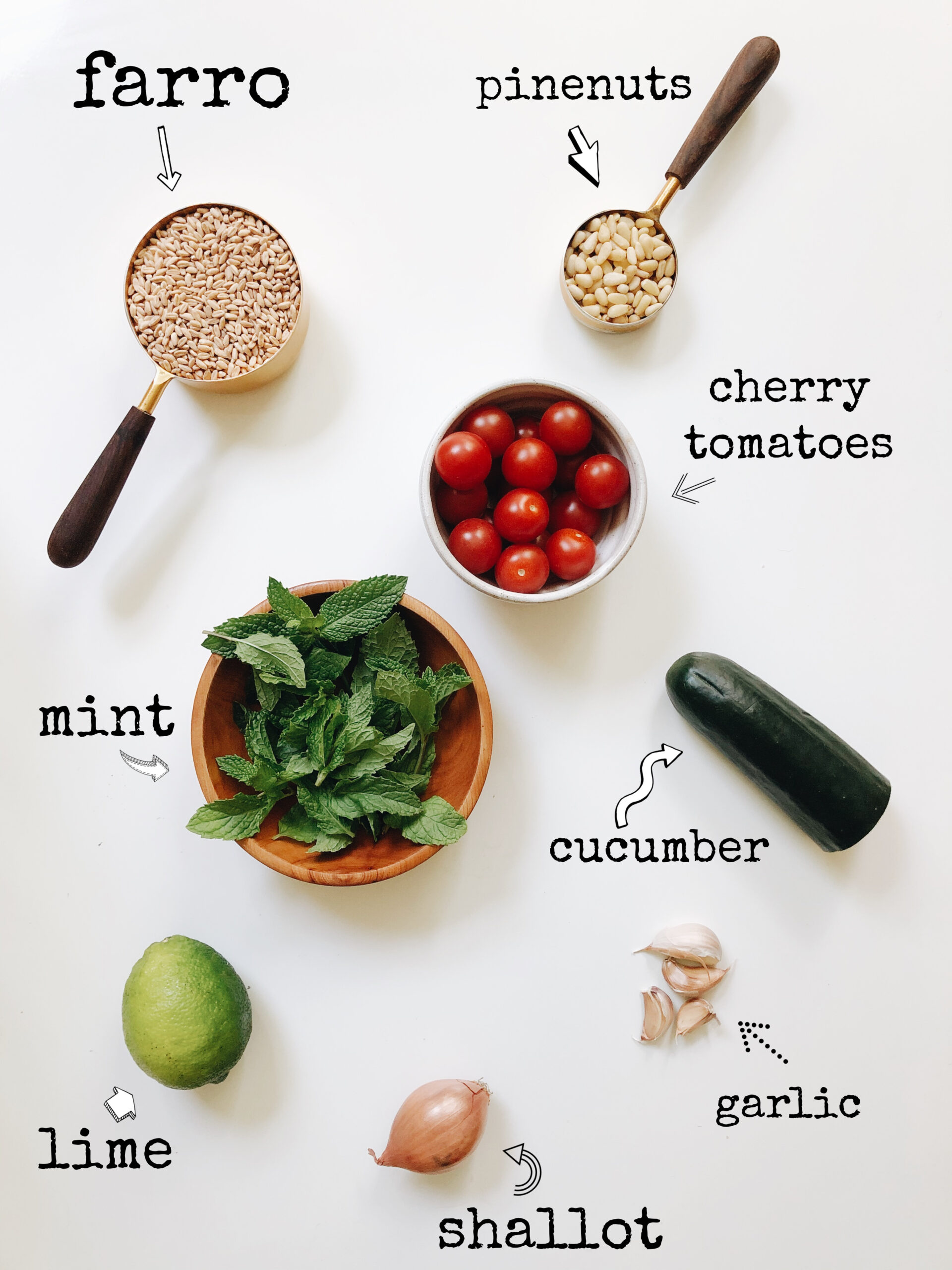 You're like, "pine nuts, eh?" YES. And we'll toast them, so get excited.
You can see this is pure and simple. Which is what I always say. The simple part, not the pure part. Not that this recipe is more pure than any of my other ones, it's just that today is the first time I thought of saying pure. Never mind.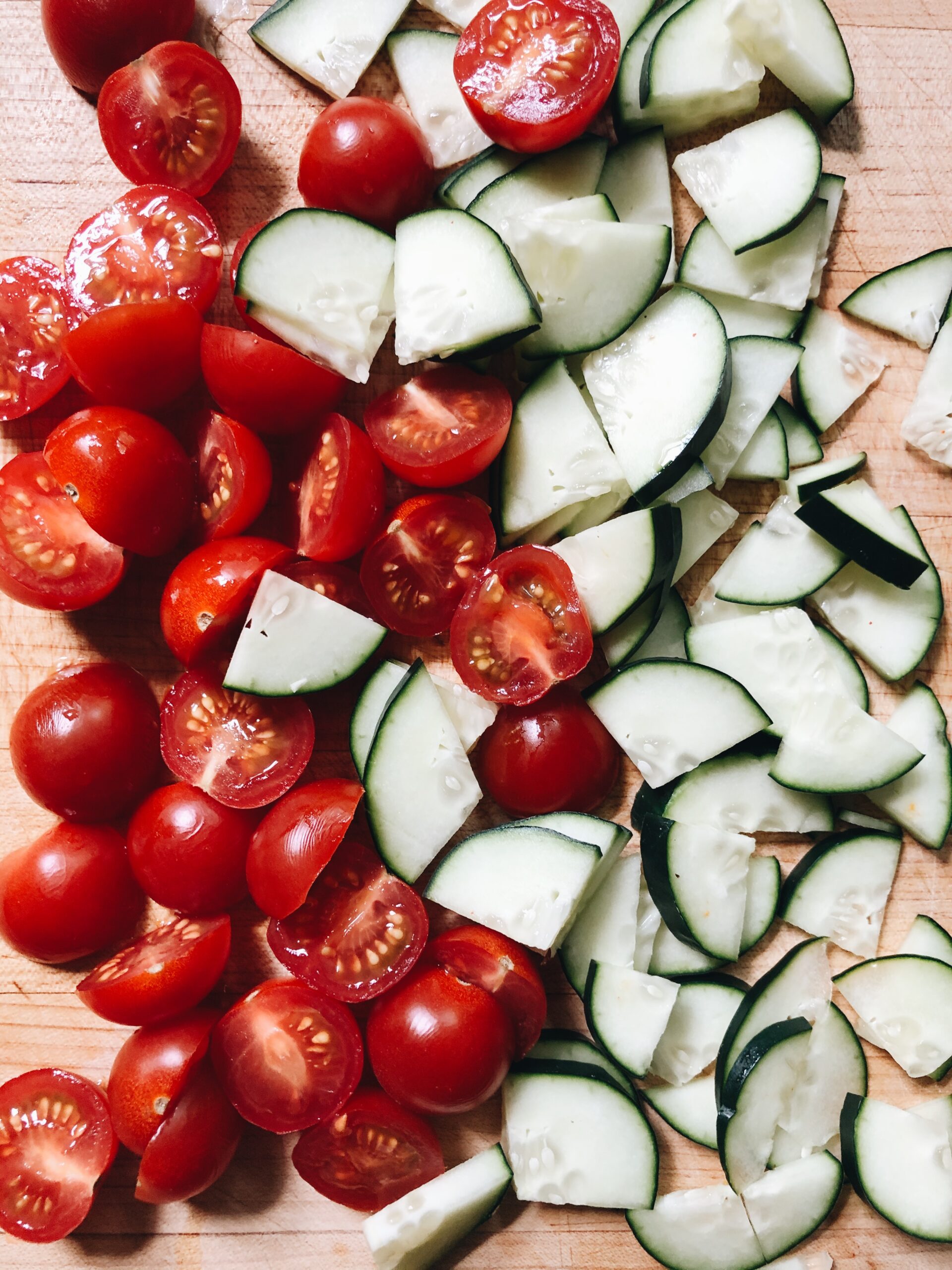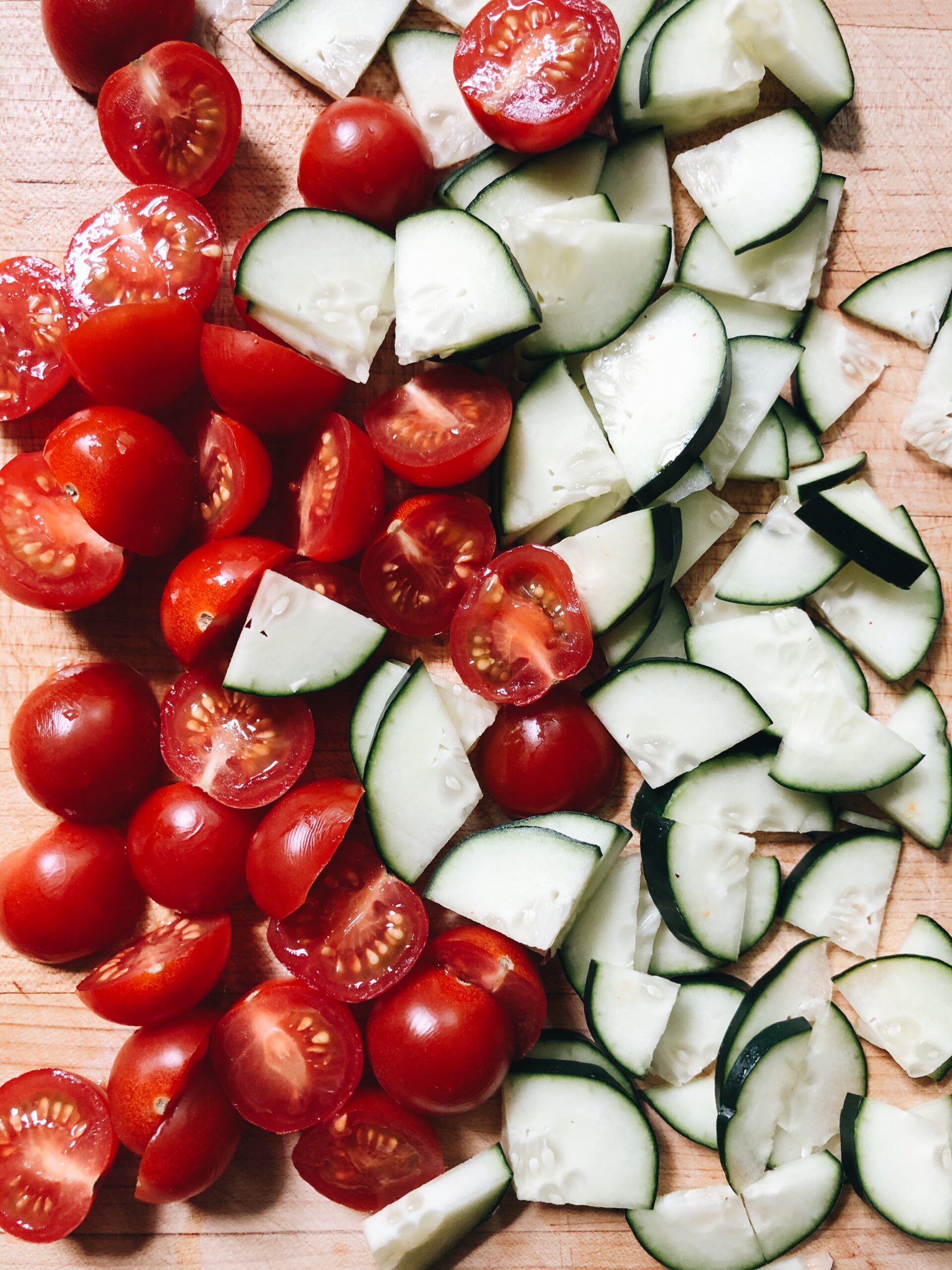 Let's slice up our 'maters and cucs! And if you don't want to say it like that, you're still a good person.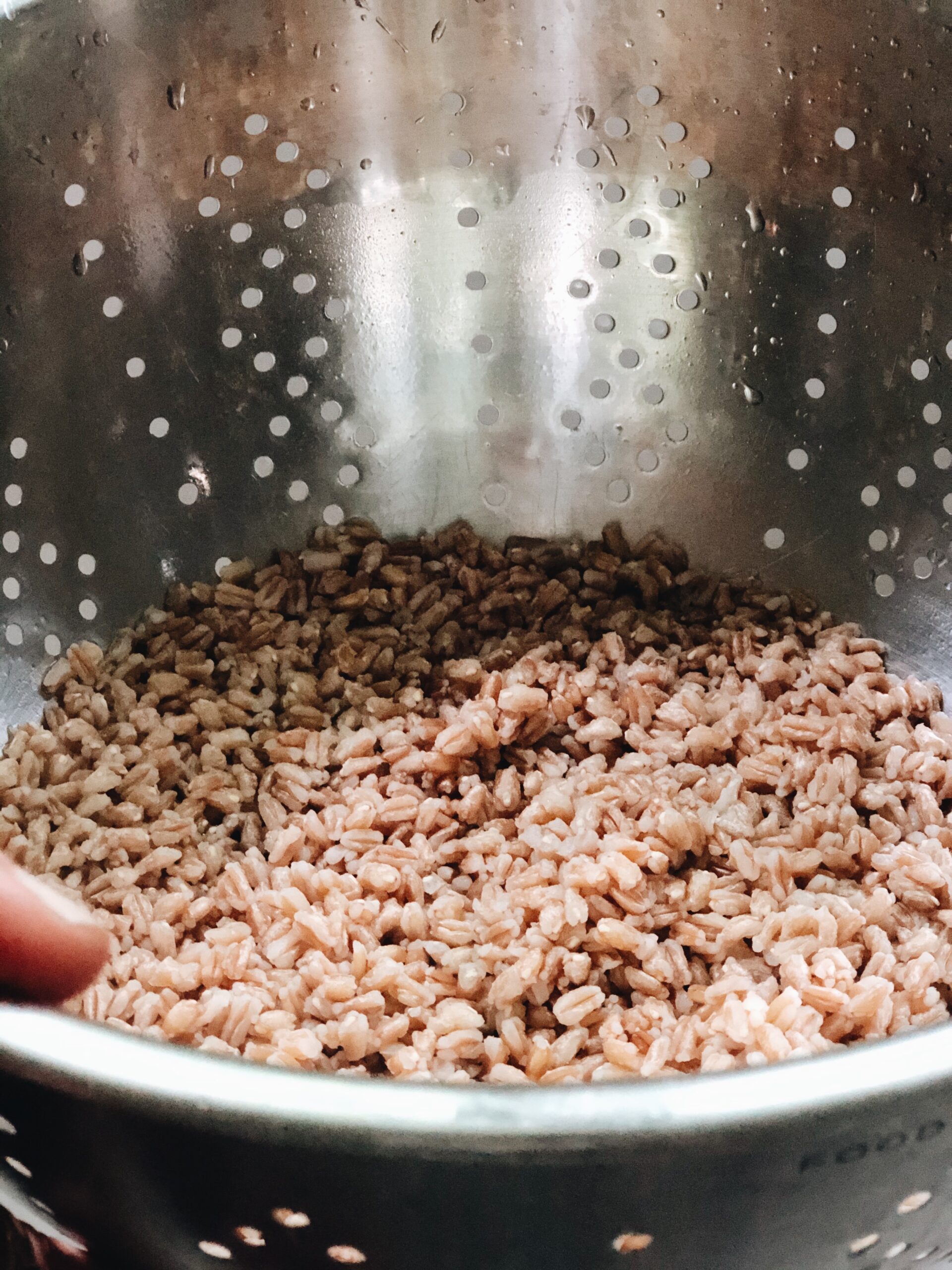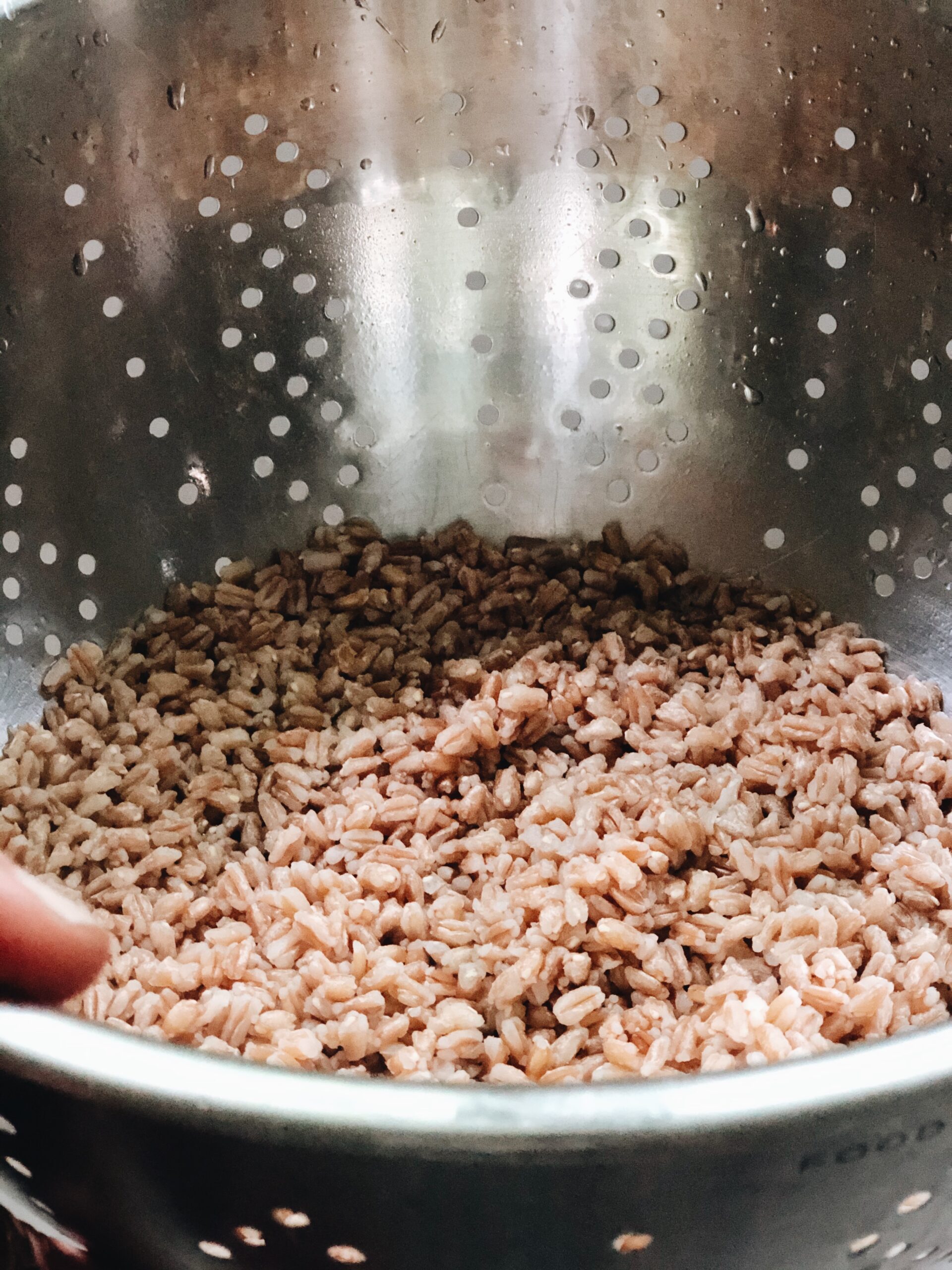 The farro, I'm just such a fan. It boils in water roughly 20-30 minutes, until it's toothy and tender (you'll feel it in your soul). And then I just rinsed it under cool water until it wasn't scalding my face off.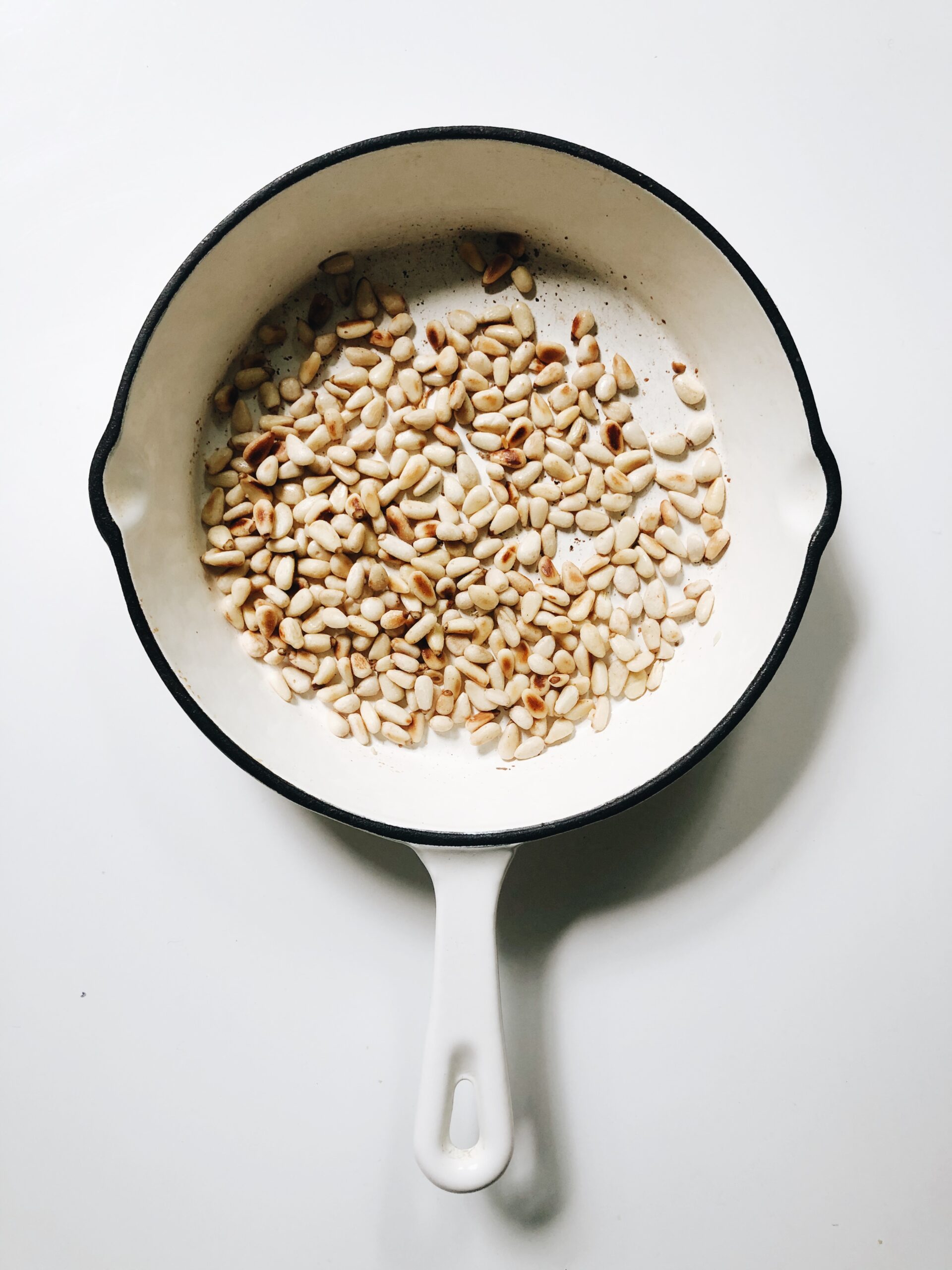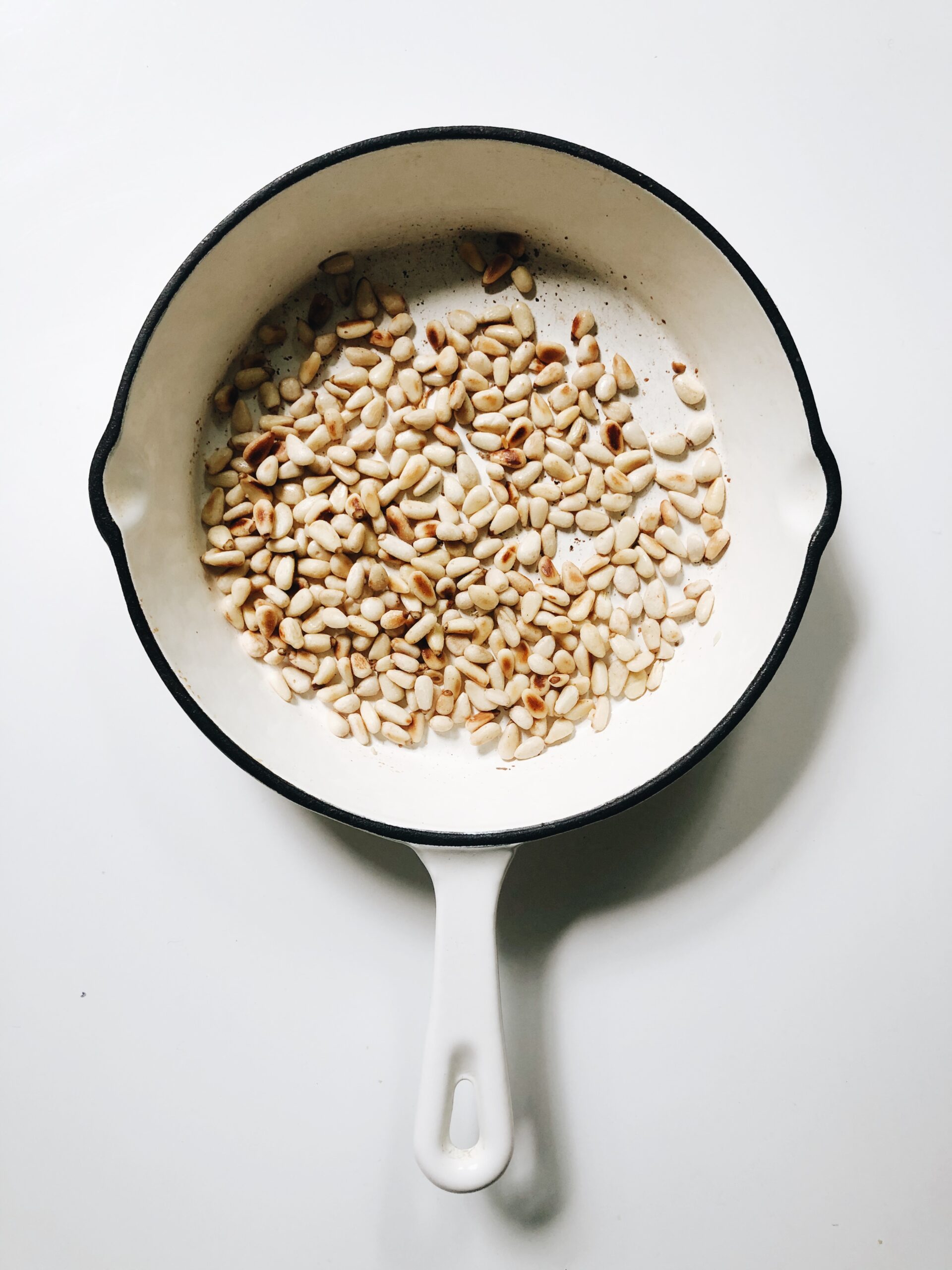 Lightly toasted. They'll get just a tad glossy, too, which means the oils are releasing and that famous pine nut aroma will delicately add the perfect nuttiness to your dish. It's heaven.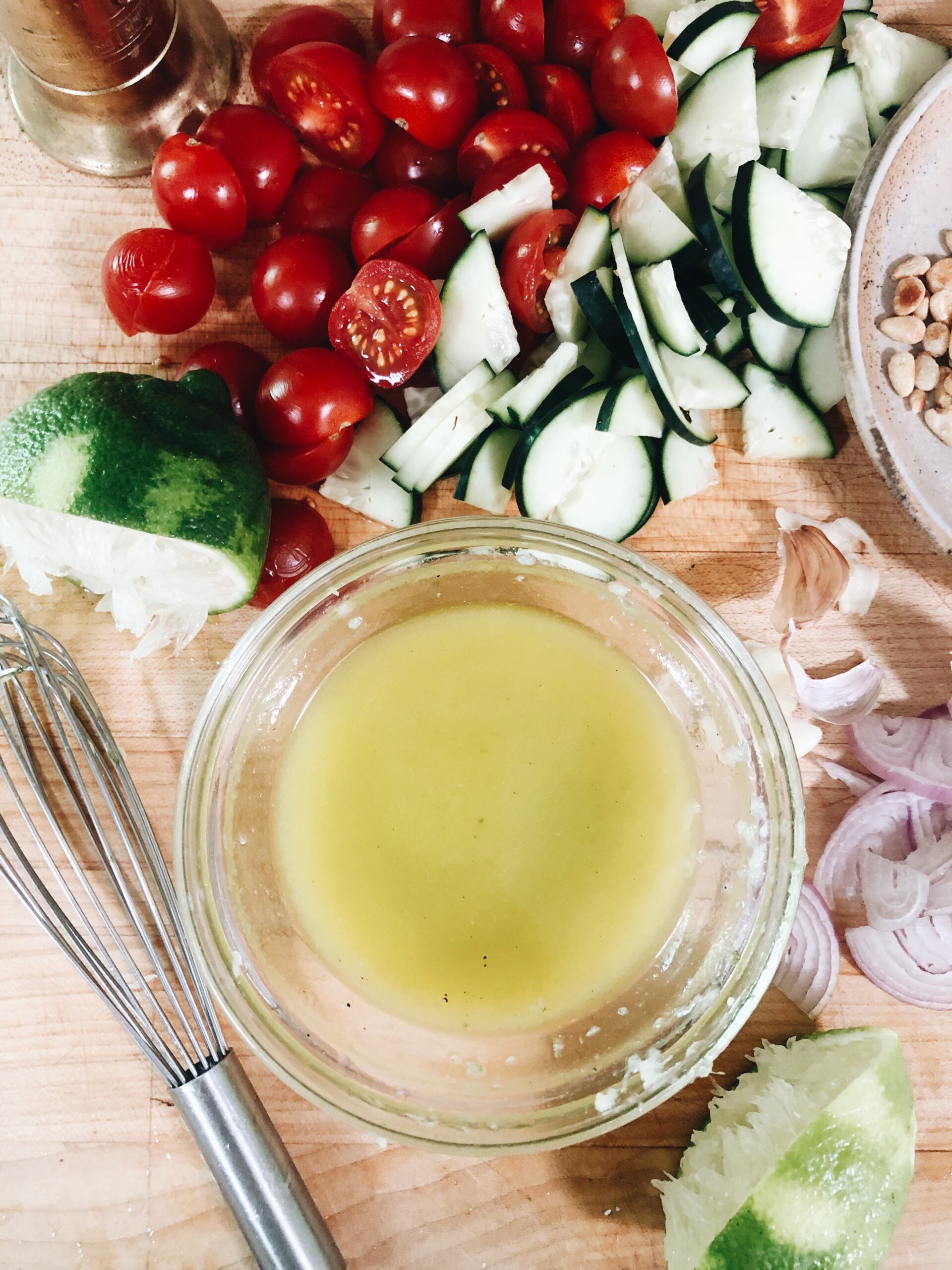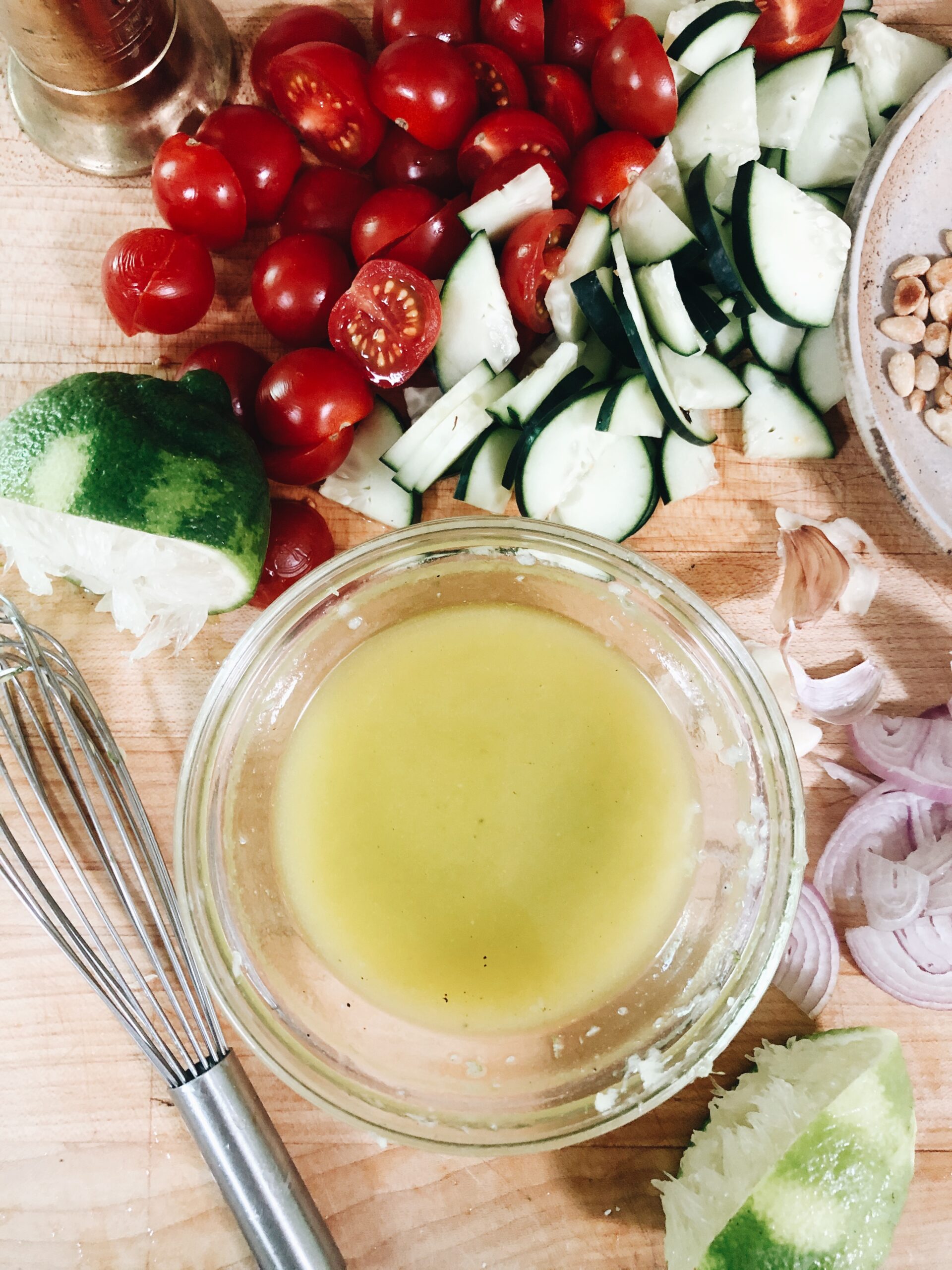 The dressing. It's my go-to dressing of all time and ever. Except I alternate lemon and lime just when my soul fairies demand it. For this, extra-virgin olive oil + lime zest + lime juice + grated garlic + salt and pepper. It's bright and exciting and the garlic works wonders for it. Yes it's raw, so be ready for a little bite. But once it's all over the salad it's not nearly as intense as you expect. Just glorious.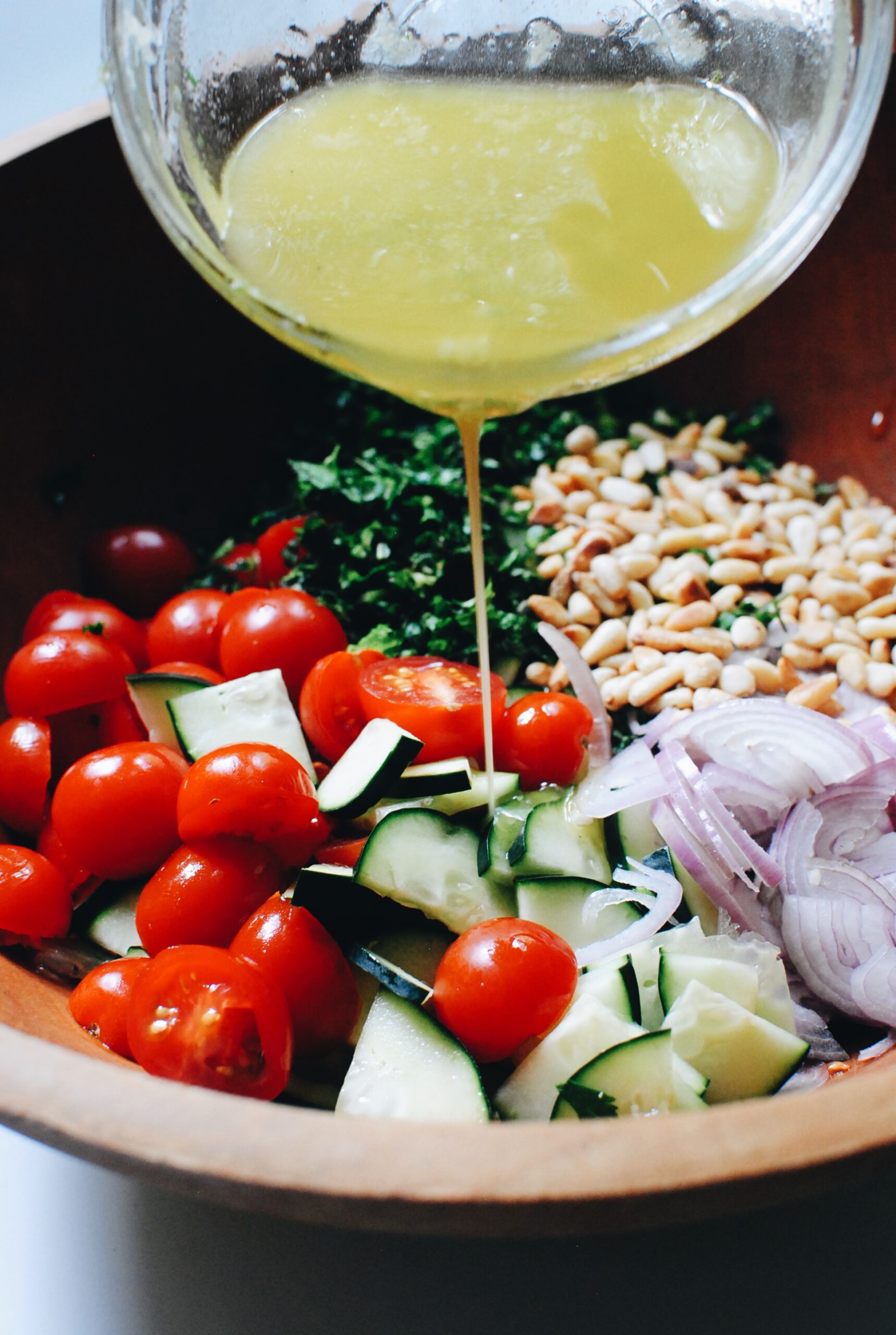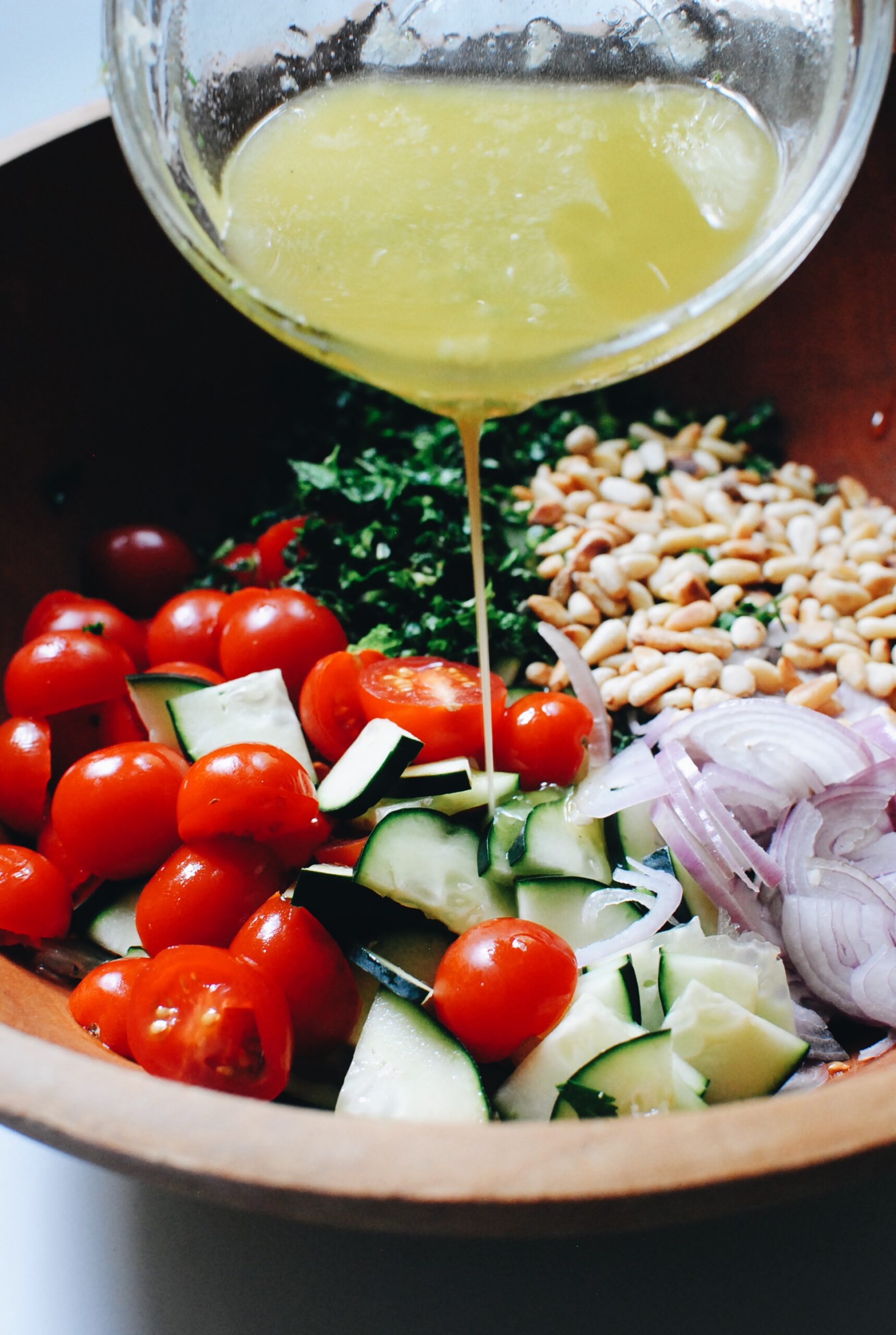 Oh! I completely forgot to mention cilantro. See all the mint way up there? Roughly a cup? You'll ALSO mince about a cup of cilantro with the mint. And then in a big wooden rustic bowl you'll combine the farro and herbs and shallots and cucumbers and tomatoes and toasted pine nuts and then you'll drizzle it all with your garlicky lime dressing and BAM. Grain salad o' giddy.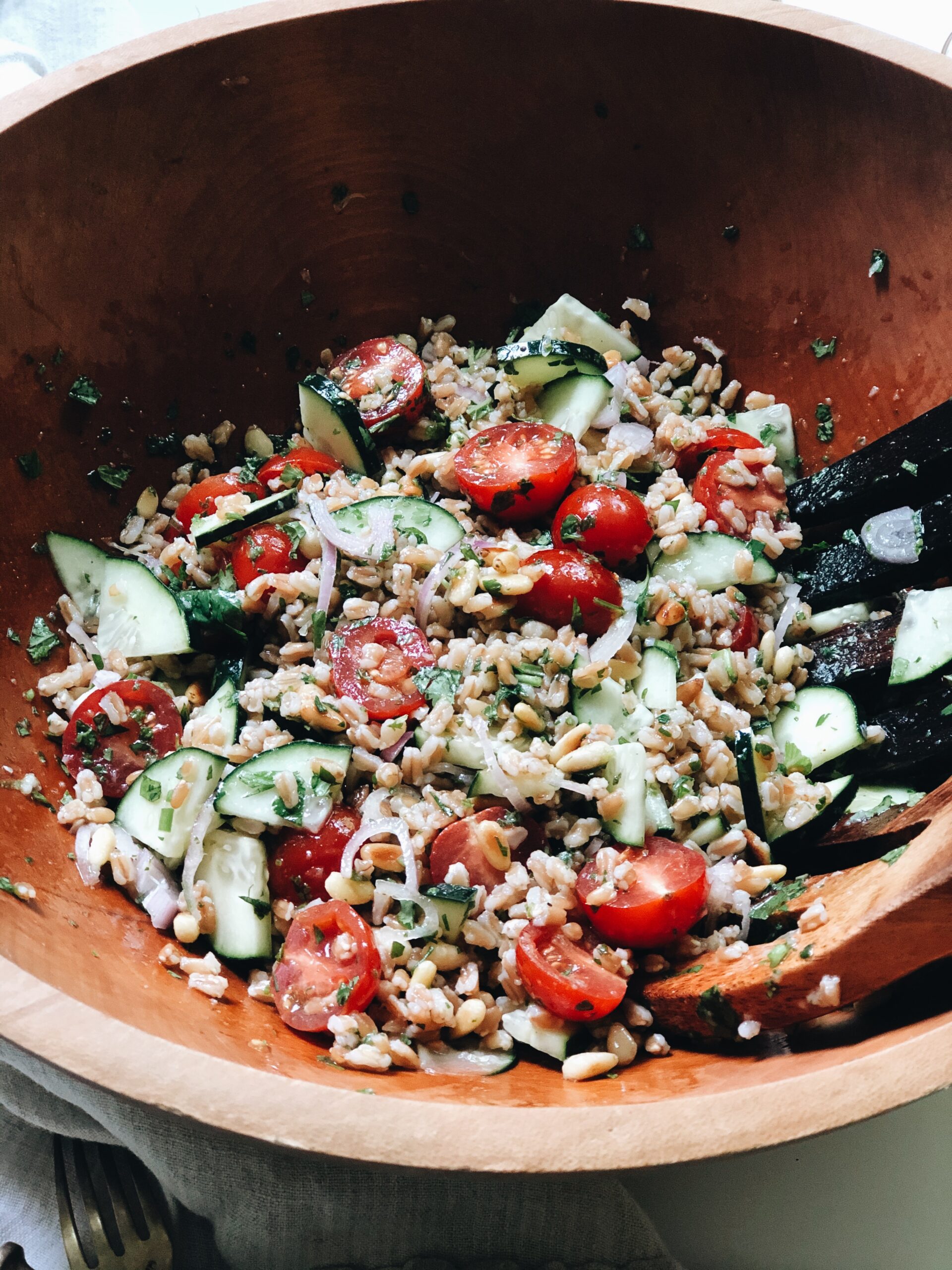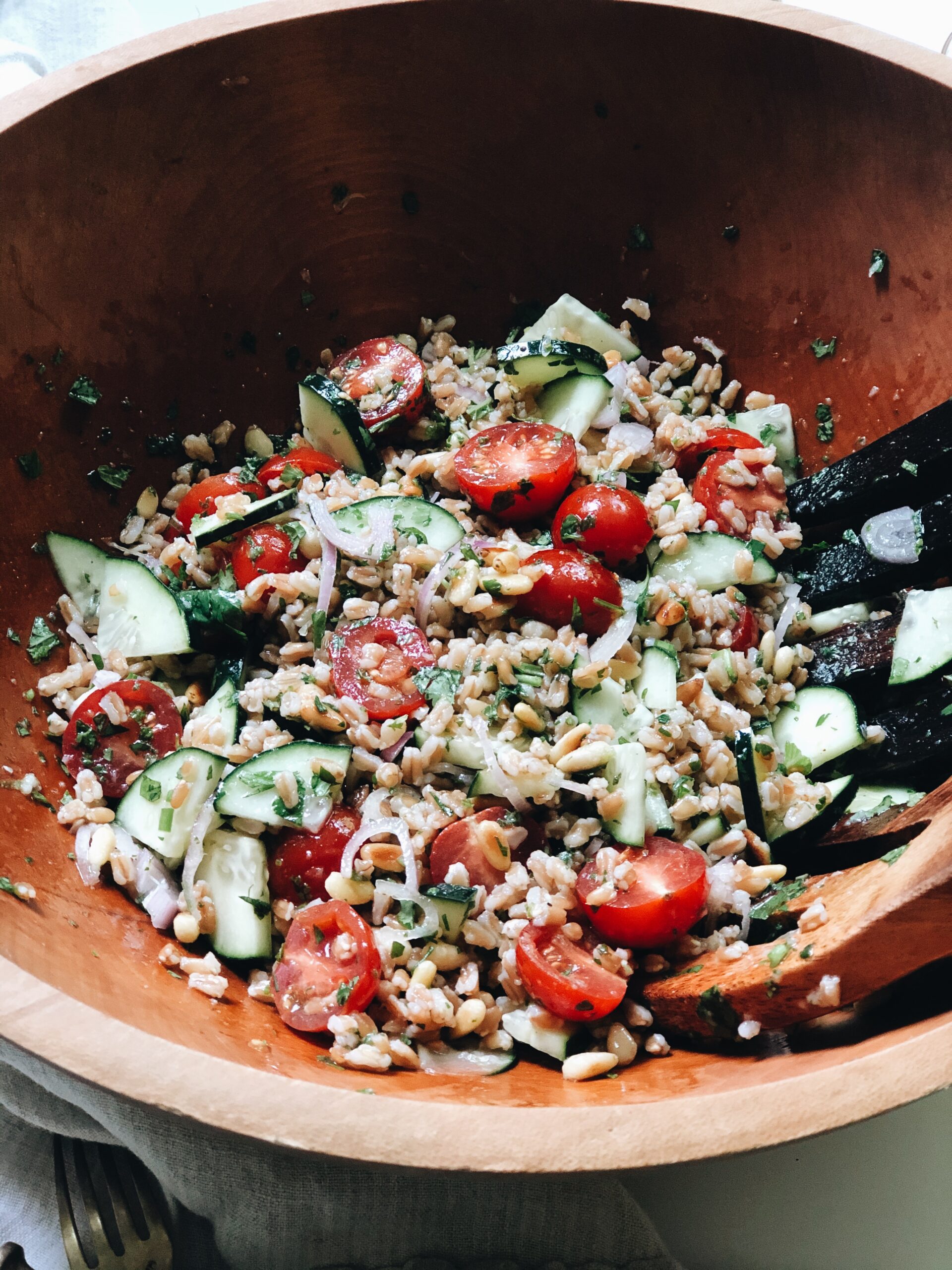 Like this. The KEY here is a citrus and salt. Get that all tossed. Now taste it. More salt? Most likely. ESPECIALLY if it sits in the fridge a while before you serve. Get it nice and flavorful. More lime? Yeah, definitely possible. You just want it bright with flavor and perfectly balanced. You'll feel it in your soul.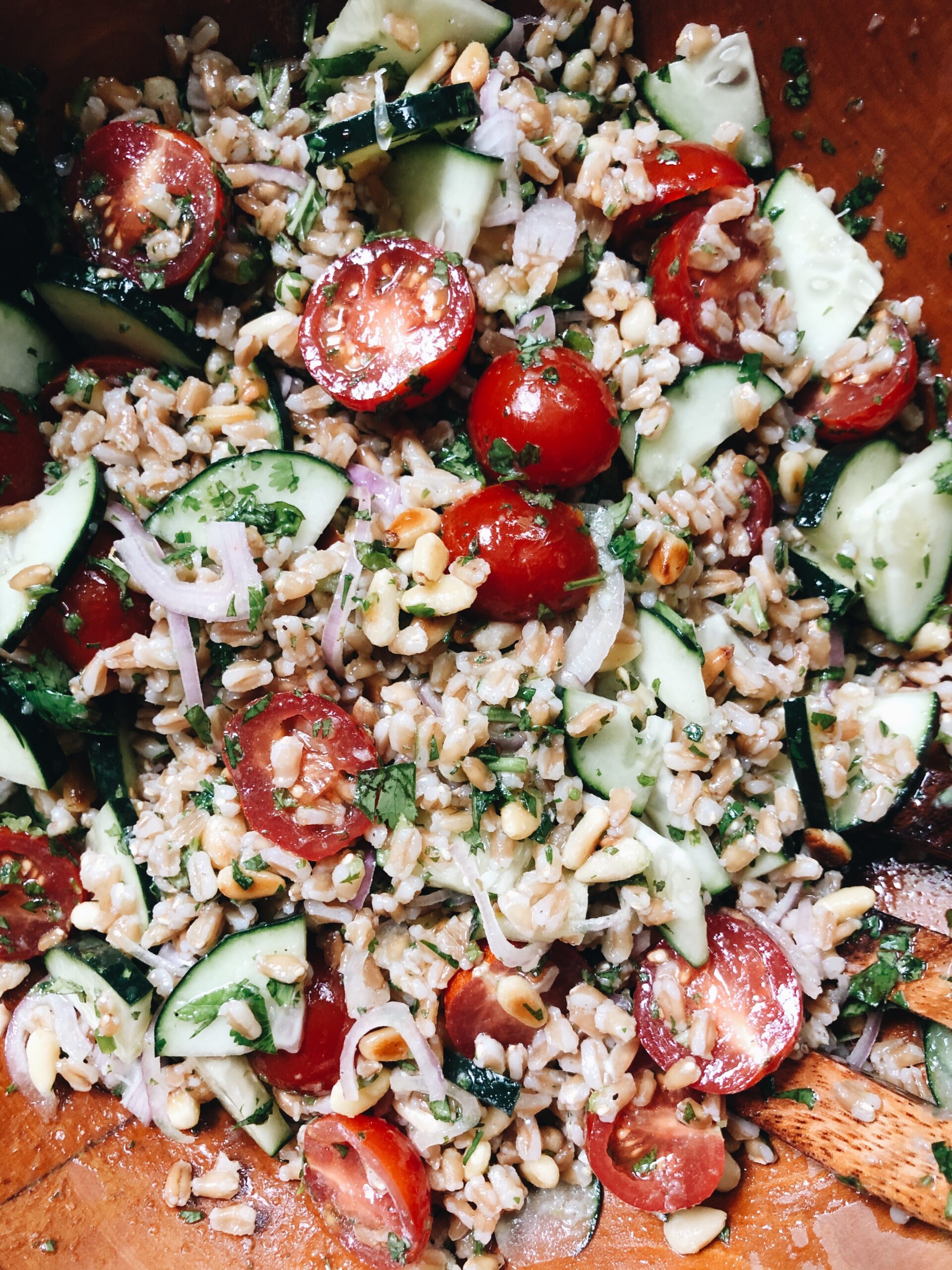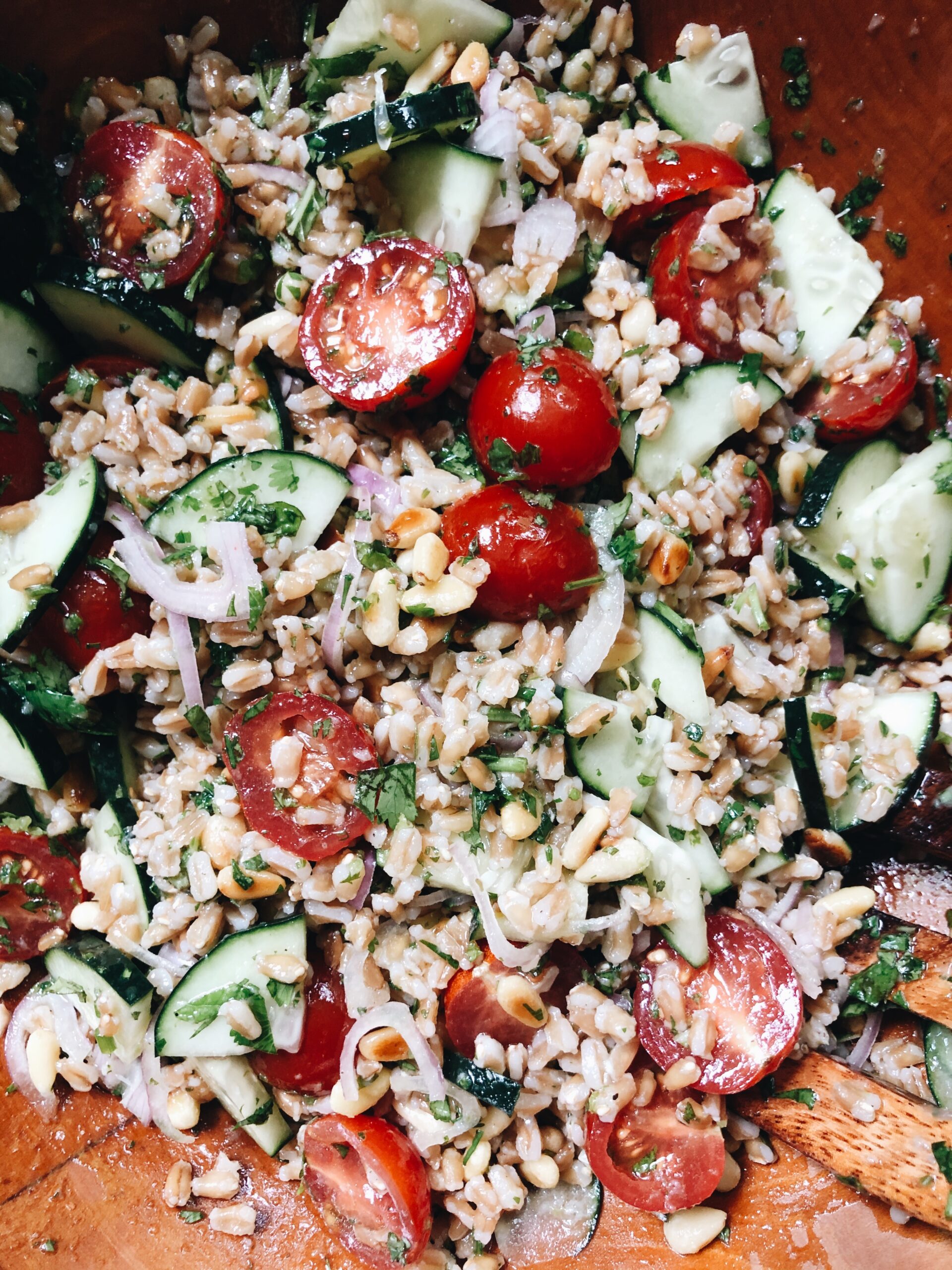 And honestly, if you've never tried farro, you must! It's a cinch to cook and works as a beautiful canvas of nuttiness under all that fresh vibrancy on top. And don't you think a good salty feta would totally work here? I do. Add the feta!
This is a gorgeous side to any summer meal. You could seriously grill some buttermilk-brined chicken and serve it on the side with a chilled Sancerre and call it. Done. Dunzo. (<–Sarah and Laura, that's for you.)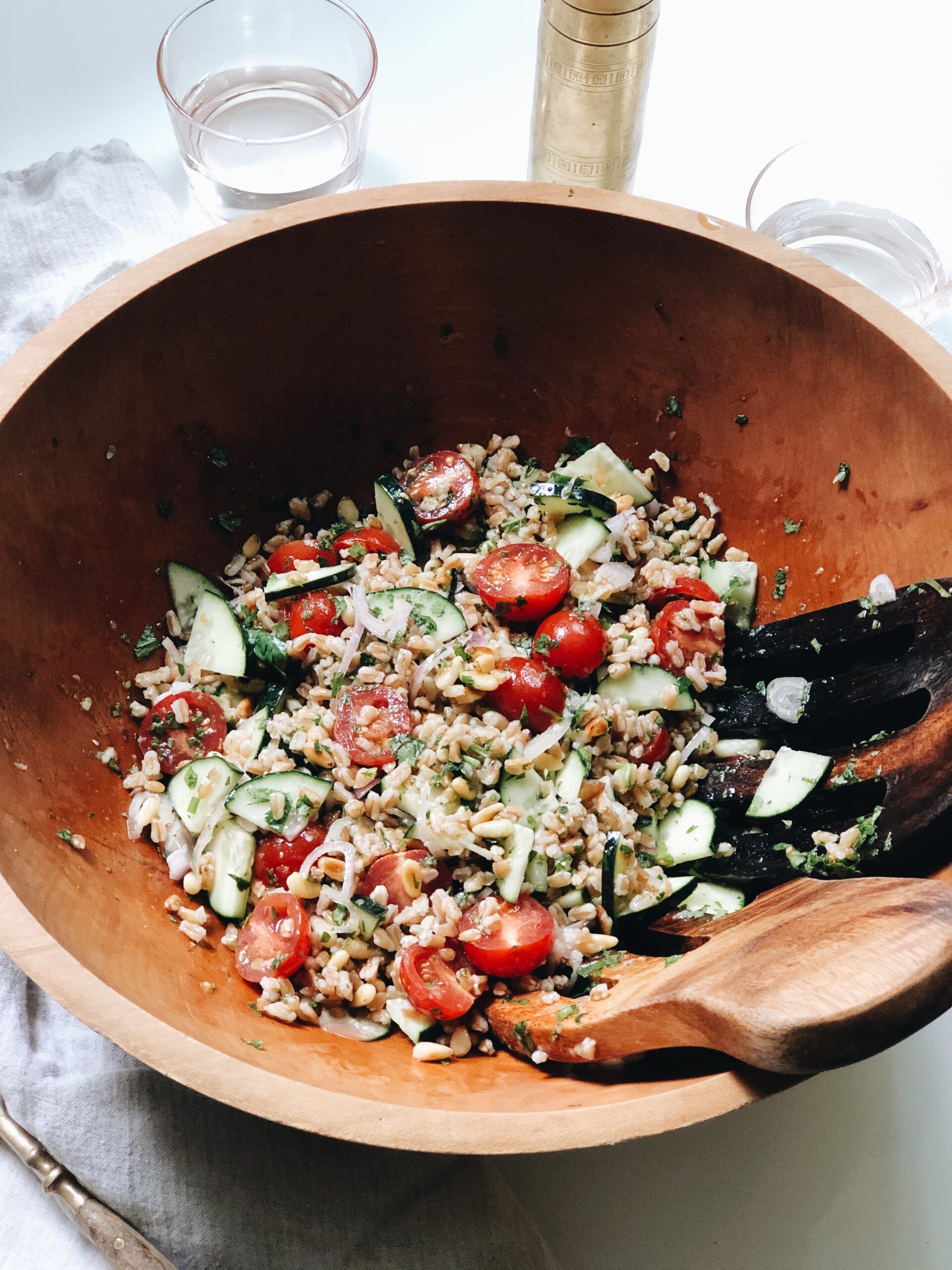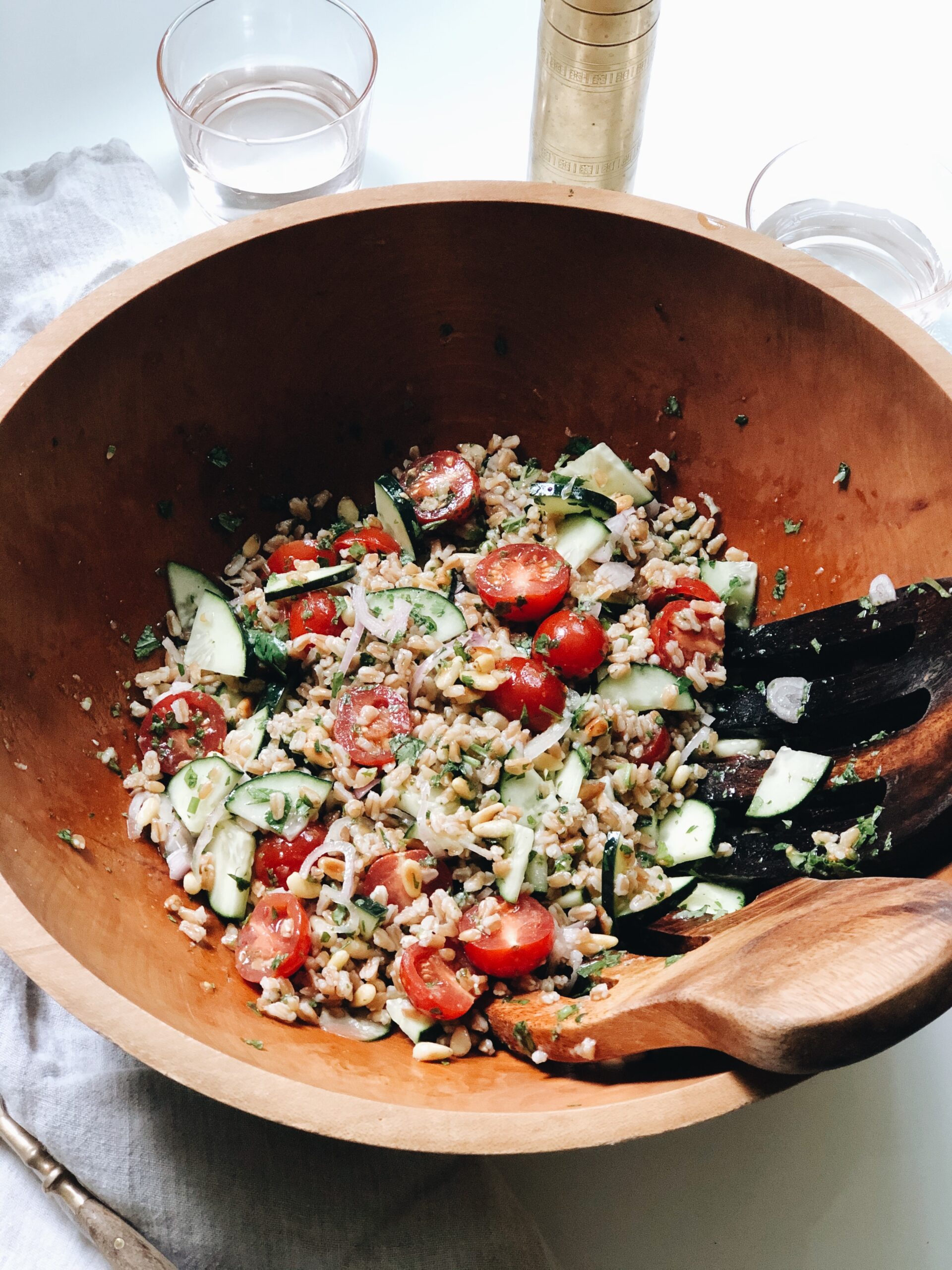 Get in that before I completely freak out.
Farro Salad with Cucumbers, Shallots and Mint
Ingredients
1 cup farro
1 cup cherry tomatoes, halved
1/2 large cucumber, sliced and halved
1 Tbs. thinly sliced shallots
1 cup mint leaves, minced
1 cup cilantro leaves, minced
1/4 cup pine nuts, lightly toasted
1 lime
3 cloves garlic, grated
3-4 Tbs. extra-virgin olive oil
Coarse salt
Instructions
Bring a medium pot of salted water to a boil. Add the farro and simmer on medium for 20-30 minutes, until the farro is tender and toothy. Drain and run under cool water for a few seconds.
In a small bowl, combine the olive oil, grated or minced garlic, the zest of the lime, juice from the lime, and a pinch of salt and pepper. Whisk this until emulsified.
In a large wooden bowl, combine the farro, sliced tomatoes, cucumbers and shallots, the toasted pine nuts and the minced herbs. Pour the garlicky lime dressing over the top, and gently toss to coat. Let this sit for a minute, then taste it. Need more salt? Probably so. Add a pinch! Maybe a little more lime? Go for it.
Serve immediately!
Makes four servings.
7.8.1.2
507
https://bevcooks.com/2021/06/farro-salad-with-cucumbers-shallots-and-mint/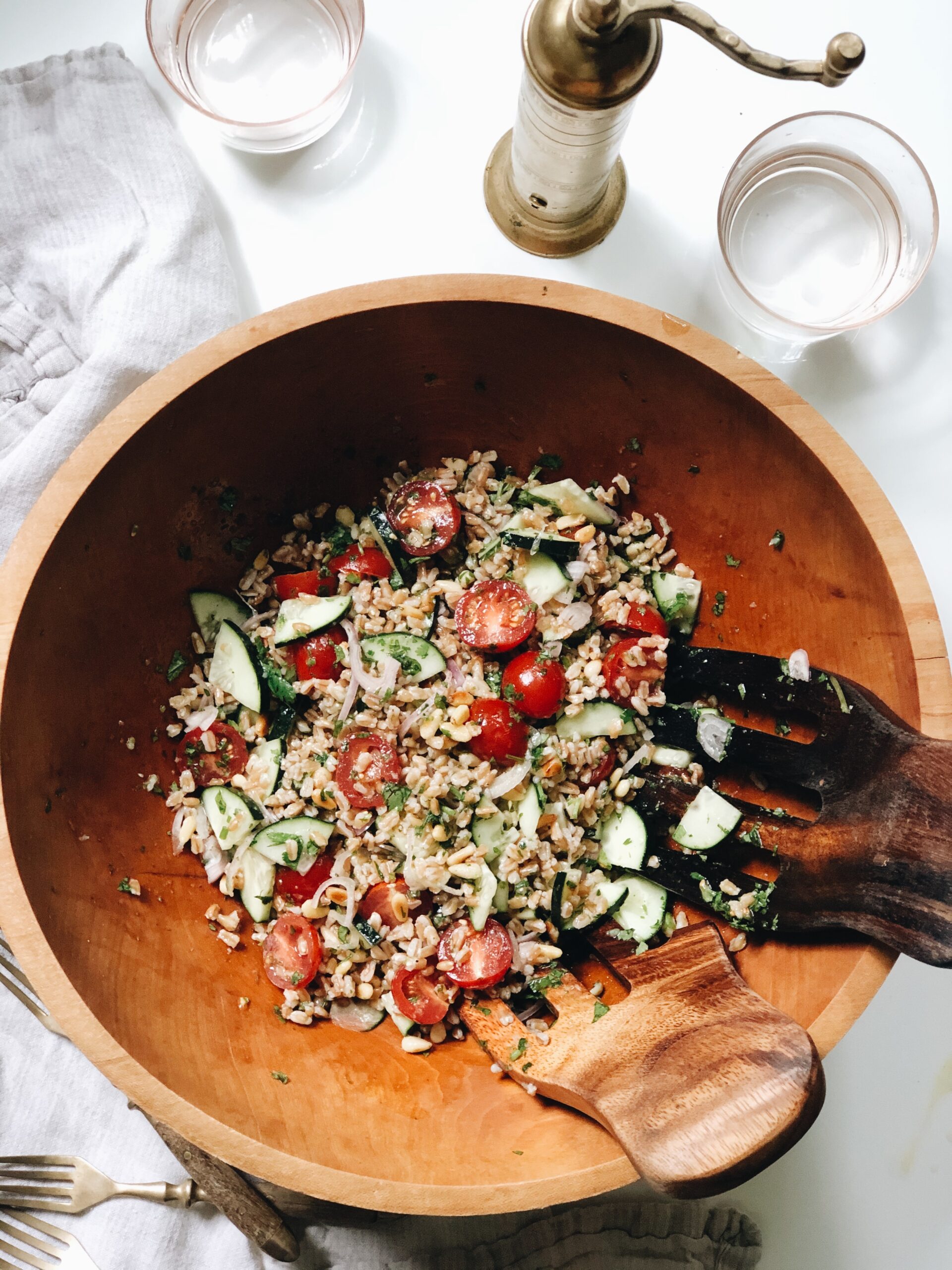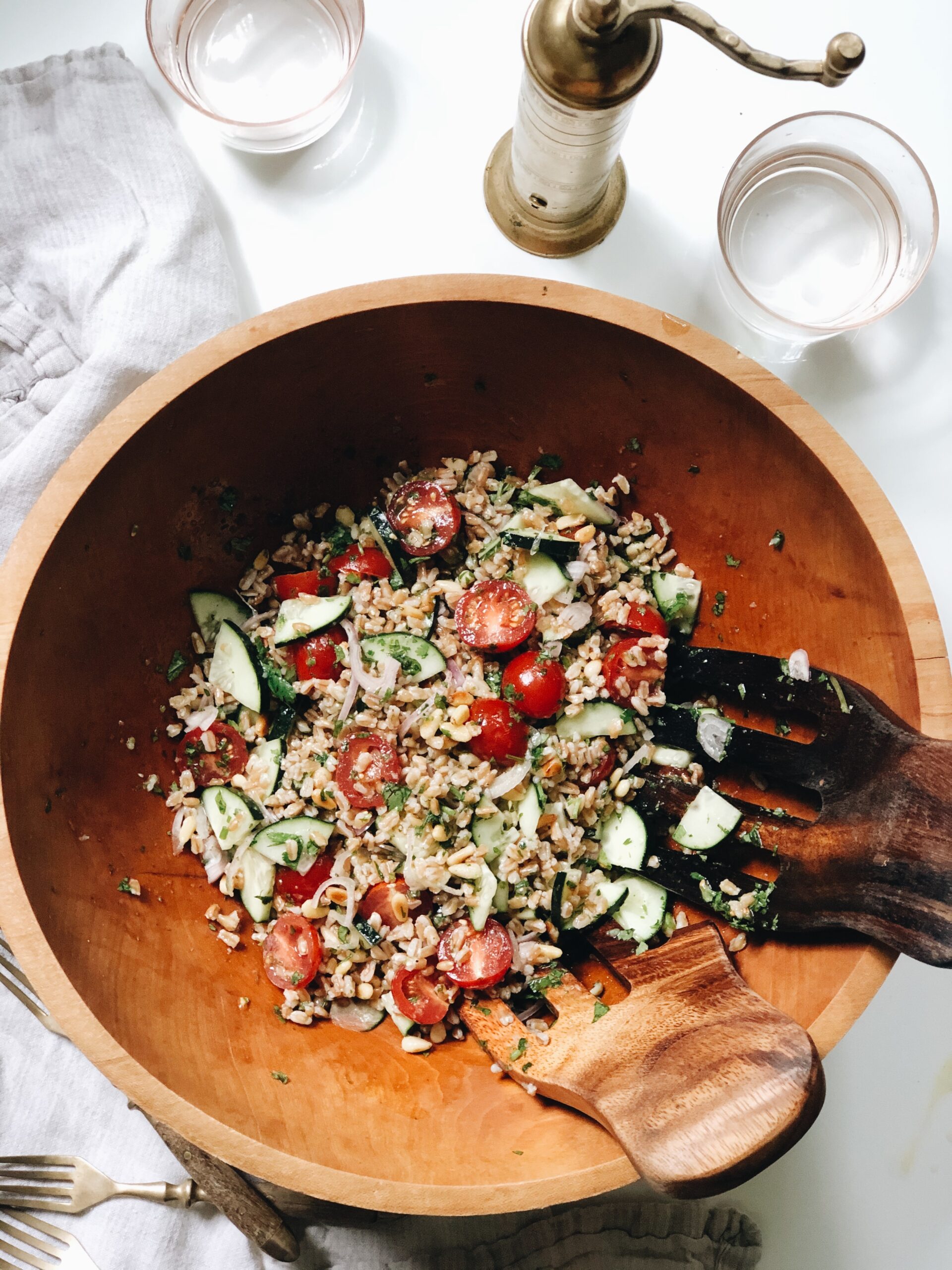 Make that two Sancerres.