Pouch food! We need to make our lives about it. And I'll tell you why.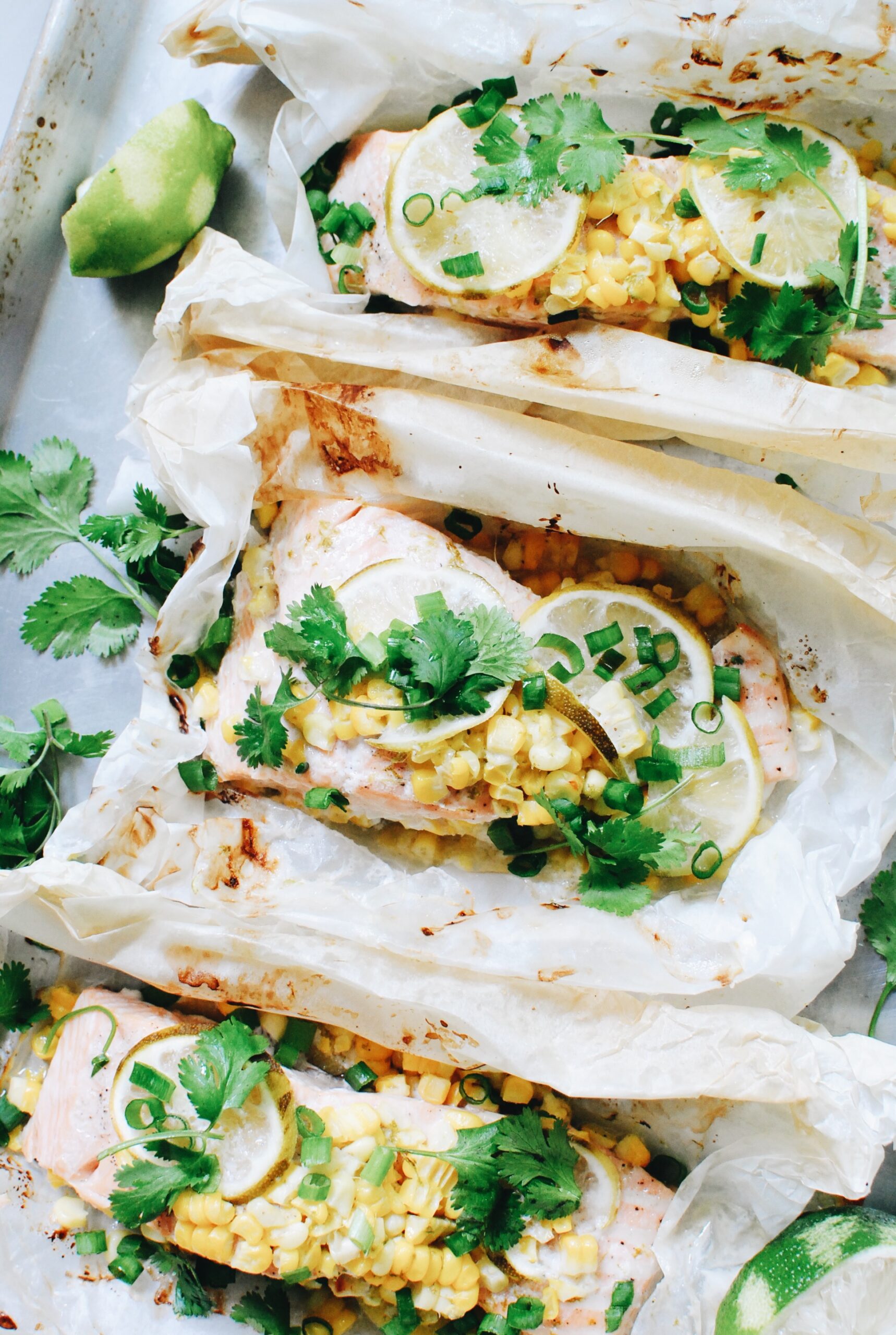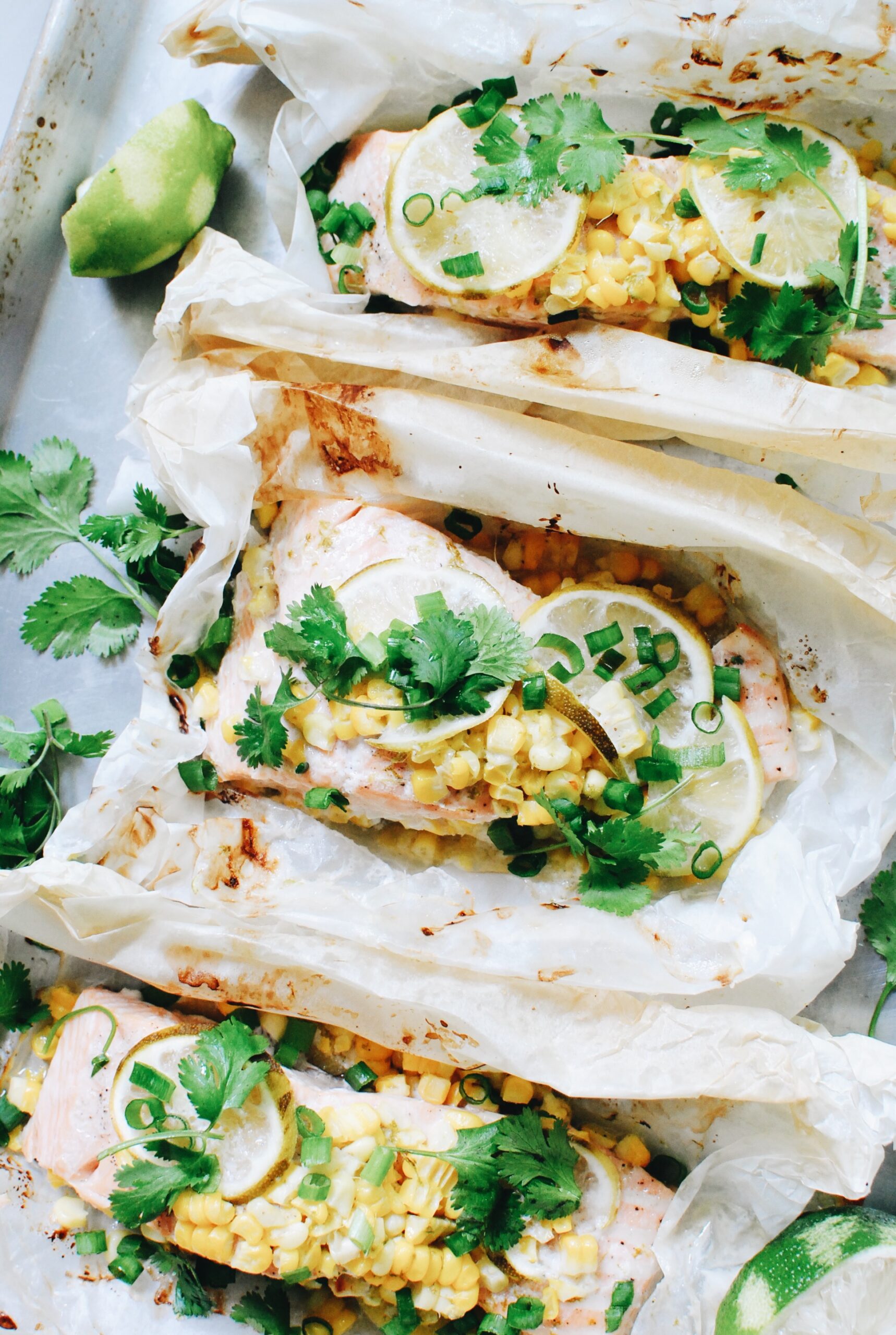 Besides the fact that pouches just make food fun. They do. This shan't be argued. Because when you unfold a pouch to welcome the gentle aromatic steam, it's like this little surprise of like, "Oh yeah, I just put all that in there. And now it smells good!"
But listen to what I did with this. Hold on, let's look at the ingredients first.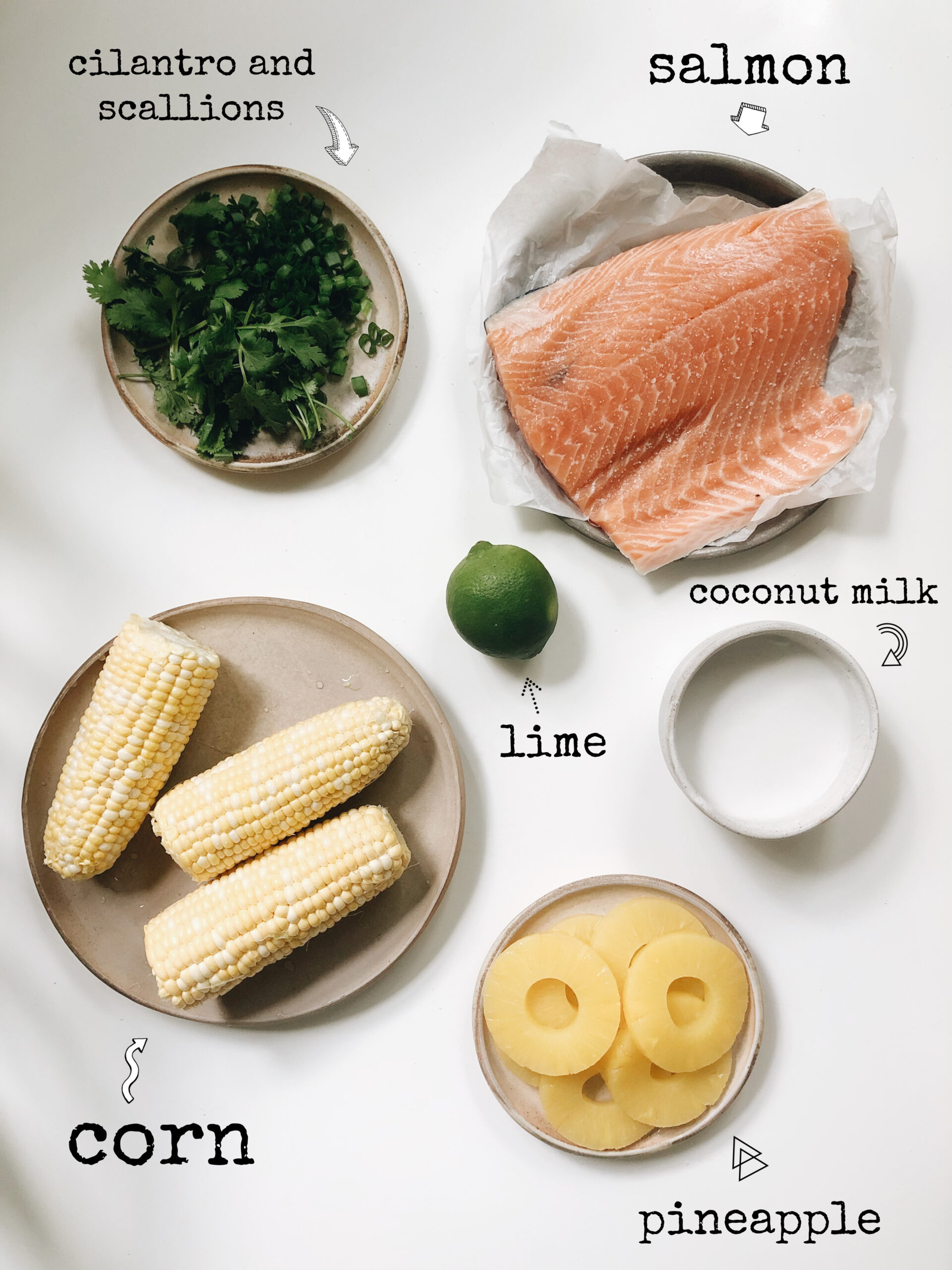 Looked at that canned pineapple, ha! You can DEFINITELY use fresh. My store was out of fresh rings (they only had it chunked), so I went with the canned and I'm still a good person.
We've got fresh corn, a lime, COCONUT MILK (<–that's where the magic happens), salmon, and some fresh herbs we'll garnish with post bake. Quite simple, you'd agree?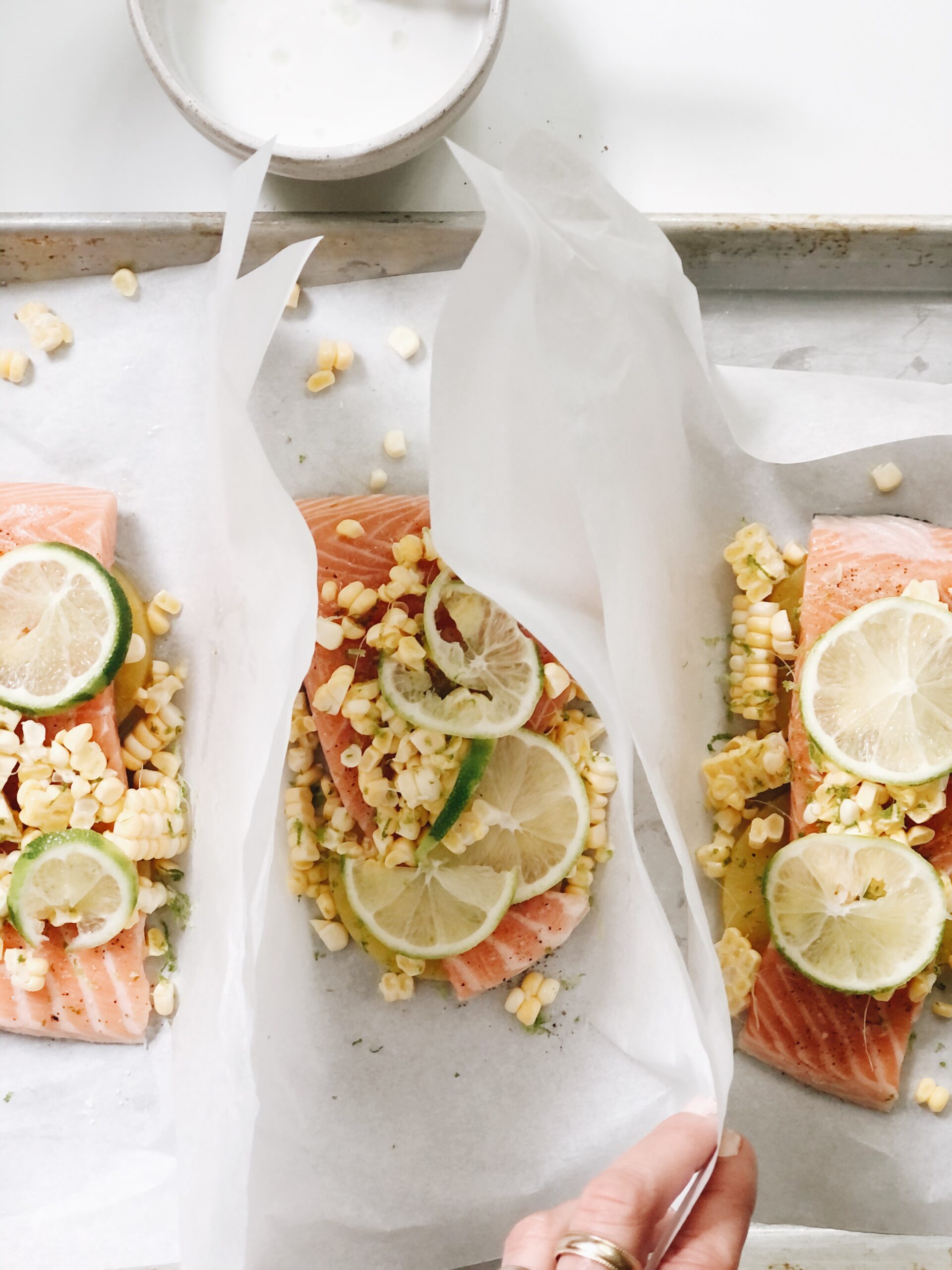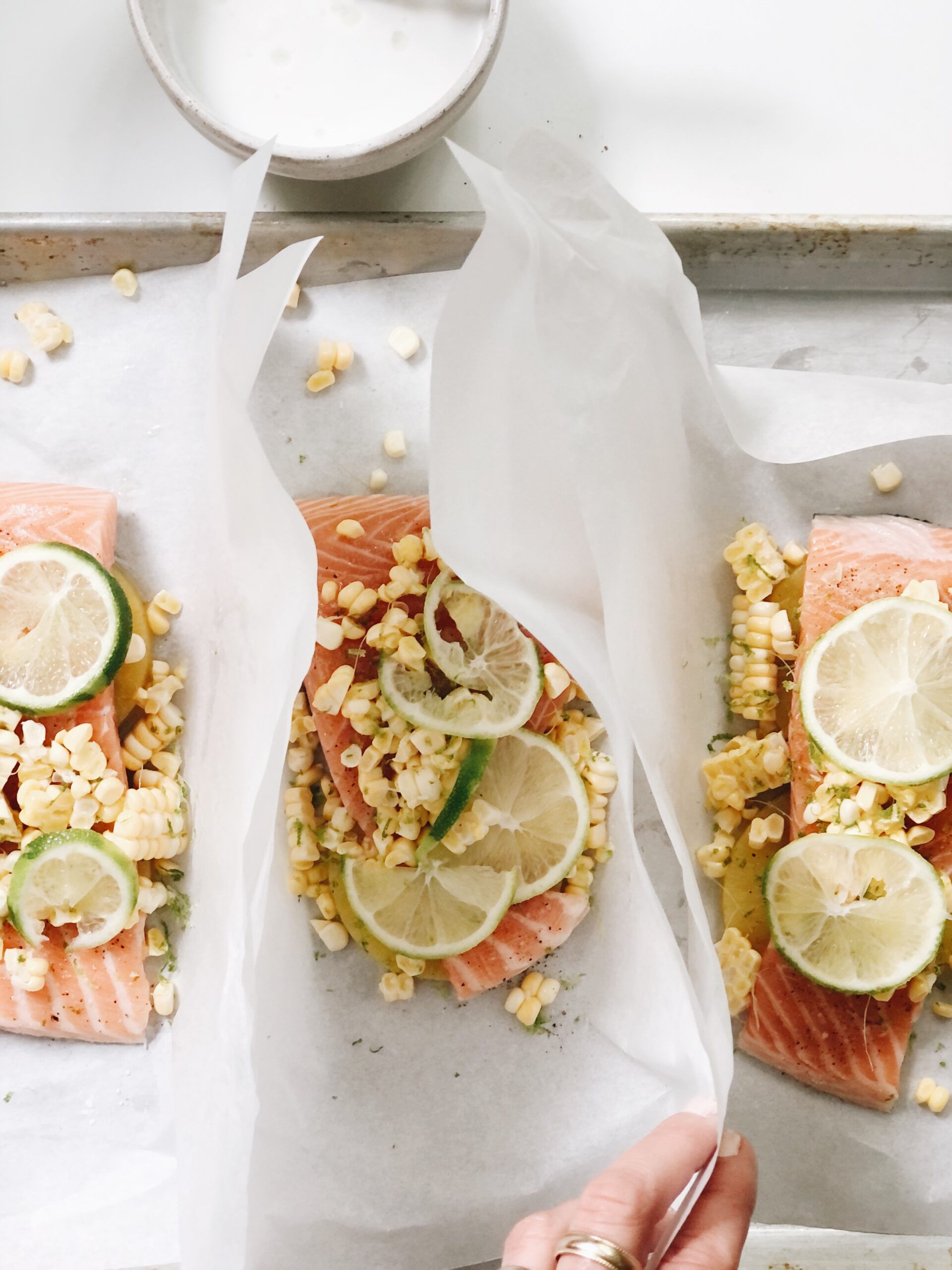 This is what we do – pineapple rings on the bottom, salmon on top, salt and pepper, then corn on top, then lime slices on top. THEEEEEEN. Just watch.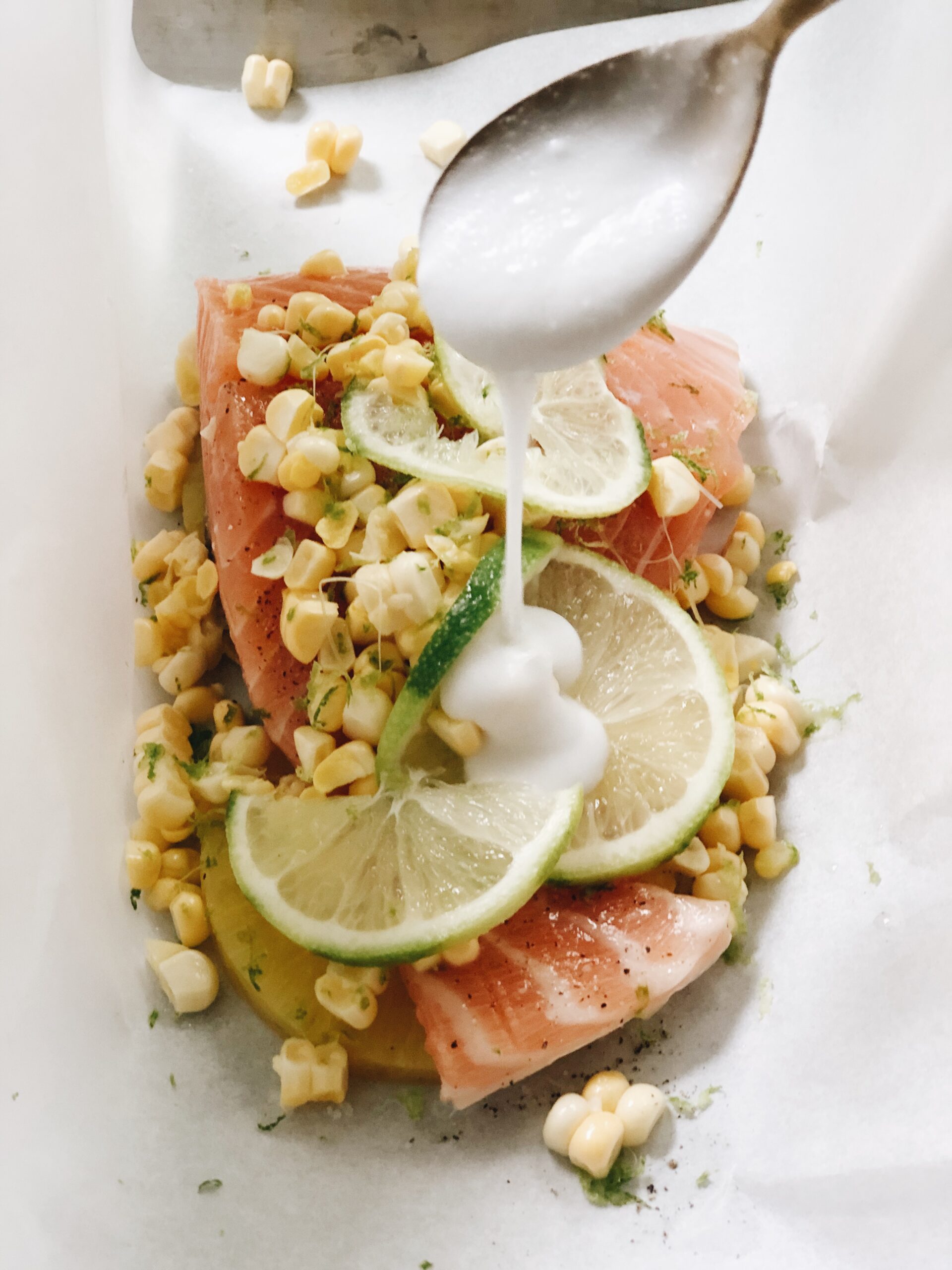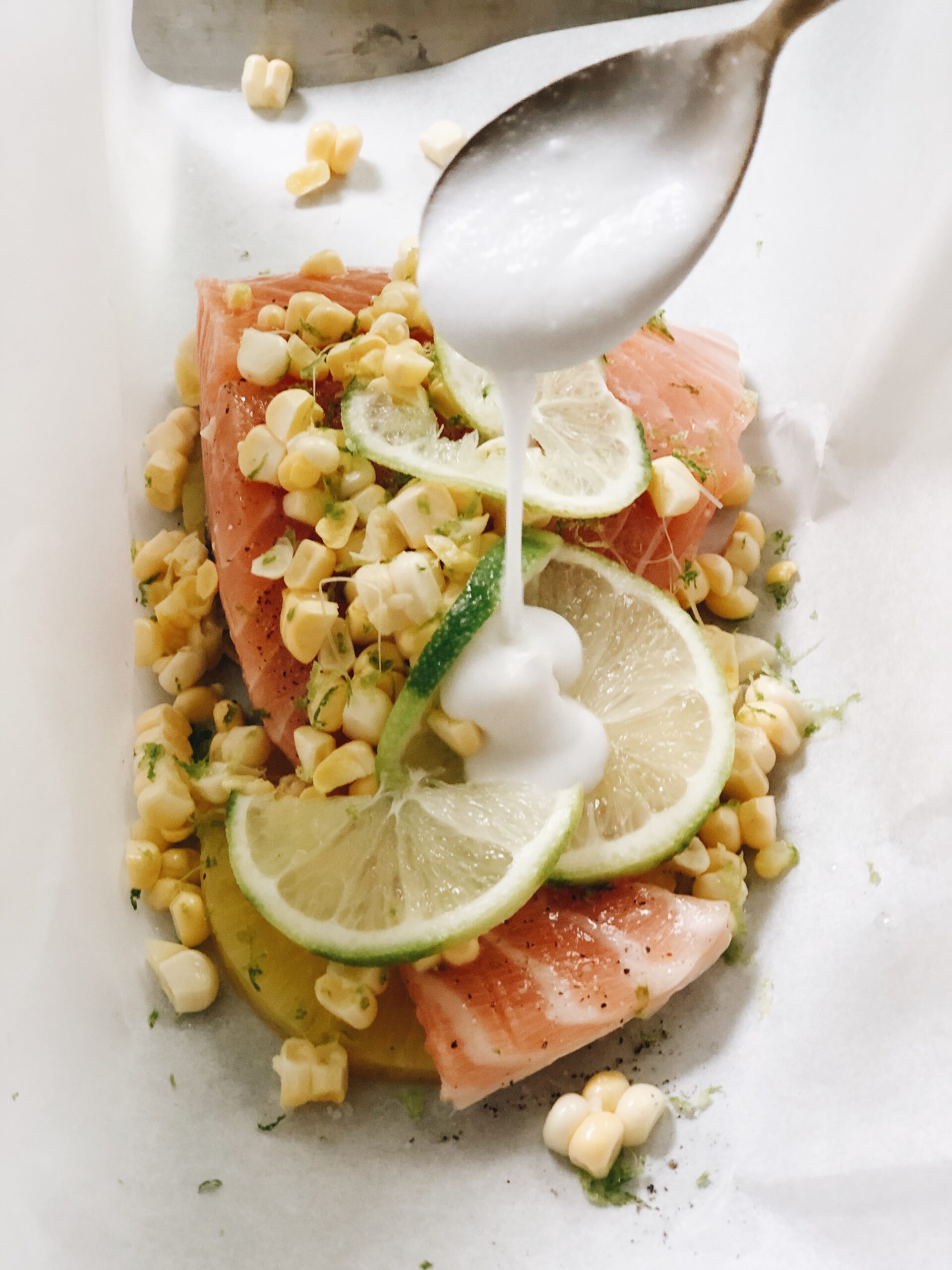 Let's drizzle some coconut milk over it all like the raging rebels we are.
And a few tablespoons of it. Make sure that coconut milk pools gently around the bottom. You want enough to really do something, ya know? Ya know. I know ya know.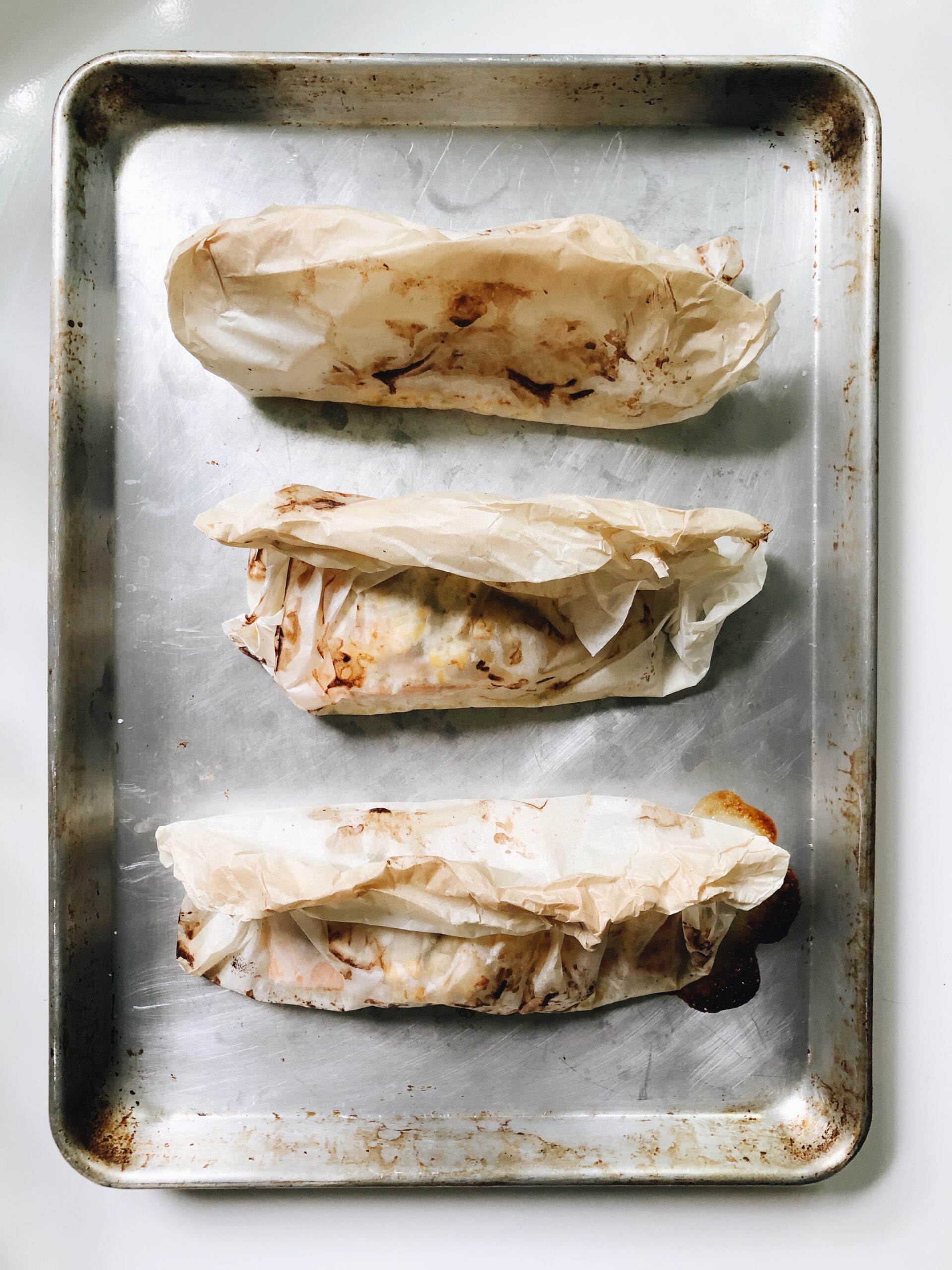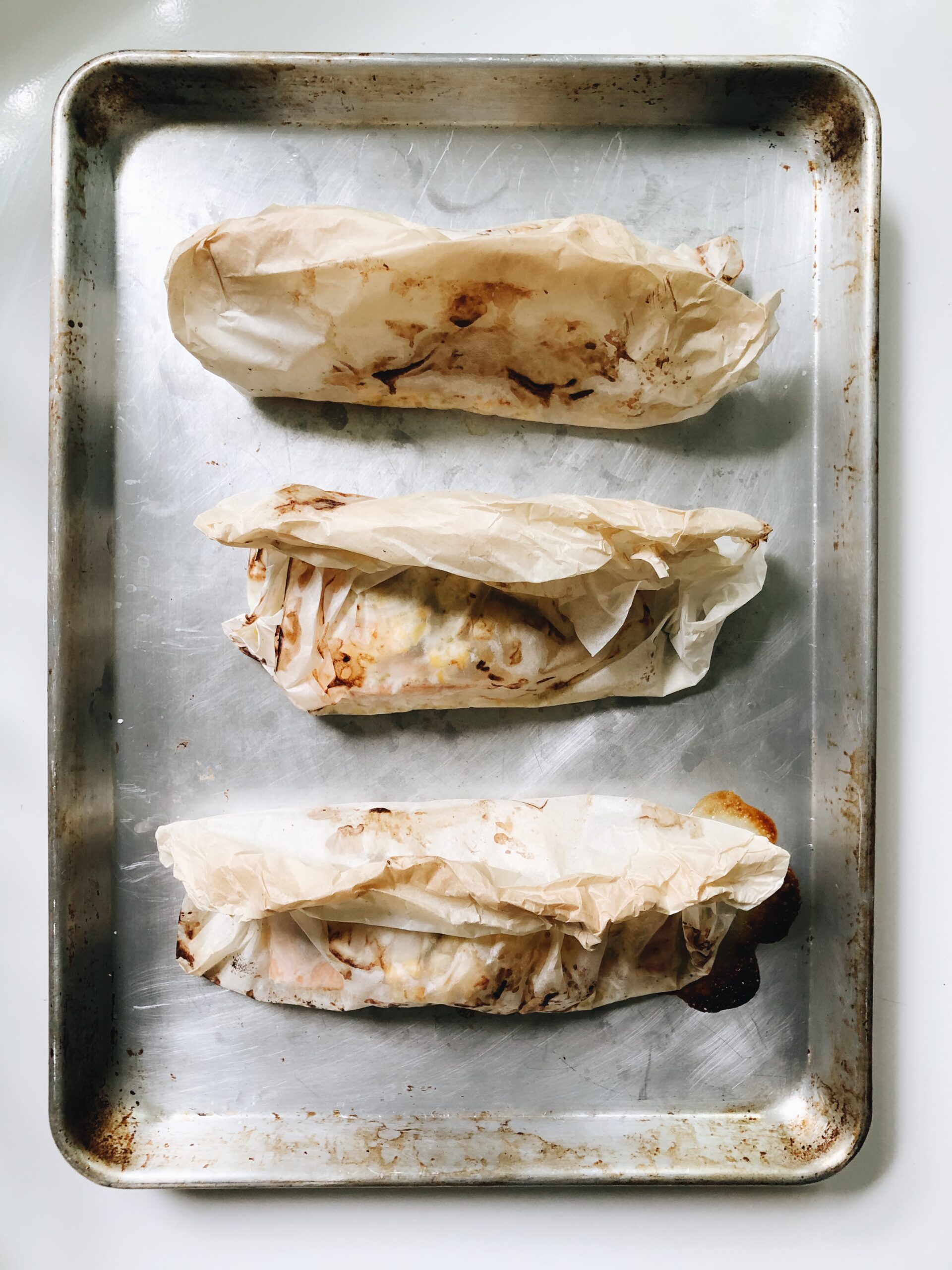 And there we have it! Parchment pouches + hot oven = cute little crisped-up packages waiting to be opened and devoured. So let's do just that.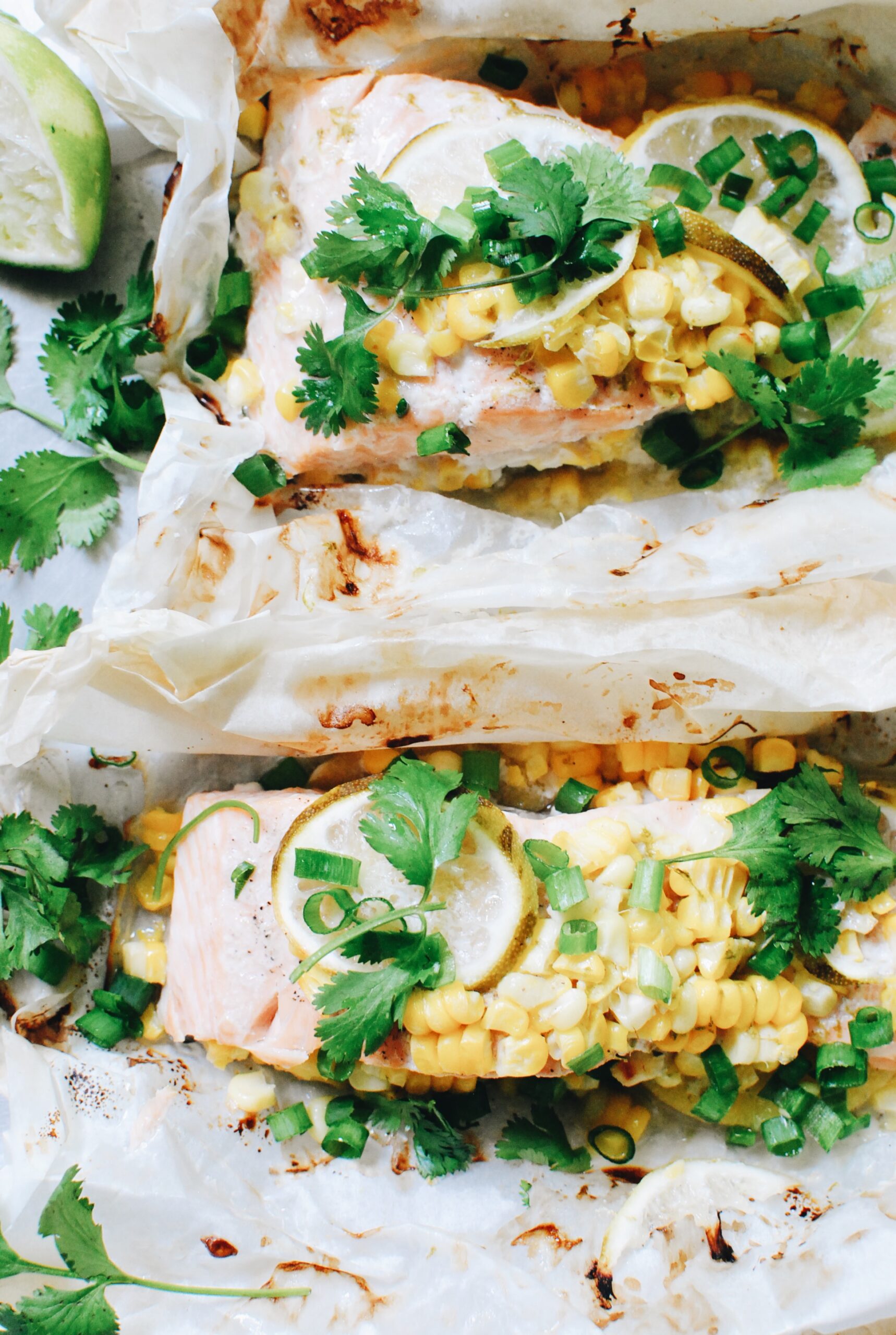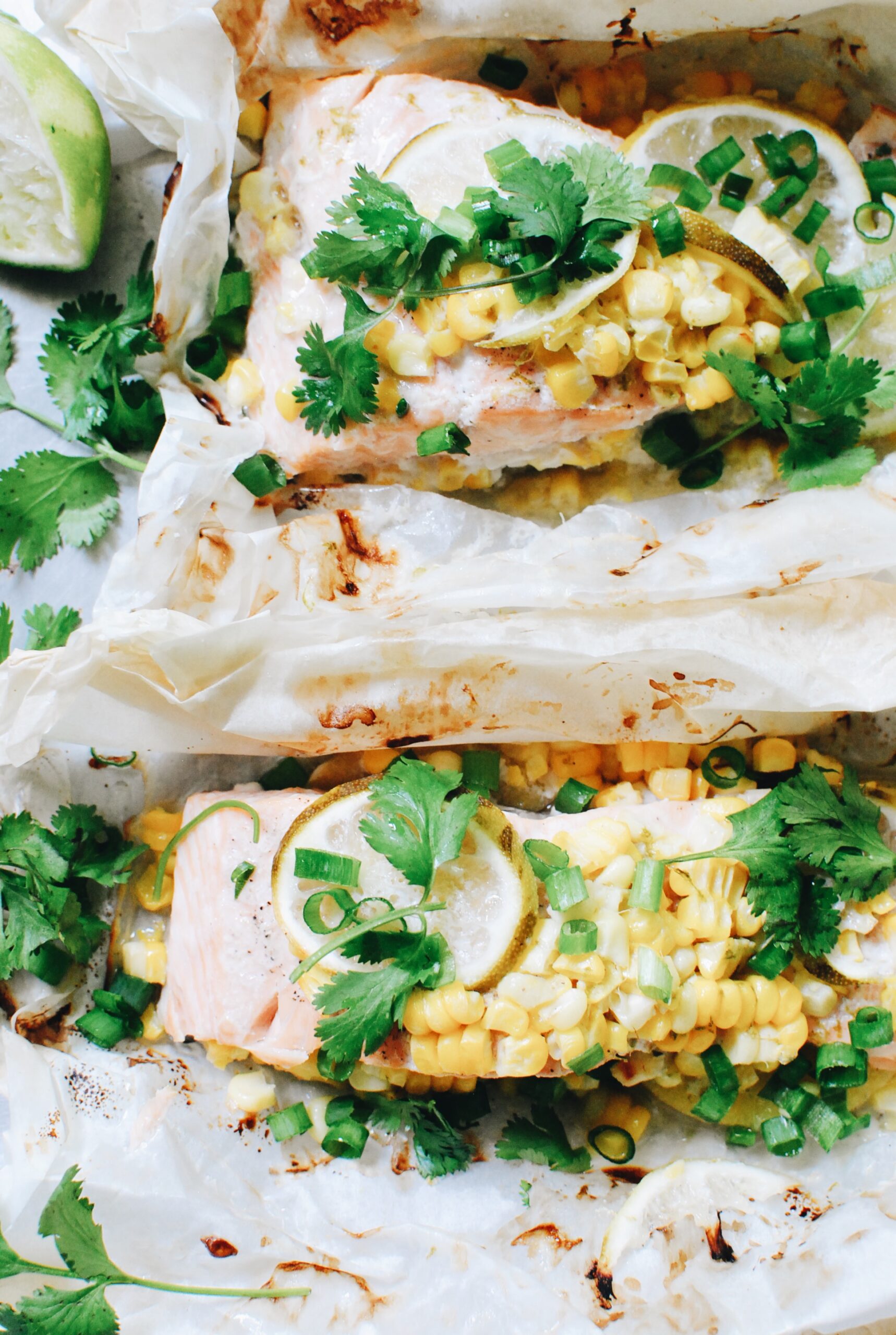 Um, look at that. The fish is exquisitely cooked through and tenderly flaky, the corn is softened and sweet, the lime has married with the coconut milk, and do you remember it's been sitting on top of a pineapple raft, right? RIGHT.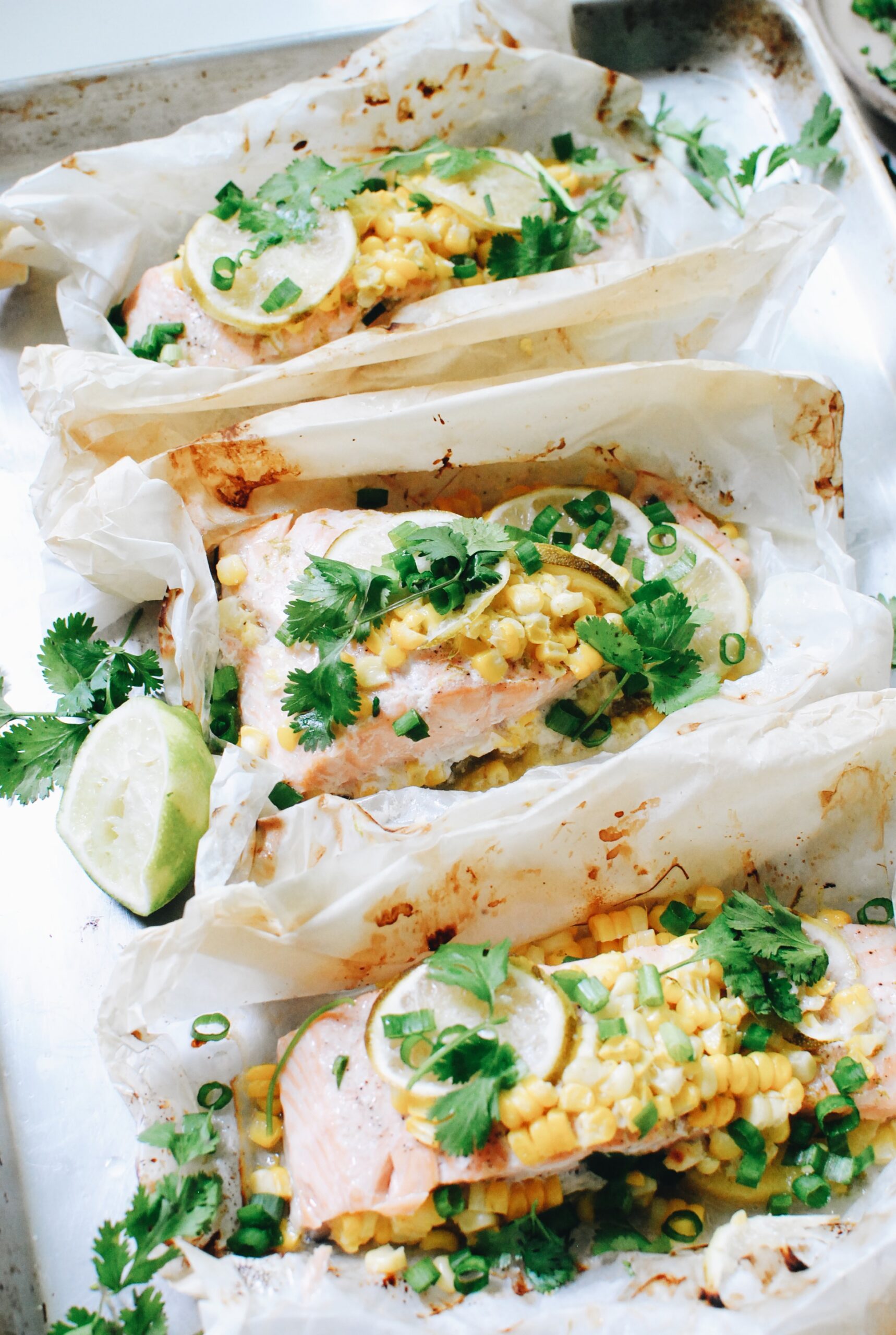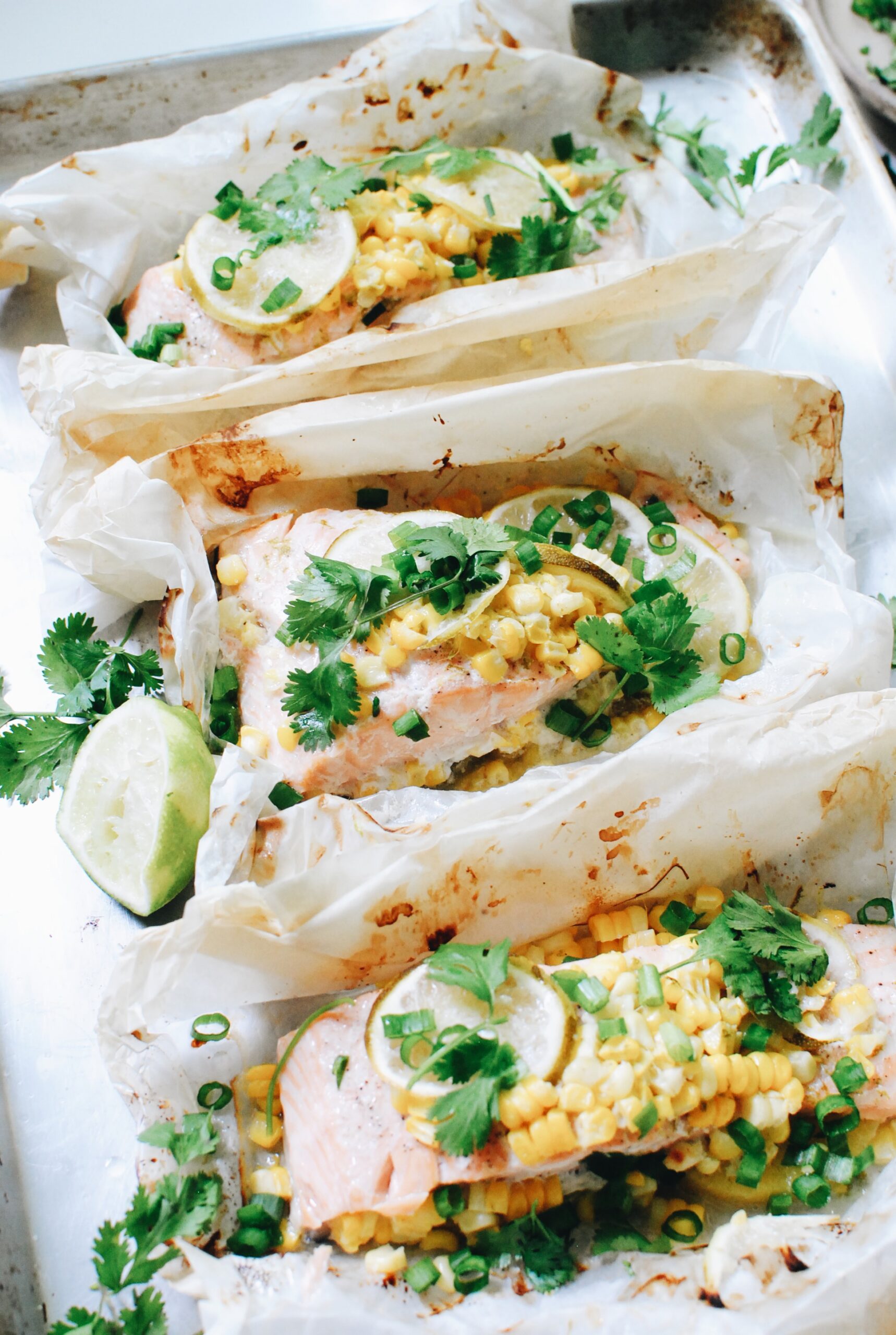 The cilantro and scallions are a bright, fresh finish once it's baked, and a spritz of extra lime juice will take them to 11. It's SO GOOD. Like, so so so good. The pineapple with the coconut with the flaky fish and sweet corn. Hey, you could add jalapeno for a kick!
This definitely makes me want to create more summery pouch food. Would you be into that? Like maybe with shrimp and tomatoes, or a white fish with another crazy citrus. You can do so much! We should do so much! I'll get right on that next week and get you another pouch recipe v soon.
You could also serve some white rice on the side if you need something extra. We inhaled these as is because it's honestly more filling than you might expect.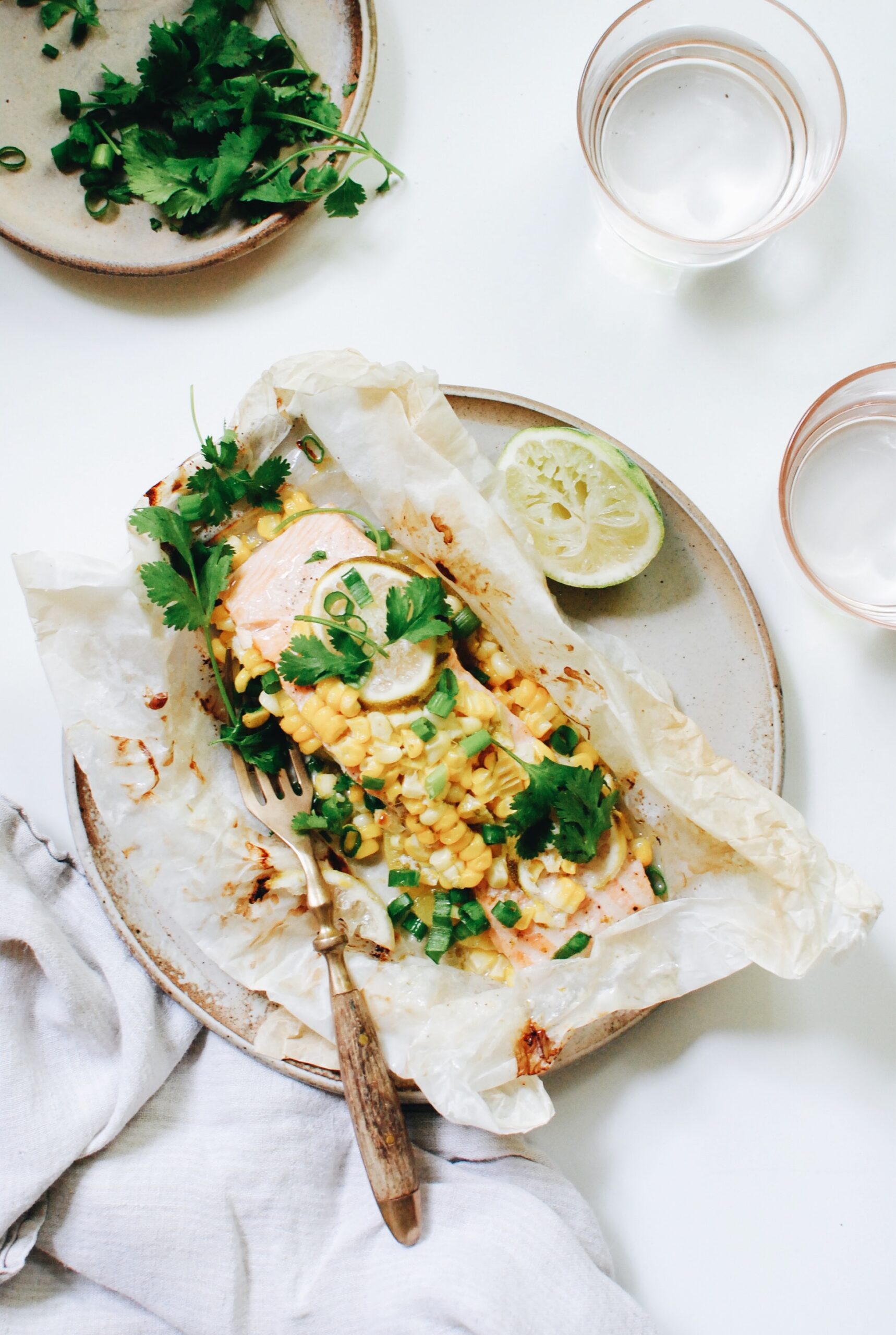 Pouch food! Just surrender.
Coconut Salmon Pouches with Pineapple and Corn
Ingredients
4 salmon fillets
1 (1.4 oz) can pineapple rings
2-3 ears of corn, kernels sliced
1/2 cup coconut milk (either unsweetened or sweetened is fine)
3 scallions, sliced
1/2 cup cilantro leaves
1-2 limes
Coarse salt
Instructions
Preheat your oven to 400.
Lay out four sheets of parchment paper. In the center of each, arrange two pineapple slices. Place the salmon filets on top, and season with salt. Sprinkle a few Tbs. of fresh corn on top, then arrange two or three lime slices to finish. Drizzle a few Tbs. coconut milk over the fish, then wrap the parchment paper around the fish, folding the top over and crimping to seal. Got it? Cool. Bake this for 25 minutes.
Now, gently open the crispy parchment paper and find your little steamy creations. (<—Sorry I get weird) Now garnish with scallions, cilantro and a few spritzes of fresh lime juice and you're set! It's SO GOOD.
Makes four pouches.
7.8.1.2
508
https://bevcooks.com/2021/06/coconut-salmon-pouches-with-pineapple-and-corn/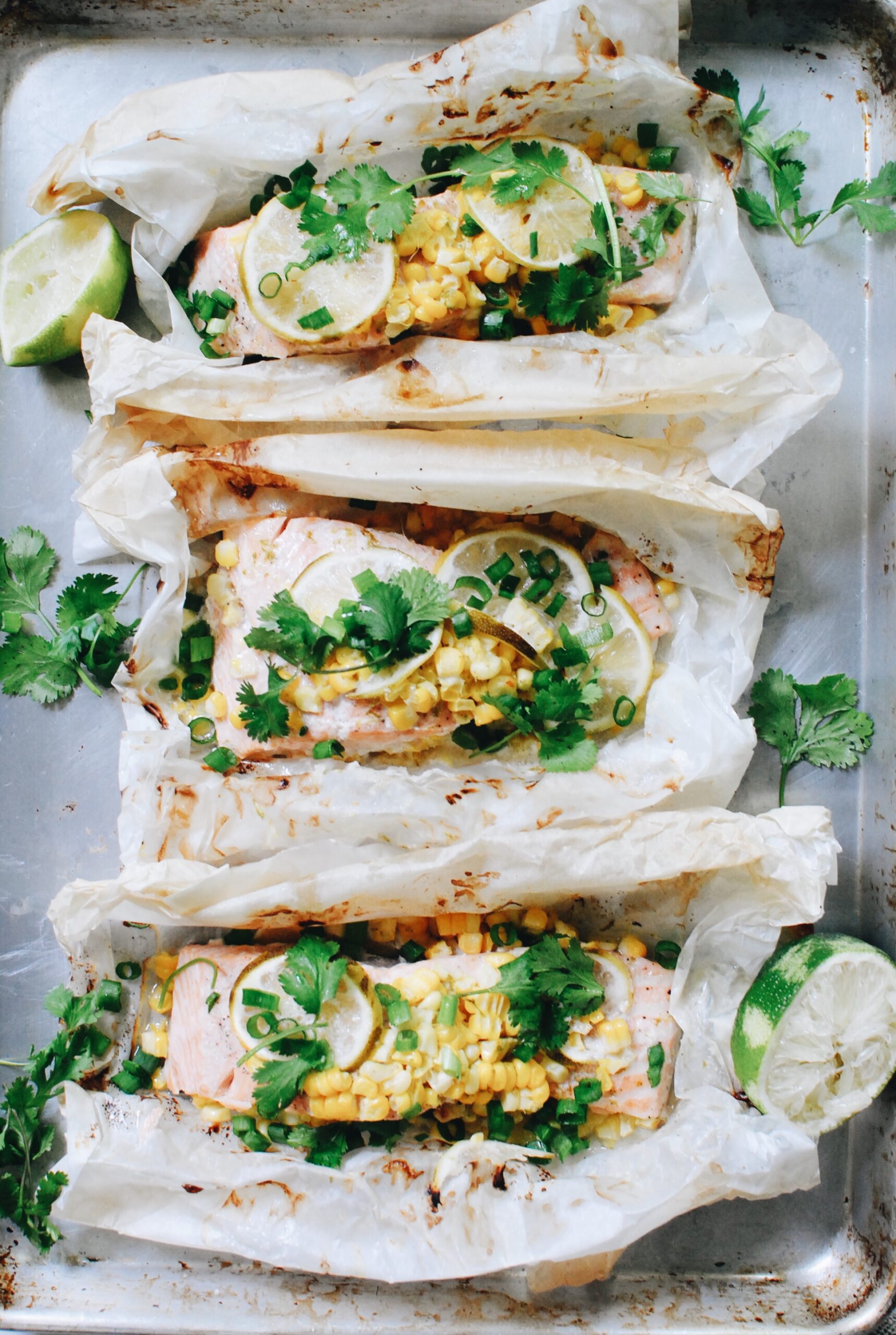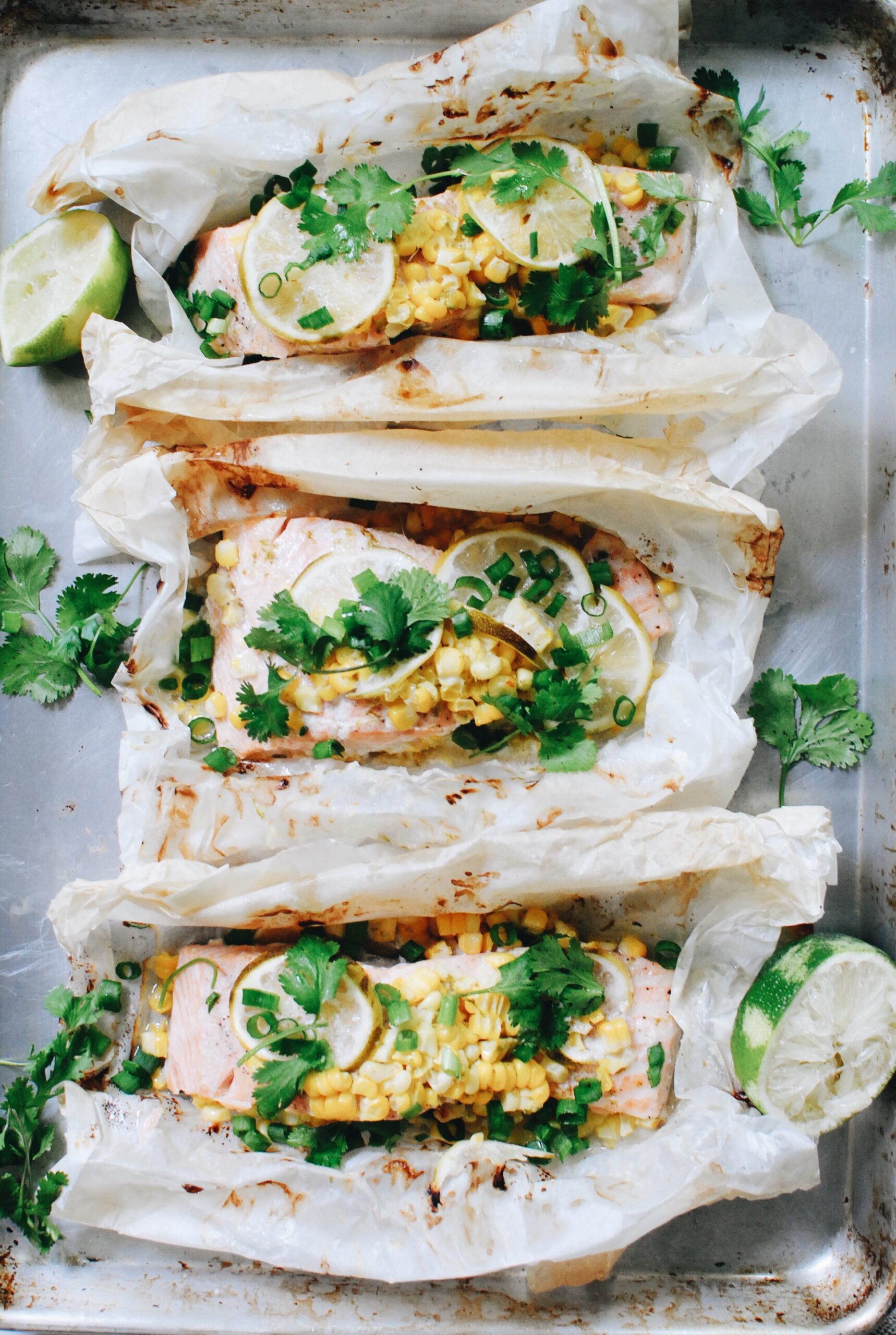 I might need to make these tomorrow or now.