And it's vegetarian! I'm sure you picked up on that.
You'd never believe it if I told you, but I'm telling you anyway – my kids love mushrooms. Like, they LOVE mushrooms. I gotta be honest, I didn't see that one coming. Aren't mushrooms the gateway flavor to say, a 17 year old's palate? Yes, I'm as shocked as you are right now.
But look, you get a mushroom pasta out of it! (so did they)
Let us peepeth.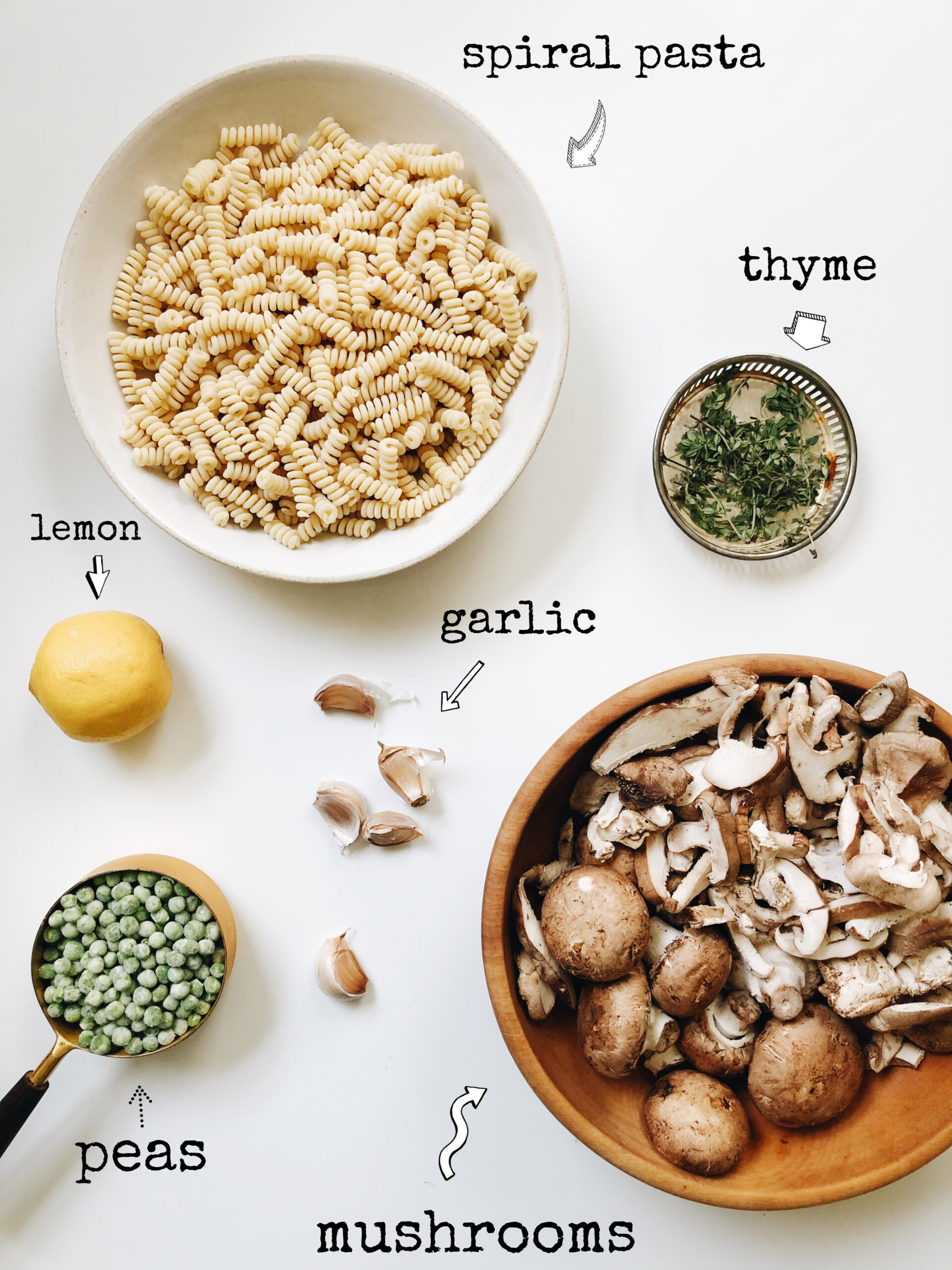 SUPER straightforward. The only thing you'll need to think about are the 'shrooms, bruh. Get two kinds! Baby Bella (Edward Cullen not included), and shiitake. I bought my shiitake's creek already sliced, but if you only find whole, snag those and slice 'em up.
And you've probably got some frozen peas in your freezer, right? Go check, I'll wait.
. . . .
.. . . . . . . .
.. . . . .. . .. . . . .. . . . .. .. . . .
Told ya!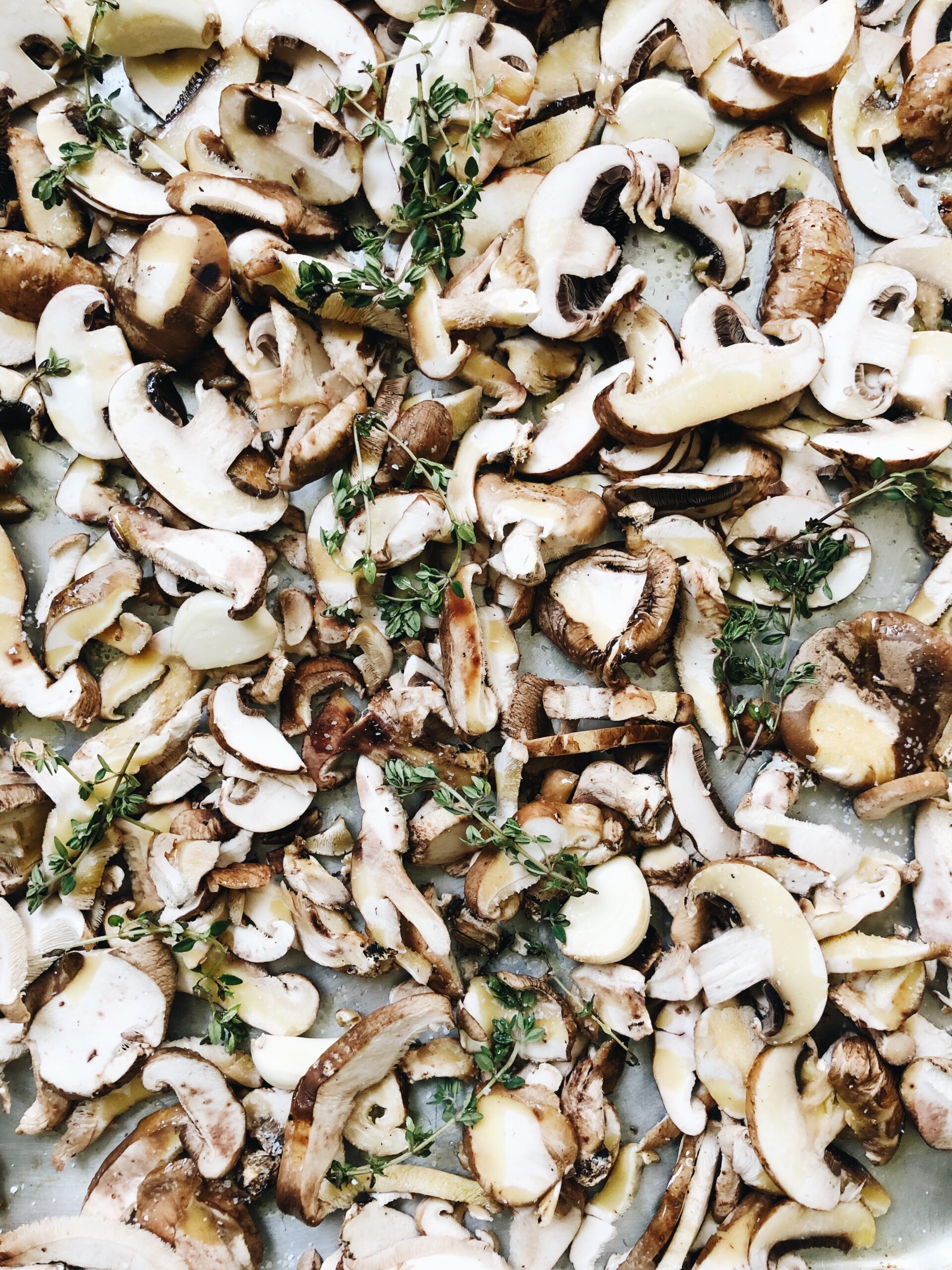 We're going to roast our mushrooms. I mean, of course we are. You can sauté them, but I love the hands-off method here. On top of that, the flavors yield a slightly different vibe than a flash visit on a stove top. Scatter them with plenty of fresh thyme, and a few whole garlic cloves. Out of their skins, just nestle them right in with the mushrooms. We're gonna make some magic with them post roast.
We're starting a band called Post Roast.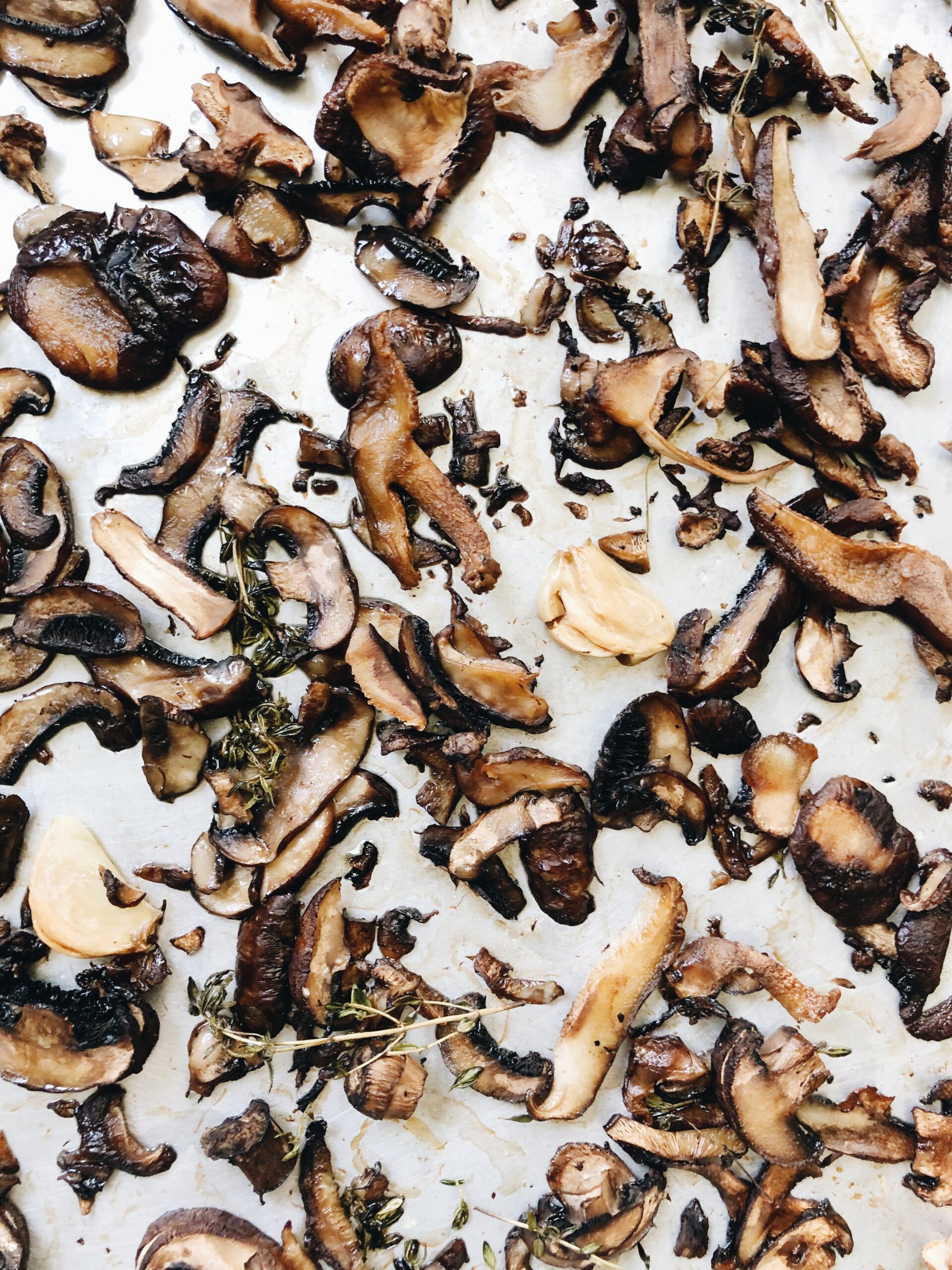 YA-HUM. If you need to stick one in your mouth because you're a human being, jump in. This is why we roasted a lot. They SHRINK DOWN, man.
Also, you're boiling pasta while we're roasting, to save time. See how I take care of you?
Don't answer that.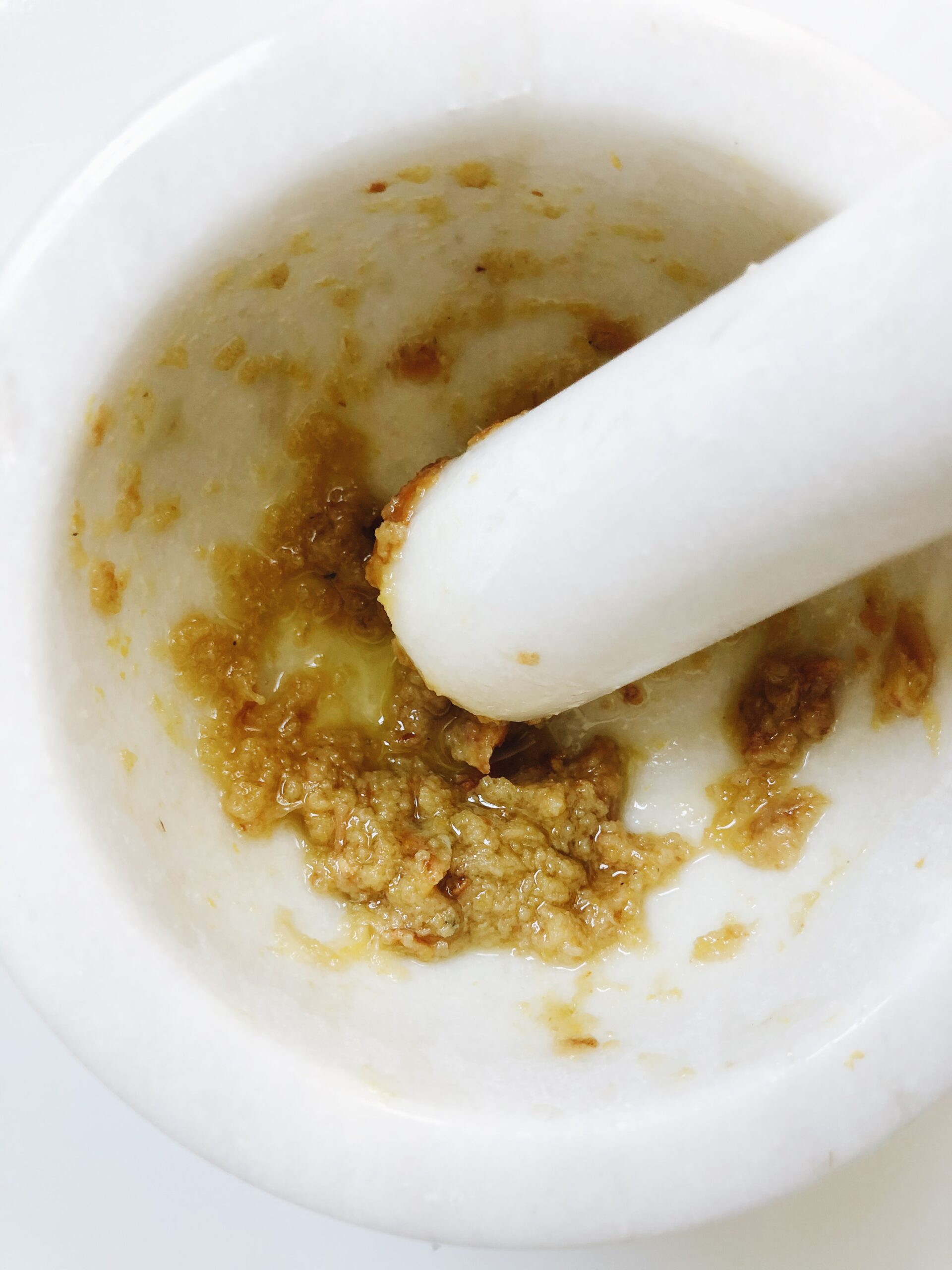 Nooooow, grab those deliciously tender garlic cloves off the pan and mash them up with the zest from the lemon, a pinch of salt and oil in a mortar and pestle. If you don't have one, you're still a good person. Just mash it up in a bowl. This is the one I have and I loooove it.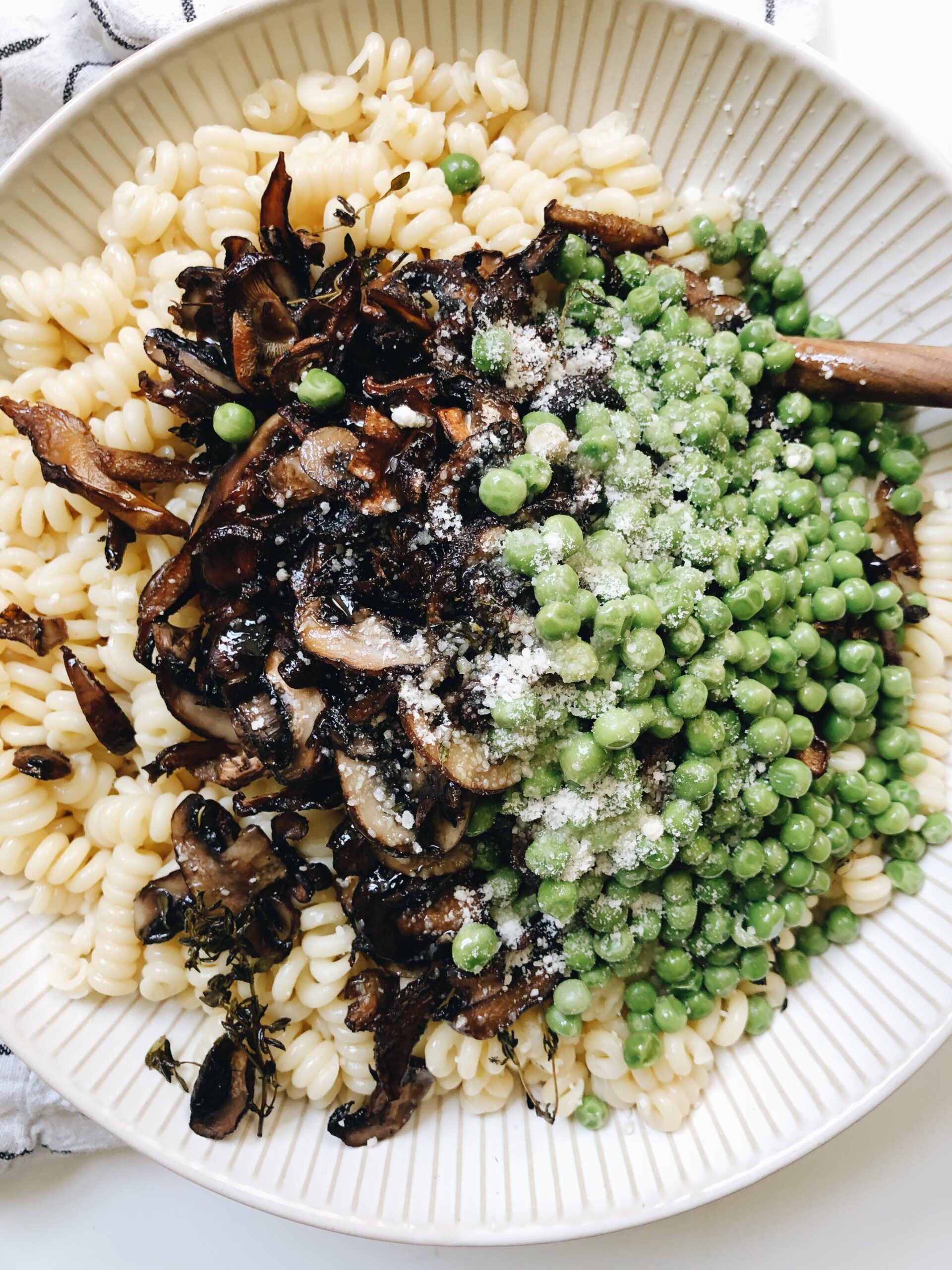 And this is how it comes together! But let me tell you the secret James Bond voodoo magic trick. That lemony garlic paste? You'll stir that into the cooked pasta. That and a bit of reserved starchy water. THAT is your sauce. THAT is the underlying essence to this whole ding dang thang. And then you top it with the roasted mushrooms and peas and you're set for life.
And cheese. Add some parmesan cheese because you know how to live.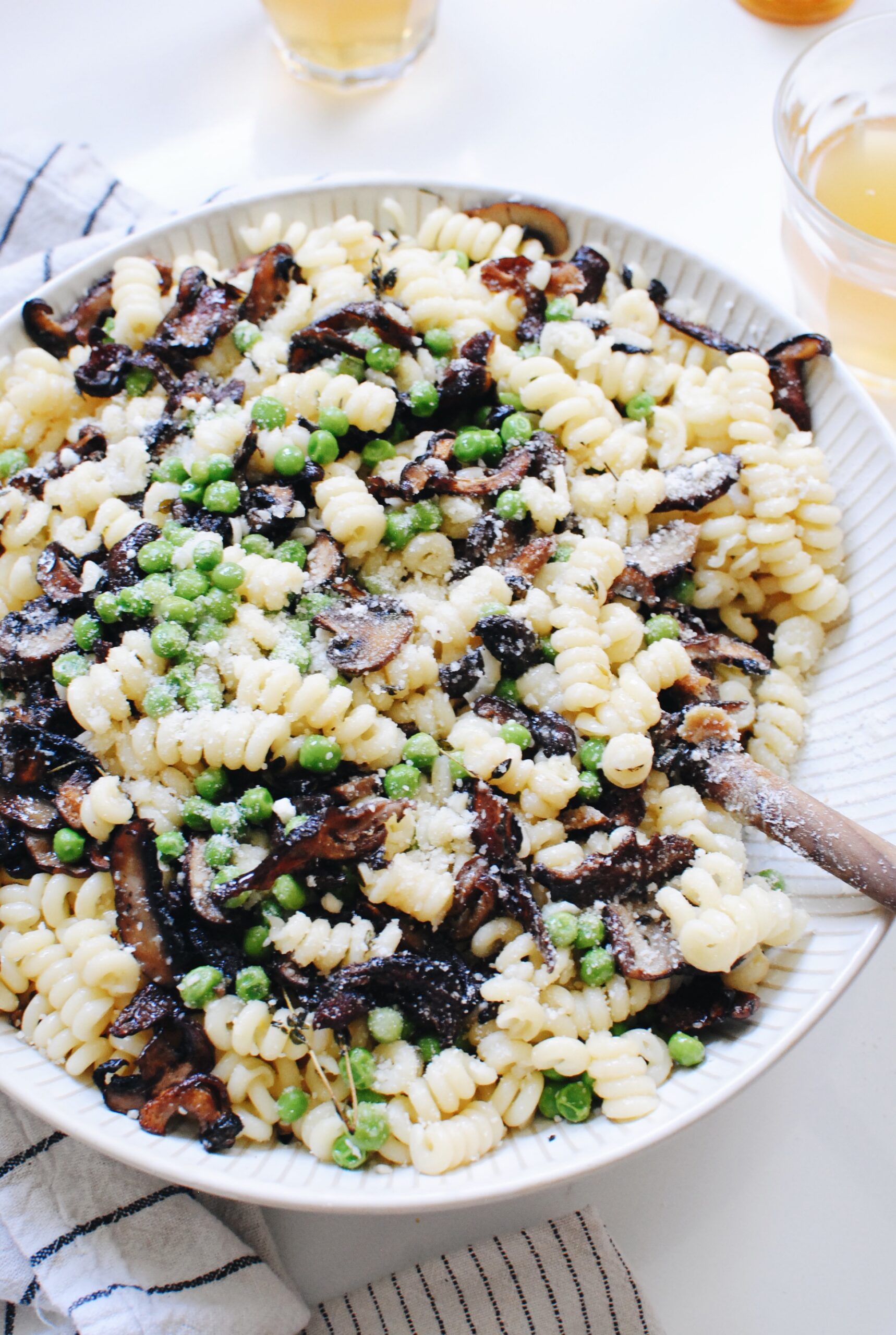 Mix it all together and serve it right up!
Oh oh oh oh, squeeze the lemon juice over it all, too. That wakes it up. You know how we do.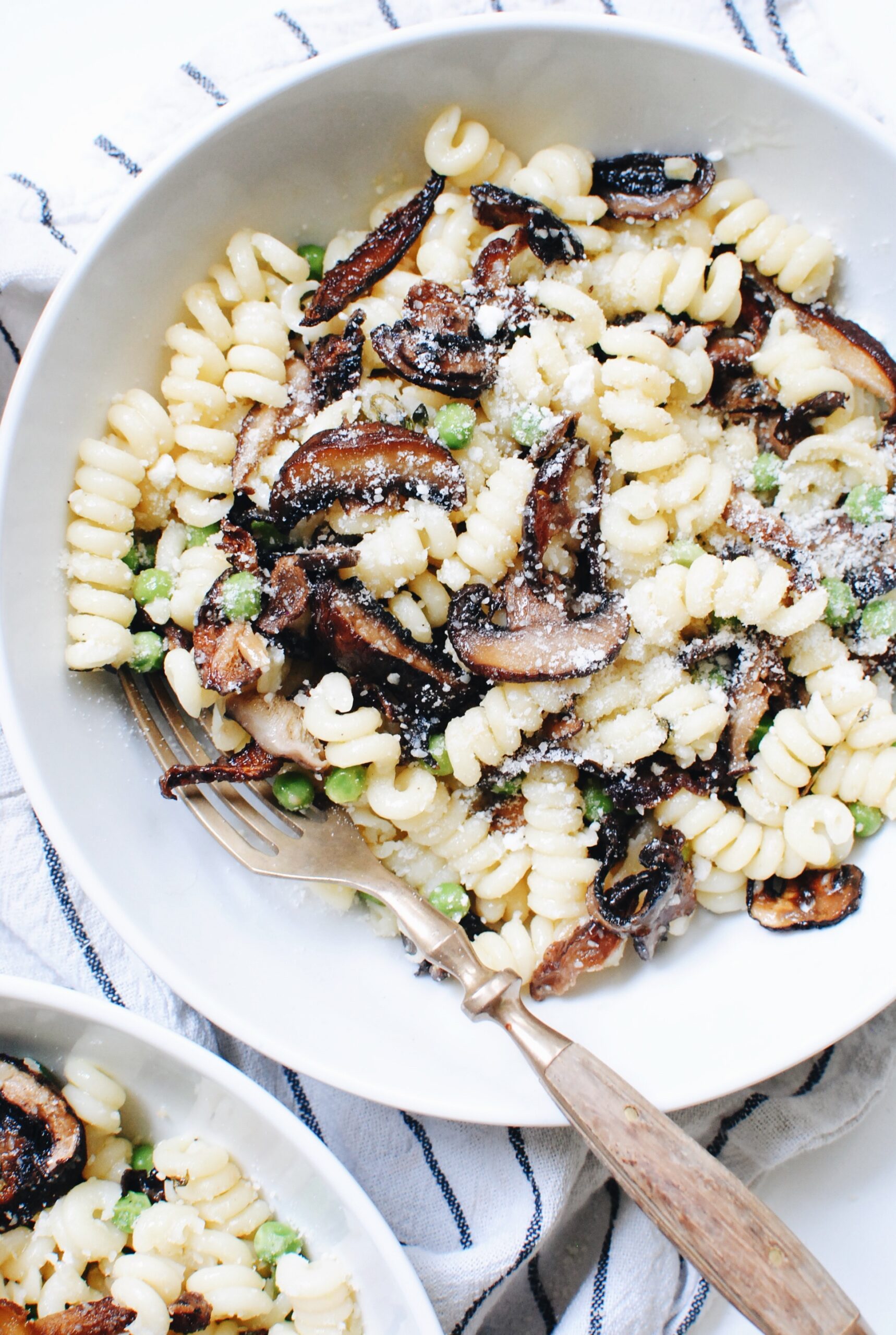 It's fantastic. Earthy with the mushrooms, aromatic with our roasted garlic tones throughout, tangy with the lemon, a burst of spring with the peas. Divine! Simple, but elevated.
And you're looking at 40 minutes, tops-ish.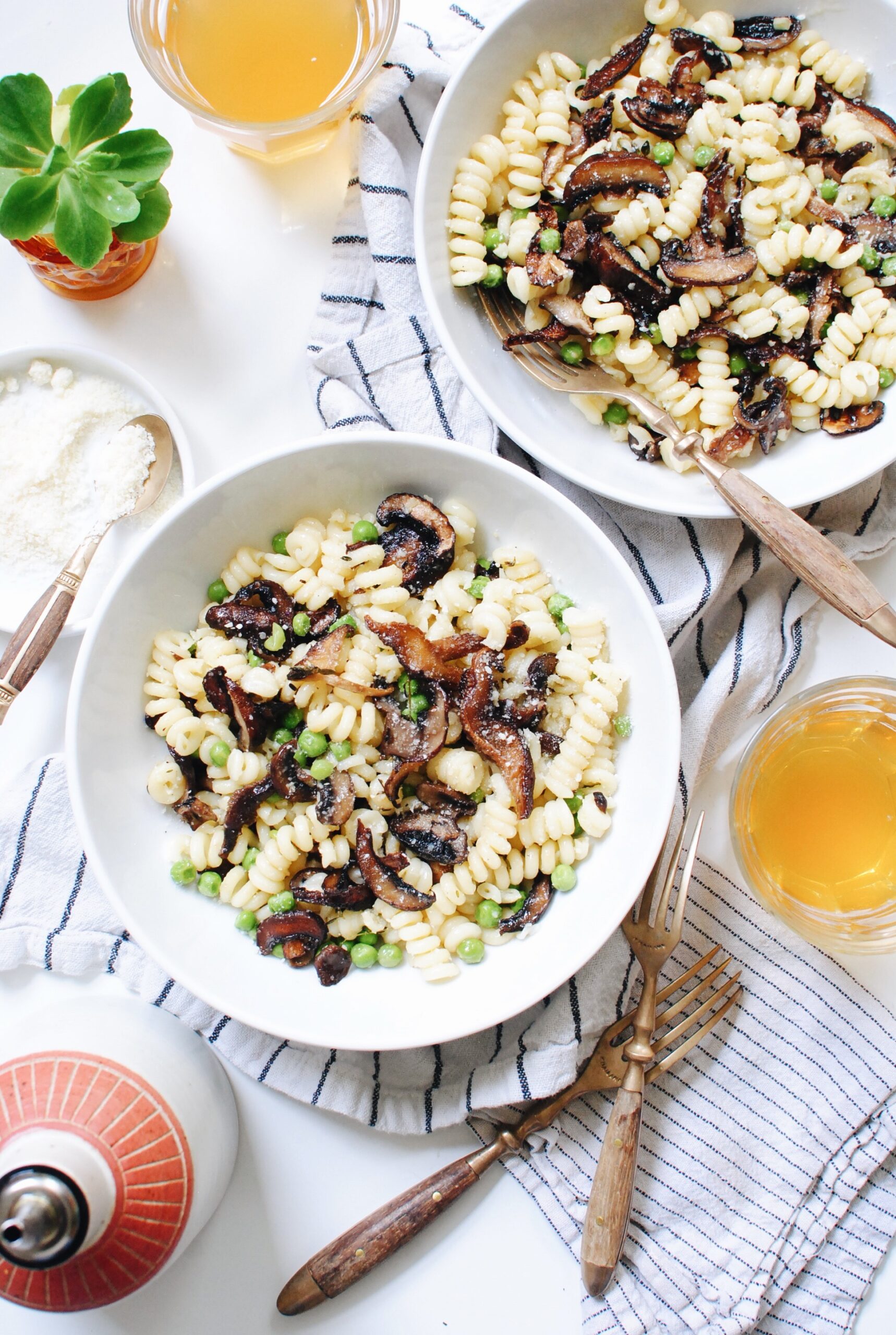 And keep some of that reserved starchy water on hand, because you know the pasta soaks up the sauce within moments. You might need to add more and thin it if it sits for a bit. Look at all those i's! That was intense.
This is a super duper option for vegetarian night, if you're into that. And it's not boring, you know? It's got so much going on, you'll never know it's missing a meat.
We're starting another band called Missing a Meat. (ew)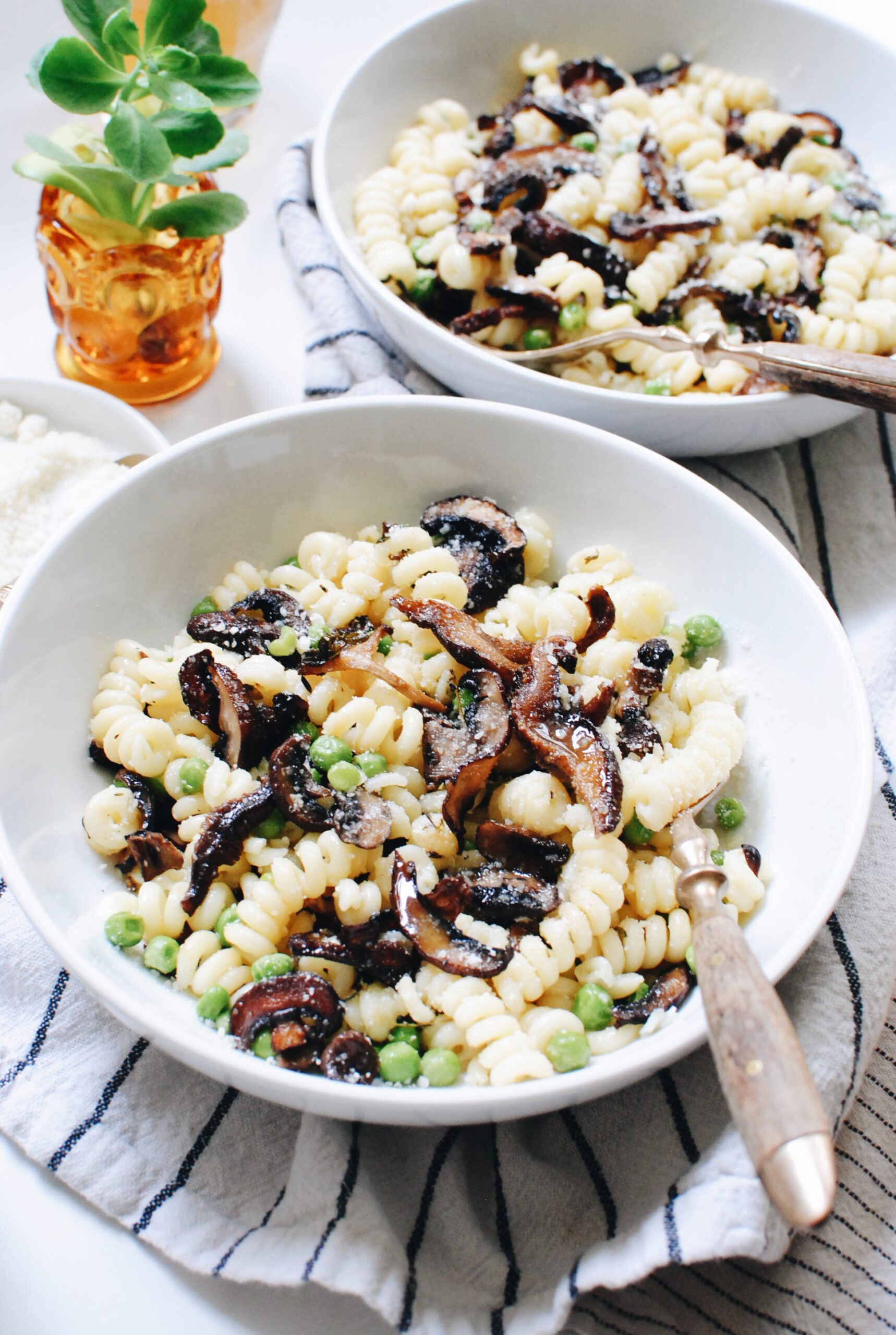 This weekend? The correct answer is yes.
Mushroom Garlic Pasta with Lemon and Peas
Ingredients
1 pound spiral pasta
1 (8 oz) container baby Bella mushrooms, lightly rinsed and sliced
1 (5 oz) container sliced shiitake mushrooms
4-5 cloves garlic (out of their skins)
2 Tbs. fresh thyme leaves (or a few sprigs)
3 Tbs. extra-virgin olive oil, plus extra
1 cup frozen peas, thawed and warmed
1 lemon
Coarse salt
Instructions
Preheat your oven to 350.
Arrange the mushrooms and garlic on a rimmed baking sheet. Drizzle two Tbs. olive oil over it all, along with the fresh thyme. Season with a pinch of salt. Toss it all with your fingers to evenly coat. Roast in the oven for 30 minutes, or until the mushrooms are tender, browned and shriveled.
Take the garlic cloves off the pan and place them in a mortar and pestle with the 3 Tbs. oil, the zest of the lemon and a pinch of salt. Mash it together until it's a beautiful garlic lemon paste.
In the meantime, bring a pot of water to a boil and cook the pasta until al dente, according to package directions. Save at least a cup of the starchy water and drain the rest. Pour a little bit of the water back into the pasta and toss it to gloss it. (You like that?)
Stir the garlic paste into the cooked pasta and top with the roasted mushrooms and peas. Squeeze the lemon over everything, along with a dusting of parmesan cheese for garnish. Serve it up!
Serves 4.
7.8.1.2
499
https://bevcooks.com/2021/05/mushroom-garlic-pasta-with-lemon-and-peas/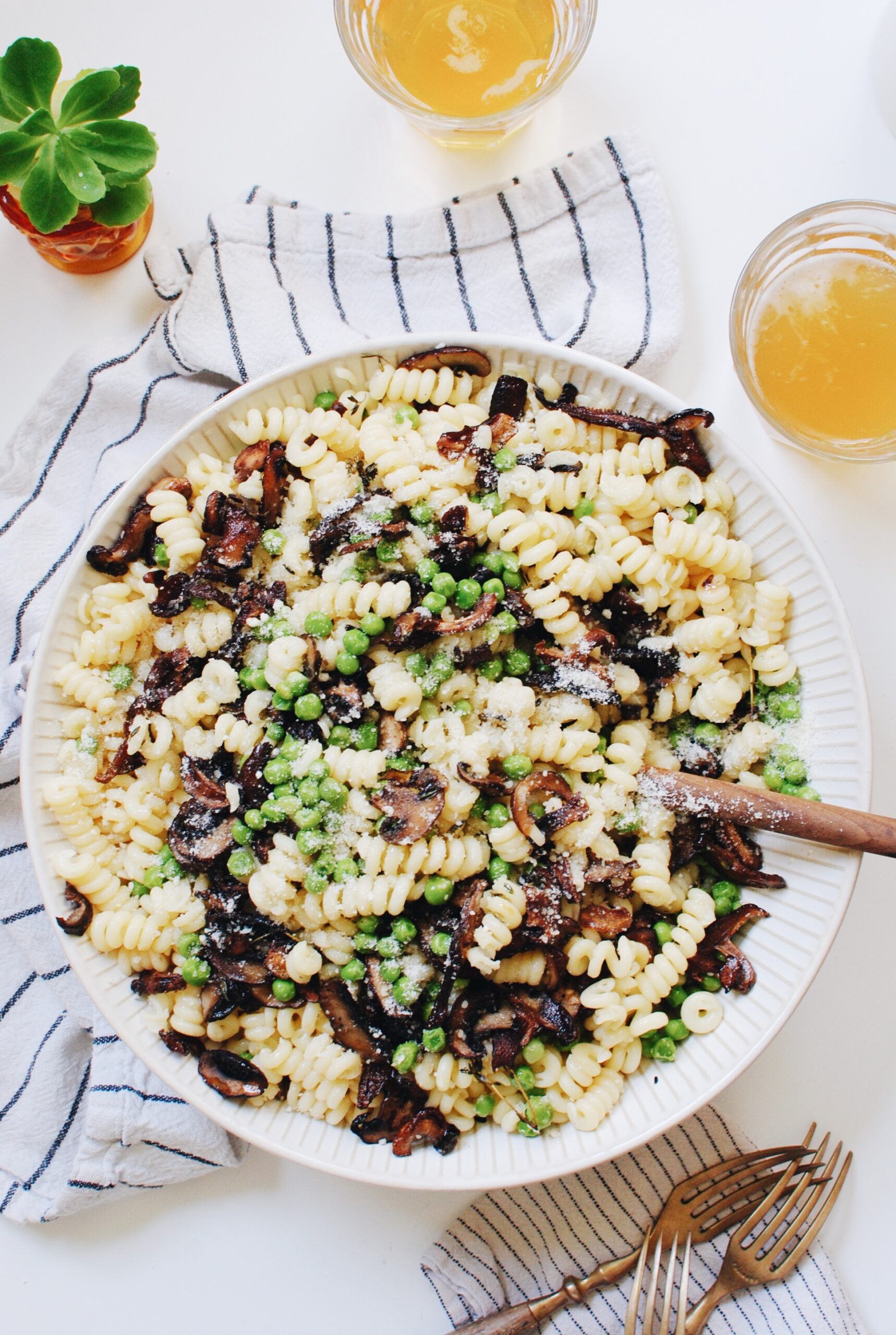 You're getting that mortar and pestle, aren't you?