I almost typed angle hair pasta. And by almost I mean I typed angle hair pasta.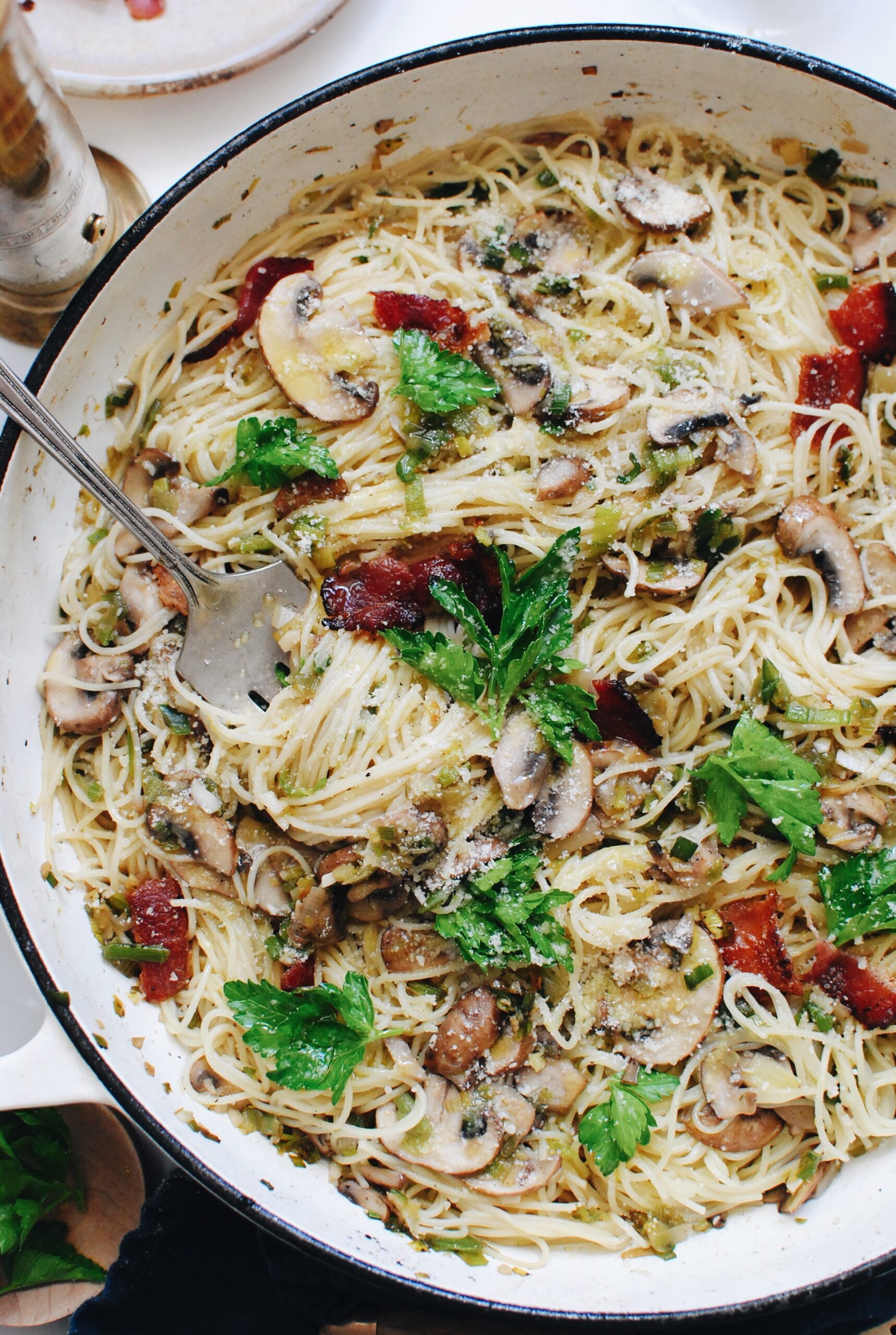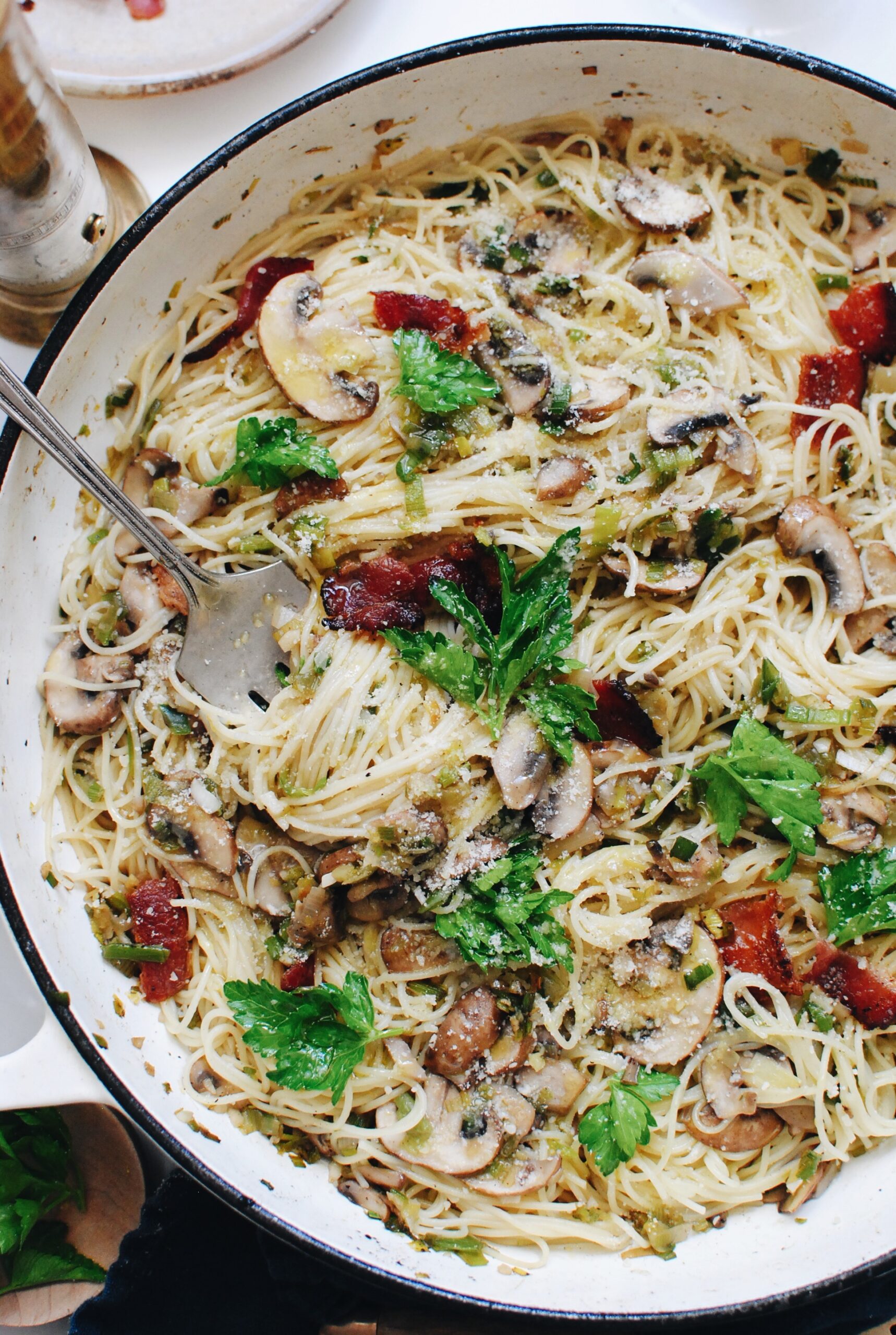 So hark it, another under-ten-ingredient recipe for your face and mouth! Just because it's simple doesn't mean it lacks. Because see that lemon? Secret weapon. Which I know you know, but I just feel like talking, you know?
Let's peep this.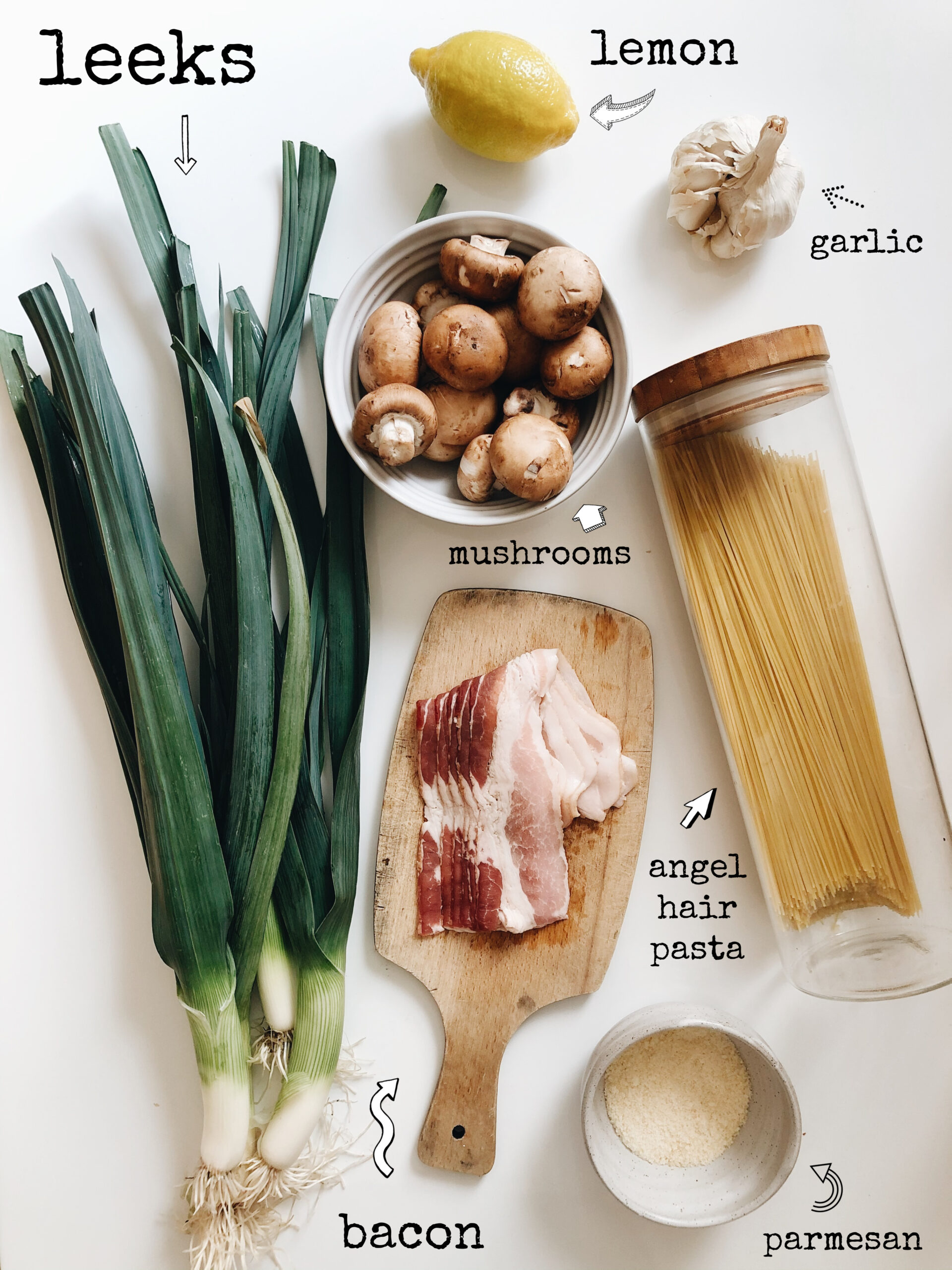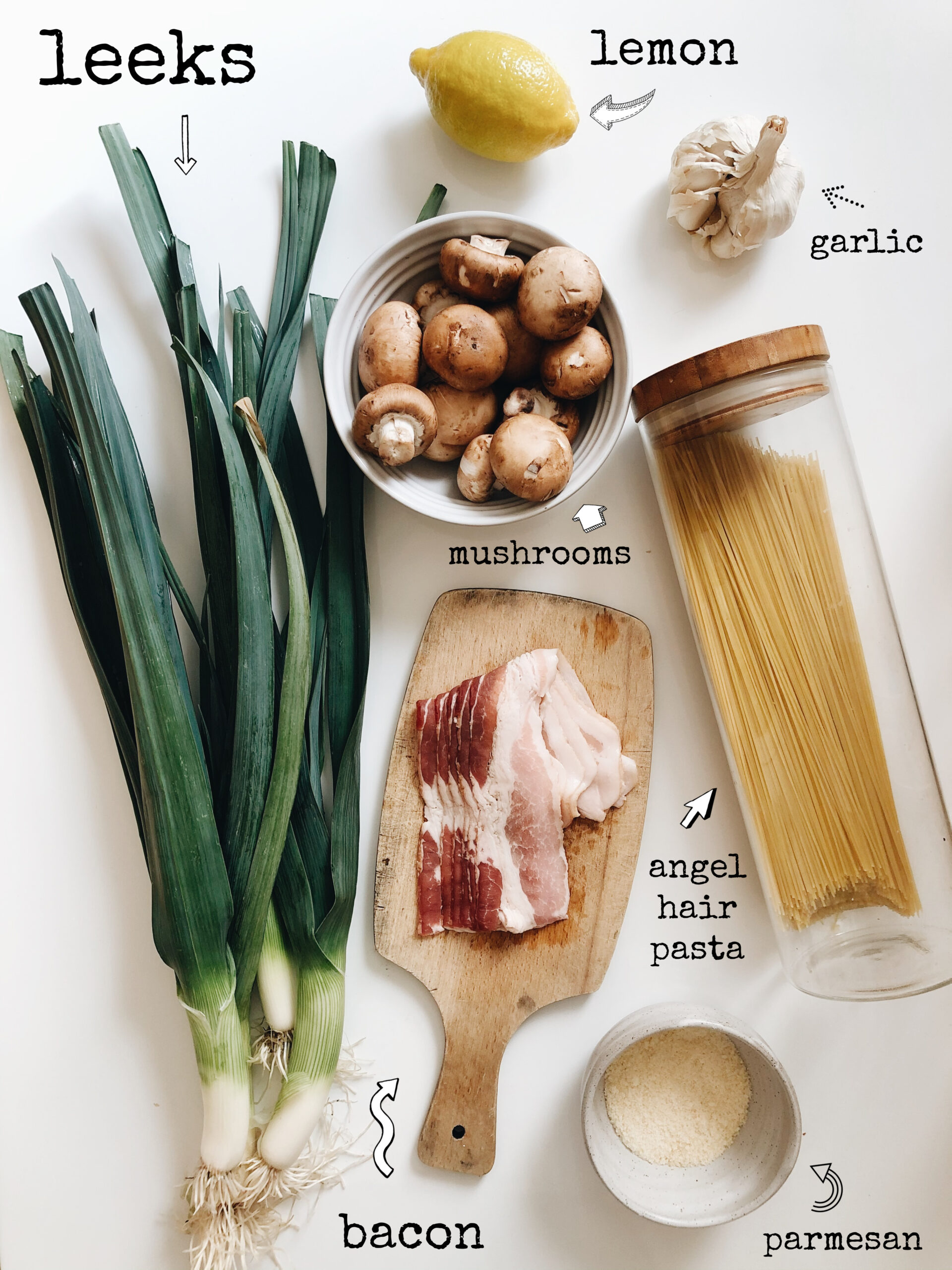 Have you ever cooked with leeks? They're like scallions on Hulk Hogan. But unlike scallions, they have all these tiny flaps inside, like scallions inside scallions inside more scallions. Mild, aromatic and wildly enhancing in something like this. I can't help but find all those little layers oddly attractive.
I'm fine, why do you ask?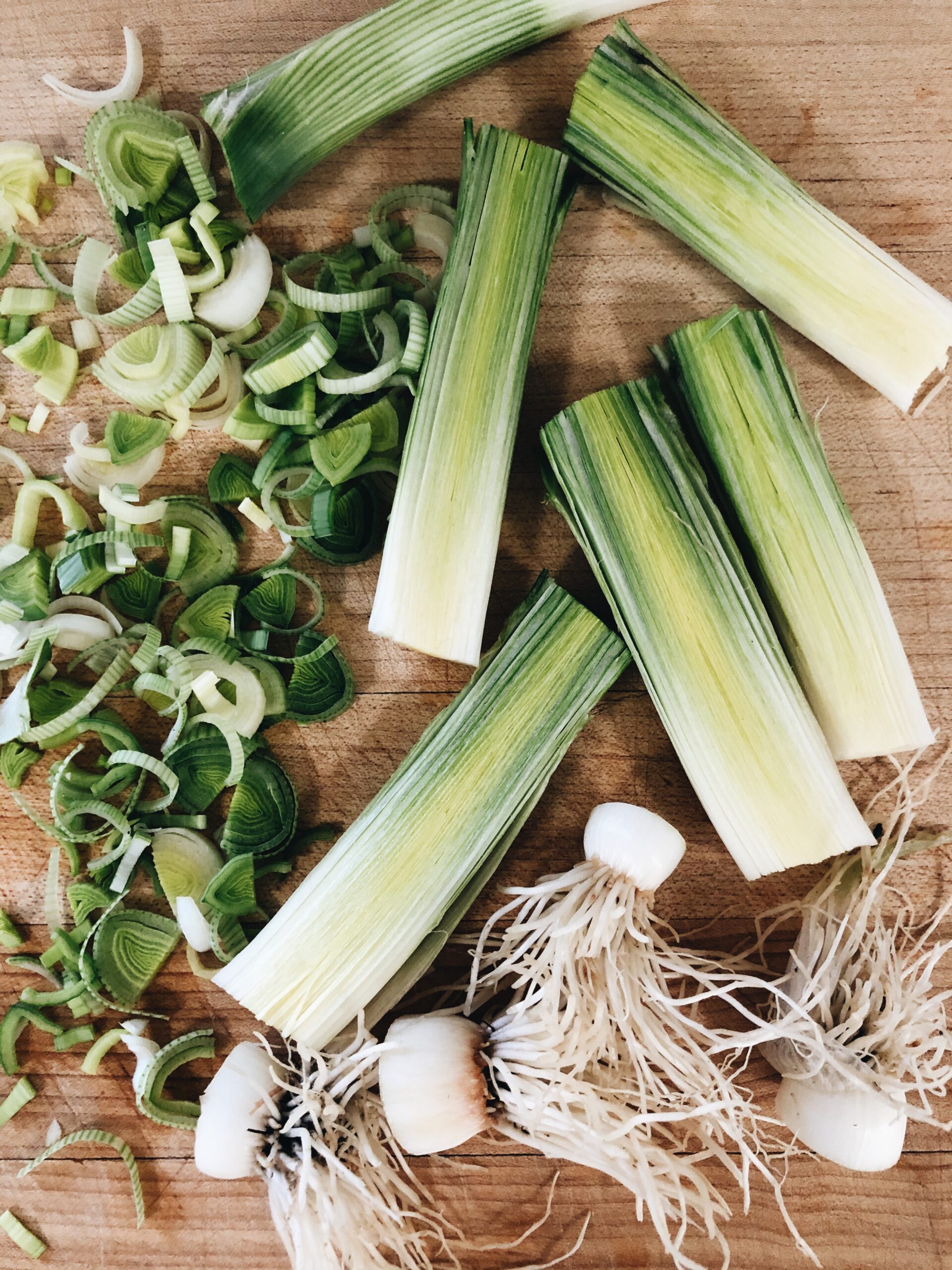 So what you do with leeks: cut off the long, coarse green parts. But you can freeze them for veggie stock later on! Then chop off the stems with all the leek hair. We're starting a band called All the Leek Hair.
Then give them a slice lengthwise and flip through them real quick like a leek book. See? Isn't that so satisfying? Listen, I can get help at any time.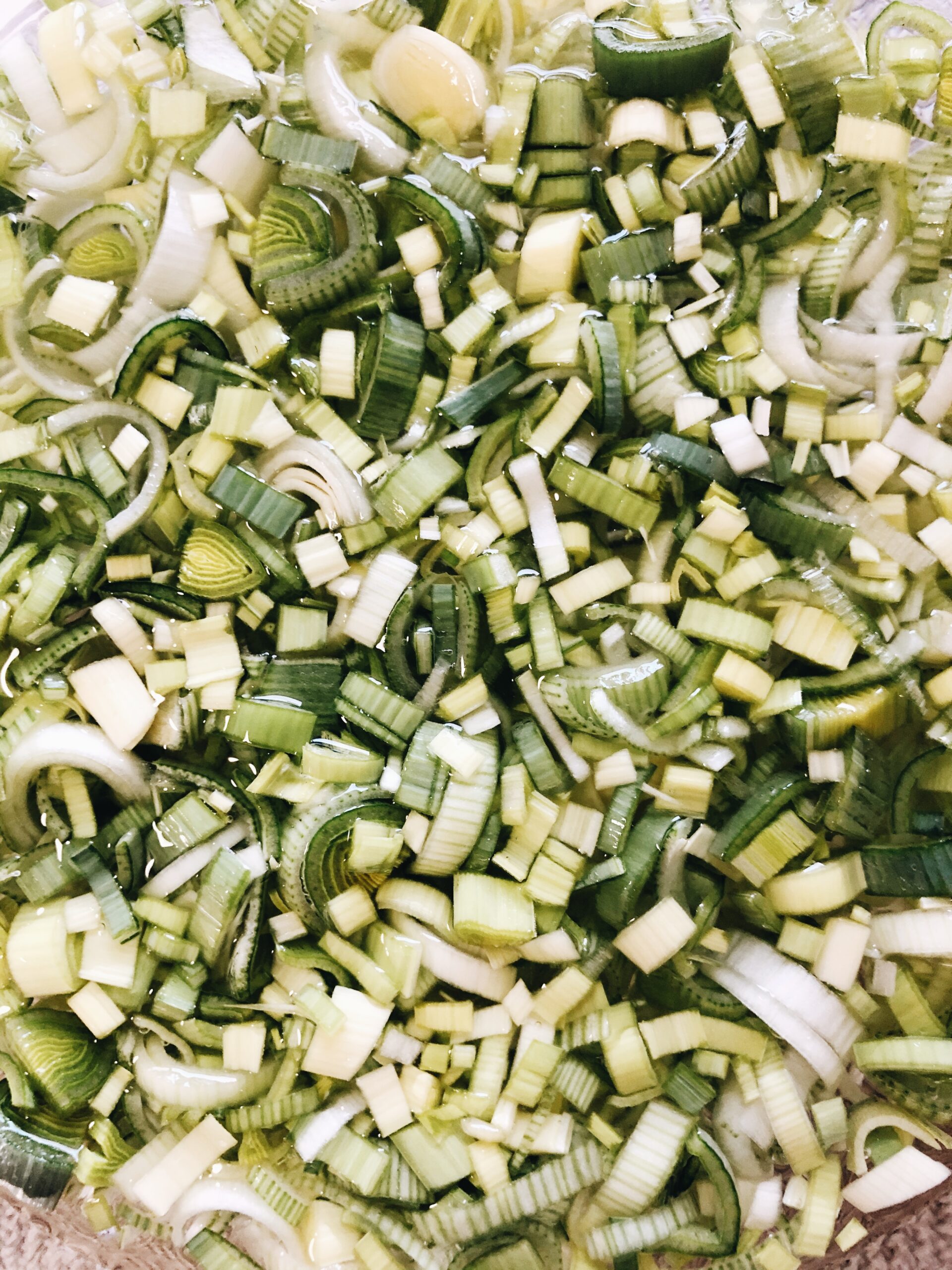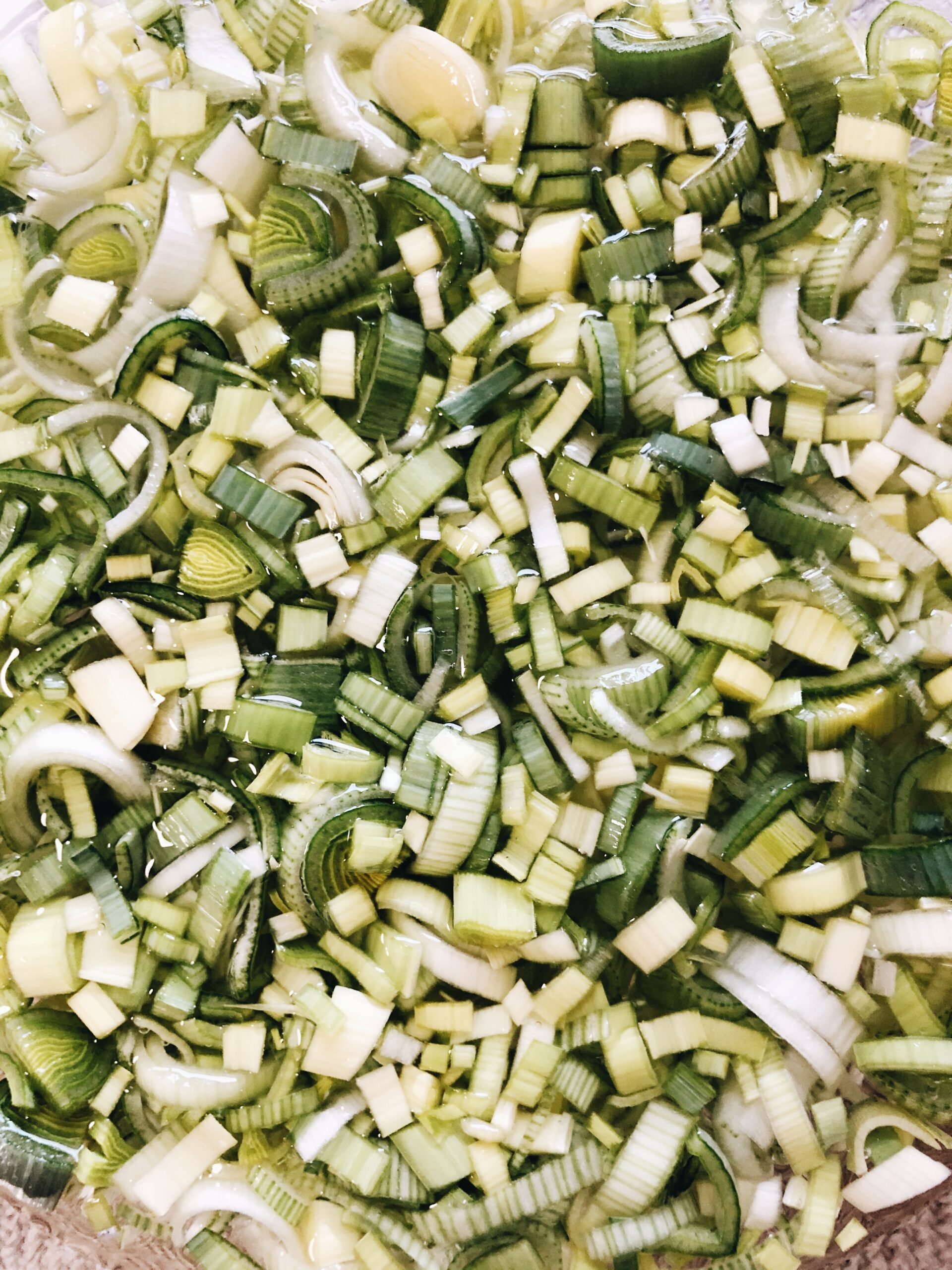 Now, slice them thinly and drop all the leeks into a bowl of water. Using your fingers, give them a wiggle in the water (ew) until the dirt, dust bunnies and emotional baggage (what?) fall to the bottom. Then you'll use your fingers again and transfer them to a colander and run a little more water over them. All clean! (I feel like I'm talking about a two year old.)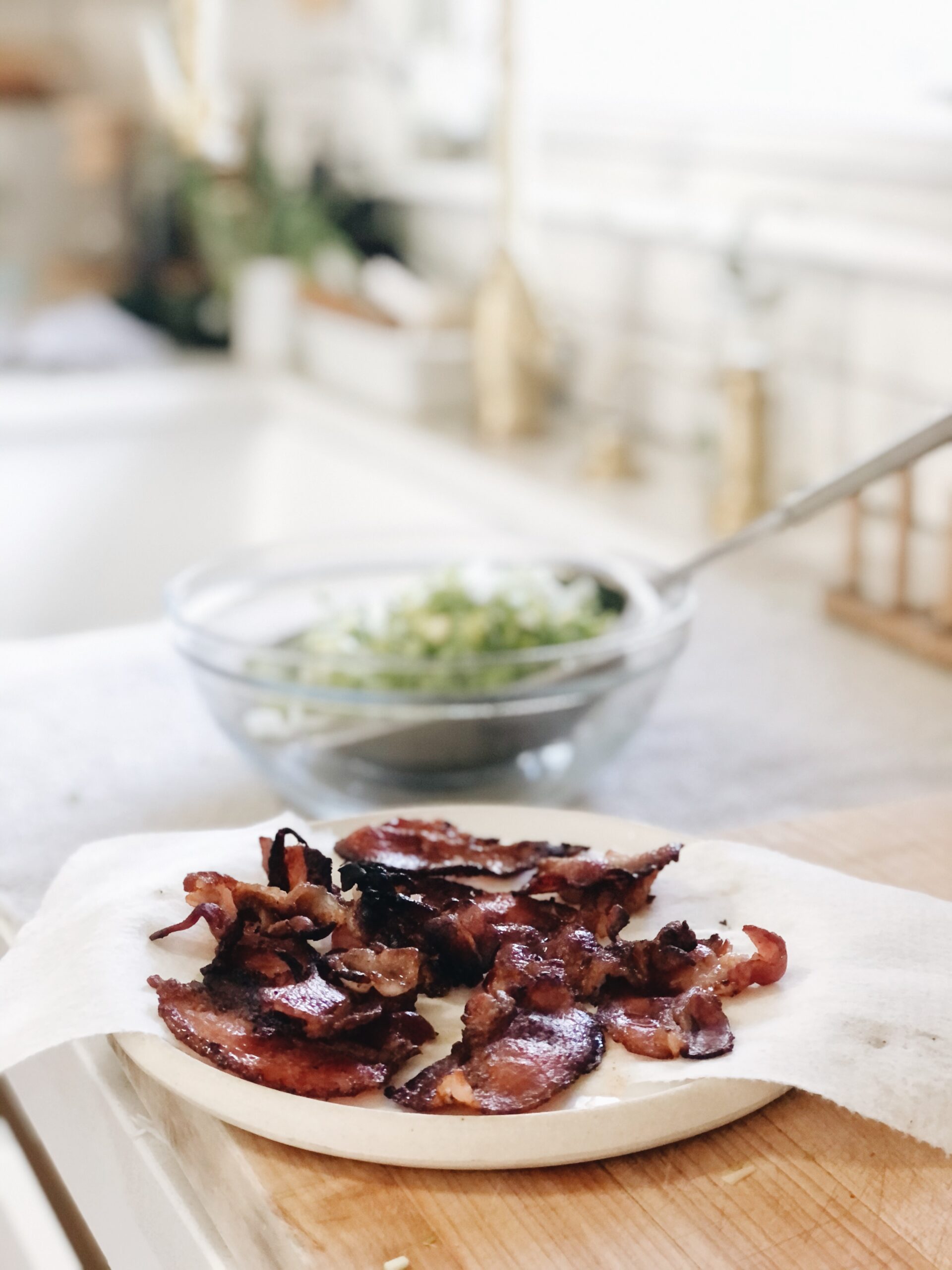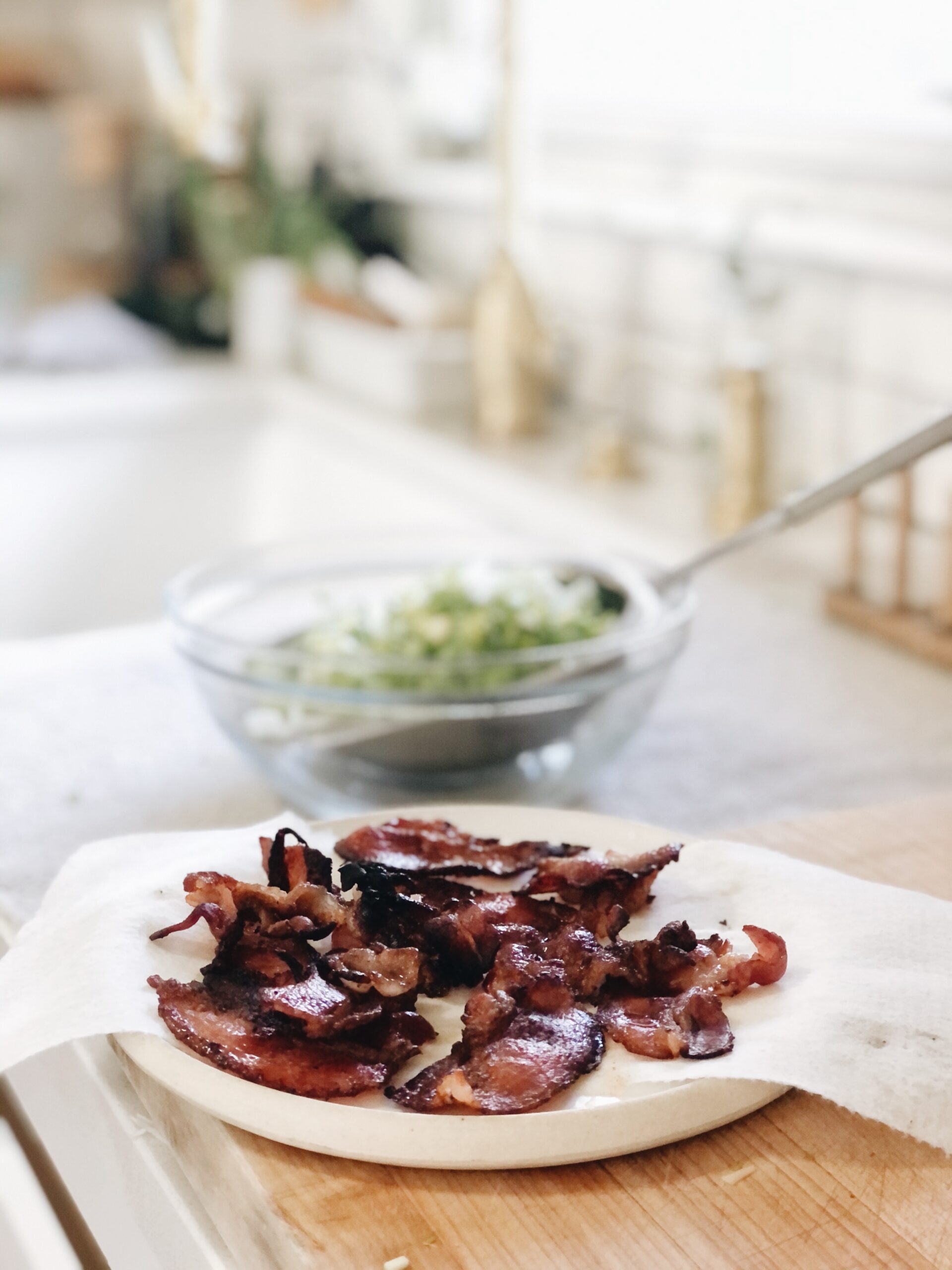 In the meantime, crisp up some bacon like you know what's good for ya.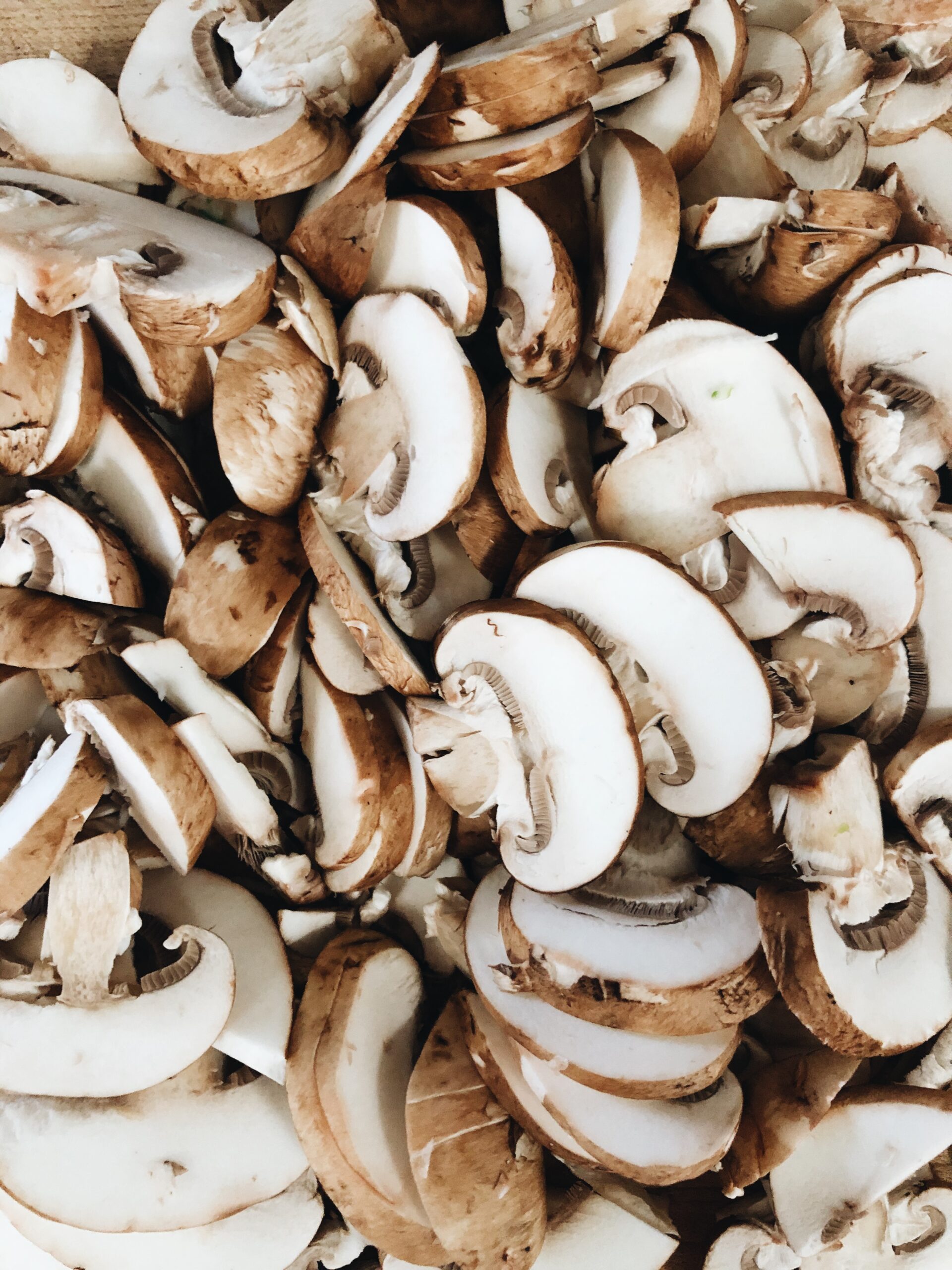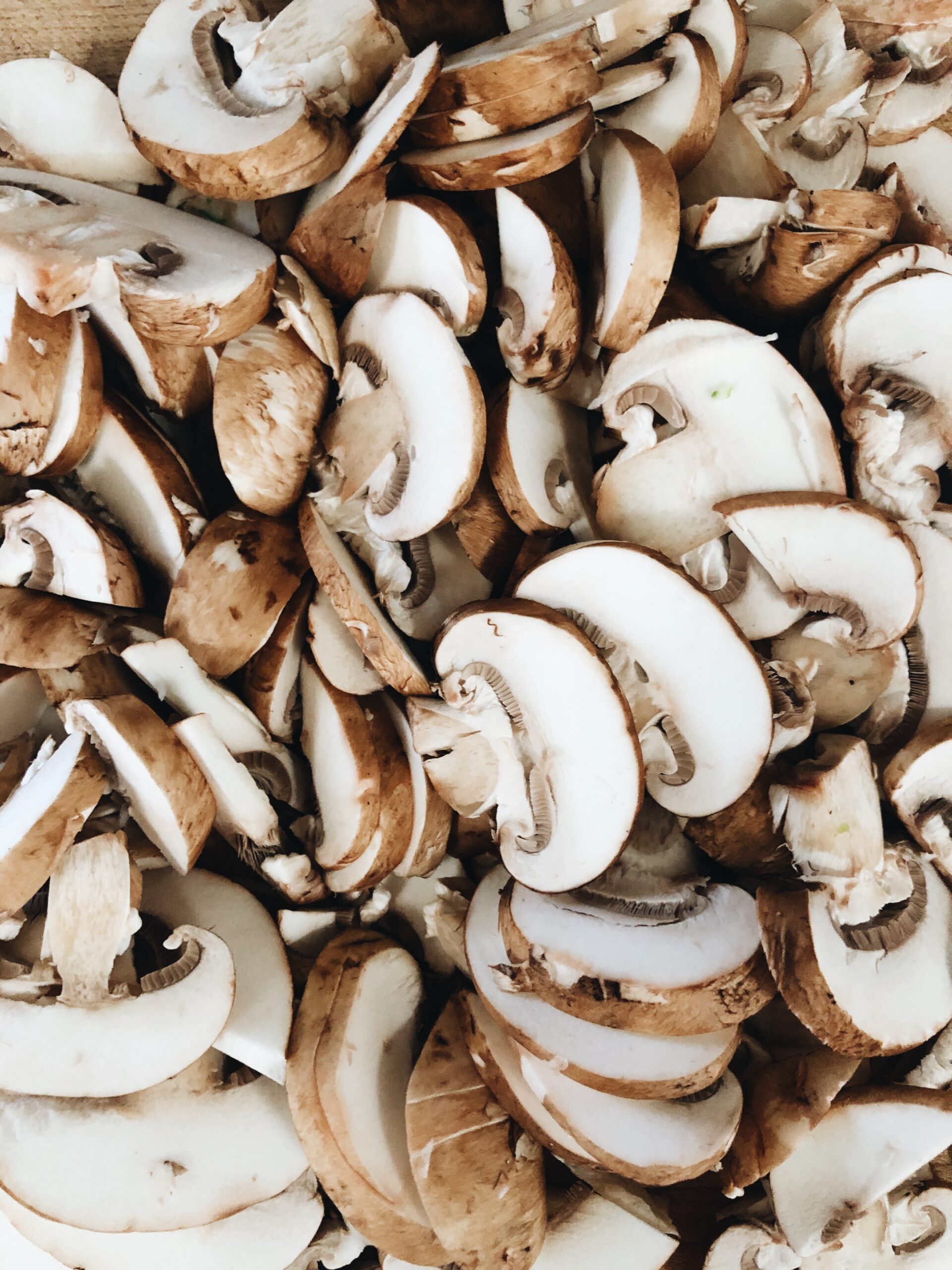 And don't forget to slice your 'shrooms, bruh!
These are baby bellas, but anything goes.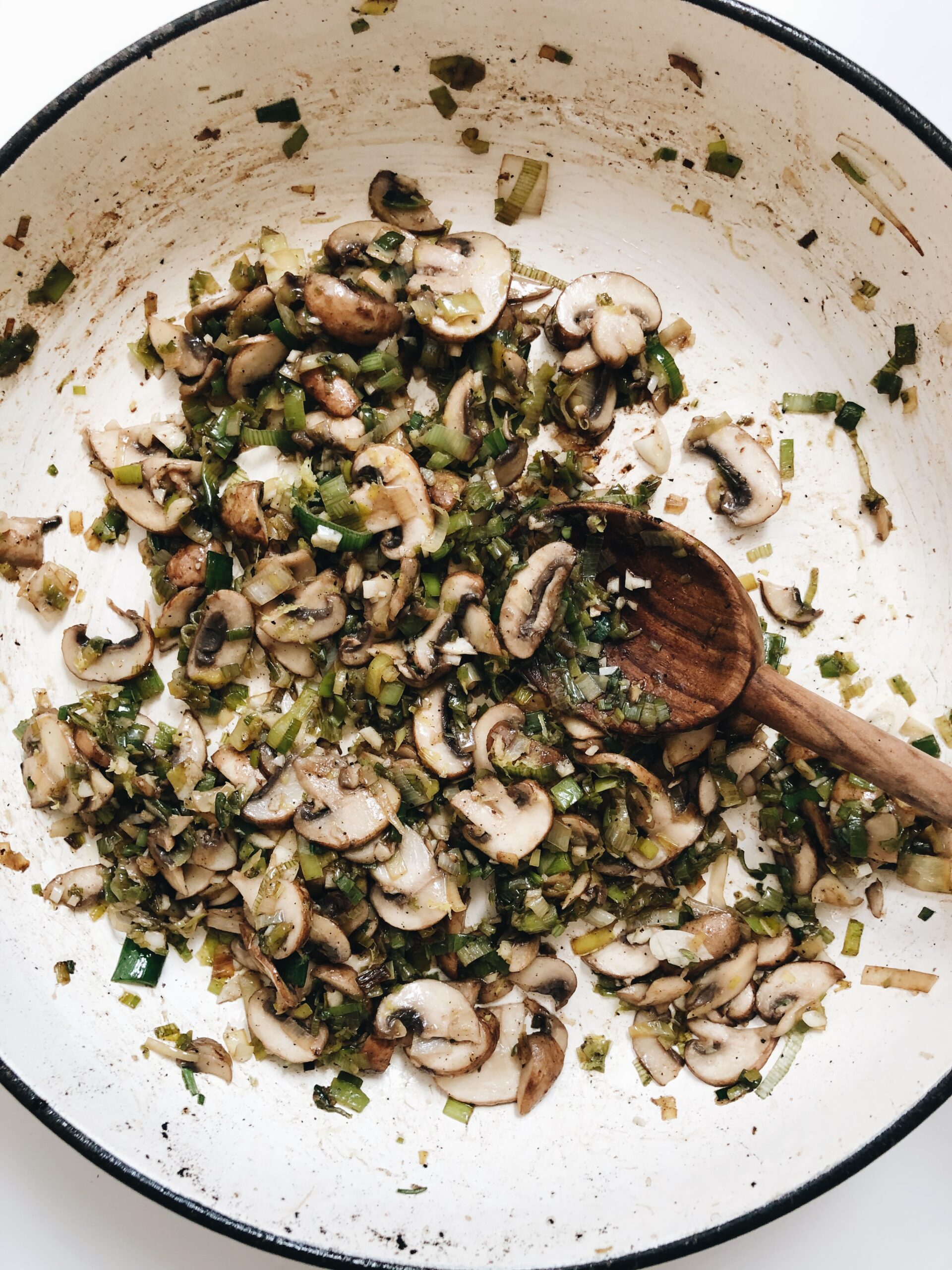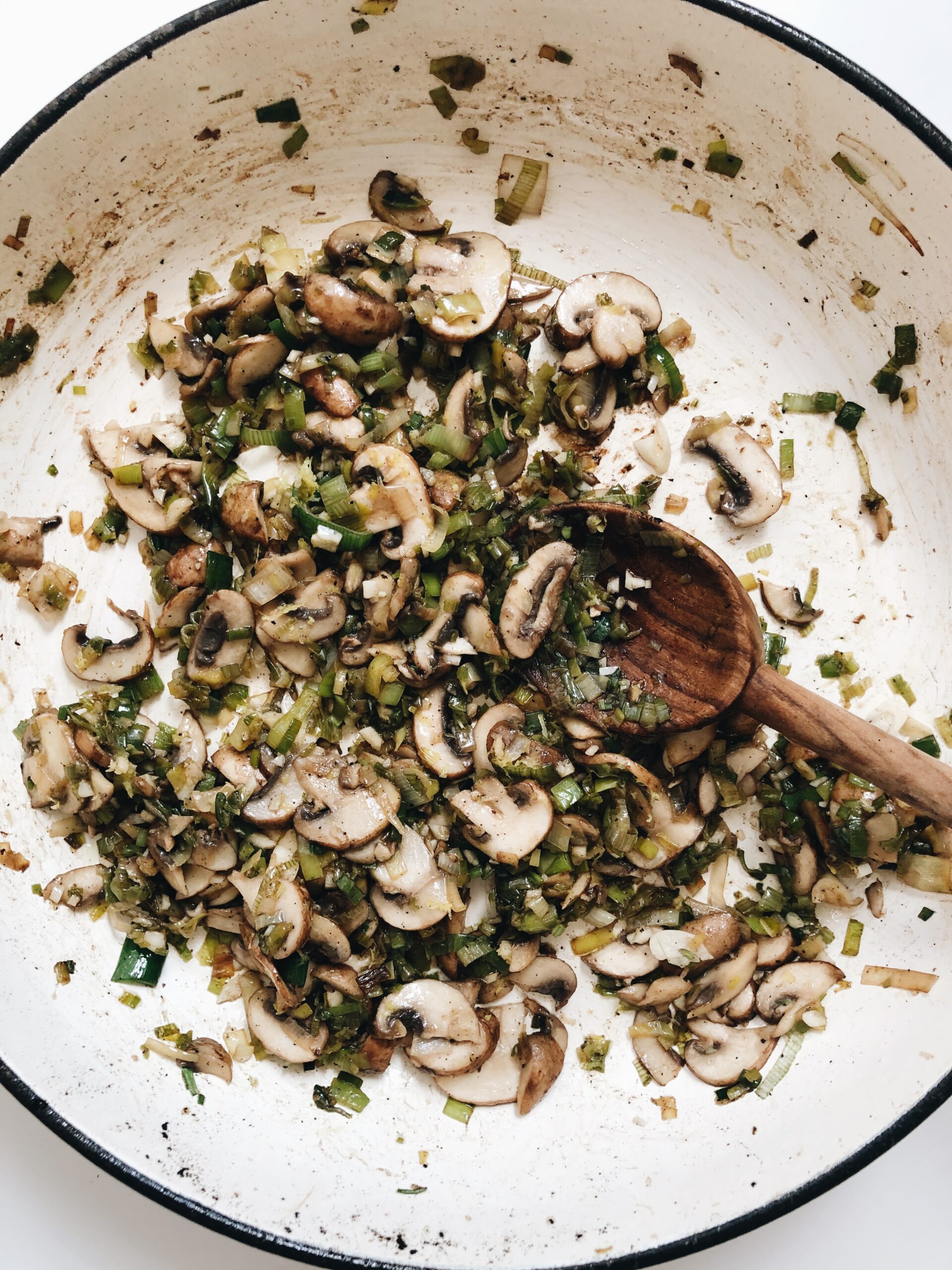 So in the reserved bacon fat (that's right), you'll sauté the leeks for a bit, then the mushrooms for another little bit, then you'll add the garlic and bloom that for tiny little bit, then you'll add in some zesty lemon zest! I said zest twice.
Season with salt, der. This has outrageous flavor right now. If you've yoinked a mushroom to see, you know.
And in the meantime, you'll cook some angle angel hair until it's al dente, just a few minutes. Using tongs, transfer about half over, adding your pasta water (which is LIQUID GOLD and would you believe that Aaron forgets every time he makes pasta and he drains.the.pasta.water. I cry and scold with a bucket of "how could yous" and then we move on in devastating silence. Don't forget that starchy pasta water, I beggeth.) to the pan as well. You'll squeeze a bit of lemon juice in, swirl it all around, nestle your reserved bacon back in and . . .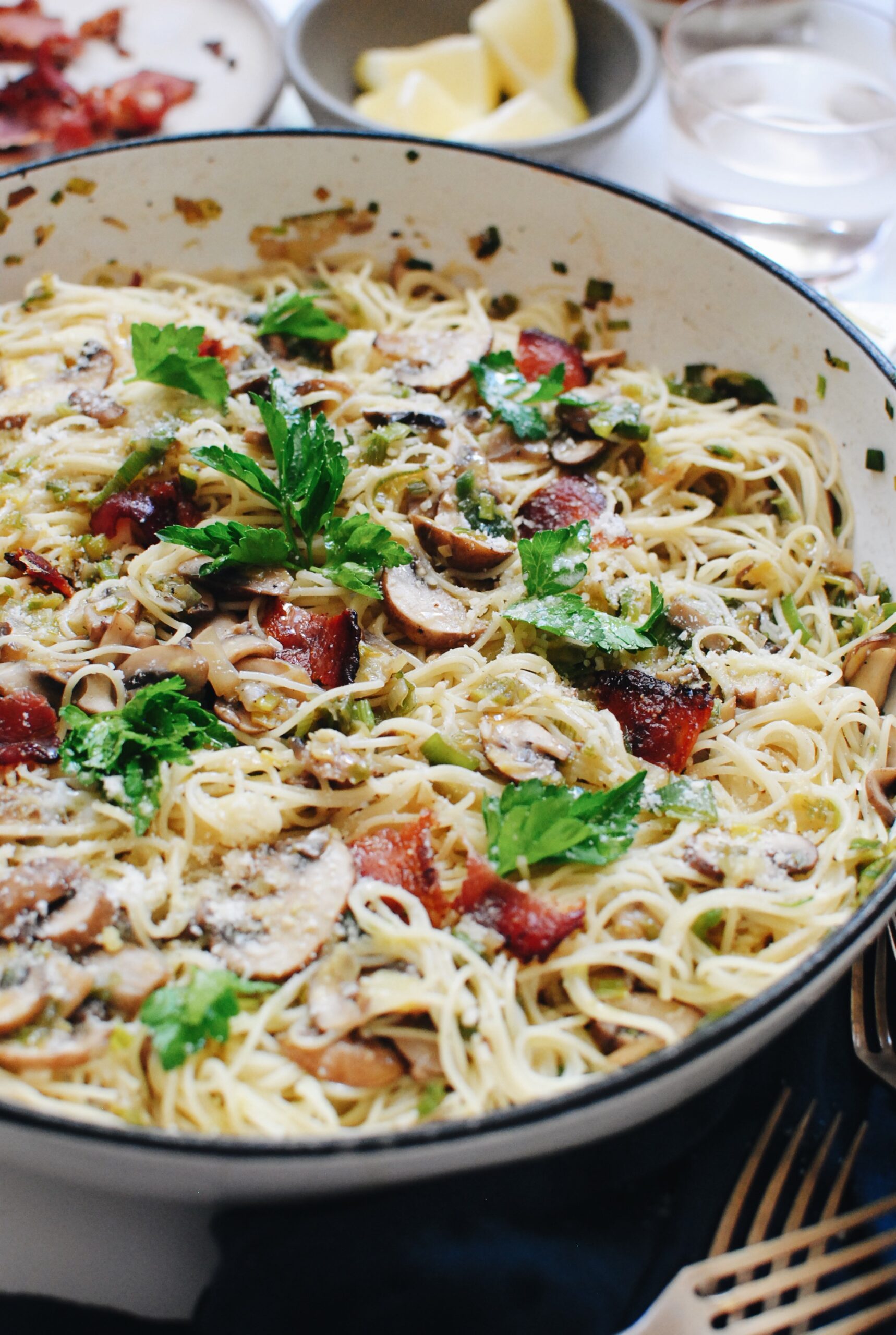 Hi and hello and hi. Should we set up a diving board on the side?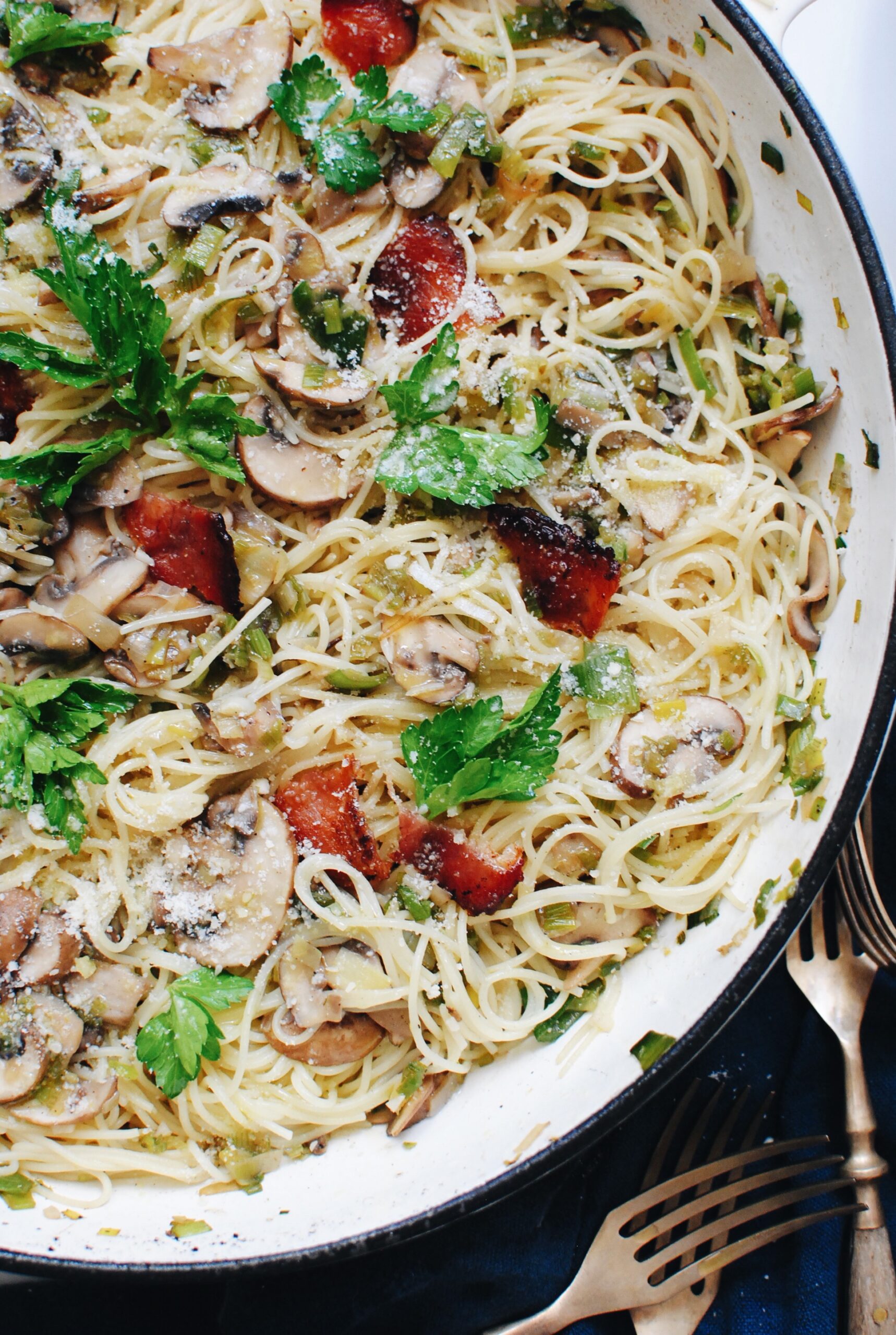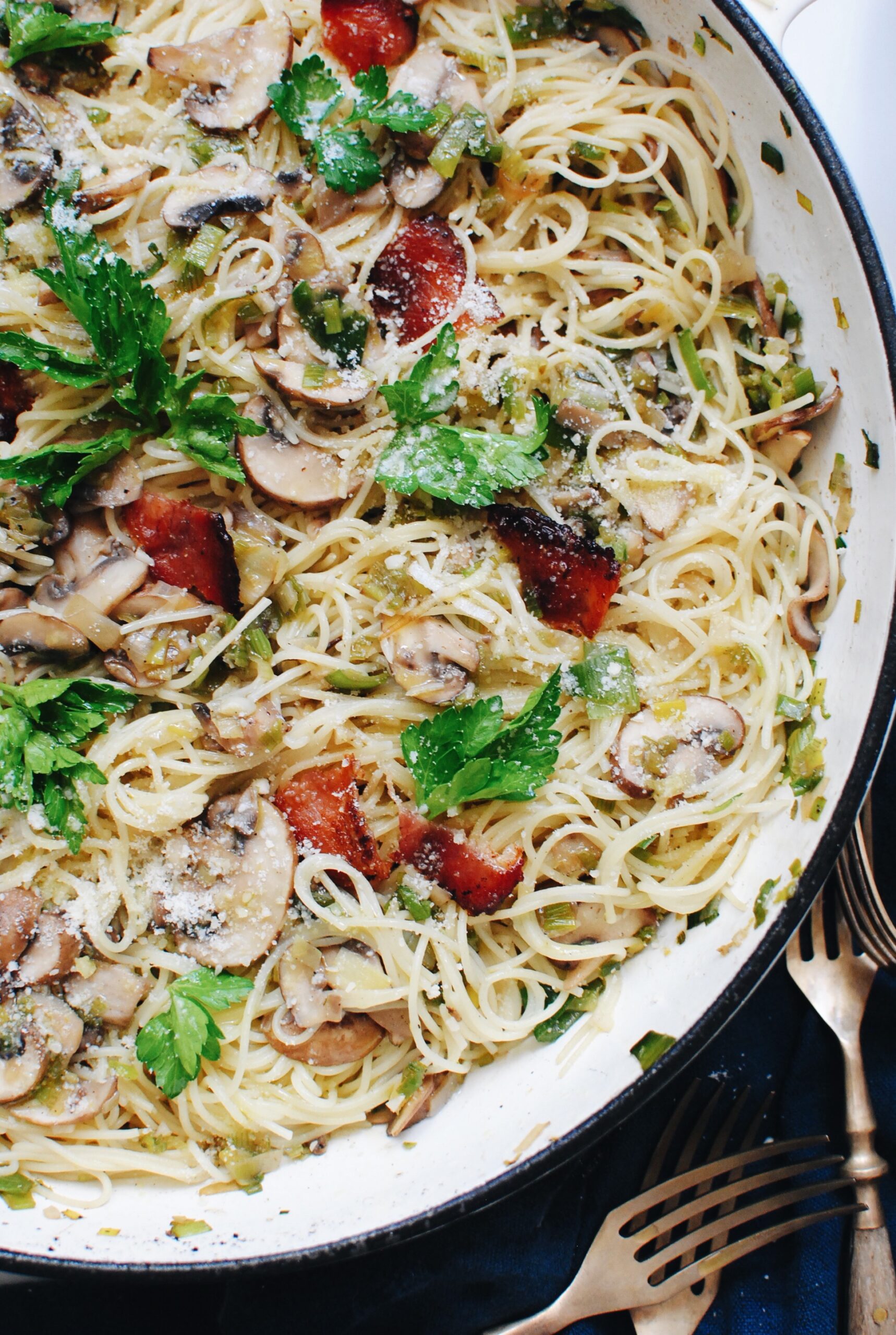 It's all so simple, but you'd never in a million years know it by all that flavor, man. I mean, there's a lot happening! The smokiness with the bacon, the depth of the leeky aromatics, (not to be confused with leaky aromatics), the silky lemony sauce that coats the whole thing so delicately, and of course the richness of the mushrooms – U G H. So good. Just so good.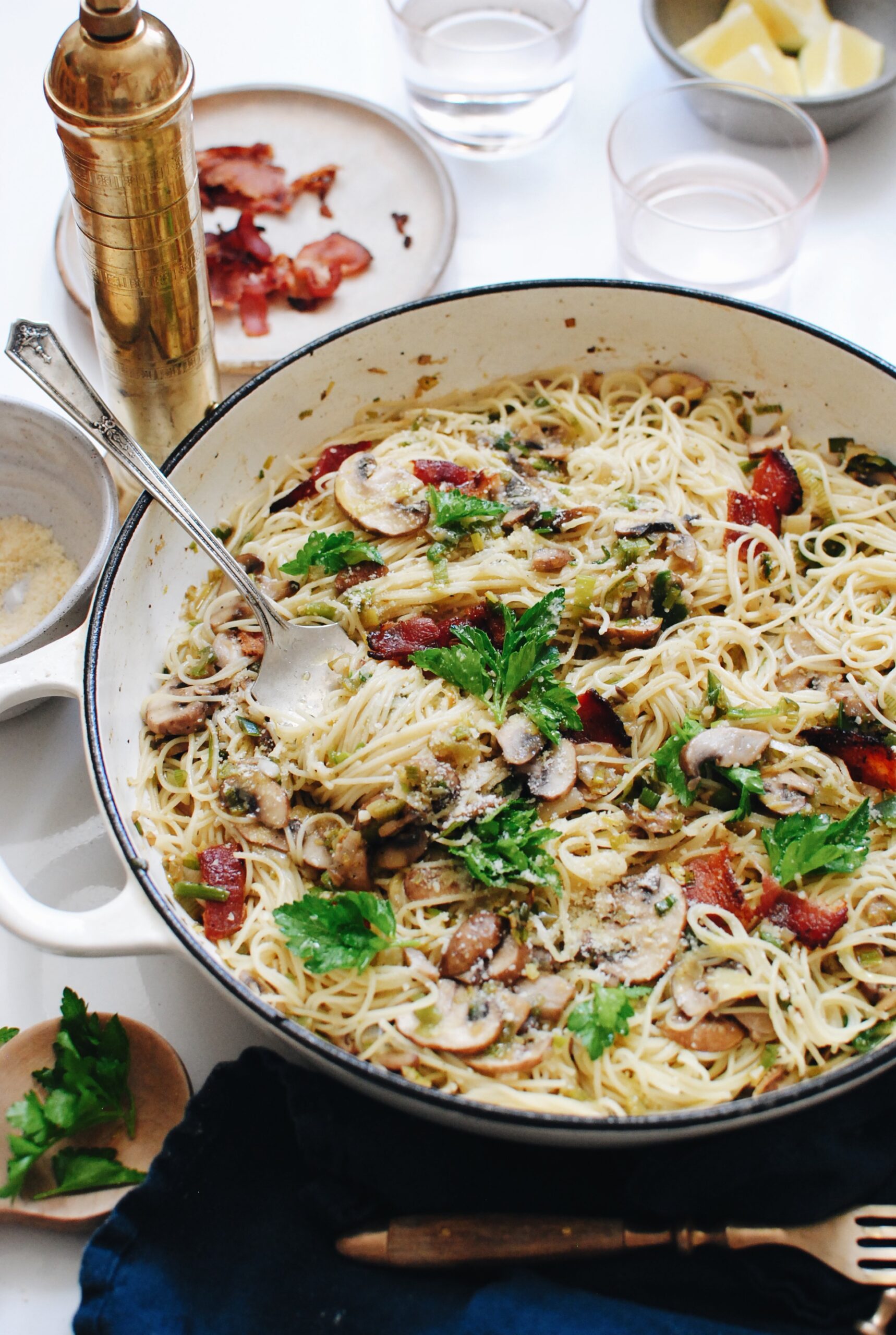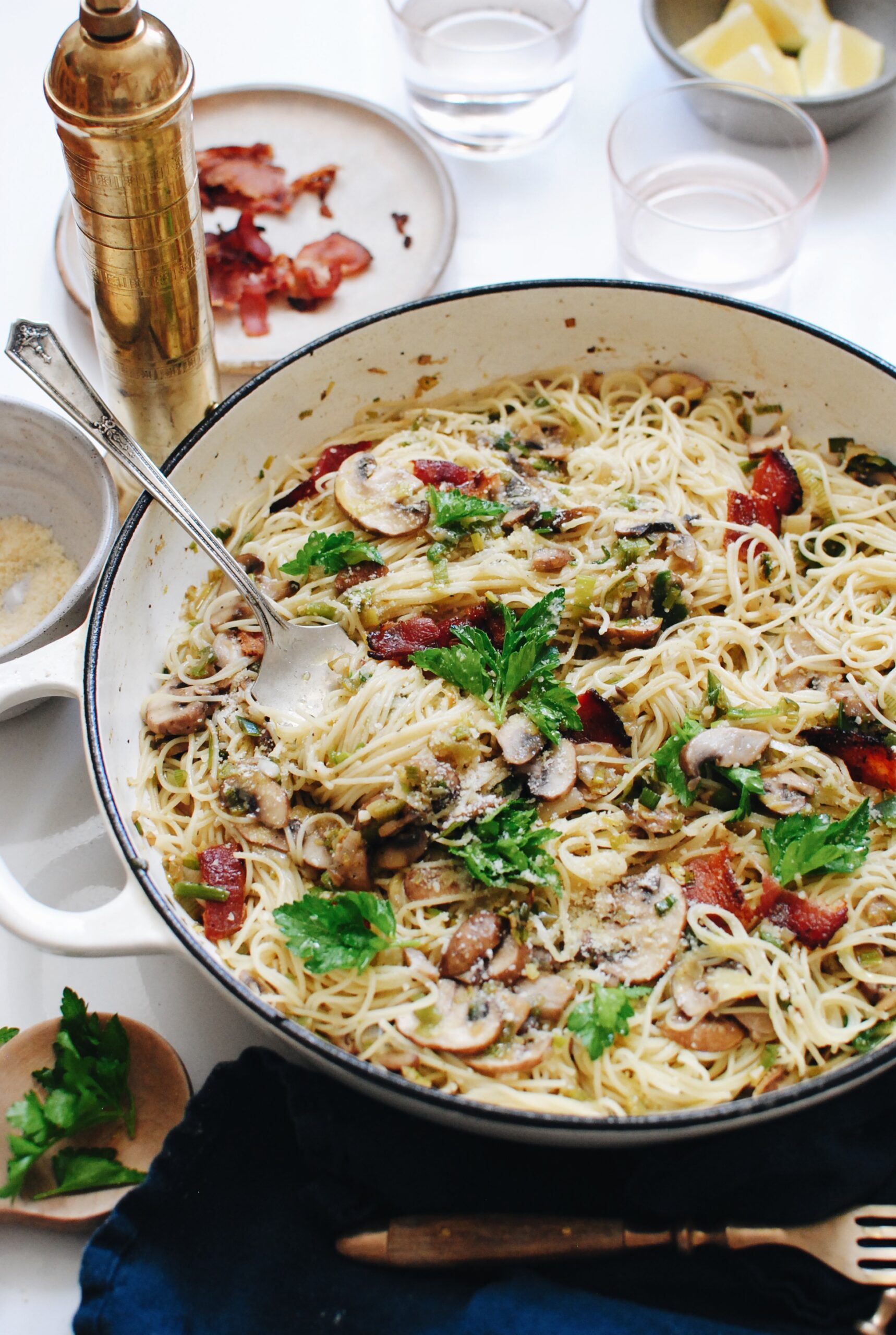 Of course you'll add loads of parmesan cheese and parsley as a garnish, only if your raging inner soul fairies guide you to this decision. (if they don't, fire them.)
Anytime friendly, anyone friendly, anywhere friendly.
Tonight?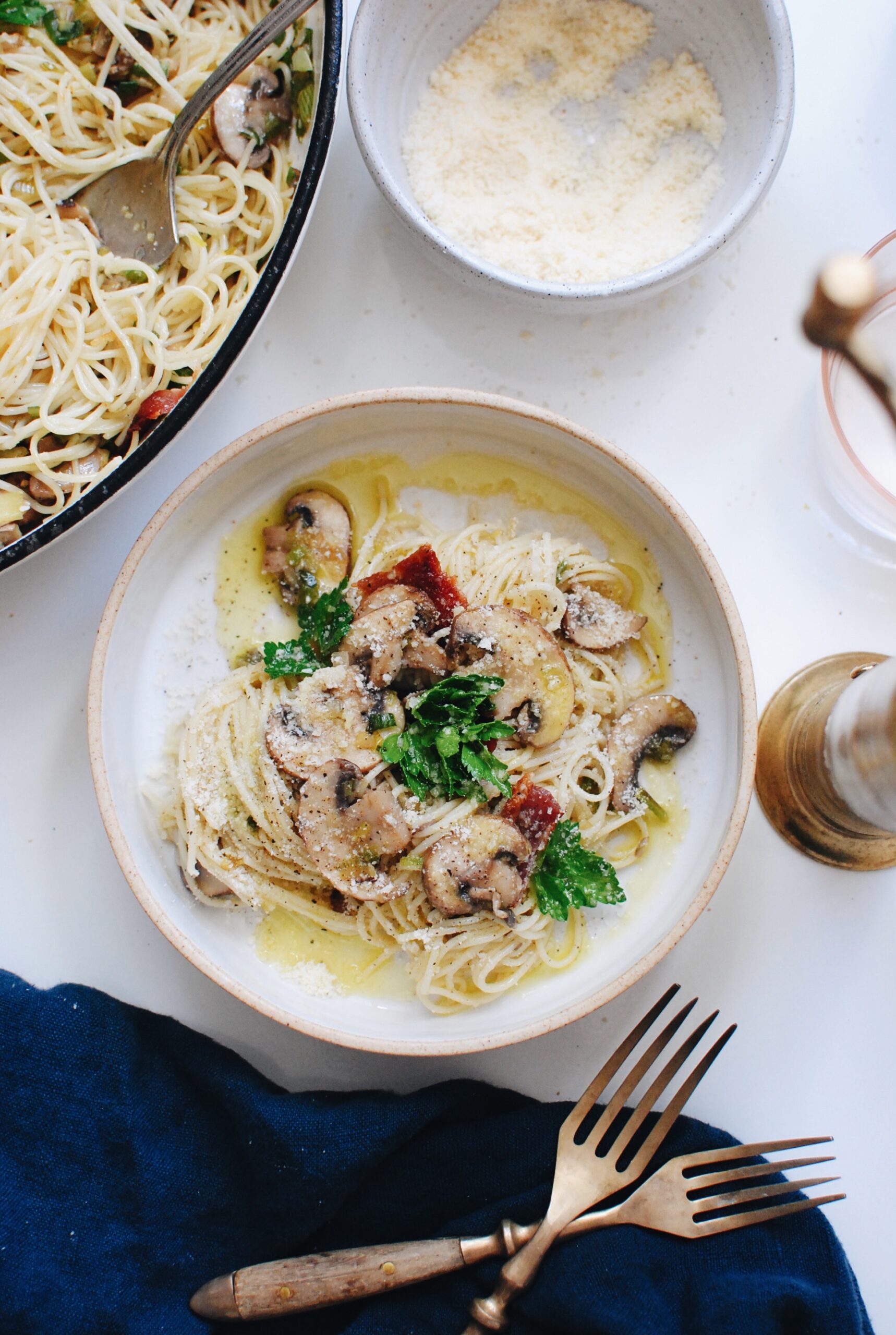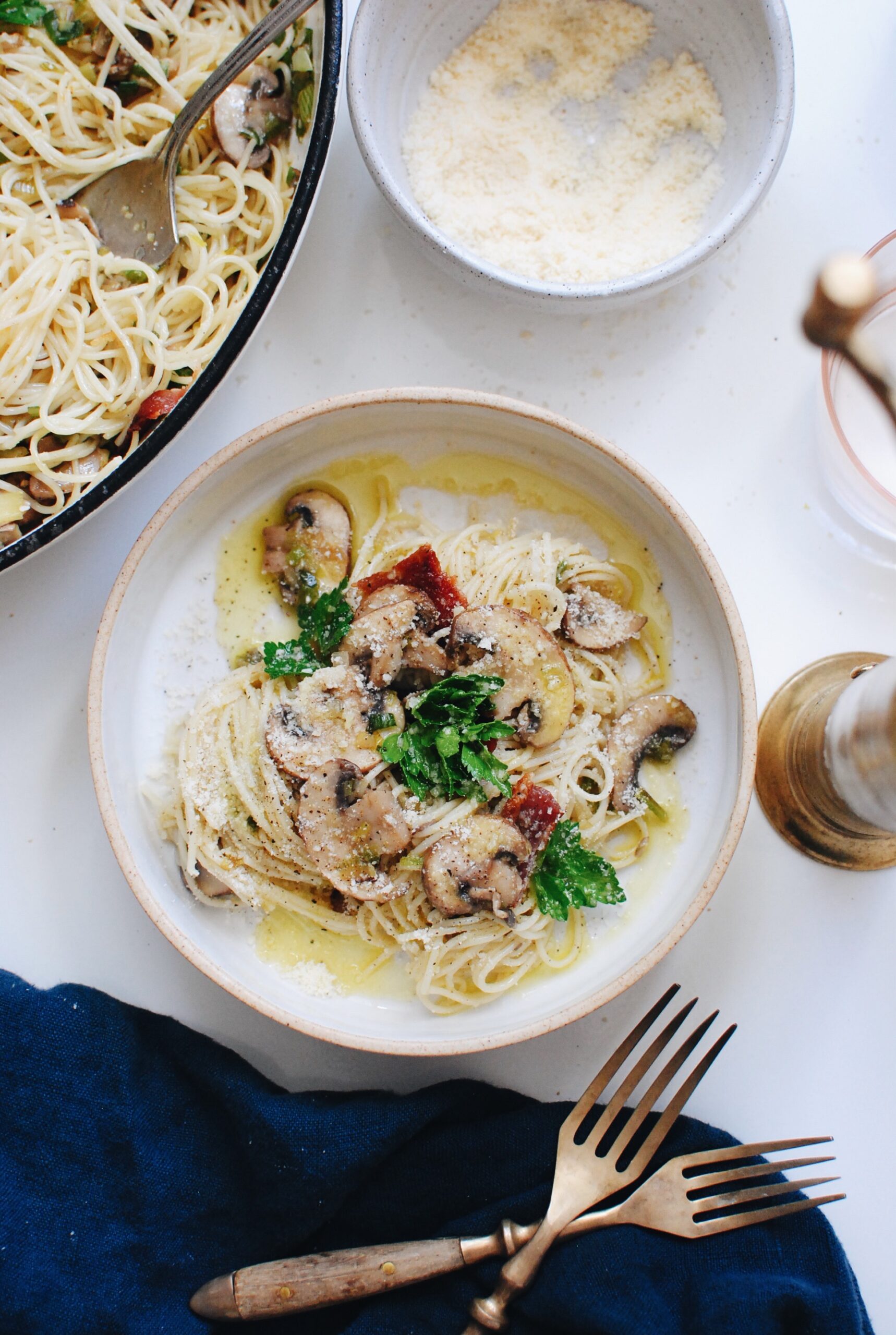 Tonight.
Angel Hair Pasta with Leeks, Mushrooms and Bacon
Ingredients
1 pound angel hair pasta
4 medium leeks
6 slices bacon
1 (8 oz) container baby Bella mushrooms, lightly rinsed of dirt, and thinly sliced
3 garlic cloves, minced
1 lemon
Parmesan and parsley for garnish
Coarse salt
Instructions
Cut the coarse dark green parts of the leeks off. (Freeze for veggie stock!) Then cut the root ends off. Slice the leek lengthwise, revealing layers of leek inside. Now thinly slice the leeks crosswise, making little half moons. Place the sliced leeks in a bowl of water, and move them around with your fingers, letting the dirt fall to the bottom. Empty the dirty water and rinse the leeks in a colander under running water once more.
Cook the bacon until rendered and crispy. Crumble once cooled and set aside.
To the reserved bacon fat, add the leeks and a good pinch of salt. Sauté the leeks until they begin to get tender, about three minutes. Add the mushrooms and keep sautéing another three or four minutes, until the mushrooms darken and shrivel. Add the garlic and sauté 30 more seconds, until fragrant. Zest the lemon right into the pan and give everything another pinch of salt.
In the meantime, bring a large pot of salted water to a boil. Cook the angel hair until al dente, just about three minutes. Using tongs, transfer about half of the pasta into the pan, along with a half cup of pasta water. Juice half of the lemon into the pasta. Reserve another full cup of pasta water before draining the rest. Add enough angel hair and starchy water to the dish until it's to your liking. I had a bit of plain pasta leftover, which I'll save for the kids later on. Oh, nestle that crispy bacon back in, for the love.
Garnish with parsley and parmesan and more lemon wedges, and perhaps a drizzle of your best oil!
Serves 4.
7.8.1.2
475
https://bevcooks.com/2021/01/angel-hair-pasta-with-leeks-mushrooms-and-bacon/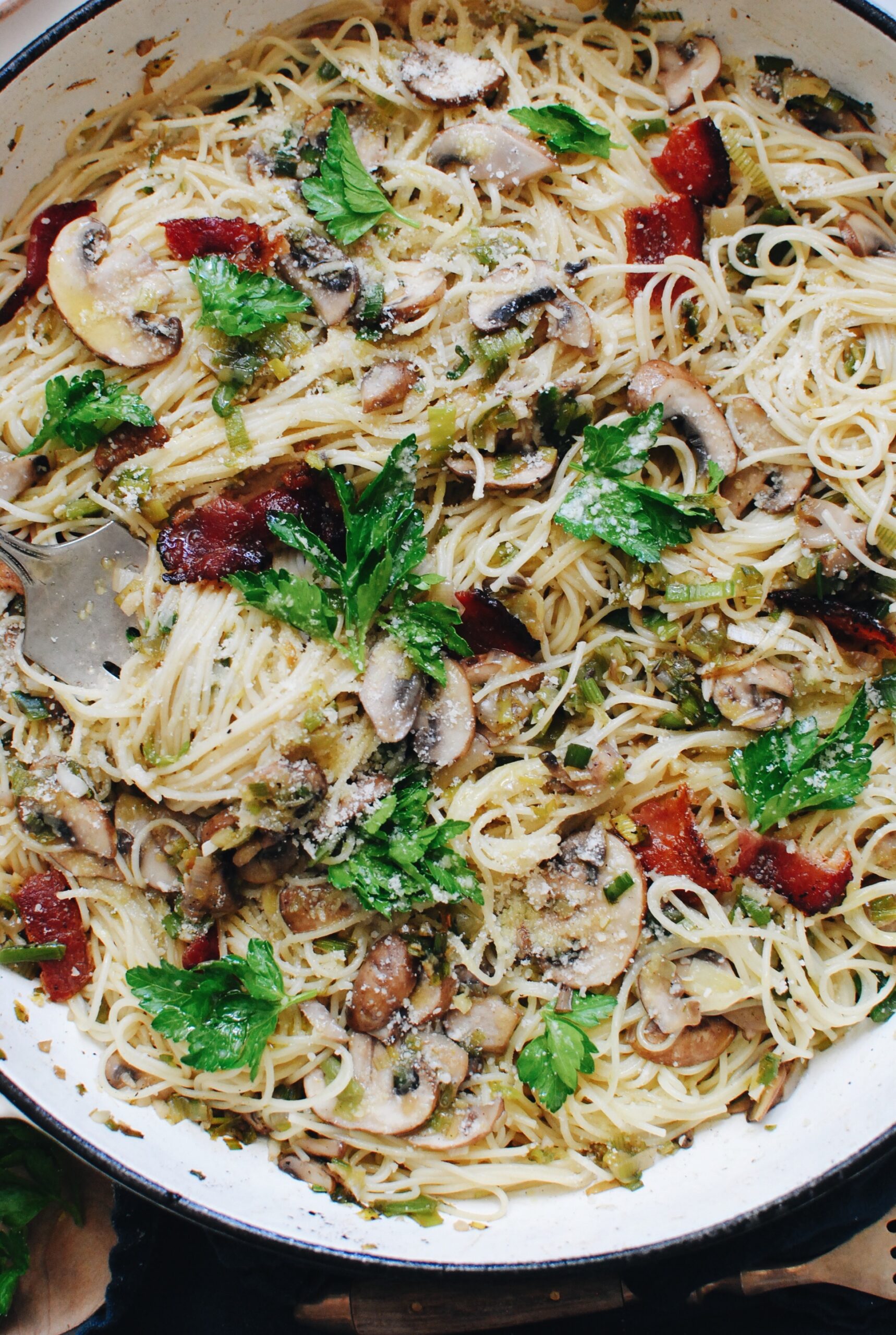 Go ahead and sprinkle on some more cheese, 'mkay?