Last recipe post of 2020! And it's basically a non-recipe recipe. See how I take care of you?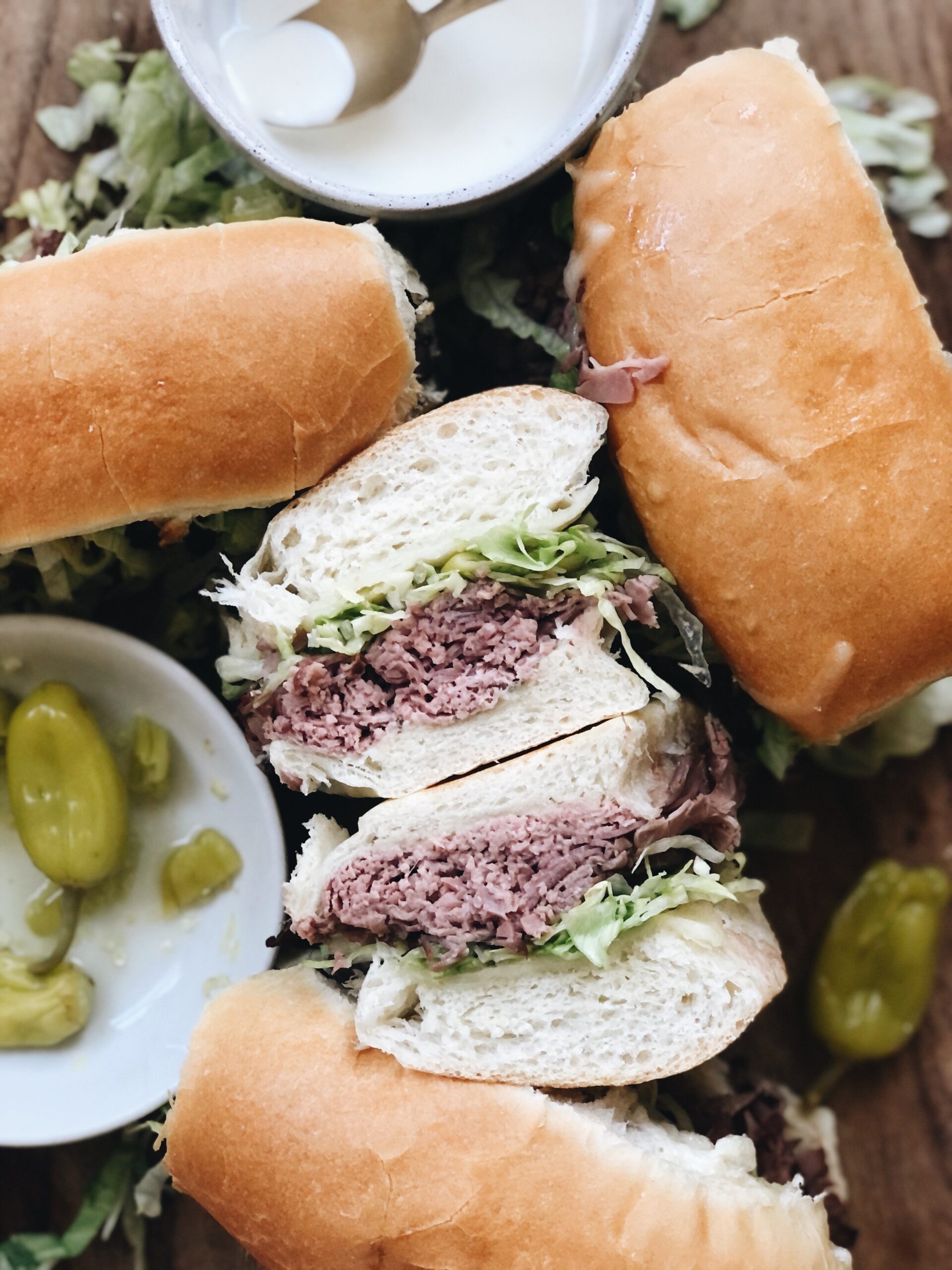 Would you believe that a lot of recipe ideas I have come from reading all these bagillion novels? This one, the coconut pineapple shrimp, and a few others that I'm blanking on right now.
All the author had to say was "they were huddled around a table eating toasted roast beef sandwiches when he looked up at me, shocked that I was standing there with a plaid ostrich coming out of my bra." Or something like that. I was lost at TOASTED ROAST BEEF SANDWICHES.
And then of course I couldn't let it go. So I made them once, got the omgs and the yesmoms and the maketheseagains and here we are.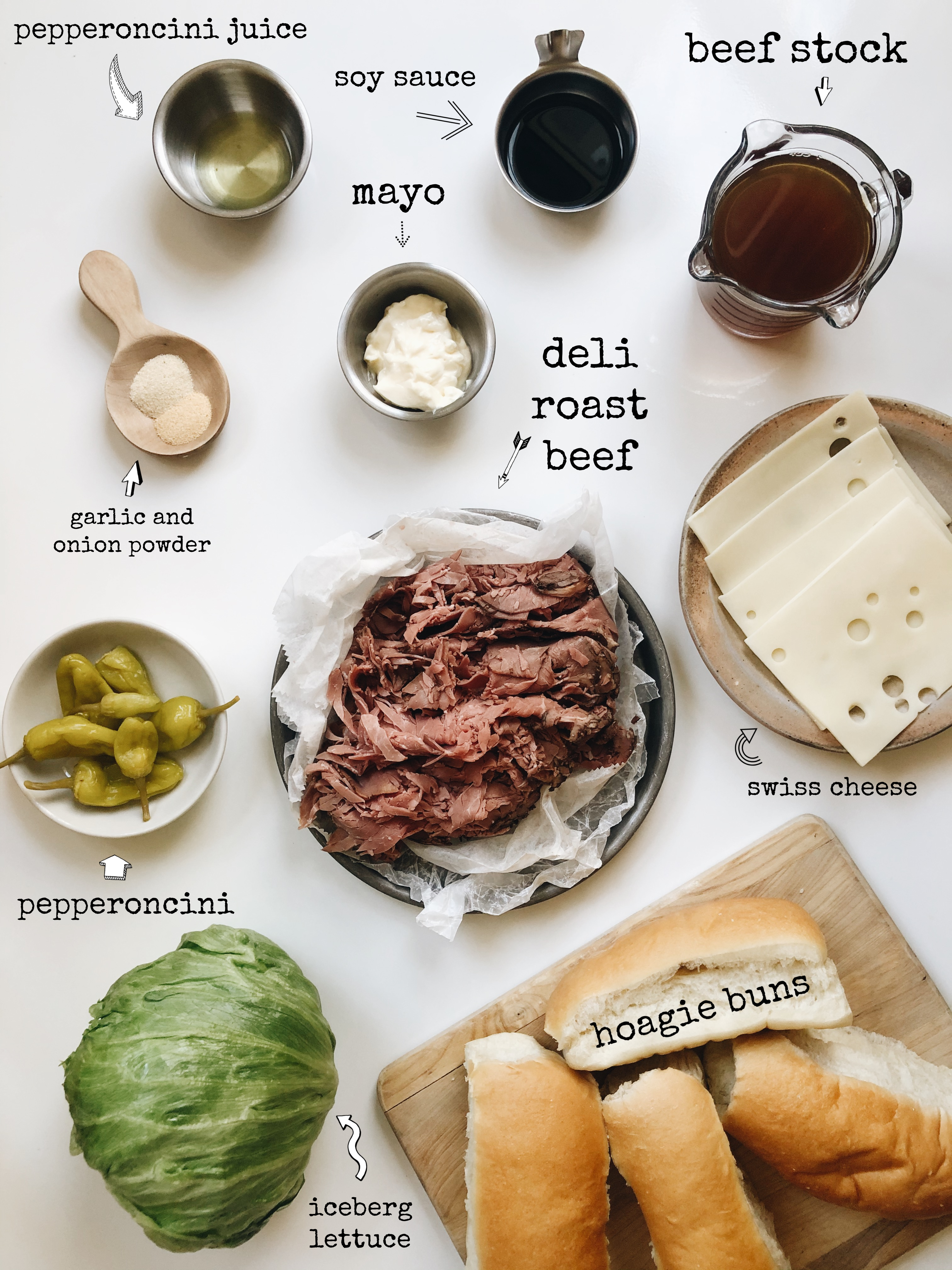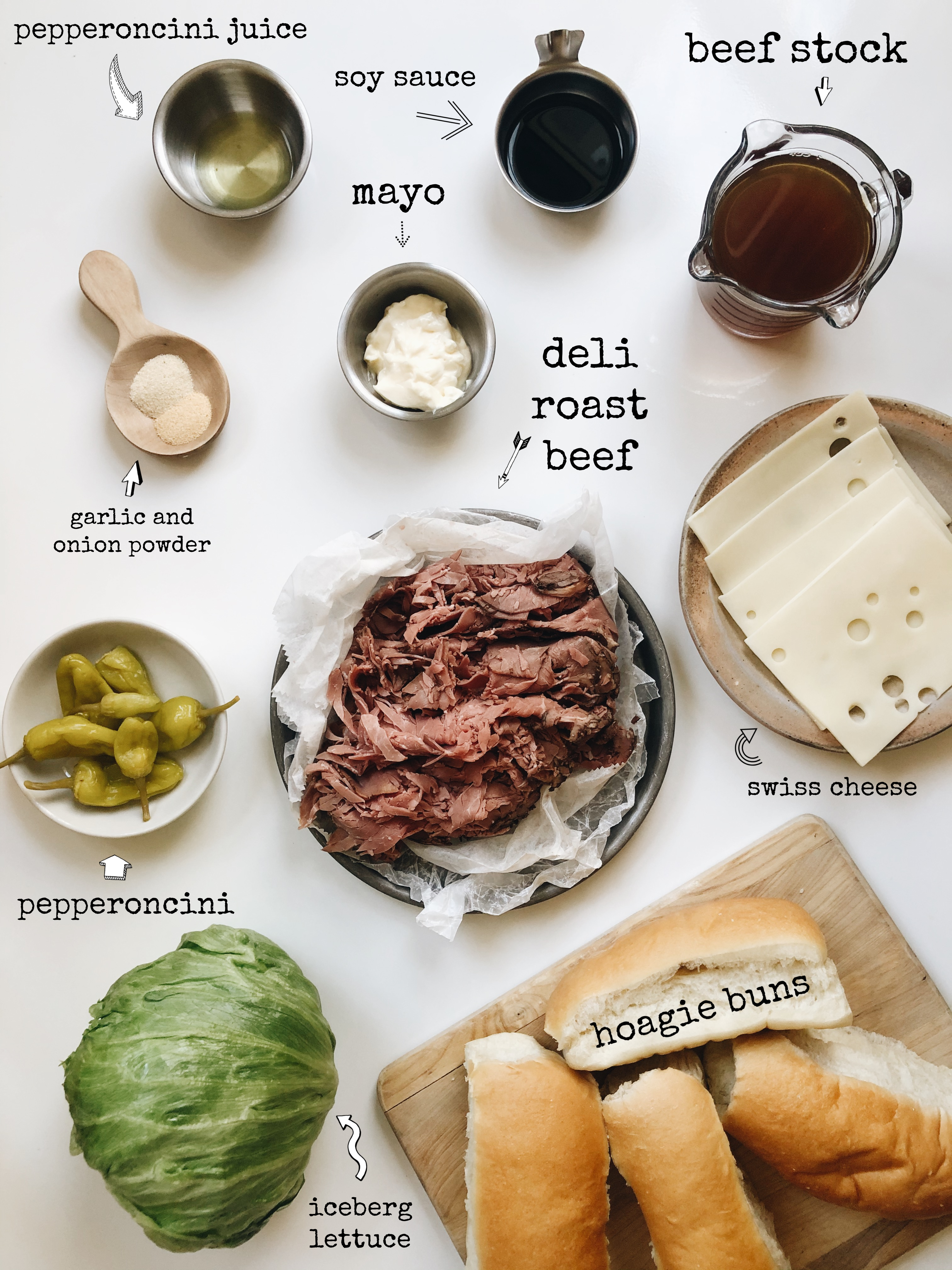 It's a pile-on situation. With a tiny bit of toasting and simmering and whisking. But the effort is so minimal you'll never love me more.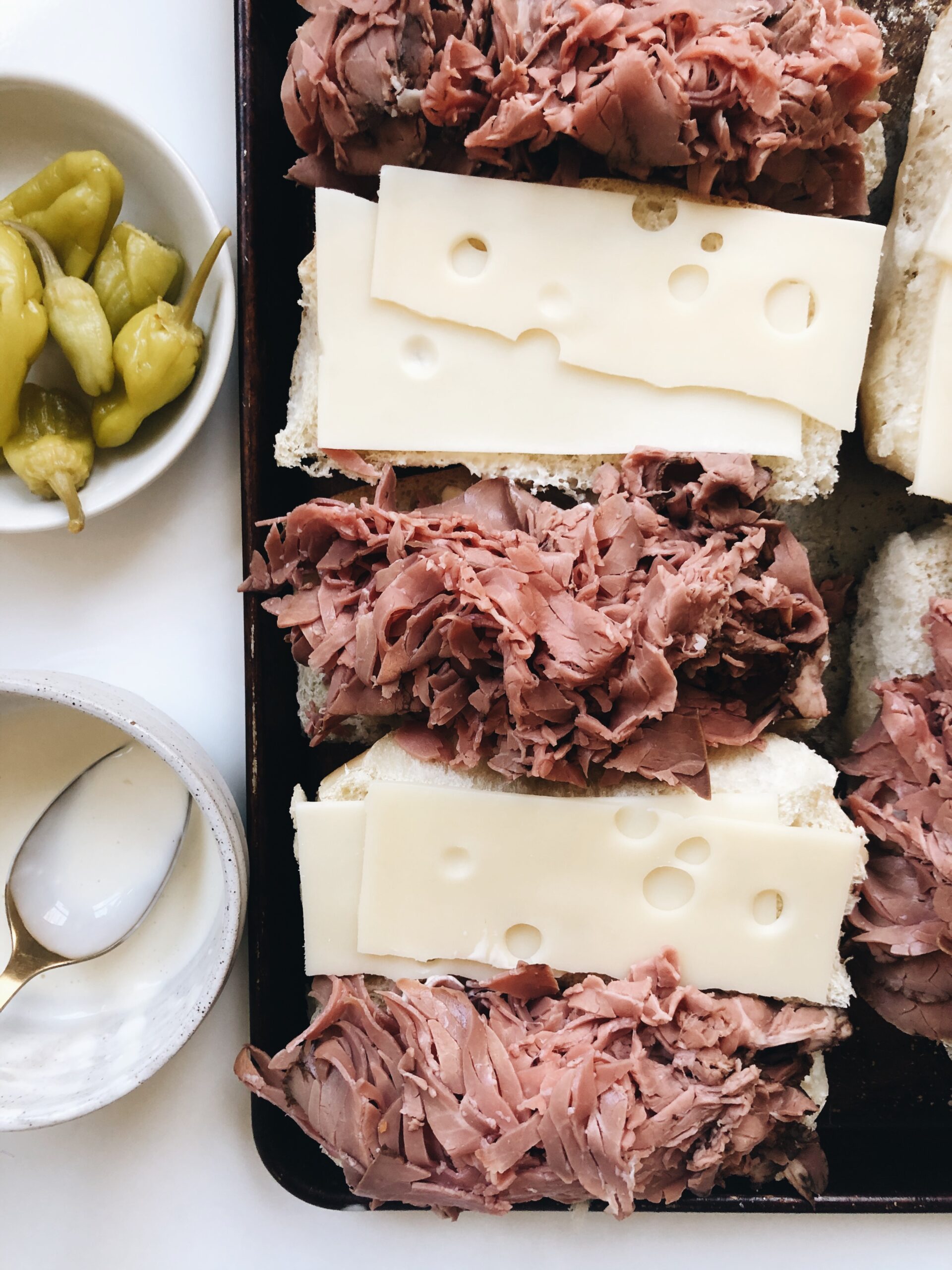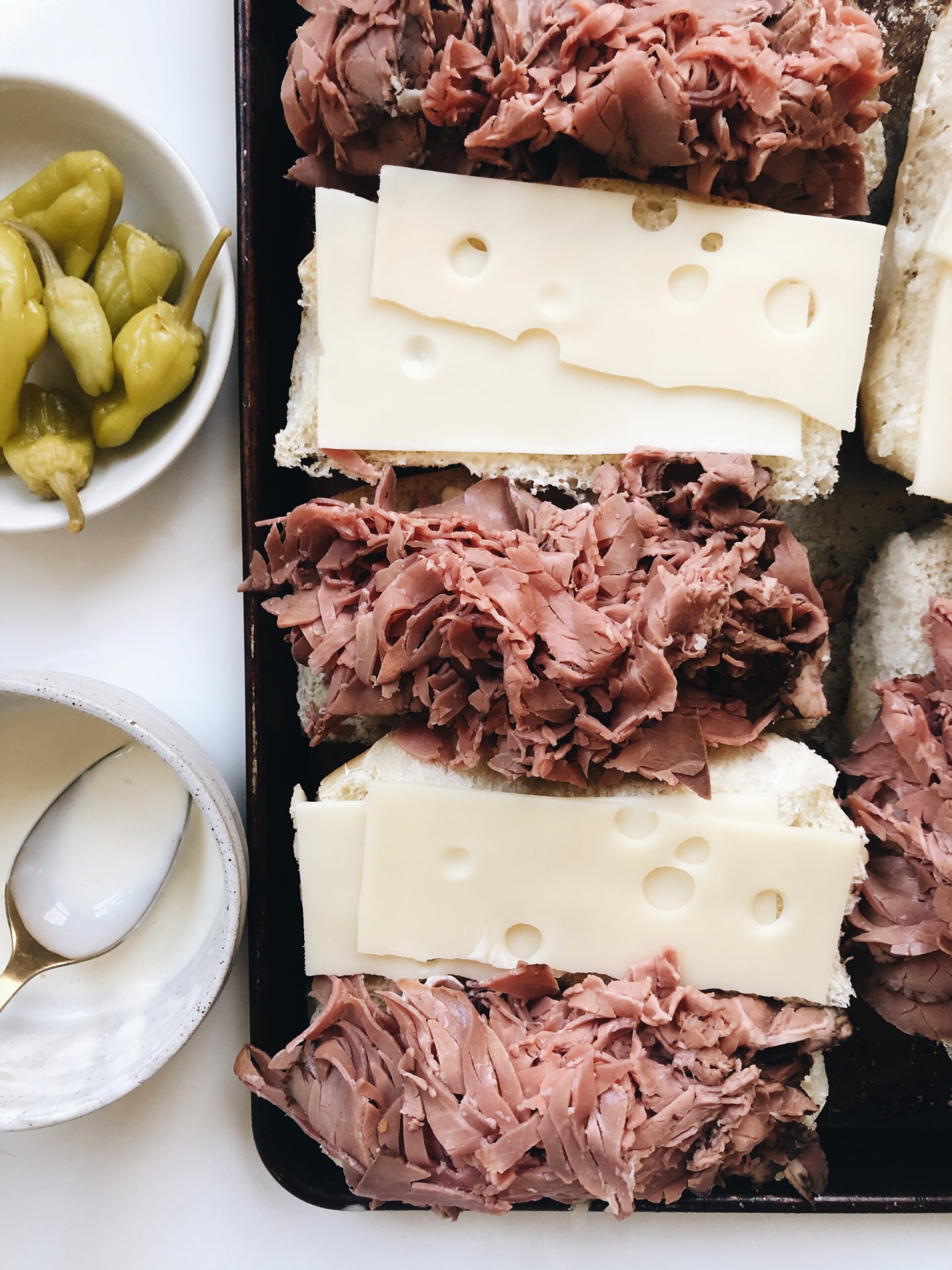 First of all, whisk the mayo and the pepperoncini juice together. Pepperoncinis are sort of like banana peppers. Not a ton of heat, mostly acid. So that plus the creamy mayo and it's the stuff of your dreams, really.
Then smear it on the bottom halves of your split hoagie buns. Sub buns. Whatev, Bev.
Then violently pile on some thinly sliced roast beef. Get the good stuff at the deli, where a human hands you a bag over a counter. That stuff. Worth it.
Then place your swiss on the top halves.
This goes into an oven for 10 minutes, which gives you time to do two things. Three things.
A few things.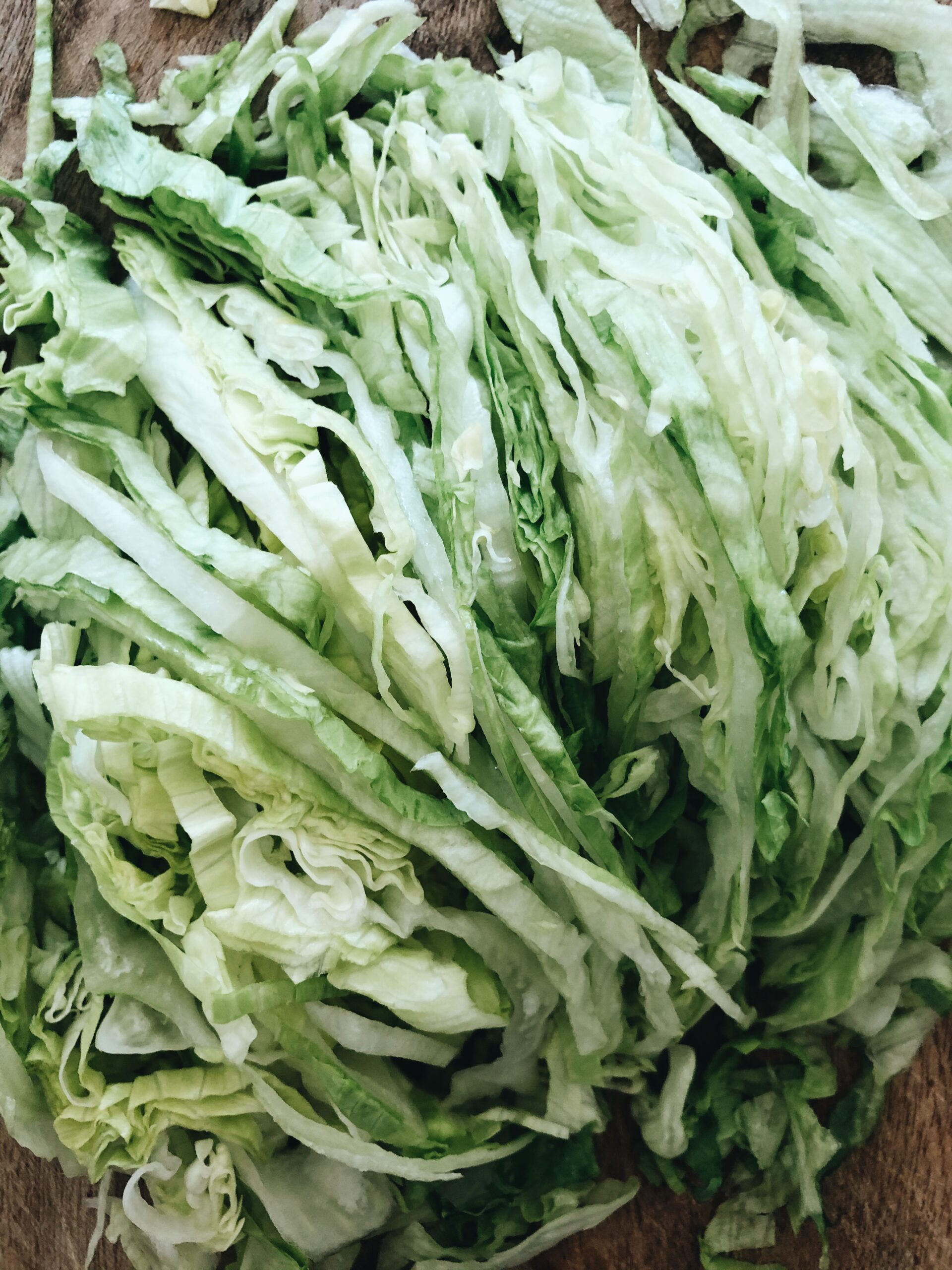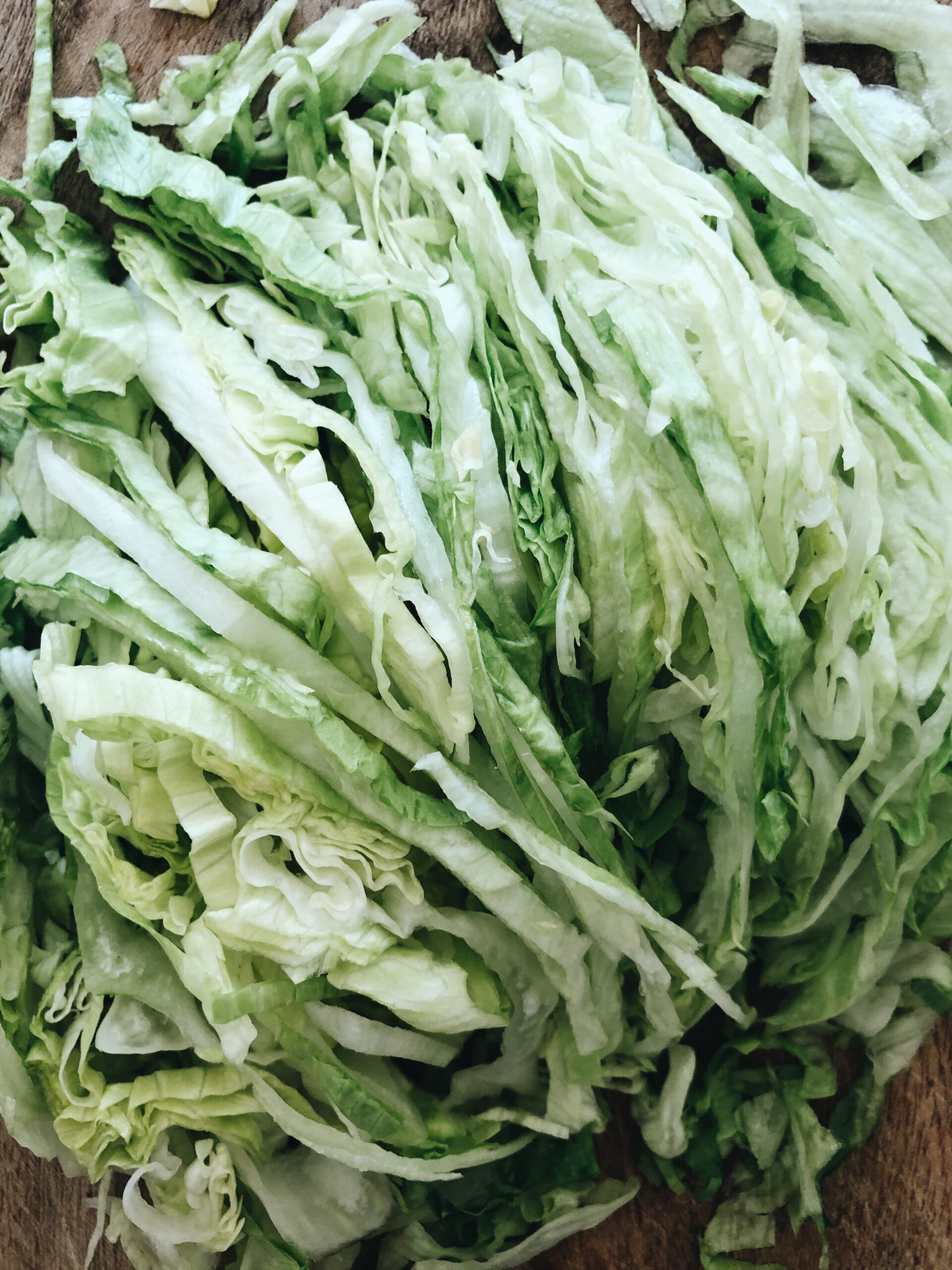 Thinly slice your ICEBERG LETTUCE. Who here doth forgotteth about the watery, crispy magic of iceberg? ME. There's negative nutrition in this (maybe that's a myth actually, I have zero clue), but it sure is nostalgic to eat. And works brilliantly with toasted roasted beef subs. Highly recommend.
Simmer your jus! Your beef juice (Sorry, Ash). Which is just beef stock, soy sauce, the onion and garlic powder. Yes, there are more technically suave ways of making a jus, but you do know me, right? Simmer that mess until it's warm and deliciously dippable.
Slice those peppers, if you've not already! Which you probably did. Never mind.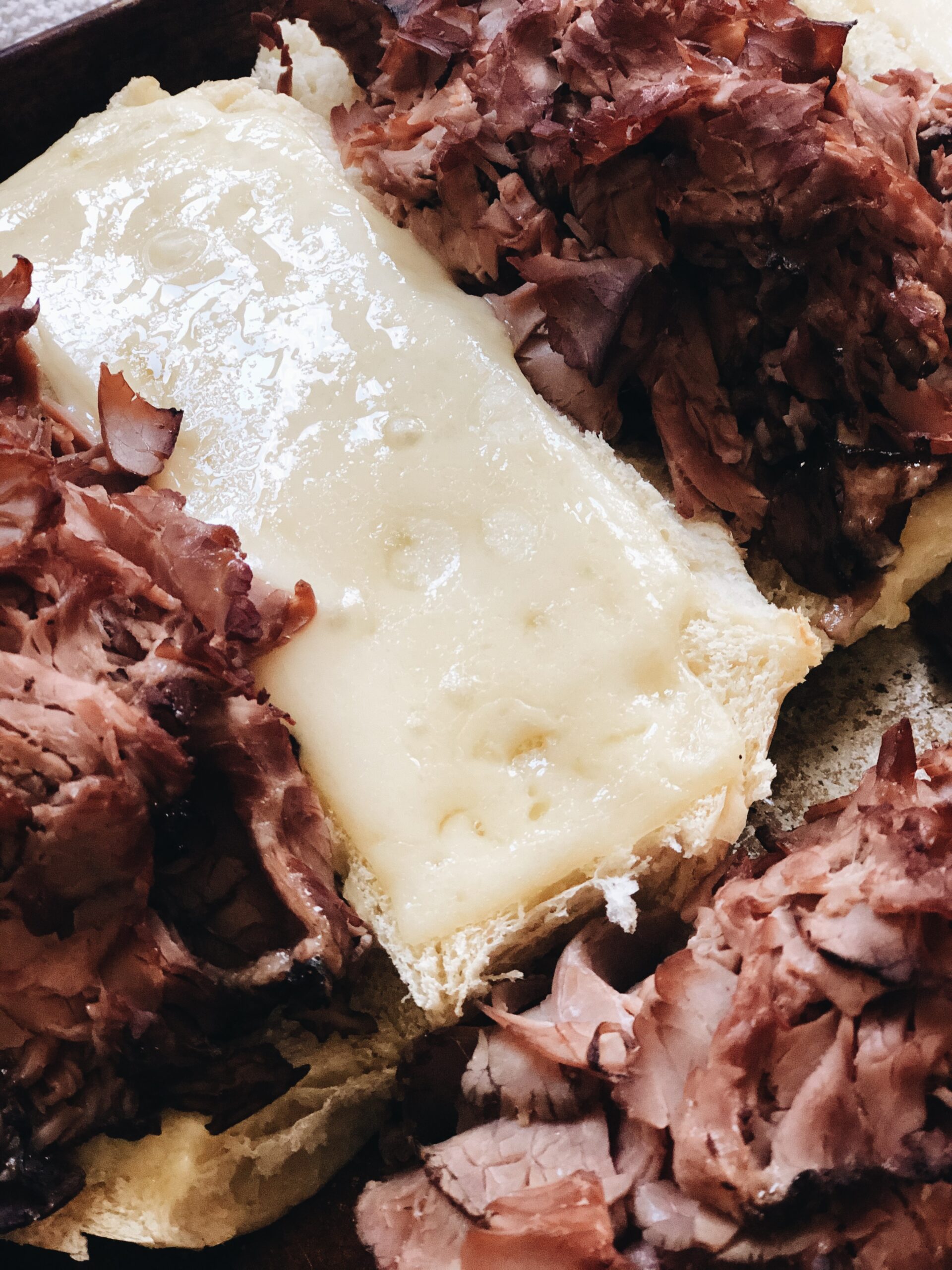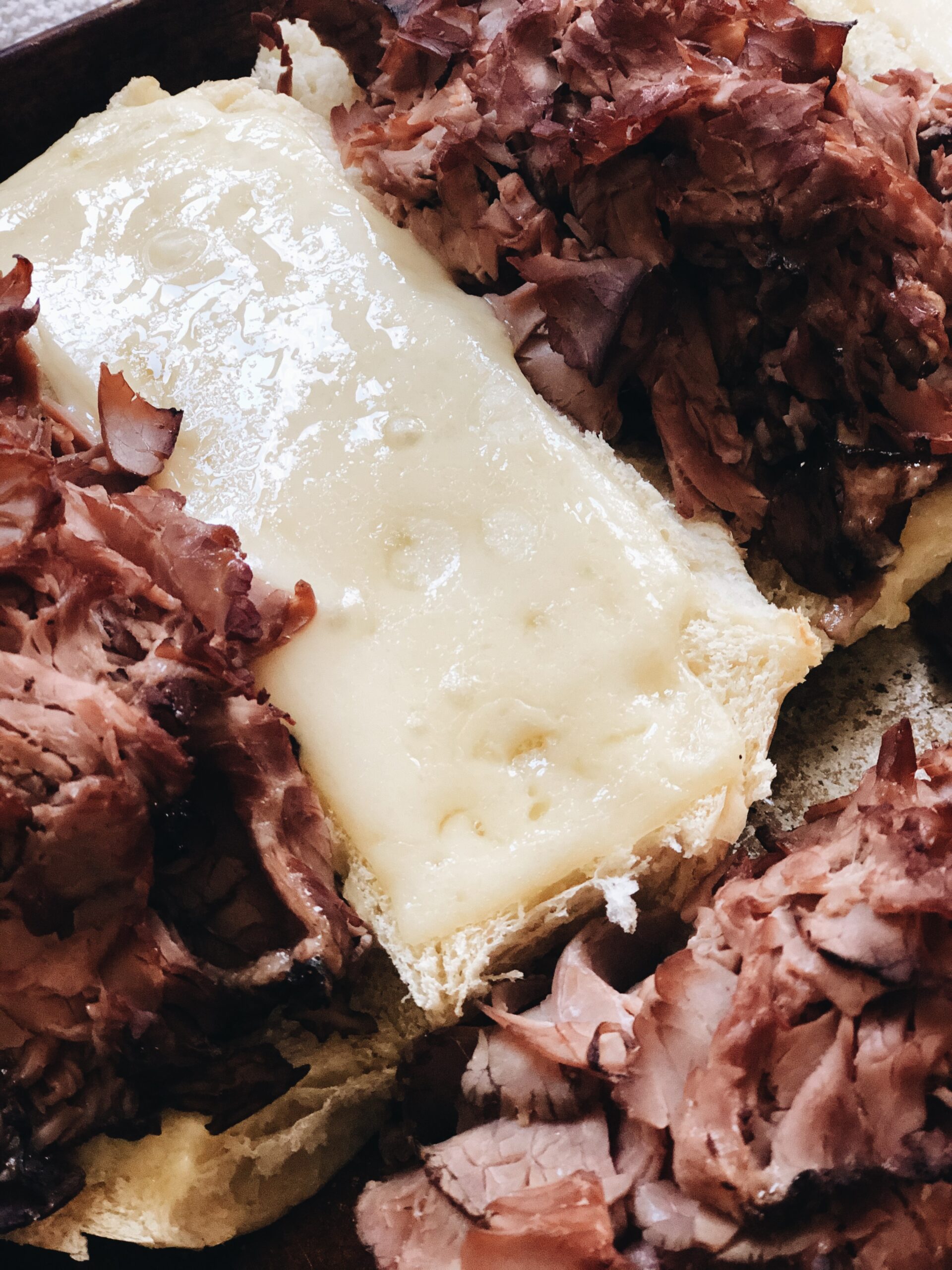 The cheese has melted (go longer if you want some good bubbling action!), the beef tips are crisping here and there, and the bread is toasty but still soft. Ish is about to get so good rn.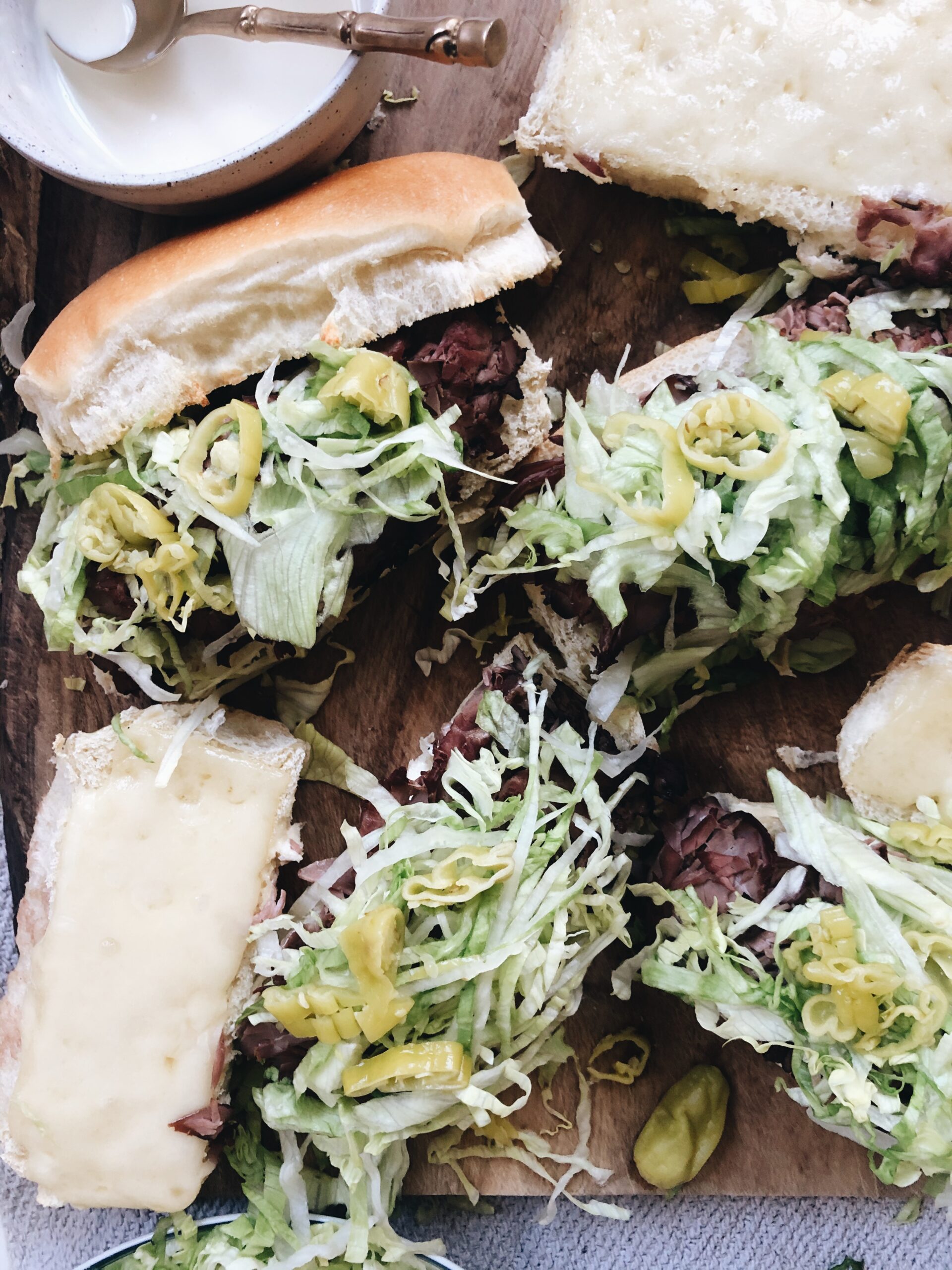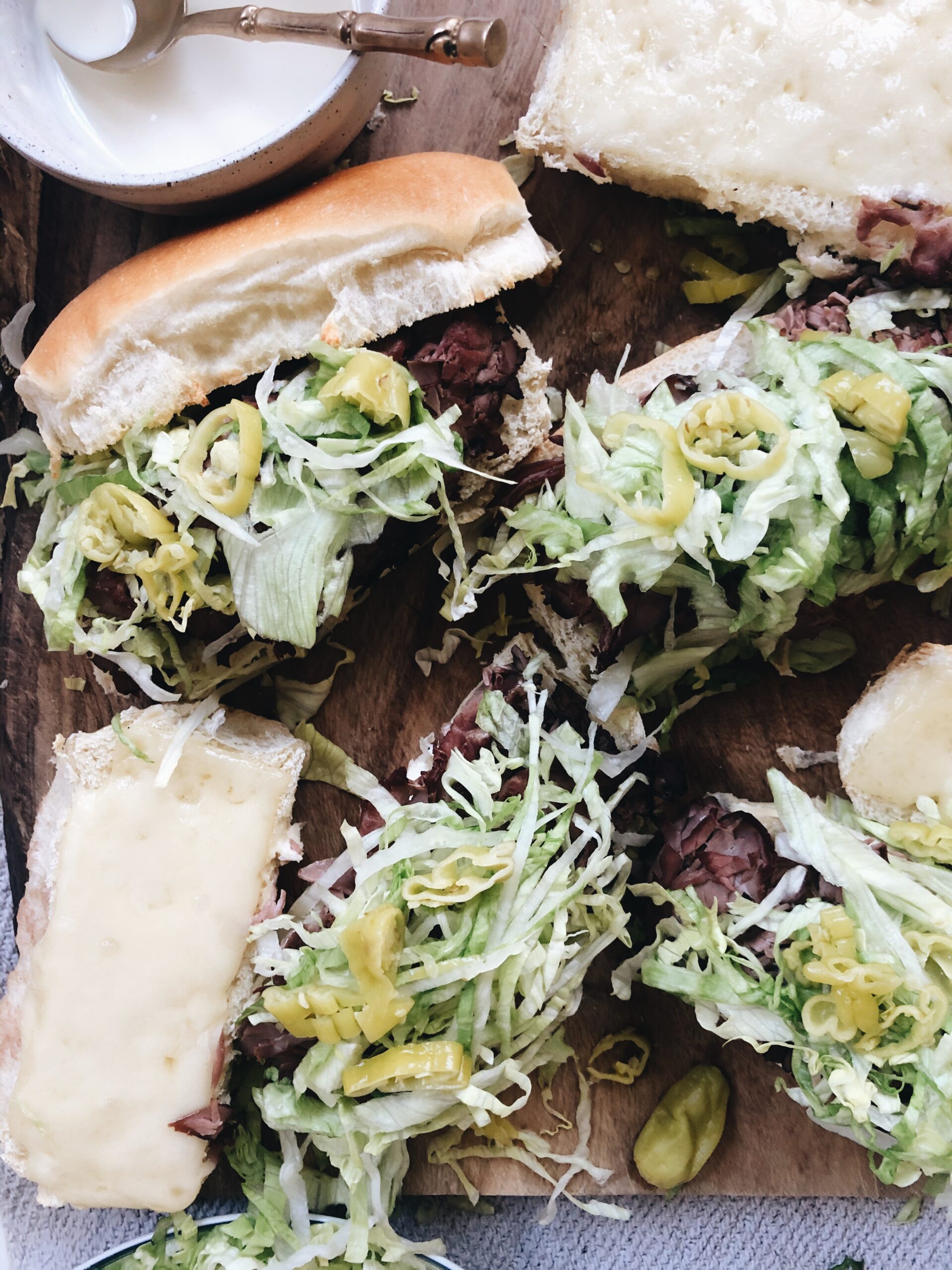 Then you'll pile on some crisp iceberg and zingy pepperoncini slices and wipe a tear if needed.
Try and squeeze some of the juice out of the peppers and over the lettuce. These are the good things in life.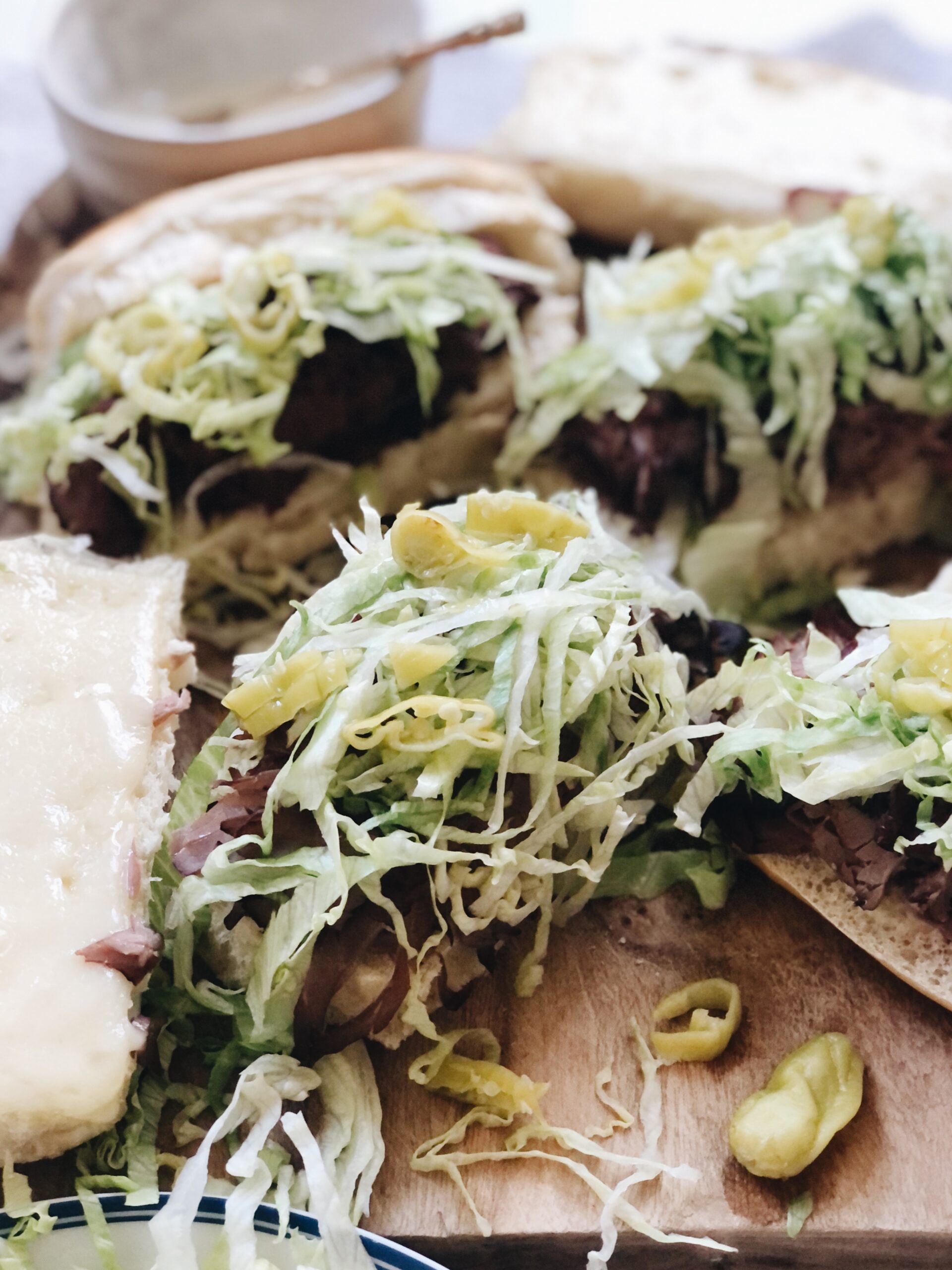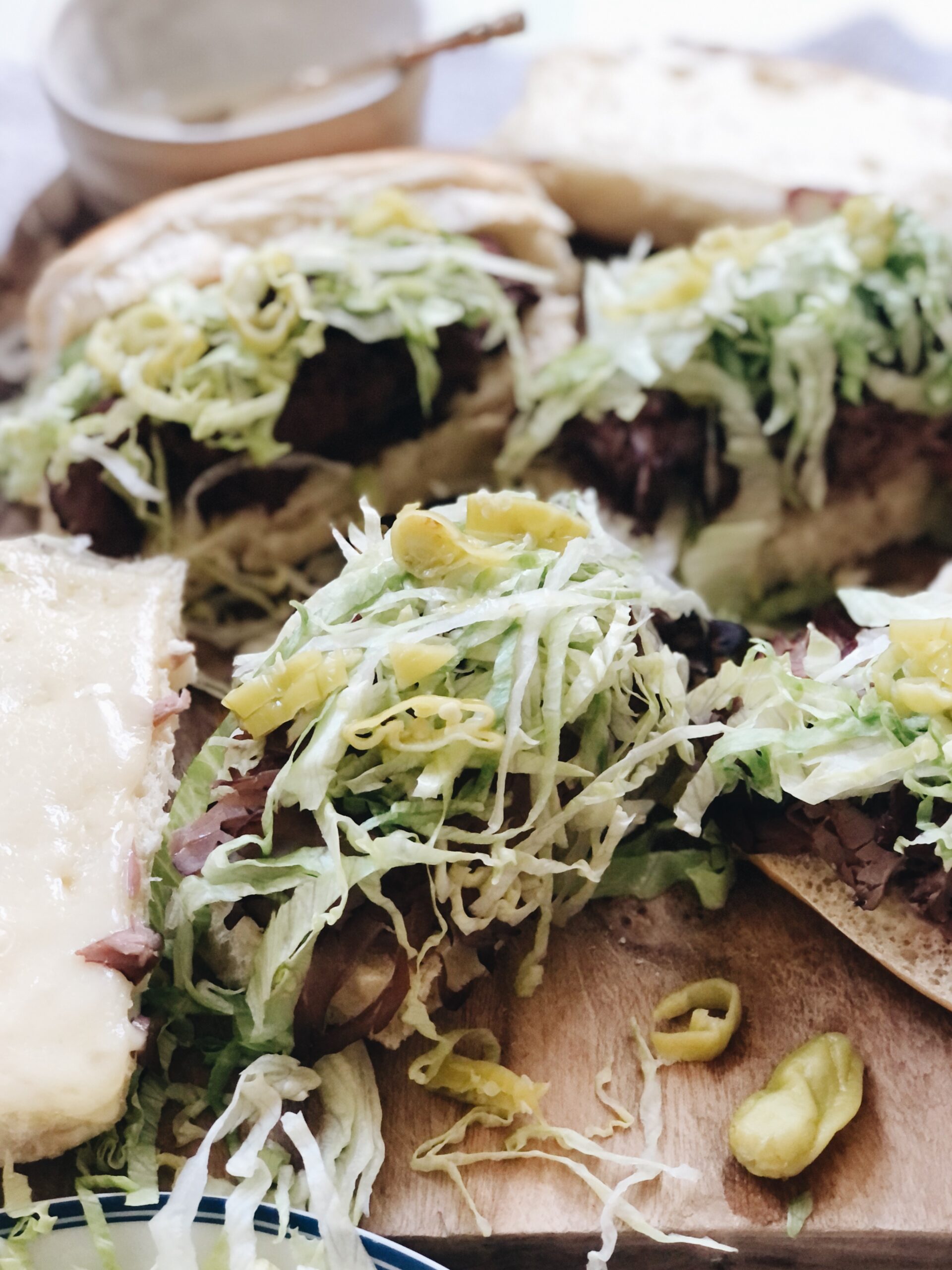 I just want to make sure you're seeing how simple this is. Cram that top cheesy bun on the top and look at its glory.
It's winter food. It's comfort food. It's game night food. It's 20-minute dinner food. And what I can't deal with is how perfect the warm toasty, melty cheesy buns, warmed beef and savory jus are with the cool, crispy iceberg. Delicious marriage.
Wait, is that another tear?
Thought so.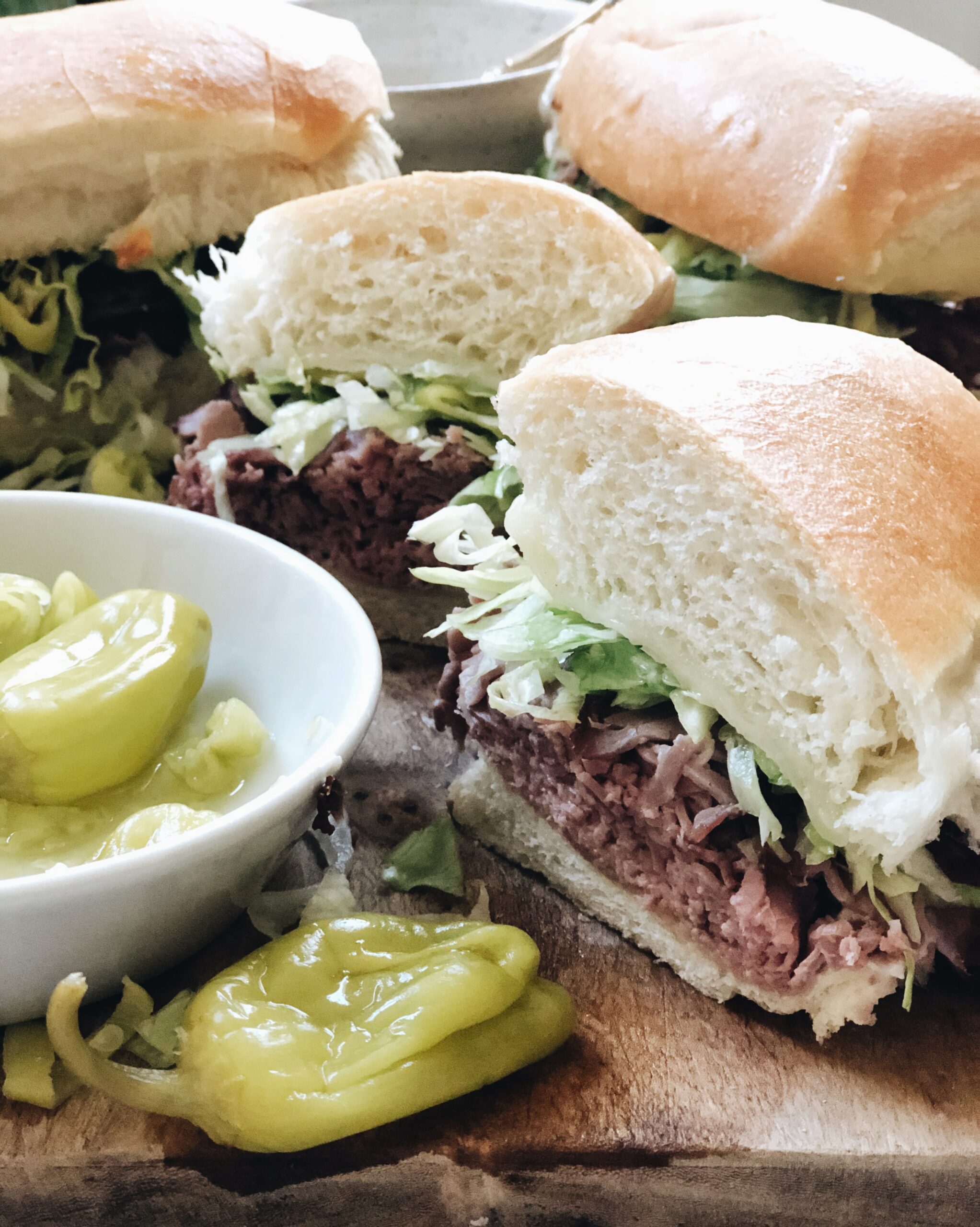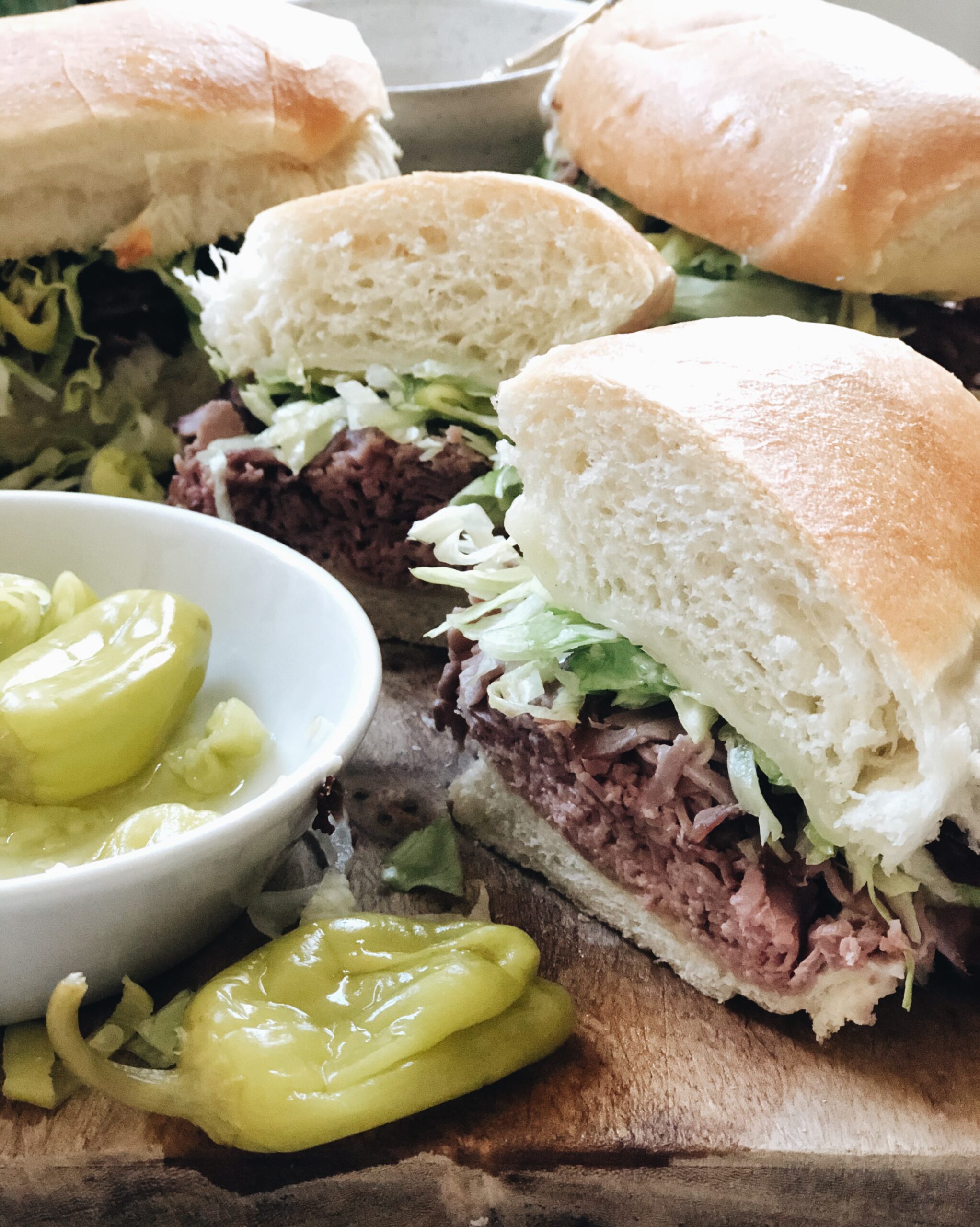 You might not think this now, but you're looking at once every two weeks, you are.
Toasted Roast Beef Sub Sandwiches Au Jus
Ingredients
1 pound thinly sliced roast beef
1 cup beef stock
2 Tbs. soy sauce
1/2 tsp garlic powder
1/2 tsp onion powder
2 Tbs. Mayo
A few pepperoncini peppers, thinly sliced (depending on how much you dig them)
2 Tbs. juice from the jar of pepperoncinis
4 slices Swiss cheese
1/2 wedge iceberg lettuce, thinly shredded
4 split hoagie or sub roll buns (was all that redundant?)
Instructions
Preheat your oven to 350.
In a small saucepan, combine the beef stock, soy sauce, garlic powder and onion powder. Whisk this together and simmer on low until you're ready to eat.
In a small bowl, whisk together the mayo and pepperoncini juice.
Arrange the split hoagie buns on a baking sheet. Evenly spread the mayo mix on the bottom halves of your hoagie buns. Top with a gigantic mound of roast beef. On the top halves place the Swiss cheese. Roast for 10 minutes. 15 if you want the cheese to brown and bubble.
Top the roast beef with shredded lettuce and a few of the sliced pepperoncini peppers. Place the top halves on top and cut in half crosswise. Serve immediately with the jus! (The dipping sauce)
Makes four sandwiches.
7.8.1.2
473
https://bevcooks.com/2020/12/toasted-roast-beef-sub-sandwiches-au-jus/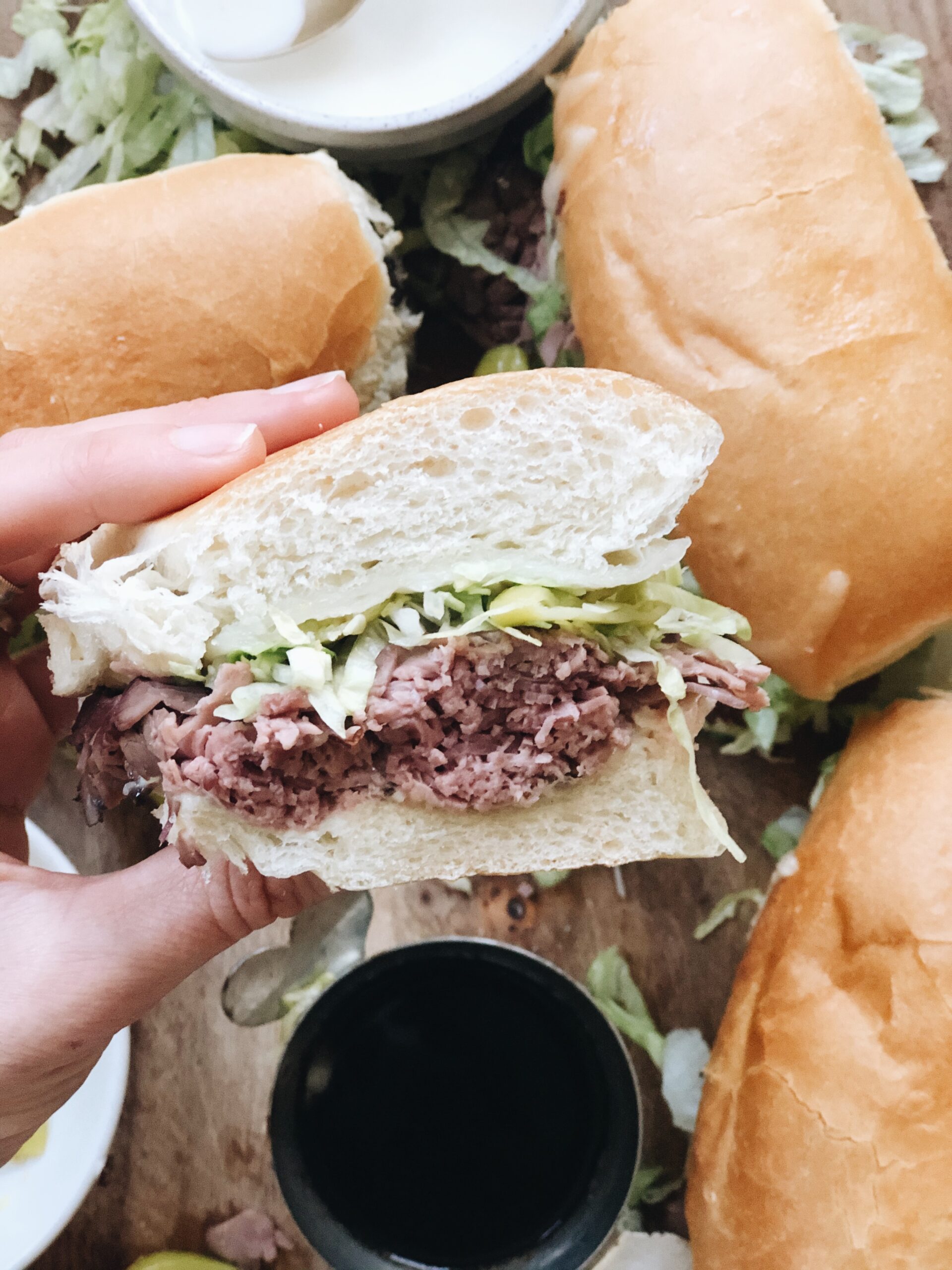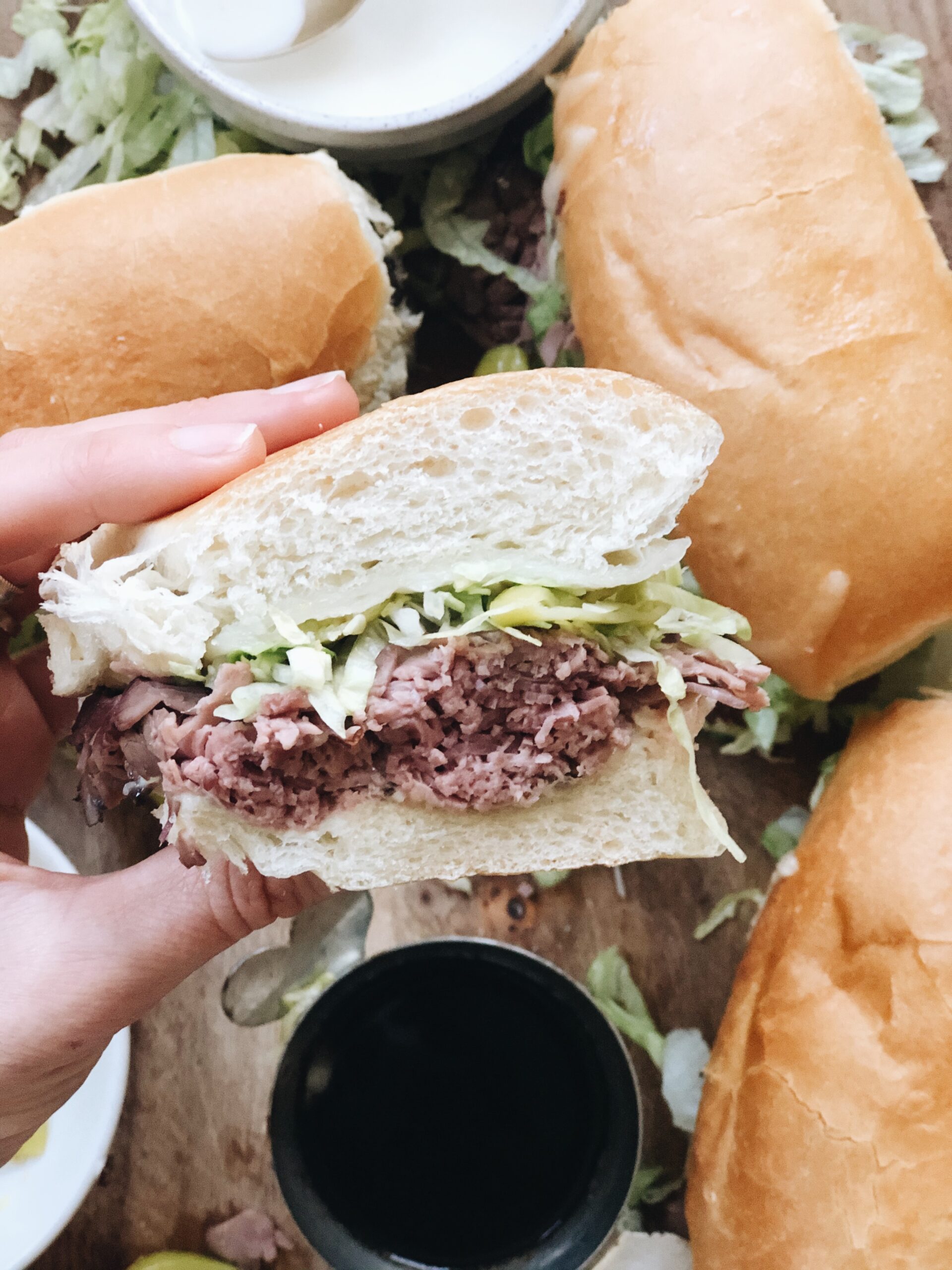 Don't forget your jus! I had a photo of it dipped and whoa, girl it is not photogenic. But you can imagine. Dip dip dip.
Dip dip.
Dip.