S U P E R simple dinner alert. I mean, alert! I feel like that needed an exclamation point. Either that or something's in this coffee.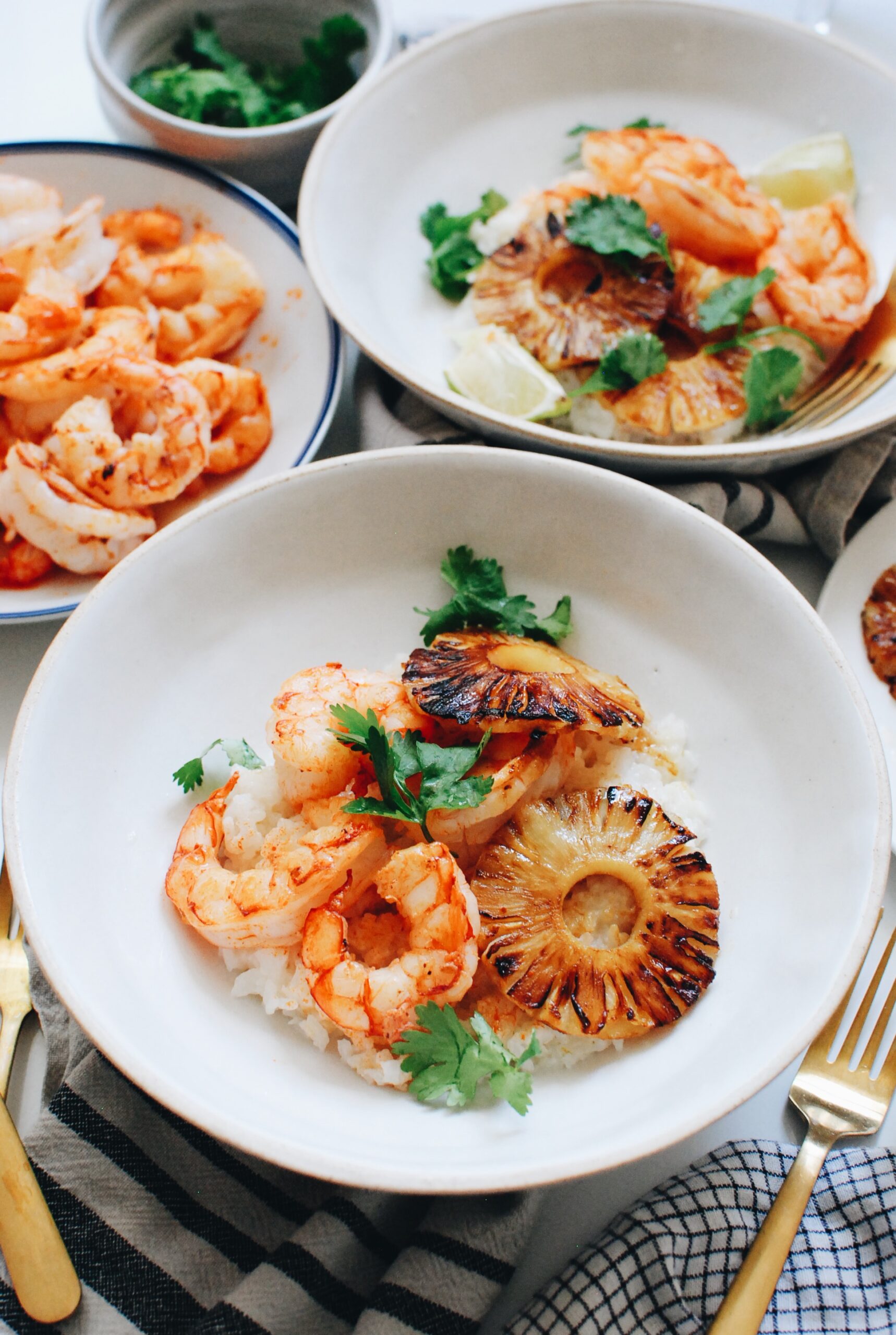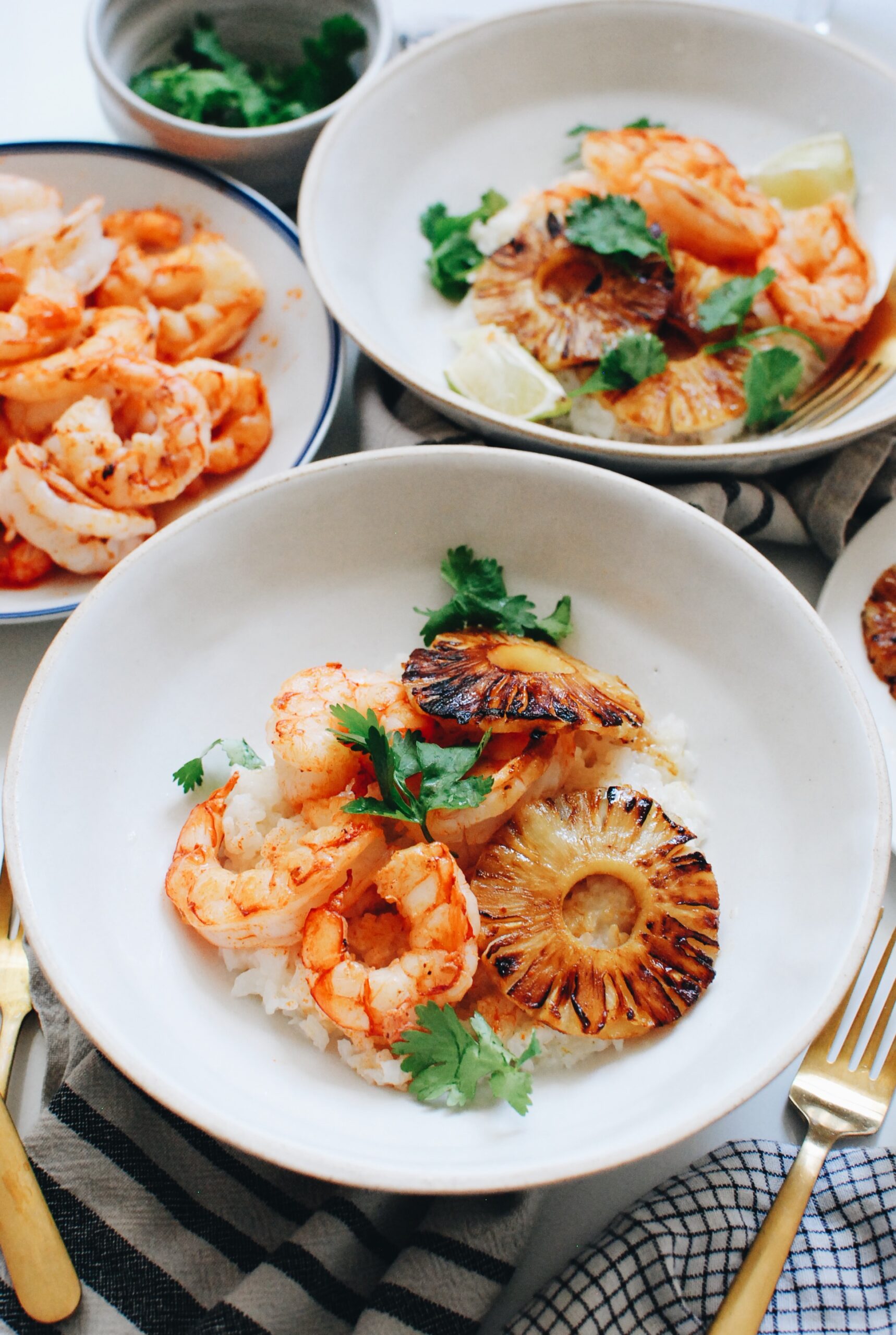 This is 100% one of those barely-do-a-thing meals. Which is kind of the key to life right now. I'm all for cooking from scratch, layered, project recipes, sure. You're like, not me.
But truthfully, these throw-together dinners make my heart sing. And I know they do the same to you, which is why I have this here internet blog website URL domain!
…hello?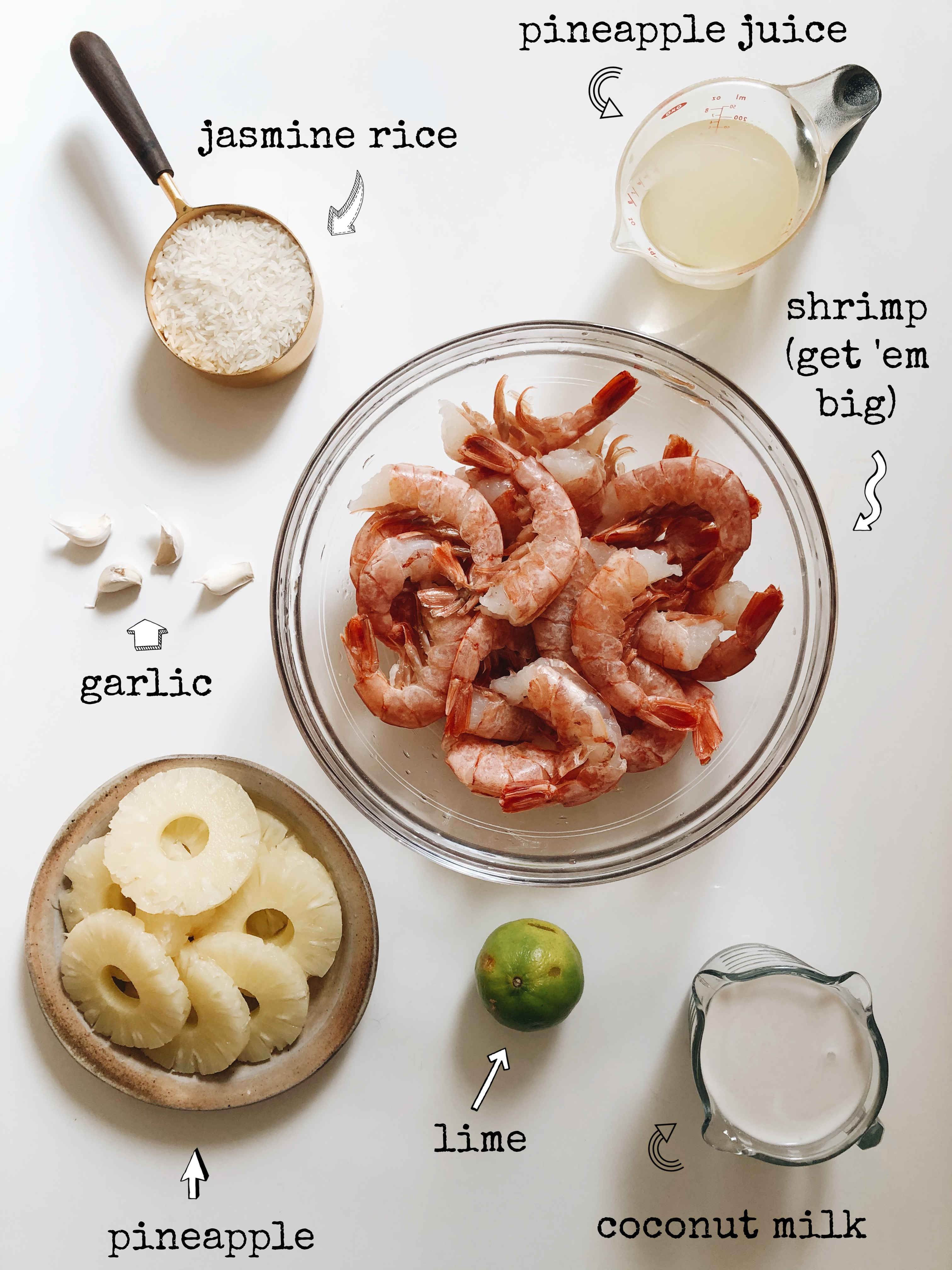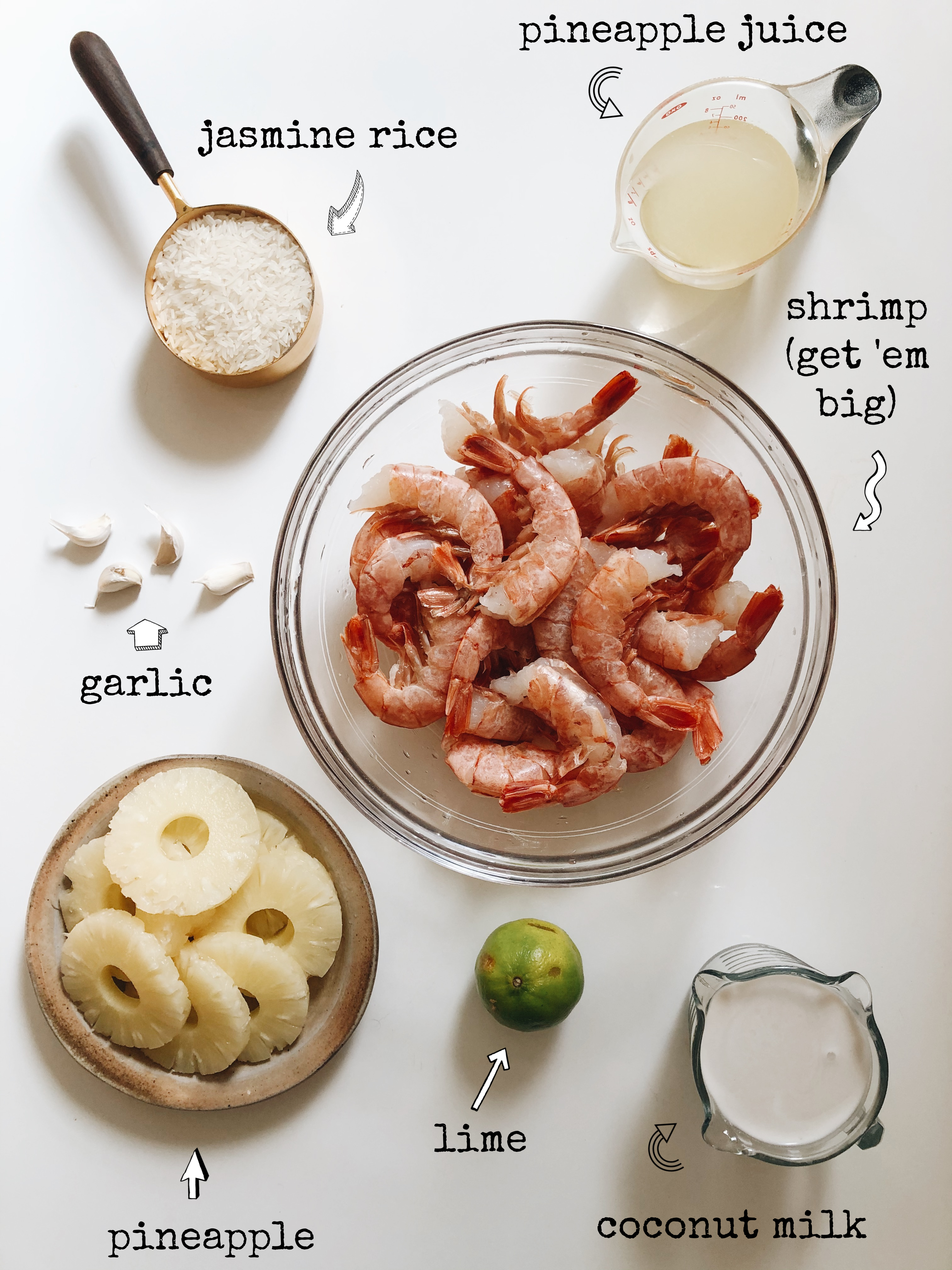 A few things!::
I say to go big with the shrimp – it's mainly an aesthetic thing. You can buy any size you want. Popcorn is a-okay, so don't let me boss you around.
Look at that lime. All those blemishes. I could have turned the lime around, BEV. Maybe I'll do better in 2021. Don't hold your breath.
The pineapple, it's from a can! That way we can save the pineapple juice and use it to flavor the rice. Girl this noggin is on TOUR.
And listen, I forgot to take a photo of the rice. But what it is, is this: rinsed jasmine rice in a rice cooker. Then add the coconut milk, grated garlic, a pinch of salt and the pineapple juice. This rice will be pretty dern sticky. But that's a good thing. It won't be separated like basmati rice. Think of it more like a risotto. Creamy, stuck together, bits of browning here and there. Lawd yes.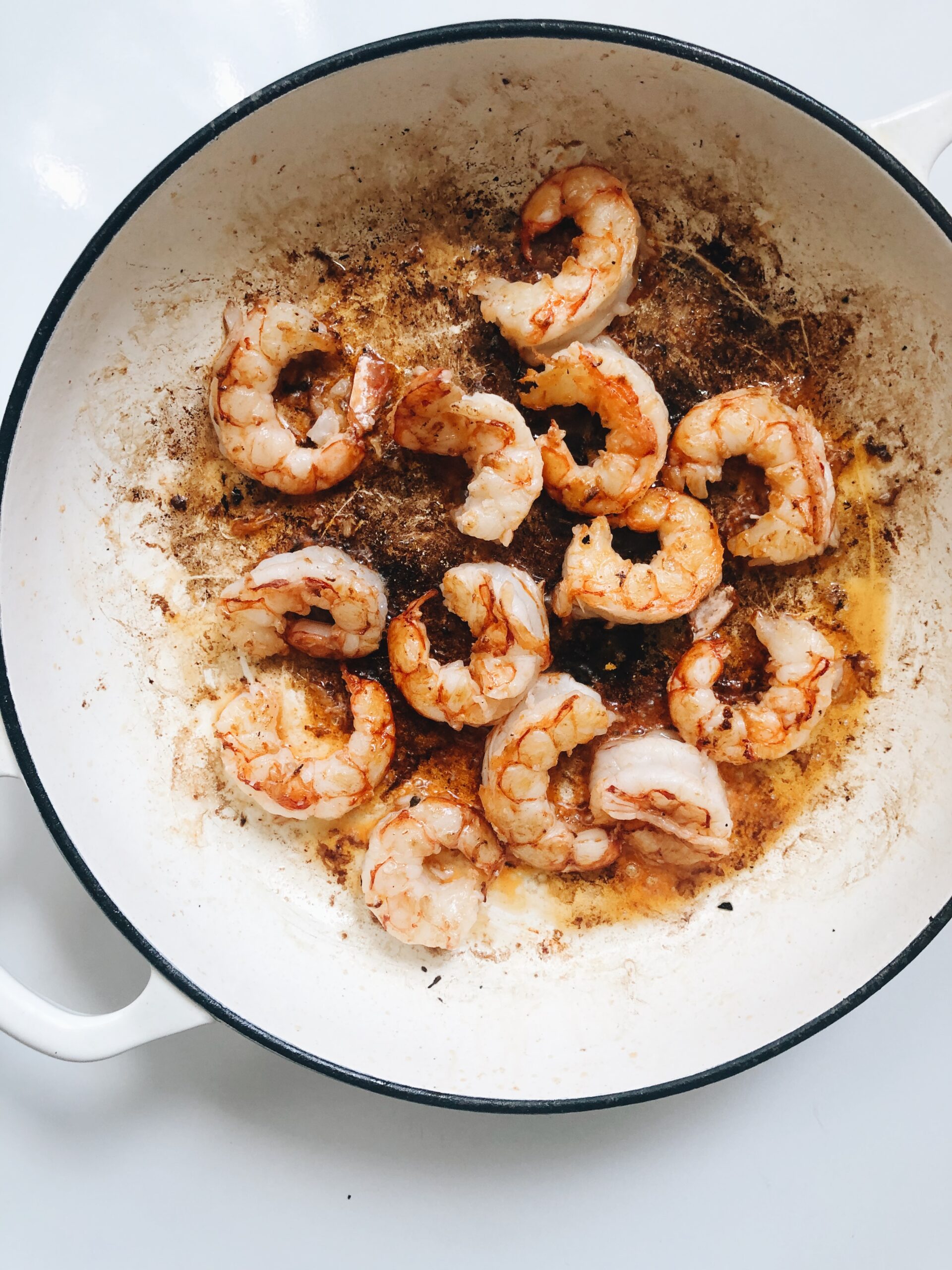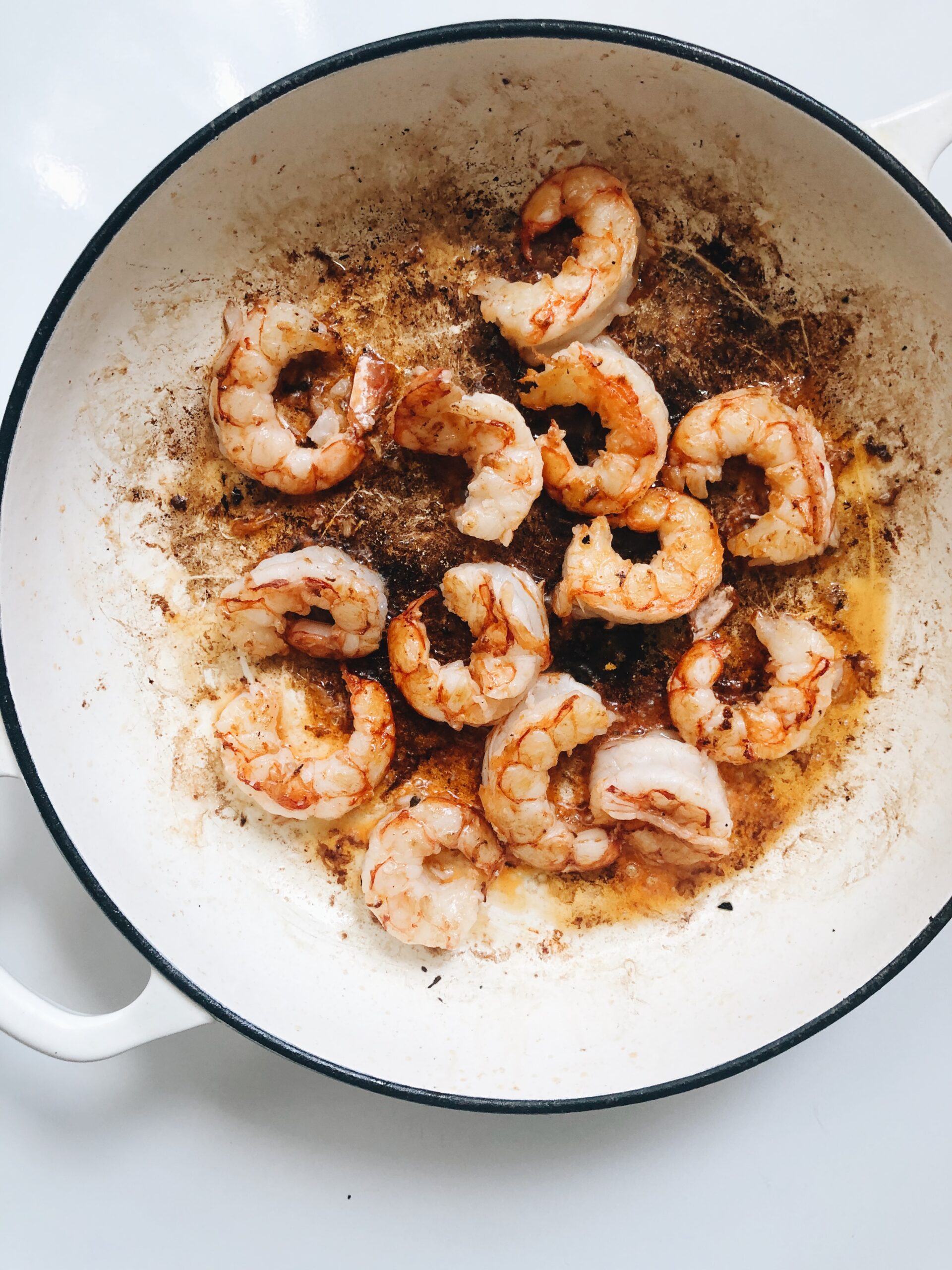 While the rice is going, sear ya shrimp. Which you've just peeled and pat very dry. Season with salt, der.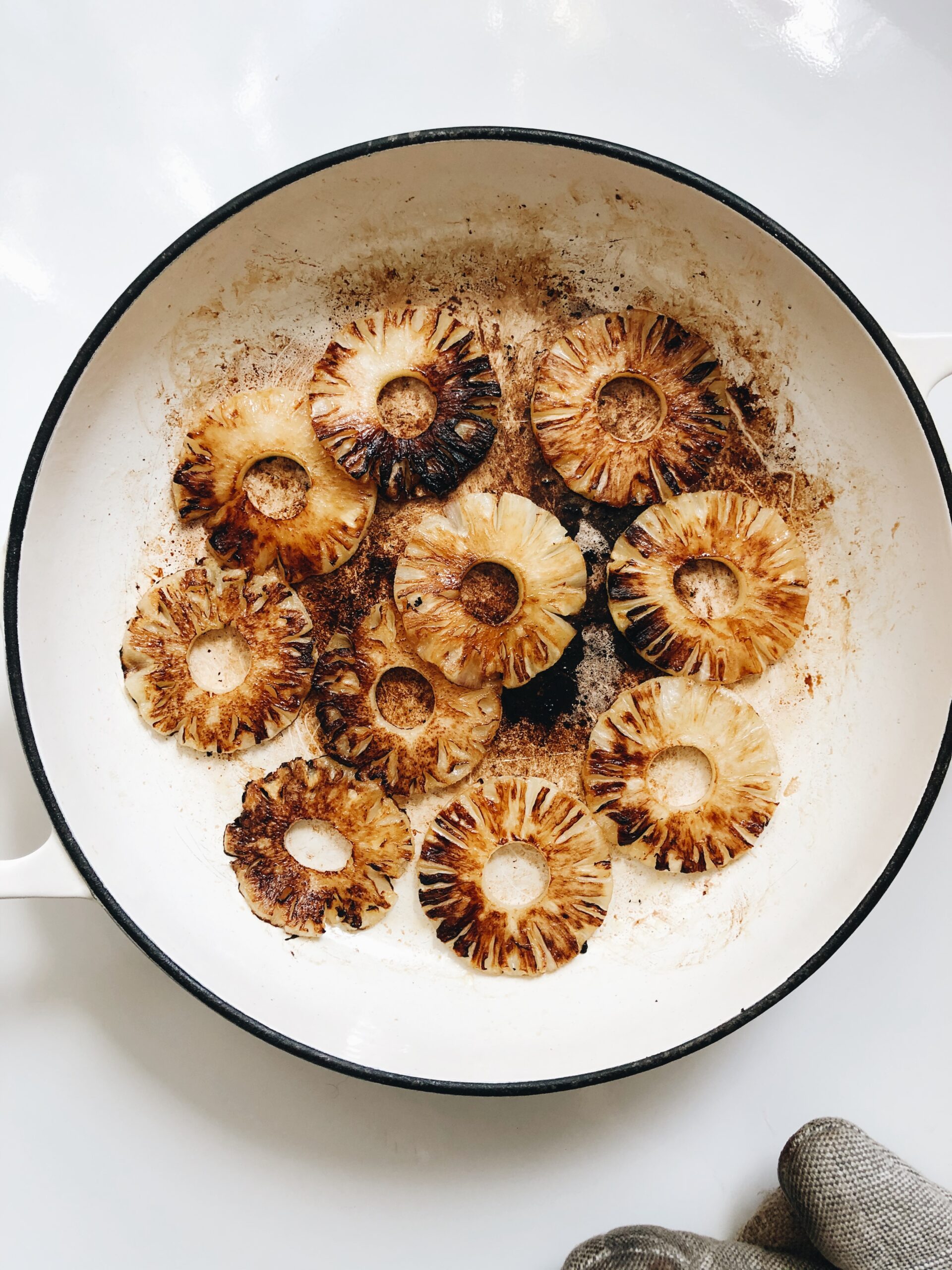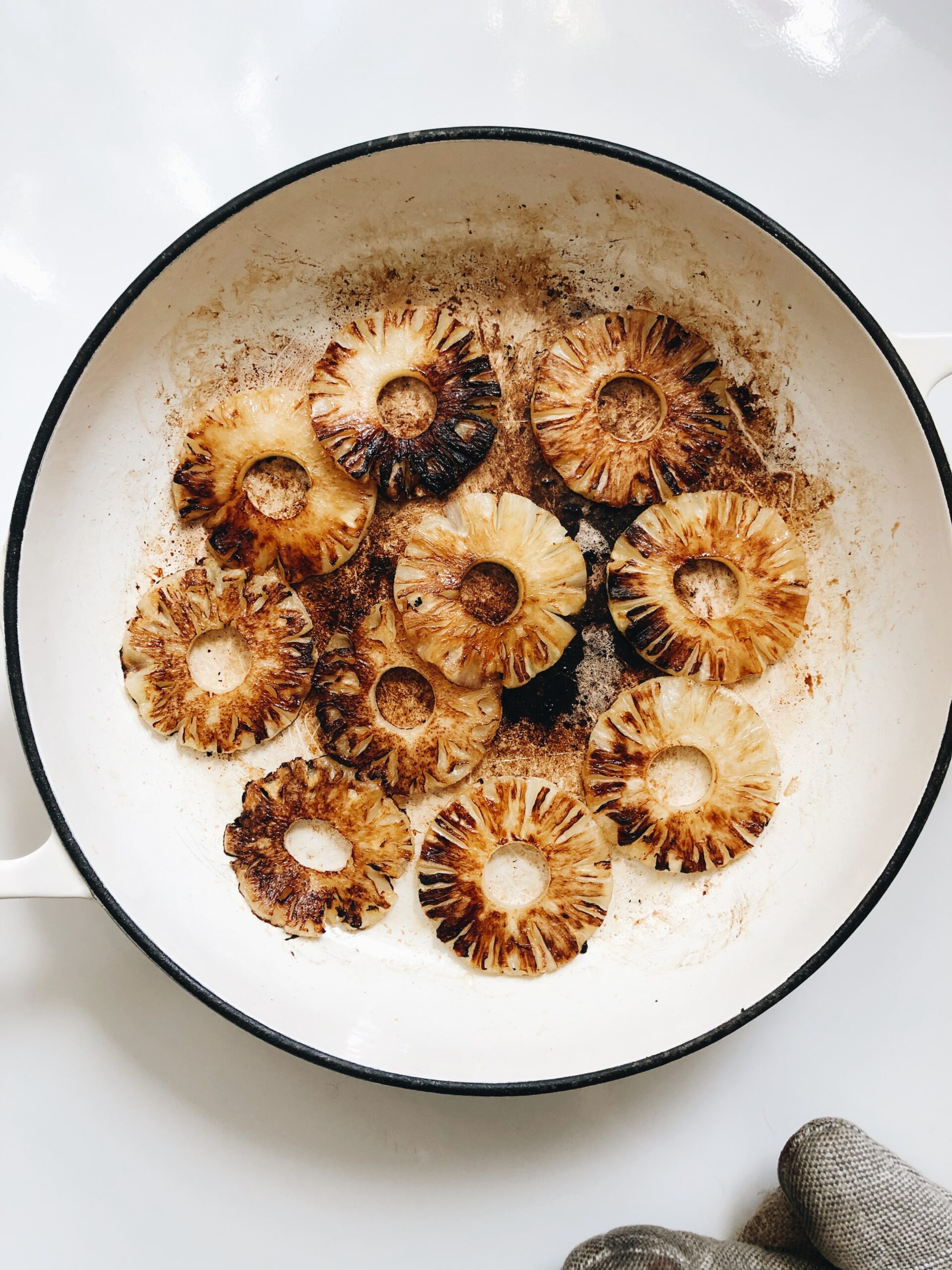 Then move those pups out and get the pineapple rings in the pan. You could even do this in reverse order. I feel like I seared the shrimp first. Did I?
I'll get back to you on this.
Get them nice and browned on both sides. That is so much flavor, you have no idea. Except now you do, since I told you.
Never mind.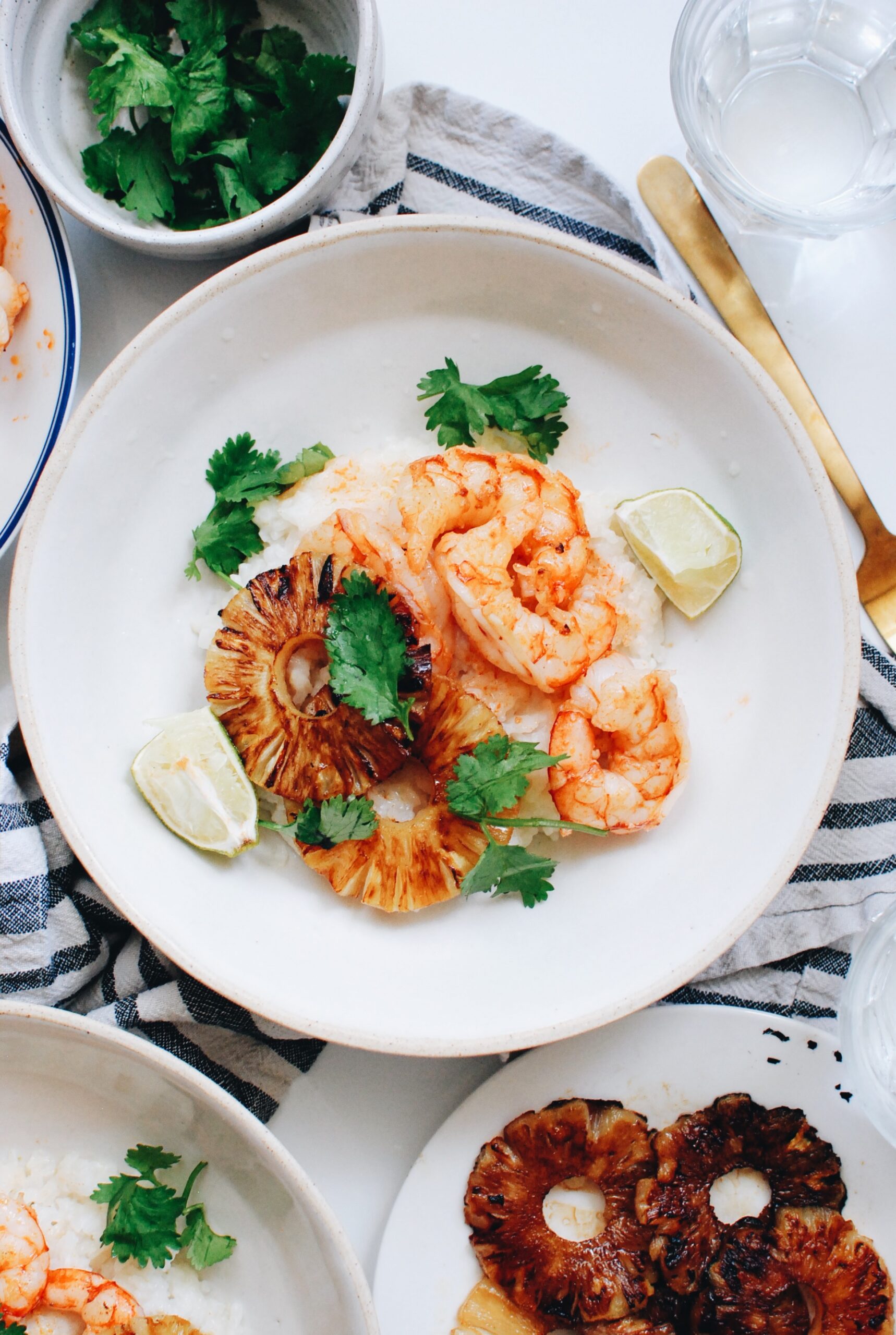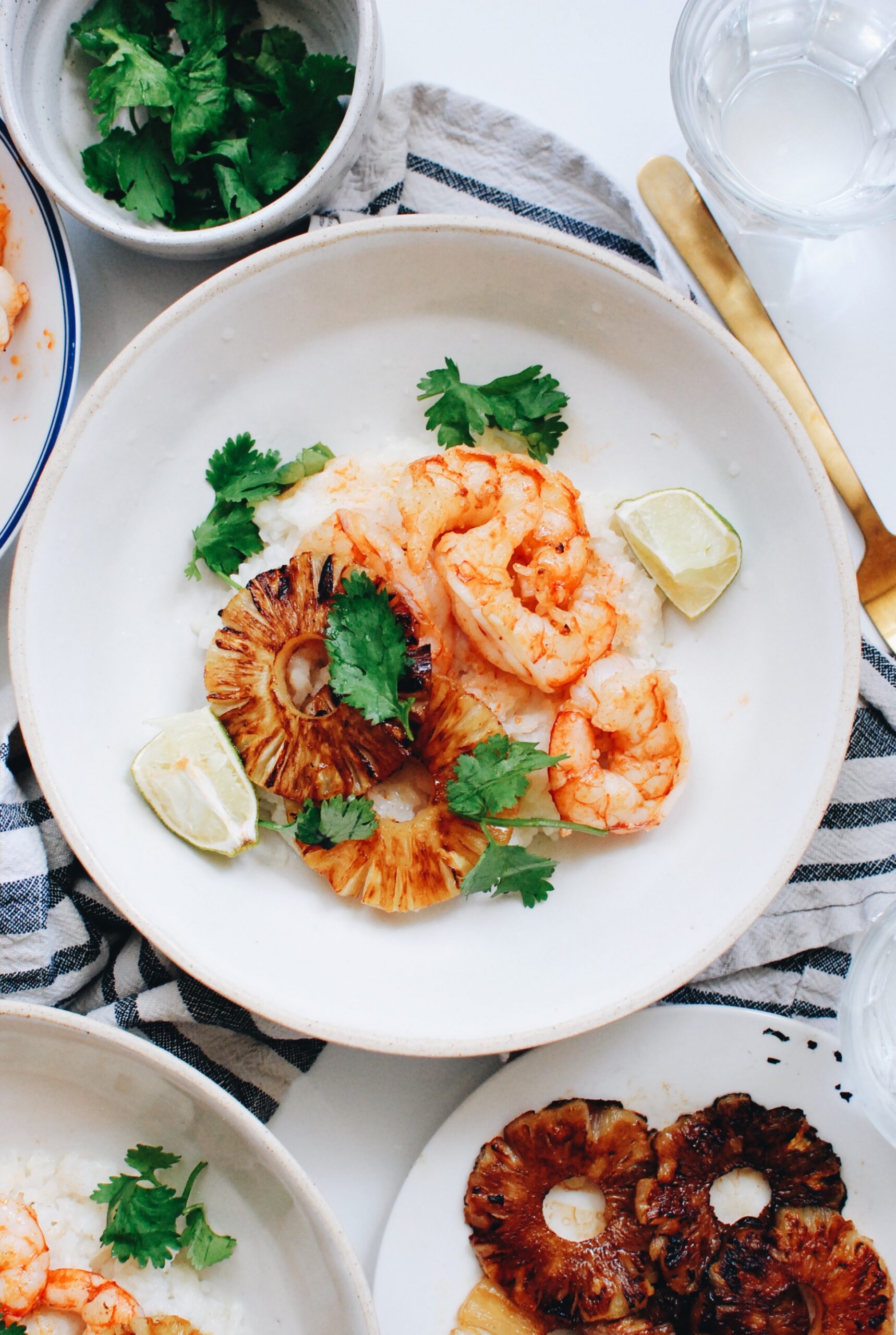 And that's IT. Sticky, creamy coconut rice on the bottom, shrimp and pineapple on top. Dunzo.
Be sure and squeeze fresh lime juice over it all to wake it up. And a few cilantro leaves doth a pretty plate maketh.
But you know this.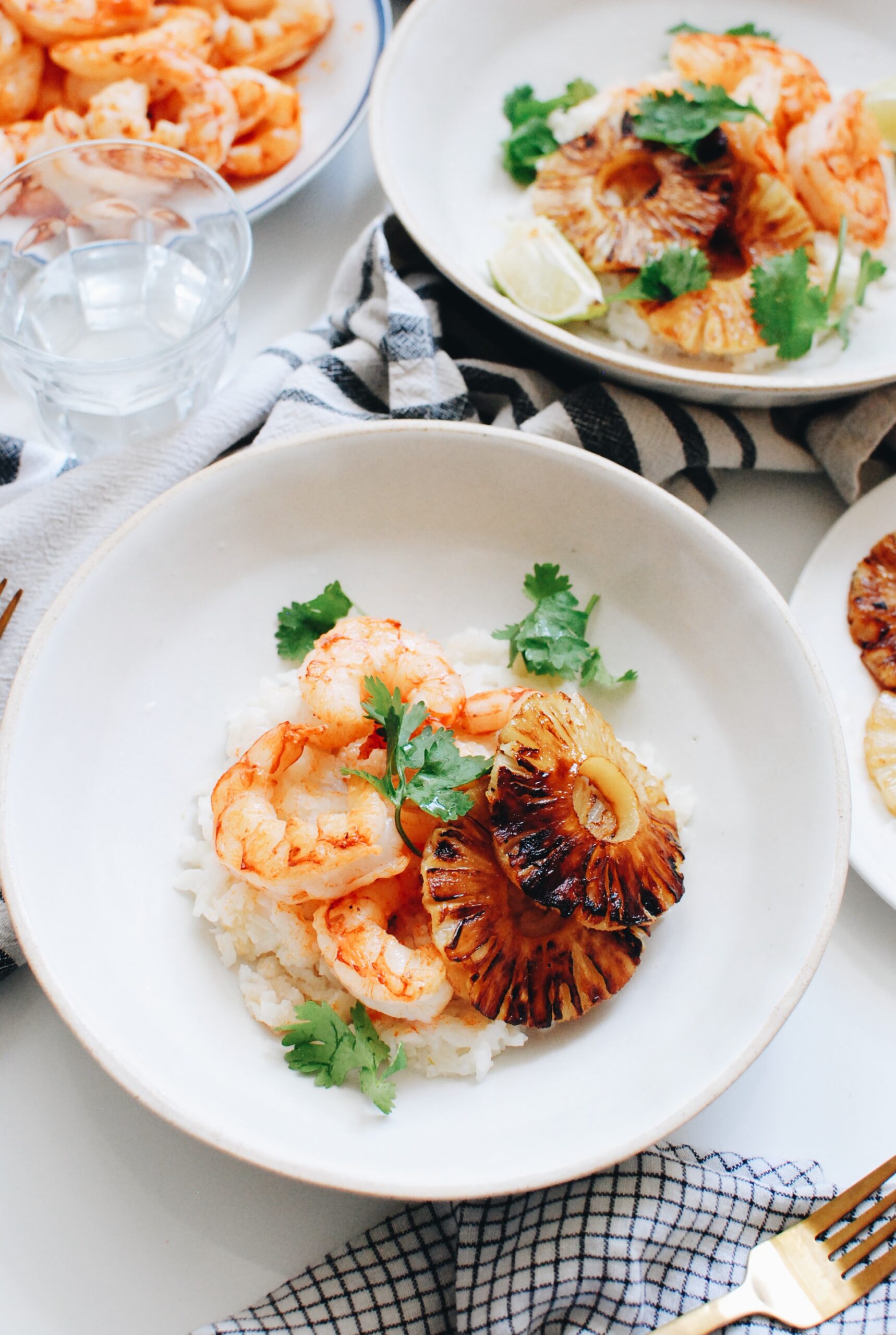 That rice is phenom. The coconut and pineapple juice infuse the already-sweet jasmine flavor and it's just other level delish. And remember the garlic? Right right, it adds that delicate aromatic enhancement and UGH. Do this all the time, okay?
Simple to pull together, but vibrant and rich in the face. This will quickly land a prime spot in your weeknight rotation, I just feel it.
Don't forget the lime!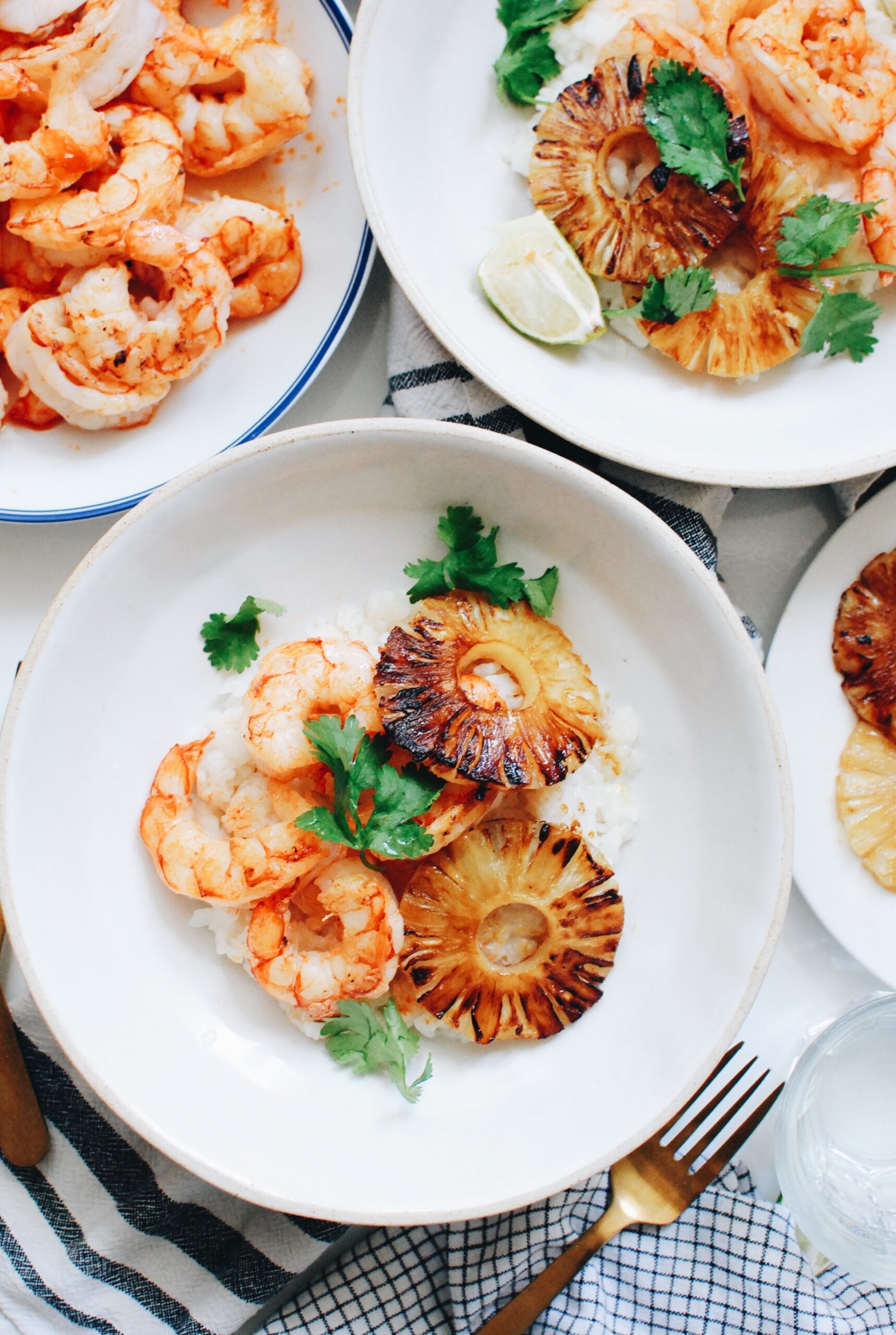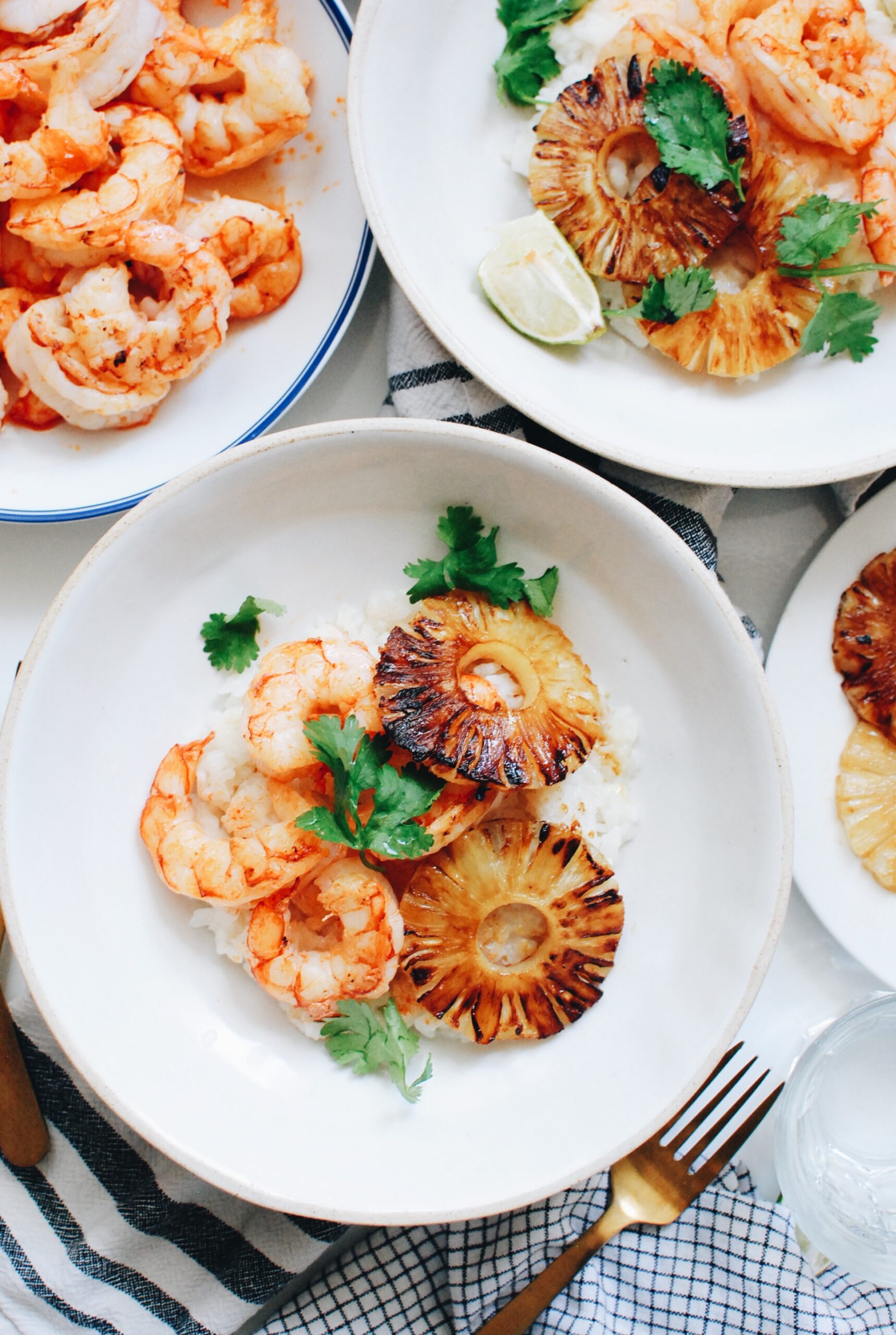 I already can't wait for you.
Seared Shrimp and Pineapple with Sticky Coconut Rice
Ingredients
2 pounds shrimp (big if you can!), peeled, deveined and pat dry (you can get away with 1 pound if the shrimp are smaller)
1 cup jasmine rice, rinsed until the water runs clear
1 cup coconut milk
1 cup pineapple juice (from the can)
1 (20 oz) can pineapple rings
2 cloves garlic, grated or minced
1 lime
Coarse salt
Fresh cilantro for garnish
Instructions
In a rice cooker, add the rinsed rice, coconut milk, pineapple juice, grated garlic and a pinch of salt. Cook until creamy and sticky-like. Once cooked, add a little lime juice to wake it up.
In a large pan, heat a Tbs. of extra-virgin olive oil over medium high heat. Add the shrimp in a single layer, and sear on both sides for about a minute. You want some nice browning all over. (If you need to cook in batches, that's totally fine.) Remove the shrimp from the pan.
To the pan, add a little more oil if needed. Add the pineapple rings and cook on medium until you get browning on both sides. You might have to move the rings around to ensure even browning. This will take about five minutes.
Top the sticky coconut rice with seared pineapple rings and shrimp. Garnish with fresh cilantro leaves and squeeze fresh lime juice over each plate. Don't forget that! It makes all the difference in the world.
Serve immediately!
Serves four.
7.8.1.2
470
https://bevcooks.com/2020/12/seared-shrimp-and-pineapple-with-sticky-coconut-rice/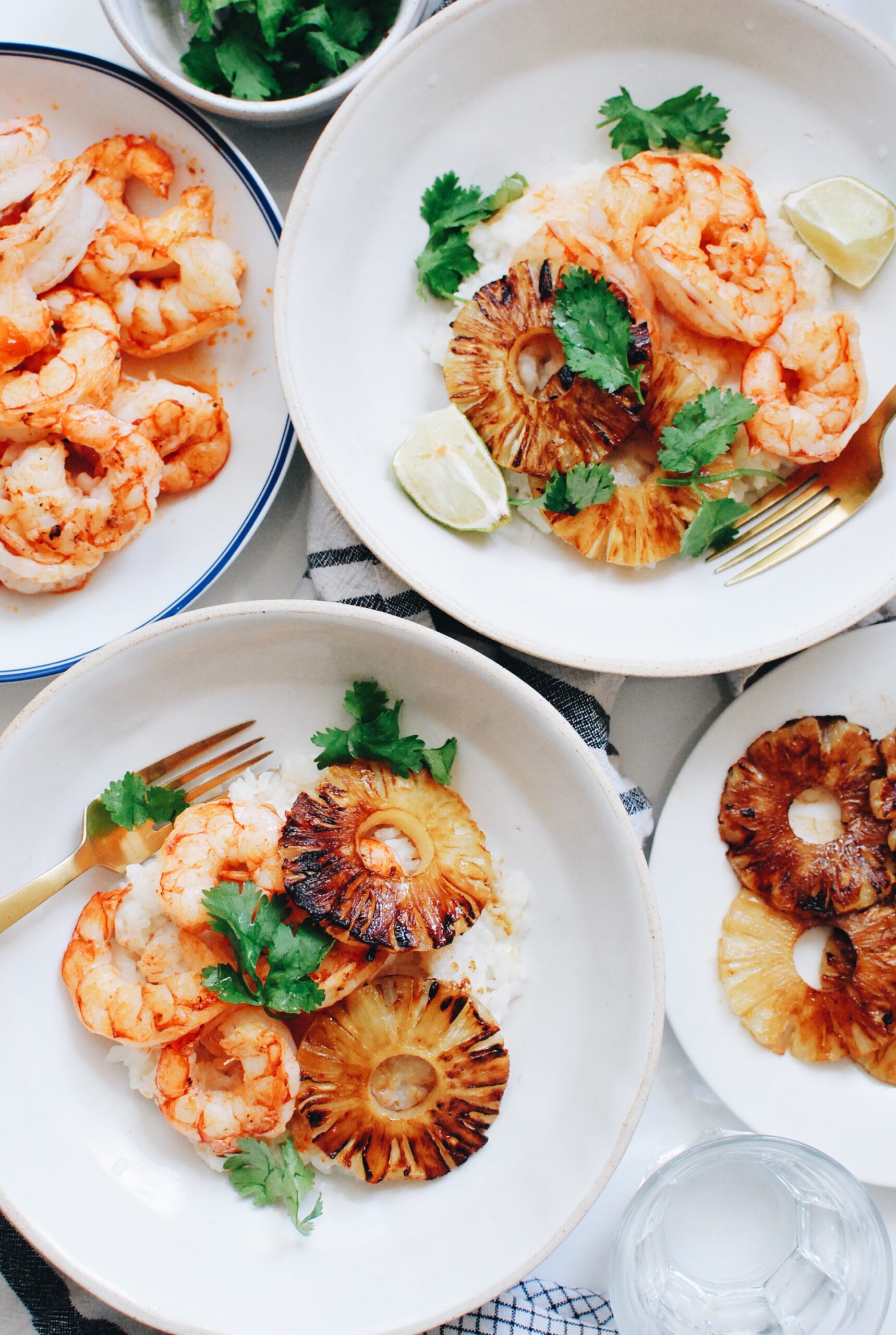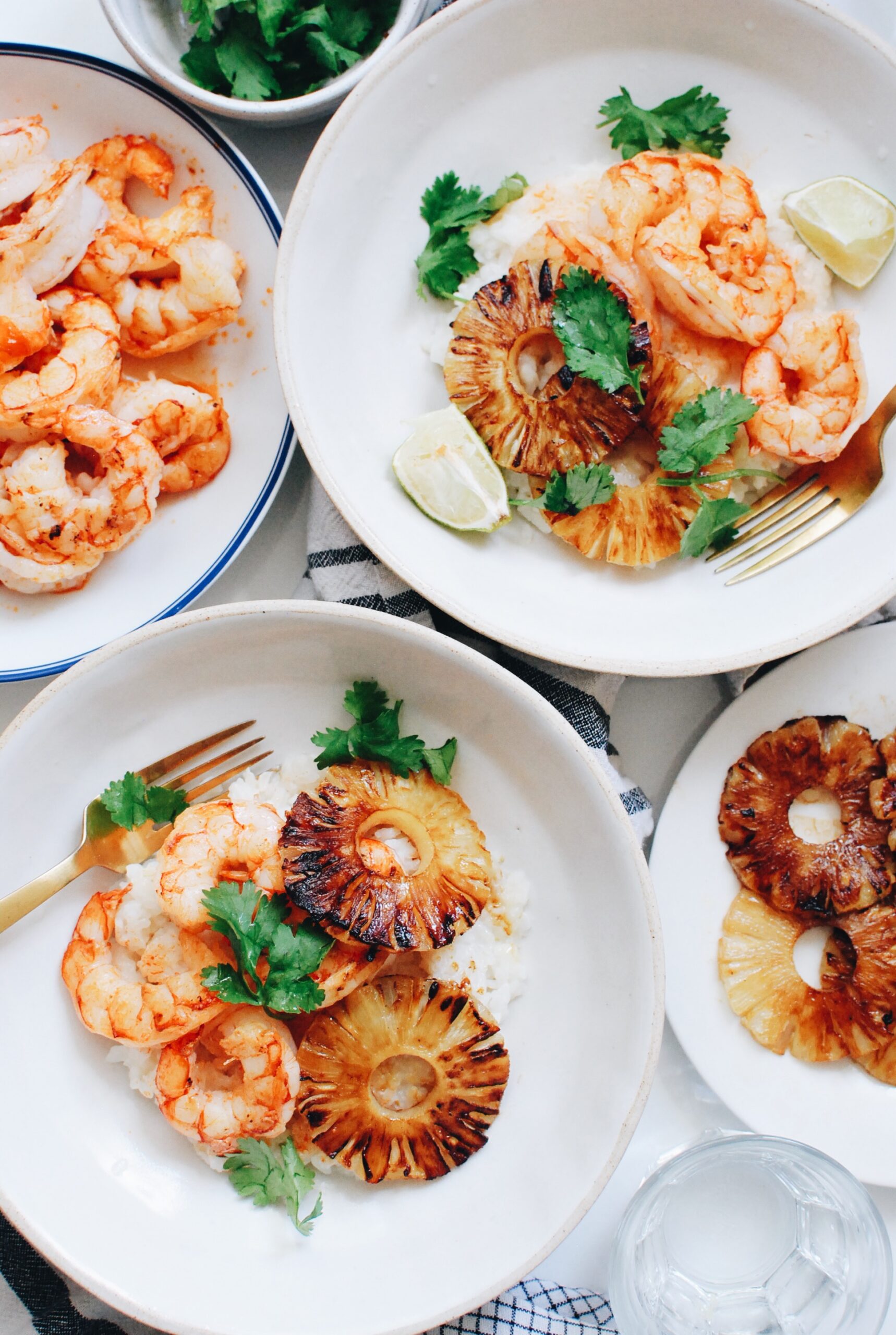 Hold me.