Oh this is about to get so good for you and those chompers.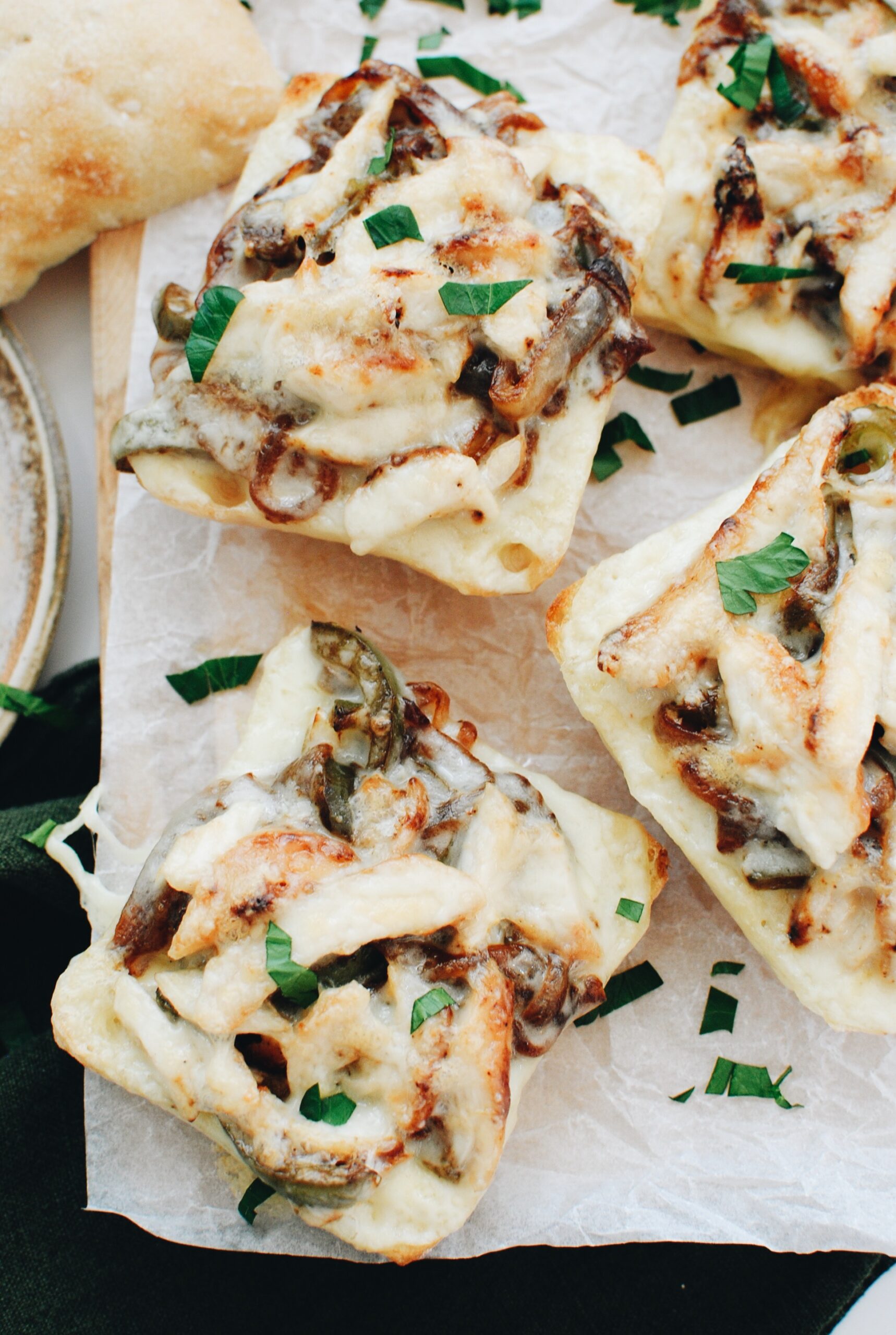 And I know I always blab this for days but, it's so easy! You won't believe. You just will.not. believe.
It's comfort food, sportsy food, weekend food, kid-approved food (I mean you may have the tweak the onions for the tots), and all around super freaking tasty. Let's peep this.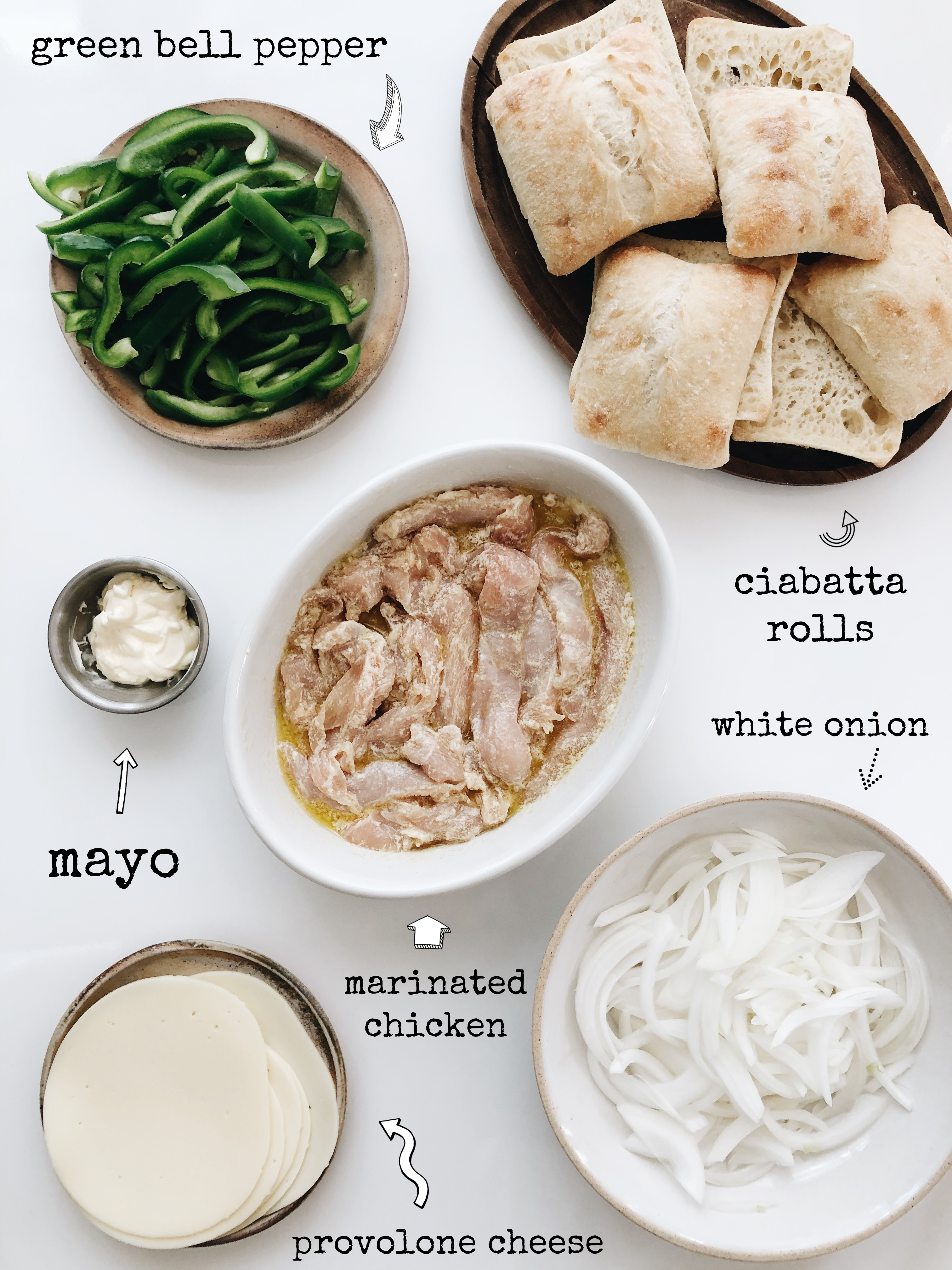 So, that chicken. It looks a little odd, yes, I see it, too okay? But you won't care a smidge when I tell you what it's marinating in. M A Y O.
Well, mayo + olive oil + onion powder + garlic powder + salt.
While I have you, (you're like, oh no), I'd love to know – what mayo camp do you hunker in? Because these are hard times we're living through and I'm a grounded believer that mayonnaise is an emotional treasure. Are you a Duke's lover, or a Hellmann's fan? I know these be fightin' words. I'm just trying to get the raw truth here.
My friend Lacy introduced me to Duke's earlier this year and I'll never budge from it. The end.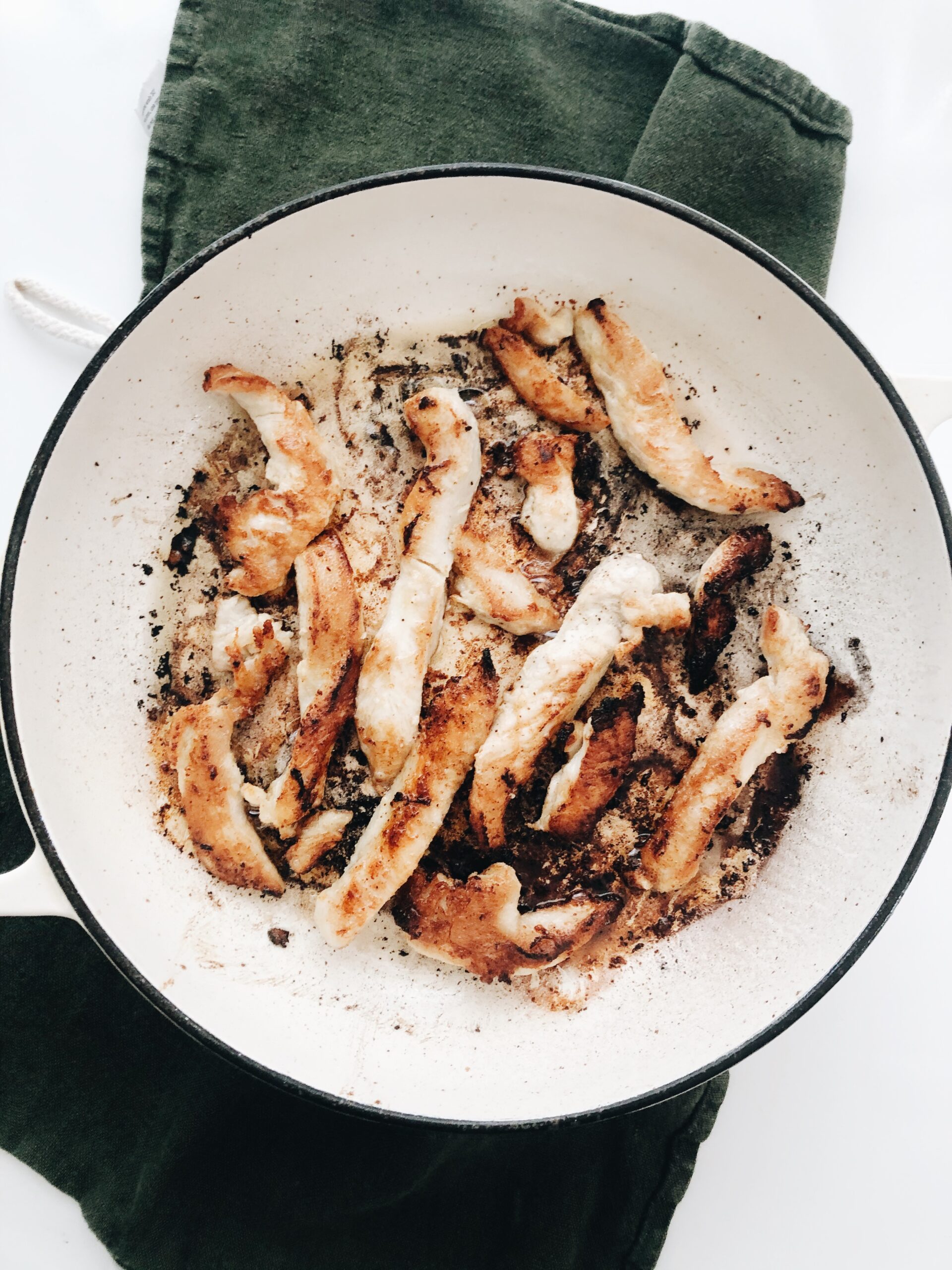 Sear your chicken tenders! See, what happens is that mayo gets a slightly tangy crust going on in the skillet, and you'll never quit it.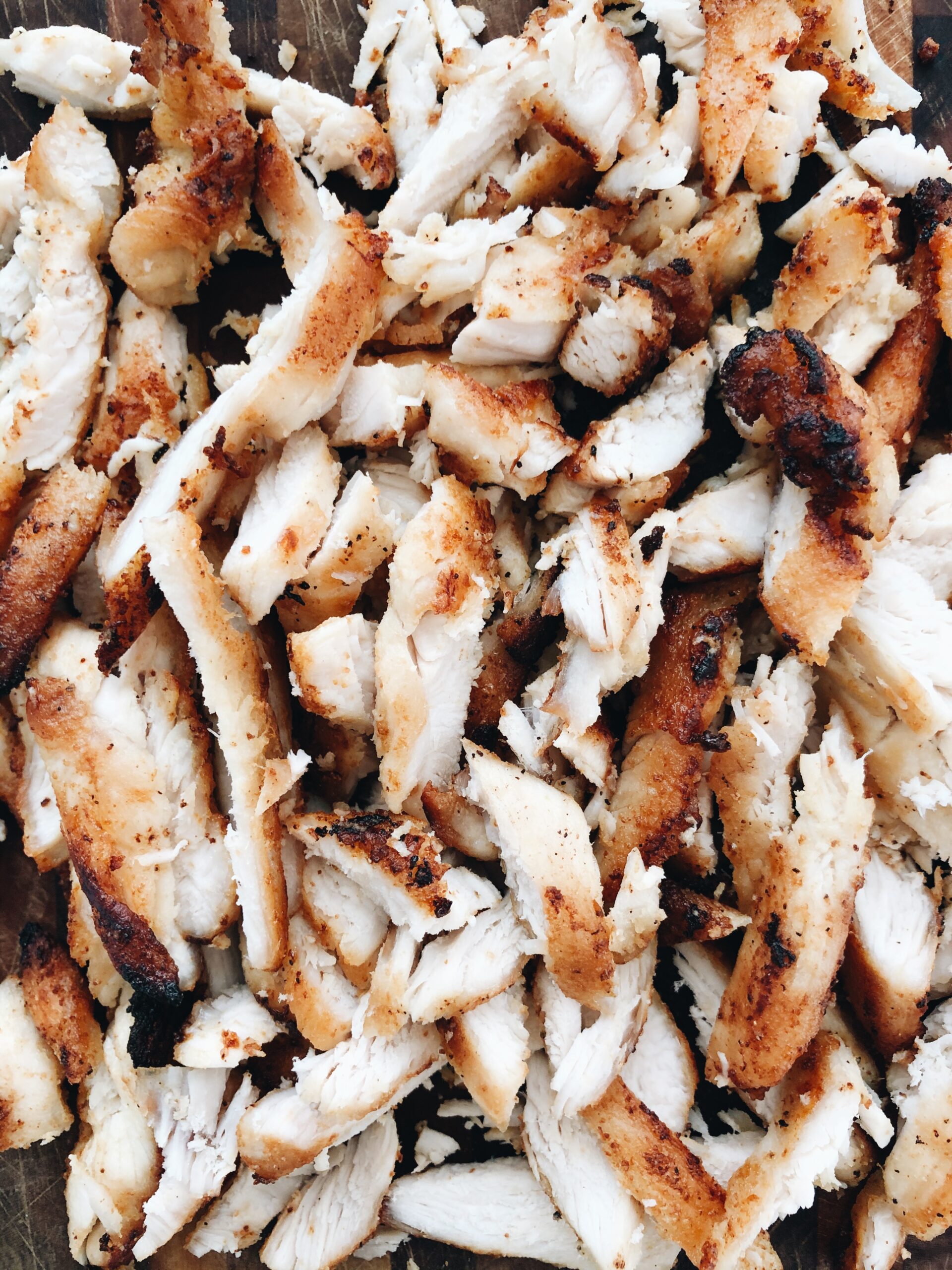 Theeeen give those cooked tenders a rough slice. Basically visualize what they'll look like on your sam. You don't want too big a chunk. I know you got this. I'm not worried.
. . . That much.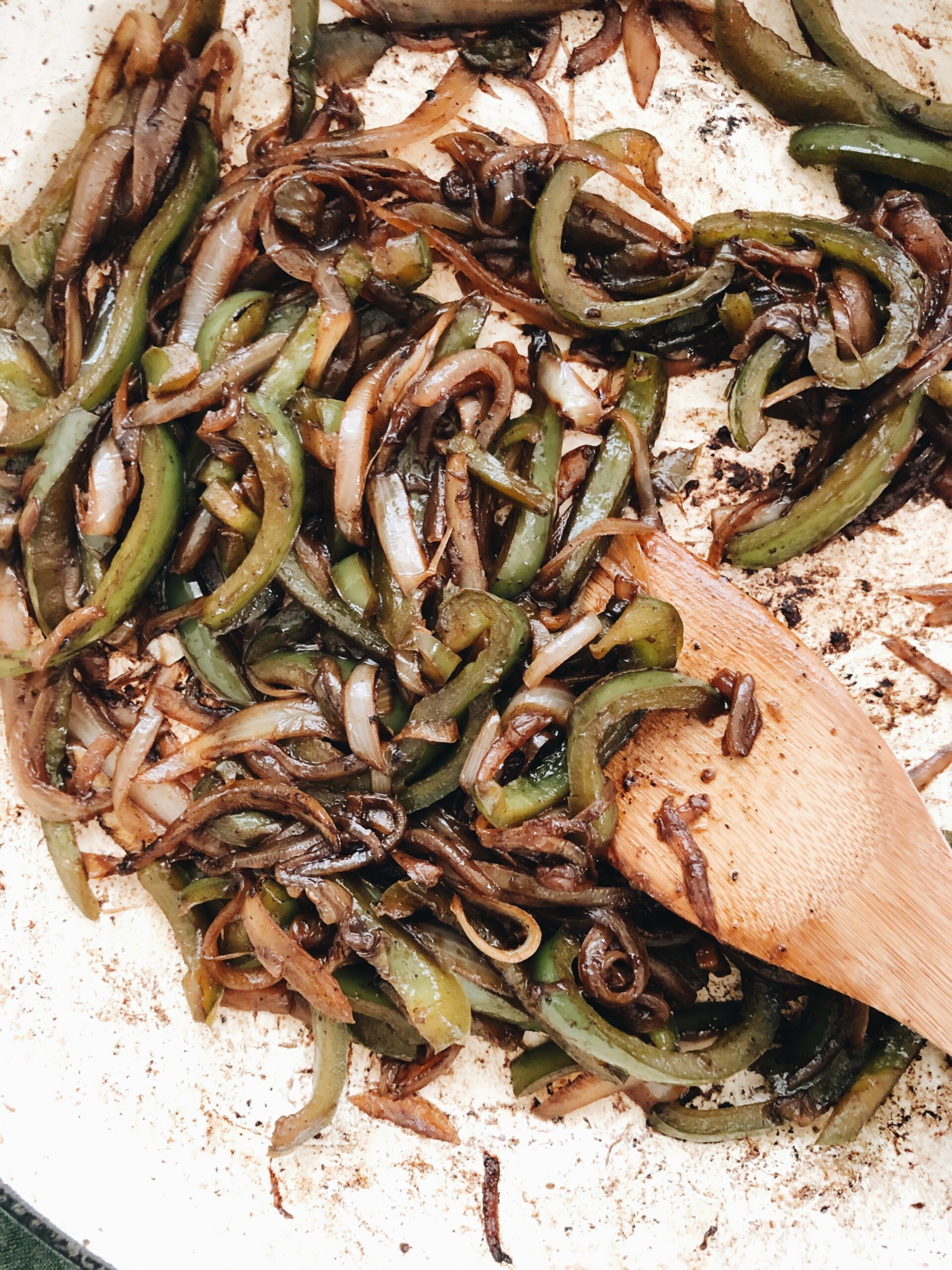 So the goal here to get your onions and peppers nicely caramelized and tender. Like fajitas, but even more. The onions need to look like worms. Once you're at worm status, you're good. This'll take about 15 minutes, so just be patient and enjoy your life.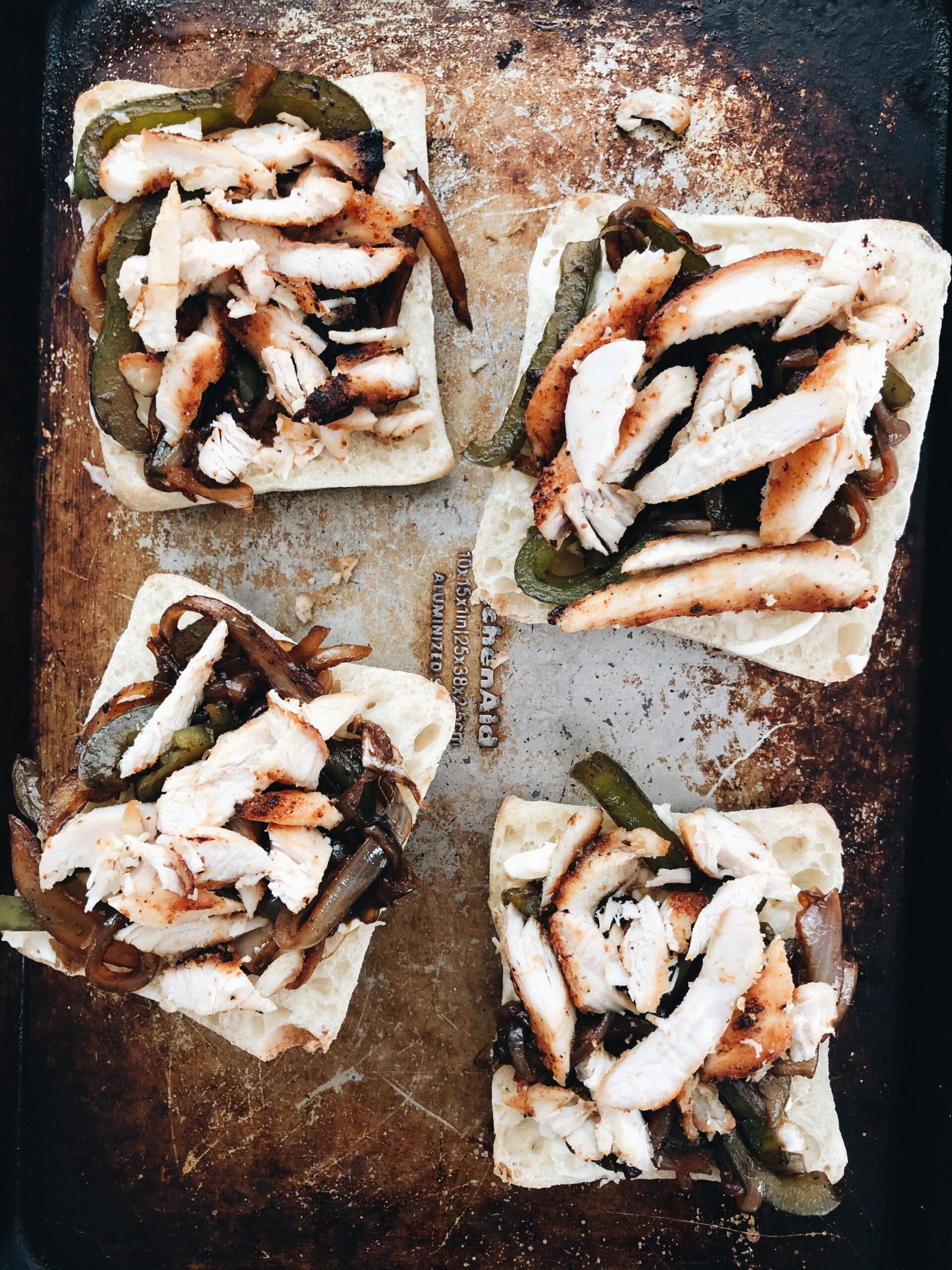 Then we build!
And you might be thinking, "Aren't those ciabatta rolls going to be too thick for these and ruin the roof of my mouth once toasted?" Naw, brah. The bread actually softens in the heat, so it's not a pain to eat. Oh that rhymed.
Bread, mayo on the bottom, some chicken and peppers on top.
And I used both the bottom halves and the top halves of the ciabatta rolls. Both work. But if you'd rather use a hoagie bun or any other bread, fly, little bird.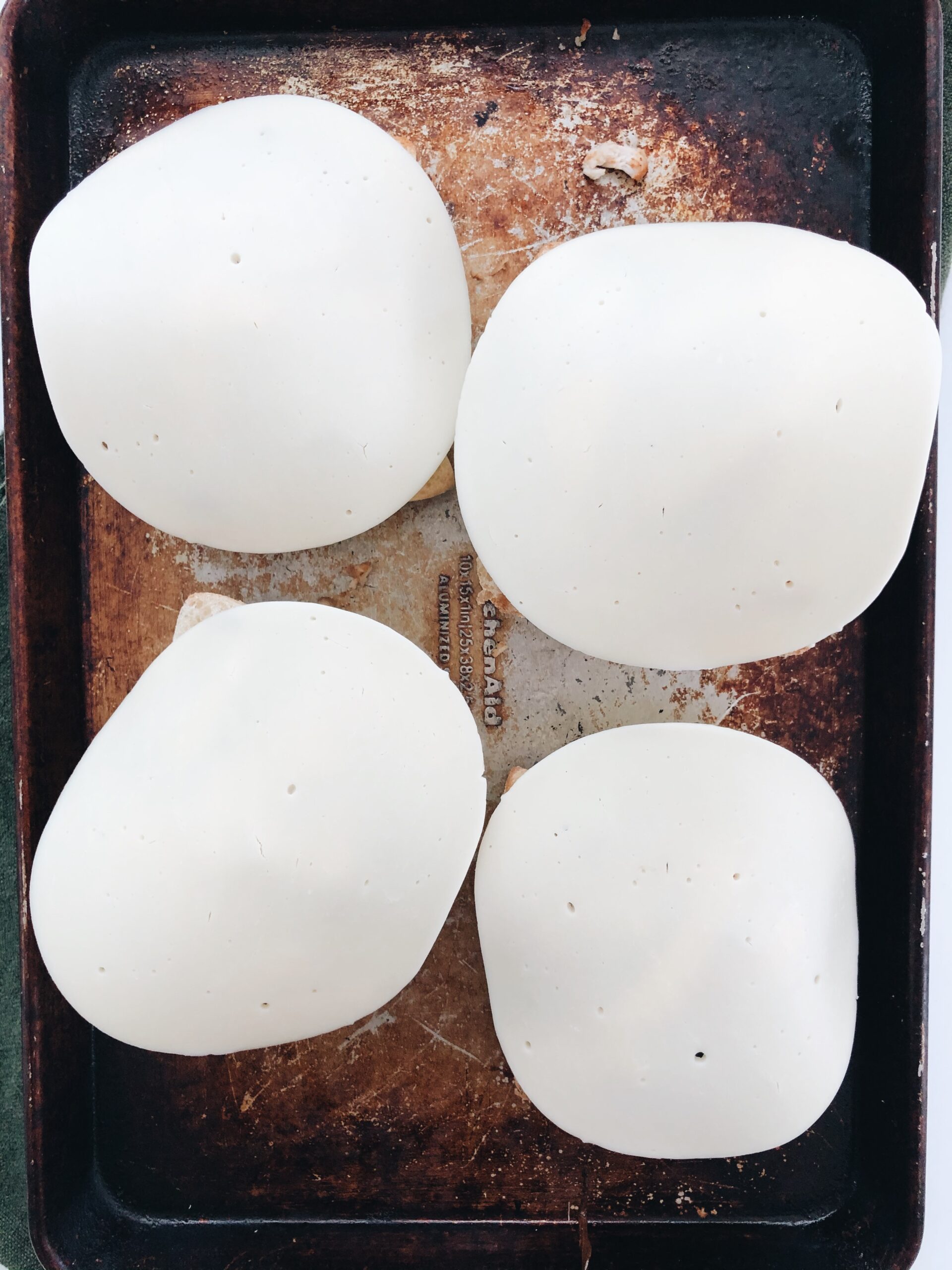 Top with herculean provolone slices. 'Atta goil.
A quick trip under a hot broiler and boom. Isn't it incredible how much the cheese melts into the chicken and peppers? Almost like the man behind the curtain in the Wizard of Oz!
Sort of.
In a way.
Not really.
Never mind.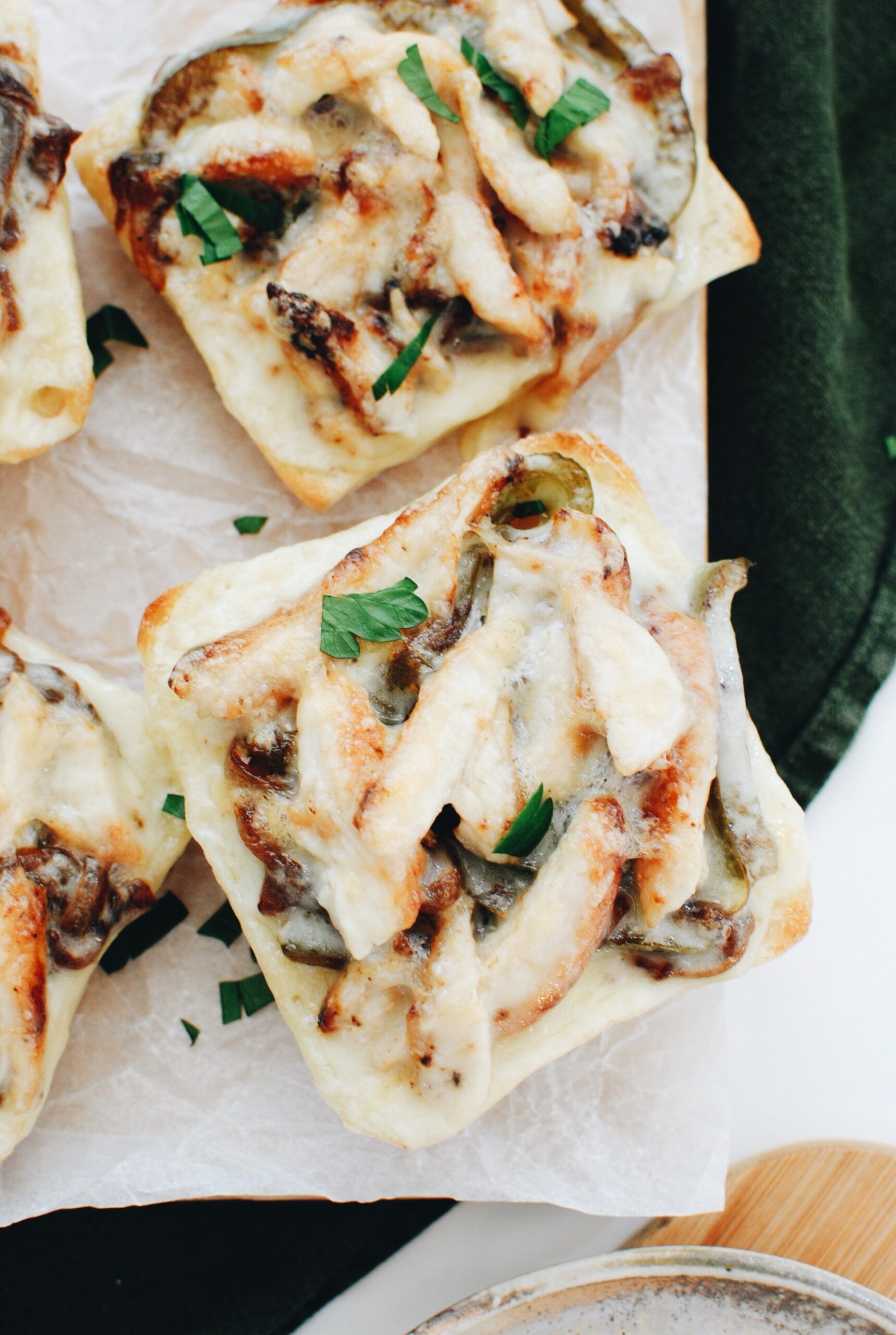 The pungent provolone melds with the chicken, peppers and onions and your face will go absolutely bananas.
The bread is tenderly toasted and almost spongy (which is good), and acts as the perfect canoe for the duh-lish toppings.
Make these. There's more flavor in that than you can even imagine. It's like bar food, but at home. And better fer ya. But still so good. And I mean it, so good.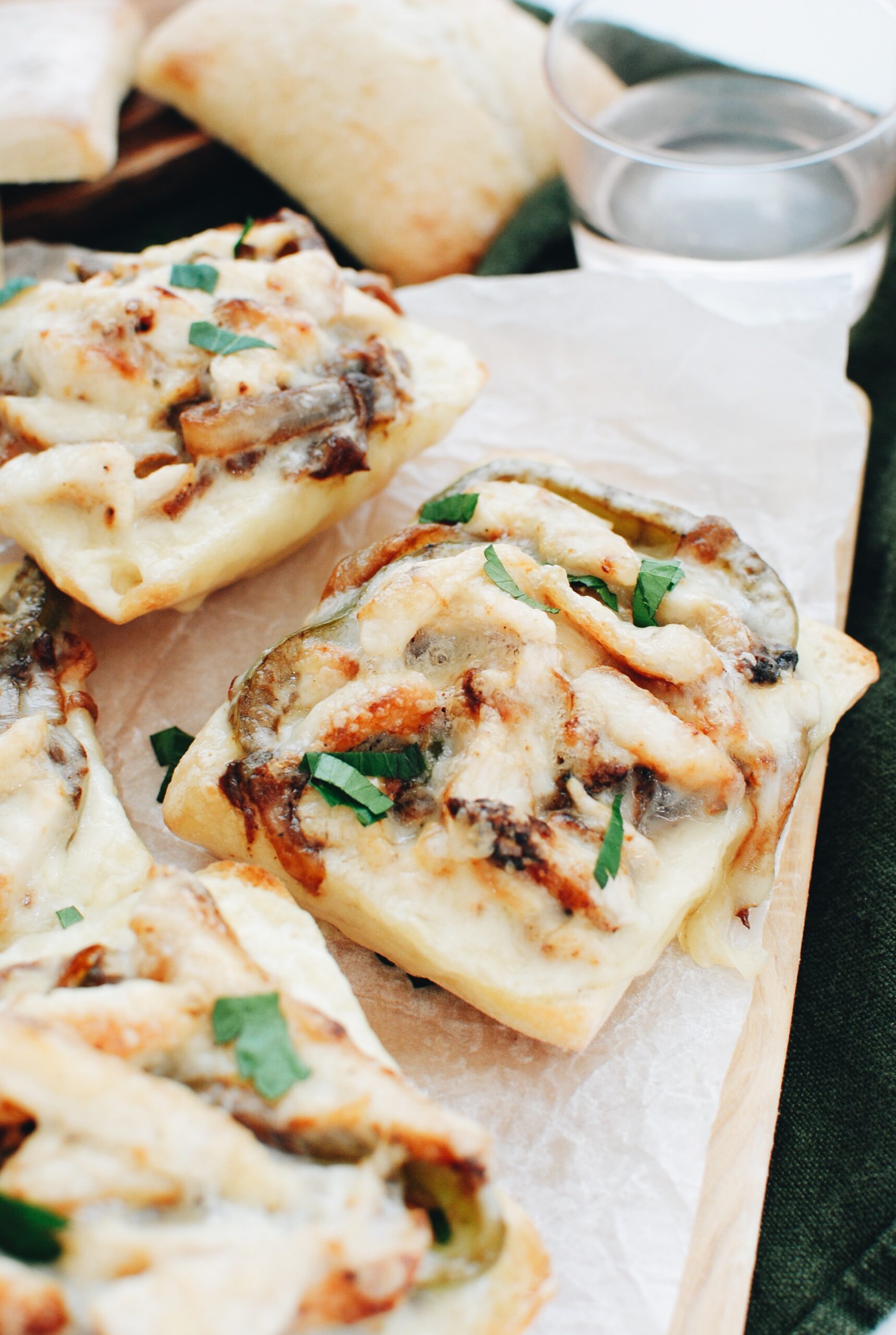 See that cheese all bubbling up and crispy? CANNOT. Yet I did.
Open-Faced Chicken "Cheesesteak" Sandwiches
Ingredients
1 pound chicken tenders
3 Tbs. extra-virgin olive oil
1 Tbs. Mayo, plus extra for the buns
1/2 tsp onion powder
1/2 tsp garlic powder
1/2 tsp coarse salt
2 bell peppers, seeded and thinly sliced
1 white onion, thinly sliced
three ciabatta rolls, split
Six slices provolone cheese
Instructions
In a mixing bowl, whisk together the oil, mayo, onion powder, garlic powder and salt. Add the chicken tenders and gently stir to combine. Let this marinate in the fridge anywhere from 1 hour up to all day if you can. Bring the bowl back to room temperature an hour before you cook.
Heat a large skillet over medium high, and add the marinated chicken in a single layer in the pan. Sear on both sides for four minutes, until you get some good browning all over. Remove the chicken from the pan to rest, then add the peppers and onions to the skillet. Add a bit more oil if needed. Season with a pinch of salt and sauté the veggies on medium until the onions darken and caramelize, and the peppers have softened and browned as well. This will take about 15 minutes. Slice the chicken into bite-sized pieces.
Flip your oven to broil. Arrange the spit ciabatta rolls on a baking sheet. Spread a little mayo on each split "bun" and top with the chicken and onion/pepper mix. Top with provolone slices and broil until the cheese has completely melted into the chicken, and is starting to brown and bubble. Done!
Let rest a couple of minutes and serve immediately.
Makes six sandwiches. (Although I'm only showing you four.)
7.8.1.2
467
https://bevcooks.com/2020/11/open-faced-chicken-cheesesteak-sandwiches/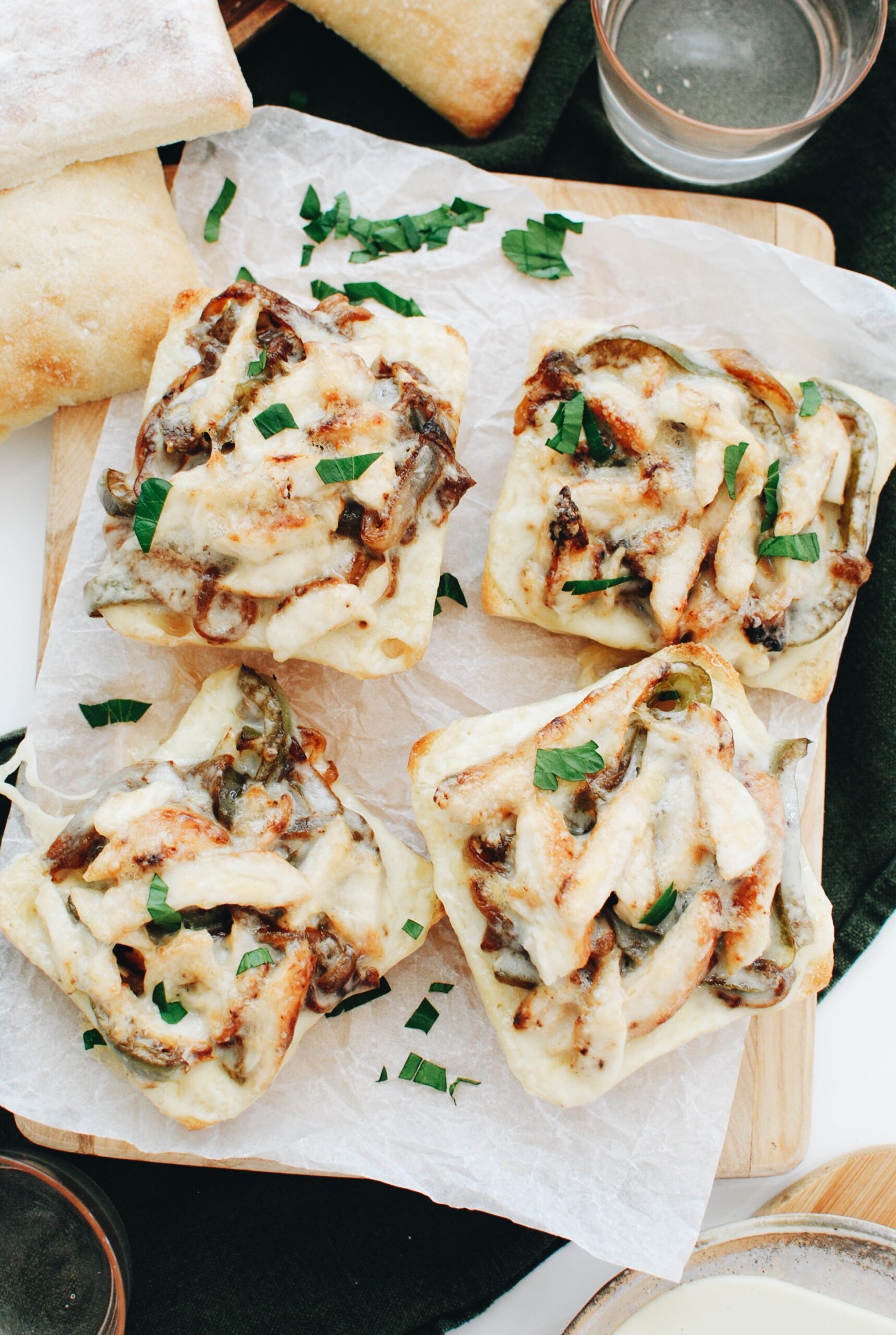 This weekend? Me thinks yuuuuz. (<–sorry)