Because when they're mini you can eat five. #math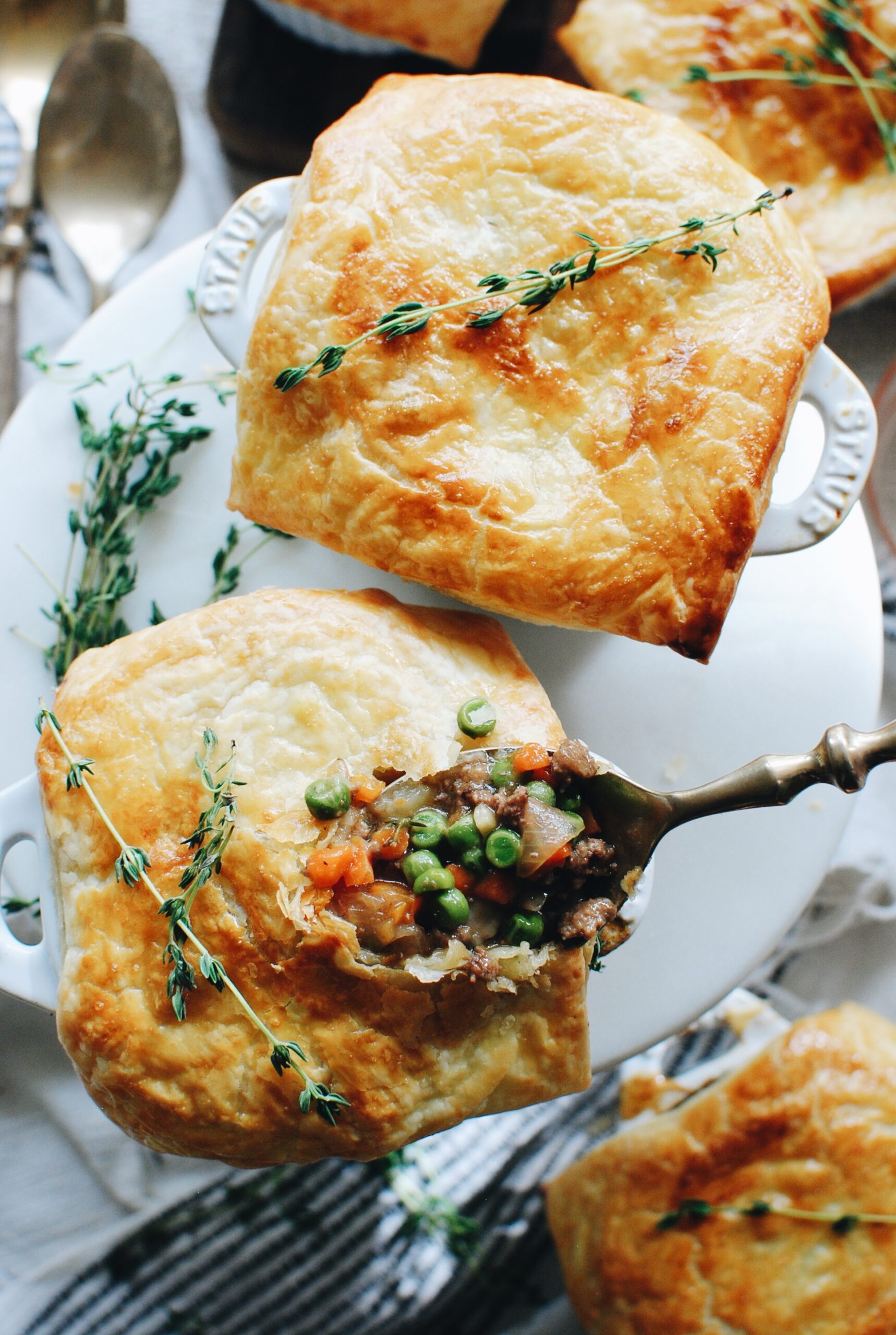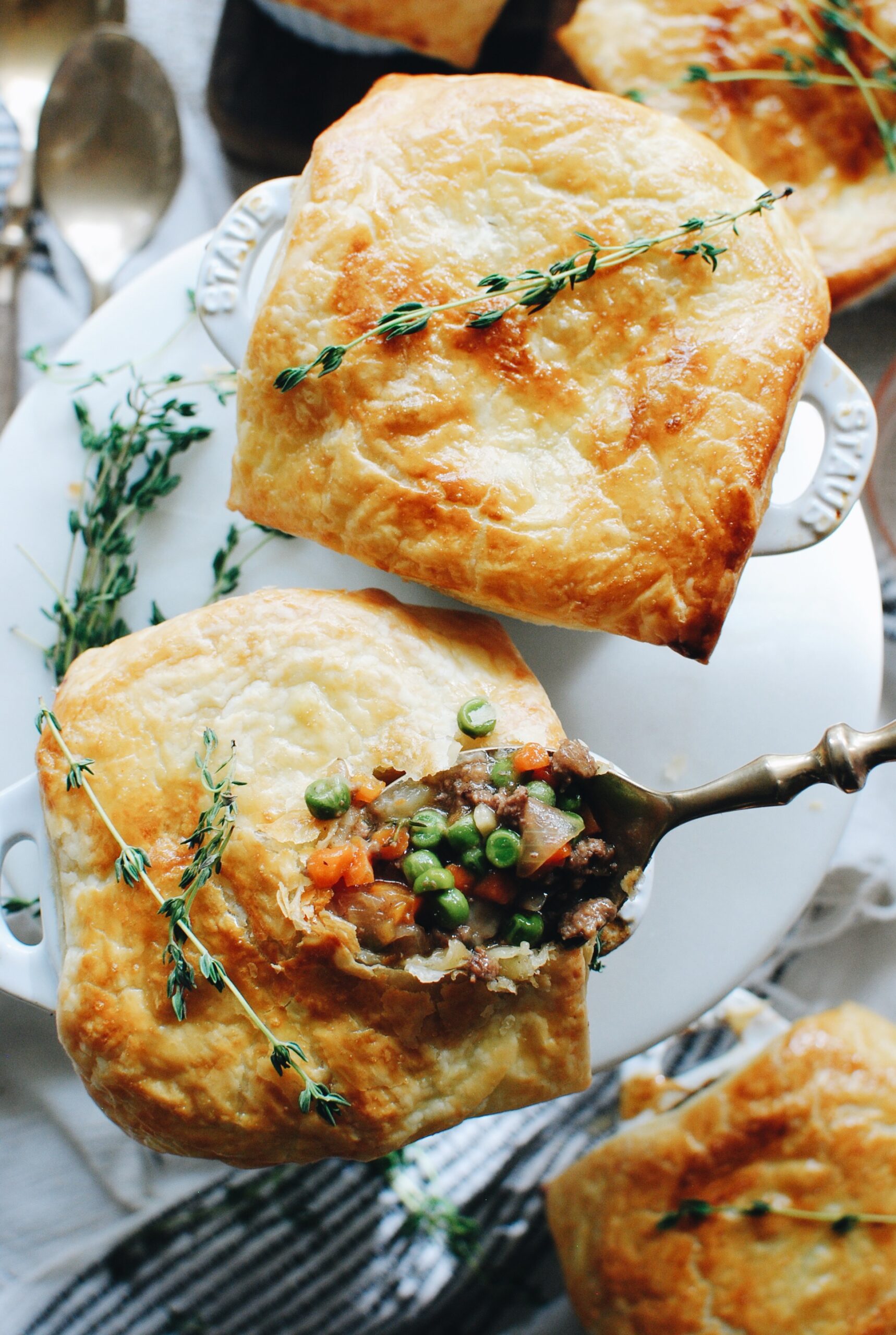 And they might not technically be pot pies because there's not a pie layer on the bottom. Or the top. It's puff pastry because we're polished and refined, doi.
But who cares because they're incredibly rich and filling but also not a complete gut bomb and honestly if you don't know by now that Catherine O'Hara is YES both Moira Rose and Kevin McAllister's mom in Home Alone, I'm not sure we can be friends.
How is this happening? How do so many people not realize this?
I'll be okay.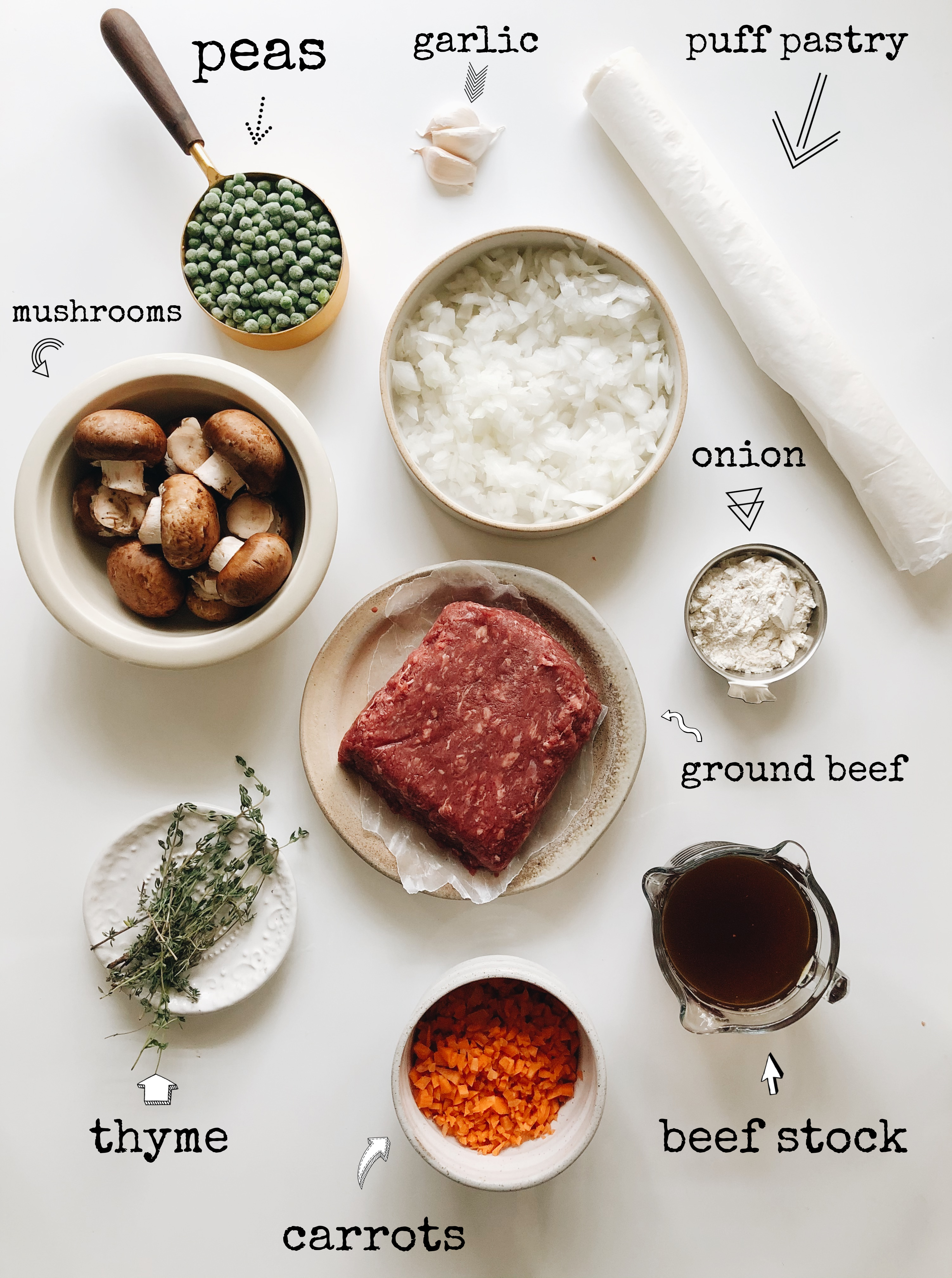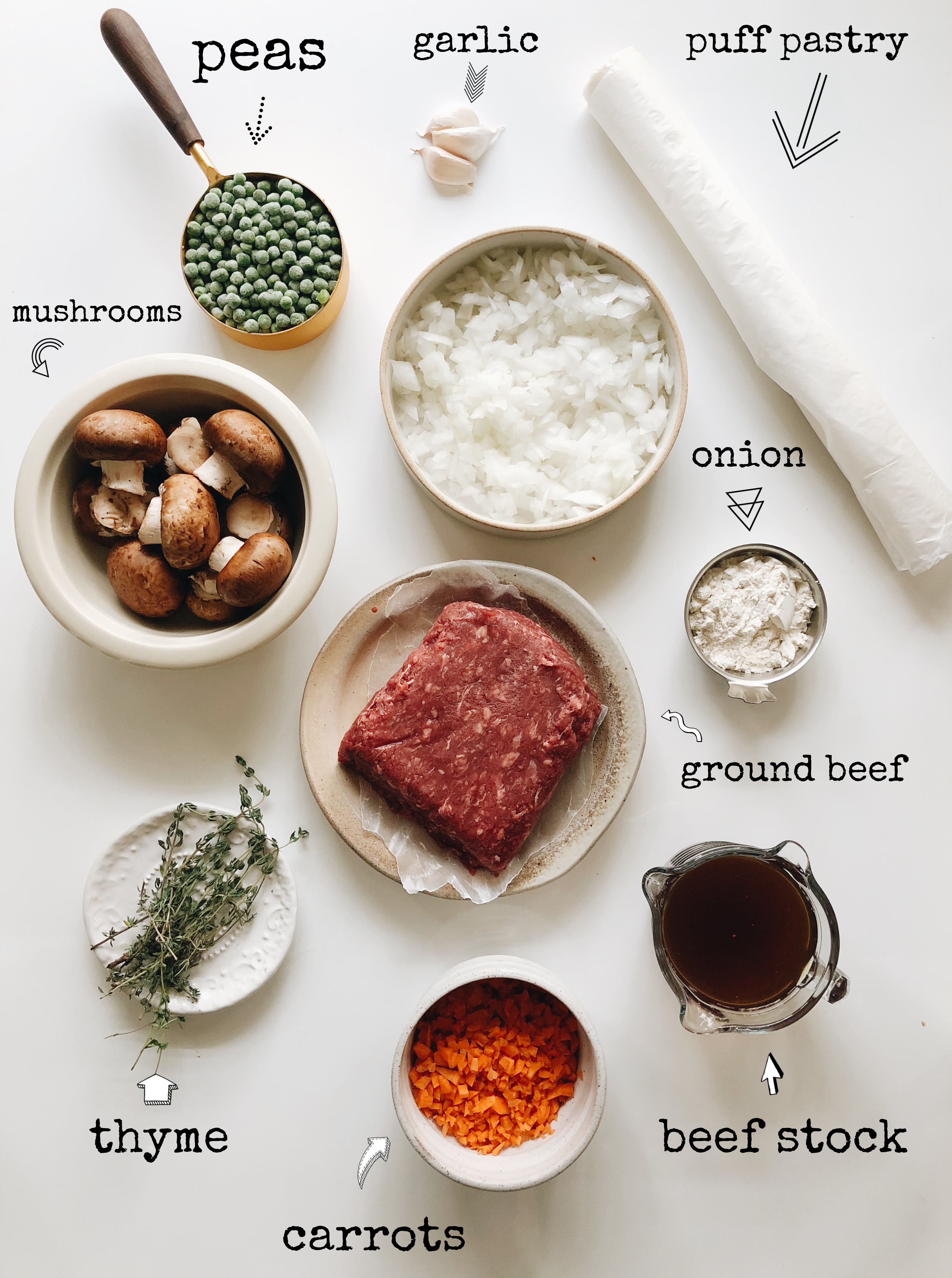 So this is what we've got. Classic ingredients. You're not scared, right?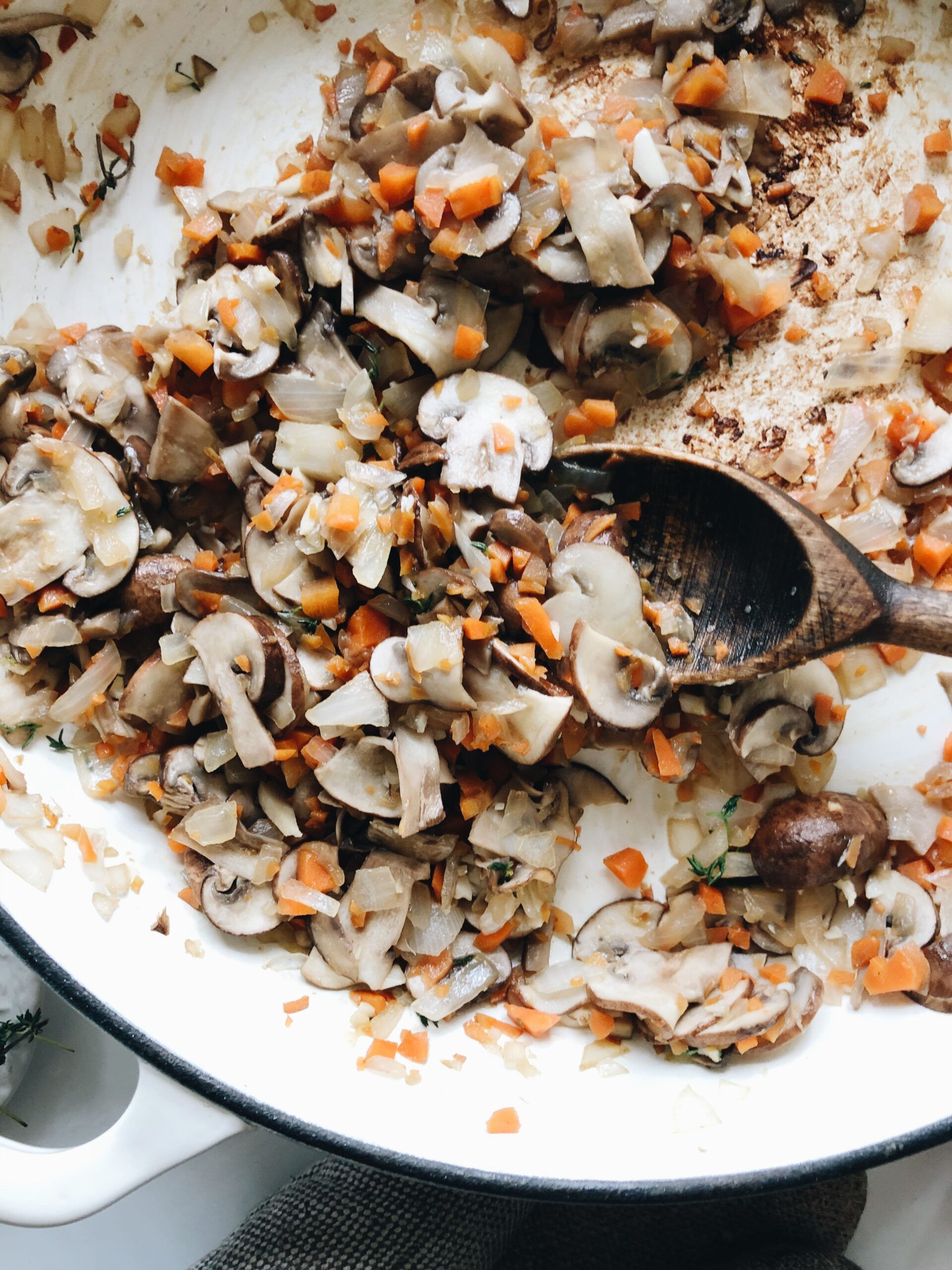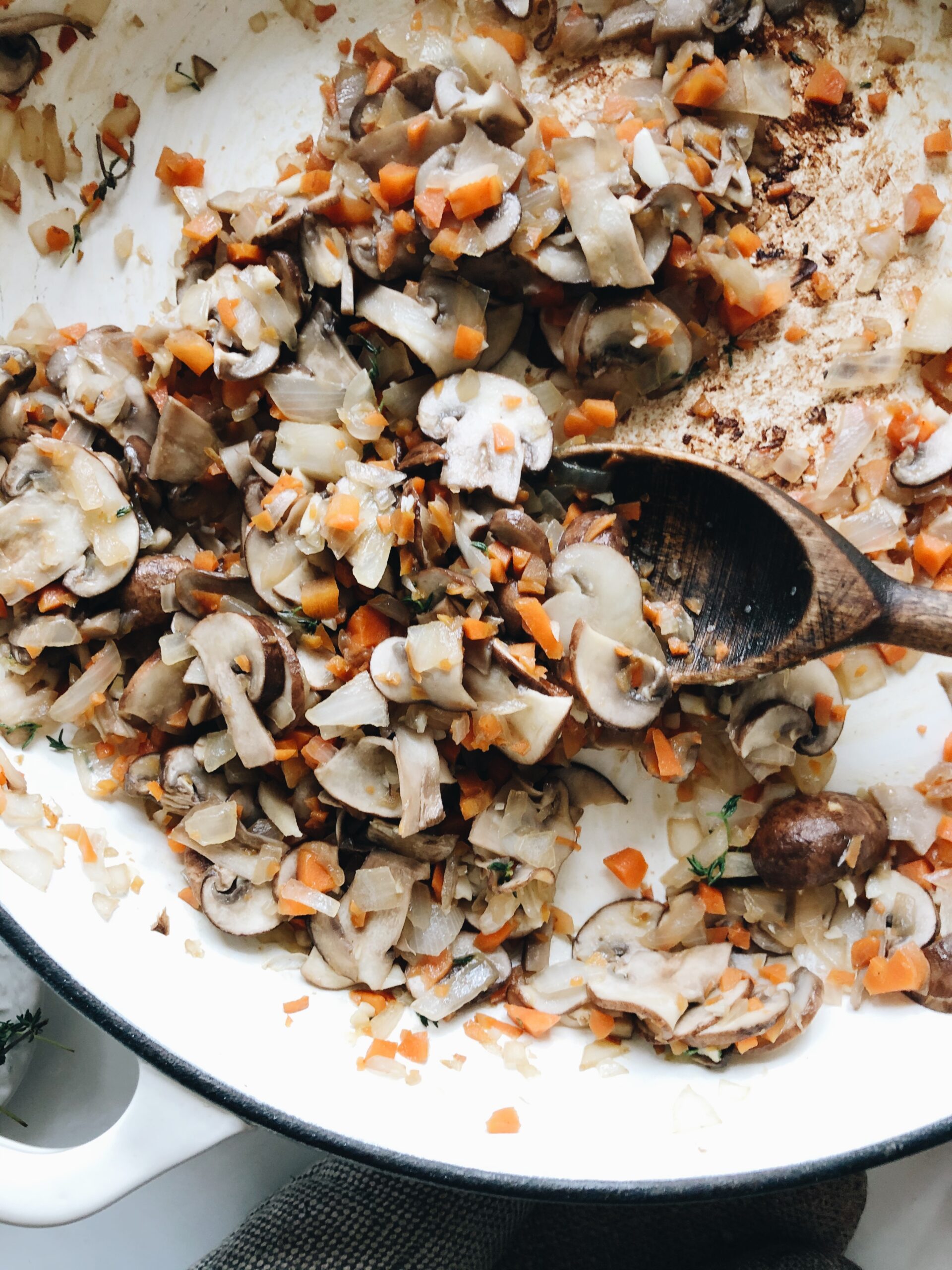 Get ya veggies sautéed! Onions, carrots, mushrooms, garlic and thyme. It will smell so good right now you might just need to punch something. A wall, your own arm, a gerbil. I'm not here to dictate.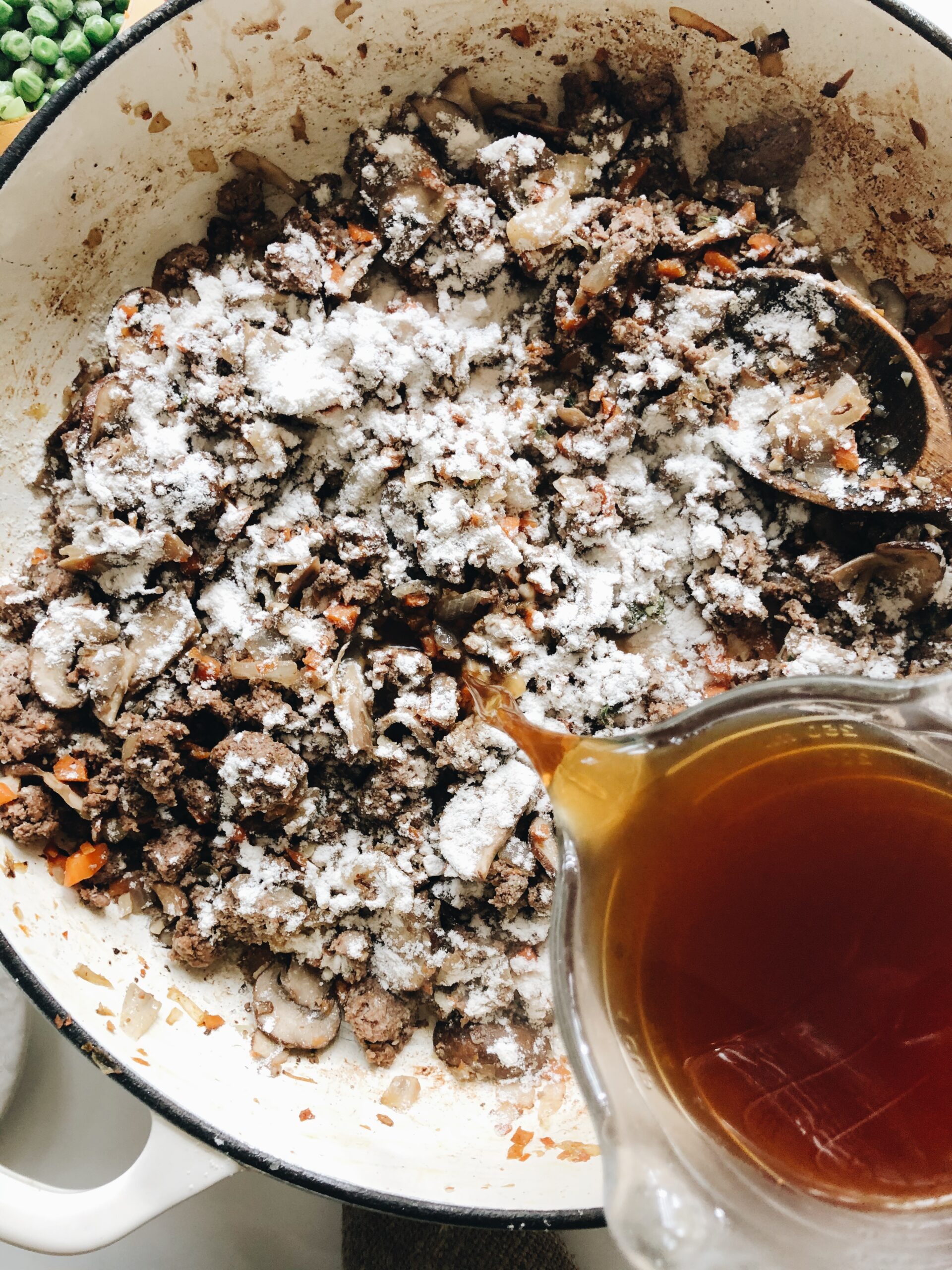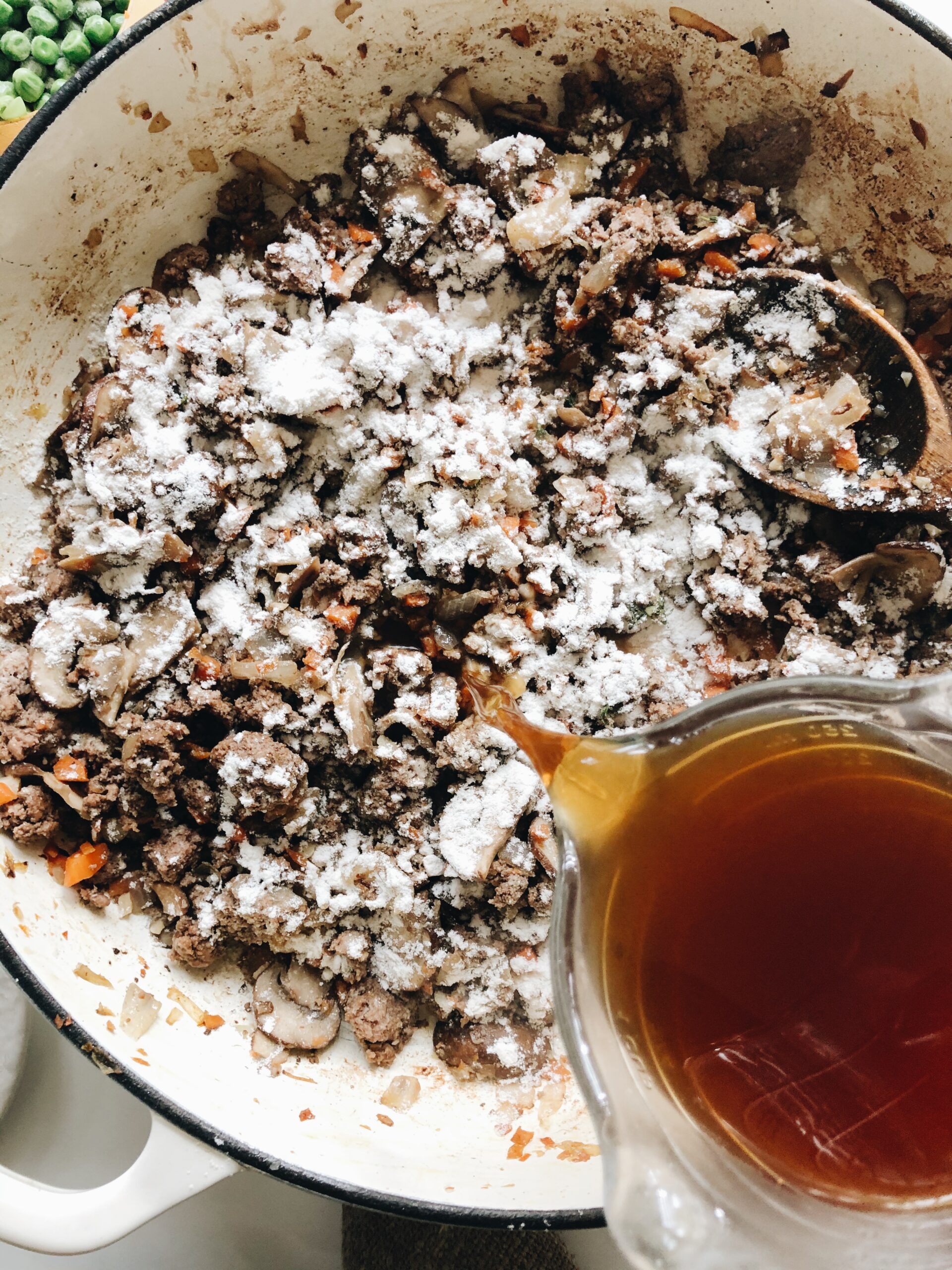 So you'll move the veggies out to a bowl and brown your beef. I had a photo but it's like, browned beef. You can visualize that. I won't hold you hostage for a second longer than necessary.
But then you'll move the veggies back to the beef (which you've seasoned with salt, natch). Once they're all snuggled together in your pan, sprinkle a bit of flour over the top and pour the beef stock right in. As you stir it all together it will thicken ever so slightly and become, not a gravy . . . but a thickish beefy pile of giddy. (I'll never type of those words again)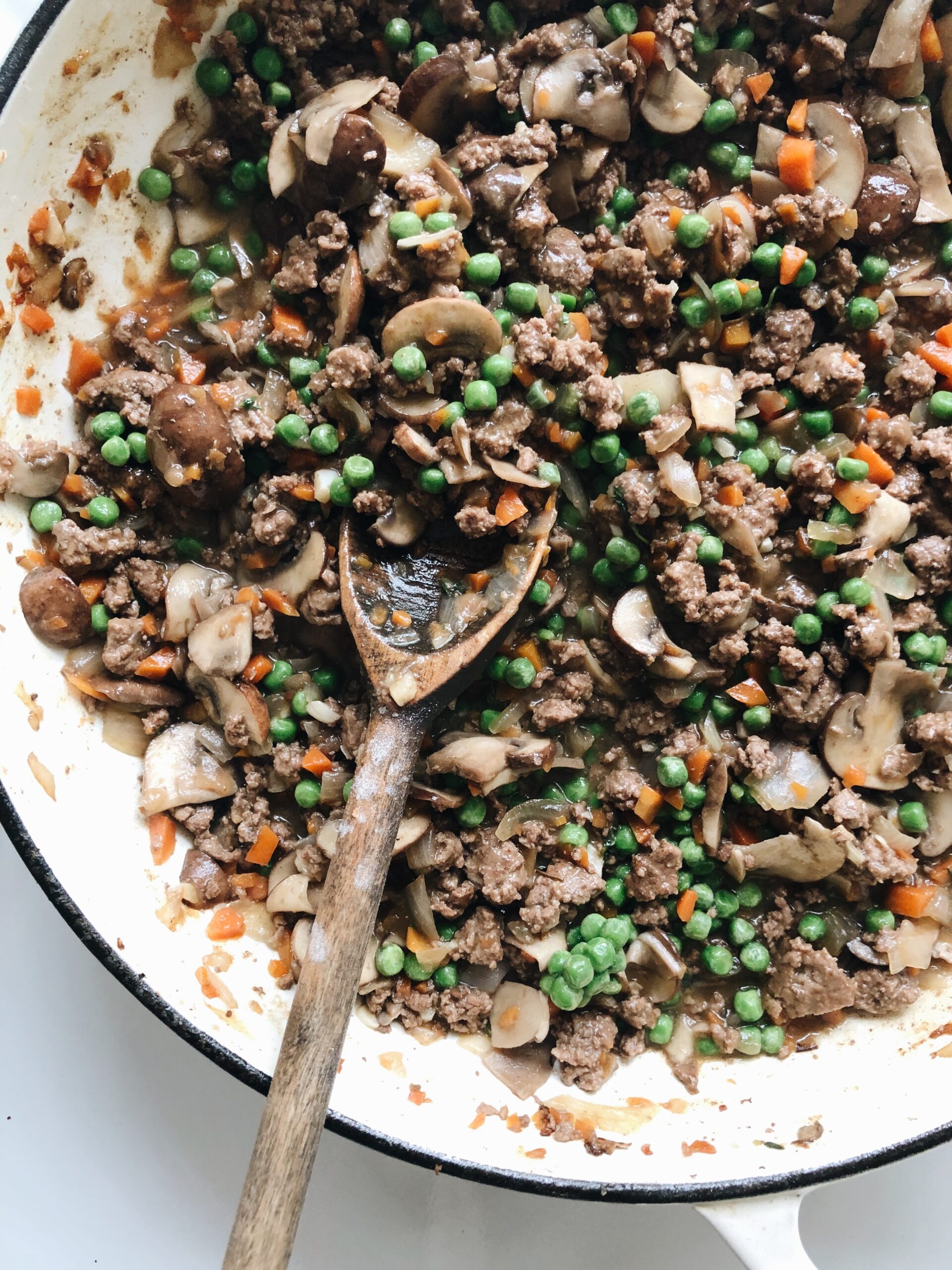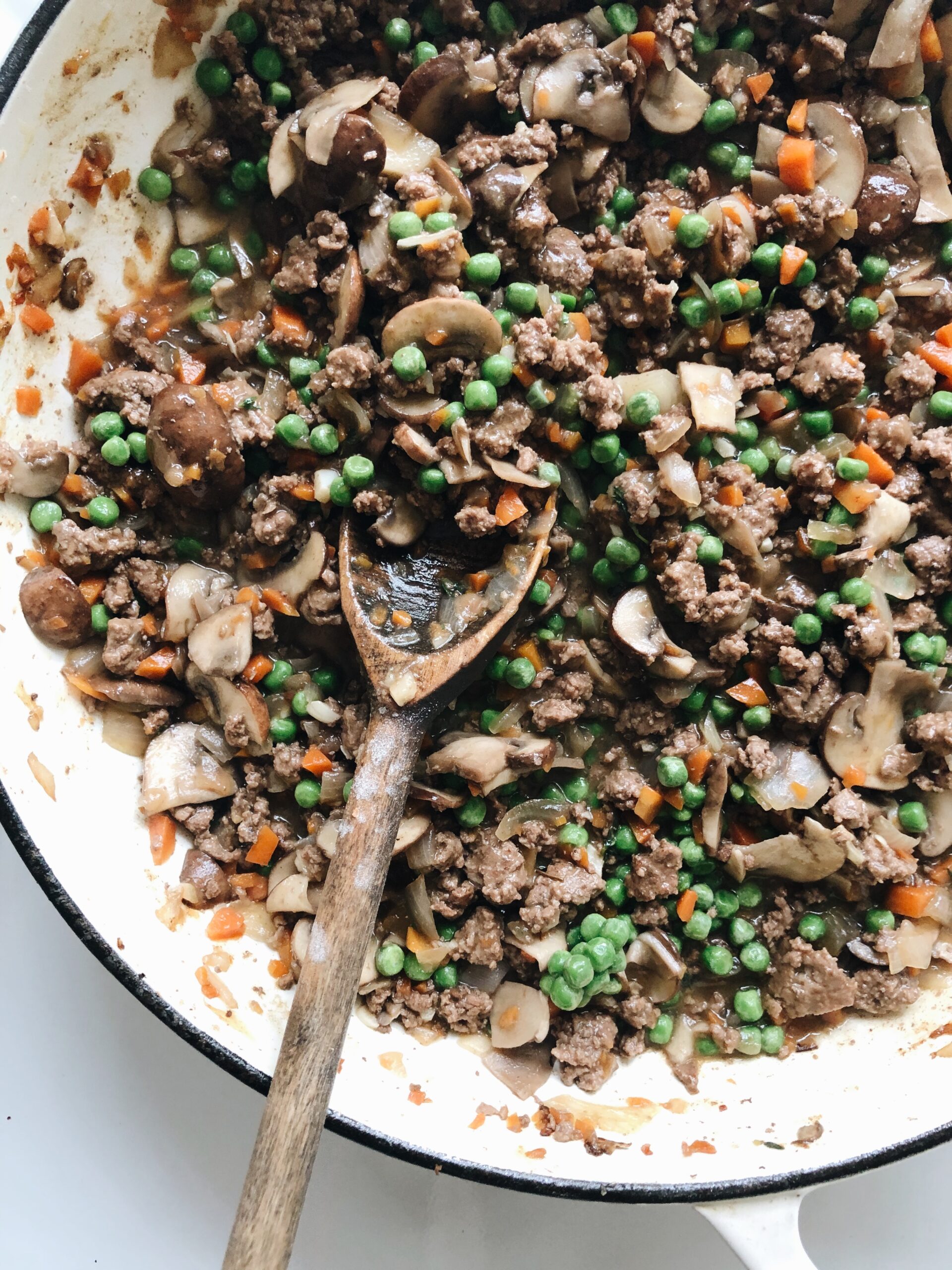 Like this. Add your (semi-thawed) peas in and give it all a luscious go with the spoon. And tell you what, taste this mixture now before you divide it into the ramekins or mini pots. Does it need any salt? Maybe a pinch? Just a little one? Maybe?
Think so?
Just a tiny one?
Weeeee bi- I can chill.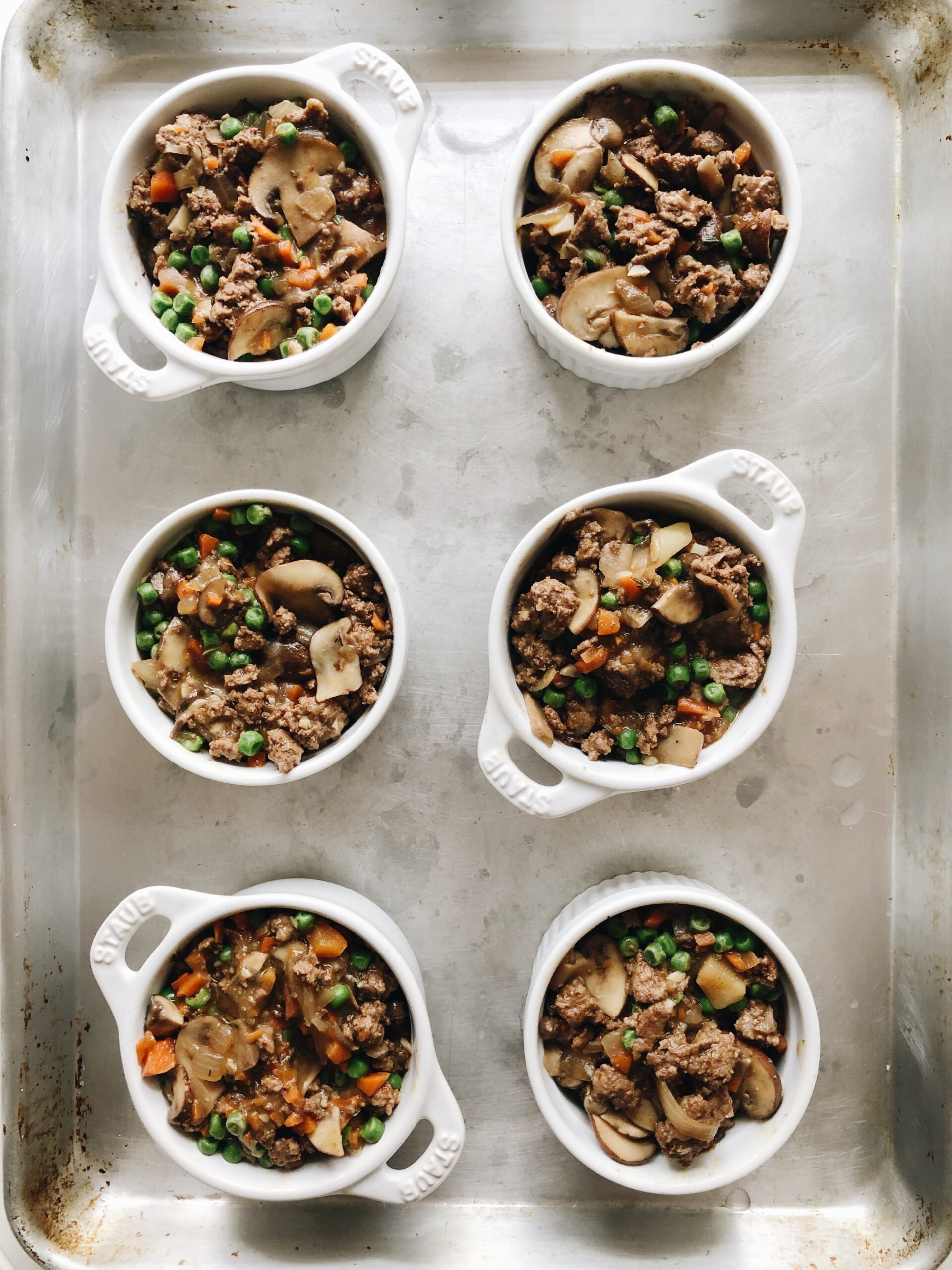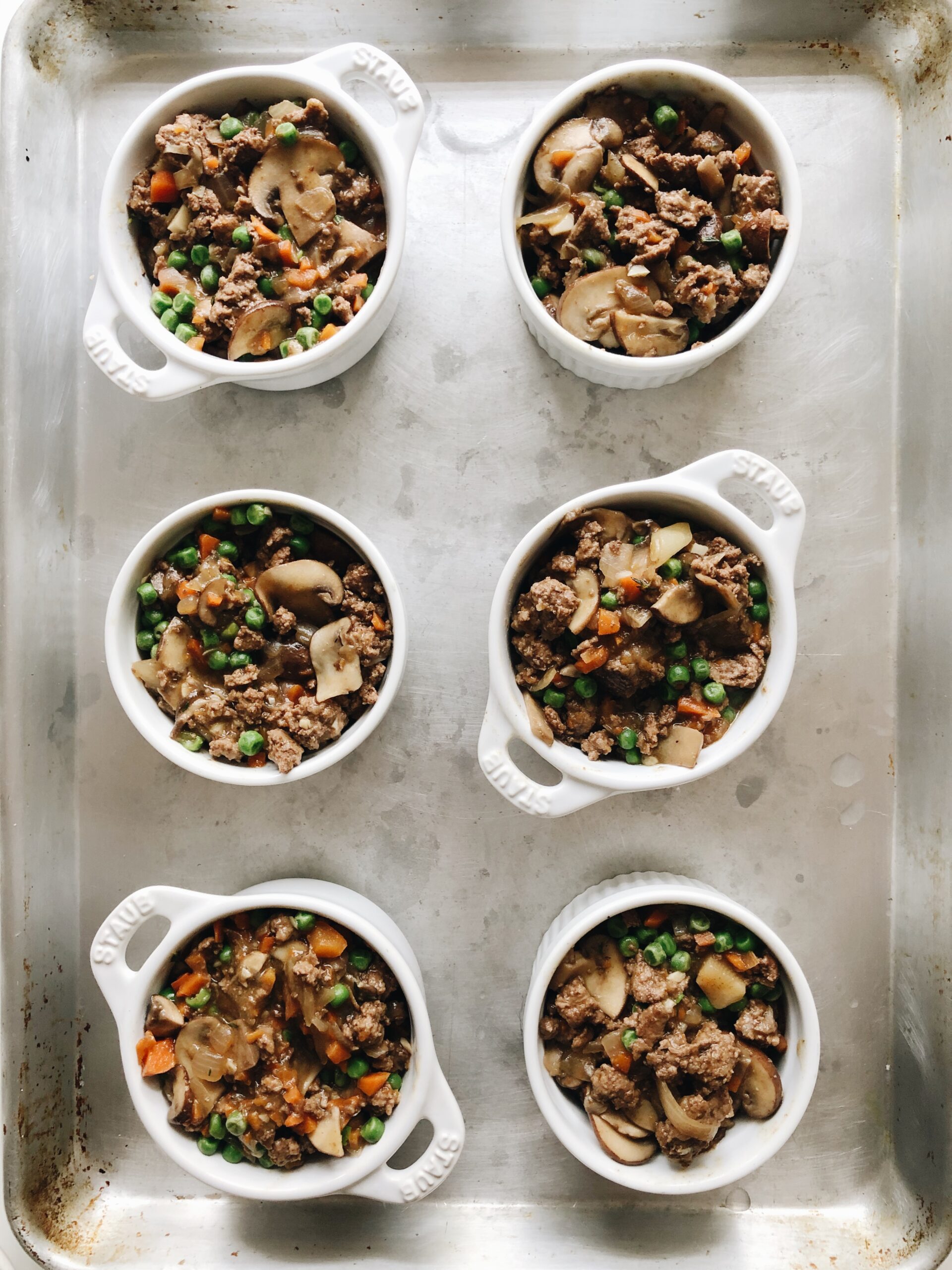 Into little pots and/or ramekins they go. Six worked out for me. And honestly, if you leave everything in the pan and overlap your puff pastry like I did for this French-Inspired Chicken Pot Pie, you're still a good person.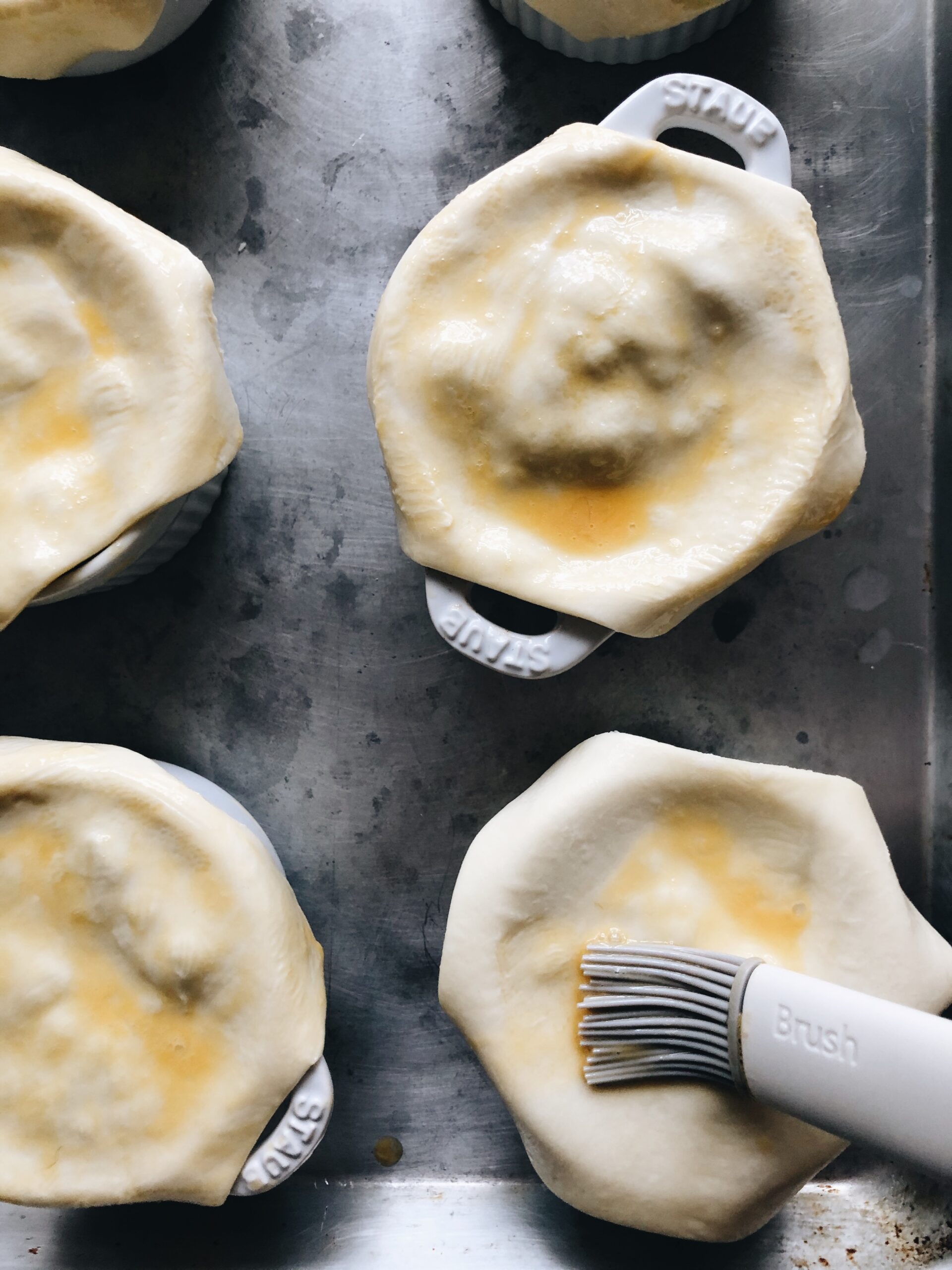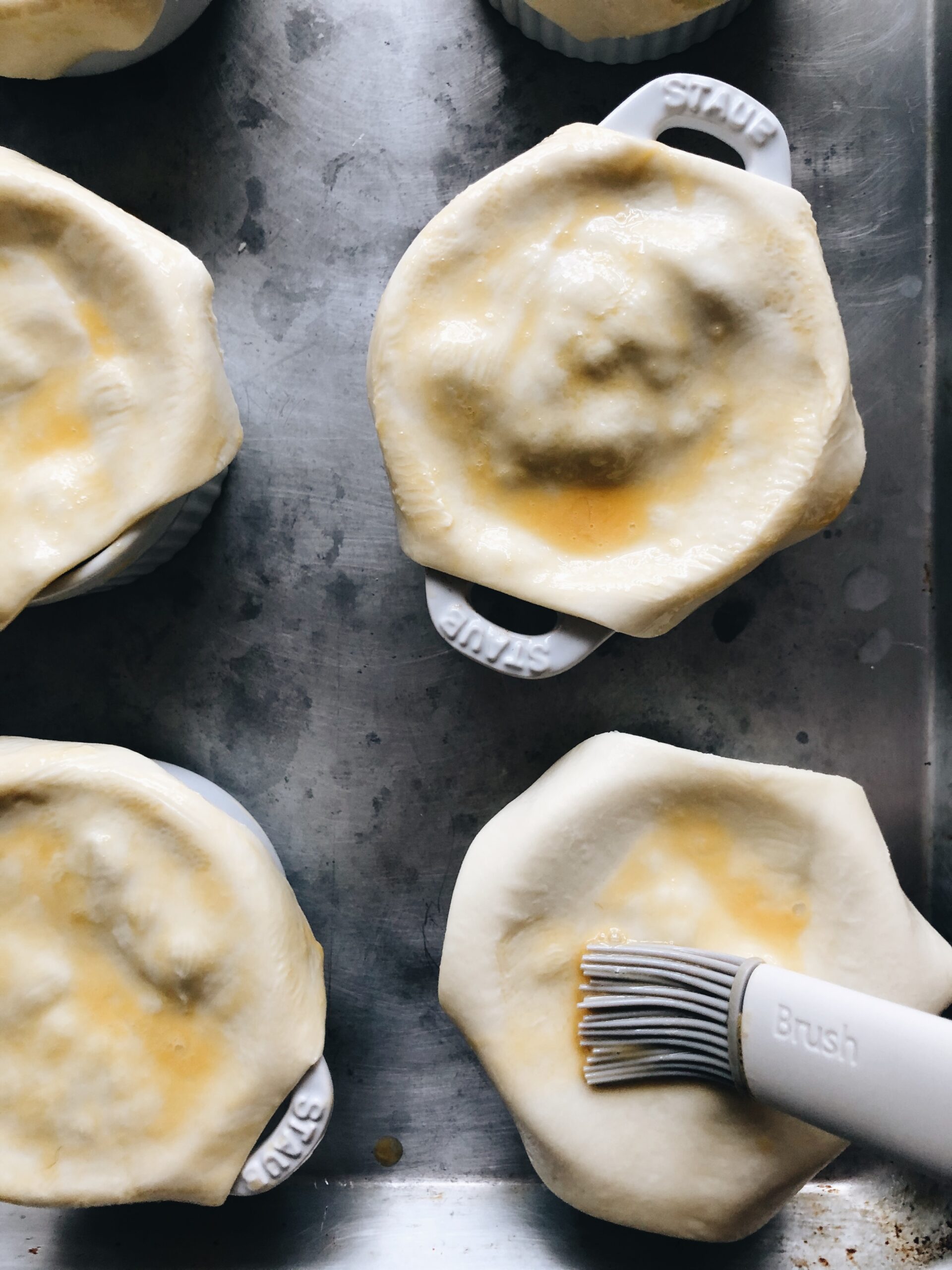 Then you'll cut the puff pastry into six even(ish) squares (we are human, after all) and lay them over each lil' pot. Brush with a lightly beaten egg to get that gaaaaaawgeous golden brown crust.
Into the oven they go. Are you ready for this? Because I kind of feel like you might not be.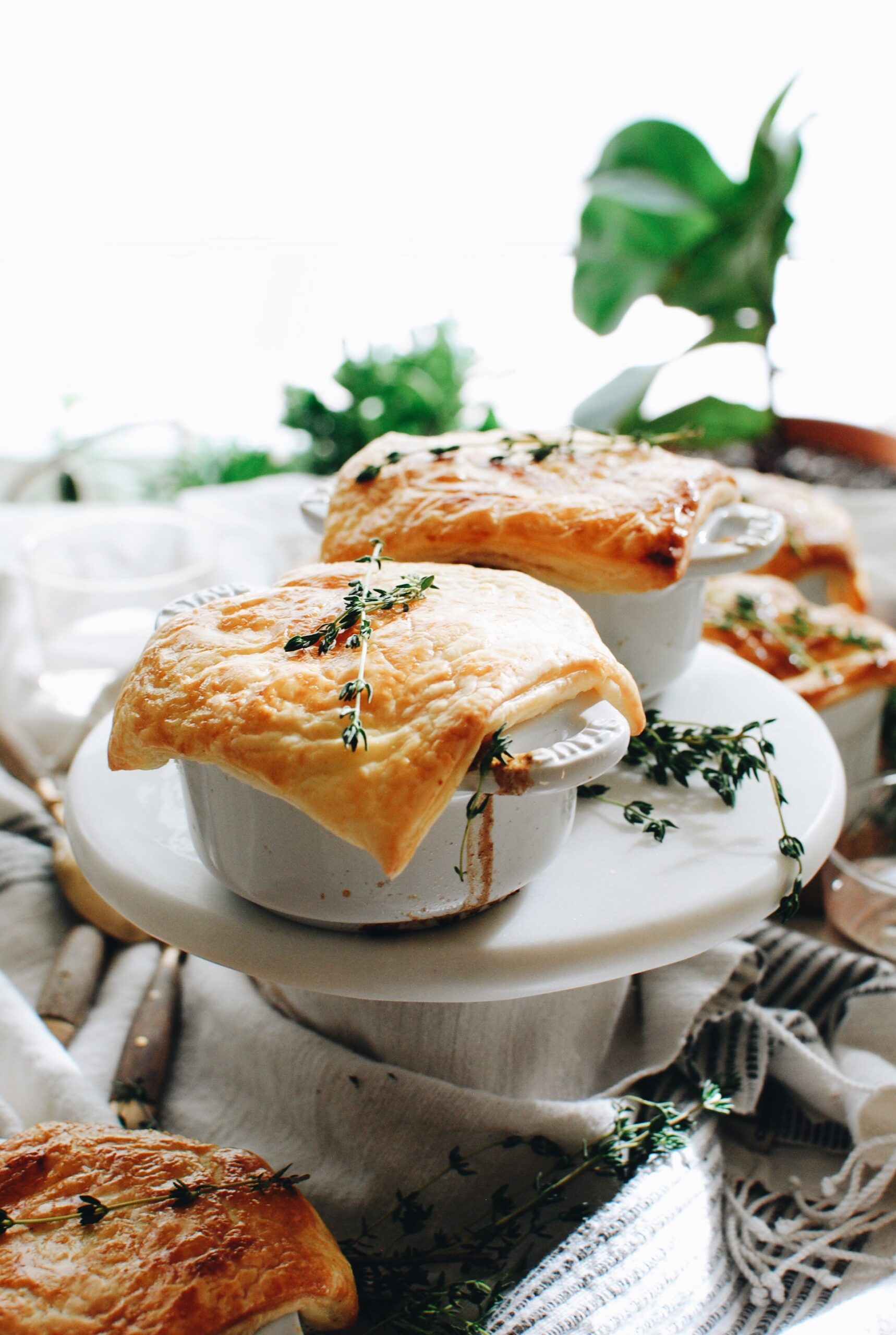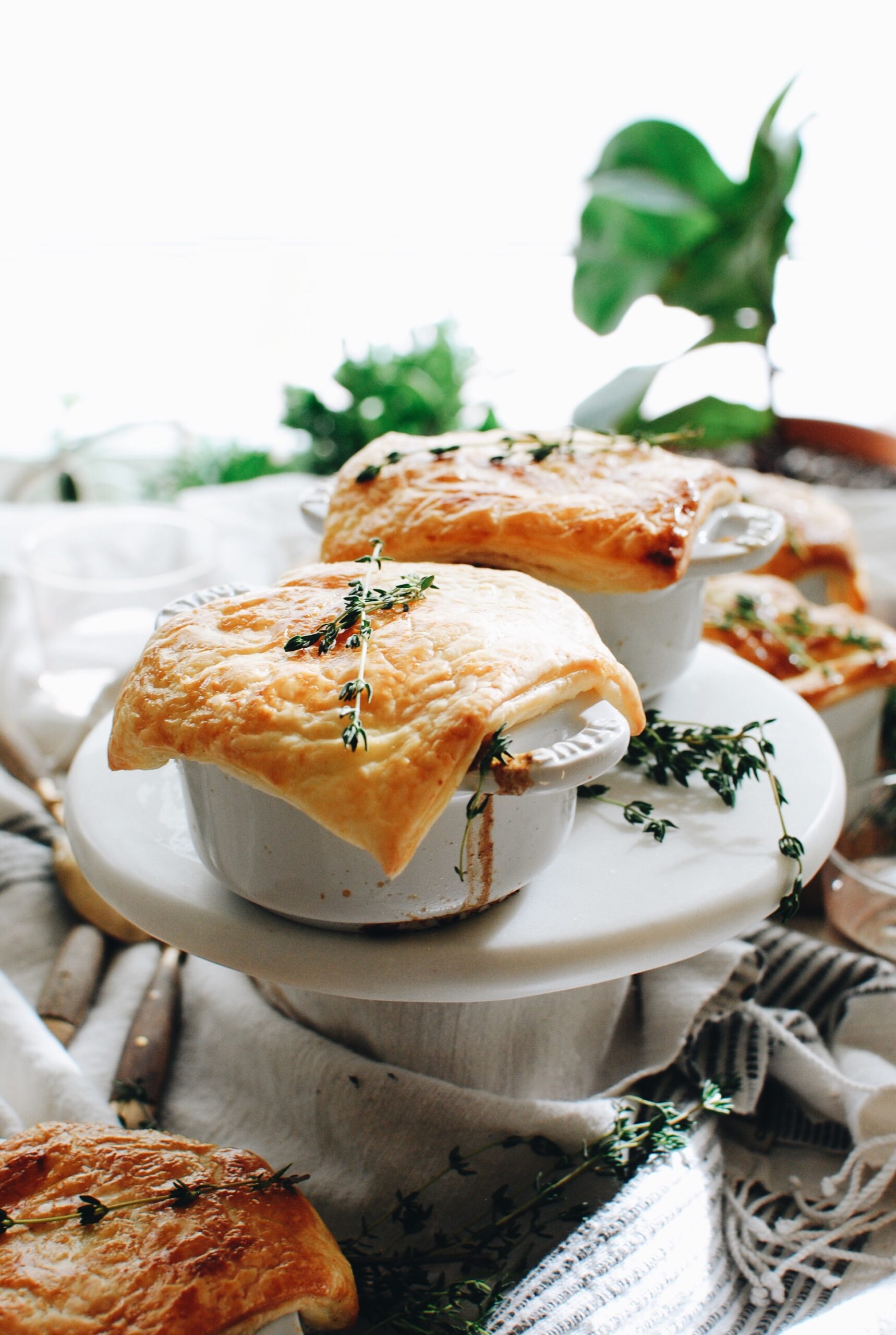 Have frickin' mercy.
I told the kids they were blankets over a treasure chest of gold. They bought it! They seriously bought it.
I'm not far off though.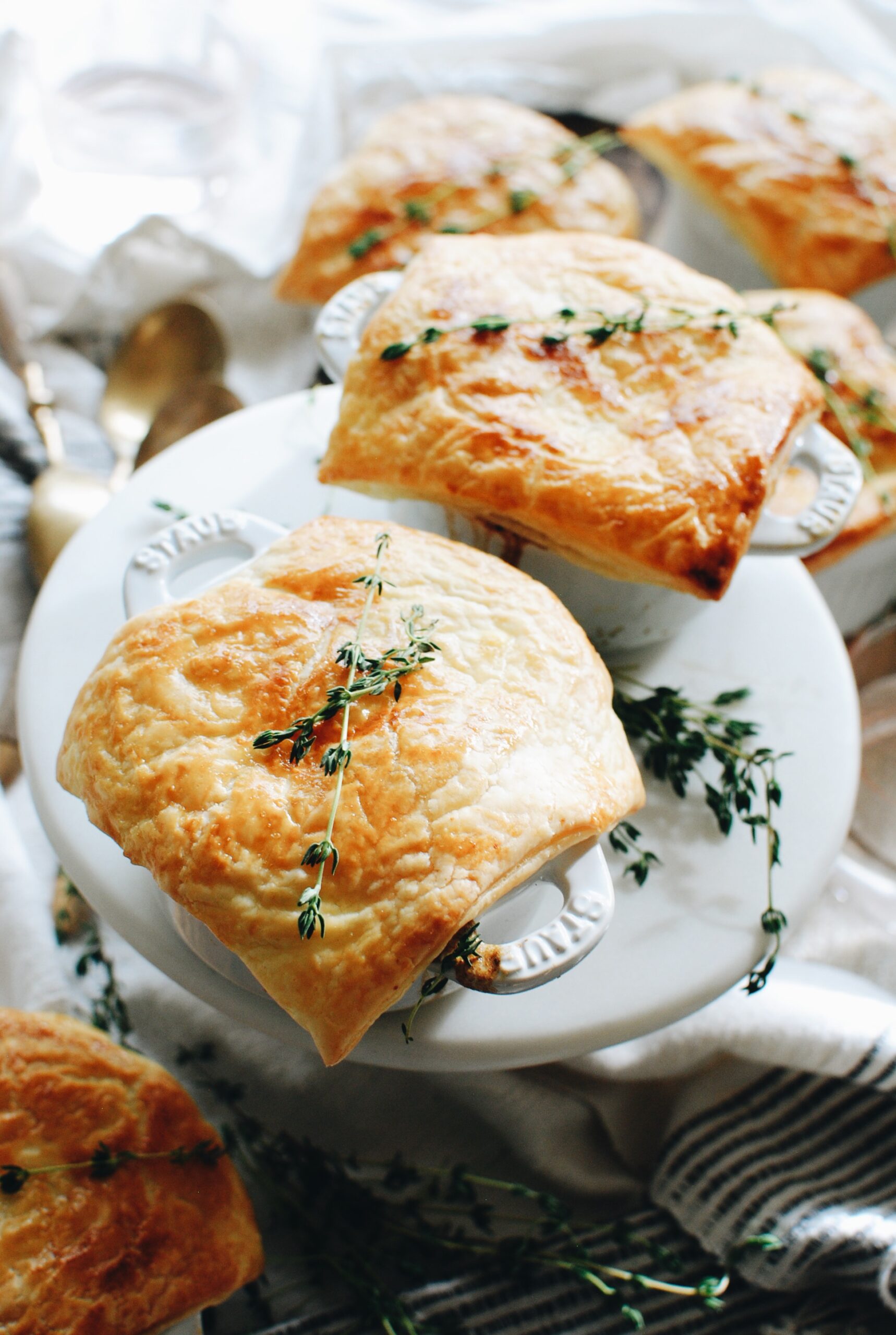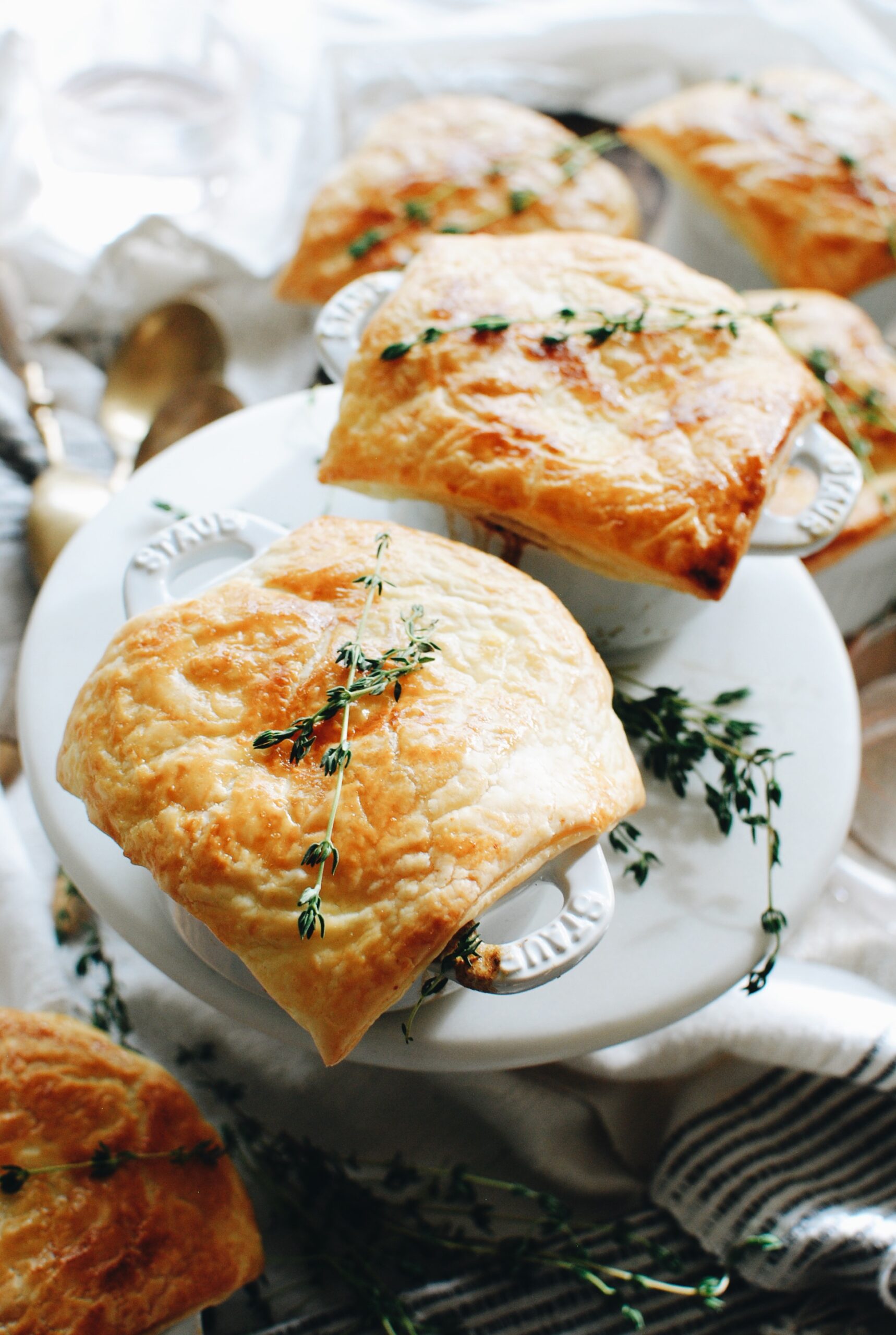 It's too pretty to eat . . . for under half a minute. Then you can go full-steam-ahead savage on these pups.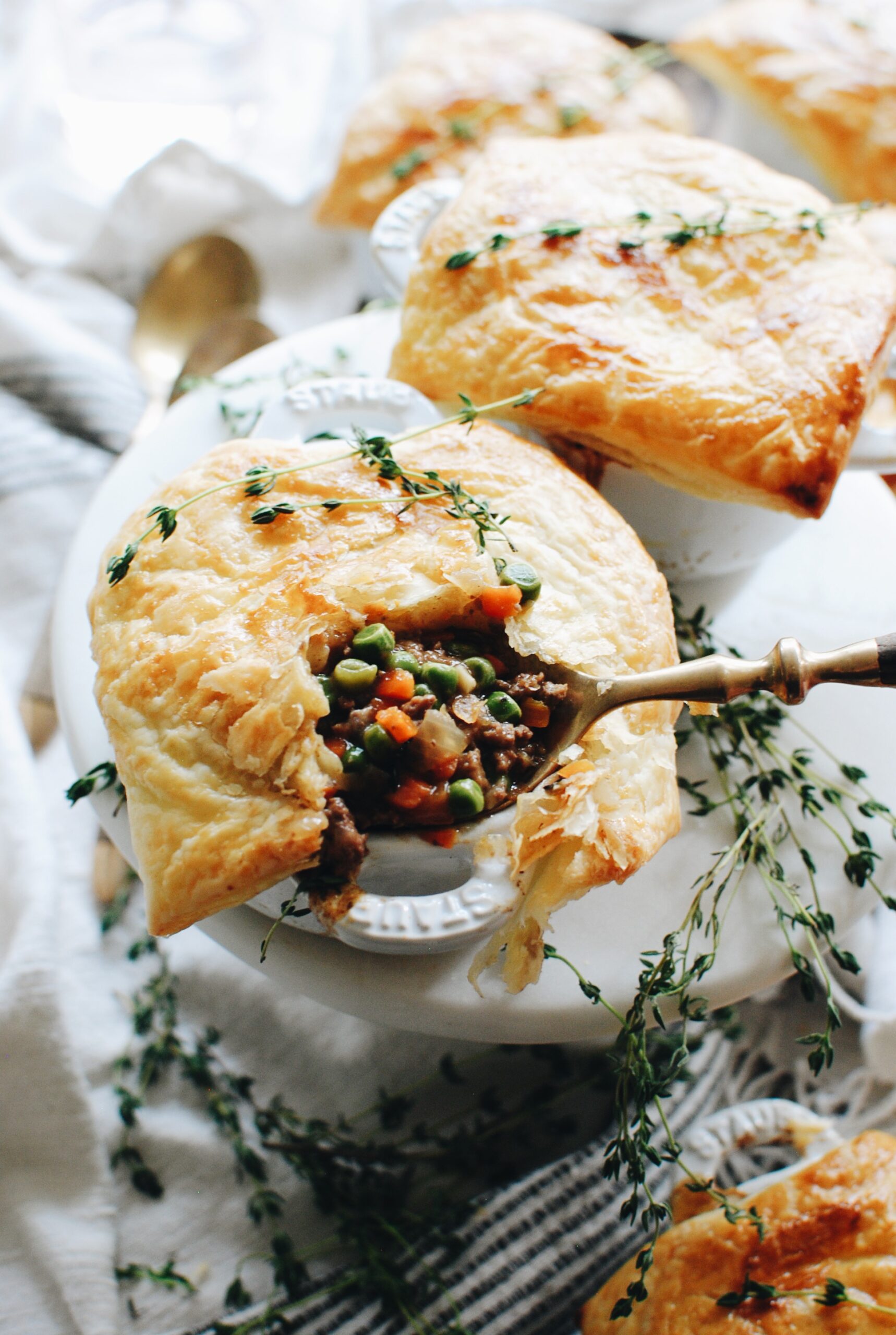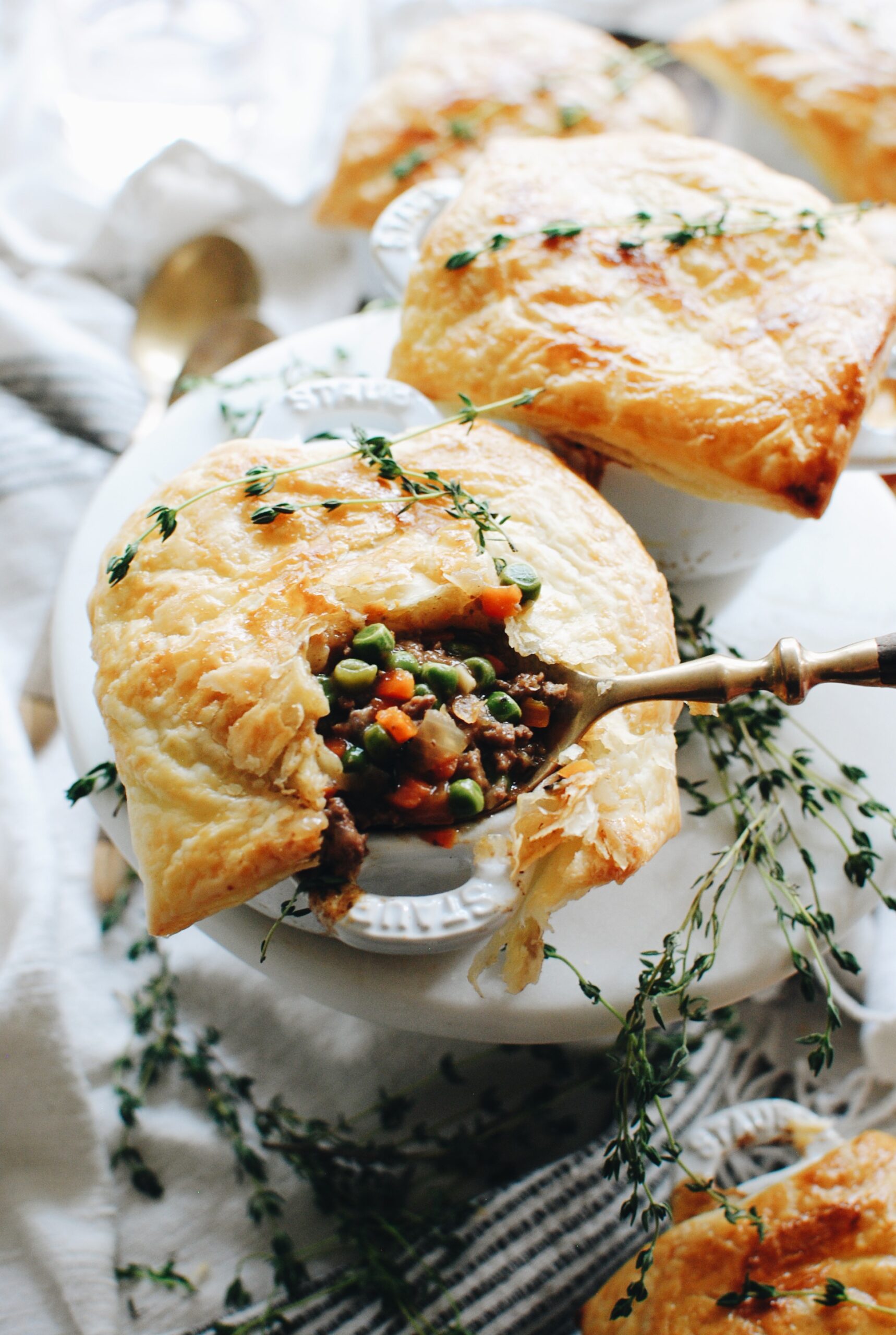 So comforting. So delicious. So fall day and holiday and snow day and whatever day you need to eat this to feel good about life.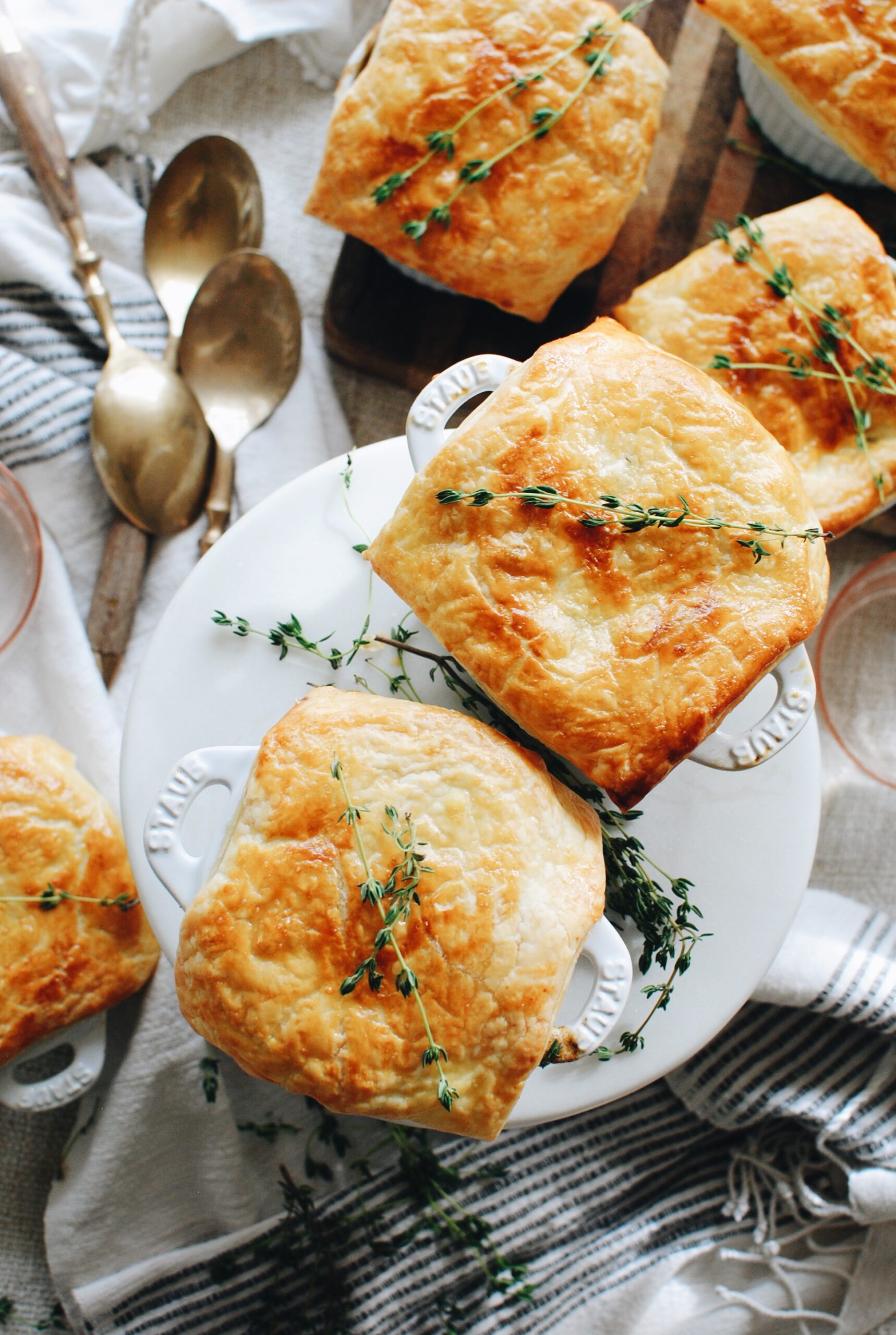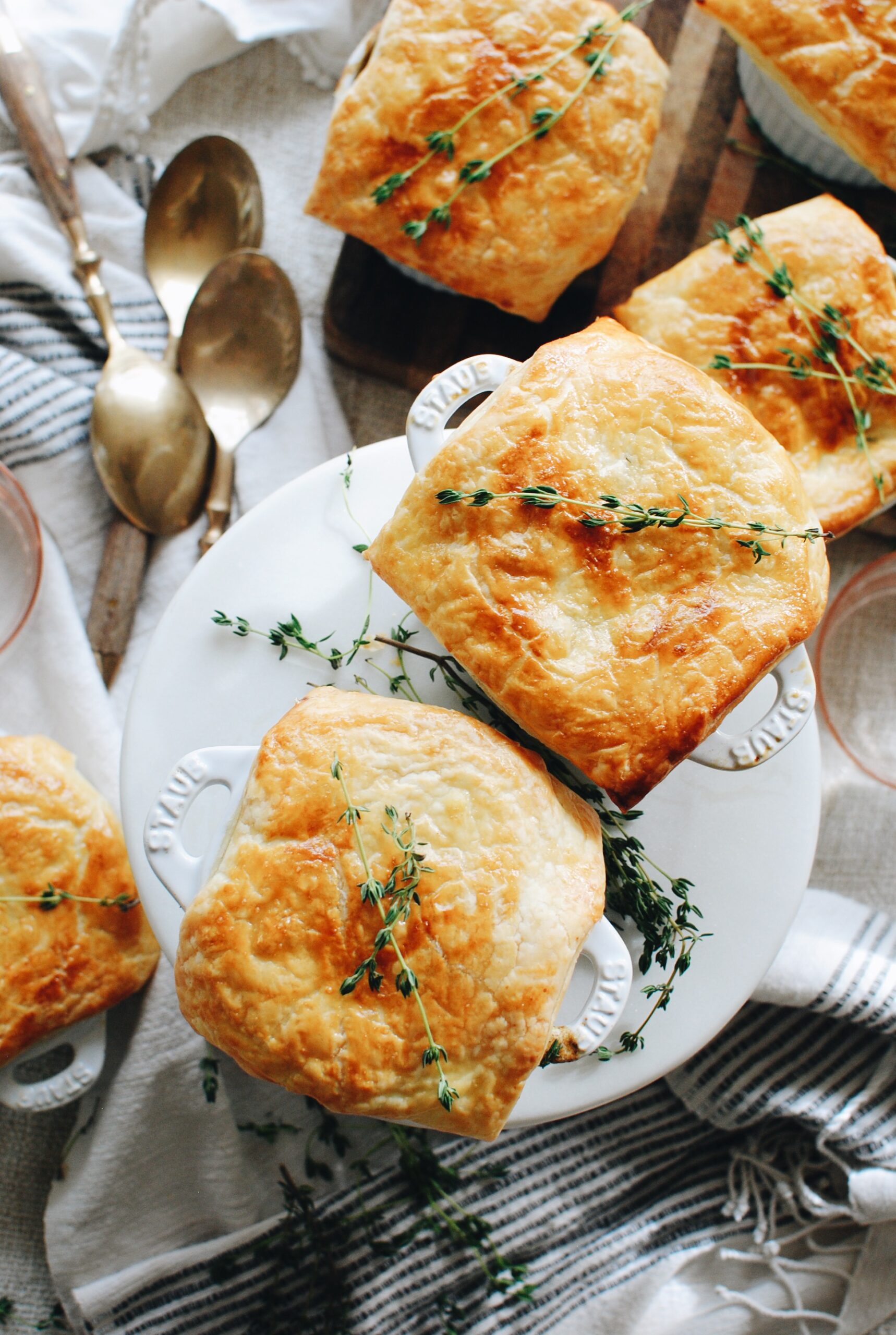 Can we put puff pastry on everything, please? Coo, coo.
Ingredients
1/2 large white onion, diced
1 (8 oz) package baby Bella mushrooms, thinly sliced
3 garlic cloves, minced
1 cup chopped carrots (two medium carrots)
2 Tbs. extra-virgin olive oil
1 Tbs. thyme leaves
1 pound ground beef
2 Tbs. all-purpose flour
1 cup beef stock
1 cup frozen peas
1 package frozen puff pastry, thawed
1 egg, lightly beaten
Coarse salt
Instructions
Preheat your oven to 375.
In a large skillet over medium heat, add the onions, carrots, thyme and mushrooms. Season with a pinch of salt and sauté for about six minutes, until the veggies start to brown and soften. Add the garlic and sauté another 30 seconds to a minute, until wildly fragrant.
Move the veggies out of the skillet and into a bowl while you brown the ground beef. Once the beef is cooked through, season it with a pinch of salt and add the veggies back in. Sprinkle the flour over the beef/veggie mix and stir in the beef stock. Stir until it's glossy and slightly thickened, just about a minute. Add the peas and stir to combine.
Spoon the beefy mix into six ramekins or mini pots. Cut the thawed puff pastry into six even squares and place over each pot. Lightly brush each pastry with the egg wash. Place all the ramekins on a large baking sheet and bake anywhere from 25-35 minutes, until the pastry is puffed and golden brown.
Let rest for about five minutes, and serve immediately!
Makes six pot pies.
7.8.1.2
466
https://bevcooks.com/2020/11/mini-beef-pot-pies/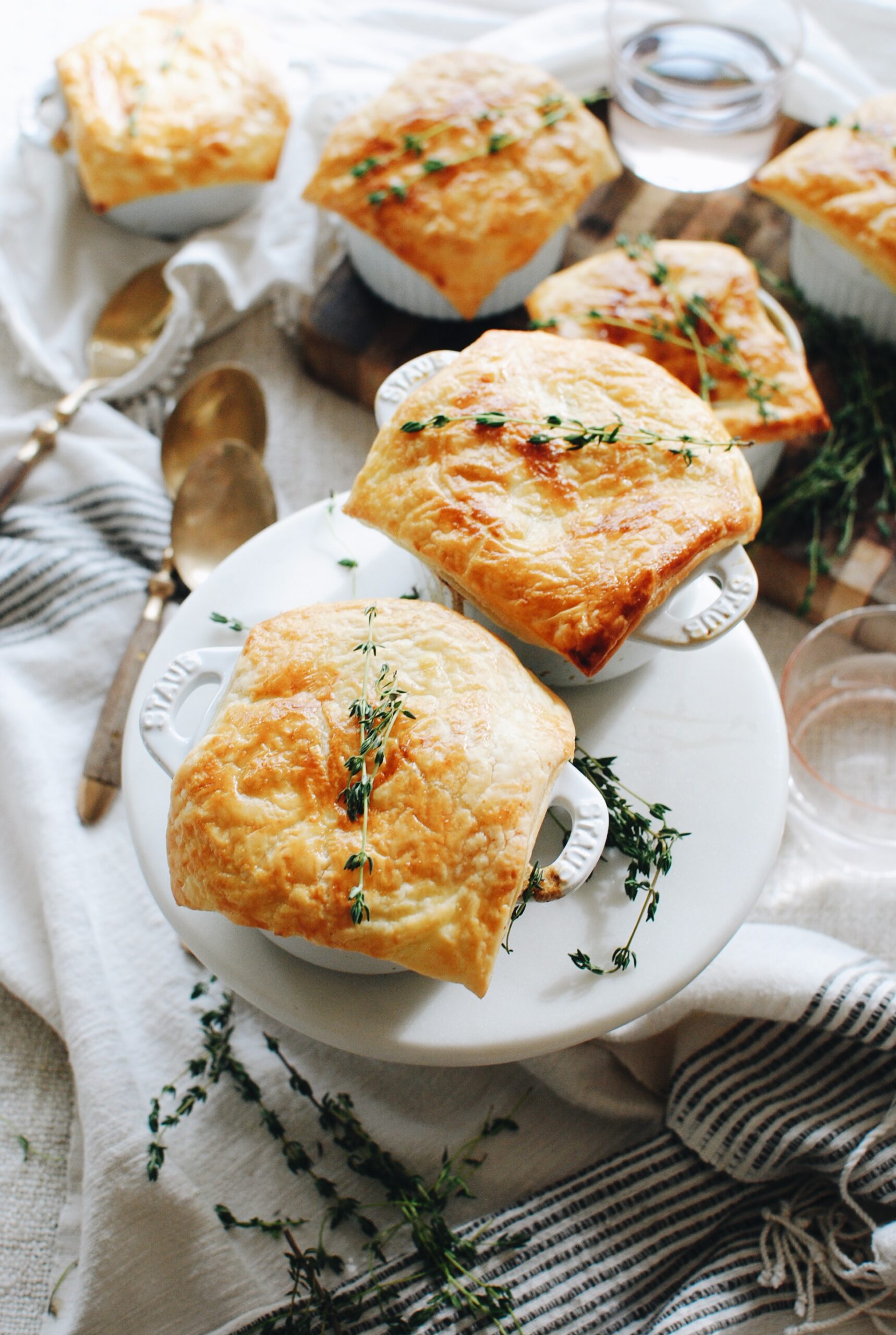 These would be divine for Christmas eve. Or any eve. Or now.