We're in a mode right now. A simple, zero fuss mode. Are you there, too? Are we meeting there today? Good.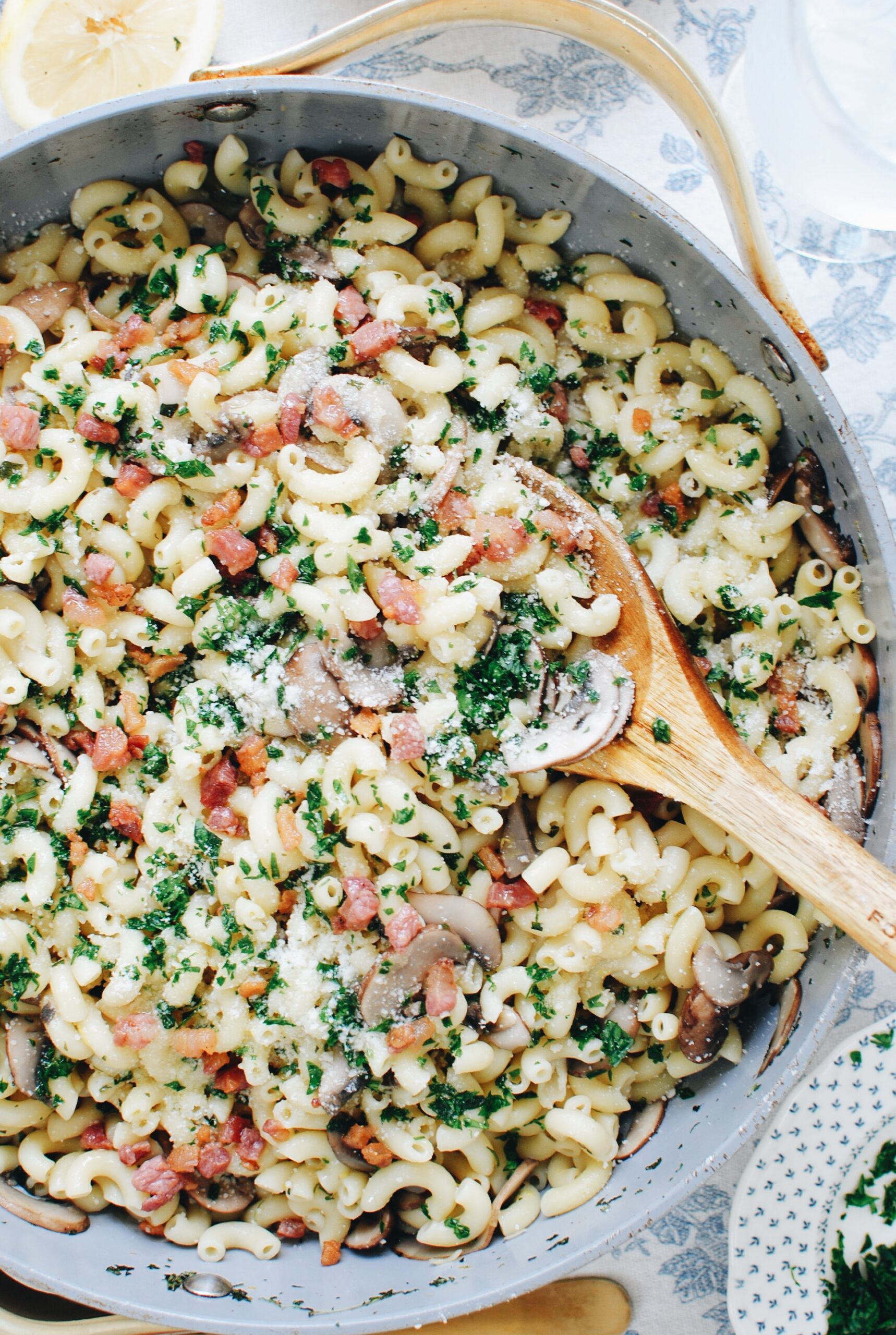 I need dinners that are eight ingredients tops. If that. Between four and ten. Six and nine. No more than five. But reverse.
This is exactly that. Loads of good flavor, but a flippin' cinch to whip up on a Tuesday night.
La-heeeeeeeet us peepeth.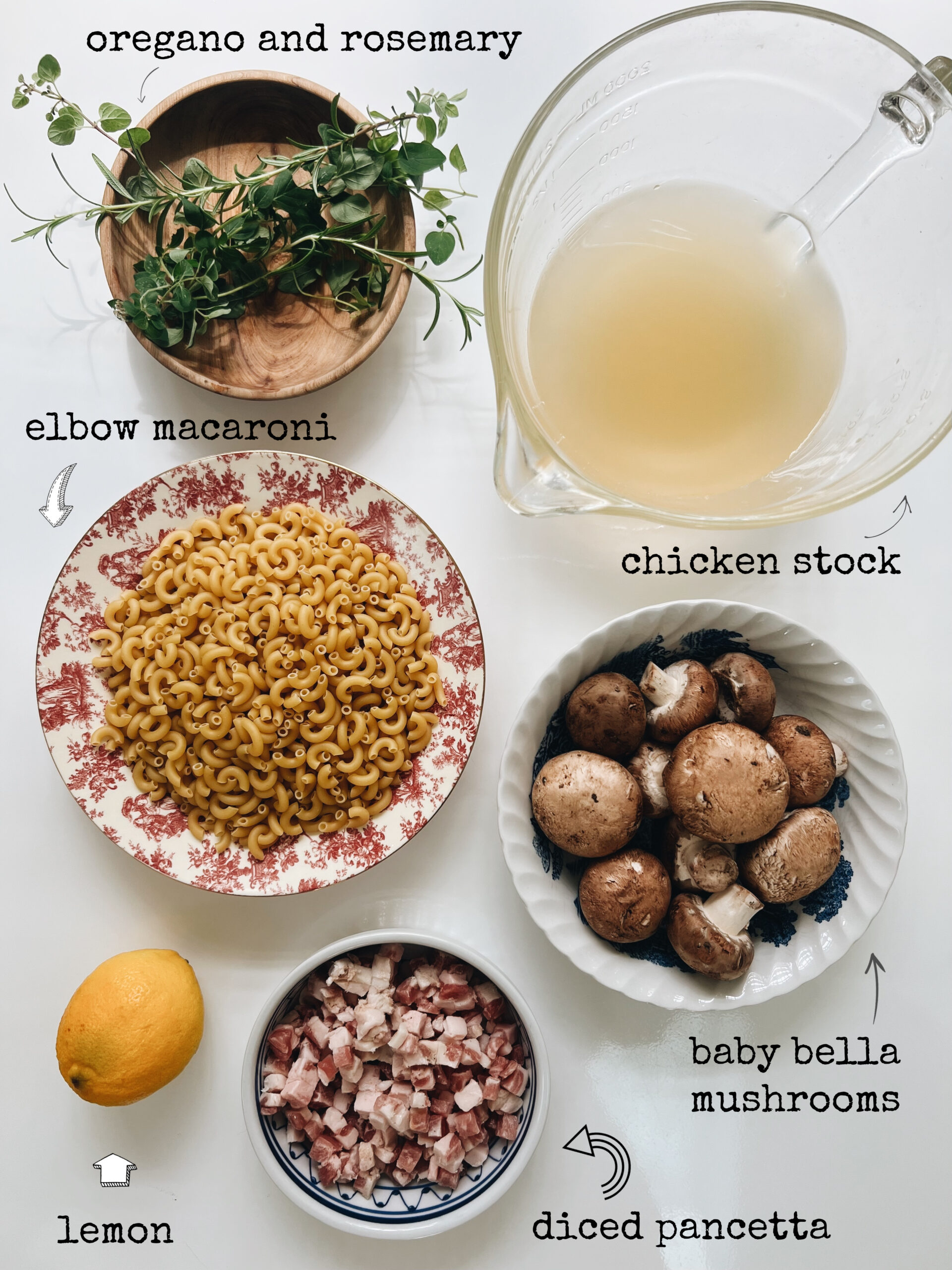 Listen, if you can find pre-diced pancetta, jump on that so hard. It's suuuuch a time savor, and this little package was cheaper than buying it whole and doing it yourself. Don't ask me how or why, I don't make the rules.
The elbow mac, it's fun, okay? But use whatever small pasta you have on hand, if you must.
The herbs – I'm in my earthy rustic era right now, so rosemary and oregano it is.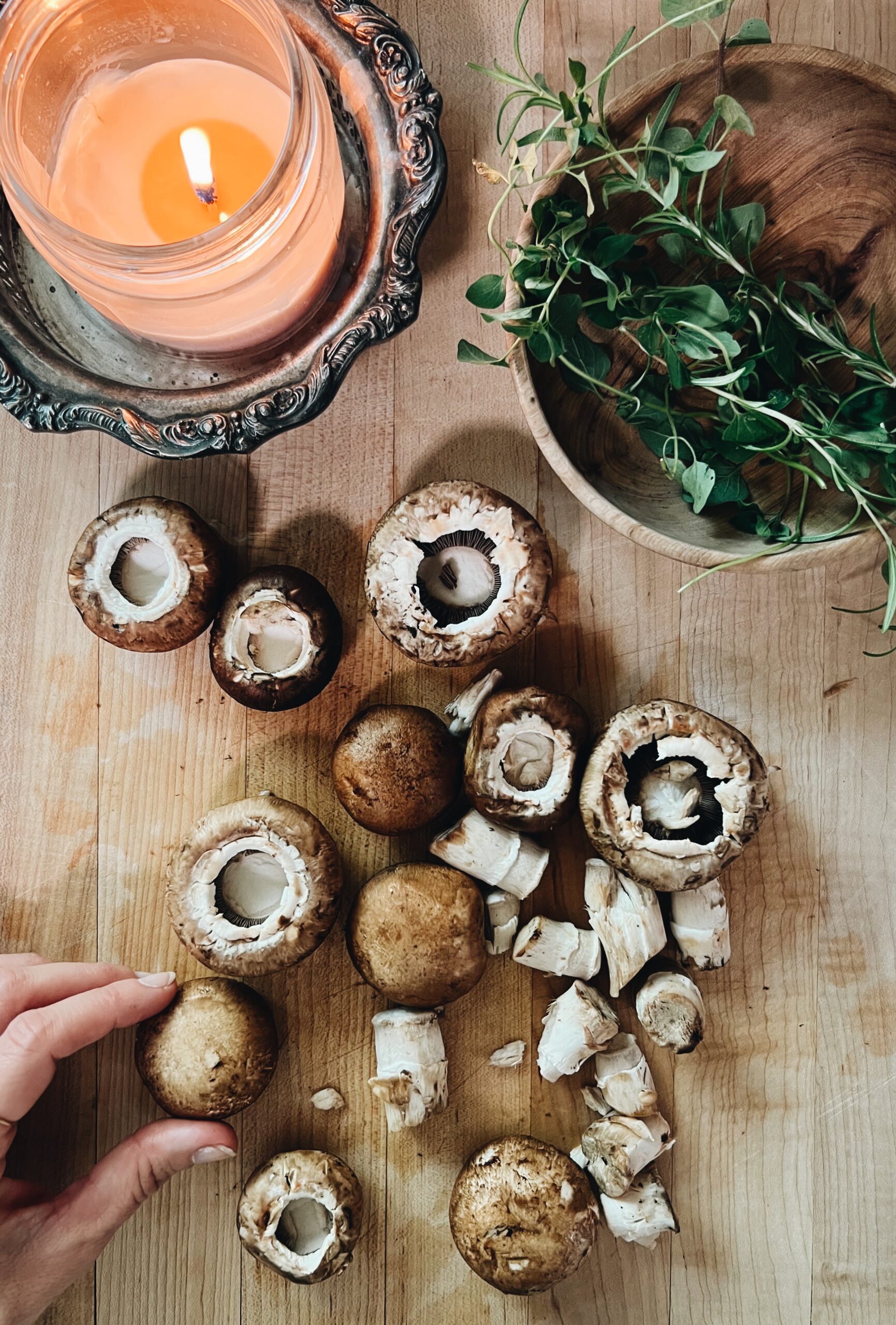 Lightly rinse the mushrooms and twist out the caps. Some people leave these in and slice them as well. You can totally do that. I just have this thing about the way it feels to twist those knobby suckers out. So satisfying. Just let me live my life.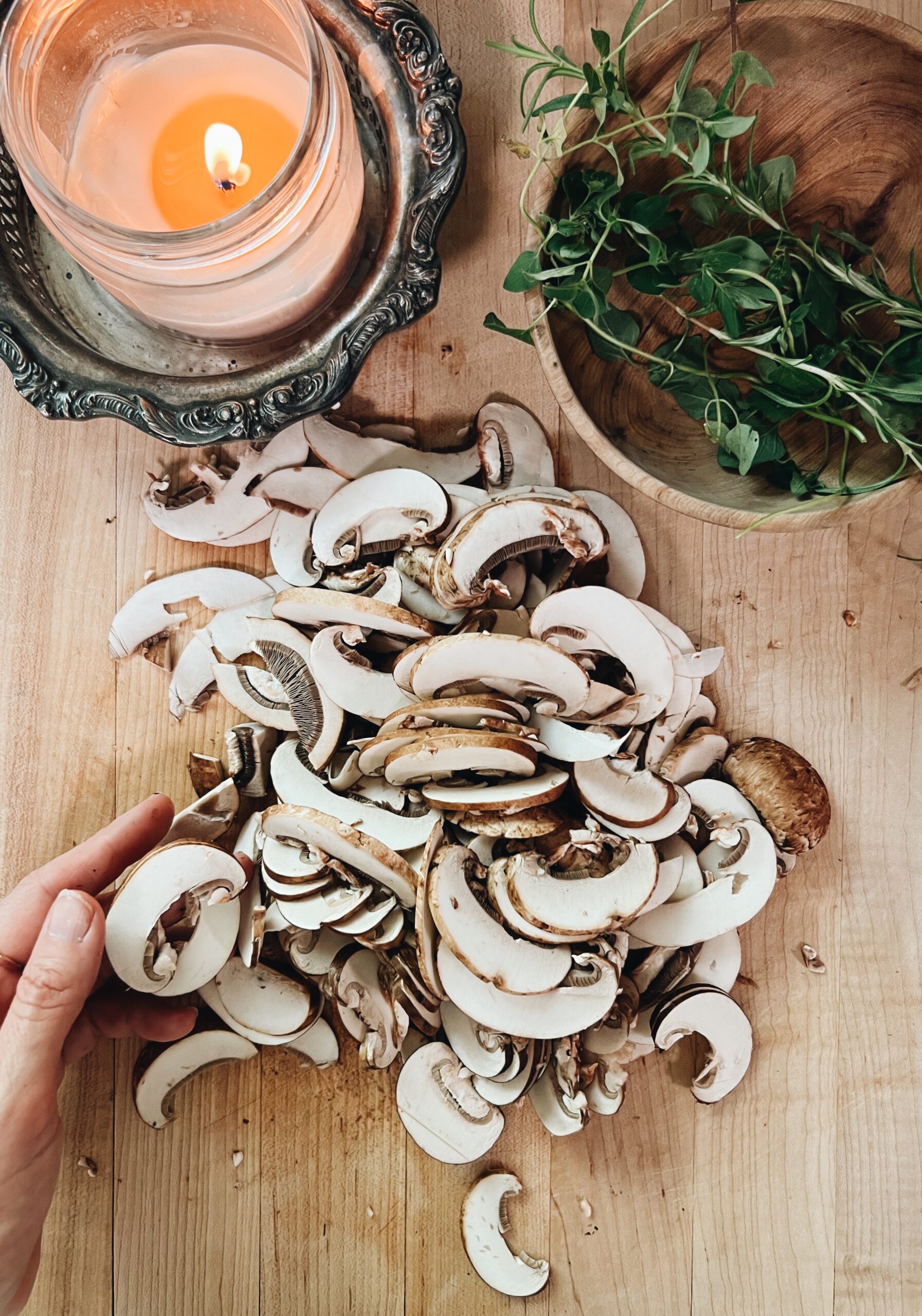 Then we thinly slice! You'll see it in the reel.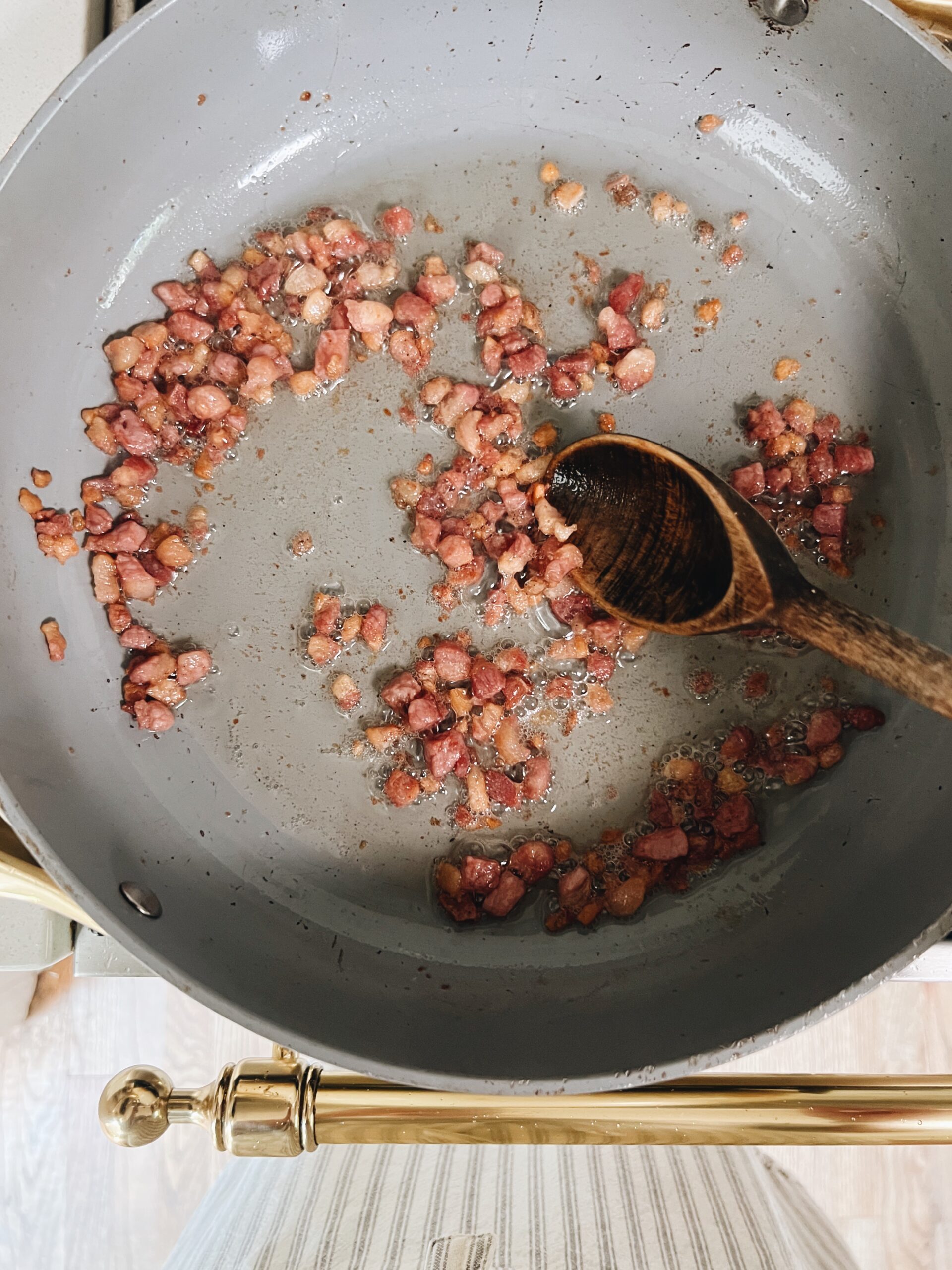 Now let's get our pancetta nice and crisped up. Take just a few minutes in a hot pan and they are rich, savory and the perfect little topping to pasta. Please make that happen.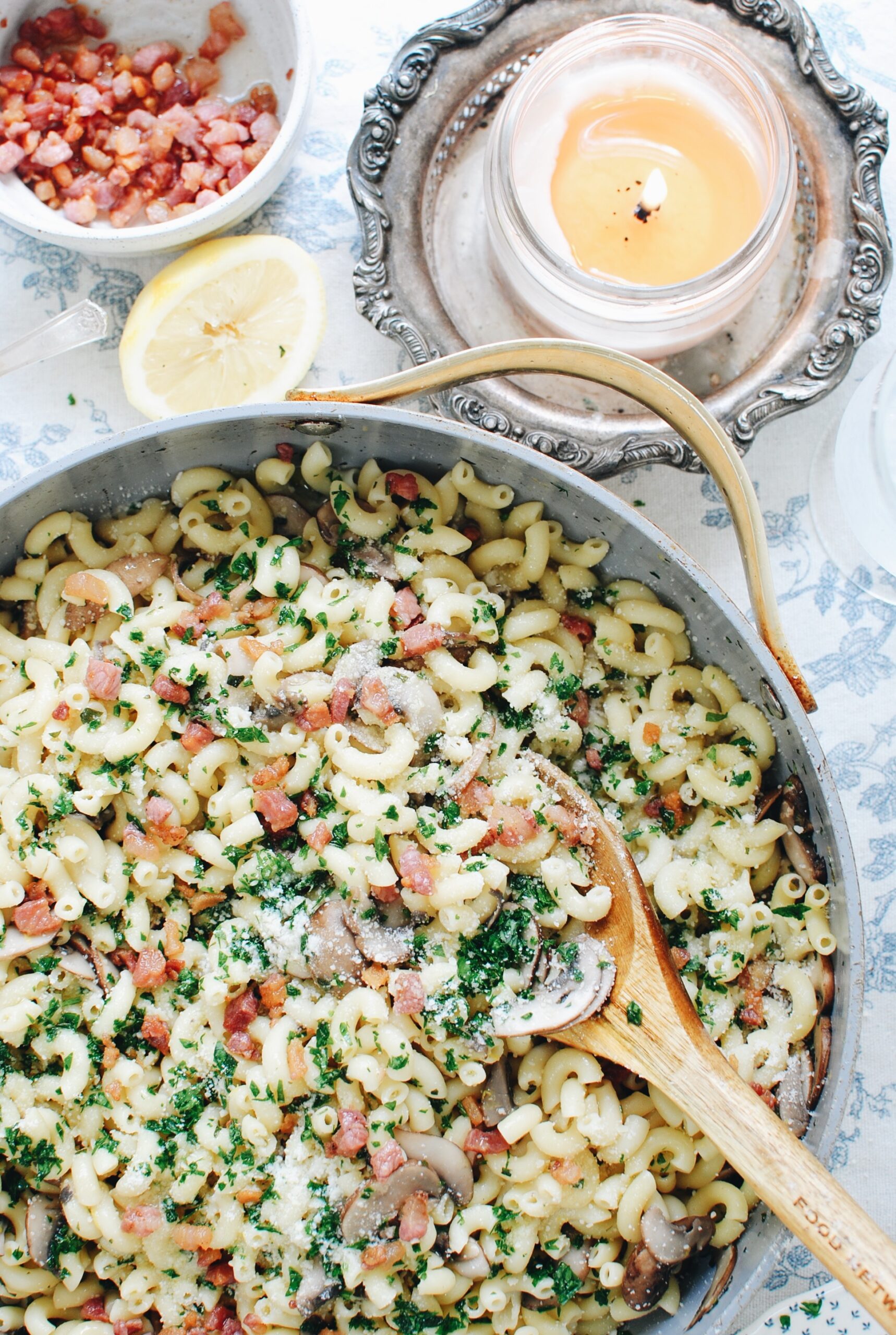 I forgot to photograph the rest.
But I feel like people are so over food blogs these days that will you even notice? I highly doubt it.
But look, we'll sauté our mushrooms in the pancetta fat and add the herbs and lemon zest. So, so delicious. Add the stock, along the pasta that is just shy of al dente. We want the pasta to finish cooking in the stock so that it takes on that deep rustic flavor.
And then we garnish! Crisped pancetta (yum), a good sprinkle of parmesan cheese (omg), minced parsley (yes yes), the lemon juice (wake it up!) and a hefty drizzle of your best olive oil. Look at you go.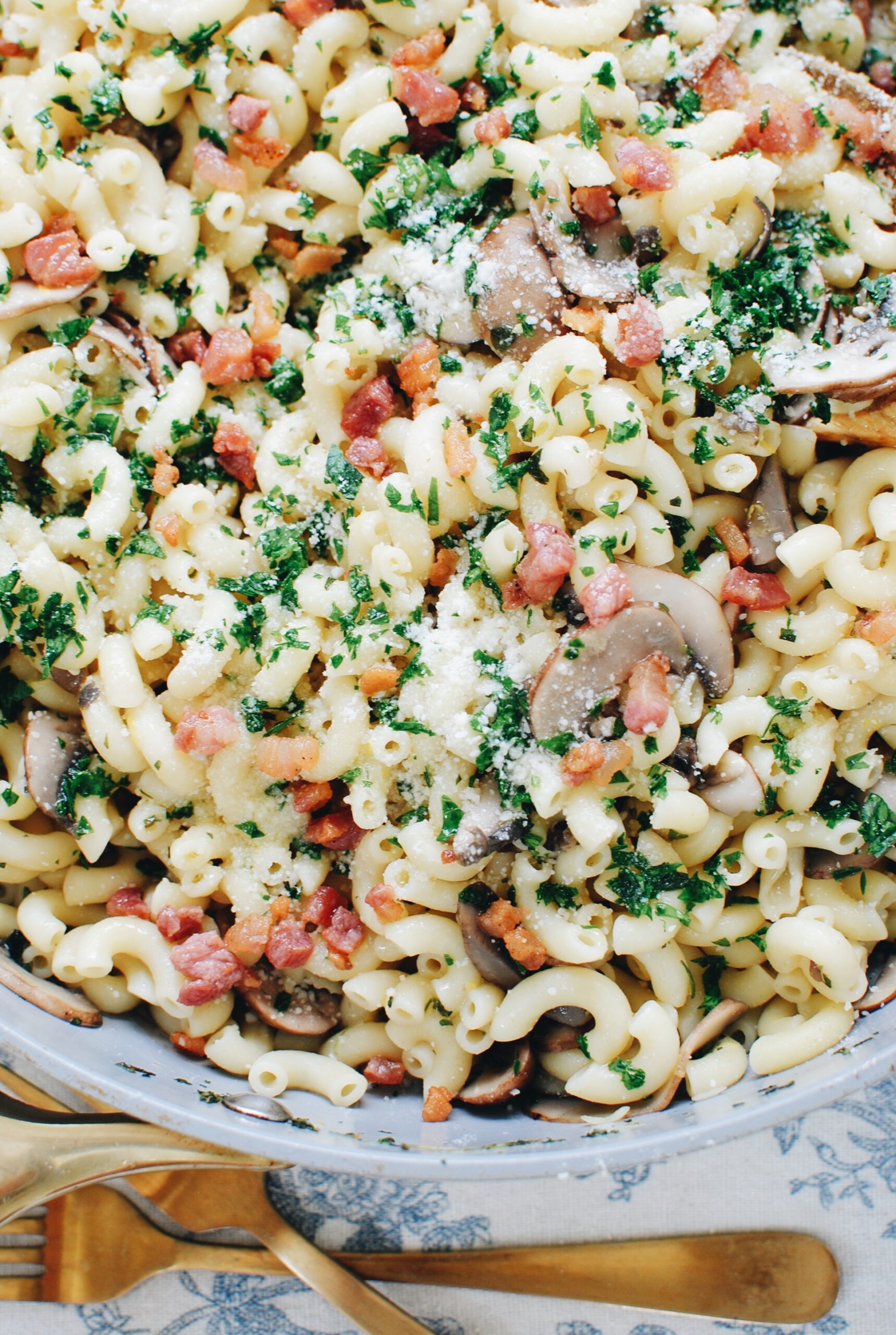 Of course you've salted it a bit right before the garnishes. We want a rich, savory party happening and if the cops get called, even better.
This takes about half an hour from start to finish, and I feel like it will be swiftly bumped up into heavy rotation this fall.
Am I right or am I right?
(you don't have to answer that.)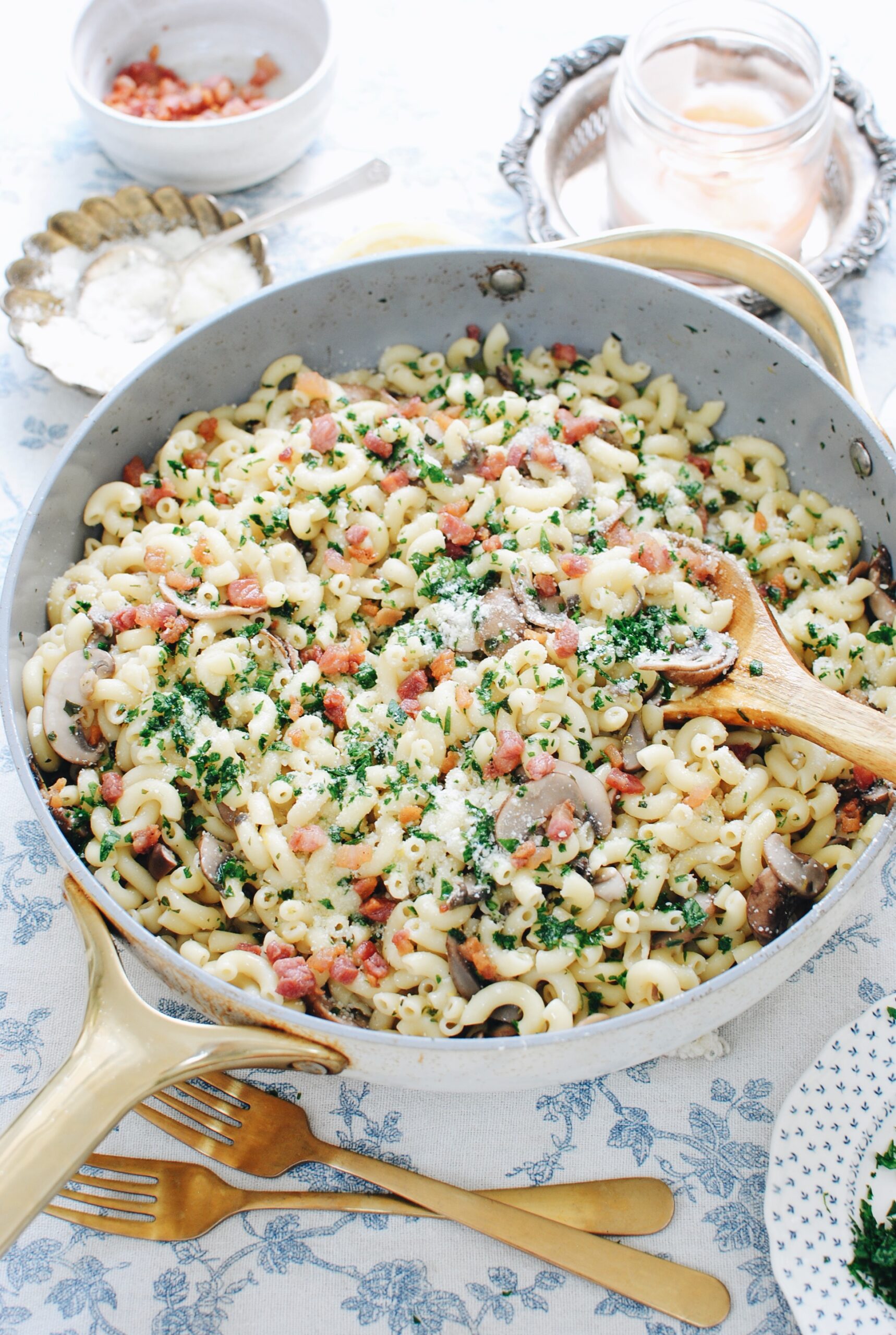 See you at the bottom.
Elbow Macaroni with Mushrooms and Pancetta
Ingredients
1 pound elbow macaroni
5 oz diced pancetta
8 oz baby Bella mushrooms, rinsed, capped and sliced
2 cups chicken stock
1 lemon, for the zest and juice
1 Tbs. minced rosemary and oregano
Coarse salt
Olive oil, chopped parsley and parmesan cheese for garnish
Instructions
Bring a large pot of salted water to a boil. Add the pasta and cook until shy of al dente, just a few minutes.
In the meantime, cook your pancetta in a skillet over medium high, until dark red and crisped, three to five minutes. Remove from the pan with a slotted spoon and set to the side.
Add the mushrooms to the rendered fat in the pan and sauté another few minutes. Season with a pinch of salt as you cook, and add the minced herbs, along with the lemon zest. Cook until the mushrooms are dark brown and tender.
Add the chicken stock and stir to combine. At this point you'll use a sieve or slotted spoon to transfer the pasta over to the skillet to finish cooking, just about two more minutes. The pasta will absorb the liquids, so add a splash if needed.
Add another good pinch of salt about now, along with the lemon juice. Garnish with reserved pancetta, a good sprinkle of parmesan cheese, minced parsley and a drizzle of your best olive oil. Just perfect.
Serves 4-6.
7.8.1.2
659
https://bevcooks.com/2023/09/elbow-macaroni-with-mushrooms-and-pancetta/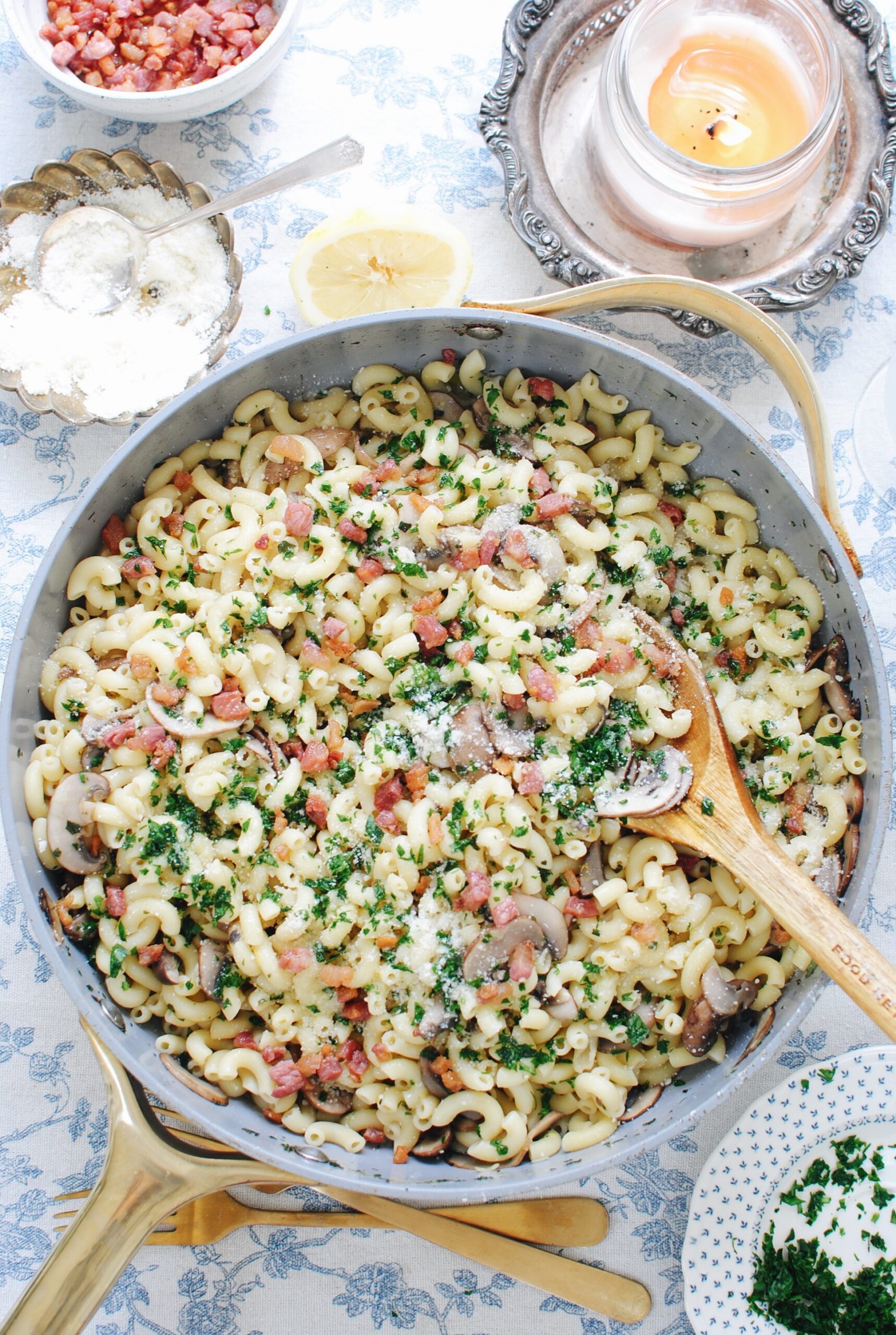 I have a whole slew of whip-it-up dinners coming your way! Hollaaaa.