It's basically a pile of happy.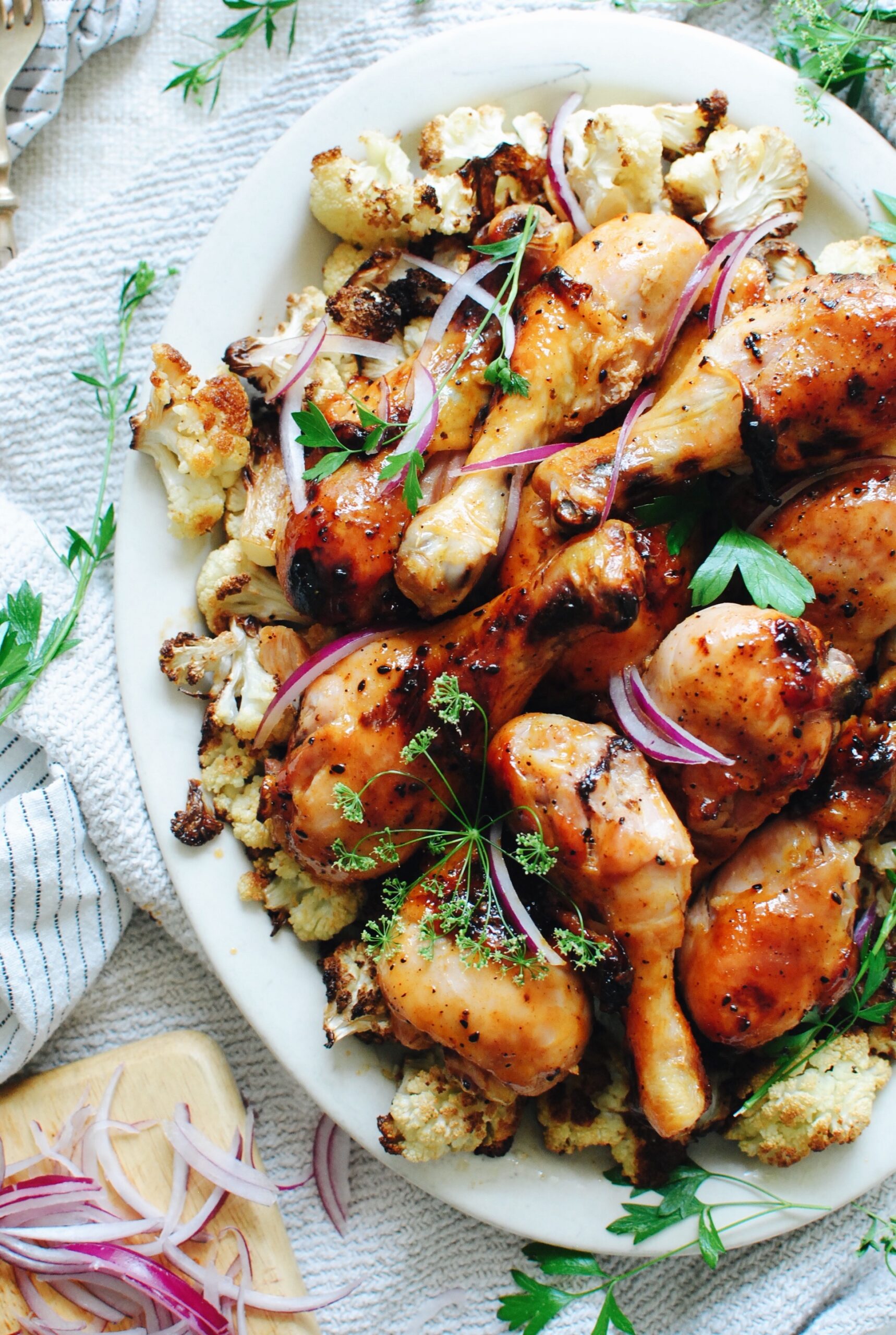 And it's Paleo! I think?
You're like, "PLEASE GET BACK TO CARBS, ALREADY." Simmer down, just a few more days.
This is one of those meals that screams CAVEMAN, with all that bone-in skin-on business. (I know I used the word caveman for Tuesday's recipe but I feel like you'll be fine.) But I gotta tell ya, I love bone-in skin-on business. Yes I can stop saying bone-in skin-on business anytime I want.
Let's look at this.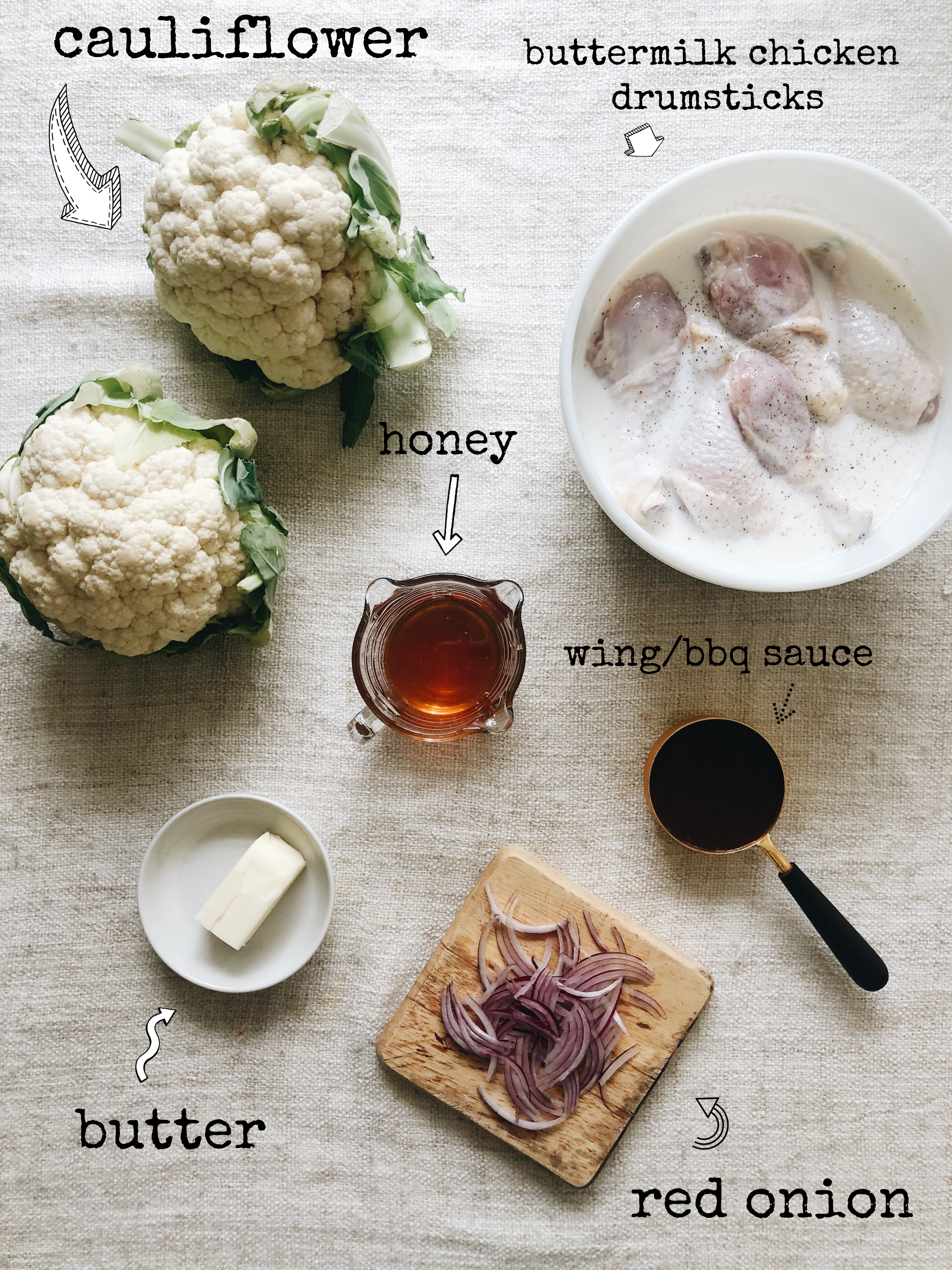 You know me and buttermilk brines. I live for them. Just throw 10 drumsticks in a big bowl and cover with ish loads of salt and buttermilk. That's step one, and you can do this the day before. See how simple that was?
And then day OF, you'll combine melted butter with honey and some sauce. But we need to talk about the sauce. THIS IS WHERE (getting aggressive here) everyone's chicken will vary in flavor. I used a local wing slash bbq sauce made by my friends Erin and Jeff, or known to the rest of the world as Victor and Penny. Yes, they're musicians, but they have a sauce! I feel like having a sauce might be the key to life. Part wing, part bbq. It's good. But use what you have on hand. It might be Frank's Buffalo, which is superb, and it might be your favorite bbq sauce. No matter what you use, you're still a good person.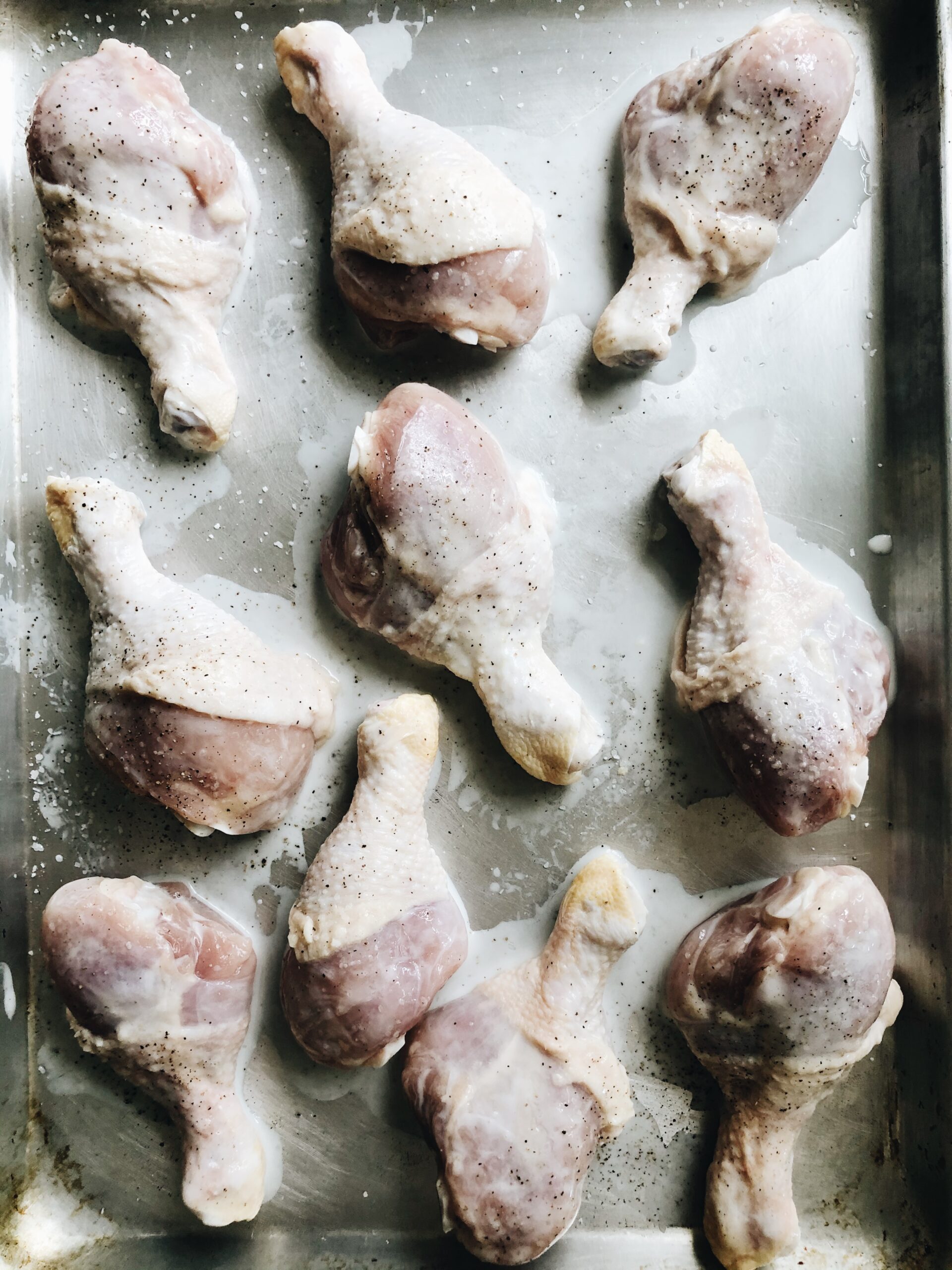 Let the buttermilk drip off the chicken (ew), then arrange the drummies on a baking sheet. Give it another go at salt and pepper, because you know. Salt and pepper.
And the same time, do this…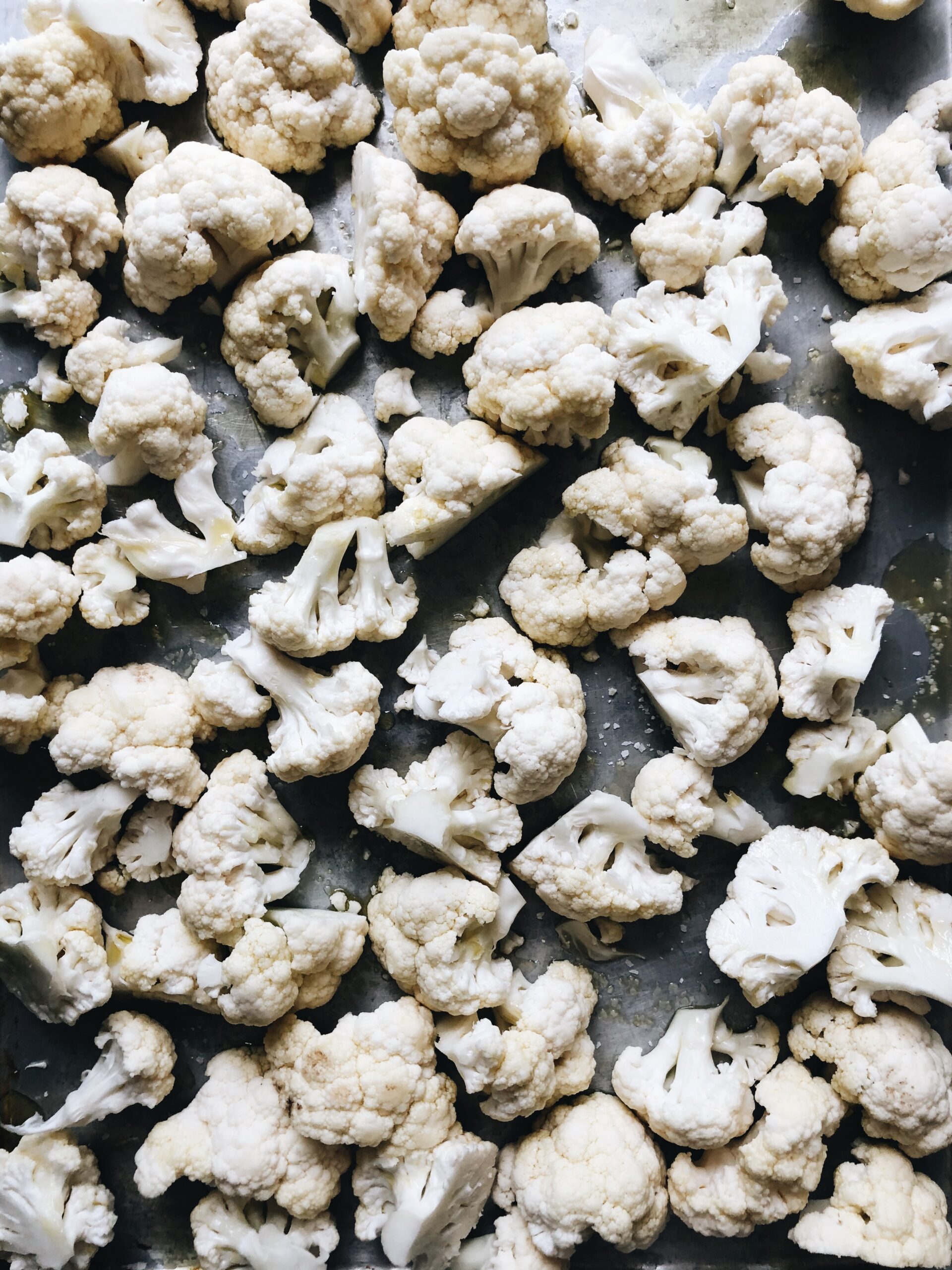 Break up that cauli like a psycho into small florets. Nothing overly huge. We want good char everywhere, and this is the way to do it.
Baking sheet, oil, salt and pepper. Done.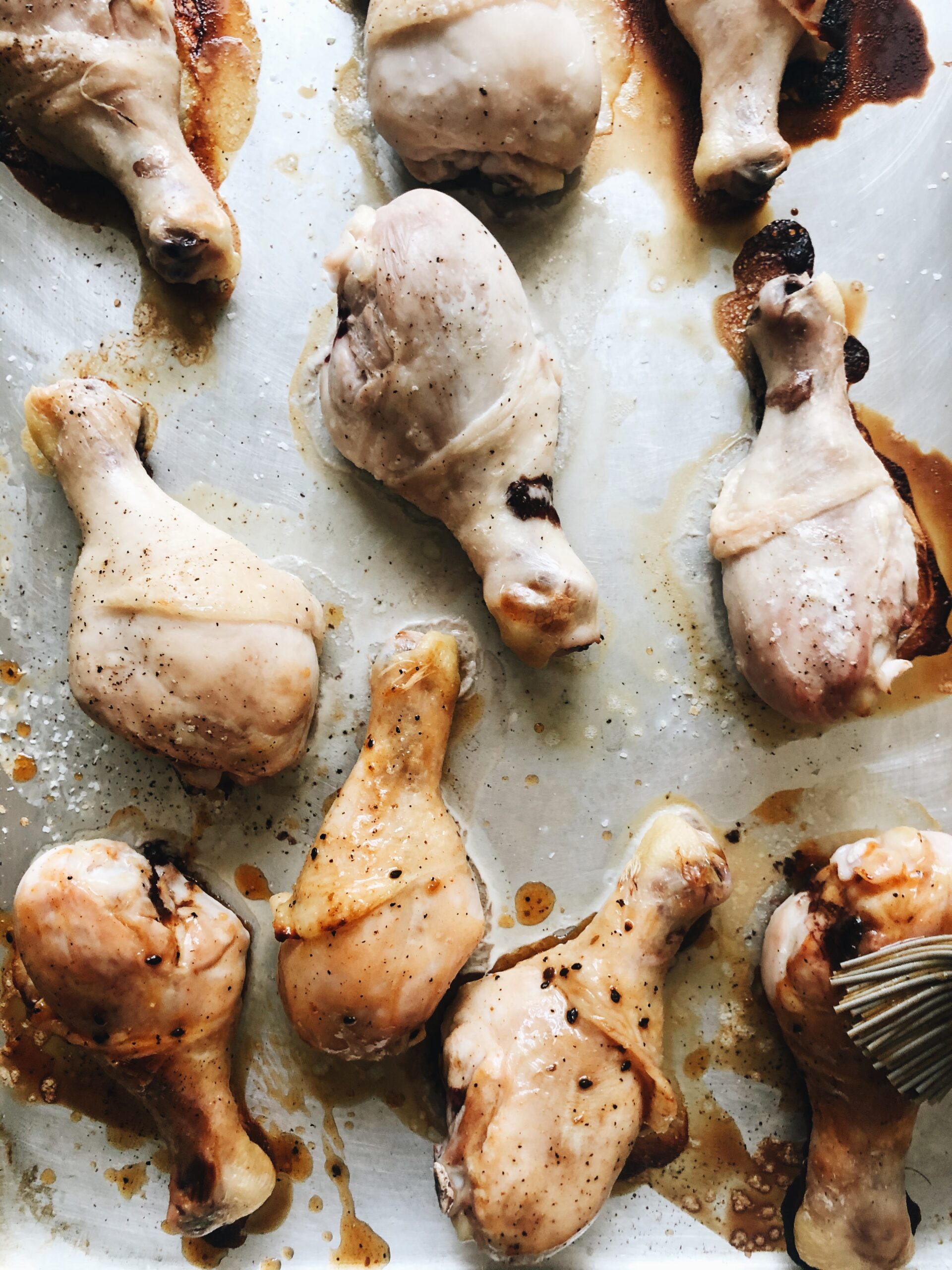 SO, at the 25 minute mark, brush your butter/wing/honey sauce over the drumsticks. All over, as much as you can. We let the buttermilk get a head start, now the sauce is taking over. The rumbles in your stomach should be hammering a little louder by now.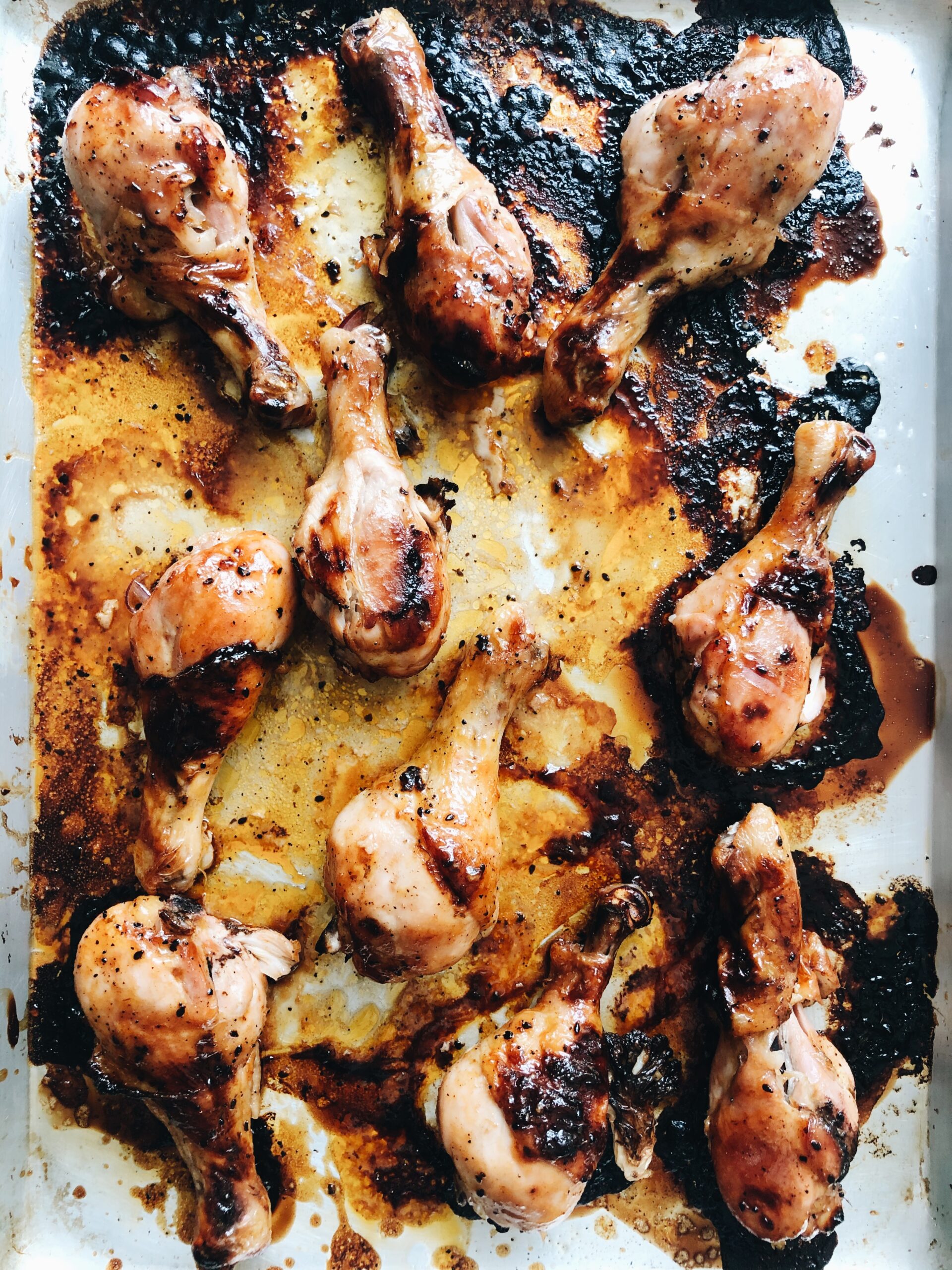 Go another 20 minutes (the cauli's roasting too, remember!), then one more brush all over, then five more minutes.
The stomach activity is now at a tornadic level. Well done.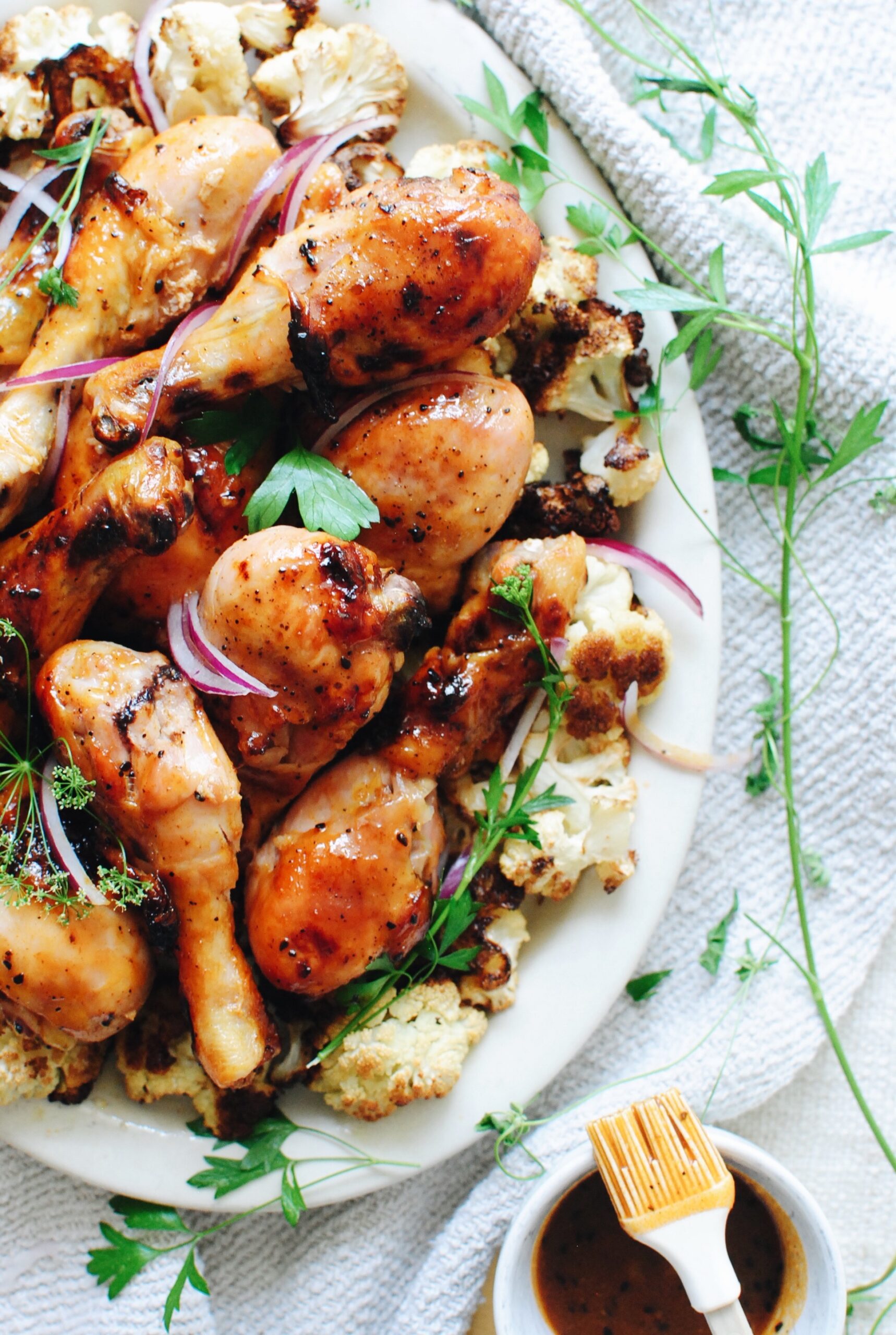 Serve it up! And you don't have to present it family-style it like I did. You can plate each serving in the kitchen – a couple of drums, a serving of cauli, garnished with parsley and extra sauce on the side. That's probably more accurate for real like but THIS IS A POSH FOOD BLOG, YOU GUYS.
jerst kerdin'.
But really though pile it up.
Look how inviting that is. The chicken is obviously flavorful from the INSIDE OUT because of our buttermilk action. And the brushing of the sauce adds this syrupy, delicious, crispy-in-places coating on the chicken will that will have you an unruly emotional mess. It's wonderful.
By the way, that's not poisonous hemlock on my plated dish of food that will be served to my children. It's bolted parsley. AKA: I'm a lazy gardener.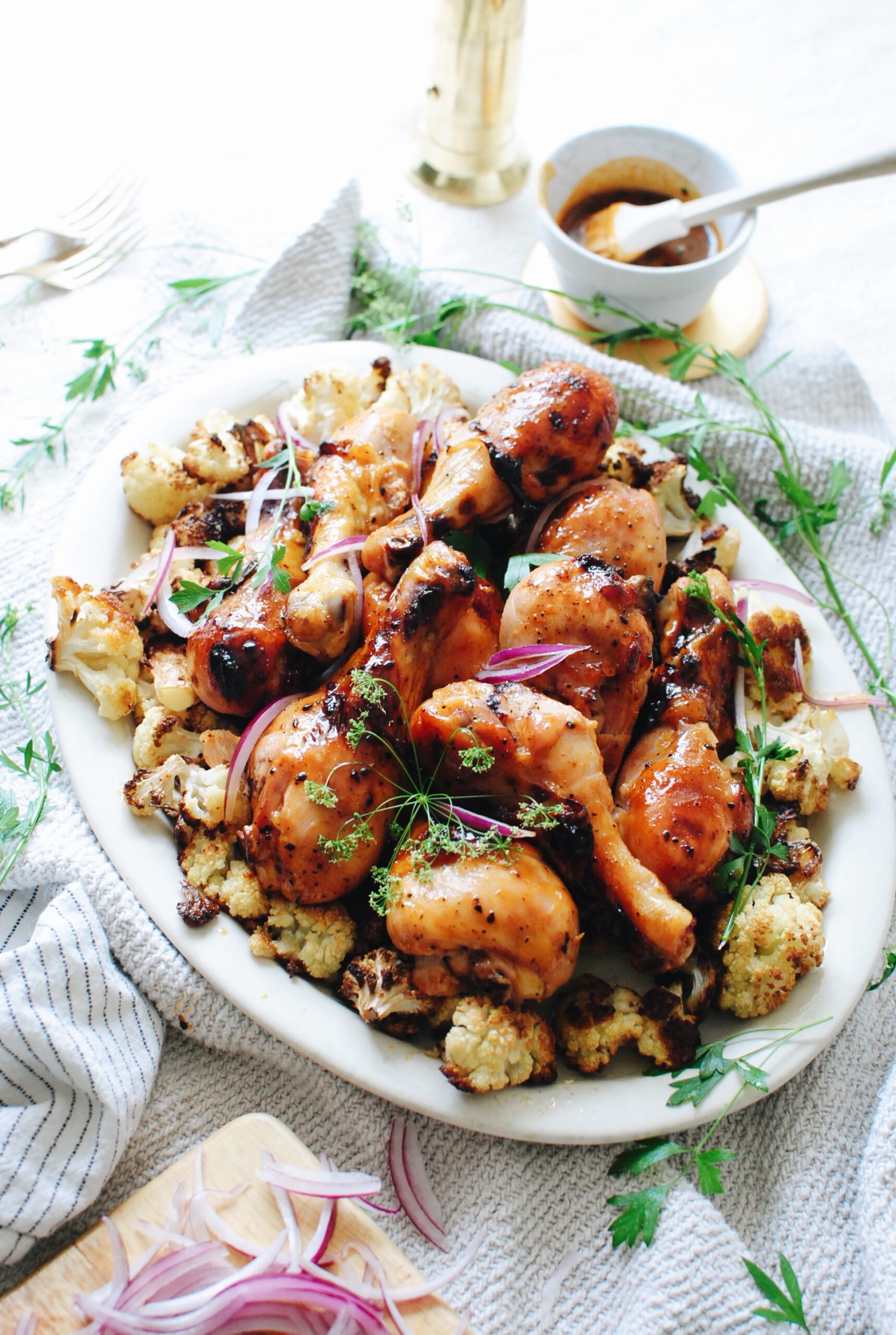 You know my love for roasted cauliflower, so it's no surprise that it's the veggie I paired with the chicken. Everything roasts at the same time, so a) it's a lot of hands off cooking, and b) well it's roasted cauliflower and I heart it hard.
It's a divine dinner. And simple! And has that rustic charm that always wins my heart.
Oh, and the thinly sliced red onion? Well, it just adds that extra essence. That "je ne sais quoi." Pile it on. Leave it off. Fly, little bird.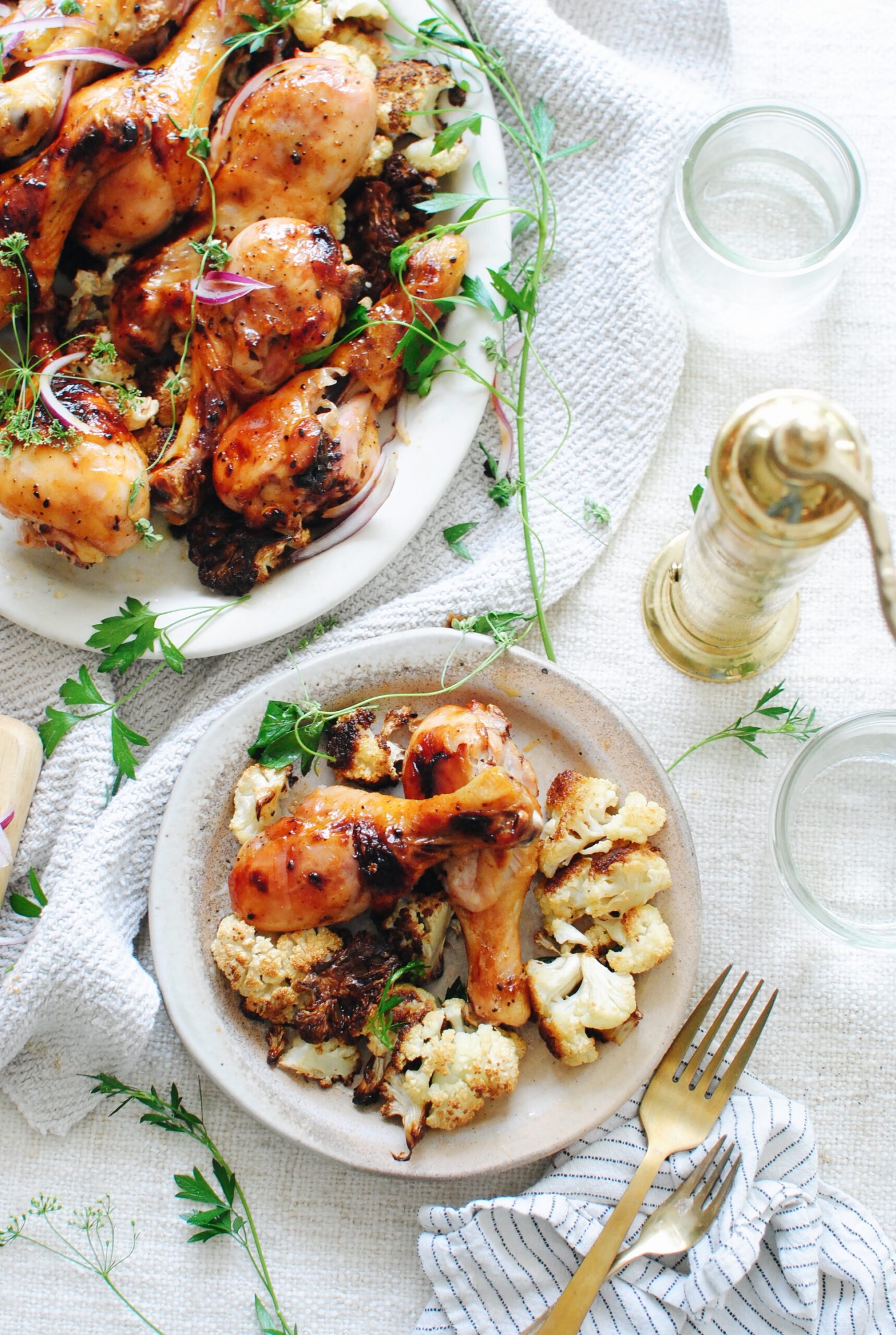 This weekend? This weekend.
BBQ Drumsticks with Roasted Cauliflower
Ingredients
10 chicken drumsticks
2 cups buttermilk
2 large heads of cauliflower, broken into small florets
1/2 cup honey
1/2 cup favorite wing or bbq sauce
1/2 stick of butter, melted
Parsley, for garnish
Coarse salt
Instructions
Place the drumsticks in a large bowl and generously season with salt. Add the buttermilk and gently stir to coat the chicken. Cover and marinate overnight if you can. Bring the chicken out and let it sit on the counter for about an hour, coming back to room temp.
In a medium bowl, combine the honey, melted butter and bbq or wing sauce.
Preheat your oven to 425. Arrange the cauliflower florets on one baking sheet, and the drumsticks on another. (You'll let the marinade drip off first) Season the chicken with coarse salt and pepper, and roast everything for 25 minutes. Brush the chicken all over with the sauce, then roast another 20 minutes. Give it all another brush, then roast five more minutes. That's when the magic happens. The cauliflower gets this full roasting time as well.
Serve it all with parsley and thinly sliced red onion, if desired!
Serves 4-6.
7.8.1.2
448
https://bevcooks.com/2020/08/bbq-drumsticks-with-roasted-cauliflower/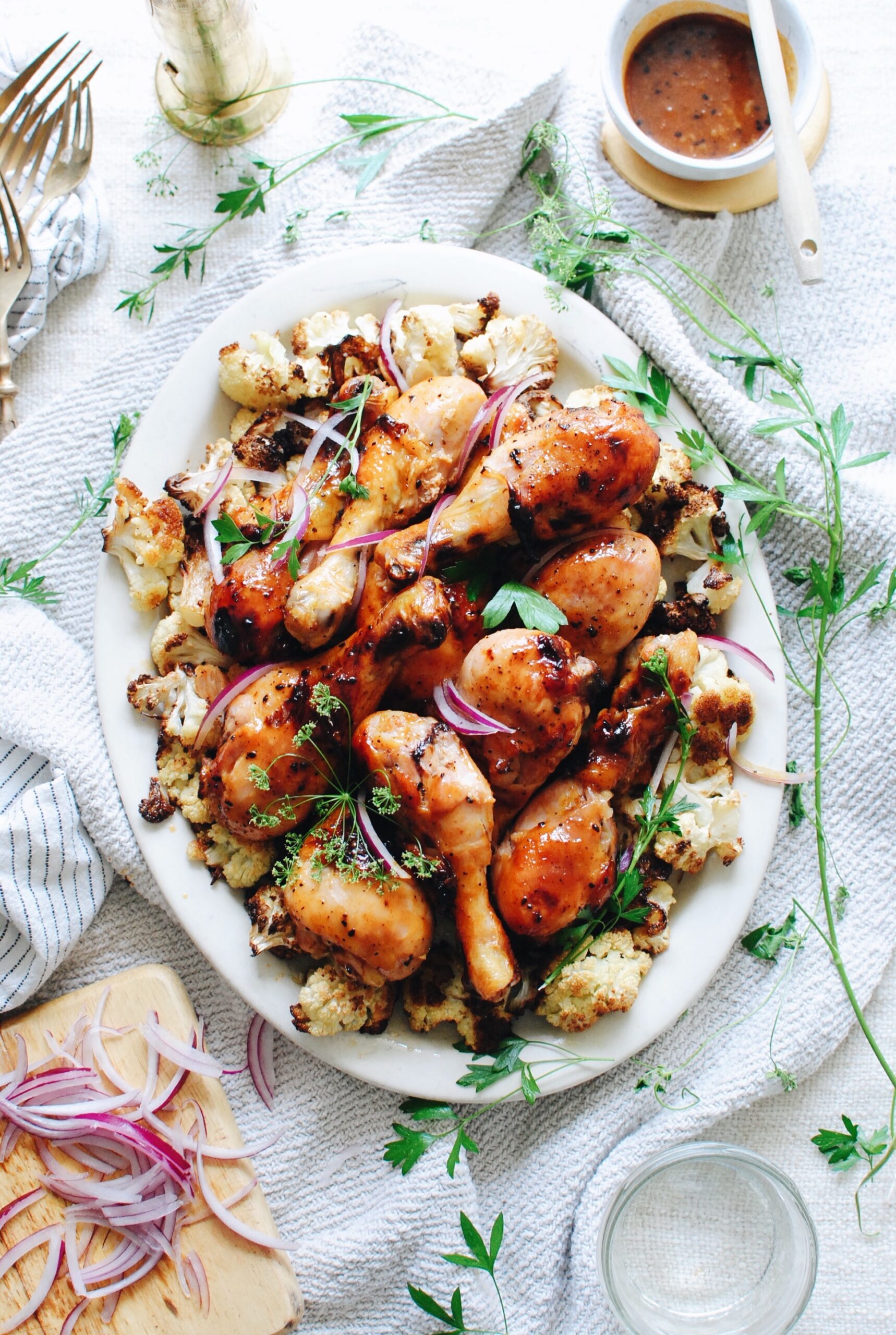 Pile of happy – I stand by it.